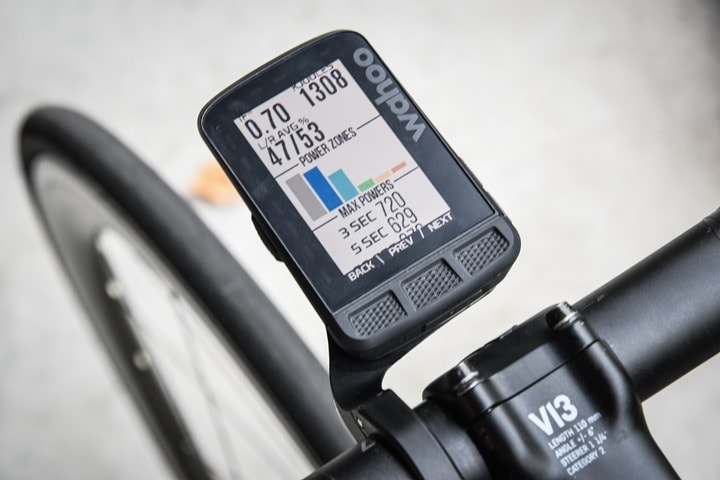 We're going to toss this post into the quick heads up post category – but Wahoo has semi-quietly announced to retailers and consumers that they've delayed further shipments of the just announced Wahoo ELEMENT ROAM GPS until early July. While the new color mapping and navigational unit did start shipping about three weeks ago in limited quantities, the company has run into a manufacturing snag.
Or, I suppose more accurately: Early users ran into said snag – their ROAM mounts broke.
The ROAM Mount: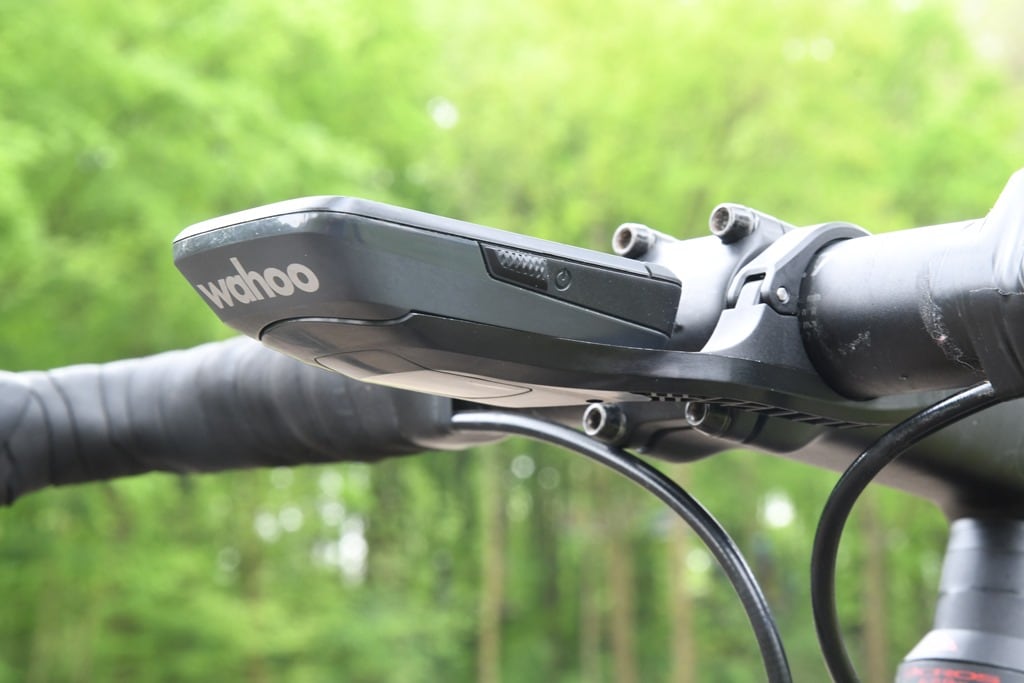 The Wahoo ROAM includes a fairly similar out-front mount design to that of the BOLT, which is designed to look sleek and aero. While Wahoo shifted away from the aero claims of the BOLT with the ROAM, the general aero gist of the design is the same – just bigger. It also still retained the nifty locking screw on it allowing you to lock your head unit to the mount (which was more for UCI WorldTour Pro teams to get around minimum weight restrictions).
Unfortunately, it seems as though the new design has resulted in some users' mounts breaking. It's unclear if that's due to the larger design, or the added weight of the ROAM over the BOLT (95g vs 61g). In fact, about two weeks ago a DCR Reader hit me up on Twitter showing their newly received Wahoo ROAM mount had broken after just a few hours of use:
@dcrainmakerblog FYI, my ROAM mount failed after only a few hours. Not over-torqued. Also note blue kinesio tape under the unit to stop it rattling. Not a good mount. pic.twitter.com/P8UWLcx6Sp

— John McDowall (@jmcd) May 14, 2019
If you were to look at that same spot on a non-broken mount, it's the hinge point where the mount lifts up: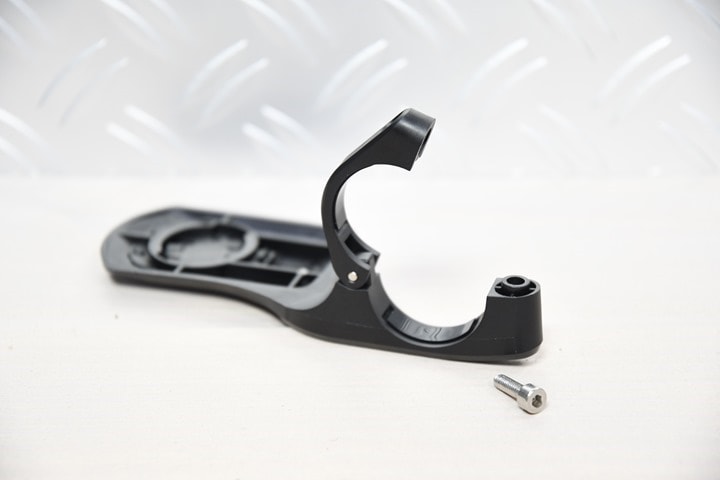 Note that the mount is exactly the same as the previous BOLT mount in this particular region. Here's the two side by side: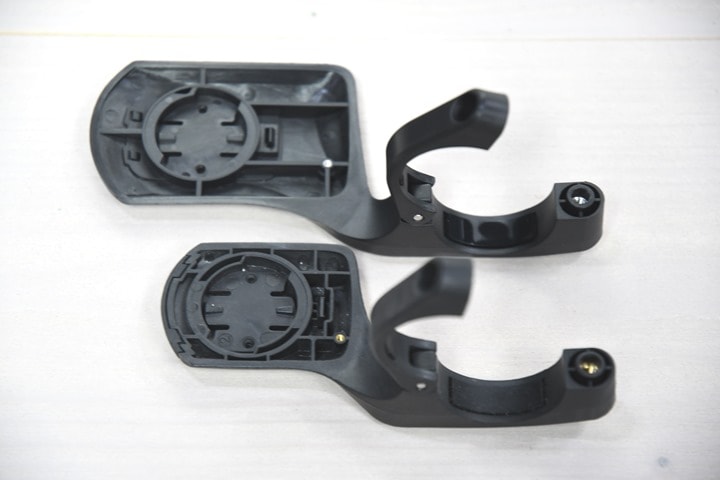 Combine that with notice to a bunch of DCR readers in the comments section over the last 10 days that had contacted Wahoo and were told of a delay until July, I reached out to Wahoo to see if the two were related. Here's what they said:
Nothing.
No, for real – I requested comment or clarification four times over the last 8 days, all without any response at all on the topic – not even a 'no comment'.
Update – June 3rd, 2019 5:45PM: Wahoo has provided the following comment regarding the mounts. Wahoo also noted that my previous four messages to three different individuals all ended up in their spam folder.
"We have seen some manufacturing delays on ROAM, related to a performance issue with the mount. Although there was a very small number instances, we decided to be cautious and made a minor change to ROAM mount which included switching sub-suppliers for this component. We expect to resume shipping product within the next few weeks.

Customers who have already received ROAM are encouraged to contact customer service in the event they experience any issues or questions with their computer.

ROAM and its suite of navigation features is ready to help cyclists navigate new routes, push further, and explore new places. We regret that shipping on ROAM has been delayed, but look forward to getting this groundbreaking new computer into the hands of cyclists."
They have sent e-mails to retailers/dealers notifying them of the delay, and in the case of European retailers they also specified the mount breakages being the specific cause for the delay. Wahoo has also reached out to the small number of existing early ROAM customers (some units did go out) and offered them older Wahoo ELEMNT mounts, which are compatible and can handle the load.
Meanwhile, for customers that have not yet received their order, Wahoo has been responding to support inquiries with the following:
"Hello,

Thanks for purchasing the ELEMNT ROAM GPS Bike Computer. Unfortunately, we have had an unexpected delay in production and are not expecting ELEMNT ROAMs to arrive until early July. Based on this, we want to give you two options:

1. We can ship you your brand new ROAM as soon as it arrives and, as a token of our gratitude for your patience, we are able to offer a TICKR heart rate monitor or RPM Speed & Cadence sensors free of charge.

2. Alternatively, we can refund you for your purchase.

We sincerely apologize for the inconvenience and hope that this plan to get you ROAMing illustrates our commitment to assuring you are completely satisfied with your Wahoo purchase. Please let us know if there is anything else we can help with and thank you for being a Wahooligan!

Respectfully,
The Wahoo Team"
Obviously, mount failures are never good – though they are surprisingly rare in this industry. I can't remember any of the major bike GPS makers ever having failed mounts (as a widespread/recall type issue). I have had some 3rd party mounts fail me over the years though – almost all of them on the cobbled streets of Paris. Guess I need to find myself another nice cobblestone test bed here in Amsterdam.
Speaking of which – I've had no failures of my test ROAM mount, nor any indication of it.  I suspect like most mechanical-driven failures, there's likely a specific set of conditions that can cause it. Given the Netherlands has exceedingly good bike paths and infrastructure – I'm less likely to see it. When I was doing some off-road riding, I was just using the generic rubber mount on the handlebars as I was swapping between demo/rental bikes every few hours at Sea Otter and didn't want to deal with yet more things to attach/detach.
Btw: Fun historical fact for you – Wahoo's second original product (after the Wahoo iPhone adapter) was a bike phone case mount kit. Check out either of those nearly decade old posts for some 'way back when' moments. Or, pictures of my bathtub and rubber duck testing things out.
Going forward: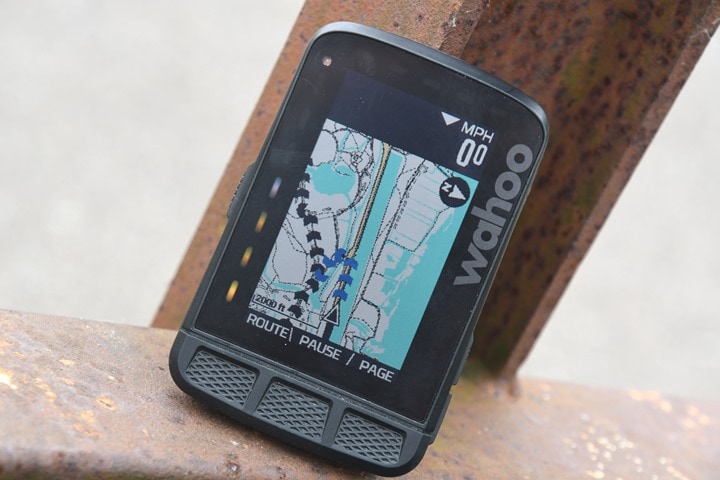 In any case, this will hopefully allow the Wahoo software development team to focus more on the slate of firmware improvements that they had scoped out for May/June for the ROAM. With only a handful of paying ROAM customers out in the wild to support, they won't likely have as much 'new device' support overhead that most all companies have in the first few months after releasing a product.
And in fact, that seems to be the case – Wahoo is set to release a moderate firmware update next week to production users that adds in Strava routing support (as well as support for other platforms that don't provide underlying routing details), in addition to a substantial routing speed update (3-4x, one of the issues I was critical about). The update will also include a slew of smaller bug fixes. I continue to ride with ROAM on certain rides, and will be giving things a whirl.
Wahoo has pegged the current resumption of ROAM shipments timeframe as "early July". I believe that's a reasonable amount of time for an experienced company like Wahoo to redesign, test, manufacture and start shipping the mounts (since they likely started 2-3 weeks ago). The company has multiple worldwide production facilities that they can call upon to move things along. They also have existing partners within the mount sphere (both Tate Labs/BarFly as well as K-Edge) that they can probably tap for more extensive guidance and testing (they work with both companies for custom mount inserts).
Of course – Wahoo has had a rough go of hardware related issues in the past year. But it's hard to be too critical this time, since unlike last time they have immediately stopped shipments of ROAM to address it. Best I can tell they actually stopped shipments over two weeks ago – meaning, they only shipped out at most a few limited batches in the first week. Compare that to the KICKR/CORE 18 issues where they continued to ship units throughout the entire multi-month time period. Atop that, with ROAM they're offering customers free sensors as well, something everyone loves like candy.
And lest you think Garmin avoided rough trails on this release cycle, they too had some hardware teething issues with the also just announced Edge 530. Some early shipments had defective 'back' buttons that were hard to press. The company says they've already found and fixed the issue on the manufacturing line, and are swapping out units for anybody who got a bad unit.  And then there's Stages – which is now some 6-8 months behind schedule on their new Dash units, though now slated to start shipping in the next 10 days.
Making hardware is hard. Really hard.
Hopefully all these companies can quickly get this behind them and things back on track so we can get out and ride our bikes.
With that – thanks for reading!