Here's what I was up to this past weekend as I prepped for a bit of time across the pond. Enjoy!
1) Getting the Samsung Galaxy Watch Active post out
Friday was the day that never quite ended. I got to the DCR Cave by 9AM, and was technically home around 6:30. But the Samsung Galaxy Watch Active In-Depth Review was the gift that kept on giving in terms of nuance to get documented.
Generally speaking I can divide up the post writing/photography process into three buckets:
1) Text about usage of the device, my thoughts, etc…
2) Text/graphs about data accuracy (HR/GPS/Etc)
3) Photos about all that stuff
The first part is usually pretty efficient. For a typical review, I can write that in a few hours if I'm not distracted and my brain is in the right place. Whereas the graphs and analysis data bits actually doesn't require much brainpower, I can do that on autopilot. It's just sometimes slow, especially if I don't have all my datasets organized and need to go scrounge those up, upload them to the DCR Analyzer, and then do all the analysis.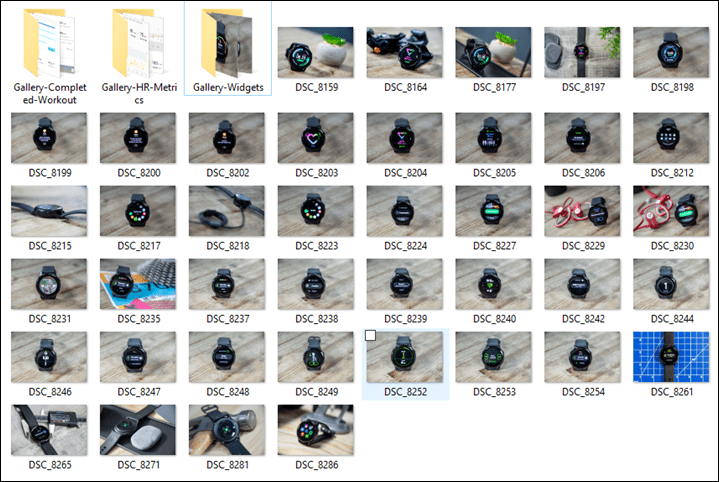 Finally, photos. If there's one thing I've gotten better at over the years, it's my photo workflow for reviews. Specifically, getting to the point that for reviews, I'm only shooting – and saving – exactly the photos I need for the review. In fact, for the Samsung review I think I had like 3-5 extra photos total on the DSLR camera*.
(*Note that mid-workout photos I usually end up with a bunch that I never use, simply because I take them as I'm going along, more as a 'just in case' type of thing.)
In the case of the Samsung review, I shot all but two of those photos (aside from unboxing of course) as almost the very last thing I did. That way I had place holders in my review with descriptions of exactly what I wanted on the screen, then I went and shot one image for each place holder. Not 5 images for each place holder – just one image. I'd take that one shot 10 times if need be, but I'd delete the extras. That reduces the amount of stuff I have to sift through later. And if I nail the lighting the first time around, I can even skip the journey through Lightroom.
So what hosed up my timelines? The data.
As I noted earlier in the week with an entire standalone post on the Samsung watch data woes, getting data out of it was a cumbersome process. It required me first sync the watch to my phone, then to the Samsung cloud, then on an Android phone pull it down from the cloud, before exporting it back up to Dropbox via a 3rd party app, before uploading that file to the DCR Analyzer with a set of friend files. Some workouts were on Endomondo, which saved a few steps, but still meant triple-checking the right files came across.  Atop that, I was doing a very delicate dance to quadruple check that none of the sets included unreleased devices on them, since a lot of data I'm capturing right now is across a pile of devices.
In any case, my (publicly stated) goal for the Samsung review was to be published no later than Friday – and I nailed that. It went up at 11:35PM my time. I would have been done about 40 minutes earlier had I not forgot the unboxing pics on an SD Card in a camera at the DCR Cave and had to go back for it. As for the corresponding Samsung Galaxy Active video that I also had slated for Friday? Hmm…win some, lose some.
2) Attempting Vivofit Jr again
It's been a while since I played with the Vivofit Jr devices. Basically since my detailed post at the launch of the Vivofit Jr 2. At the time, my oldest daughter was definitely too young to understand the concepts of them. But she liked pressing the buttons and liked wearing something on her wrist.
And to some degree, that's still somewhat the case. Coming up on 3 years old in a few months, she's a tiny bit outside the recommended age range. But, she really wants to wear something on her wrist 'like Daddy'. And she really likes Mickey (and thus by extension, Minnie).  And…I realized we could use the device to nudge her along on a few things. Less so activity (steps), and more the 'chores'/rewards bit that's the real secret of the platform.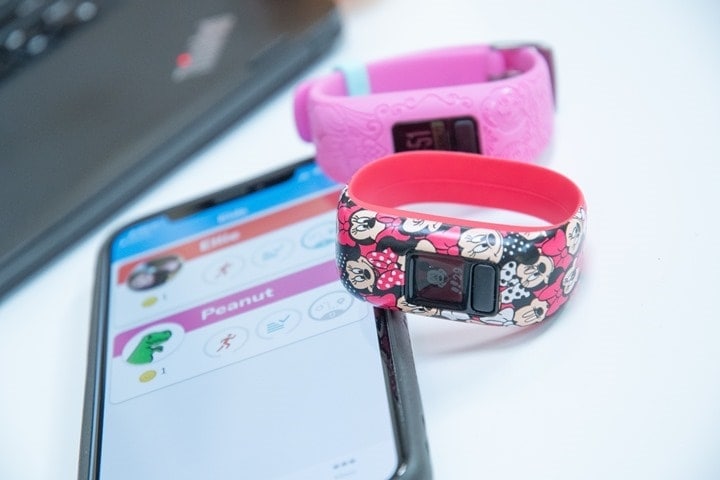 So I got two devices I had picked up sometime last year out of their boxes. Why two? Because I set them up at night and wasn't sure which one would fit best. Minnie has a stretchy band that's one-size. Whereas Princess has a typical clasp style. In the end they both fit fine, and she wore both for a few hours "just like daddy', before settling on Minnie.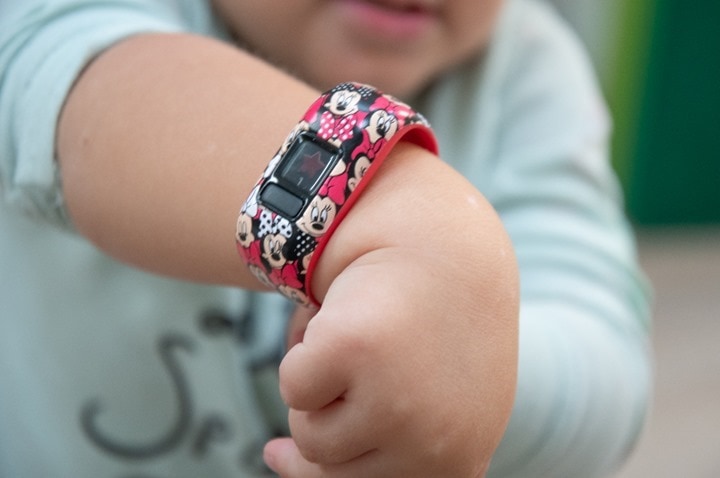 As for the 'chore'? Simple: A reminder to go to the 'potty'. She's actually pretty good at it, but we find reminders just after waking up and then again after getting home from school are good. And sometimes she doesn't want to listen to us when we tell her at those times. Whereas if Minnie tells her, then she's thrilled to visit the bathroom.
In this case, I actually created an alarm for specific times, so it chirps at her and she gets excited. Then I added a chore to that so she can get points to earn towards moves in the game. She doesn't entirely understand the points system yet, but she likes the other pieces.
Also, she apparently walks an impressive number of steps. Seems like all those circles around the house really do add up.
3) Hello Cherry Trees and Goats
Saturday morning we packed the kiddos into the bike and went to check out the cherry trees. This roughly football field sized plot of cherry trees (if a football field were a circle) is a bit south of the city in the forest. Not terribly far from where we live though, or the DCR Studio.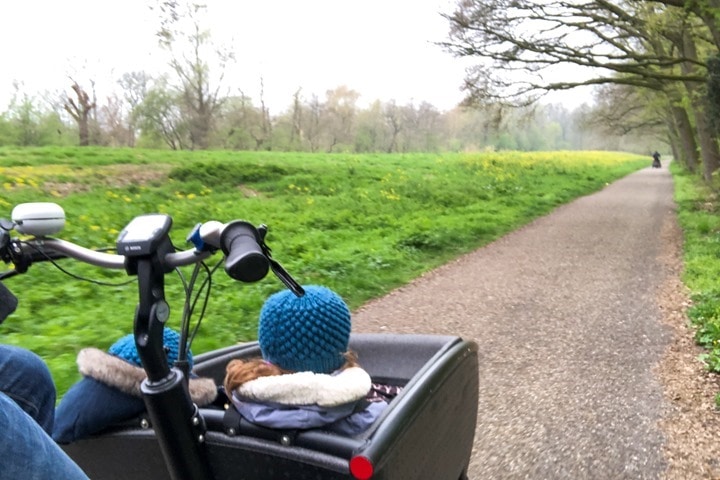 We went last year as well – in fact, at that time we had rented a gigantic yellow Dutch Clog bike to put the kiddos in, remember this?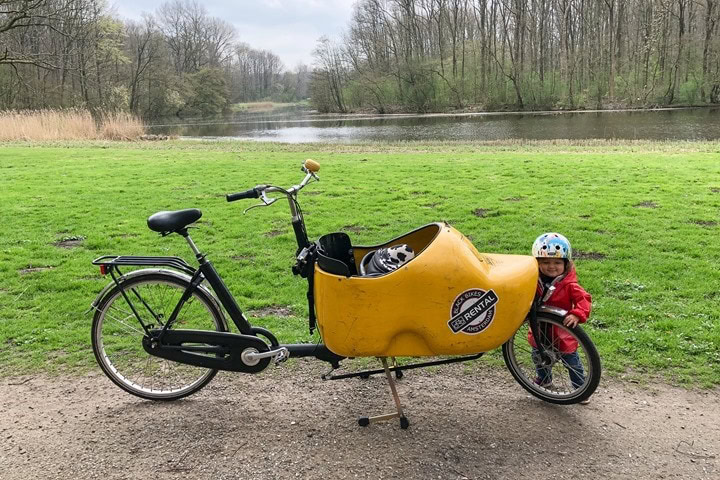 Here's that whole post for some time machine capsule action!
This year we were probably 5-7 days behind the curve on the optimal time to visit the trees, as there was a bit of greenery starting to bud, but still, it was nice. And since we were there fairly early – it was also empty. The kids giggled and ran around in circles.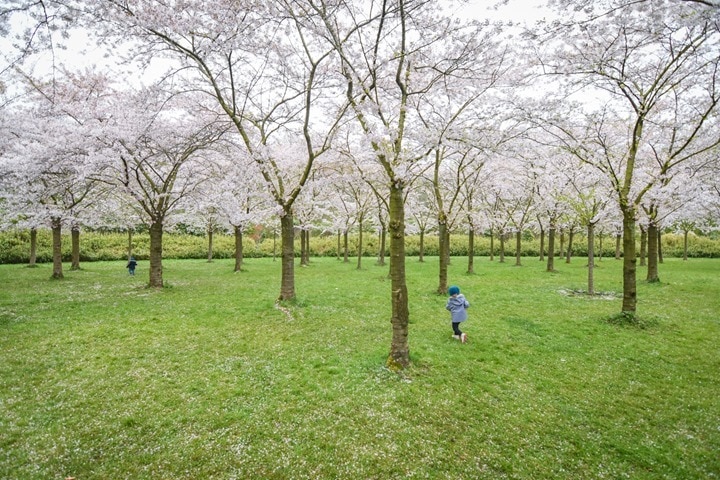 Afterwards we made our way through the forest and stopped by a goat farm. They sell all sorts of products there, and you can walk through the barns and areas with goats galore. Totally free.
The goats could wander inside and outside as they saw fit, through a series of bridges and passageways. And humans could wander into most areas as well. They had tons of staff on hand to explain anything you wanted to hear about. Super cool.
It's basically like those Japanese Cat Cafe's, except, with goats. The littlest tried to bring one home. After all, she also tried to join a penguin colony back in January.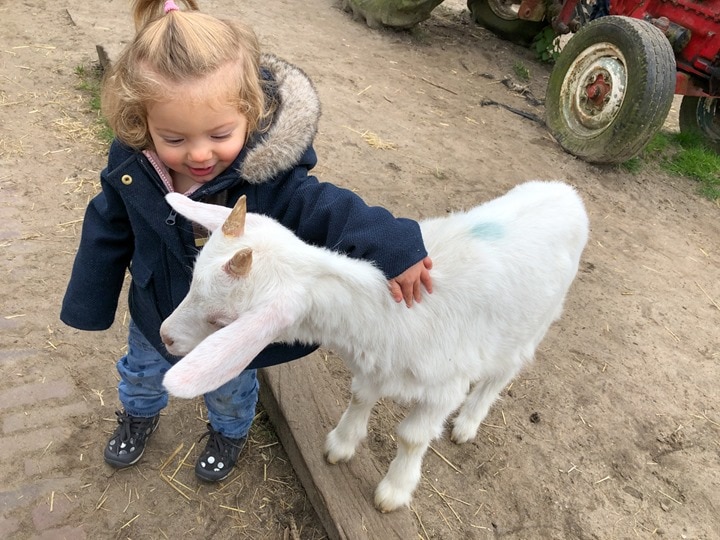 Funny enough, in the bike parking area, they also have horse parking. In case you arrive by horse.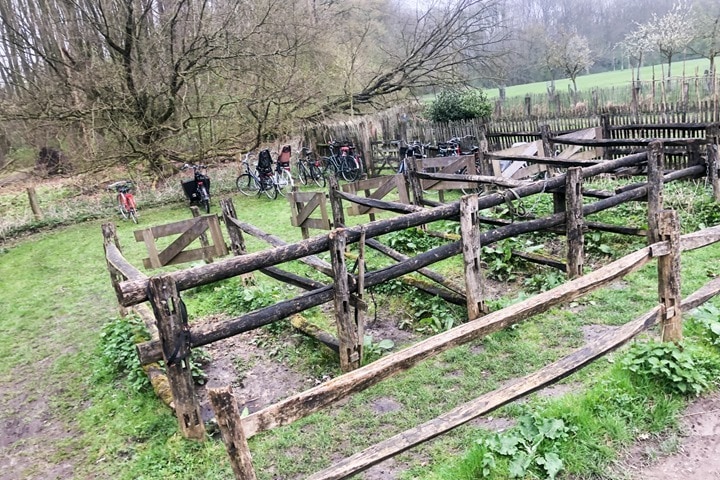 I'm not terribly sure how you get there by car, it seems to be either walking, bike, or horse. Either way, a great little spot the kids enjoyed!
4) Packing Gear and Riding
Saturday night The Girl was hosting a mini 'Girls Night Out' at the house. Except, I guess not "Out', but "In". Either way, I went out – down to the Studio to get things packed up for my trip and knock out a few final things that needed to get done prior to taking off.
I find that when I have weeklong+ trips, the day before the trip is the worst. Especially if there are product launches/announcements during that time period. Or if I have some sort of review planned to drop during that period. You're trying to ensure you've got everything you might need photo-video wise done – often before a review is fully written textually.
Additionally, sometimes you're bringing piles of gear with you, in anticipation of what you need for future reviews but have to shoot on the road. For example, while I don't actually expect much in the way of major Sea Otter sports-tech announcements next week, I am using my time at Sea Otter to shoot photos/videos (and gather data) on a bunch of devices and posts for after Sea Otter. So I'm making sure I've got the right cameras, mounts, and whatever the heck else I need. Then triple-checking it. Then realizing I still forgot stuff when I get home.
Anyways, in the mix of all that, I got in a ride on Zwift. It as the Innsbruck course loop, though, not the entire loop. After I finished doing the main climb and coming back to town, I was over the 40 minutes or so I wanted, and realized I didn't need much more time. I had the data I needed (unfortunately as it were), and I needed to get other things done. So I finished up before doing the short in-town loop.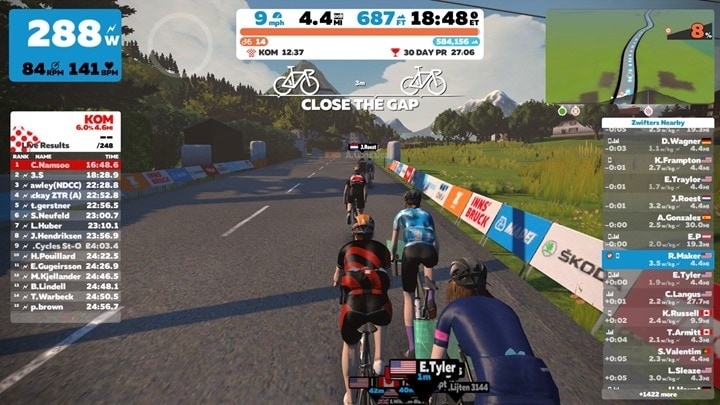 Here's the cargo bike on the way home afterwards. I promise, it packed up prettier and smaller into the suitcase.
For example, the milk wasn't aimed for the plane. Instead, for the fridge. Regrettably, I managed to forget to put it in the fridge. It sat next to my bags when The Girl discovered it the next morning. Sigh….
5) Off to the US!
Sunday morning I left Amsterdam behind and jumped on a 767-300ER for the 4,132 mile aeronautical experience to Chicago. Greenland was almost entirely clouded over except for a few seconds right at the western coastline (so, sadly no good pictures there), at least the Eastern edge of northern Canada was out and glorious.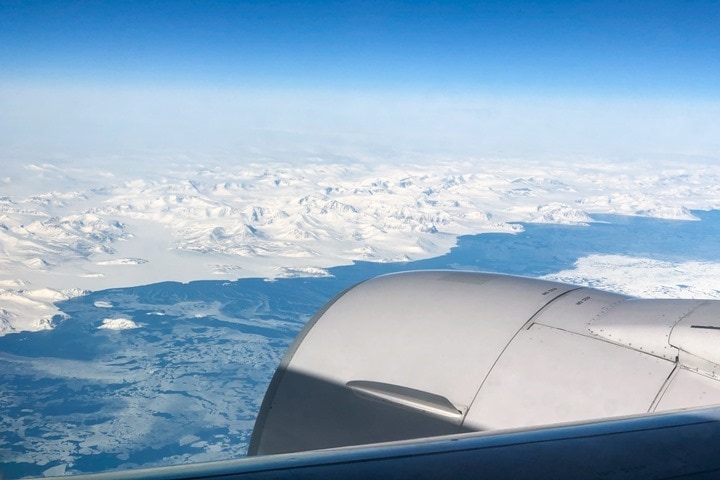 Chicago, on the other hand, was a mess due to thunderstorms. Oh well. At least my seat had a view!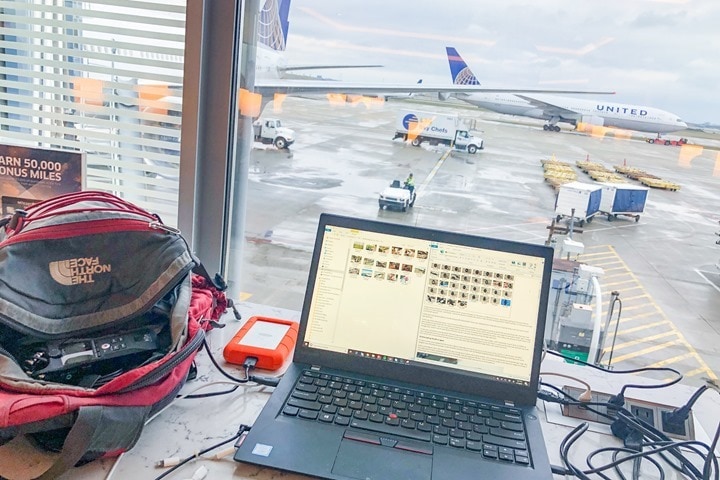 After which it was off to Kansas City. It's in nearby Olathe, KS that I'll spend a few days for the annual Garmin Connect IQ Summit, where piles of 3rd party developers come in to hear about Garmin's latest development announcements. It's sorta like a mini ANT+ Symposium.  Following that, I'll catch another flight to San Francisco where I'll meet up with GPLAMA (Shane Miller) and DesFit, and we'll rock our minivan southwards to Monterey for Sea Otter 2019. If you see any of us out there, don't be shy!
I'll stay there the weekend before bailing down to Long Beach for a day and a half's worth of meetings with a few companies before finally heading back across the pond. Gonna be a packed next 10 days for sure.
With that – thanks for reading, and have a great week ahead!