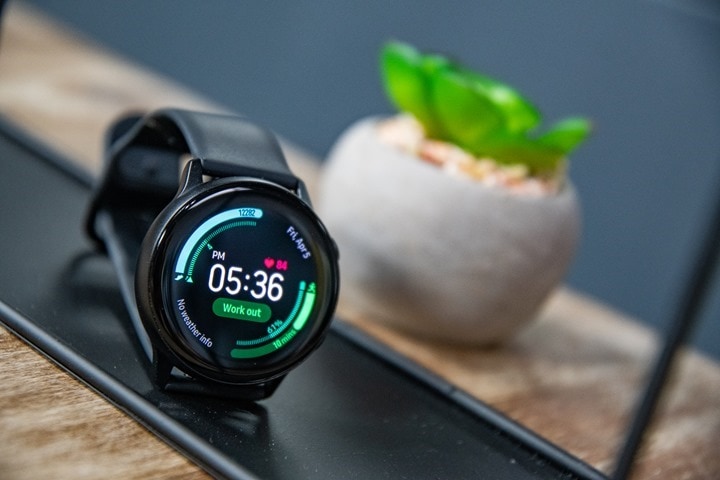 ***Update: Just a note the Galaxy Watch Active 2 is out, you can see my post about it here***
Each year for a number of years now, Samsung has released fitness-focused smartwatches. Correspondingly, each year they seem to be getting closer and closer to sorting out the right combination of features and price. Finally, here in 2019 – they might well have stumbled upon the most full-featured fitness-focused mainstream watch to date.
The Samsung Galaxy Watch Active contains onboard GPS for tracking your outdoor workouts, music storage, and Bluetooth playback with support for offline caching from providers like Spotify, plus an optical heart rate sensor to track not just workouts but 24×7 HR and stress.  All this for under $200. The nearest other competitors with these approximate feature sets are Garmin and their Vivoactive 3 Music at $279USD, and Fitbit with their Ionic at $269. Of course, approximate being the key wording there – but more on differences later.
I've been using the Galaxy Watch Active for the past few weeks for workouts and as a 24×7 watch, and now have a crap-ton of data on it. Specifically: Sport and fitness data. As the title of this review implies, that's my jam – and that's what I focus on here. Certainly I cover the basics of the device here, but there are plenty of other places that dive into non-sport features in more detail. My goal with this review is to detail the good, the bad, and the ugly. Plus everything in between.
Finally, note that I bought this unit myself – heck, even got the free Samsung wireless charging battery pack for pre-ordering it earlier. Oh well, I'll get that sometime in the next 6 weeks apparently. If you found this review useful, hit up the links at the bottom of the page to help support the site. With that – onto the full review.
Unboxing: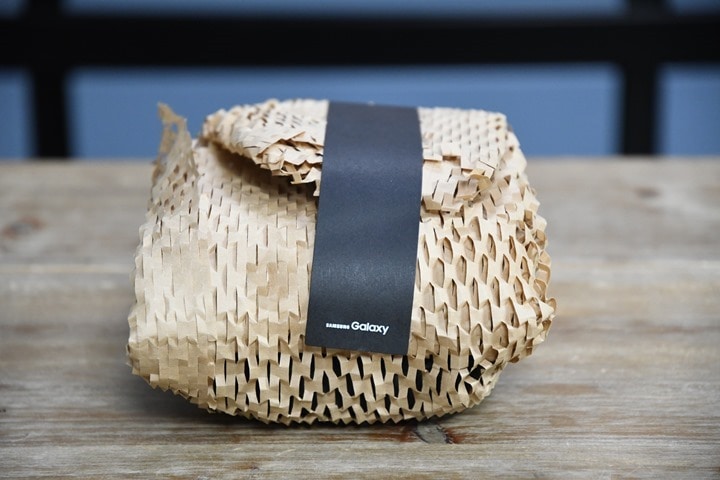 First, we've gotta get this thing unboxed. In my case, I ordered directly from Samsung, which means that it came packed in some pretty sorta-fancy packaging. As if it were gift-wrapped: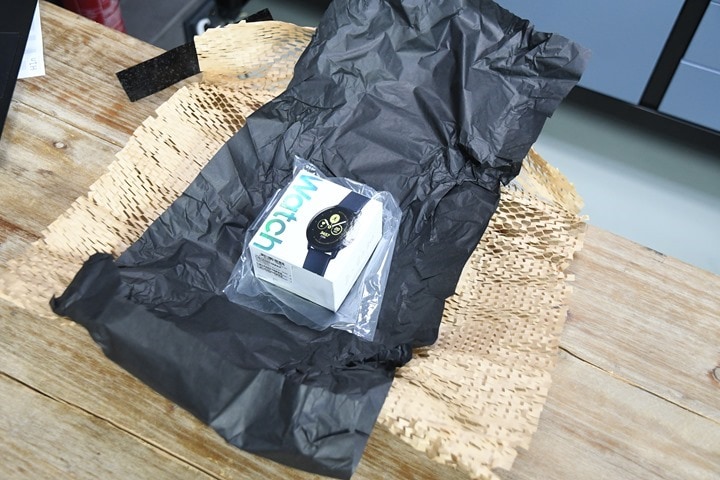 Once you get past all the extras, here's the box inside: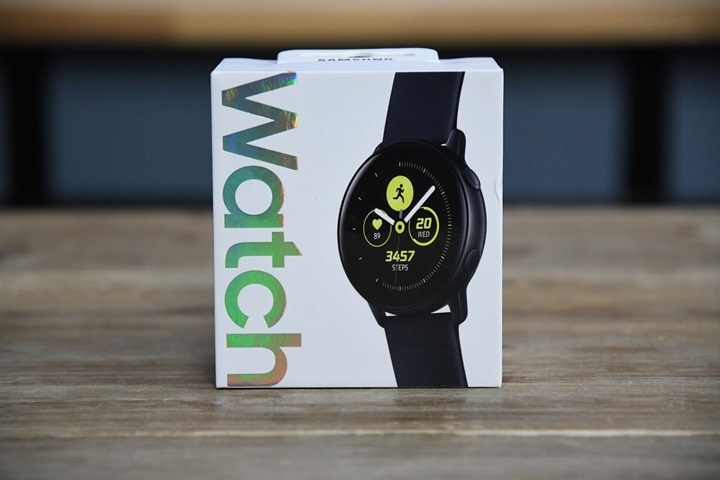 Cracking it open, you'll see the parts sitting there waiting for you: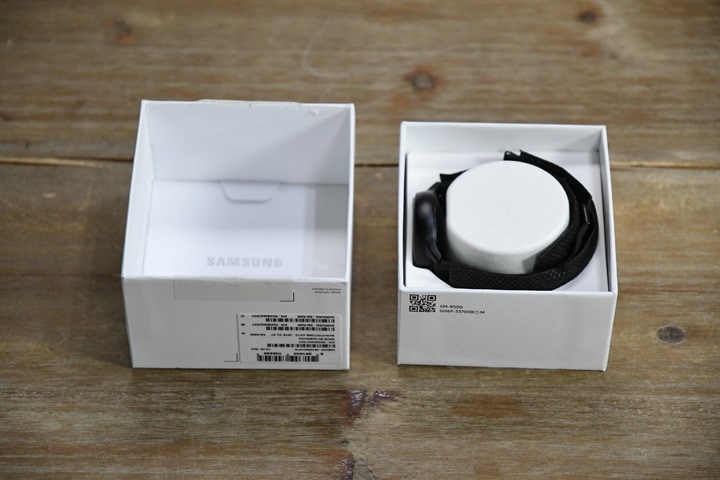 If we unpack everything, here's what we've got: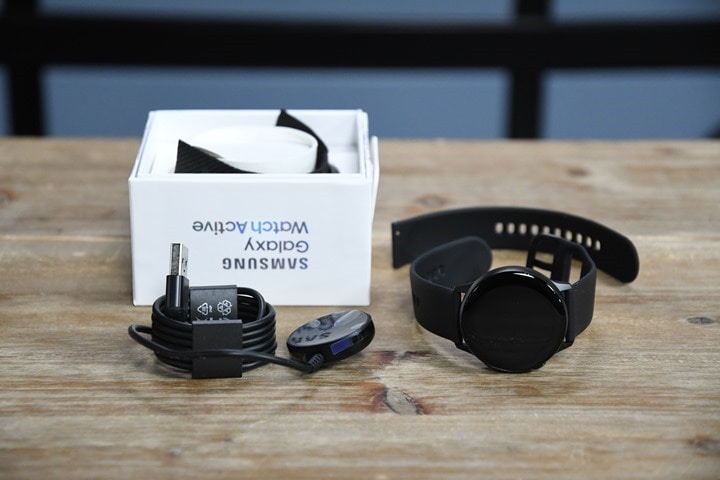 First, there's the watch itself, along with the extra length band (it comes with both a smaller and larger sized band/strap):
Then there's the charger, which the watch simply sits atop: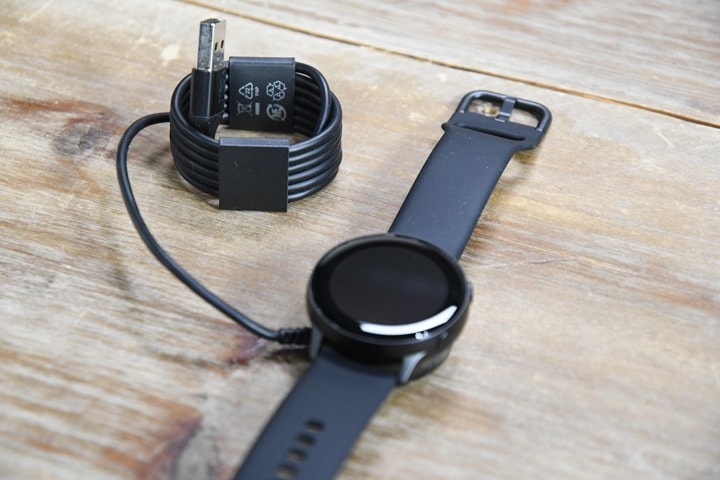 After which you'll find some manual/paper stuffs. It walks through the basics of getting it all set up: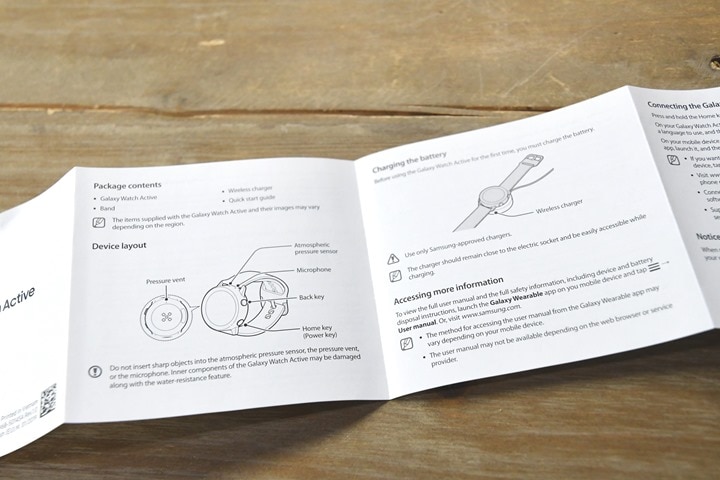 At which point, you're ready to roll. Note that the weight comes in at 46g (measured on a scale I have).
The Basics: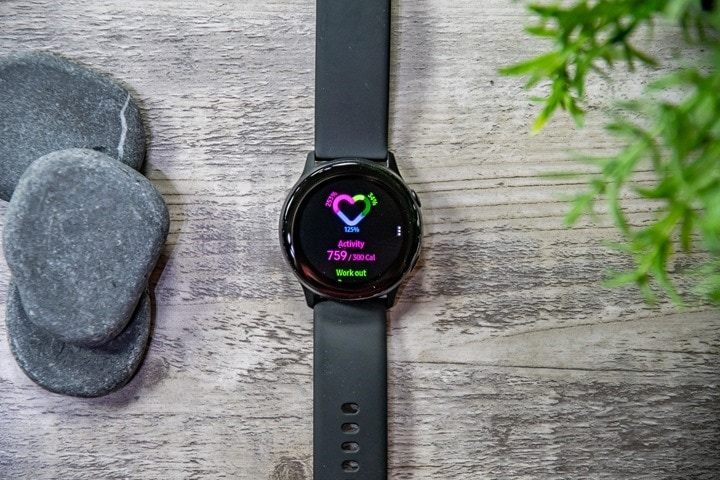 There's no better place to start on the Active watch than the default watch face itself. You've got two basic options for customization here – one being to swap out the watch face for ones that you download from Samsung's Galaxy app store, or two being to just tweak the stock ones already on the watch. In my case, I actually kinda like the default one – as I felt it basically gave me what I wanted as-is.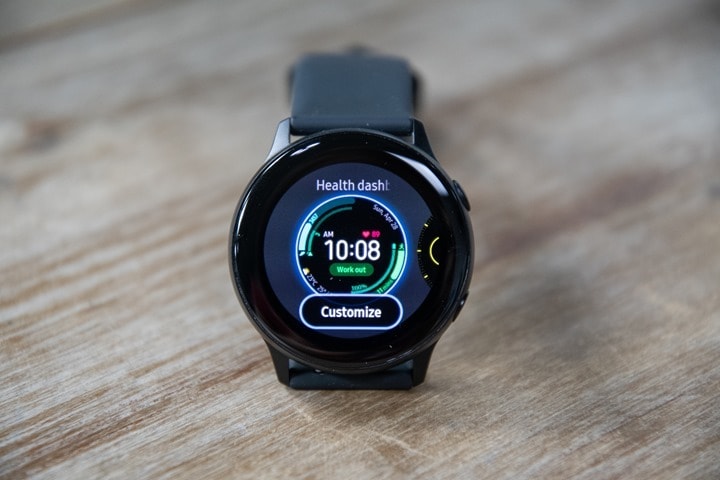 Still, you can either change it from the default 'Health Dashboard' option to one of the other stock ones, or you can change the main color scheme of the 'Health' watch face. The default watch face as seen two photos above shows you how many steps you've walked for the day, weather info, the date, your current heart rate, as well as how many workout minutes you've recorded. Note that in this case the workout minutes are ones specifically recorded using the built-in workouts app. Said app is handily linked in the very center of the watch face, bringing you then straight to start a workout.
But fear not, we'll get to that in just a moment. First, a few other basics.
If you swipe from the left you'll access your most recent smartphone notification. Each successive swipe goes to a previous notification per app. So if you had 10 Twitter notifications, they're all grouped together in this timeline of sorts (the small number under the notification indicates the number of notifications from that app).
These notifications are on-par with stock notifications from Garmin and Fitbit wearables, and contain the name of the app that sent the notification (such as Nest or Twitter, and then the line or two of detailed information. Unlike the Apple Watch, I haven't seen these smartphone notifications contain imagery – such as a quick snapshot from the Nest App, or the picture if sent via text message.
It's possible some apps contain more advanced notifications, but for all the basic apps you're likely to use – the formatting is pretty basic. You can clear these notifications once you click on a given notification. You can also block an app from sending notifications too.
Meanwhile, if you swipe from the right on your watch, you'll get a simple heart that appears to have been drawn by a three year old. This tri-color heart is meant to represent how much activity (calories), workout time (minutes), and move time (hourly threshold) you've done. This is roughly akin to what Apple does, except just displayed in a 1980's government color scheme.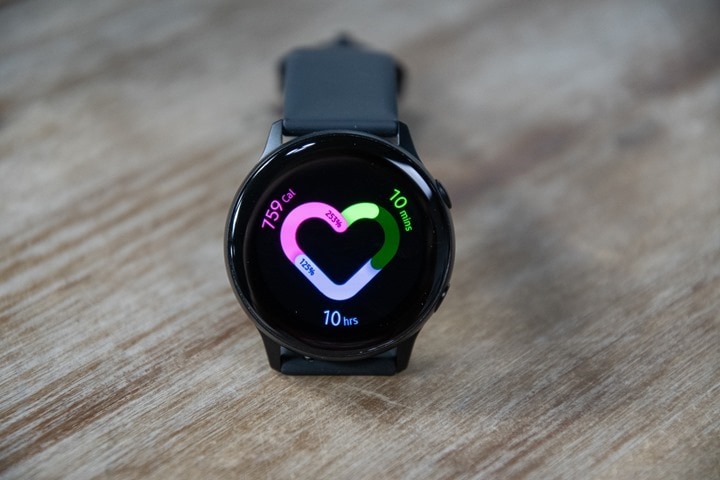 If you tap on this heart situation, you'll get a small detailed chart with more stats on how much you've accomplished towards each of those categories, as well as a timeline for the week (which, I like).
You can also change the targets for each of these categories directly on the watch: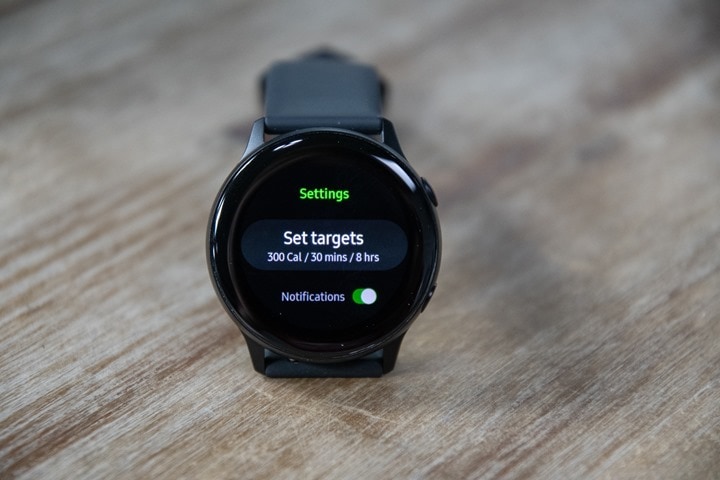 Meanwhile, over on the Samsung Health app, you'll see these same stats mirrored like most other activity tracking apps:
I find it funny the upper section is called 'Be More Active' – like it's telling me to be more active. Seriously? I've often doubled the daily step goal, and thrown down plenty of workouts each day. Does that section ever say "Stop being more active"?
For the most part, the Samsung Health app is satisfactory when it comes to these basic stats (more on sports in a moment), though it's disappointing when viewed with the lens of how long Samsung has been working at this – and how little progress they've made relative to their competitors. Keep in mind I first started looking at the Samsung Health app in early incarnations some 6 years ago. By and large, very little has changed. In fact, in some cases they've removed useful tracking and sensor features that used to be there.
On the back of the watch is an optical HR sensor that is constantly illuminated, recording your HR 24×7.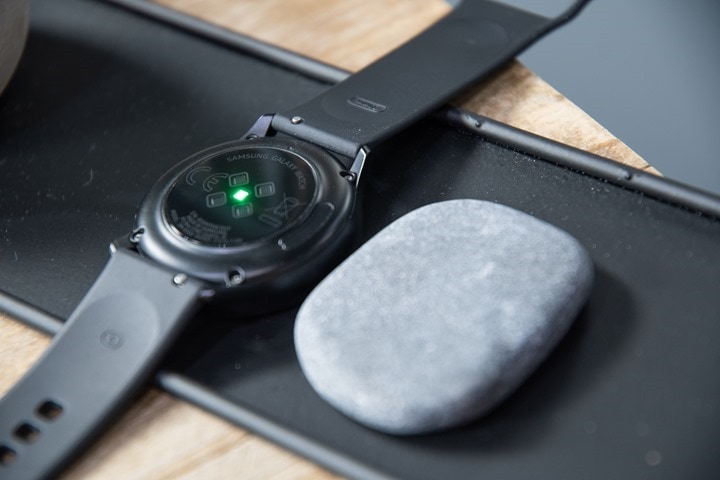 Samsung's app then collects this data and actually does a really good job at showing detail within each day, and doing so in a few different ways. It's unique in this space, especially some of the bar chart options per hour.
However, the data isn't super accurate. As much as I'd like for my resting HR to be 29bpm, the reality is that on a good day it'll be 39-42bpm – and lately there haven't been a ton of those days. Mid-40's is more realistic. While that might sound like a minor difference between 29bpm and 42bpm – that's frankly massive. So massive that it shows the optical HR sensor is basically lost.
Back on the watch, as you continue swiping from the right you access other widgets. For example, a quick-access panel to apps, a quick-access exercise shortcut, the stress relaxation breathing widget, and your heart rate (with average resting HR shown).
Next, if we swipe down from the top, we'll access a quick-hit list of controls like do-not-disturb mode, airplane mode, screen lock brightness, etc… More or less the same features you'd get on your phone when you swipe down from the top or bottom (depending on platform). Swiping from the bottom on the Active doesn't do anything on the default watch face.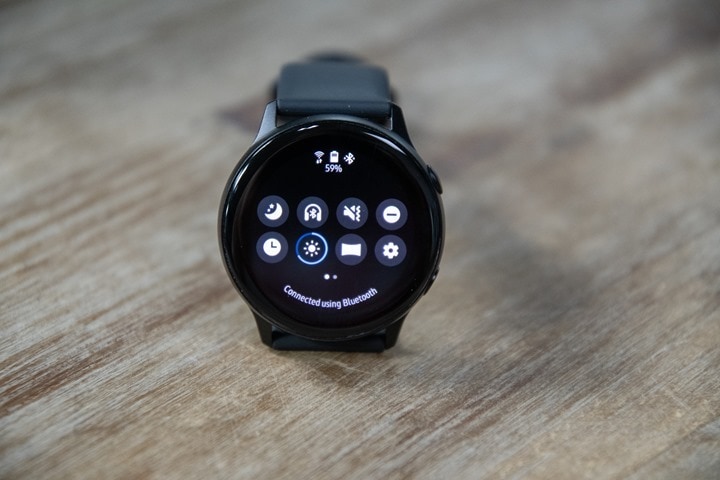 For the most part, until this moment, we've been just using the touch screen. Like the Apple Watch and Fitbit's watches, the screen on the Active is 'always-off', meaning that it only displays something when you either raise your wrist or press one of the side buttons.  In this case, the Active has two buttons on the right side. Gone however is the rotating bezel found in previous Galaxy fitness watches. Note that you can technically make the Galaxy Active an always-on display (it's deep in the settings). However, I wouldn't recommend that from a battery standpoint.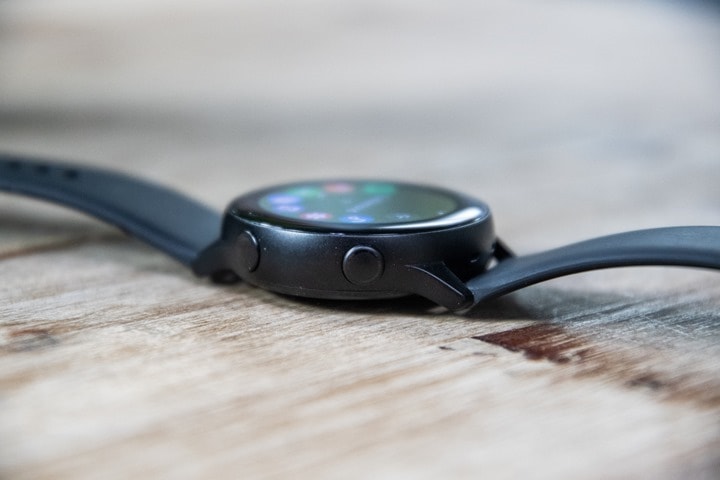 I've found the raise to wake functionality on-par with Fitbit's offerings. By that I mean it's 'good enough', but not industry leading. If there's one thing that Apple really nails it's the nuance of raise to wake on their watch. It's almost perfect. On the flip-side, I will say that Samsung does at least tend to not false-positive trigger as much. So while it's probably not sensitive enough, at least it doesn't seem to constantly illuminate the bedroom at night with every random movement.
Once the display is illuminated, the upper button can be used as a 'back' button. While the lower button gets you back to the app launcher (or watch face if on app launcher) Here's the main app launcher: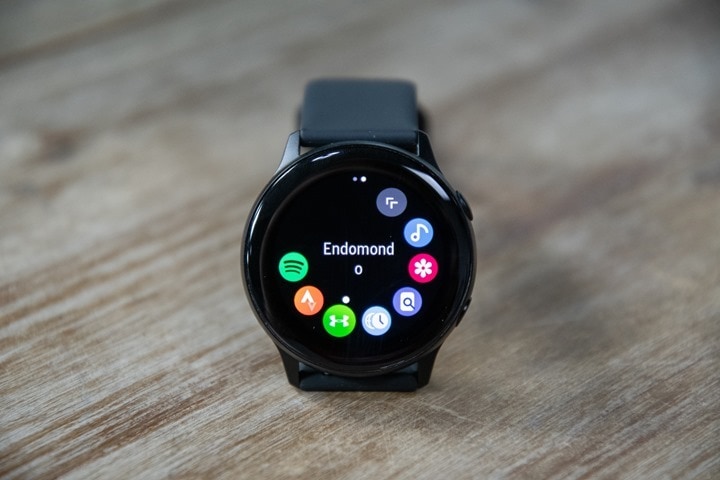 But for the most part you'll be using the touch screen.
Now again, my main goal in this post isn't to tell you every feature of the watch. It's the fitness-focused ones that I'm here to cover. Still, you will need to know that in order to access apps you'll have to use the companion app – either on iOS or Android. Technically, that's really two apps:
1) Galaxy Gear
2) Samsung Health
The Galaxy Gear app is what you use to configure the watch, including installing apps/watch faces or setting up various settings.  Whereas the Samsung Health (also called 'S Health') is what you use for the health/fitness related bits.
These apps are different on iOS and Android, both in terms of features and functionality. Further, the apps available can also vary by features – and even which Android phone you're on.  For example in the last month or so there's been challenges for many users in getting the Spotify app installed (myself included). This app disappeared for all but a handful of countries, and in some cases only if you had a Samsung Galaxy phone to actually install the app to the watch. It's gotten slightly better in the last week – at least I can now install the app.
Certainly geo-locks to given apps by app vendors is hardly new to platforms, but for such a marquee app that was the pinnacle of Samsung's marketing efforts to be accessible to just Samsung Galaxy phone users in a few countries is something to definitely give you pause (especially since no restrictions were noted anywhere).
In addition to limitations around the app store, there are a number of limitations around the product that are only available on Android. For me personally, some of these haven't really mattered if paired to iOS. For example, there's no Bixby voice assistance when paired to iOS. That's fine, as the idea of shouting at my wrist got old about 5 seconds after I watched the first demo of such a concept a few years ago.
However, you should research some of these limitations – and this is probably the best spot that spells them all out (as most of them aren't fitness-focused).  I do however cover all the fitness-focused ones in the next section. For non-fitness limitations, you don't get access to NFC payments since Samsung Pay isn't available; further, replying to text messages is limited as well. Again, check out that full list for all of the nuances. Though, some things are missing from the list – like lack of Strava linkage to Samsung Health, or workout exporting. I'm sure there are other random ones too.
Last but not least, I want to briefly cover charging. The watch claims about 45 hours of battery life in normal watch mode (and doesn't appear to specify a GPS-mode battery claim). I can say that the 45 hours claim simply doesn't hold water. I can barely get a day and a half before it dies – with or without GPS usage.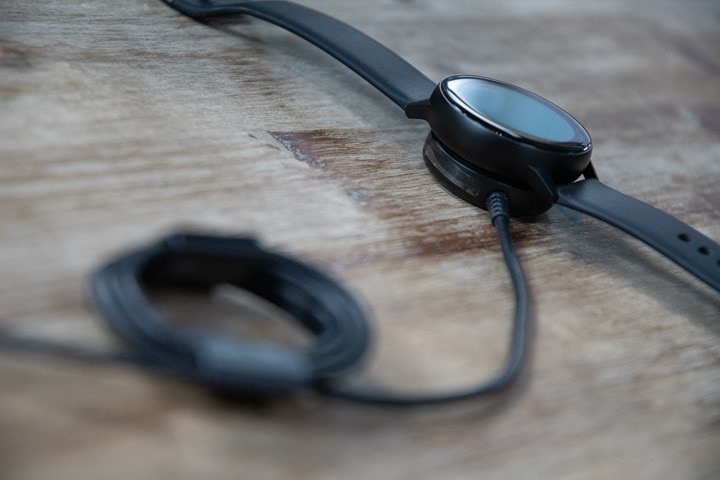 Next, perhaps the most annoying bit is what happens after the battery dies. Like a normal human, you'd put it on the charger to charge. But unlike every other watch on the planet, it won't power back on once fully charged. Instead, it stays off. So you grab the watch off the charger while rushing out the door in the morning and walk a bunch of steps to work. Then you realize it was never powered on. Steps lost.
But it gets better. Then you turn on the watch and go about your day. Except there's yet another catch: It'll still be in lower power mode. See, when the battery gets close to dying it asks you to go into low power mode to save battery life. But for whatever reason Samsung never put the logic in that says when the battery is re-charged, to set the state of the battery mode back to 'normal'. So a few hours later you'll wonder why you don't have any notifications – only to realize it's been in low-power mode. It sounds stupid…well…because it is. But it's also annoying.
Finally, to briefly discuss music – specifically Spotify – since that's what I use across all my devices. Once I managed to get the app installed (an act that took me almost the entirety of this review period, due to issues with the app not being available in my country/device. In any case, once installed, it looks pretty clean.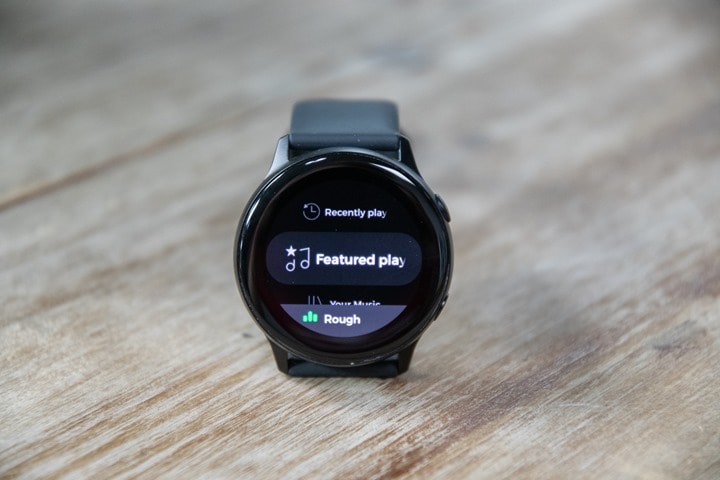 However, I find that it often fails to enumerate my playlists and other collections online. It's like it just fires a blank. Perhaps that's why the app is rated so poorly on the Galaxy app store. On the bright side, as noted, at least it looks really pretty.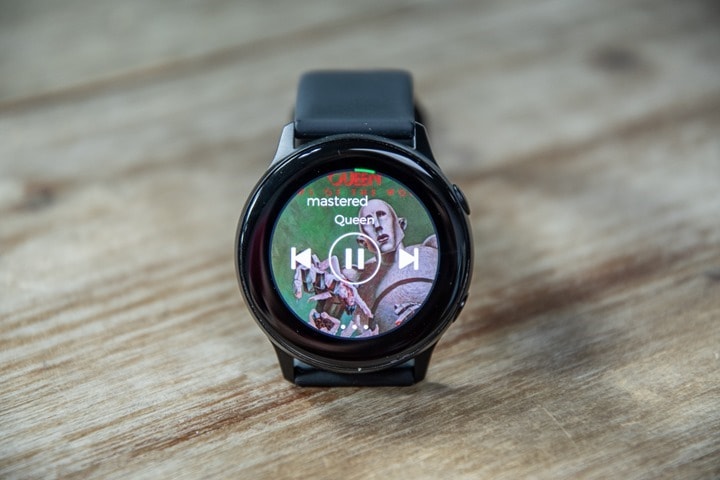 When functioning, you can download music over WiFi to play back later. Additionally, if on WiFi you can also stream the music directly for playback via Bluetooth headphones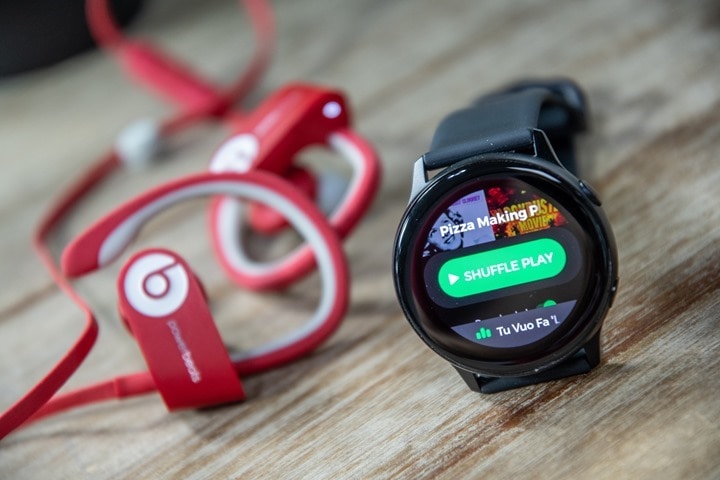 In any case, let's move onto the purely sport part now.
Sport and Fitness Usage:
Given this watch has 'Active' in the title, you'd presume it has some sort of active lifestyle features – namely, sport ones. And to a large degree, that's true. It's definitely got more sport features than the average smartwatch, though, not quite as many as sport-focused watches such as those from Garmin/Suunto/Polar. Those watches are more about supporting you in the long arc of a season of training towards a specific goal, whereas the Samsung watch (like Apple) is sorta a 'now' type of training device. Doing one workout doesn't really have any impact on the data or metrics for another workout. One night stands effectively.
Essentially, I'd argue it has roughly similar levels of sport features as Apple does. In some cases executed better (GPS), and in other cases, executed less so (HR). It does have more sport features though than Fitbit does, mainly due to supporting sports like openwater swimming, as well as being able to tie-in various gym related movements/equipment (such as arm curls, bench press, etc…) into a single cohesive workout.
Still, let's start at the beginning with the default workouts app. This app can be accessed about 12 different ways in the watch, though in my case I just press the 'Workout' button on the default watch face. That takes me here: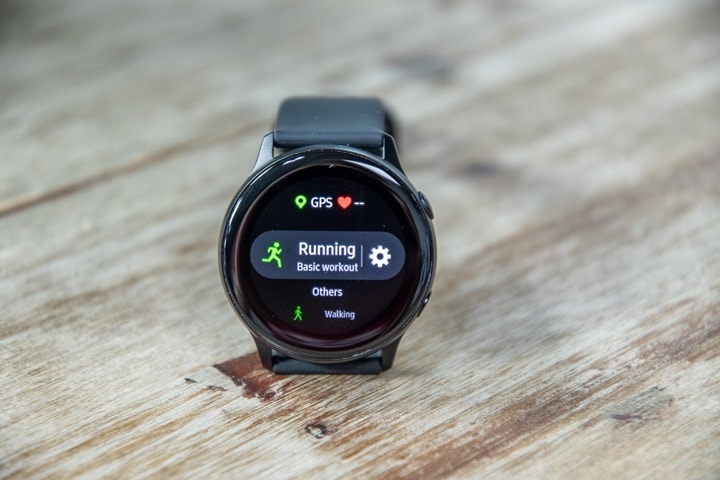 You'll immediately be presented with a list of sports, as well as the GPS and HR status. When the icon is blinking, GPS isn't yet acquired. And HR will transition to showing your HR when locked. This is an example of being better than Apple, as Apple doesn't show you either. It's just a shot in the dark whether either sensor is ready (neither usually are). Of course, Samsung is just following what everyone else in the industry has done for the last decade. Apple's beating to their own drum here.
There's a crap-ton of built-in sports to select. They include:
Swimming (Outdoor), Swimming (Pool), Cycling (Outdoors), Running (Outdoors), Walking, Hiking, Treadmill, Exercise Bike, Circuit Training, Weight Machine, Other Workout

Then listed under 'Others': Arm Curls, Arm Extensions, Back Extensions, Bench Press, Burpee Test, Crunches, Deadlifts, Elliptical trainer, Front Raises, Jumping Jacks, Lat Pulldowns, Lateral Raises, Leg Curls, Leg Extensions, Leg Raises, Lunges, Mountain Climbers, Pilates, Plank, Pull-Ups, Push-Ups, Rowing Machine, Shoulder Presses, Sit-Ups, Squats, Step Machine, Stretching, Yoga
Once you highlight a given sport, you can then click the settings icon to tweak specifics related to that sport. These include targets, such as for running: Pace, Duration, Distance, Calories.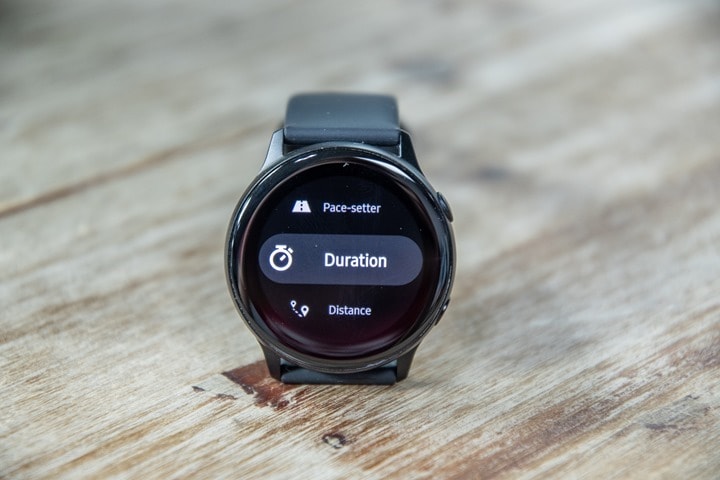 You can also customize some basics around the workout screen. For example, you can toggle on/off the music controller screen, and tweak the data fields (three metrics) per page (you can do at least 5 pages). This is more flexible than Apple or Fitbit, but far less flexible than Garmin/Suunto/Polar.
You can also tweak automatic lap options, based on distance (for statute, that's every mile by default), as well as change the accuracy level (I found the default level pretty much spot on most times), and auto-pause.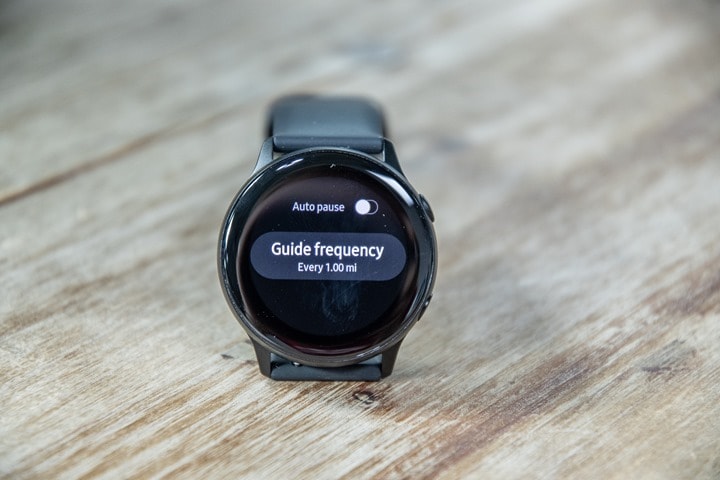 Once all those things are done, go ahead and tap the name of the sport to start. You'll get a skippable 3-second countdown, and then be off and running (or doing whatever sport it is you're doing):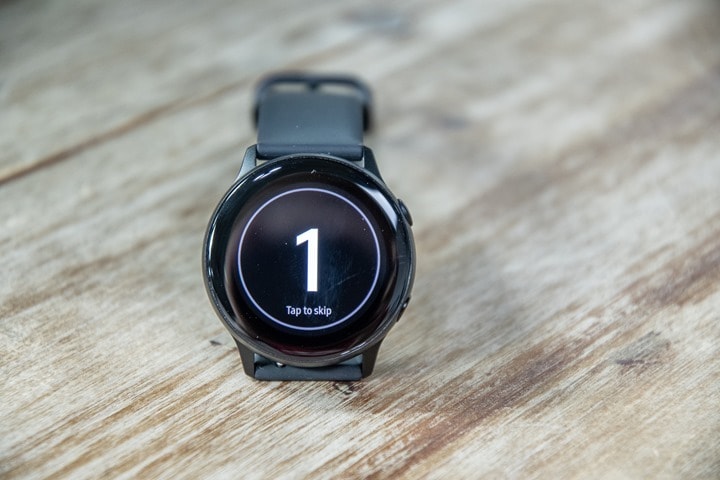 While doing the sport, the screen is off, unless you raise your wrist or press a button. To change data screens, you can swipe the screen.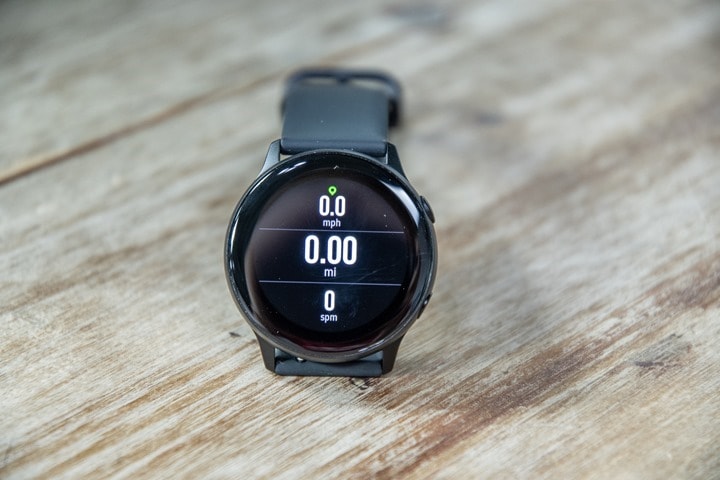 For the most part this works fine. Not great, but fine. Sometimes it takes a second for the wrist-raise to work. Also, in certain apps I found some lag for updating the data (such as Endomondo, just today) – so you'd have to wait an extra few seconds to show the correct pace/HR. But overall, not bad. Both GPS acquisition and HR acquisition did occur pretty quickly in all scenarios. So that's good (more on accuracy though down below).
When it comes to swimming, the watch actually did fairly well indoors. However, outdoors was a disaster. Still, indoors it nailed all my laps correctly (and with the right stroke). Note that it doesn't support the concept of sets though, so it's basically just all or nothing. Also, because the screen is off while underwater (you can press a button to turn it on), you can't easily see distance/pace information on the watch during a flip turn or other push off the wall type situations. Note how below in the picture the watch you see is the light on the Garmin MARQ, whereas on my other wrist with the Samsung Galaxy Active, it's just darkness.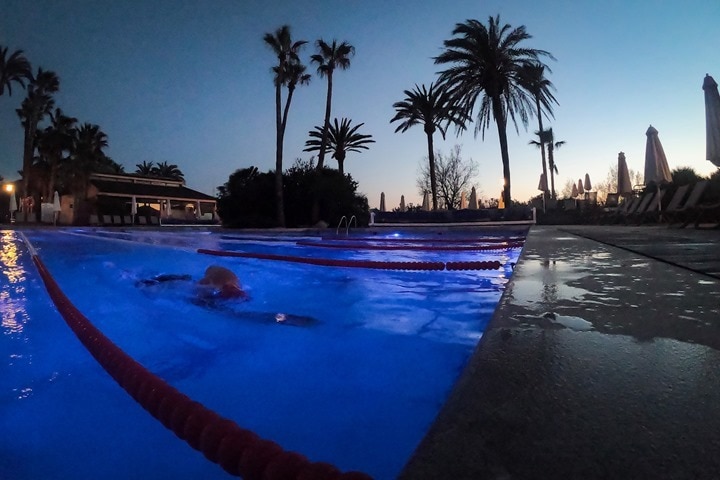 Once you're done with a workout, you'll be able to save it, which will automatically sync it back to Samsung Health (iOS or Android). And on Android, you can also have that data automatically sync'd to Strava (not an option on iOS).  Here's what the workout data looks like afterwards on the app:
As noted earlier, you can also string together sports (aka exercises) to form a complete workout. This allows you to to do something like start off with Arm Curls, and then transition to Arm Extensions, and so on. You can also define the number of sets and reps for each on a per sport basis:
In fact, it'll even give you a little starting icon to get you into position, and then will automatically count reps for you (in theory, sometimes, less so in practice):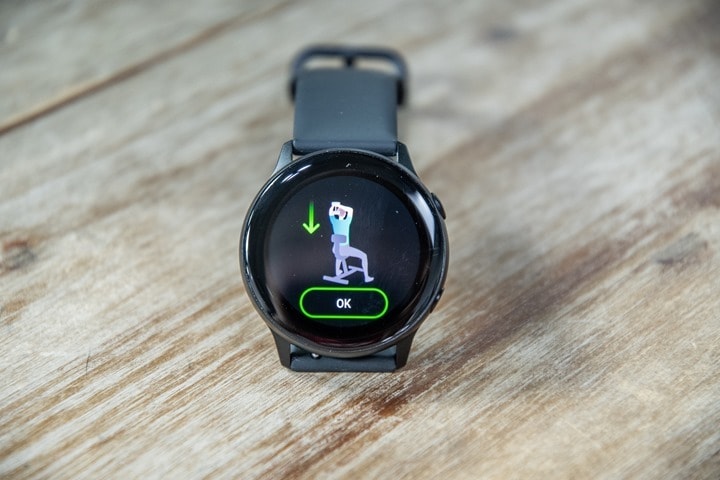 Once you finish a set, you'll tap to end, at which point it asks you whether you want to add another sport/exercise ('New Workout').
Rinse/repeat this process till you get to the end of your workout.
The only problem here is that:
A) It's a pain in the ass to navigate these menus and get where you want for each sport. You'll spend your entire recovery period futzing with the screen trying to get to the next exercise
B) Once the screen is wet, navigation gets even worse with failed touches
Ideally, Samsung would let you (using your phone) create a routine of a bunch of exercises ahead of time, and then just iterate through them as a structured workout. Sure, there are 3rd party apps that can do this. But, given how much effort Samsung went to for this particular portion, it'd be ideal to have that natively in there.
Still, in terms of basic sport usage – it's not too shabby at all. One minor caveat to be aware of however is that if you use 3rd party apps to record your workouts, those won't show up as 'workout' time on the Samsung's default watch faces. Basically, you won't generally get credit for those workouts in that Samsung-specific context. This is different than Apple/Garmin/etc, whereby workout time is generally measured with HR intensity and is across the device no matter the app. Which somewhat answers the question on why someone might not want to use apps like Strava, Endomondo or others for workouts – even if those apps are far better than Samsung's native workout apps.
Data and Sport Apps: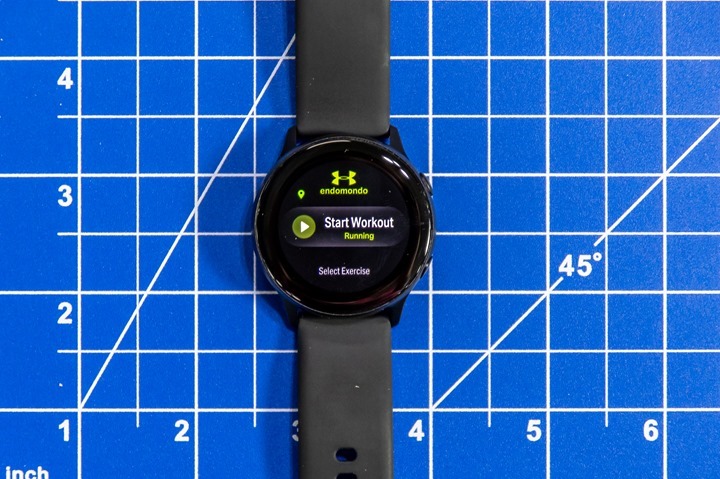 Now before we get into GPS and heart rate accuracy, we need to have a brief discussion on data. Specifically, workout data. In short, it's exceedingly difficult to get fully detailed workout files out of the Samsung platform. For example, if you're on iOS, there's zero ways to get workout files out of the Samsung Health app (except for a GDPR request, which results in a pile of JSON file goop that's totally useless for other fitness platforms). Even on Android, the data it gives you is often partial. For example – it only records heart rate in these files once per minute, rather than the every-second recorded by most 3rd party apps (and all competitors).
Here's a brief look at the ways you can get data out of the Samsung Galaxy Active (or really, any Samsung watch).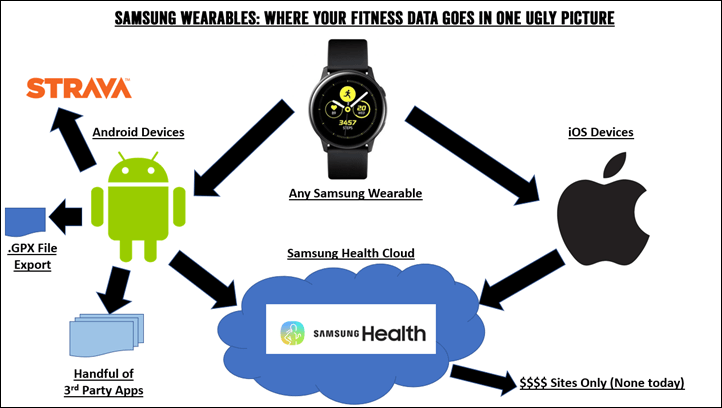 I got so frustrated with this whole thing I ended up writing a massive post on it last week. I detail all the options for getting fitness data off the watch, or more specifically – out of the platform.  You can read that flotilla of text and images here.
However, the gist of it is pretty basic:
If you plan to use/share your data onto any other sport platform except Samsung Health – don't use Samsung's default workout apps for recording workouts. The data recorded there is either islanded (on iOS), or incomplete (on Android). End of story.
Instead, I'd strongly recommend using 3rd party apps to record your workout data. I've been using Endomondo, but Strava would work as well. Both of these platforms records all of the data for each workout in a proper format that's widely supported across the industry. There are others as well, but I haven't played with them as much.  For example, the Sporty Watch app/watch-face also supports some basic sensor types as well, like external HR sensors and footpods.
In the case of Endomondo, they support exporting to numerous 3rd party services (even automatically). It's how I got out most of the files for my accuracy sections below.
What's unfortunate here is that Samsung used to be pretty good with partner integrations and supporting fitness file standards. However, in the last year that's mostly gone away. In fact, if you compared their apps from just last fall until now – you'd see virtually all online partner integrations to their Samsung Health platform have disappeared.
Why? Well, that's hard to say for certain. However, in this same timeframe the company has started to promote its paid services, which cost companies $10,000 to sign-up for, and then charge a per-read transaction fee. This can amount to well over a million dollars a year in fees for even small players in the industry. No other platform charges such outrageous fees (or barely any fees at all if they do).
So again, choose wisely when recording your workouts.  But again remember that the one downside to 3rd party apps is that these workouts won't show up in your exercise totals for the day on the watch faces. Nor will these 3rd party apps have all the sport modes.  For example, Strava and Endomondo don't support pool swimming or openwater swimming in their apps like Samsung does natively. So you'd either need to find yet another app for those sports, or default back to the Samsung app.
GPS Accuracy: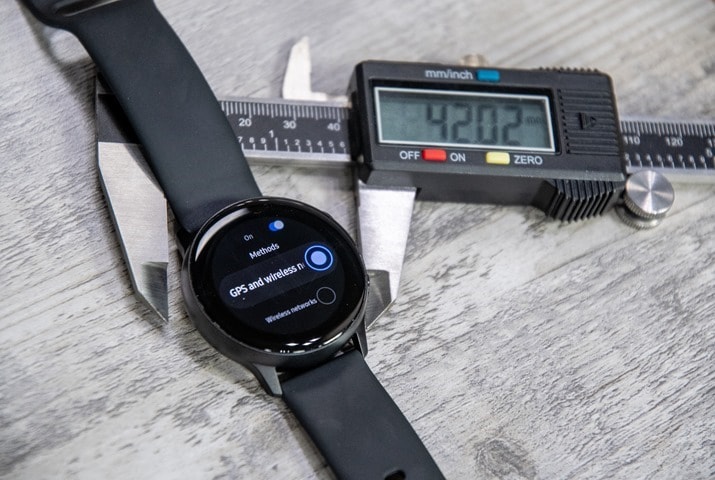 There's likely no topic that stirs as much discussion and passion as GPS accuracy.  A watch could fall apart and give you dire electrical shocks while doing so, but if it shows you on the wrong side of the road?  Oh hell no, bring on the fury of the internet!
GPS accuracy can be looked at in a number of different ways, but I prefer to look at it using a number of devices in real-world scenarios across a vast number of activities.  I use 2-6 other devices at once, trying to get a clear picture of how a given set of devices handles conditions on a certain day.  Conditions include everything from tree/building cover to weather.
Over the years I've continued to tweak my GPS testing methodology.  For example, I try to not place two units next to each other on my wrists, as that can impact signal. If I do so, I'll put a thin fabric spacer of about 1"/3cm between them (I didn't do that on any of my Samsung Galaxy Active workouts).  But often I'll simply carry other units by the straps, or attach them to the shoulder straps of my hydration backpack.  Plus, wearing multiple watches on the same wrist is well known to impact optical HR accuracy.
Next, as noted, I use just my daily training routes.  Using a single route over and over again isn't really indicative of real-world conditions, it's just indicative of one trail.  The workouts you see here are just my normal daily workouts.  I've had a fair bit of variety of terrain within the time period of testing Samsung Galaxy Active.  This has included workouts in: Amsterdam (city, countryside) and Mallorca (mountains, ocean, countryside).
Let's get right into it with a relatively easy (GPS-wise) run from earlier today along the forests south of Amsterdam. It's a good starting point. At a high level, here's that data set (you can click on any of the data set links to open up a window and dive around in the data as you see fit, even downloading the original files).
At a high level, things look pretty good. No total wonky situations. Let's go ahead though and zoom in a bit and validate some of the turns are good.  If we look at this section here where I'm along the rowing basin (bottom right), it's basically spot on.  And in fact, when I make the turns, it's within a meter or two of where I was the entire time. It slightly cuts one corner at about 2-3 meters, but not enough that I'd freak out about it.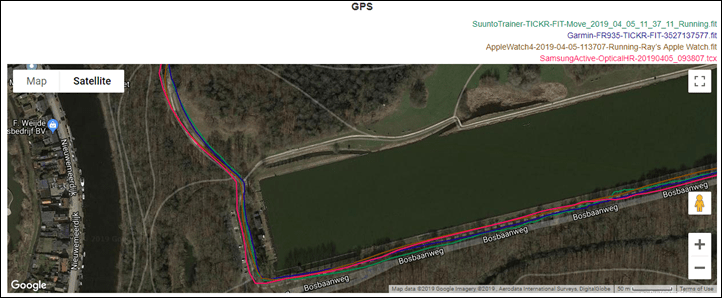 Still, while it got most of the turns right, there were a few bobbles (as did the Suunto), where it went off cow-tipping in the fields: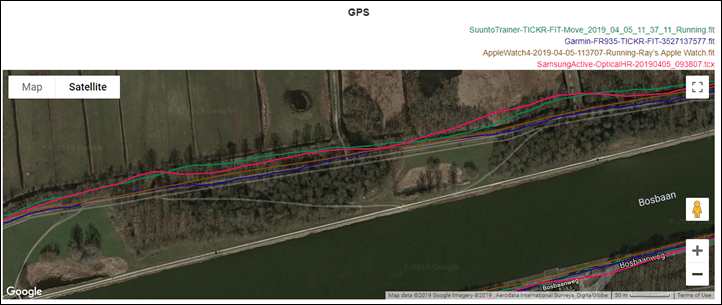 While I don't generally like to use total distance as a proxy for whether or not something is good (since you can be always wrong cutting off corners or overshooting corners and end up with the right average), I will note that all the watches were within a 160 meter spread (on 6,710 meters), and the Samsung was soundly in the middle. If we kicked out the Apple Watch, then all were within an 80 meter spread.

Next, let's look at another data set. This one with a bit more 'city' to it. Though, not super tall city buildings, but buildings nonetheless – about 4-6 stories in most cases. It's an hour long, 8-mile run. Here's the data set:

If we zoom in somewhat haphazardly into the middle of things where I do a bunch of twists and turns, you'll notice that it does fairly well:

Really well in fact, nailing all those turns without issue. Same goes for some other sections as well down in more of the forest areas:

Still, there were a few minor bobbles. You can see I was building-busting down one stretch here. Though we're only talking about the GPS track being offset 2-4 meters. It's just visible when it happens to be inside a building:

And the same here as well in some more open areas: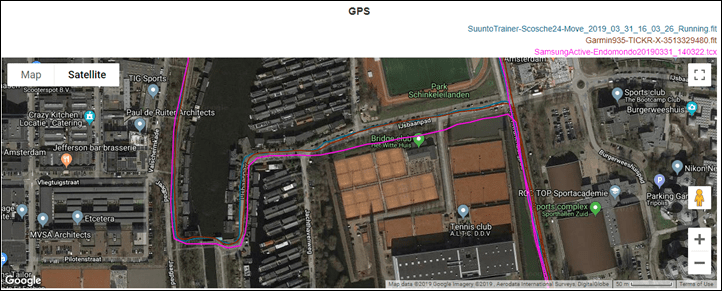 Distance wise it was within 100 meters of the Garmin FR935, though almost identical to the Suunto Trainer. Looking at the tracks, I'd argue the FR935 laid down the best track in terms of not cutting corners and such as much. But realistically, within 99.3%, I'm calling that close enough.

Let's go riding now. This time outdoors with some serious mountains/cliffs along the route. Even a tunnel or two. This route is definitely tough on GPS, so here's the overview of things of the data set: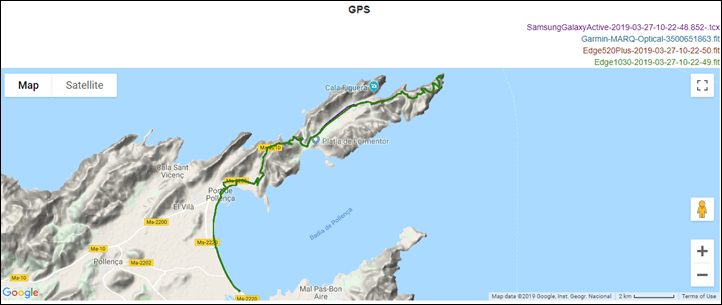 Well, that's good – at a high level, things all appear to match. Still, let's dig in a bit. Here's a section with a mountain on one side, and the cliffs dropping down to the ocean on the other: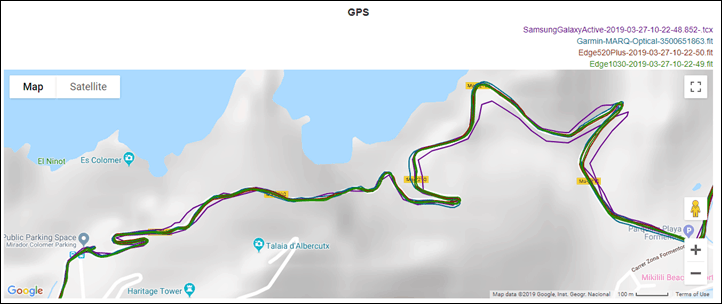 Clearly all the other units surpass it, but frankly – it's not that bad in the grand scheme of things. You can see the purple track of the Samsung device as I'm descending has a tougher time at high speeds. But, when I came back on that same path, the slower speeds going uphill meant it actually locked on just fine.
Still, it also struggled here along the flats in the most open area on the entire ride – clearly offset by probably 20-30 meters: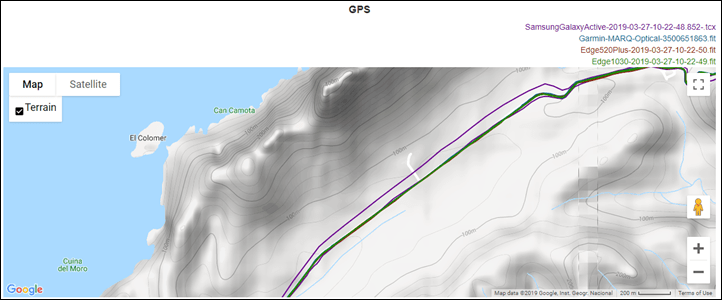 Still, as we got back to the cliff-laden twists and turns towards the lighthouse, it was reasonably close for a watch not really aimed at cyclists.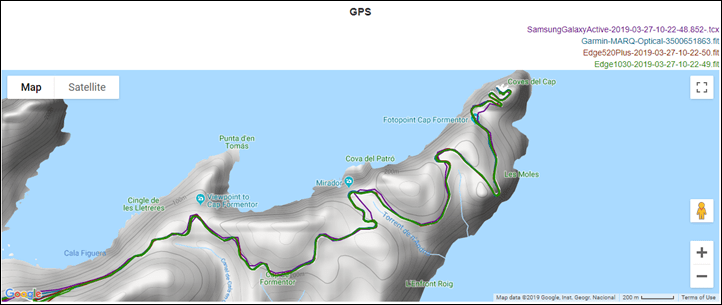 Sure, it misses a few turns slightly, and I probably wouldn't recommend this to hardcore road cyclists (or mountain bikers), but for most people doing more casual riding – you'll be going slow enough that it probably won't matter too much.
In case you want to dig into another hard GPS set, I'd recommend this one as I climb up to Sa Calobra, and then descend the nearly 2,100ft back down to the ocean through legit mountains full of rock. Here's that data set: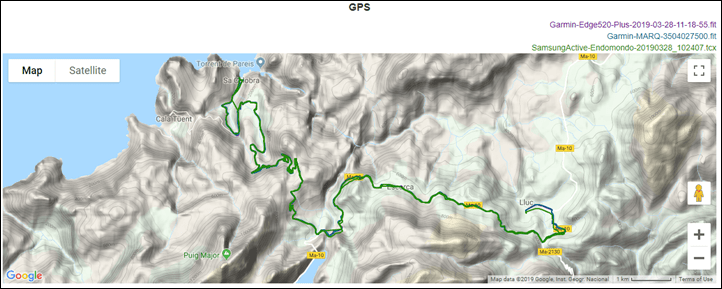 In short, it did pretty darn well. Again, you can hit up that link to zoom in/out as you see fit. Out in the open on some other sets on the country roads of the Netherlands, I've seen really good GPS results as well.
Finally, because all good things in life end up on a warm Spanish island beach with blue water, let's go for a swim. Oh, wait, it's not warm? Well, no wonder this was the final situation – showing the three GPS tracks side by side. On the left is the Samsung track, in the middle is the actual swim buoy reference track, and at the right is the Garmin MARQ on the other wrist. After the correct distance of 1,545 meters, the Samsung reported 30. Yes, 30 meters.
In fact, the kicker is that I even gave it 30 seconds after pressing start above water before starting swimming, and then another 60 seconds after the swim to complete GPS acquisition. Clearly, Samsung hasn't implemented any form of openwater swim algorithms. They made an openwater swim mode – but there's no proper math behind it like other legit openwater swim watches.
Ultimately, swimming aside, Samsung's done some really good work here on GPS compared to all their past sport/GPS watches – which generously would be called complete disasters GPS-accuracy wise.  Was the Samsung perfect? No. But was it pretty darn good? Yes. Very much yes.  As noted, I probably wouldn't recommend it for cyclists or swimmers specifically, but for most other categories – it'll definitely get you the tracks you want.
(Note: All of the charts in these accuracy portions were created using the DCR Analyzer tool.  It allows you to compare power meters/trainers, heart rate, cadence, speed/pace, GPS tracks and plenty more. You can use it as well for your own gadget comparisons, more details here.)
Heart Rate Accuracy: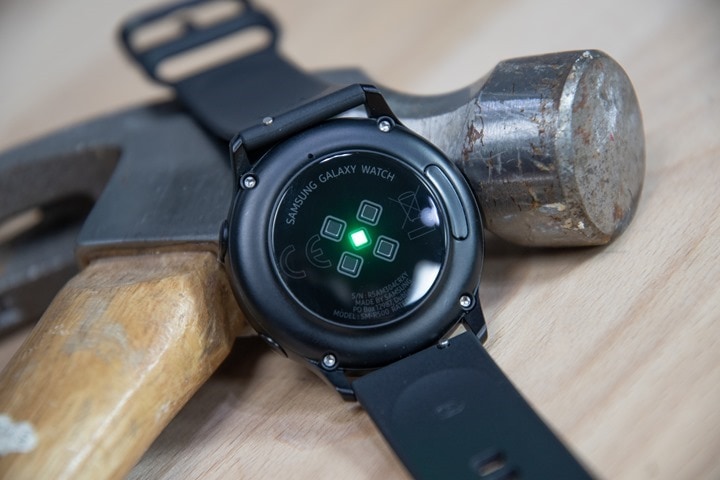 Before we move on to the test results, note that optical HR sensor accuracy is rather varied from individual to individual.  Aspects such as skin color, hair density, and position can impact accuracy.  Position, and how the band is worn, are *the most important* pieces.  A unit with an optical HR sensor should be snug.  It doesn't need to leave marks, but you shouldn't be able to slide a finger under the band.
Ok, so in my testing, I simply use the sensor throughout my normal workouts.  Those workouts include a wide variety of intensities and conditions, making them great for accuracy testing.  I've got steady runs, interval workouts on both bike and running, swimming, as well as tempo runs and rides. Basically, most everything a typical triathlete would do.
For each test, I'm wearing additional devices, usually 3-6 in total, which capture data from other sensors.  Typically I'd wear a chest strap (lately that's been the Garmin HRM-DUAL and Polar H10), as well as two watches using optical HR sensors and often finally another optical HR sensor on the other arm (mostly the Polar OH1/OH1 Plus and the Scosche Rhythm 24). I never wear more than one watch per wrist, and never more than one optical HR sensor per arm portion (upper/lower).
Note that the numbers you see in the upper right corner are *not* the averages, but rather just the exact point my mouse is sitting over.  Note all this data is analyzed using the DCR Analyzer, details here.
(Note that in order to get the best possible HR accuracy on the Samsung Galaxy Active, I have my watch set to disable power saving mode. That's located under Settings > Apps > Permissions > Systems Apps (way down) > Power Saving > Disable Sensors.)
We'll kinda work our way roughly backwards with some of these data sets. First is a run from a few hours ago. It's not too long, but it's a great one for testing optical HR sensors. In this case, I recorded the data using the Endomondo app, so I'd get full resolution data. I start off with a nice warm-up for 10 minutes, then build HR for 3 minutes, before going into 90-second intervals with 60 seconds rest. I repeat that four times before then escalating to harder 30-second intervals another four times. Here's the overview and full data set – the Samsung is in pink.

So…yeah. That happened.
A couple of things:
A) It failed entirely to lock HR at the beginning of the run, the easy part it should have nailed
B) It did manage to lock HR from around the 9-minute marker, before I increased intensity at the 10-minute marker
C) It managed to get one interval fully correct (#4), but failed all others on a scale between disastrously or partially.
D) The weird spike/drop things that you see on interval #1 and interval #3…I've never seen that before in the history of analyzing likely thousands of workouts. That shows serious algorithm issues on their optical HR algorithms.
E) I'm not sure what else to say
I could zoom in and analyze things further, but basically it was a mess. You'll see all the other sensors, which, to recap for a moment were:
A) Polar OH1 Plus (optical arm band, upper left arm)
B) Garmin HRM-DUAL (chest strap)
C) Wahoo TICKR-FIT (optical arm band, near elbow)
D) Scosche 24 (optical arm band, upper right arm)
E) Apple Watch optical HR sensor (right wrist)
All these sensors were super close – almost spot on. The Apple Watch seemed to have some slight spikes on intervals #3/#4, but otherwise very close (and honestly, that's super rare for the Apple Watch to have any issues).
Next, let's look at a longer more steady-state run. This one about an hour long, 8ish miles:

Ahh…that's much better.
The Wahoo TICKR-X chest strap is the weirdness you see at the beginning. But otherwise, almost all sensors nail this run. And quite frankly, they should. Sure, we see some oddities in the first 60 seconds, but that tends to be normal. Here's what that looks like closer up:

Now, sure, everyone is a bit weird the first 75-90 seconds, but then they (aside from the TICKR-X) roughly stabilize. However, check out those little spikes that I highlighted. This happens throughout the Samsung file. Almost too precisely time-wise. They shouldn't be there, once again, some sort of weird little algorithm bug that I've seen in most of the Samsung Galaxy Active files I've dug into.
Will it dramatically change the end result of your workout? No, mostly not. However, it's just a weird quirk that shouldn't be there.
Now, while I have your attention – just to note the differences in recording rates between the default app and 3rd party apps – here's a quick and simple 5K run I did. See how infrequently that purple line (Samsung Galaxy Active) updated? Especially in the first few minutes as my HR ramped up? It was updating once per minute. There's no watch on the market that does this as infrequently. The data here:

Next, let's look at HR from a ride. This is a ride where Endomondo wasn't cooperating, so I had to default back to the stock workout app, and as such, you can see how that purple line of the Samsung Active doesn't update frequently. For this graph I also had the Garmin MARQ (beta) device on there on my other wrist, but I've removed it from the chart below because frankly it was a mess. And it was making it hard to see the real HR data recorded by a Scosche 24 and Polar OH1 Plus sensor. Here's that data set:
If I zoom in on a given section, you can see a bit more clearly what's going on. In this section we can see that the mid-way through the Polar OH1 Plus actually has a fairly rare tracking issue. However, more importantly than that one-off oddity is the fact that the Samsung just sorta meanders its way through, updating every minute.

So, let's switch over to a ride using Endomondo instead, to see if perhaps we get a bit better data with the 1-second update rate instead of the 1-minute update rate. This was a three-hour long ride, including climbing up the famed Sa Calobra (pics and stuff here). I'd mostly focus on the first 2hrs and 30 minutes, since that's the active bits.  The Samsung Galaxy Active is in green, within these data sets:

Oh dear god.
That's pretty bad.
Though, it's actually kinda interesting. Basically, it took over 6-7 minutes to fully lock optical HR at the start of the ride. Then, it lost it for another 10 minutes. After that, it loosely tracked it till around the 45-50 minute marker, when I started descending – at which point it totally lost the plot. That's actually fairly common for optical HR sensors with rougher roads at higher speeds. In fact, you can see the Garmin MARQ in blue also do the same.
Then, as I started ascending, it was at least in the ballpark of reasonableness again:
After that point though…yeah, things weren't so strong again:

So, what about indoors on a stationary bike? Well, that's dramatically improved. In that scenario, you remove the road conditions that typically cause optical HR sensors to crap out. Sure, it took two minutes to acquire heart rate within the Endomondo app after pressing start, but hey – after that part it was actually pretty good and matched the others nicely. Here's that data set.

Finally – what about swimming? Ahh yes…swimming. In this case, you *have* to use the native Samsung workout app, because Strava and Endomondo don't support swimming as sports in their apps from a recording standpoint. For this set, I only have a single other data point (the Polar OH1 in a swimcap/temple configuration). Thus I can't be 100% certain it's correct. However, the data is at least worth throwing up here:

Within the swimming set, it's super easy to see how the data only updated once per minute, and took until the first minute to acquire HR. It loosely tracked my HR, though did seem to significantly overestimate it.
Ultimately, it's pretty obvious that the heart rate sensor on the Samsung Galaxy Active isn't that good. It's not good in 24×7 mode, and it's not good in workout mode. And lest you think it's just me – there's plenty of other reviewers I trust that have shown basically the same thing.  In fact, my skin and arm hair type is generally considered pretty easy for optical HR sensors. If a sensor fails on me, that's usually a bad sign. That's because my skin is fairly light/pale, and I have non-thick arm hair that's also blond. Making it super easy for optical HR sensors to do their thing. Plus, I know how to properly tighten and place an optical HR enabled watch to ensure it's set up for the best chance of success.
Unfortunately, while we saw improvements with GPS on this Samsung watch, the HR remains about where past Samsung efforts have been: Not good.
Product Comparison:
I've added the Samsung Galaxy Active watch into the product comparison tool. That's where I've got every other sport/fitness watch out there that I've reviewed in that tool.  Now, if you're new here, the one core thing I try and focus on with these feature comparison is whether or not the feature is native to the watch. That can get a bit messy though in an app-driven world.
One could potentially mark 'yes' for many options if you start to include 3rd party apps. But it's not terribly viable to track every 3rd party app in the world and what features it has. Further, sometimes apps go out of business, or stop working on a given platform. So by and large I don't list these in the comparison table, except in semi-extreme cases where I'll note there is an option out there (especially if there's a high number of really good and reputable options).
Now remember you can mix and match to make your own product comparison charts showing other watches in the full tool here, but for the purposes below I've compared it to the Apple Watch Series 3, the Fitbit Ionic, and the Garmin Vivoactive 3. There's not a perfect set of comparisons here – because frankly none of the other brands offer a sub-$200 GPS watch with music like the Samsung Galaxy Active is. So all the other options that are sub-$200 either take away GPS and music, or cost between $200 and $300. Still, it is what it is below. They're the nearest mainstream competitors:
Again, don't forget you can make your own comparison charts here.
Summary: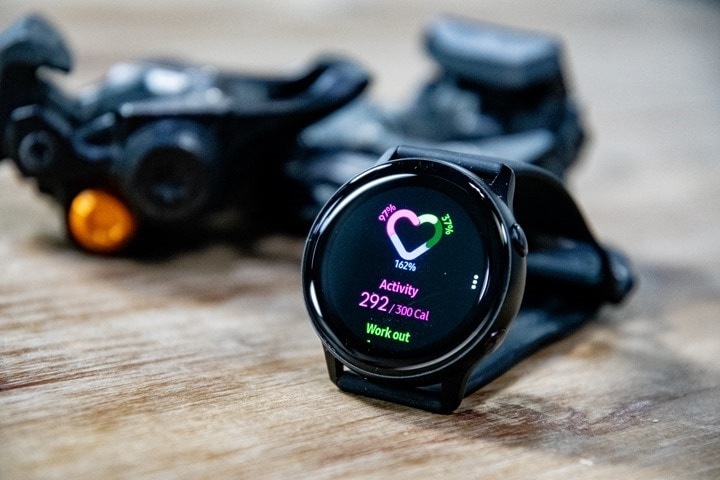 There's a lot to be said for how much Samsung has crammed into this little package, all at sub-$200 (and especially, if you're on a Samsung phone and can take advantage of all the features).  But I think in some ways more should be said about how far Samsung has come since their last version in terms of GPS. It's unclear to me if they changed GPS chipset vendors, or perhaps just fired their previous GPS team. Either way – this is legit decent.  And there's also a number of kinda interesting/unique ways the company shows data (such as 24×7 HR data, and weekly summaries of activity on the device itself).
However, there's still some sore spots. Heart rate accuracy is an unmitigated mess. Pretty much the worst device I've seen in a long time, no matter the sport or app used. Secondly, the entire data export situation just doesn't sit well in 2019. The industry (even Apple of all companies), moved past the islanded sandbox that is Samsung's sport data story. And finally, battery life is pretty bad – again, even by Apple Watch standards (which is pretty low compared to the rest of the fitness industry).
So who wouldn't I recommend this watch to? Well, probably an iOS user. That might sound obvious, but ultimately Samsung made the iOS apps for it – so it competes for your dollars just like a Fitbit or Garmin device would. Whereas with Apple, they don't make Android apps for their Watch, so that is what it is.  I also wouldn't recommend it for anyone really into sports data. It's just too limited compared to the myriad of better options out there.
However, the Galaxy Active would make a great watch for an Android based user that is more casual in their sport tracking. Perhaps just enjoying sport for the sake of fitness (or 'Active-ness') as it may be, rather than from a competitive standpoint. With the features and Spotify support, there's nothing else at this price point (or anywhere near it).
In fact, I'm actually interested in seeing where Samsung might go with this for next year. If they can address the HR bits and clean up some of their sport data software bits, this could really start to alarm the major fitness players.  And in some respects, it probably will. Neither Garmin nor Fitbit have anything in this ballpark, and this competes directly in the Fitbit Ionic and Garmin Vivoactive wheelhouses, again, especially for Android users.
With that – thanks for reading!