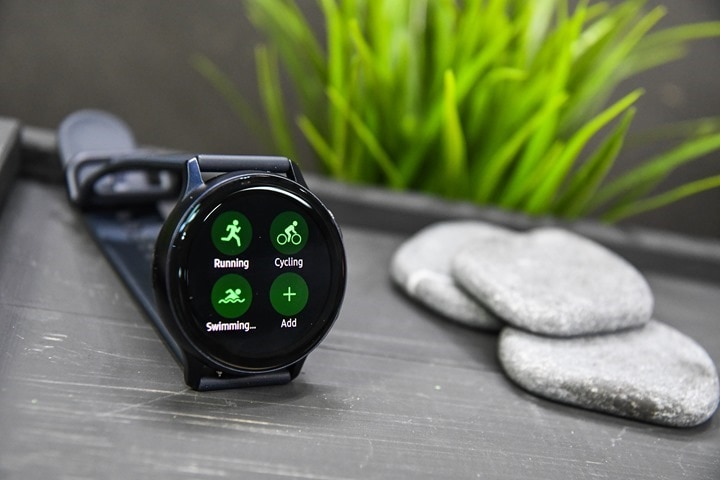 We're gonna follow in the footsteps of last Friday's super quick post I did around my Apple Watch Series 5 first impressions video, but this time from the Samsung camp. Yesterday morning I unboxed the new Samsung Galaxy Watch Active 2 and after some test bike commutes I put it to the test this morning on a run around town.
For this post I'm going to re-cap in a tiny bit more details my video. But expect a more detailed post down the road in October. I know that there's surprisingly little overlap between my readership here on the site and that over on YouTube. So this post mostly serves as a heads up that if you're looking for some initial first run data, I've got it for ya below.
Now like last week I'm going to give myself a quick time limit. The Girl is out for a walk and is probably 15-20 minutes away from getting home. Whatever I can fit before she walks through the door – we'll do. Got it? Good. Let's go!
– This is the 2nd edition in this product line, which follows after the Gear Sport product line. Keep in mind the first Active 1 watch came out just this past February/March (full review here), so we're only talking 6 or so months later. That's nuts!
– I configured the watch with always-on display set to enabled, and in that mode the day to day aspects of watch-face and time is very similar to the Apple Watch Series 5 and Garmin Venu (and Fitbit Versa 2). The only difference is the Samsung Active 2 (my abbreviated variant of the full official name) occasionally will show the wrong date/time for about 0.5-1.0 seconds before it refreshes the screen. Super weird, but consistently happening today around the office. Brilliance/screen clarity/general touchability is on-par with the other watches noted earlier in this paragraph. No major differences.
– The new touch bezel is a step-up from no touch bezel. However, bizarrely Samsung didn't enable it by default. Merely looking at YouTube end-user (non-media) reviews of the watch demonstrates that even the most ardent Samsung fans don't realize it's not enabled and fumble around trying to figure out how to enable it. Just like me. Turns out you need to enable it under Settings > Advanced > Touch Bezel. There, I just saved you hours of frustration.
– Battery life seems inconsistent. Or at least, incorrectly managed by the system. When I went to bed last night it showed 22 hours of battery life left. When I woke up 5 hours later, it was already dead. Not sure why.
– Sleep tracking was roughly in the ballpark, at least until the battery died at 6:34AM apparently.
– Due to my extensive experience with trying to get fitness/workout data out of the unit, I used the Endomondo watch app to record the run. I did record my bike commutes using the regular built-in app, and didn't notice any difference between those rides and my run workout. In my case I have it paired to my Pixel phone, though I'll switch it over to the iPhone in the next day or so. Note that no phone was taken with me on the run.
– I was blown away by how poor the permissions approval process is on the watch. I counted no less than five times that I had to approve permissions for GPS/HR Sensors/data access for either the native app or Endomondo to use. It's nuts. And in some cases it doesn't even tell you that it needs access, you have to figure it out yourself when you can't get GPS working right.
– GPS accuracy wasn't bad on the whole. Some blips, but in looking at all the GPS tracks in this set (Garmin FR945, Polar Vantage V, and Apple Watch Series 5), it was roughly in the middle. The Polar Vantage V was by far the worse, and the FR945 and Apple Watch S5 mixed and matched in various sections. You can look at the entire set here. For the most part we saw Samsung make really solid strides in the Active 1 earlier this spring, so this seems on-par with that.
– The new HR sensor is visibly very different than the past Active 1 sensor. Gone is Samsung's quad-LED design (shown in the first 90 seconds of the video), and in comes Apple's design some other design. This new design may have something to do with ECG (which isn't available/enabled yet), though, it does seem to look a crazy lot like Apple's Series 4/Series 5 design.
– HR accuracy started off pretty rough during the run for the first 4-5 minutes, with a huge difference to the other units. It then went through a few minutes of variability, however, it did eventually even out a bit and looked pretty clean for the remainder of the run. In fact, all of the units and HR sensors matched very strongly for the high-paced sprints I did at the end:

– As a random aside, this is the first workout in the last week I didn't see any dramatic Series 5 HR spikes/dropouts (no change in software), however, I did see one moment where the Series 5 clearly overcommitted (early on). Not sure why today was different – aside from being the only workout where I was out in the dumping rain.
– From an always-on display during a workout standpoint, like Apple, 3rd party apps can't be shown until your wrist is raised. So instead you get the time, and then you get a delayed refresh of the app – and then about 2 seconds after that you get the actual current app data. Apple's 3rd party mid-workout always-on display experience isn't great, but this is super not great. Usability during rain was rough for the touchscreen, I'd say about 70% of the time it got the swipes, but the initial swipe often missed (perhaps clearing the rain). I had zero issues with the touchscreen in the rain on the Apple Watch Series 5.
– Size and feel wise I got the 40mm (because it was available). Feels good, and the strap is really good.
With that, The Girl is back, so I'm outta here. I'll circle back down the road with more data sets as I wrap up a number of wearable reviews including the Apple Watch Series 5, Garmin Venu, Vivoactive 4, and Suunto 5. Intermixed within all the indoor cycling stuff. Fear not, October won't be quiet at all!

Found This Post Useful? Support The Site!
Hopefully you found this review useful. At the end of the day, I'm an athlete just like you looking for the most detail possible on a new purchase – so my review is written from the standpoint of how I used the device. The reviews generally take a lot of hours to put together, so it's a fair bit of work (and labor of love). As you probably noticed by looking below, I also take time to answer all the questions posted in the comments – and there's quite a bit of detail in there as well.
If you're shopping for the Samsung Galaxy Watch Active 2 or any other accessory items, please consider using the affiliate links below! As an Amazon Associate I earn from qualifying purchases. It doesn't cost you anything extra, but your purchases help support this website a lot. Even more, if you shop with TPC (The Pro's Closet), you'll save $40 on purchases over $200 with coupon code DCRAIN40! The Pro's Closet has been a long-time partner of the site here - including sponsoring videos like my cargo bike race, as well as just being an awesome Colorado-based company full of good humans. Check them out with the links below and the DCRAIN40 coupon!
Here's a few other variants or sibling products that are worth considering:
And of course – you can always sign-up to be a DCR Supporter! That gets you an ad-free DCR, access to the DCR Quarantine Corner video series packed with behind the scenes tidbits...and it also makes you awesome. And being awesome is what it's all about!
Thanks for reading! And as always, feel free to post comments or questions in the comments section below, I'll be happy to try and answer them as quickly as possible. And lastly, if you felt this review was useful – I always appreciate feedback in the comments below. Thanks!