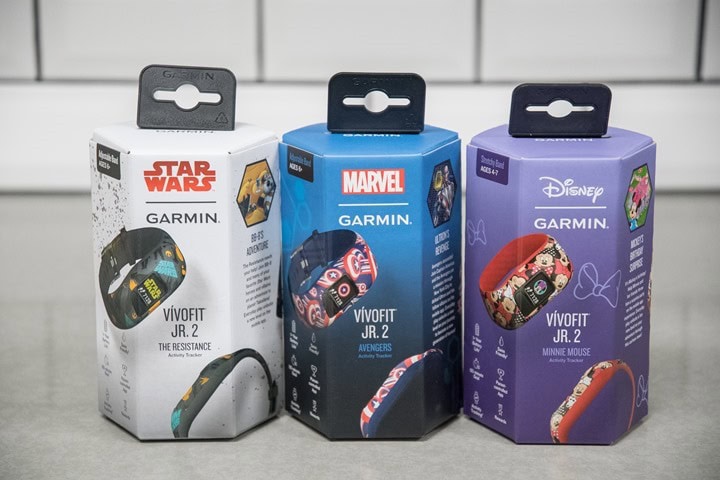 Today Garmin announced the Vivofit Jr. 2, which takes their surprisingly successful Vivofit Jr. kids-focused product line and adds in a few features. But most importantly it cements a Disney partnership for branded variants of the activity trackers covering Star Wars, Avengers, and Mickey Mouse.  For those not familiar with the Vivofit Jr. lineup, I'd encourage you to read the general concept below.  It's likely quite different than you expect.  If you don't have kids though, you can skip to any other post I've had this week, and a few others coming today.
Now, you may be wondering why I'd review or evaluate such a product. And I've got two answers for ya:
A) First, it's a fitness tech product.  And as a Dad, finding ways to keep kids healthy and active long term is super important; in the US especially it's clearly something that needs to be focused on.  All of which is likely more important than finding a way to get slightly more aerodynamic with real-time CdA on a bike (though, that's cool too).

B) Second, y'all simply asked for it. Fun fact for ya: During the 2016 holiday period, what was the most ordered product on Amazon/Clever Training via the links here on the site? Somehow…the Vivofit Jr. 1 activity tracker.  I'm not kidding. Oh, but here's the real kicker: I've never written a post about the device prior to today. No review, no first look, no nothing. Only a single barely passing mention in the massive deals lists I usually do.  Crazy, huh?
Thus, I figured I'd take a look this time around with the new launch.  After all, with one little one roaming the planet already, and another almost here – it's probably about time I figured out the names of these Disney characters.
Note that I've got a pile of media loaners of these units, but as usual I'll send them back shortly once complete with testing. Likely tomorrow in fact, because all these boxes are taking up half my suitcase right now.  If ya found any of this useful, hit up the links at the bottom of the site to support the site.
The Models/Boxes: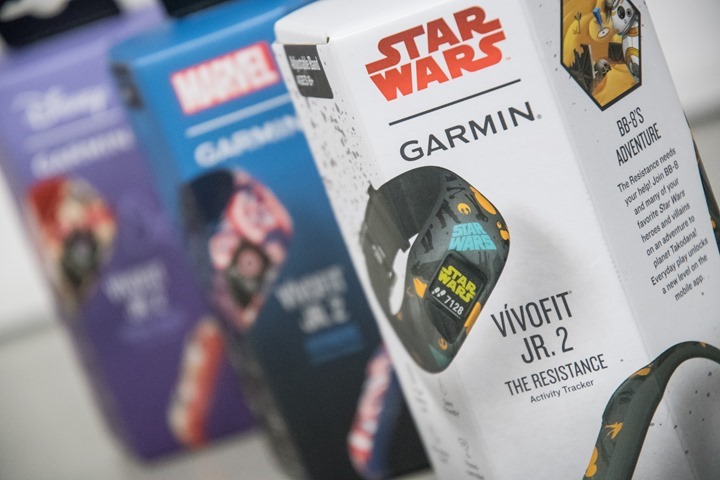 So there are a pile of different models of the Vivofit Jr. 2, all of which are tied to specific Disney 'adventures'.  Essentially the way it works is a band is linked behind the scenes which unlocks a given software adventure for that particular Disney band (which I'll cover later).  These adventures/themes are:
– Mickey Mouse
– Star Wars
– Captain America
But that aligns to six different bands:
– Stretchy Minnie Mouse
– Adjustable Minnie Mouse
– Stretchy Star Wars BB-8
– Adjustable Star Wars The Resistance
– Stretchy Avengers
– Adjustable Captain America
As seen above, there are either 'Adjustable' or 'Stretchy' bands.  The adjustable bands are aimed at kids 6+, while the stretchy bands are aimed at kids 4-7 years old.  Previously there was only a single size band.  Here's the two band types side by side: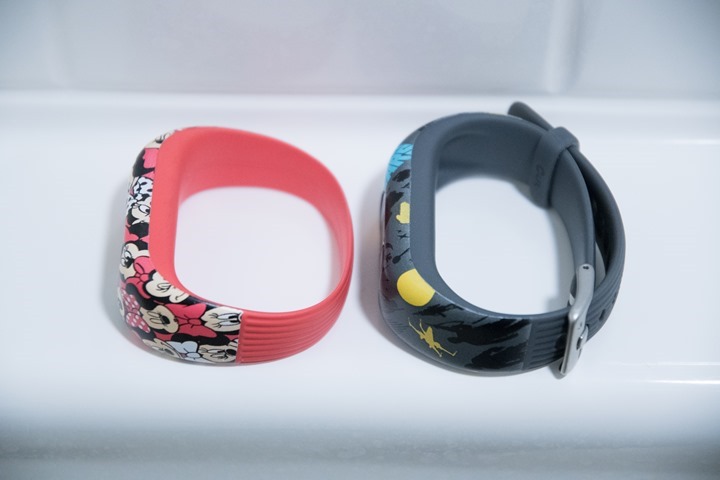 Now, assuming you buy an entire Vivofit Jr. 2 box (not just the band), here's what you'll get:
Inside you'll find a small manual, the Vivofit Jr. 2, and…that's it.  It runs on a coin cell battery that'll last about a year or so, and is easily replaceable afterwards.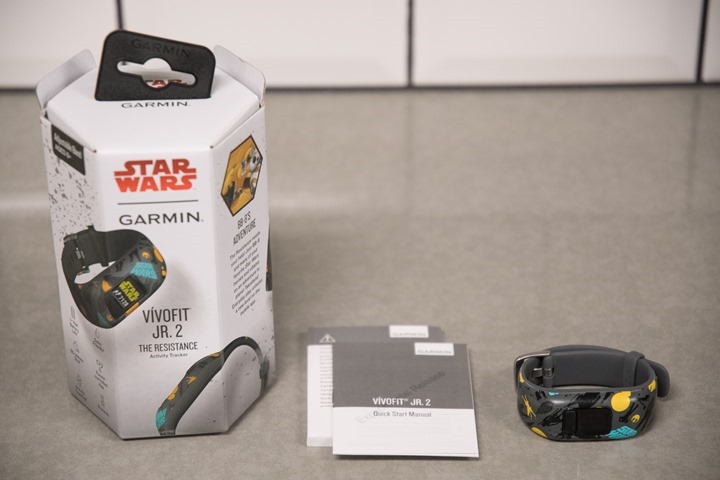 If you've got a Vivofit Jr. 1 – you can buy just the new adventure/themed bands, which will set you back $29 each (vs $99 for the full unit).  Here's me swapping a Vivofit Jr. 1 pod into a Vivofit Jr. 2 band.  With the band, you'll get an unlock code for that particular band's adventure/theme, that you can add to the app.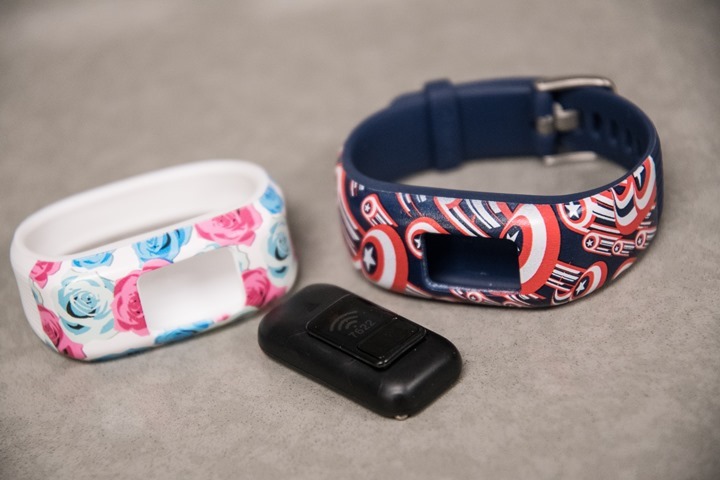 However, there are a few things to keep in mind that you won't get unless you have a Vivofit Jr. 2 unit:
– Toe-to-Toe Challenge is only on Vivofit Jr. 2
– Reminder Alerts are only on Vivofit Jr. 2
– Only a single alarm on Vivofit Jr. 1 (versus two alarms on Vivofit Jr. 2)
– Up to 8 reminder alerts on Vivofit Jr. 2
– Color screen on Vivofit Jr. 2, versus not-color on Vivofit Jr. 1
– No color screen means no customizable Disney step icons on Vivofit Jr. 1.
No matter which unit you get, it's totally waterproof for swimming.
Setting it up:
The first step is getting the unit set up, as well as your app and family instantiated.  The Vivofit Jr. doesn't use the typical Garmin Connect Mobile app, but rather uses a totally separate app, aptly called 'Vivofit Jr.'.  That said, that app does integrate behind the scenes to your regular Garmin Connect account, if you have one.
In my case, I already have an account for my regular adult Garmin devices, so I leveraged that.  Note, this should all be installed on the parents' phone/device – not something the kids run.
Next, you're going to need to create a family.  No, not in real-life, as hopefully that horizontal shuffle already happened.  Instead, this is re-creating it within the app.
You can also invite other people to 'manage' the kids as well.  So they can do so from their app.  Thus it doesn't need to be a one-phone show.
Next, you'll grab the Vivofit Jr. device and add it to the app.  To do so you just hold down the button for a few seconds and it starts the pairing mode.  It's silly simple:
Once you've associated the tracker with the app, you can create a child to add to the family.  This is simply setting the name, age, gender, and sleeping hours.
You can also configure either a default icon, or an avatar:
Finally, you need to specify a steps icon, which is tied to the theme that you bought.  The child will be able to unlock additional steps icons later down the road as they do more steps.  Also, you'll specify the name displayed on the unit itself for the kid.  This is also used in competitions between devices.
At this point, you're good to go.  In the event you have additional kids or devices to setup, you'll repeat the process.  Note that the icons differ between the different Vivofit Jr. 2 packs that are bought.  So if you bought a Star Wars band, you'll get Star Wars icons.
Using it:
With everything all set up, it's time to get your family into gear.  Simply put, the kids will go off and go through their normal daily routine with the band and it'll track their steps – just like an adult activity tracker would.  It'll also track their sleep if they wear it 24/7.
They can see their steps at any time by just pressing the button on the front.  By default, it'll show the time (as seen below).  Press the button once though and it'll show the date.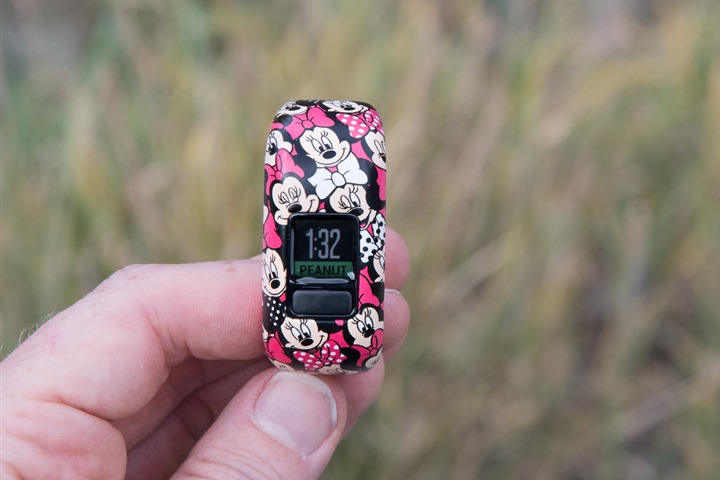 Press it again and it shows their selected icon along with the number of steps they've achieved this day.  Here's where you see that customizable Disney step icon.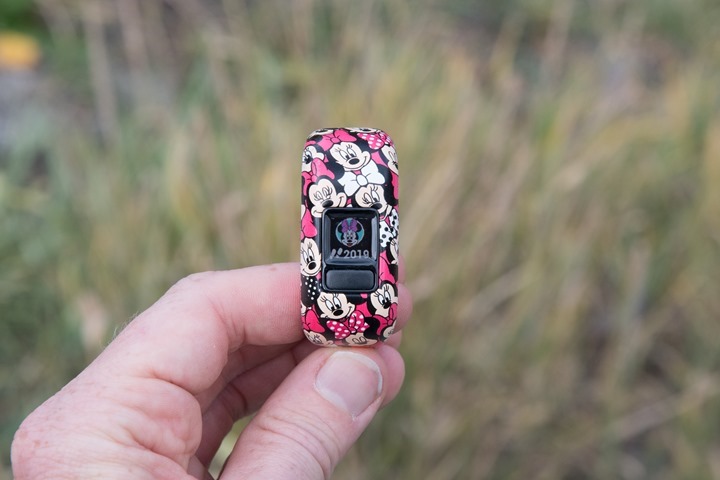 Press it once more and they get a simple icon towards their 'active minutes' goal for the day (default is 60 minutes).  This is where things differ a bit from an adult in that on the Garmin adult activity trackers you've got step goals and intensity minute goals.  So this is just simplified as active minutes, without a specific step goal.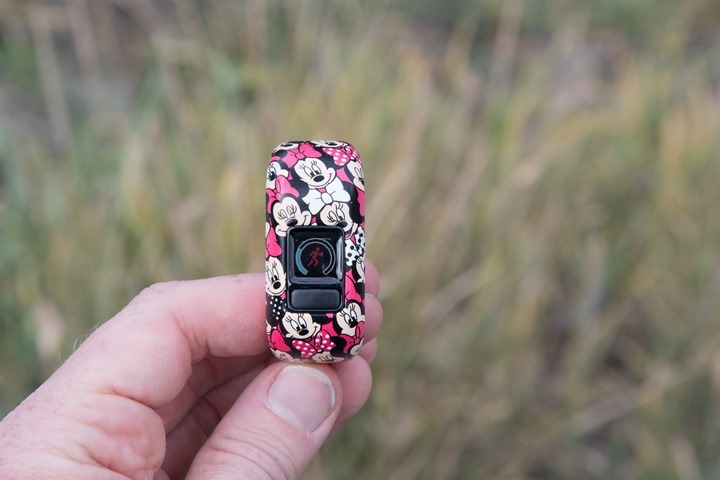 Tap it one more time and the child can see how many chores they've accomplished for that day: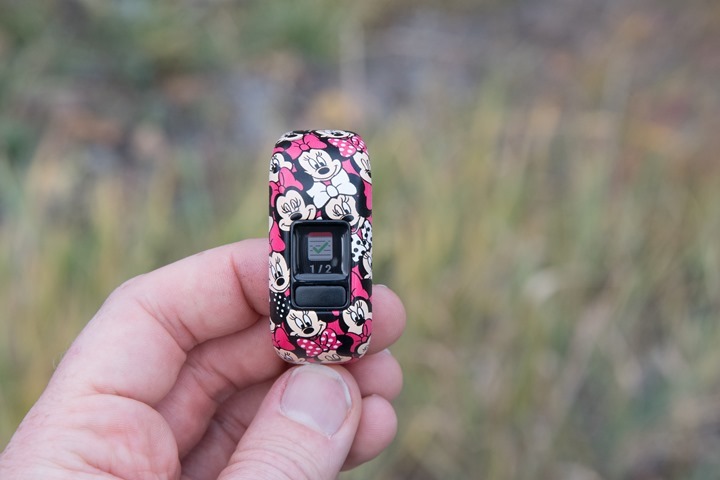 Pressing again gets the child to their coin/point earnings for the day.  This is controlled by you within the app.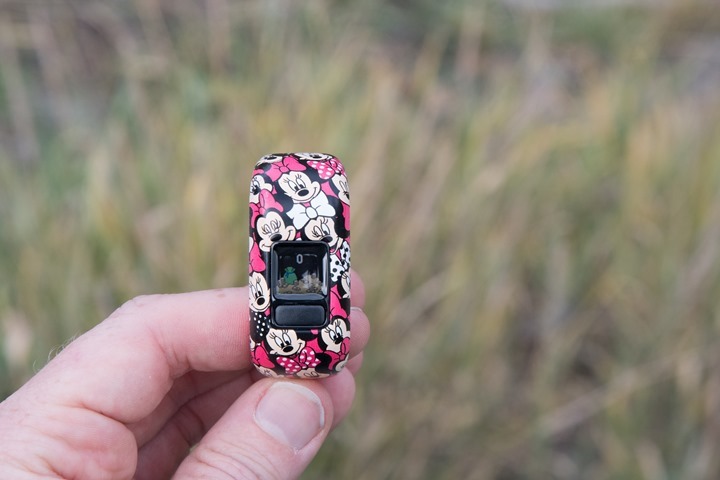 Then lastly we've got the stars they've earned: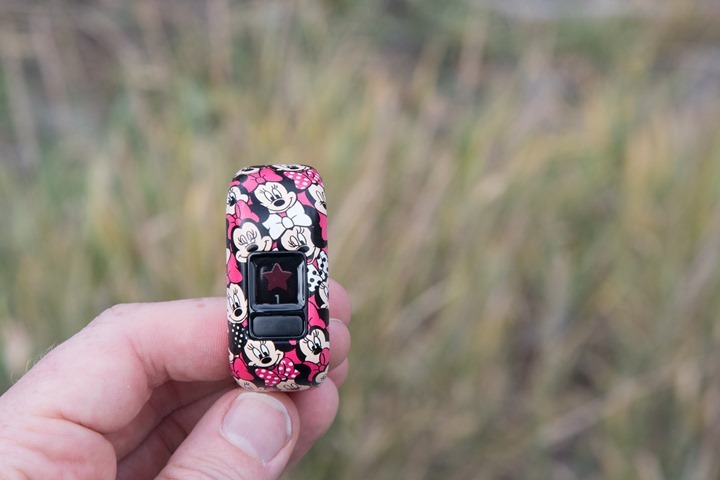 And that's essentially the core screens a kid would use most of the time.  However, if they long-hold the button it gets into a second tier menu that offers:
– Sync with their parents' phone: This will trigger the Vivofit Jr. 2 to start a data sync to upload steps
– Timed activities: These are pre-configured activities you can create like 15 minutes of homework time, or two minutes of brushing their teeth. They can iterate through icons of them and pick which ones to do, and the unit will count-down the time remaining for them.  This could be for 'chore'-like activities such as homework, or rewards activities like screen-time.
– Stopwatch: Simply put, it'll count time upwards forever.
– Step Challenge: The Toe-to-Toe Step challenge that I cover in a moment with a two-minute timer to get the most steps. This can be done either individually or against others.
– Software version: Just simply the current firmware, likely for any troubleshooting purposes.
Here's an example of the challenge icon:
It's all pretty straightforward and super easy to navigate around.
As I mentioned above, there are a couple of new features specific to the Vivofit Jr. 2, one of which is the 'Toe-to-Toe' challenge.  Within this, kids can challenge each other to a two-minute timed step contest.  To kick this off they dive into the menu through the two-tier set of menu button presses to begin the challenge.  The units then use wireless ANT to communicate between themselves to enroll participants and get ready to start.   It'll show who you're competing against as well as part of this.
Once started, the count-down timer is synchronized between all units and the contest kicks off.  Simply put, you've two minutes to amass the most steps.
During the competition you'll get your time remaining and steps taken:
At the end of things it'll tell you what place you got, as well as the totals of the other racers.
The kids can then choose to restart the contest again, in the event more mini-human energy consumption is required.
Note that Garmin says they plan to release a Connect IQ app for Garmin Wearables that will enable parents to participate in this circus act as well.
Speaking of the phone app, let's switch over to that a bit, since that's where most of the adult-focused action takes place.  To be clear, the app is split between things kids can do, and things that are more adult-driven.  First up is the home page listing the kids.  The second tab is the leaderboard, including adults or others that you've added on your contact list.  The third tab is app settings:
Within the kid's dashboard you can select a given child (or add more).  By selecting a child you'll get their detailed dashboard.  Within that, you can look at things like activity status throughout the day, as well as chores, rewards, and settings.  For example, on the steps page you can see not only today's steps, but previous days, as well as sleep.
The chores section is much the same, showing which chores are completed and allowing you to add chores – both to today as well as future days.  Or you could retroactively add chores to a previous day…in the event faking ballots is required.  In either scenario, chores are manually checked off by you in the app.  The kid can't self-certify their own chores on the device itself.  Else…nothing would ever get done.
Chores are setup and created by you on either a daily schedule, or specific days of the week.  They can also be one-off chores.  Garmin lists a boatload of them to begin with, but they are totally customizable.  Each chore has a given point value associated with it.  Chores can be instantly duplicated across children, or left as a per-child thing.  Which is logical if you had chores for different aged kids.
Chores can also have a reminder time associated with it, so the child will receive an alert on their device when it's time to brush their teeth, fetch you ice cream, or whatever else you've specified. That includes a custom icon and even custom reminder text:
And this is probably the point where parents have the 'ah-ha' moment.  This isn't just an activity tracker, but it's also about tracking chores and potentially rewards for doing those chores.
Speaking of the rewards section, this is where a kid can redeem coins/points for the rewards you've specified.  You can specify rules for the rewards, in the event you're a lawyer and need to implement additional terms and conditions.
These rewards are much like chores in that you set them up either from a list of rewards with varying point values required to redeem them, or you can make up your own.  They also have custom icons, and can also be set across all kids, or just a given child.
Last on that four-panel option, there's settings for that child.  This is the same as above, simply allowing you to change the picture (or icon), background color, steps icon, alarms, and so on.
But there's still the most kid-focused piece left, which is the Adventure portion.  This is tied to the Disney component and will only unlock each day that the kid hits their 60-minute activity goal.  It's the big play button up top.  This launches into a mini-game related to that particular adventure.  For example, below is a big pile of screenshots from the Mickey Mouse game. Regrettably, you can't hear the music in my textual post, which is very Disney-like:
As the child gets more and more days worth of activity, they get to unlock step icons, badges and so on – along with the all important move within the game.
The same is true for each of the other adventures.  For example, here's the Star Wars one…which also has awesome music.
As you can see, the whole point to all of this is to find a way to keep kids engaged in being active.  It's doing this on multiple levels, with varying incentives.  Whether it's the Toe-to-Toe challenge or just hitting activity goals to unlock more badges/icons, they're all tricky ways to get kids off of a video game and moving in real-life.
While my little one is still a bit too young to understand it all (she'd just prefer to press the button all day long), every other parent I've talked to that's picked up the Vivofit Jr. over the last year seems to indicate their kids love it.  Since I haven't had an in-depth review for it, there hasn't really been a consolidated comments section – so it's mostly just conversations in passing.  But I'd be curious to hear your thoughts below.
Wrap-up: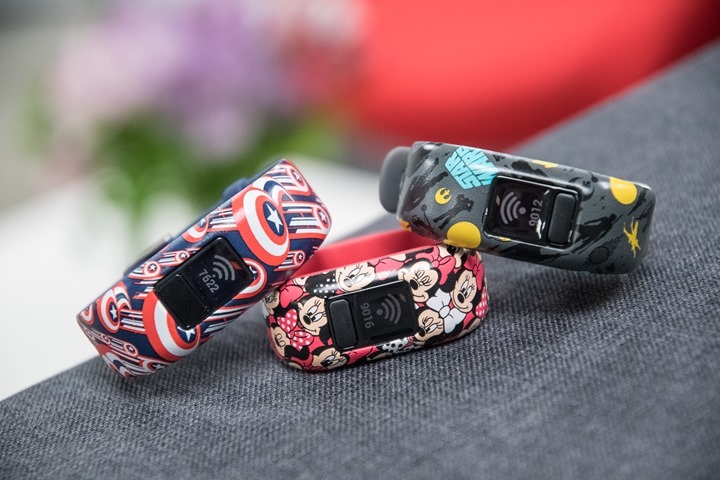 Overall, I'm impressed.  At least from the parental standpoint, I'm impressed with how much structure they provide in the app while still giving you tons of flexibility to build out your own chores/rewards scheme.  Same goes for silly genius things like the ability to set reminders on the kid's bands for certain chores like brushing their teeth, or taking out the garbage.  As well as the ability to set quick count-down timers for homework or screen-time.
I'm sure there are probably nuances to the app and platform that I'm missing, lacking a gaggle of slightly older kids running around using them.  So I'd be curious to hear of any of those quirks in the comments from those of you that have been using the Gen1 devices.  But from a software and 'story' standpoint, it's really impressive.
I'm also happy to see that Vivofit Jr. 1 folks can pick up the new Disney bands and not have to re-purchase entire units.  Obviously some features aren't carried over (for example, the lack of color screen on the older units is limiting), but otherwise, the app unlocks properly based on the given band you bought.
All in all, pretty cool stuff – and really the only major player in this particular market at this point and time.  Certainly there are cheaper step-only solutions, but Garmin's seems to go much further into making a cohesive system that's more than just step tracking, but rather trying to help out in other areas of the house.
With that – thanks for reading, and feel free to drop any questions below!
Found this review useful? Or just want a good deal? Here's how:
Hopefully you found this review useful. At the end of the day, I'm an athlete just like you looking for the most detail possible on a new purchase – so my review is written from the standpoint of how I used the device. The reviews generally take a lot of hours to put together, so it's a fair bit of work (and labor of love). As you probably noticed by looking below, I also take time to answer all the questions posted in the comments – and there's quite a bit of detail in there as well. 
I've partnered with Clever Training to offer all DC Rainmaker readers exclusive benefits on all products purchased.  By joining the Clever Training VIP Program, you will earn 10% points on this item and 10% off (instantly) on thousands of other fitness products and accessories.  Points can be used on your very next purchase at Clever Training for anything site-wide.  You can read more about the details here.  By joining, you not only support the site (and all the work I do here) – but you also get to enjoy the significant partnership benefits that are just for DC Rainmaker readers.  And, since this item is more than $75, you get free 3-day (or less) US shipping as well.
Garmin Vivofit Jr 2 – (select dropdown for different models)
Garmin Vivofit Jr 2  – European readers
Additionally, you can also use Amazon to purchase the Vivofit Jr 2. Or, anything else you pick up on Amazon helps support the site as well (socks, laundry detergent, cowbells). If you're outside the US, I've got links to all of the major individual country Amazon stores on the sidebar towards the top.
Thanks for reading! And as always, feel free to post comments or questions in the comments section below, I'll be happy to try and answer them as quickly as possible.