Today Favero rolled out a pile of firmware updates to their much favored Assioma power meter pedals. These pedals came out just over a year ago (the Assioma pedals were the successor to their first product, the bePro pedals).  In this short timeframe they've had a number of firmware updates, most of which actually brought new features or enhancements. In fact, more feature updates than any other power meter company has to my knowledge, single year timeframe or otherwise.
Given it's Friday, we'll attempt to keep this quick and straightforward. Of course, I rarely manage to do that. Nonetheless, here goes.
The Changes:
Today's update brings with it a number of changes, but really two major ones. At least in terms of their competitors. Here's the list of all changes though (first two I consider most important):
1) Single-Channel Zwift Compatibility over Bluetooth Smart: This channels both the left and right side into a single Bluetooth Smart channel for BLE apps and devices like Zwift, TrainerRoad, and even Suunto watches, among others.  More on this down below.
2) Added guided static weight test: This allows someone to utilize a certified weight (ideally) to perform a static test and validate the measurement the Assioma pedals are giving. Many other power meters have this, so it's not super unique.
3) Added a Travel/Shipping Mode to power down pedals: This is useful when shipping or if flying long distances, like when I went to Australia – which might otherwise keep the pedals in a wake state with the internal accelerometers waking up.
4) Configuration of auto power-off timeout: This allows one to tweak how long the pedals stay on/awake before timeout. Favero says this is so triathletes get data from the very first pedal stroke, versus a few strokes later. Honestly, this seems like one that's just going to increase support costs for them when athletes turn it on and forget about it (and then complain the battery is dying faster). Shrug.
5) Reduced error messages during calibration: This resolves an 'error 99/calibration error' message that was sometimes displayed on head units when someone attempted to do a zero offset if the bike wasn't upright (who does that?) or still (could kinda see that).
Now, I want to briefly highlight a few of these and how they work.  First up is probably the obvious, which is updating the pedals. This is a quick and easy process, just ensure you've got the latest version of the Favero Assioma smartphone app. Within it you'll see the option to update your pedals under the firmware tab:
The updating process only takes about 30-60 seconds per pedal. As painless as it gets. Once updated, both should say 03.00 as the firmware version.
After that, you'll be able to access the new features under the 'Settings' tab. This is essentially the catch-all for all the new goodness.  For example, you can dive into doing a static weight test here:
This also links to a solid 12-page PDF file on how to do this. Ok, half of that is in Italian. But still. Why can't other vendors have this level of detail?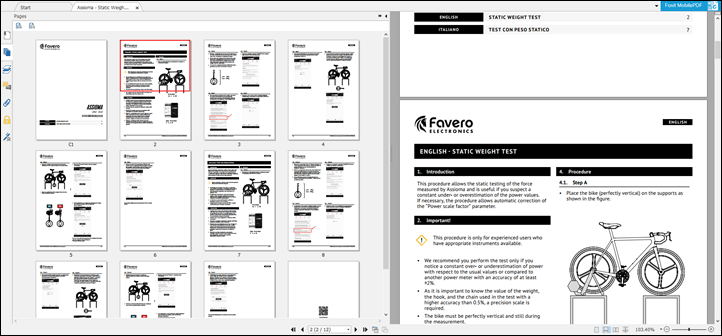 I've still gotta figure out which darn box my calibrated weight is in, but once I do – it's sweet to have this functionality. Even if I do think the vast majority of power meter related issues across vendors these days are ones that static weight tests simply don't capture (usually issues driven by accelerometer bugs).
In any event, you've also got the new auto power-off timeout. As I said above, I'm not sure this is a big deal. You can change it up to 12 hours if for some reason you need that long. In general I don't really get this feature. No other company has it, and largely for good reason – power meters wake up within one pedal stroke anyway. And even though this feature is aimed at triathletes, the power meter would likely wake-up while just running out of T1 to begin with.
Inversely, there's also the new travel timeout feature. This ensures that the unit stays powered off during long travel. In order to power it back on though you'll need the Assioma charging cable.  While most of us would intend to pack that while travelling, just be triple-sure it's on your packing list and in your bag. Else, you'll have doubled-down on suckage when you arrive and have the units in a disabled state.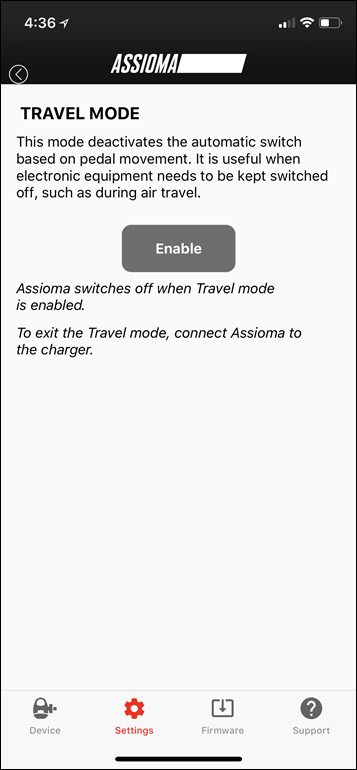 Then there's the ability to do a zero offset. Again, this is something all other power meter companies have had in their apps. Still, it's useful if somehow you've got an app or device that doesn't support power meter calibration.
Finally, there's the biggie – the new dual-channel into a single Bluetooth Smart channel option.  See, previously when the Assioma pedals broadcast over Bluetooth Smart they did so individually from each pedal. Thus, one signal from the left pedal, and one from the right. This was a challenge for most apps and devices. Be it Zwift or a Suunto watch (both via Bluetooth Smart), they could only connect to one side.  So your dual-sided Assioma Duo's were now made single-sided Assioma Uni's. Might as well have just saved the cash and bought the single-sided version.
You can see this below in Zwift, whereby you would see each pedal and had to choose which side to connect to. Note, this doesn't apply to ANT+, that was always 'proper dual-sided'. Anyway, here's what it looked like before: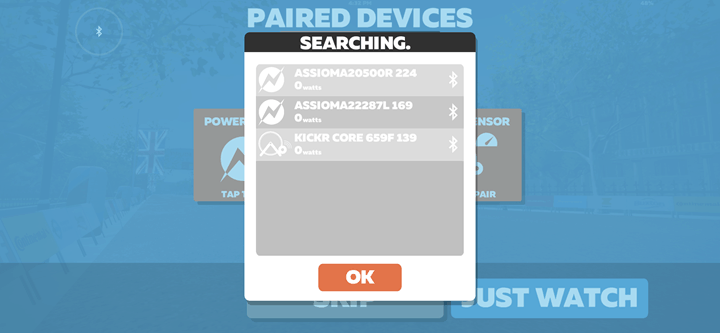 Now though, you can go into the Assioma settings and toggle it into a merged configuration. This supports transmitting both left and right over a combined channel. First click 'Compatibility with other apps', then click 'Unified Channel L', which means that it's sending both data sets over the left pedal.
This means that you get correct total power, and when an app supports it – left/right balance. Note: Zwift doesn't support left/right balance data. But devices like those from Polar, Garmin, and Wahoo do.  Here's what it looks like after toggling this in Zwift: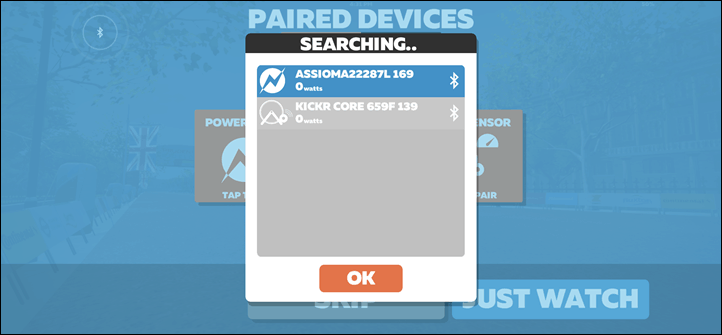 As the app notes, remember that if you had previously paired via Bluetooth Smart, you'll have to re-pair the Assioma pedals again to your device/app. No biggie, but just a minor item to remember.
This feature matches that of what both Garmin and SRM have in their power pedals, but goes ahead of what PowerTap has with the P1 pedals.
Ultimately, while I think this is the biggest feature in the bunch, it's mostly just Favero catching up to what Garmin and SRM have implemented.  In the case of SRM, they have a toggle to show both options (like Assioma), whereas Garmin simply leaves it in the consolidated mode.  I'm honestly not aware of any app/device that actually wants the power meter showing up as two separate entities/units – though maybe there's some odd edge case that SRM and Assioma are catering to.
The Power Pedal Market:

It's almost time for me to do a bit of a show-down of pedals.  Especially as I get closer on the SRM power meter pedal review.  With accuracy largely being equal on all of them, I'd probably guess you could summarize the downsides in the most distilled manner as possible:
Favero Assioma Downside: Pod design is not as aesthetically pleasing
Garmin Vector 3 Downside: Battery cap/pod fiasco
PowerTap P1 Downside: A bit of a chunker, needs a diet
SRM EXAKT Downside: Expensive (and yet unproven over time), clunky mounting/install
Also, before someone asks. No, do not buy that horribly overpriced 'steal' of a deal on eBay you found for the discontinued Polar (with Look), or standalone Look pedals. God no…please no. Don't do it. It's not worth it.
Beyond that, I don't expect much else in the power meter market near-term. I think things will remain mostly pretty quiet this year.
Here's a spec-comparison of the four units side by side:
As for what I use – it honestly doesn't matter much – I'd be happy with pretty much any of these on any of my bikes. And in fact, each bike I have is outfitted with a different unit right now.  My main road bike on Vector 3, my tri bike on PowerTap P1's, and secondary road bike on the SRM EXAKT.
Why aren't the Assioma's in the mix on my bike?
Simple: The Girl stole them.
They're now on her new road bike.  Thus, it's still in the family. I'll probably go out and get another pair of them to use. I find them just as solid for testing as the others. Super dependable.
Wrap-Up: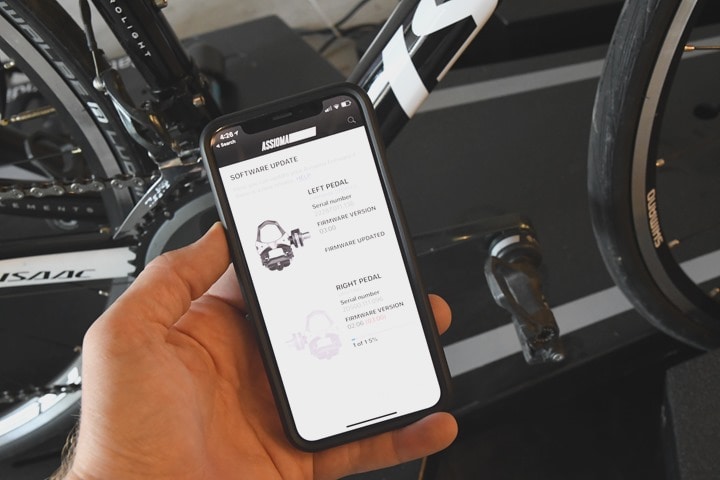 Ultimately, this is a solid upgrade for the Assioma pedals, at least in terms of offering feature parity on the Bluetooth channel bits, especially for Zwift and other trainer apps (or for Suunto and Polar users). For most people using ANT+ on their head units, it's really not a big deal to you.  Obviously for me if I were using Zwift on an iPad/Apple TV/iPhone – then it's important.
Features like the static weight test are already common on virtually all other power meters, so again, mostly feature parity there.  And both the travel and standby features in my mind are kinda shruggable.
Which isn't to say that I don't think Favero's improvements aren't awesome. I think it's great to see new features added to power meters. Especially since this is the second time this year after their winter updates for non-round chainrings and increased accuracy. That's awesome to see.  I just wouldn't say that they showered us with chocolate gifts either. It's a nice weekend treat, definitely.
Speaking of which – go forth and do your updates. But as always, never do updates (of any device) the night before a race or a long ride. That's like trying to run across an icy street as the bus is barreling towards you. Might work, also might end disastrously.
Thankfully, it's summer – so there's no ice here. With that, have a good weekend!
And thanks for reading!