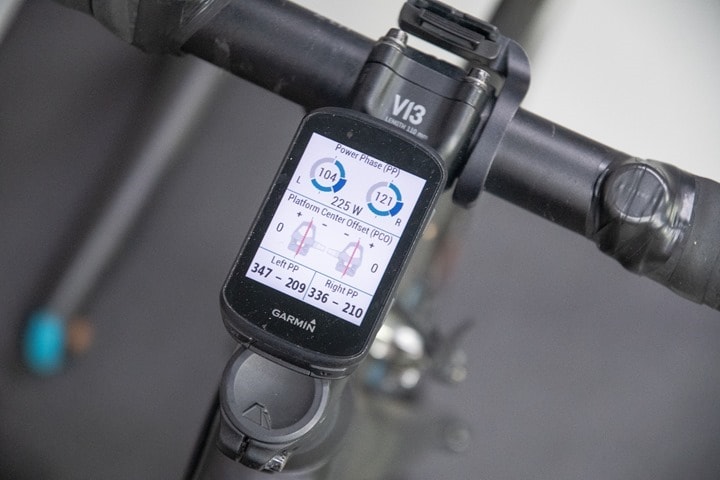 Yes, the long and oft talked about day is finally here – Favero has pushed out a firmware update enabling Cycling Dynamics on their popular Assioma power meter pedals. It's been a multi-year journey that first started in Garmin's camp, then the ANT+ camp, and then ultimately culminating in the Favero camp. The update is available via the Favero Assioma smartphone app, which you can wirelessly update your pedals from.
Of course, at present this still requires a compatible bike computer to display/record the metrics, and despite 'Cycling Dynamics' being an open standard now for a year, only one company has implemented it in their products: Garmin.
And even that has some limitations, which we'll dive into down below. Still, for those that want these advanced pedaling metrics (or know what to do with them), then your day has arrived.
The Tech Details: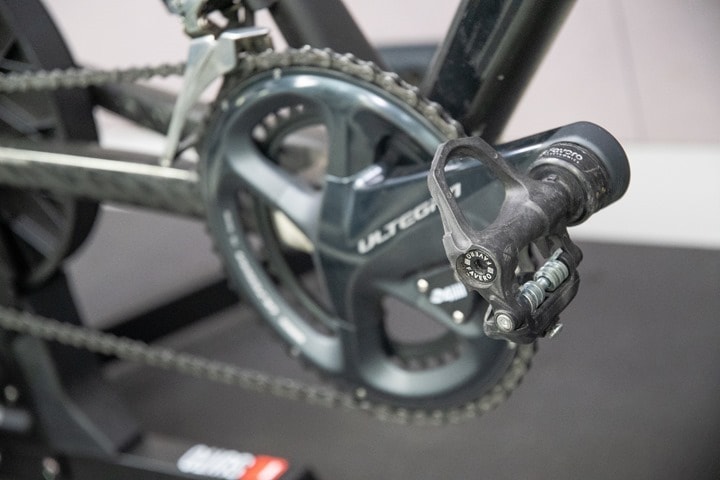 I suppose I should start off with how you can benefit from a racing or training perspective from Cycling Dynamics. But since that explanation isn't available from anyone in the industry, I'm going to just explain what is, and isn't, Cycling Dynamics. First off, let's start with what isn't classified as Cycling Dynamics, as these baseline metrics have been around ages in the power meter world and despite occasional attempts by companies to rebrand them otherwise, they're basically standard issue metrics on ANT+ power meters (more on Bluetooth in a moment):
– Power (Total): Your total power being transmitted – e.g. 227w
– Power (Balance, left/right): Your power balance between left and right side – e.g. 46%/54%
– Cadence: Your pedaling revolutions per minute – e.g. 94rpm
– Torque Effectiveness: How much of the pedal stroke is actually contributing to going forward (versus lifting up on the pedal) – i.e. 74%
– Pedal Smoothness: How smooth your pedal stroke is all the way around – i.e. 82%
All of the above have been around prior to Cycling Dynamics and are available on many power meters and a number of head units. Again, standard issue stuff on the ANT+ side of things. Nitpickers corner note: Technically some power meters transmit torque, but from a user standpoint you see power/watts, not torque.
Next, we've got the things defined as 'Cycling Dynamics'. By and large these mirror the same pedaling metrics that Garmin first introduced years ago with the original Vector pedals. Other players in the industry (most notably Pioneer) have similar metrics to these, in some cases leveraging the same names and other cases with slightly different names and metrics. Here's the short version (and the long version):
– Platform Center Offset: The position on the across pedal spindle (basically if your foot pushes on the right or left edge of pedal)
– Power Phase: Where the majority of your power output is within the pedal stroke (phase)
– Rider Position: Whether you are seated or standing
If you were to look at what a typical Garmin Vector pedal set would show from a Cycling Dynamics standpoint, here's what it would show after the fact (you can also view these same stats mid-ride as well):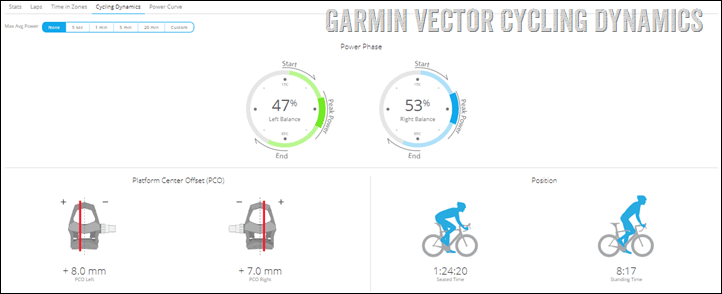 And here's the greater graph view: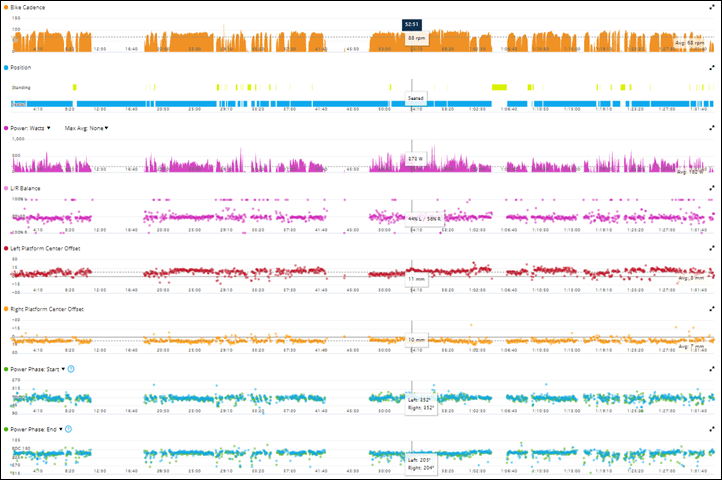 Oh, and a summary section in your ride summary: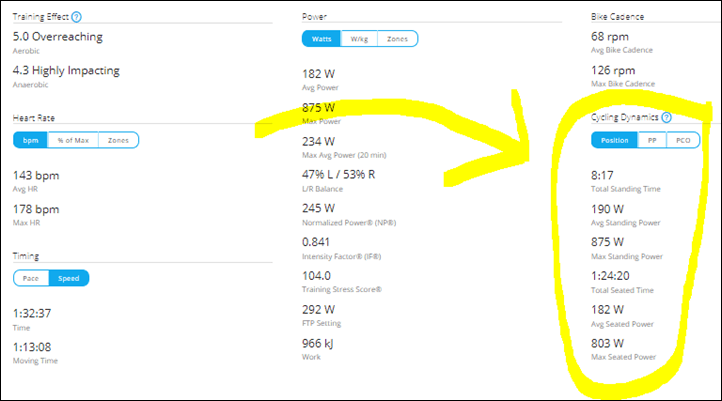 But this isn't about Vector 3. Which means you may be asking yourself: Is what Favero implemented the same as what Garmin implemented? And the answer is 'no' on two different accounts. The first piece to understand is that two years ago Garmin 'handed over' the Cycling Dynamics bits to the ANT+ Power Meter Technical Working Group (TWG). Basically the equivalent of giving that team the 'code' for cycling dynamics. The ANT+ Power Meter TWG is comprised of all of the industry players for power meters (or those with interests in power meters). This includes boatloads of companies, including Quarq, PowerTap, Favero, Garmin, and even Wahoo Fitness (since they have head units that would capture that data). There's many more players than just those few, but just to understand it's not a Garmin-only thing.
Once that hand-off occurred the ANT+ Power Meter TWG then spends 'some time' (read: like a year) figuring out how they might want to change that original 'gift' from Garmin to include things other companies are planning. For example, Pioneer might have wanted to add in specific metrics that better supported their power meter pedaling metrics. The companies then go back and forth until a true standard is agreed upon. Despite how absurdly long this process usually takes, it's a core reason why the ANT+ power meter standard is so much more reliable from a spec standpoint than that of the Bluetooth Smart power meter variant.
As a result of that, the spec changed slightly from what Garmin had initially handed over, to what's been adopted as part of the general power meter ANT+ spec (cycling dynamics isn't its own thing, but rather just part of the normal ANT+ power meter device profile). As such, it means that what Garmin implemented 5 years ago as part of the original Vector pedals isn't the same. And in turn, for bike computers and such way back then, those won't be compatible with the new spec, as Garmin has to update them to handle the new power meter spec.  But more on that in a second.
Again, the quick timeline overview:
August 2014: Garmin introduced Cycling Dynamics to Vector 1
September 2017: Garmin opens up Cycling Dynamics to ANT+ Power Meter Group (and TrainerRoad adds it in beta)
July 2019: Favero adds Cycling Dynamics to their Assioma pedals (this post)
First, let's talk about what Favero has and hasn't implemented with their slightly differently branded 'IAV Cycling Dynamics', here's the three main components of cycling dynamics:
– Platform Center Offset (PCO): Not implemented on Favero Assioma
– Power Phase: Yes, implemented on Assioma
– Rider Position: Yes, implemented on Assioma
So in this case, Favero isn't providing PCO, but is providing the remainder of metrics. Platform Center Offset is typically used in bike fit type situations where you might adjust the cleat positioning slightly to get you more centered. It's somewhat peculiar that Favero selected not to adopt this, since this is actually one of the aspects that's had some uptake in terms of usefulness of the greater cycling dynamics suite.
To that end, Favero does have an explanation:
"For the moment, we have decided not to include the PCO Dynamic, since part of the resources that would be used to return
this parameter with such precision as to make it really useful for the analysis of the position of the foot are currently used in
the IAV Power accuracy assurance system.

So, even if technically possible, we preferred not to implement this metric. Instead, we kept all the resources employed to
ensure the accuracy of power measurement with any style of pedaling. We believe that this is the best choice and more faithful
to our motto "Ride Hard Facts".  We certainly do not rule out the implementation of other advanced metrics."
So, to translate that into simple English: "Our internal hardware doesn't support it."
They're basically saying that the internal bits that would normally do that work are already busy maintaining accuracy, and thus they can't dedicate that capability to PCO.
Thus, here's what those same charts look like for the Favero Assioma pedals instead: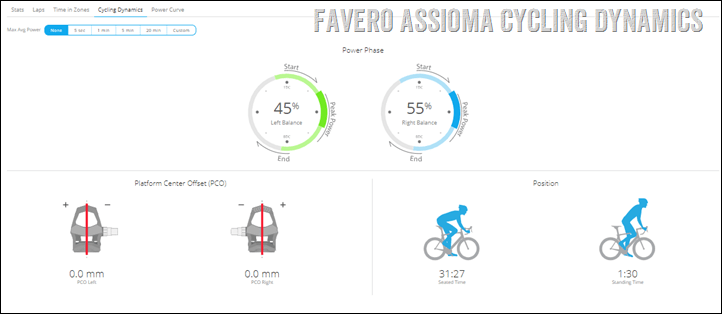 And again, the graph view. Here you'll notice that it does record zeros across the board for the red/orange lines of platform center offset, rather than a null figure. By the way, here's a simple indoor activity showing that data on Garmin Connect in case you want to zoom around, and another outside.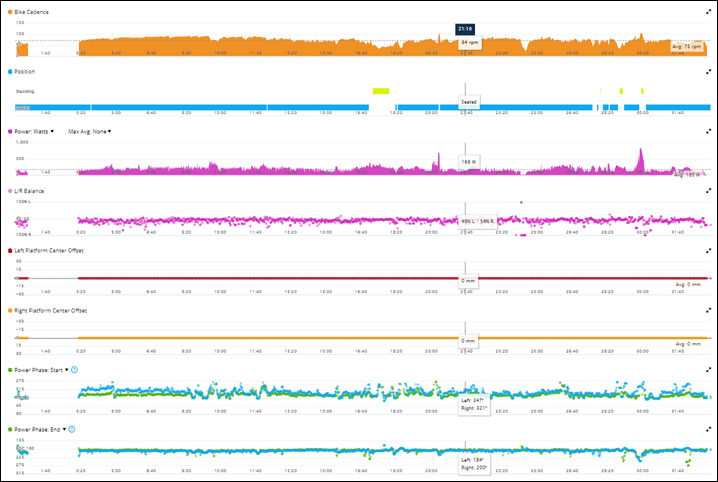 And the ride summary section: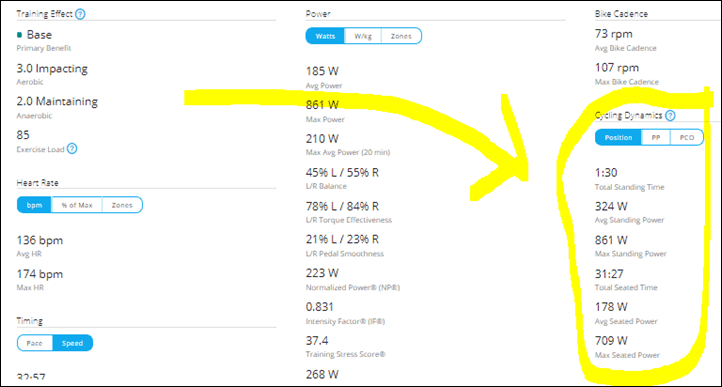 So which head units support the ANT+ Cycling Dynamics variant that Favero is using? At this point, just newer Garmin units – not the broader list of units that Garmin has supporting the older version of Vector-based cycling dynamics. They are as follows as of today (these may change/be expanded):
– Garmin Edge 520 Plus
– Garmin Edge 530
– Garmin Edge 820
– Garmin Edge 830
– Garmin Edge 1030
– Garmin Forerunner 935
– Garmin Forerunner 945
– Garmin Fenix 5 Series
– Garmin Fenix 5 Plus Series
– Garmin MARQ Series
Additionally: One person has since reported success with a base (non-Plus) Edge 520 and another reported success with an Edge 1000. I have not independently confirmed that or seen those files, but I have requested confirmation from Garmin if those should be working.
Now you may be asking – why not some other older units? Well, as noted – while the name 'cycling dynamics' remains the same, the underlying code isn't. In fact, even Garmin started changing their own Vector pedals last fall to dual-transmit on both the legacy Garmin-only Cycling Dynamics and the newer ANT+ spec Cycling Dynamics (ensuring that if customers had older head units they originally bought for Vector 3 usage, it'd still work just fine).
On one hand, it'd be easy to get mad at Garmin for not updating every older device to support the new ANT+ variant of Cycling Dynamics. But one has to remember, Garmin handed over the spec two years ago. It's basically taken Favero (or anyone else) that long to adopt it. Had Favero moved quicker two years ago, Garmin likely would have updated older units at that time (since most of the units listed above weren't even out then). At this point though, that water has kinda passed under the bridge.
And to that end, it'd be just as easy for Wahoo or anyone else  to add it too (Lezyne, Stages, etc…). After all, Wahoo added support for Pioneer's advanced pedaling metrics last fall, which has the vast majority of the core concepts of Cycling Dynamics. Albeit, it doesn't sound like Pioneer participated in any of the ANT+ Power Meter TWG meetings around the topic, from talking to them last fall. So they might be the odd man out right now.
I've reached out to Wahoo to see if they still plan on supporting the ANT+ variant of Cycling Dynamics, I'll post back once I hear back.
Oh – and remember this is all only over ANT+. The Bluetooth Smart power meter device profile doesn't have an equivalent standard on it. Some vendors have done vendor specific things, such as ROTOR and Polar together, but nothing industry standard at this point. Which is also a good reminder to ensure that if you've got your Favero Assioma pedals paired to your Garmin, to be sure it's over ANT+, else you won't see these metrics over Bluetooth Smart. It lists the pairing type in the sensor settings (it'll say 'ANT+ or BLE').
New Pedal Bodies: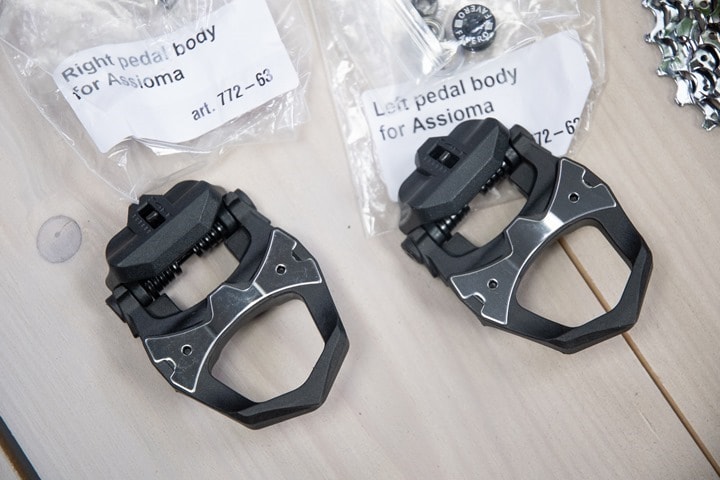 Oh, this is a quickie – but Favero has also released new pedal bodies for the Assioma lineup. These are just the pedal shell portion, not the entire spindle/etc. There are precisely two differences with them:
1) They're now painted black (specifically, the springs)
2) The units have a widened tension adjustment range from 8Nm to 20Nm.
The first change was made by Favero to have a "more elegant look", while the second change was basically made to address concerns that sometimes the Assioma pedals were a bit hard to clip in/out of. While I personally never had that complaint, I've certainly seen numerous comments to that effect.
Here's my holding the new pedal body (left) compared to my well worn older pedal body at right. You basically pop out the spindle of the old body and place it in the new body. You'll still have the small pod just like before. This is only swapping out the body portion.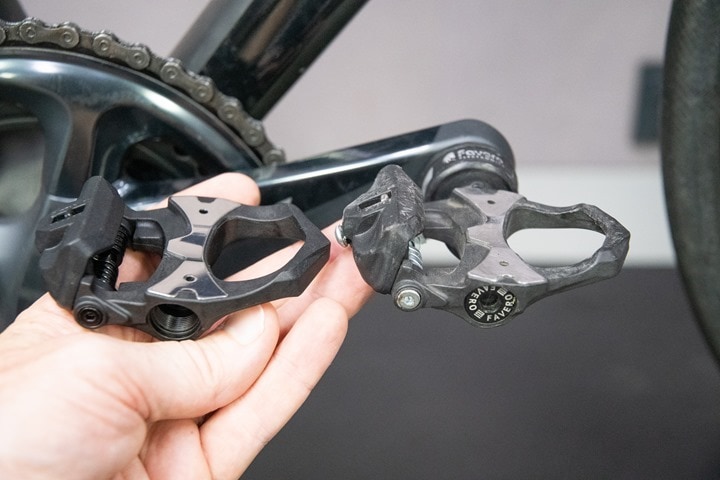 Favero now lists the black pedal bodies (as they are referred as) on their site under accessories, for 49EUR per pedal (so basically 98EUR for the set).
Wrap-Up: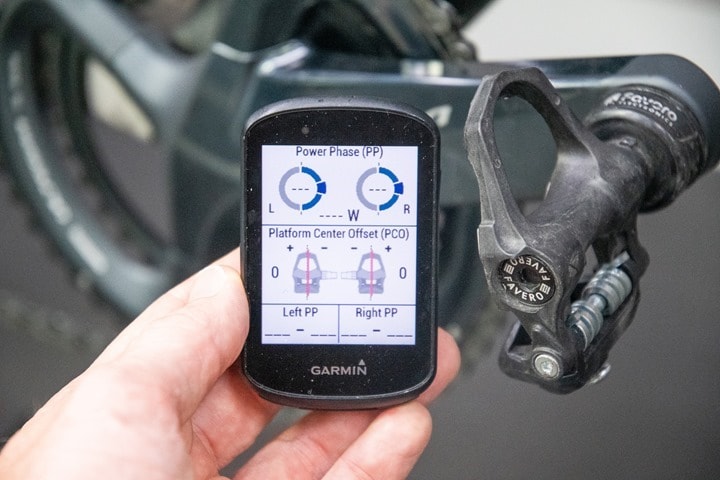 I suspect for most Favero Assioma users that don't read this post, they'll probably never even know to update their firmware on their pedals. But for those that do – you've now got some new metrics to play with. Still, even for that subset – I don't see this as life changing for most people. Just like Garmin Vector's Cycling Dynamics, I haven't really figured out how to actually use it from a training and racing standpoint.
Sure, there are some fun tidbits around seated and standing power averages and such – but ultimately the novelty mostly wears off on those bits. I'd have loved to see either Favero or Garmin (or anyone) fully document how to use these metrics in a training standpoint (in terms of specific workouts that do improve your overall strength). TrainerRoad had seemed like they might do that two years ago when they first added Cycling Dynamics into a beta app for Interbike 2017. But their support today wouldn't likely work for Favero Assioma, since it's based on the old Vector code and not the ANT+ standard (best I can tell). It's also limited to the iOS app with an ANT+ adapter. TrainerRoad has indicated they plan no future Cycling Dynamics expansions or functionality (as of publishing, but they are active in the forum on that thread).
Still, it's a good checkbox sales item for Favero. It's been two years since the Assioma pedals came out, and they are without a doubt the best value on the market for a power meter pedal – coming in at $649 for the dual-sided Duo, or a bit more than half the price of dual-sided Vector 3 ($999). Really the only complaint left on the Assioma pedals would be aesthetic, in getting rid of the external pod and going to a sleeker looking single-component pedal. I don't foresee that happening near term, but it gives us something to aim for. Or they could shift directions and focus on another pedal type – but that road is fraught with 3rd party challenges.
In the meantime – go forth and get your pedals updated. I've been running the new firmware for about two months now with Garmin head units (since it's the only one that supports it) without any apparent issues. I haven't recently tested other head units.
With that – thanks for reading!
Found This Post Useful? Support The Site!
Hopefully you found this review useful. At the end of the day, I'm an athlete just like you looking for the most detail possible on a new purchase – so my review is written from the standpoint of how I used the device. The reviews generally take a lot of hours to put together, so it's a fair bit of work (and labor of love). As you probably noticed by looking below, I also take time to answer all the questions posted in the comments – and there's quite a bit of detail in there as well.
If you're shopping for the Favero Assioma Pedals or any other accessory items, please consider using the affiliate links below! As an Amazon Associate I earn from qualifying purchases. It doesn't cost you anything extra, but your purchases help support this website a lot. Even more, if you use Backcountry.com or Competitive Cyclist with coupon code DCRAINMAKER, first time users save 15% on applicable products!
Here's a few other variants or sibling products that are worth considering:
And of course – you can always sign-up to be a DCR Supporter! That gets you an ad-free DCR, access to the DCR Quarantine Corner video series packed with behind the scenes tidbits...and it also makes you awesome. And being awesome is what it's all about!
Thanks for reading! And as always, feel free to post comments or questions in the comments section below, I'll be happy to try and answer them as quickly as possible. And lastly, if you felt this review was useful – I always appreciate feedback in the comments below. Thanks!