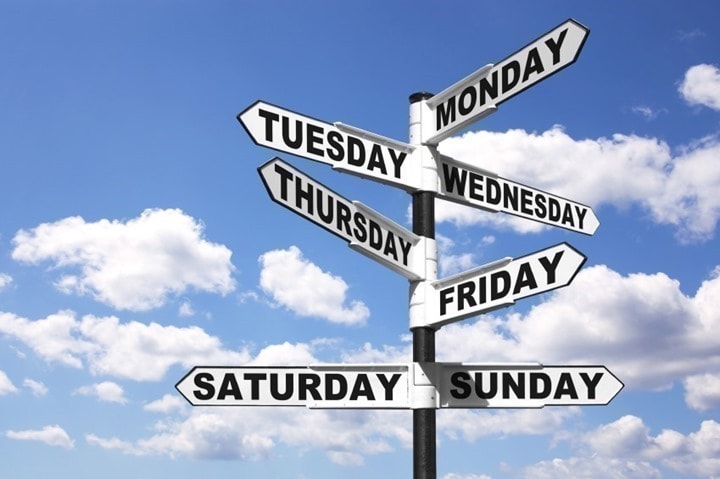 The Week in Review is a collection of both all the goodness I've written during the past week around the internet, as well as a small pile of links I found interesting – generally endurance sports related. I've often wondered what to do with all of the coolness that people write, and while I share a lot of it on Twitter and Facebook, this is a better forum for sending it on to y'all. Most times these different streams don't overlap, so be on the lookout at all these places for good stuff!
So with that, let's get into the action!
DCRAINMAKER.com Posts in the Past Week:
Here's all the goodness that ended up on the main page of DCRainmaker.com this past week:
Monday: 5 Random Things I Did This Weekend
Tuesday: First Look: COROS's new Pace GPS Multisport Watch
Thursday: PowerTap Significantly Drops Prices, Plus Detailed Power Meter Pricing Trends (2018 Edition)
Friday: Behind the Scenes: Spending the day at YouTube
Sports Tech Deals This Week:
With March 1st kicking off, we'll start seeing some more sales for the spring. The first being:
STAC trainers are 20% off, and include a free riser block: You'll remember these are the totally silent trainers (as in, zero sound at all).  My latest post on them is here. (Runs till March 30th)
Polar M460 cycling GPS + OH1 optical HR sensor bundle includes free out-front bike mount: Put this in the 'ok then' category, but I suppose if you're in the market for that specific combination then now you can get it with a free bike mount (till March 7th anyway). Actually, joking aside, both are very solid products.
Plus of course the PowerTap price drops linked in the post above (full PowerTap hub wheelset for $499, dang!).
Stuff that I found interesting around the interwebs:
Here's a not-so-small smattering of all the random things that I stumbled on while doing my civic duty to find the end of the Internet.
1) Fighter jet crew uses Garmin Fenix 3 to navigate home in emergency: This is a fascinating story, and this particular piece is one of the more detailed ones out there on it. What's even more interesting is that the Navy is actually outfitting crews with these units for precisely this purpose.  Meaning this wasn't just a triathlete who happened to have a Fenix 3 on them and went all DCR on that Growler.  Rather, it's part of their SOP. (via Andy and Darren)
2) Strava quietly rolls out new heatmap privacy options: Simply a new option on the mobile app (which didn't used to be as user-friendly compared to the site for privacy options).  Obviously this is in response to the whole military mess back in January.
3) Detailed line-item financial accounting of a Pro Triathlete's life: Pretty fascinating write-up that goes line by line on the income and expenses for one pro triathlete (this is their fourth year doing so).  Lots that many pro athletes can learn here. (via Randy)
4) Nokia Health (aka Withings) is almost dead: Or probably more appropriately, done. I suspect we'll see someone buy it up.  You'll remember back when they first announced the sale to Nokia I figured nothing good would come of it.  As Nokia now admits, Withings simply isn't generating enough revenue to be meaningful in an entity as large as Nokia.  It's essentially the same problem that Intel had with Recon or Basis or whomever else they've since shut down.  Great startups and smaller sized companies often just don't mesh well when merged with massive enterprises.
5) Apparently Parisians have killed too many dockless bikeshare bikes: It's not a secret that many people within the city are unhappy with the new Chinese based dockless bikeshare companies. While increasing bikes is always good, much of the time these bikes are strewn about blocking sidewalks or just left like trash. Of course, that's largely the fault of locals, but the inherent design of the system and lack of local regulations on how to handle dockless bike shares is a greater issue (e.g. being more strict on where someone can park them).
6) Nikon Key Mission 360° Cameras had a price drop: I still wouldn't recommend buying them. They just don't have anything good on any of the current crop of better cameras.
7) Women Seeks Divorce over Man's Bicycle Obsession: I mean…who hasn't done bike maintenance in the living room? (via Mario)
8) XCadey Power Meter Review: Shane bit the bullet and purchased the power meter whose own marketing site showed it having terrible accuracy. Be sure to watch all the way through the video though. Ultimately, unless you're in Australia where the pricing is all lopsided, it's probably best to look at the numerous sub-$400 (Stages/4iiii/etc…) and even down to $259 options on the market (WatTeam) instead of something that has no support and highly questionable ANT+ connectivity. But yes, definitely watch his video, always fun.
9) Review of the 2018 Olympics NBC VR Experience: While the Olympics are over, I found this write-up by Engadget actually pretty interesting. It goes into quite a bit of detail on how the setups work for VR Olympic coverage. Geeky fun stuff.
10) Product photography tips: As this entire 'Week in Review' post series started off with random things I found interesting, this video is cool. Mostly because it mirrors much of what I try to do for the lead-in photos for all my product reviews and hands-on type pieces. Sometimes I'm more creative than others, and some products lend themselves to better photography than others (electronics are harder than non-electronics).  I think one of my favorite product photo shots ever I've done is actually the header of the FR735 review.
11) Aerolab publishes white paper with DCR aero test data: You'll remember my post back a month or so ago about the Aerolab aerodynamics sensor solution.  That post was based on a test ride I did, and in turn, based upon data that they collected and had put into a white paper.  At the time I published they weren't quite ready to publish the version of the white paper I had, but they've since done some clean-up (mostly grammatical stuff and adding in more context) and published it.  So feel free to geek out on my data, as written by them (full PDF at first link).
Sports Technology Software/Firmware Updates This Week:
Each week I quickly highlight some of the new firmware, app, software and website service updates that I see go out. If you're a sports technology company and release an update – shoot me a quick note (just one-liners are perfect, or Tweet it at me is even better) and I'll make mention of it here. If I don't know about it, I won't be able to post about it. Sound good?  Oh – and if you want to get a head start on things, this page is a great resource for watching Garmin firmware updates.
Favero rolls out oval ring support: Technically it's still in beta, but shortly they will.
Garmin Edge 1030 firmware update: Mostly improvements, but a handful of new minor features.
Garmin Vivoactive 3 firmware update: Various improvements, but also a new workout data page.
Garmin Vivomove HR firmware update: Just minor Bluetooth pairing tweak.
Garmin Vivosmart 3 firmware update: Same as Vivomove HR.
Garmin Vivosport firmware update: Same as previous two.
Rouvy adds support for PowerTap P1 pedal metrics: Title pretty much says it all.
—
Thanks for reading all, and have a great remainder of your weekend!