While at Interbike the company behind the STAC Zero silent trainer, previewed their resistance controllable trainer that they'll be pushing out next year.  This trainer builds upon many of the same core concepts as the first one, which used magnets spaced near your wheel rims to provide resistance while on the trainer.
STAC Smart Control Trainer:
In the first iteration of their trainer announced a year ago, the resistance varied based on your gearing, which in turn impacted speed.  You could also adjust overall resistance by changing the distance between the magnets and the rear wheel.
This entire touchless setup meant that there was zero noise, aside from any noise your drivetrain made just spinning along.  It was pretty darn fascinating to see/hear (I show it in a quiet room in this video).
The challenge though was that in the age of Zwift and TrainerRoad, having a smart controllable trainer is where much of the market is heading.  With the existing STAC Zero, it'd transmit your power via ANT+ and Bluetooth Smart, but you'd have to adjust gearing to simulate hills or higher wattages.
All that changes though with this new model that they previewed at Interbike.  While it doesn't have a name yet, the plan is for shipping starting late spring of next year.  That puts them shipping in higher volumes by summer.
So how does it work?
Well, essentially, it takes the exact same magnets as before, but puts little actuators on them to move closer/further to the wheel.  It's brilliantly simple and brilliantly functional.  Because everyone likes an animated GIF, I present you these actuators in motion: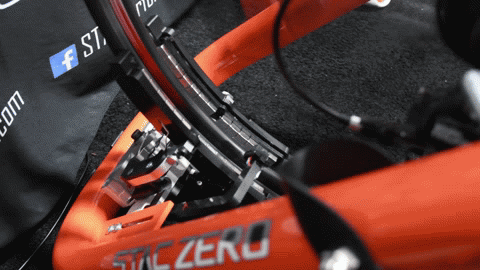 The actuators move based on commands from any application, such as TrainerRoad or Zwift.  These commands come via ANT+ FE-C or Bluetooth FTMS.  In fact, they demonstrated a workout for me on TrainerRoad, and it worked quite well: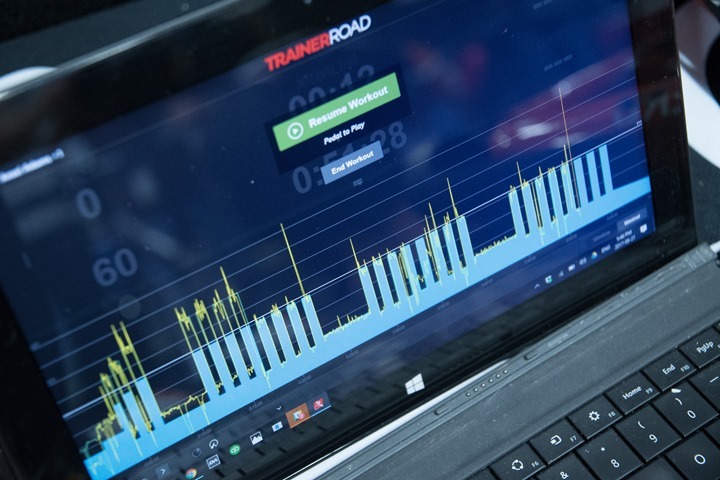 (Note: On the left side you see the yellow not matching the blue, that's simply because they changed the resistance scale of the workout in TrainerRoad.)
To show this whole thing live, I've put together a quick and dirty video here:
As you can see, it's pretty interesting.  Now of course given the busy show floor you can't really tell how silent it is (hence why my other video linked above is better).  But the sound will be essentially identical in a quiet room to the existing model.  The actuators are silent, best I can tell.
Note that the resistance controllable unit doesn't require to be plugged in.  Rather, it runs on a simple USB-chargeable battery pack inside the small pod near the rear wheel.  This is great for folks that may want to use the trainer race-side for warm-ups without electricity.
Road Feel: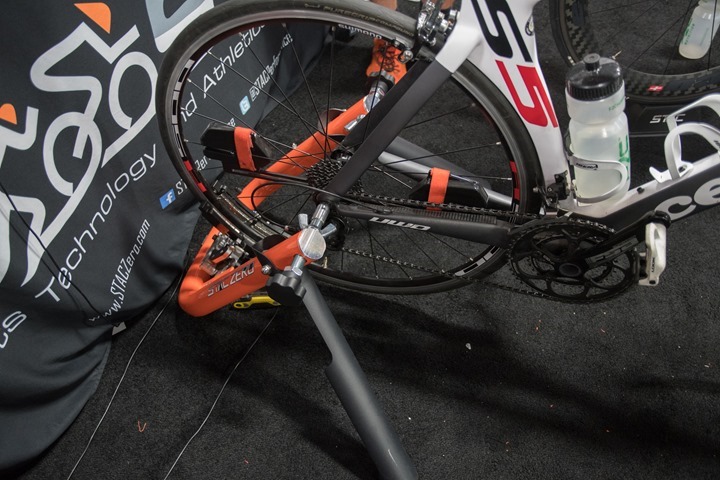 Next, I want to briefly talk about road-feel.  I recently received their latest product (non-smart control) variant to test out, the standard STAC Zero with power output.  When I set it up, I felt the road-feel was crap.  Really, that's the only word that could describe it.
So part of my goal at Interbike was to try out the setup of the same unit in their booth to see if it felt the same.  After all, if any unit would be setup perfectly – it'd be on at their premier bike show.
And indeed – it was flawless on the non-controllable unit they also had in the booth.  It felt quite nice.  Certainly not the same as a $1,600 trainer, but on par with other $500-$800 smart trainers.  So what went wrong with mine?
Simply put: Me.
In having them walk me through their units, it's clear that I was placing the magnets too close to the wheels, thinking that'd be best. Closer is better, right? Turns out no.  To demonstrate that, they moved them as close as I had them set up, and indeed immediately their unit felt like crap too.  Moved them back…and magic.
I only bring this up because it's something I stumbled into, and I've seen some other comments about folks having similar issues.
Going Forward: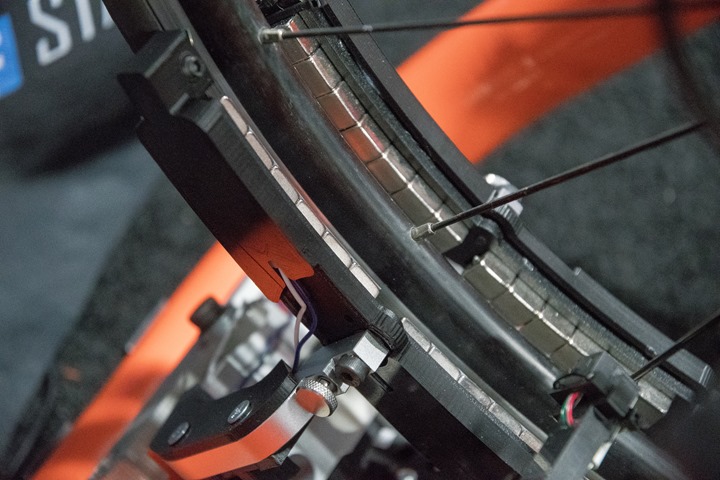 So as noted earlier on, this nameless trainer won't be available for this trainer season.  Rather, the company is hoping to enter into initial production next spring, with full-scale production next summer.  Thus ensuring they'll be well equipped for the fall 2018 trainer season.
Also, we don't know what the price point will be.  I'd wager that it should be no-more than a Tacx Flux or Elite Direto (I.e. $899), but that depends on it being highly accurate (hasn't been an issue in previous unit), as well as durable and consistent.  I don't foresee any obvious roadblocks at this point for them to get there.
Note the company says that they do plan to offer some sort of upgrade path for existing users – so they shouldn't fear having to re-purchase things all over again.
Finally, I didn't get into it with them too much – but note the company is also concurrently offering a wind-tunnel like aerodynamics service to allow you to get position-related aerodynamic metrics in your garage without a wind tunnel (aptly named STAC Performance Virtual Wind Tunnel).  Aside from toying with it at trade shows, I haven't dug into the device/platform much, but the folks over at Slowtwitch did so, so it's worth a read.
With that – thanks for reading!