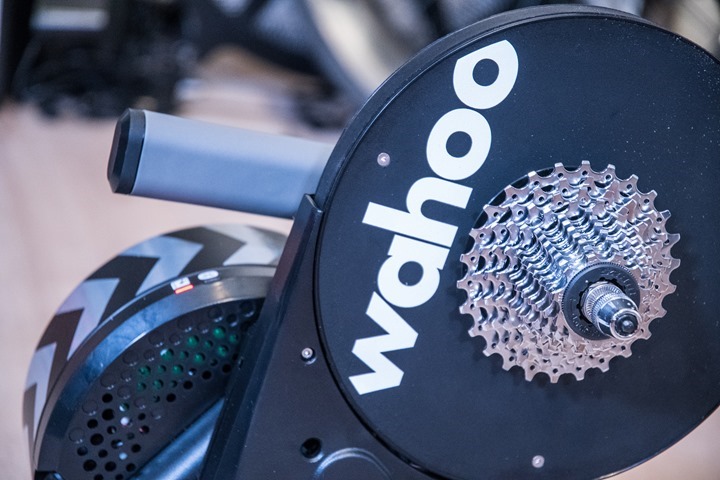 Heads up! This is an older review – jump to the in-depth review of the latest/current Wahoo KICKR here!  (2020 V5 Kickr)
It's that time of year again – new trainer season.  Or more precisely, just about the end of new trainer announcement. Wahoo's been busy this summer between the new KICKR SNAP announced last month, as well as the new Wahoo ELEMNT MINI announced earlier this month.  But now, here at Eurobike, we've got two further announcements, including a new Wahoo KICKR as well as the CLIMB accessory for Wahoo's 2017 trainers.
I talk about the CLIMB accessory in this totally separate post, so go check that out there.
What's new: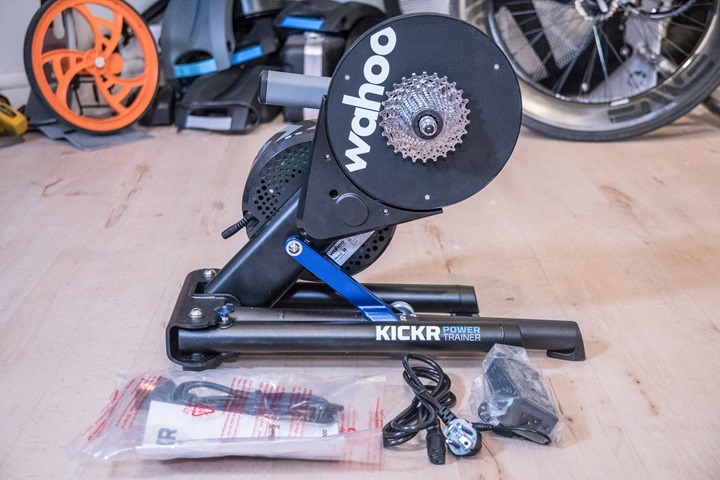 So what's so different about the 2017 version compared to the 2016 version?  Well honestly…not much.  Basically, there are two core changes:
A) Increased bike compatibility
B) Integration/compatibility with Wahoo's new CLIMB (see above).
Now, that first line item is more accurately broken out into three separate line items:
1) Increased 12×142 thru axle compatibility
2) Added 12×148 thru axle compatibility
3) More/better clearance for disc brakes and flat mount brakes.
As you can see, in many ways this is basically just like what Tacx did last year with the Tacx Neo update, which was pretty minor and just aimed at increasing bike frame compatibility.  The same here, though with the additional thru-axle compatibility they are more competitive with the CycleOps Hammer, which had pretty wide compatibility compared to Wahoo previously.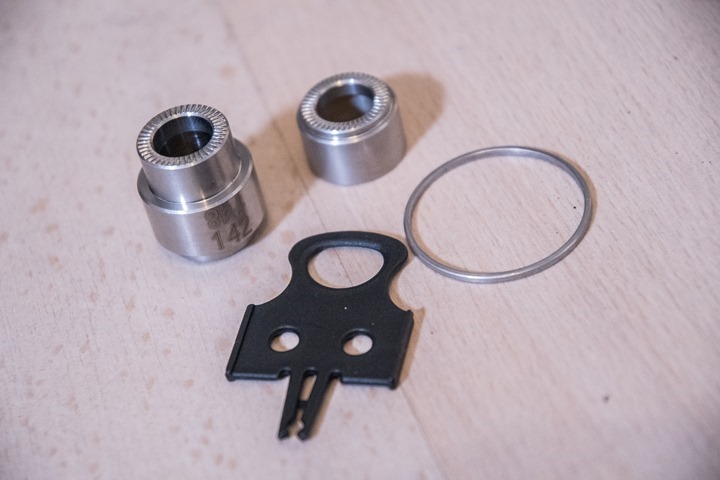 If you look closely, on the left one (2017 edition), you'll see near the flywheel, where the skewer is, it's cut-out to improve compatibility for disc brakes, especially for CLIMB.  The right one (2016) is flat in that area.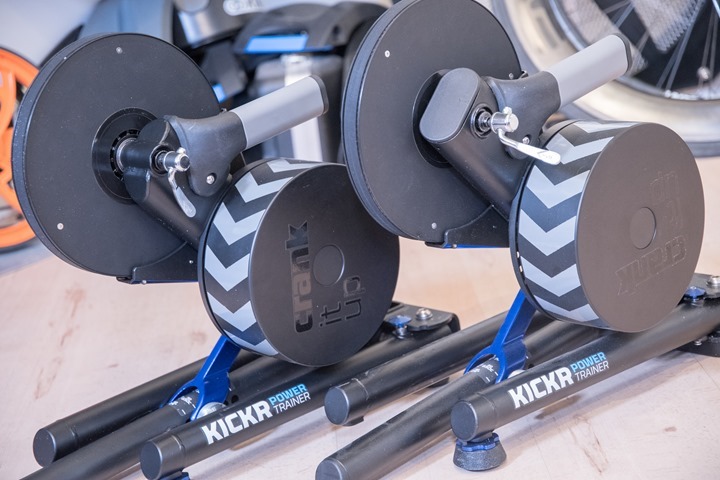 Beyond that, there are no other differences between this model and the 2016 model.  However, keep in mind that if you have an original KICKR, then there are changes that were introduced last year.  To recap those, the differences would be:
1) Made it quieter: A reduction in both volume, but also more importantly tone of the sound (it's not silent)
2) Increased precision: Made changes to how they measure power to increase accuracy and reduce faults
3) Improved Responsiveness: Another hardware change increased the responsiveness of the unit during massive instant leaps of power (I.e. 150w to 500w).
4) Connectivity and Troubleshooting:  Added in new connectivity lights to understand what's connected
5) Added a handle: They made the handle useful and big, and re-adjusted the weight so it doesn't flop around and hit you in the shins
Got all that?  Good.
A Few Initial Rides: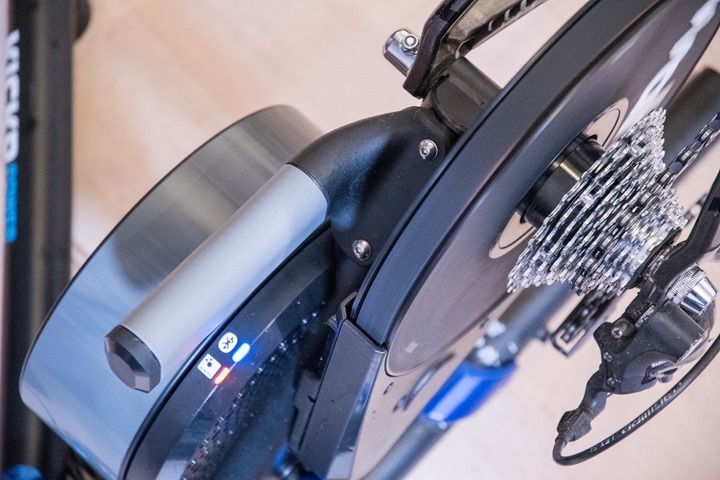 Eventually I'll spit out an in-depth review, likely in September sometime, but for now it's First Look style.  Mostly because almost nothing has changed except compatibility items.  Still, it's worthwhile checking through to the accuracy pieces.  So I did a few workouts over the past 2-3 weeks to validate things are all happy panda.  Here's a look at one that I did back while testing out the new Wahoo ELEMNT/BOLT workout control that was recently released.  You can find the full DCR Analyzer set/files here.

Let's take a quick look at that sprint and see how things handled.  The rest of the ride was mostly just floating along.  The sprint, however, was nearly 1,000w out of the middle of nowhere:

While you'll always get slight differences between units at peak power (max power) in a sprint, these are all incredibly close together.  You can see one minor recording oddity on one head unit (of the two) that were connected to the Garmin Vector pedals, but that's a transmission/recording quirk and not a native data quirk.
Otherwise, all these three power meters were identical here.  Same goes for the series of smaller sprints a few minutes later:

None of this is really any surprise.  People have universally been happy with the 2016 KICKR from an accuracy standpoint, which outside of compatibility items is identical here to the 2017 KICKR.  Also, if you didn't know – the earlier KICKR's all received a firmware update that allows you to leverage the same accuracy tweaks as the 2016 KICKR received; that update came out earlier this year.
If you're looking for some more data, here's another ride I did with additional data.  This was while testing out the new Wahoo ELEMNT/BOLT workout control that was recently released.
(Note: All of the accuracy related charts were created using the DCR Analyzer tool.  It allows you to compare power meters/trainers, heart rate, cadence, speed/pace, GPS tracks and plenty more. You can use it as well for your own gadget comparisons, more details here.)
Wrap-Up: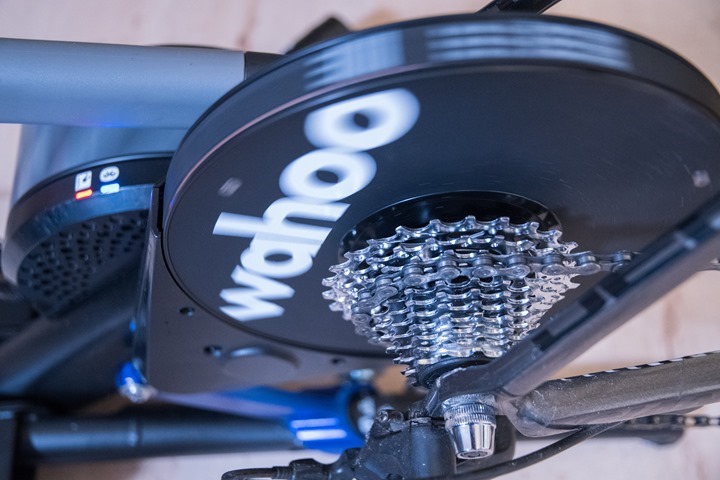 Overall as you might guess there's little reason for most people to rush out and buy a new KICKR if you're already a KICKR owner…unless you want CLIMB compatibility.  But if you're in the market for a new trainer, especially a new KICKR, then certainly you'd want to pickup the new KICKR 2017 (KICKR 3).  And the good news is you won't have to wait long for that because it's in stock today and starts shipping today.
If you're looking at trainers in general, I don't anticipate any other trainers here at Eurobike, and I think we've seen the end of new units for the season.  Though there could always be one or two minor ones at Interbike in a few weeks.  Depending on what I hear there I'll either release my annual trainer buying guide in the next few weeks, or right as Interbike gets underway.
With that – thanks for reading!
Found this review useful? Or just wanna save a bundle? Here's how:
*Below are links to the most current edition of the Wahoo KICKR Smart Trainer and compatible accessories*
I have partnered with the retailers on the left, and any shopping you do through those links or the ones below, helps support this website. Thanks!
Wahoo KICKR 2020 – Competitive Cyclist
Wahoo CLIMB – Competitive Cyclist
Wahoo KICKR DESK – Competitive Cyclist
Wahoo Headwind Fan – Competitive Cyclist
For European/Australian/New Zealand readers, you can also pickup the unit via Wiggle at the links below, which helps support the site too! With Wiggle new customers get 10GBP (or equivalent in other currencies) off their first order for anything over 50GBP by using code [Currently Disabled] at check-out after clicking the links below.
Wahoo KICKR 2020 (EU/UK/AU/NZ – Wiggle)
Wahoo CLIMB (EU/UK/AU/NZ – Wiggle)
Wahoo KICKR DESK (EU/UK/AU/NZ – Wiggle)
Wahoo Headwind Fan (EU/UK/AU/NZ – Wiggle)
And finally, here's a handy list of accessories that most folks getting a trainer for the first time might not have already:
| | Product | Amazon | Note |
| --- | --- | --- | --- |
| | Apple TV 4K | Amazon | There's no better bang for your buck in getting Zwift (or FulGaz/etc) on your big screen TV than Apple TV - it's the primary way I Zwift. Even if you don't have a 4K TV, the 4K version has more powerful graphics than the base, worth the extra $30. |
| | Basic Trainer Mat | Amazon | This is a super basic trainer mat, which is exactly what you'll see me use. All it does is stop sweat for getting places it shouldn't (it also helps with vibrations too). |
| | Elago R1 Apple TV Remote Silicone Case with Strap | Amazon | I use Apple TV for Zwift the vast majority of the time, but also just for watching YouTube/Netflix/etc on the trainer. The Apple TV remote sucks though. This $8 case fixes that, it's a silicone strap that makes it easy to grab, but also has a strap to easily place on the edge of your handlebars. Boom! |
| | Front Wheel Riser Block | Amazon | Here's the thing, some people like front wheel blocks, some don't. I'm one of the ones that do. I like my front wheel to stay put and not aimlessly wiggle around. For $8, this solves that problem. Note some trainers do come with them. Also note, I use a riser block with *every* trainer. |
| | Honeywell HT-900 Fan | Amazon | I've got three of these $12 fans floating around the DCR Cave, and I frequently use them on rides. They work just fine. Sure, they're not as powerful as a Wahoo Headwind, but I could literally buy 20 of them for the same price. |
| | Indoor Cycle Trainer Desk (RAD/Lifeline/Vinsetto/Conquer/etc...) | Amazon | This desk is both a knock-off of the original KICKR Desk, but yet also better than it. First, it's got wheel locks (so the darn thing stays put), and second, it has two water bottle holders (also useful for putting other things like remotes). I've been using it as my main trainer desk for a long time now and love it. Cheaper is better apparently. Note: Branding varies by country, exact same desk. |
| | Lasko High Velocity Pro-Performance Fan (U15617) | Amazon | One of the most popular trainer fans out there, rivaling the Wahoo Headwind fan in strength but at a fraction of the price. It doesn't have smartphone/ANT+/Bluetooth integration, but it does have secondary outlets. I've been using it, and a similiar European version lately with great success (exact EU variant I use is automatically linked at left). |
| | Tacx Tablet Bike Mount | Amazon | I've had this for years, and use it in places where I don't have a big screen or desk, but just an iPad or tablet on my road bike bars. |
Additionally, you can also use Amazon to purchase the unit (though, no discount/points). Or, anything else you pickup on Amazon helps support the site as well (socks, laundry detergent, cowbells). If you're outside the US, I've got links to all of the major individual country Amazon stores on the sidebar towards the top.
Thanks for reading!