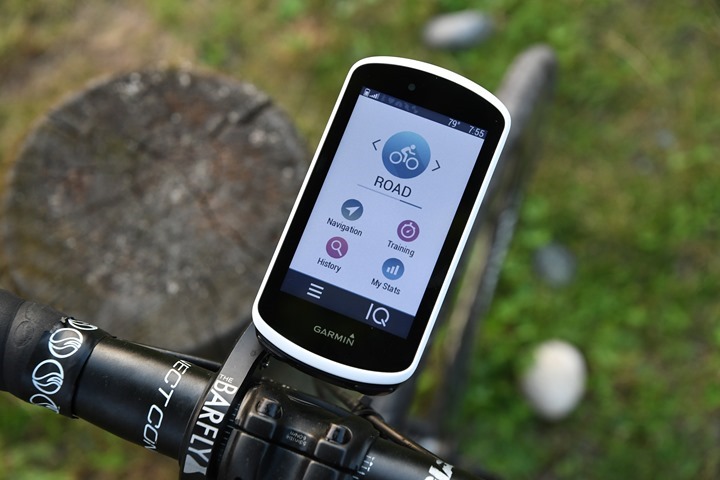 ** Update: The Edge 1030 has been superseded by the Edge 1030 Plus. Check out the Garmin Edge 1030 Plus In-Depth Review here for the latest info**
After over three years, Garmin has updated its flagship GPS navigation computer with a new edition – the Edge 1030.  This new large-screen style unit features a longer battery life along with a new external battery pack option.  Not only that, it adds in Bluetooth Smart sensor support, FirstBeat Training load metrics, Rider to Rider messaging, and more.
I've been riding with the unit for quite a while now and have a pretty good grasp on all these features, so much that it's definitely in-depth review time.  Also, the unit starts shipping today (yes, really).  The question is – is the new Edge 1030 worth the price?  And more importantly, how well are all these new features implemented?  I set out to answer these questions.
As always, once I'm done with this media loaner unit I'll send it back to the Garmin folks in Olathe, Kansas.  After which I'll head out and get my own unit via normal retail channels.  If you found the post useful, feel free to hit up the links at the bottom – I appreciate it.
What's new: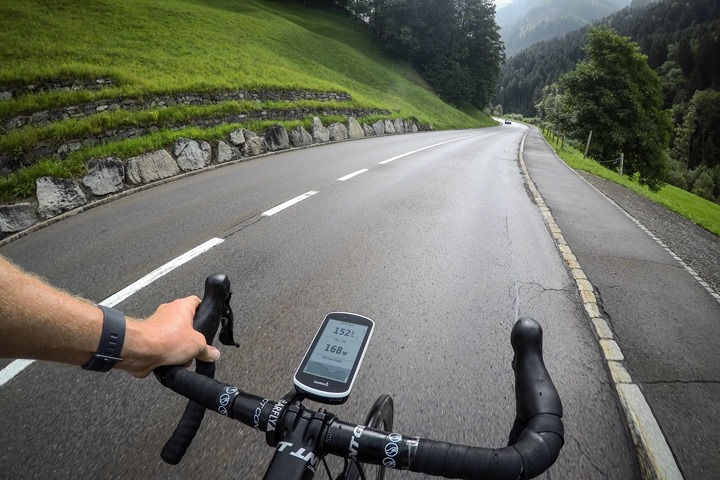 Let's dive right into things with what's new on the Edge 1030.  And what you'll see is that in many cases it's more of an evolutionary upgrade than it is a revolutionary one.  Which isn't to say that's bad – in fact, in many ways that's good, as it minimizes the amount of issues you see at the outset.  In any case, in usual DCR style, bulleted list here we come:
– Totally revamped main user dashboard: This is pretty apparent from pretty much any photo you see here.
– New FirstBeat Recovery and Training Status metrics: We saw these introduced on FR935/Fenix 5 earlier this year, they mirror the same here.
– New External Battery Pack Option: You can now attach a secondary battery pack to the bottom using a locking mechanism.
– Longer battery life: Claimed at up to 20 hours internally, and then you can stack on another 24 hours with the battery pack.
– Trendline popularity routing: When creating routes, it'll leverage all the data from Garmin Connect to find the best cycling routes across road, mountain, and gravel categories, meaning that it's going to leverage where people actually ride.
– Support for Bluetooth Smart sensors: Like the Fenix 5 and FR935, you can now pair to Bluetooth Smart heart rate straps, speed, cadence, and power meter sensors.
– New Garmin Connect Mobile Course Creator: You'll see improvements here in conjunction with the new Garmin Connect Mobile (GCM) that allows route creation more easily from the phone.
– New Garmin Connect Mobile Workout Creator: As part of the new GCM release, you can now create structured workouts on the phone (finally!).
– Rider to Rider Messaging: You can send/receive canned messages to other Edge 1030 users in your friends list.
– Real-time Strava Segment listings: The unit will now use your phone to show you actual Strava segments nearby as you ride along (not just pre-loaded ones), along with real-time data on those segments.
– New Strava Routes Connect IQ App (pre-loaded): This app allows you to pull your saved Strava Routes directly to your Edge 1030 (this will be released for all Edge Connect IQ compatible units).
– TrainingPeaks & Best Bike Split Connect IQ apps pre-loaded: These will automatically be on your unit to begin with.  Simple as that.
– Updated Workout Functionality: Software now lets you restart a structured workout step, such as if outside and stuck at a red light.
– Display handles rain a lot better: The display is far better than before in wet conditions.  Check out my video on this below.
– New protected microSD card slot: While it comes pre-loaded with maps, you can add more maps on microSD card and this new slot design is much more waterproof/weatherproof
– Incident Detection: This was introduced on the Edge 1000 Explore (but not regular Edge 1000, and then the Edge 820 – but it's here now on the Edge 1030.  It'll notify friends/family when you crash.
– New out-front mount: Places unit level with handlebars, instead of above it.
– Slightly uglier white external case design: Just my two cents.  I like the black look of the Edge 1000.
– Landscape mode is gone: It's dead, Jim.  Nobody used it, and it Garmin cut it to focus on other product areas.
Phew!
And the kicker is I'm sure I'm still missing some minor nuance items.  Things like when you pick out which data fields to add it'll show you in tiny text the data fields in the listings you've already selected.  Or the new controls menu that consolidates mid-ride actions like calibration, live track, and so on.  Oh, and for lack of anywhere else to stash it – the price is $599USD.
If you want to see what all this looks like, I've put together a simple video that walks through the entire user interface from start to end.  It's just one simple camera angle and me going through the menus – nuttin' fancy.
So with all that out of the way, let's dive into the box and more.
Unboxing: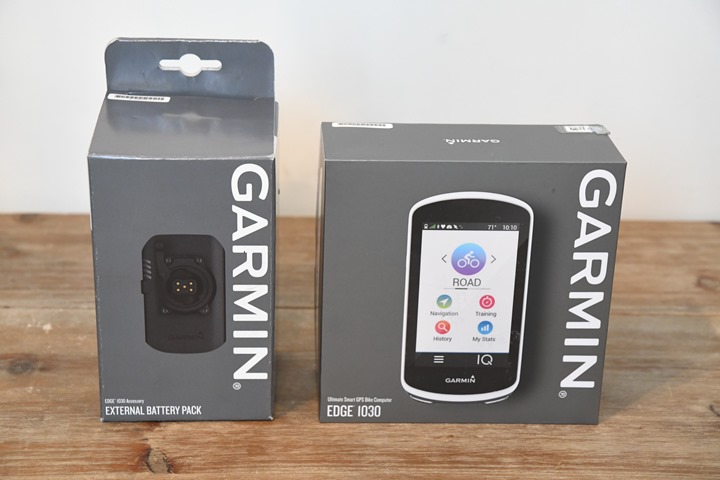 You're in luck – you get a twofer unboxing in this one!  First up is the Edge 1030, and then I've got the external battery pack.  Note that this is the non-bundle version of the Edge 1030.  The bundle version does NOT include the battery pack, but rather the speed/cadence/HR sensors.
Ok, first up the Edge 1030.  After cracking open the box seen above, you've got the below situation: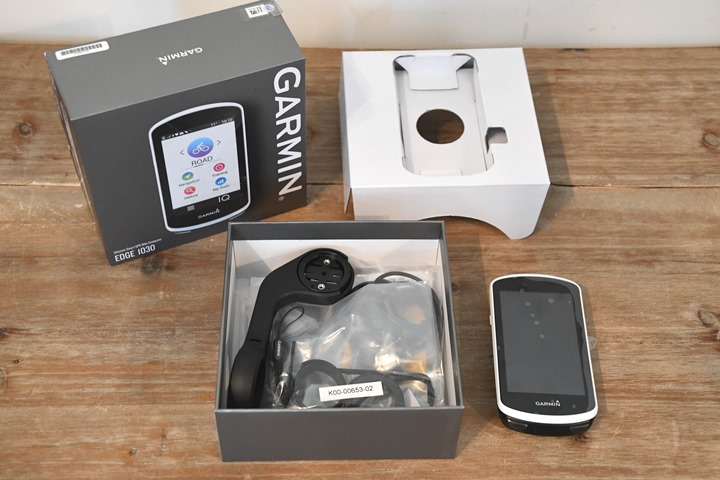 And then if you flip that pile over, here's everything spread out on a table: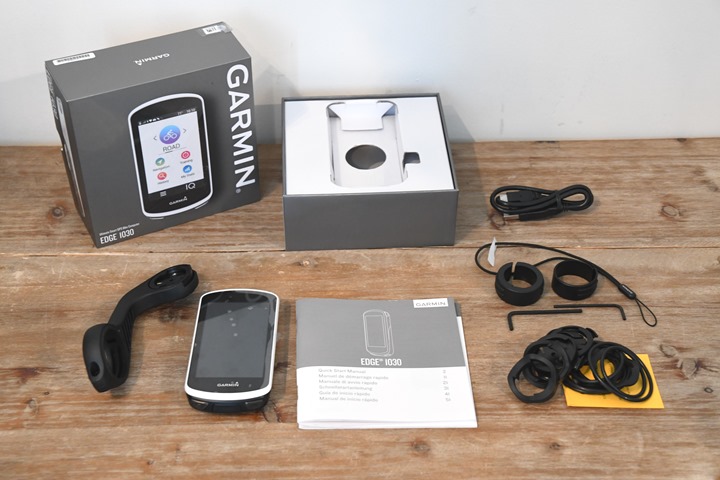 Running through each piece individually, first up we've got the out-front mount.  There's some notable changes, in that it now puts the Edge 1030 flush with the handlebars.  Also, it has a new bottom piece that allows connectivity with the external battery pack.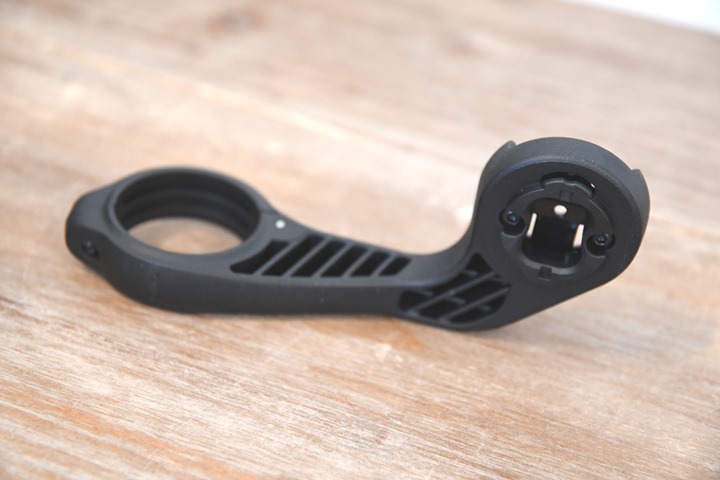 Here's the bits that make the mount attach to your handlebars, plus the lanyard.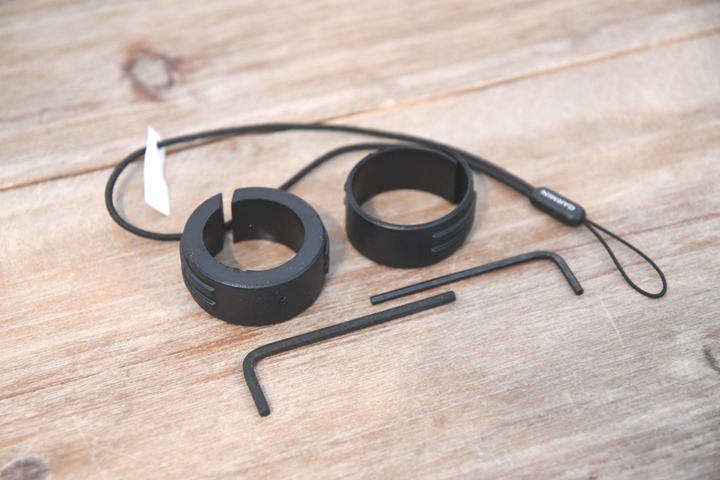 If you want to use the rubber band mounts instead, there's a small stash of them and extra bands: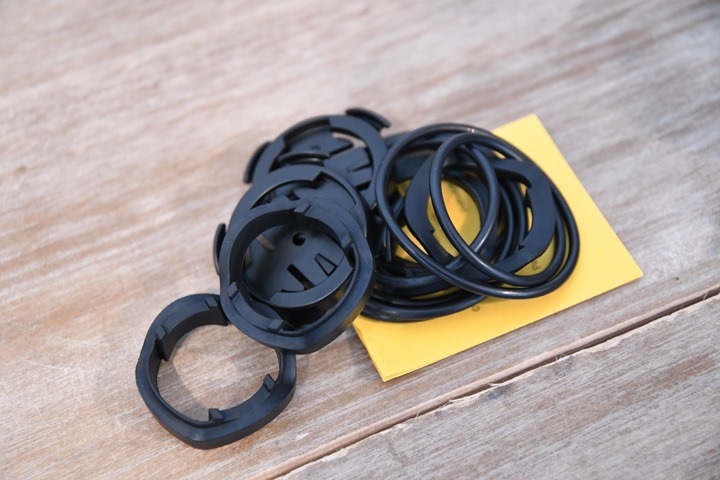 Finally, the Edge itself:
On the bottom, in between the two buttons (which are annoyingly still side-facing), you'll find the micro-USB charging port.  Meanwhile, on the back, you'll find the charging contacts for the external battery, as well as the microSD card slot:
And finally, for comparison purposes, here's how it stacks up in size against the Edge 1000: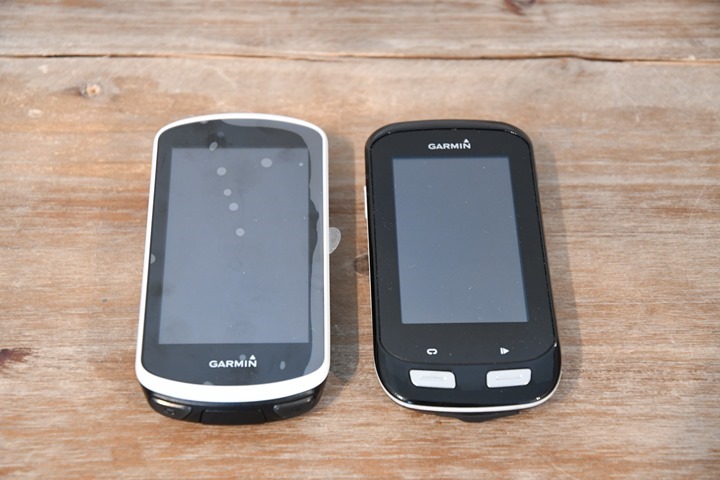 Now, I've got plenty more size and weight comparisons in my video than I show here, which is the total unboxing video including the battery pack.  I also got into detail on how the battery pack works as well.
With everything out of the box, let's talk about the basics.
The Basics:
As part of my general life goal to not reiterate the same basic GPS bike computer things in every review, I'm going to mostly focus on what's different/unique here  Still, I'll talk a few quick paragraphs on the basics to bring folks up to speed.
First, we've got the new dashboard on the Edge 1030.  In many ways there's really only two core sections that are different here (control center and dashboard) in the user interface. Everything else will feel pretty similar.  This may remind a lot of folks of the Edge Touring units.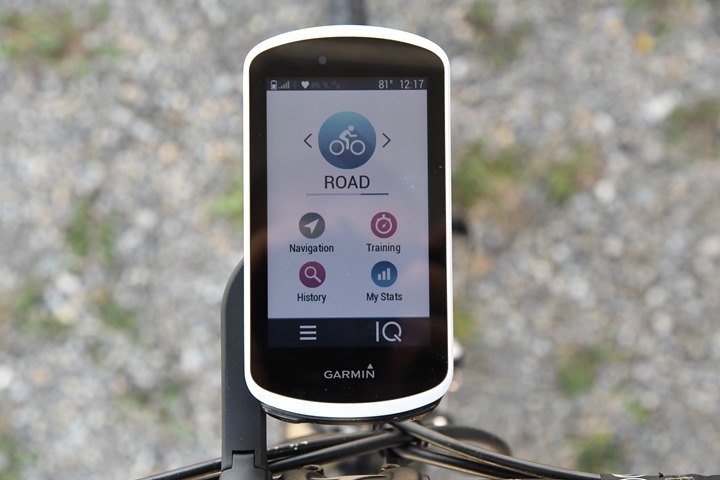 To start an activity you'd tap the button that currently says 'Road' on my screen.  This is because I've got it set up to use an activity profile called 'Road'.  You can create your own activity profiles, which customize things like data pages, how maps work, whether or not Segments show up and many more options.  Think of these as your preferences for that ride.  You can have numerous profiles.
Once you've selected an activity profile, you'll be ready to ride.  It'll find any paired sensors automatically as well as GPS (if outdoors).  These are all visible along the top of the unit in the status line: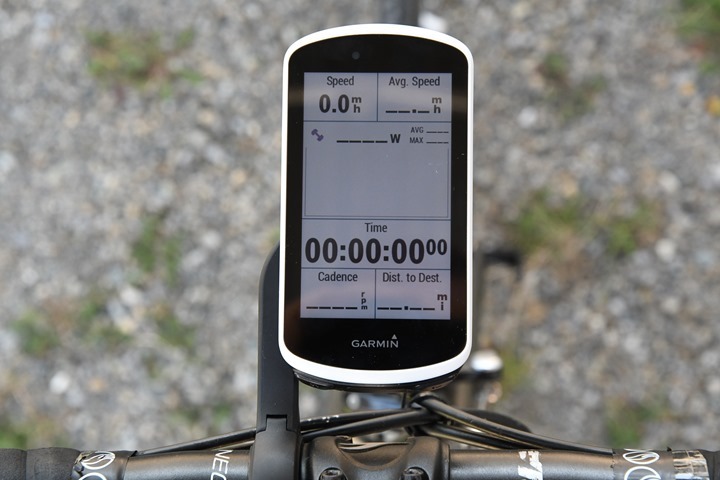 If you swipe down you'll dive into the new controls area, which acts like a quick-access center for various mid-ride things you might want to tweak or do.  Previously on the Edge 1000 this was a single page, now you can swipe left/right.  Here's a small gallery of what you can swipe to.  They include notifications center, mid-ride control of live tracking, calibration, weather, live Segment explore, general system configuration, and more.
Once riding, you'll get data as normal – all of which is recorded to a .FIT file.  This is the standard that almost all sites use for sport and fitness data.  Later on within Garmin Connect, you can also download other file formats like .GPX and .TCX.  Further, you can sync to 3rd party apps automatically such as Strava, TrainingPeaks, and more.  Here's an example of a ride recorded with the Garmin Edge 1030: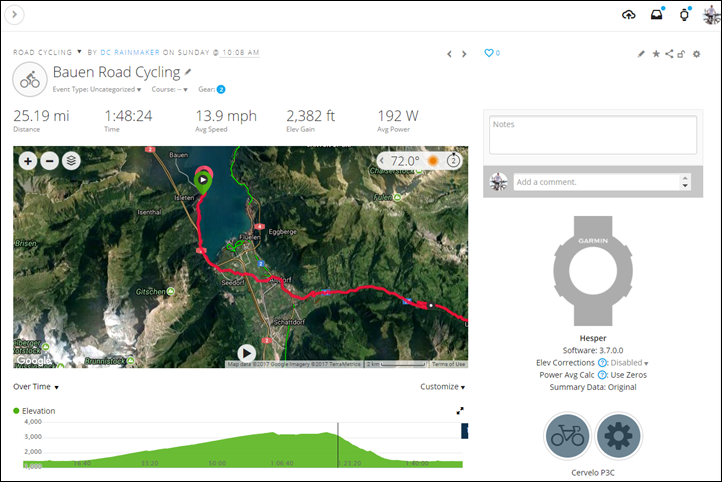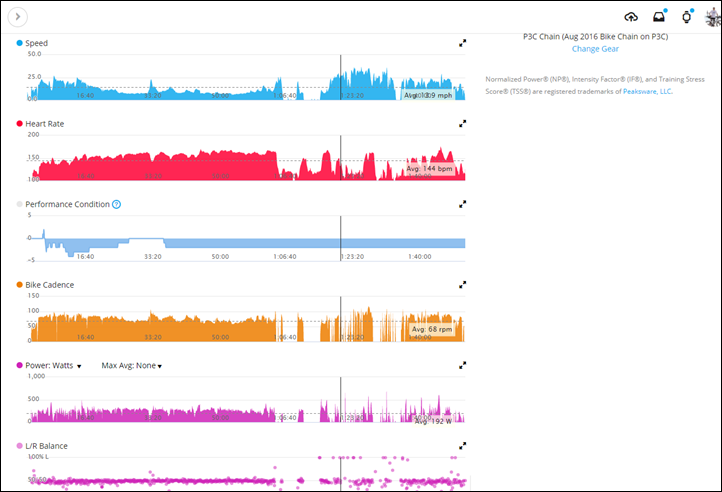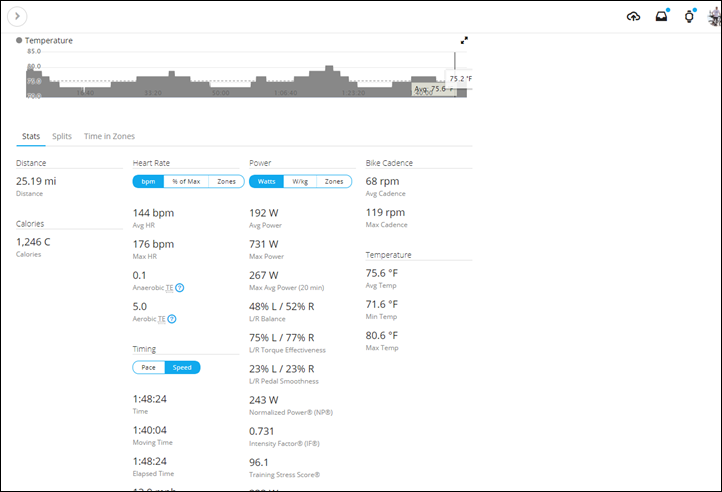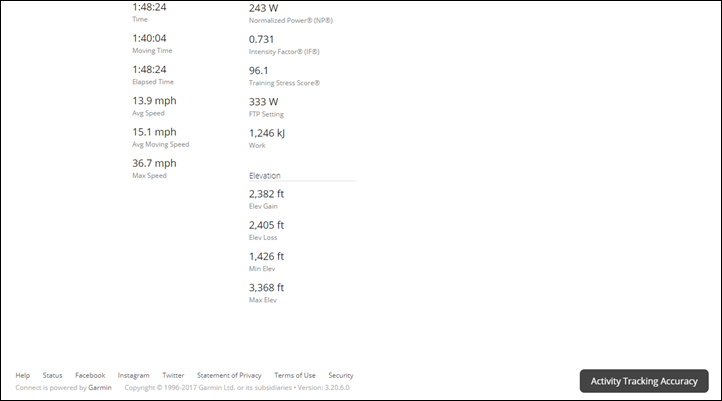 With those basics out of the way, let's talk the newer stuff.  Specifically starting with the 'My Stats' page you'll have seen back on the main dashboard.  This consolidates all of your health/performance related metrics into one place, as well new metrics not seen on the Edge series before.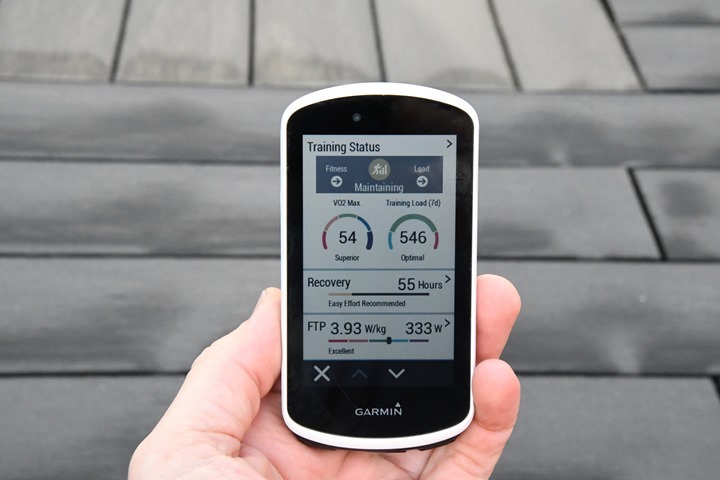 Up top is the new Training Status including fitness load and stress.  This comes from FirstBeat and is the same tech seen on the Fenix 5 and FR935 earlier this year.  I talk about it in-depth in this post.  Like those devices, you need about a week of training on the unit for these stats to show, and then from there it really takes about four weeks of training for things to really stabilize and be at the peak of their accuracy. Below all that you'll find your current VO2Max as well as fitness load.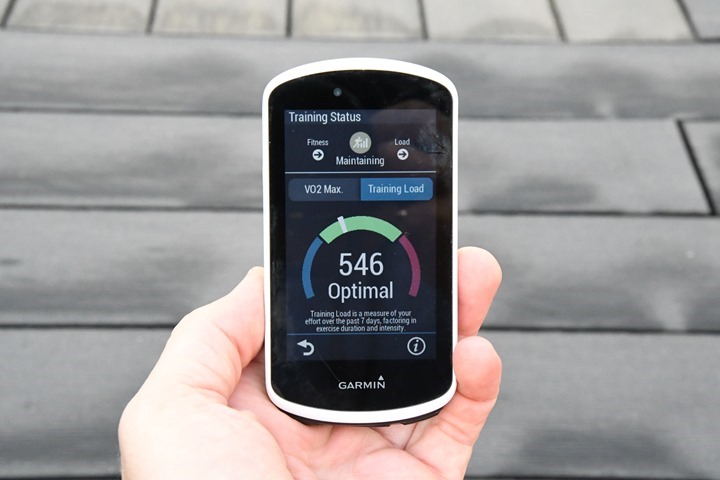 Next, we've got current recovery numbers below that, which will decrease over time as you recover.  This again comes from FirstBeat and is based on heart rate strap data.  And then below that, your FTP.  You can either have that automatically determine your FTP, or you can have it manually set.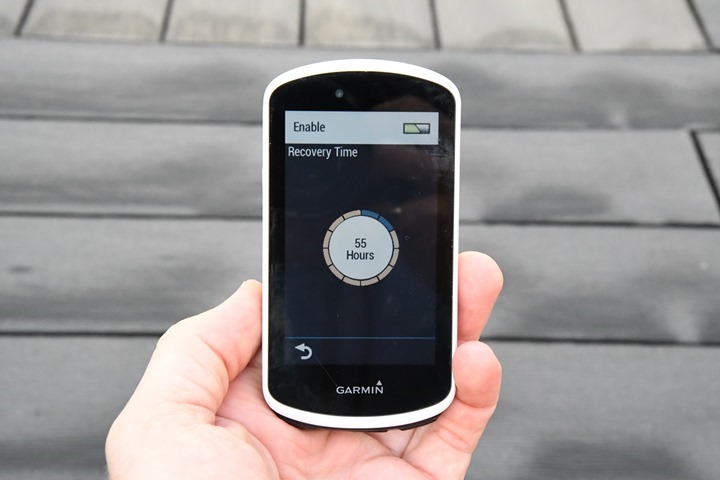 Now one big bummer here is that while all of this was introduced on the Fenix 5 and FR935, none that data carries over here.  I'm a perfect example of why this matters.  I generally ride with a separate Edge unit, but I run with a FR935.  So all my recovery metrics wouldn't really be complete on either device (especially the Edge, sans-running data).  Ideally, we'd see Garmin carry these metrics across behind the scenes with Garmin Connect, like they do for steps via TrueUp.  Hopefully, that happens sooner rather than later.
Next on the new features piece is the rider to rider messaging.  This allows you to select canned replies/messages that you can, in turn, send to other Edge 1030 riders on your friends list.  This functionality leverages that of Live Tracking, which has been around for many years.  Now though you've got a dedicated control panel for it that you can initiate messages directly from.  You'll see below one of my contacts that's riding at that time.  I've configured this page not to show up if nobody else on my list is riding:
Next, I can see his location on the map, in comparison to my location: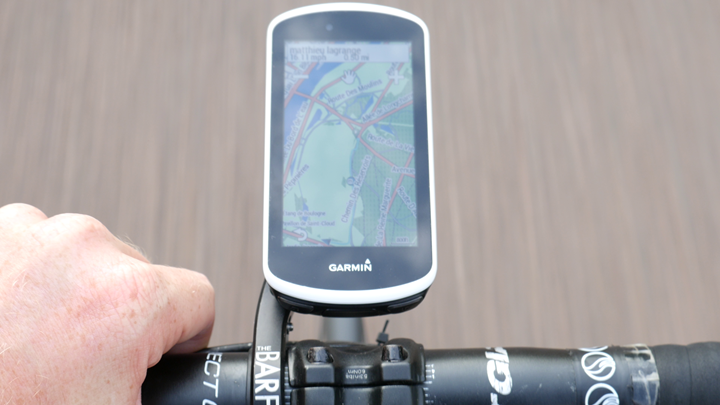 And at the bottom, I can go ahead and select to message him.  There's about 20 or so canned messages I can send to him.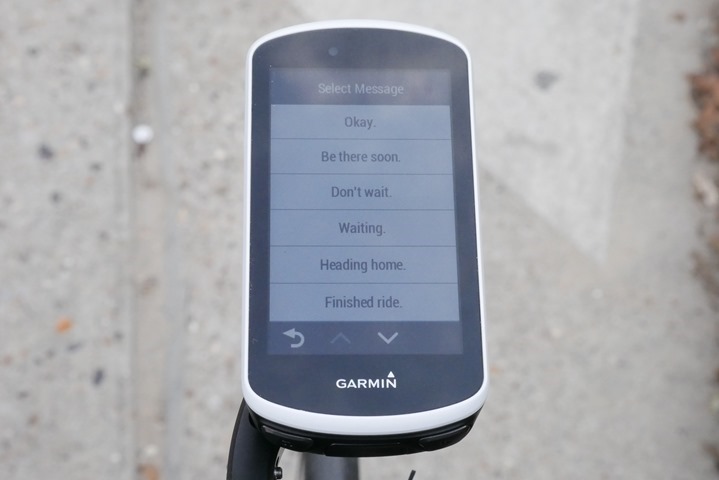 And then he can reply accordingly: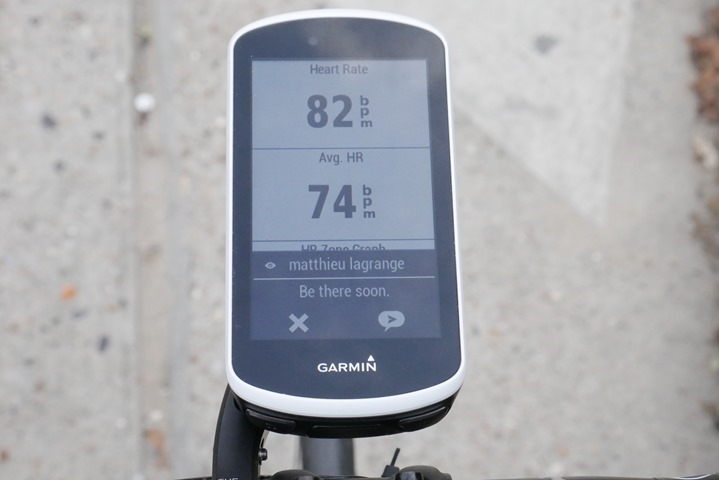 I demonstrate how this all works in this short 5-minute video.  Super easy to do.
Note that at this point you can't customize any of these messages, nor can you simply type out a response.  These are what you get.  I'd love to be able to customize some of these in the app and then have them available to use.  For example, to have canned messages to taunt friends that are slackin', or messages to say meet at specific/favorite cafes.
One more area I want to very briefly note is the new ability to create workouts on Garmin Connect Mobile.  This used to require Garmin Connect desktop, or a 3rd party service.  Now you can do it from your mobile app:
Last but not least, before we dive into navigation and other areas, let's talk about the display.  It's definitely different/improved upon the Edge 820.  Certainly there were lots of comments on the Edge 820 touch screen display.  For some it worked great. For others it sucked.  For yet more people (most), it may have sucked for about half the year, and then got better with various firmware updates.  I suspect most of those that still reside in the 'suck' camp probably actually have hardware issues more so than anything else.  And I suspect it's mostly a display manufacturing issue, hence the variability people see.
In any event, at this point, I've only got a sample size of one (me).  But I can say that even side by side the Edge 1030 display is incredibly good in rain.  During a recent random-ass thunderstorm I went outside and filmed this simple segment to show how well it works.  This was a one-take wonder.  No other takes, just this one shot:
That behavior seems to mirror what I've seen during other rainy rides as well.  Again though, I'm interested in seeing how things work longer term with other people's units now that this is on the market.
Mapping & Navigation: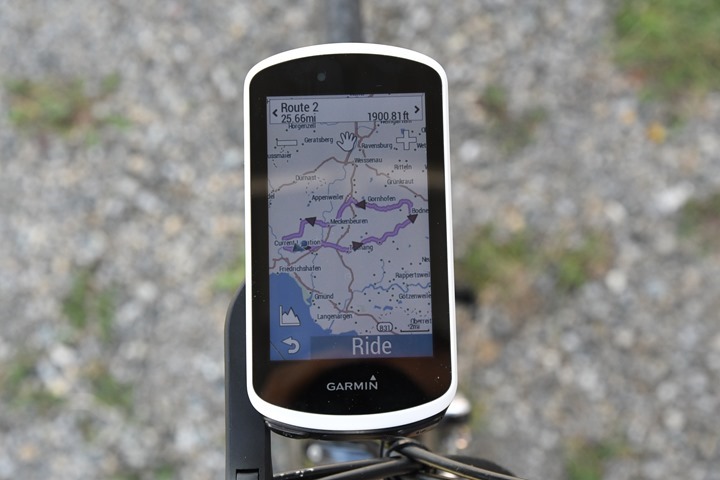 Of course, the main reason you'd buy the Edge 1030 over other units is really the navigation components.  It differs from most mid-range units that may have maps in that the Edge 1030 can act as a standalone unit when it comes to routing to points of interest locales, addresses, and really anywhere you want to go.  Whereas units like the Edge 520, Wahoo ELEMNT/BOLT, and more all require some sort of computer or phone to do any routing.  I talk a lot about the nuances here when it comes to routing in my recent 'Best Bike Computer' post.
With that, if we tap on Navigation on the pretty home screen we'll get to a less exciting navigation menu.  It's here we can do normal stuff like browse the map and search for places to route to.
It's this search piece that sets the Edge 820/1000/1030 in a different category than other units, as you can do this all on the unit itself without cellular connectivity.  So I can search for restaurants, hotels, etc… In other words – it's what you expect from a touring computer where you may be somewhere without data service.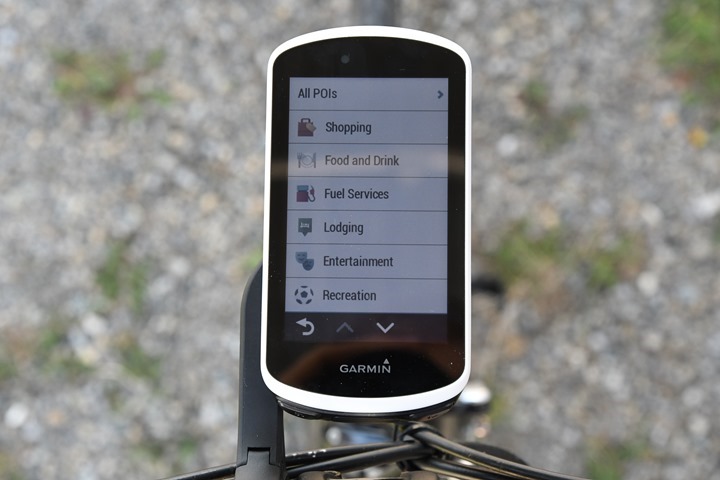 All that works fine and dandy, and I actually just used it on Saturday to route to a random hotel near the top of a mountain while biking.  Super quick and easy.
However, what I want to focus on is the new course creation bit.  Garmin has always had the ability to do course creation from the unit itself, often under the 'Round Trip Routing' piece, but equally true of just routing somewhere one way (or a selection of waypoints).  But now with the Edge 1030, you've got what's called 'Trendline Popularity Routing', which means that it leverages Garmin Connect data to determine these routes.  As you might image, there are millions upon millions of activities uploaded to Garmin Connect (my guess is probably upwards of a million per day).  And most times people ride in places that have the best and most efficient routes.  So by applying a heatmap-like concept to that, you get better Edge routes.
Now you won't really see much different on the Edge 1030 itself.  It's just that the underlying data is better.  And in my testing in doing a couple of random-ass routes from Paris (where it normally sucks on round trip routing), I got some really solid ones.  For example, this ride I did a few weekends ago was driven by the Edge 1030.
Interestingly, on the Garmin Connect Mobile app you can also create routes as well now.  These options are purely focused on round-trip routes, so you can't just quickly tap out a new route with waypoints yet.  But still, it's cool to create routes there and be off and cookin':
Once out riding, navigation works pretty much as you'd expect.  It'll overlay the route you're on, as well as notify you as you approach turns: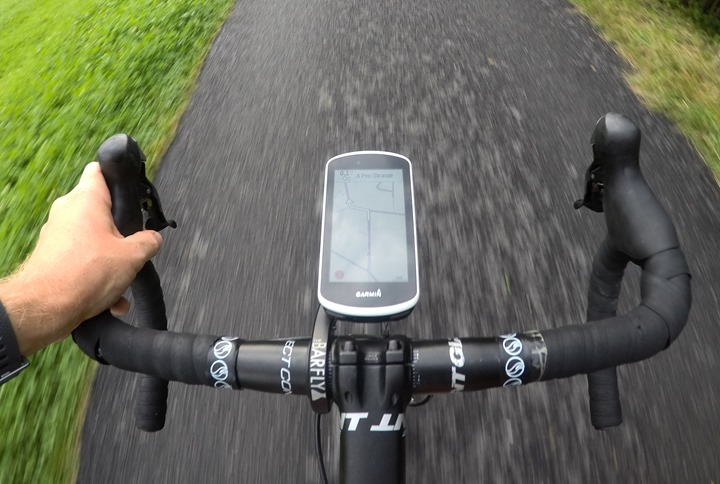 I had no issues with any routing, and almost all of my rides actually had routes on them – even if just silly routes.  The only time I didn't get notified of a turn was when the auto-generated popularity route had me on a bike path that paralleled the road.  I ignored this and stayed on the road, so when we got to a traffic circle and the bike path didn't have said circle, I didn't get a turn notification.  But that's my bad.
More importantly – I didn't have any issues with re-routing.  This is an area that some folks have seen trouble with in the past, such as when they go off-course.  My suspicion is that this was typically related to routes created by 3rd party apps (.TCX/.GPX) that were more challenging on re-routing.  Garmin said they've worked on this a bit in not only the Edge 1030, but also a recent update sent out for the Edge 820 that focuses on re-routing scenarios for courses.
In my case, I often used the Strava Routes functionality, which in effect does exactly the same thing as you'd do manually – exporting a route from Strava and plopping it on the Edge 1030.  No issues with re-routing there either.
Also – and perhaps most notable is that it doesn't take forever to calculate a route like the Edge 820 does.  This was one of my chief complaints with the Edge 820 in that it was roughly 1 minute per 20 miles of course.  So you're talking a number of minutes just standing there waiting.
Sensors & Battery Pack: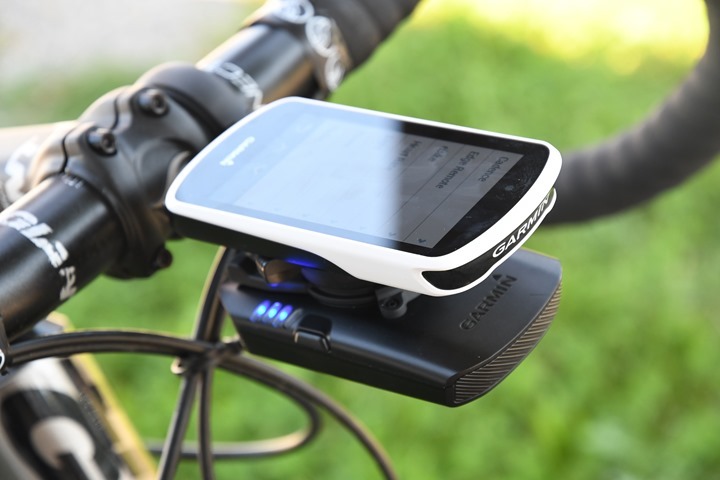 When it comes to sensors, the Edge 1030 carries through all of the existing sensor compatibility we've seen in the past from an ANT+ perspective, but it also adds in new sensors as well from the Bluetooth Smart side.  This is the first Edge unit to support Bluetooth Smart sensors, following Garmin adding that functionality into the Fenix 5 and FR935 earlier this year.
In total, here's all the the sensor types the Edge 1030 supports:
ANT+ Cadence only sensors
ANT+ Edge Remote
ANT+ eBike
ANT+ Heart Rate
ANT+ Bike Lighting Control
ANT+ Power Meters
ANT+ Radar
ANT+ Gear Shifting (SRAM RED eTAP, Campagnolo EPS)
ANT Shimano DI2
ANT+ Speed/Cadence combo sensors
ANT+ Speed only sensors
ANT+ Varia Vision (aka remote displays)
ANT VIRB Action Cam
Bluetooth Smart Cadence only sensors
Bluetooth Smart Heart Rate
Bluetooth Smart Power Meters
Bluetooth Smart Speed/Cadence Combo
Bluetooth Smart Speed-only sensors
Phew, got all that?  Good.
Oh, and then you've got 3rd party pieces like Muscle Oxygen sensor support via Connect IQ apps as well (for Moxy, and now discontinued BSX devices).  Plus other 3rd parties have done other private-ANT implementations via Connect IQ too.
I've tested a bunch of sensors with the Edge 1030 and haven't noticed any issues.  I've largely done ANT+, but I have done some Bluetooth Smart rides on specific sensors as well.  As an aside, you can see here how a BLE sensor shows up within the Edge 1030: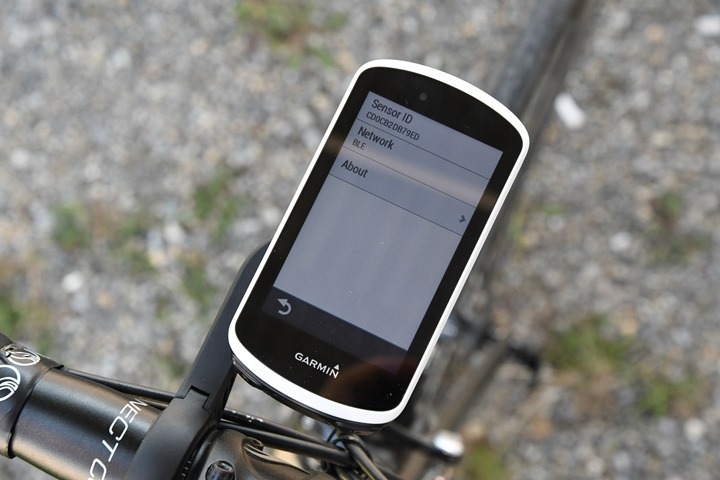 Ok, but what you were all waiting for was the battery pack piece.  I may do a separate post on this, but for now we'll keep it here (since it's only compatible with the Edge 1030 at this point).  The Edge 1030 has connectors on the bottom for the new external battery pack.  These connectors allow you to mount the external battery pack via the included out-front mount and then power your Edge 1030 further.  In total the battery pack is said to give an additional 24 hours of battery life (which puts you in the 44 hour range in total):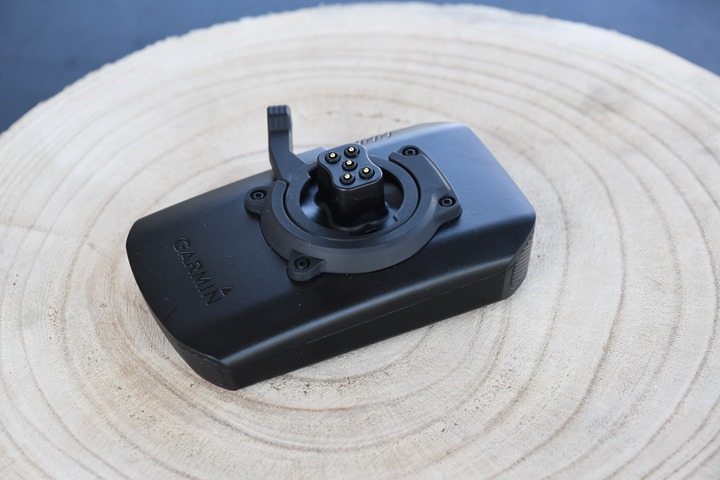 The battery pack itself charges via micro-USB, like most battery packs out there today.  It has a 3,300mAh capacity, so it's on the lower end of USB battery packs its size.  Though, it's also designed to be waterproof (IPX7 so up to 1m for up to 30 mins) and snap onto the front of a bike computer at speed.  Obviously, there are tradeoffs here compared to a simple USB lipstick charger.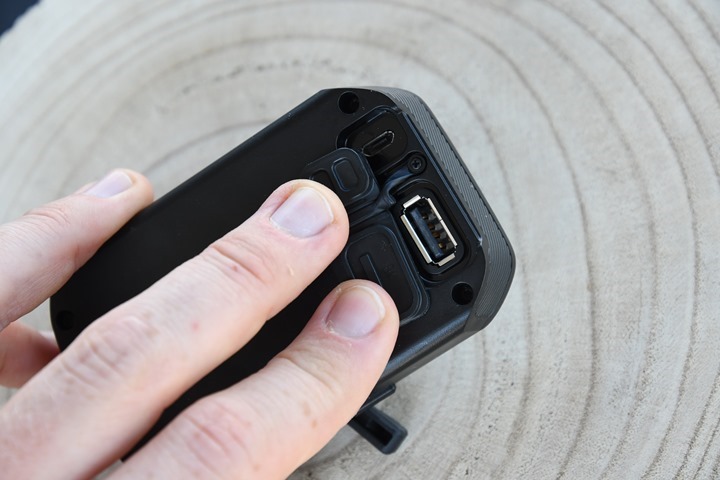 The unit has battery status indicators on the edge of it, allowing you to see current battery status.  Unfortunately there isn't anything clever like Apple's own iPhone case where it shows battery status of the battery within the Edge unit, though that'd be cool.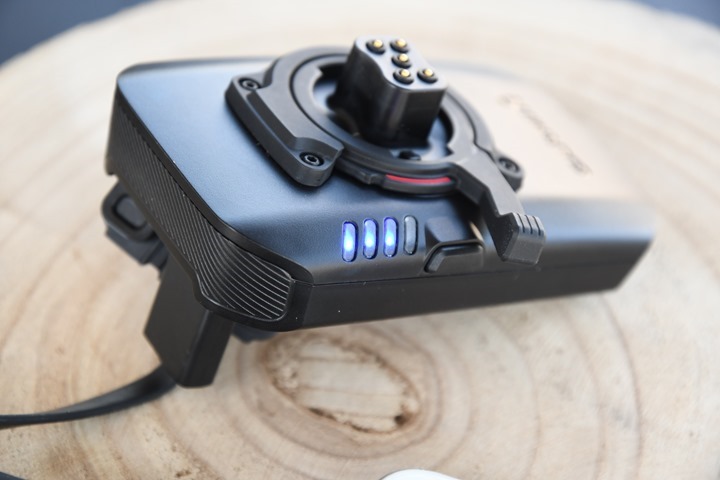 On the bottom of the unit near the micro-USB charging port you'll also find a regular USB charging port so you can charge your phone or other device.
As a pro tip, I take along this simple and cheap charging cable with me if I'm headed out for a long ride.  It allows me to charge my phone via it (has Micro-USB, USB-C, Apple Lightning, mini-USB connectors), and I can even plug the battery pack into a USB port at a café or such.  It's like my most favorite $8 cable ever.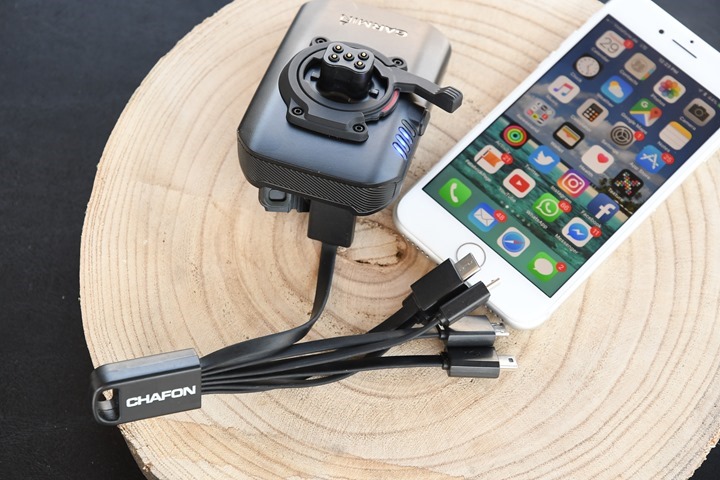 Finally, this whole thing locks in place using a locking system on the out-front mount that you swap out.  I show how this works in the unboxing video up above – so take a look at that for more details on it all (sometimes it's easier to explain in a video).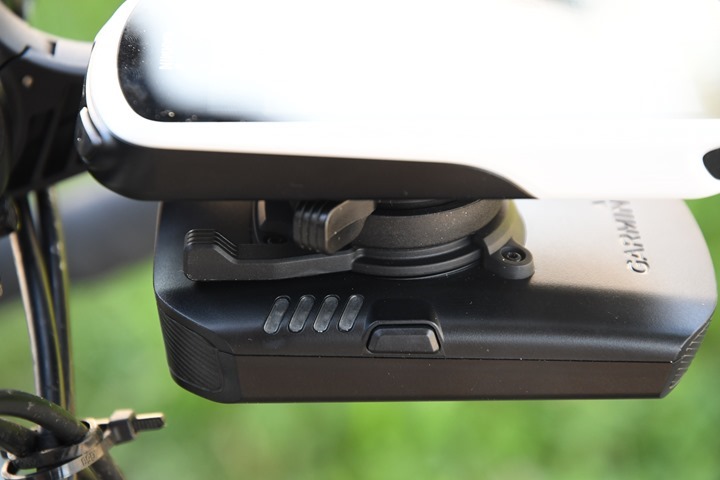 The thing is pretty stable though, so I don't expect any issues.  Nor have I had any issues in terms of cobbles or the like. It's a rock solid locking system, very similar to that of the Garmin UT-800 lights.
Of course – some of you might say that for the price ($130USD)  you could buy a boatload of USB battery packs.  And that's absolutely true, you can.  But you can't buy ones that are waterproof and sit seamlessly below the Edge unit on the same mount.  If you're 'just' doing day touring, then honestly I'd just get a cheap USB battery pack too.  Whereas if you're doing 24-hour style rides, then I'd probably go with something like this.
Lastly, I regret to inform you have I haven't gone out for a 40-44 hour non-stop ride, so I can't vouch for whether or not it holds up to that much pounding.  But if any DCR readers do so down the road with it – I'd love to hear about it!
Strava & 3rd Party Apps: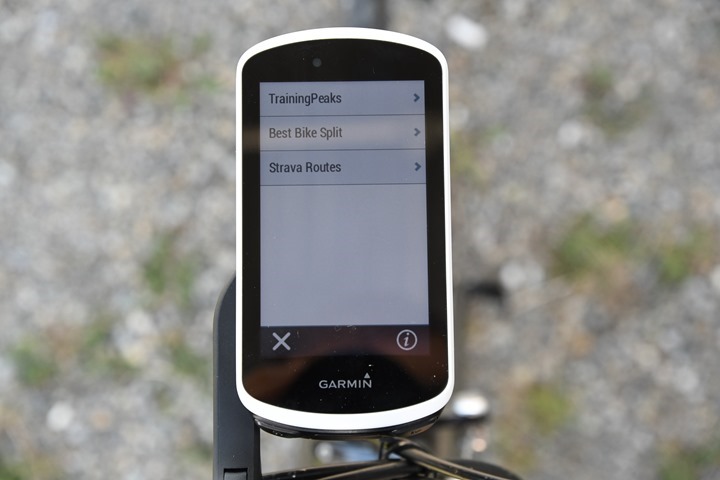 The Edge 1030 carries through support for Garmin Connect IQ apps, like the Edge 1000 had (as does the Edge 520 and 820).  This means that 3rd party apps can be developed for the Edge series like before. I talk extensively about this in all these posts.
What's notable here though is that with the Edge 1030 they're pre-loading apps from Strava, TrainingPeaks and Best Bike Split.  I've talked about the TrainingPeaks one previously.  It's this new Strava app though that's most interesting to me, and is something I've actually been testing most of the summer.  This new app allows you to pull Strava Routes from your Strava account, straight to your Edge for navigation.  You'll do a quick one-time activation via Garmin Connect Mobile, and then from there the Edge 1030 will pull your Strava routes from your account: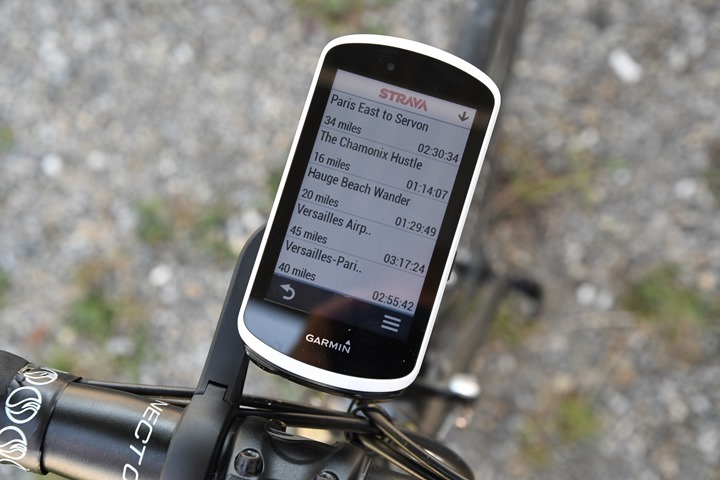 You can tap on any given route to see high-level stats about it (no map on this page yet):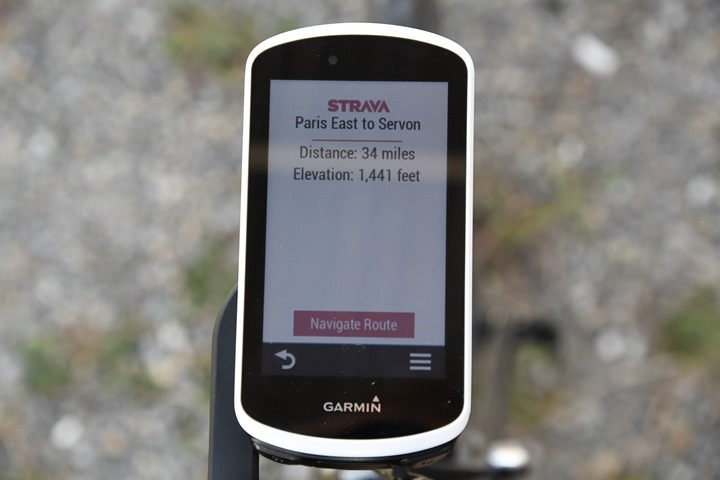 And then you can hit 'Navigate route', which will download the route to your Edge 1030.  At which point it'll ask which activity profile to use.
It's at this juncture that the Strava route hands off the course package to the native Edge 1030 routing engine and it does its job as normal.  Still, you can see the ride route and so on from this page: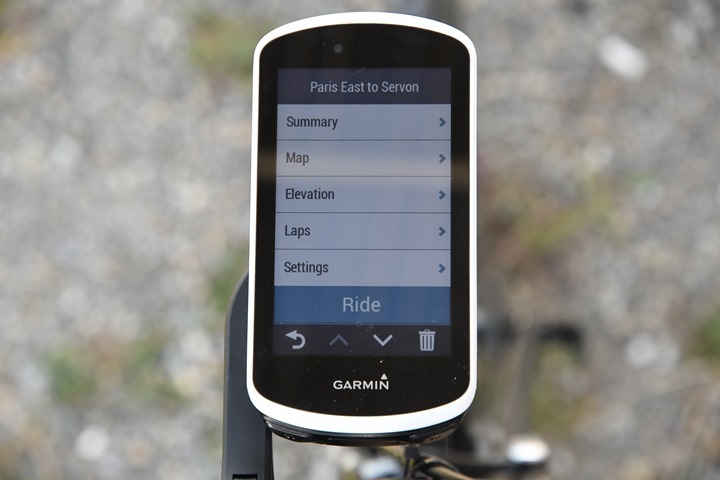 All of this works really well, as I discussed in the navigation section.
But here's the best thing: it's coming to the other Edge units via Connect IQ app.  You should be able to download this app for the Edge 520, 820, and 1000 as of now (these are the only Connect IQ capable Edge units). In fact, I've been using it on the Edge 820 for much of the summer and it works great.
Finally, on the Strava front, you've got some new functionality that's not quite as obvious.  First is that while you're out riding you've got a new Strava controls page that shows you nearby Strava Segments.  This control panel is actually pulling live segments via your phone for the roads around you:
So you can tap on any of these and then go off and compete on that Segment.  As part of that, they're now calculating leaders and related data live, in real-time, using the phone connection.  Previously this was cached from whenever it was the last time you synced.  This also goes for people who are closest to you (friends) on the leaderboards.  Pretty neat.
While these two items may sound minor, they're part of the larger play from Strava to get you to sign up for their Premium membership, as all of these Strava related features do require a Premium membership.
GPS & Elevation Accuracy: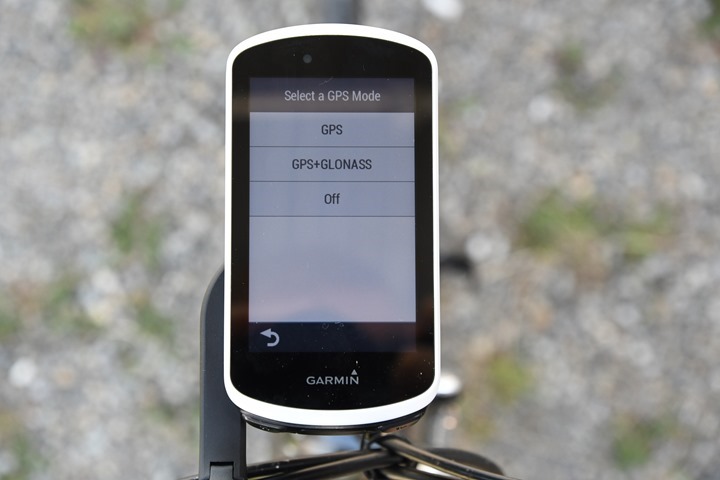 When it comes to GPS accuracy, in general you see bike computers do pretty well on road conditions.  This is because in most cases you're travelling pretty quick and there's not a lot of random movement like you would be when running.  Still, we'll take a look at things as well as at barometric altimeter accuracy, which is an area that sometime varies on units.
I'm going to dive straight into analyzing the first set, which is a mountain ride.  This ride was this past weekend in the Swiss Alps with the 1030, two other Edge 520's, and a Fitbit Ionic.  All have barometric altimeters.  Here's the link to the DCR Analyzer set if you want to poke around yourself.  Here's the altimeter track on that ride:

These are displayed in meters.  Note that on the right side that's the point in time the little dots are at.  So you'll see, as is typical, that there's a pretty even offset between the units.  Picking this point you see that the elevation is reported as:
Edge 520 #1: 978.6m
Edge 520 #2: 1014.6m
Edge 1030: 995m
Fitbit Ionic: 1030.6m
In all these cases I simply let GPS acquire it automatically.  I wasn't interested in setting a specific GPS elevation point, since quite frankly I didn't know what that point was at my starting location.  I don't generally care whether or not there are a dozen meters of offset between the actual and reported location. What I care about instead is the ups and downs – the ascent and descent.  Check out this small climb in the middle of the descent:

This only lasted about 30 seconds, but you can see that all Edge units tracked nicely.  Whereas the Fitbit was a bit wobbly through here (it's still beta though).  Also of note is that you'll see the same ordering exists from start to finish on the altimeter readings – meaning that they're staying consistent.
Looking at the GPS track, things look very good throughout this ride, but especially at the start where I'm in a partial tunnel (a snow shed, where one side is open, but otherwise under a cliff), against a mountain.  One of the Edge 520 units struggled a bit here, but everyone else was happy: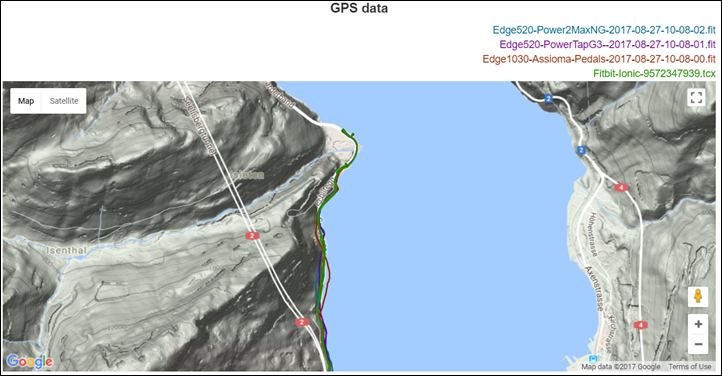 For this, it's easier for you to zoom around the set yourself, which you can do here.  Note on the distances, these were pretty close by the end of it:

There's a spread of less than 100 meters between the three Edge units after 40,000 meters.  And the Fitbit was only another 200 meters out from there.  Note that since the PowerTap hub has a speed sensor in it, that distance would be considered the 'true' distance.
Next, we've got a more city-focused set, where I start inside of Paris and then head outside. On this ride, I had a crapton of devices (2xEdge 520, Edge 820, FR935, Suunto Spartan Trainer, FR935, Lezyne Mini GPS).  Most of these have barometric altimeters.

So there's a lot going on here, but of note is that while there is again a slight offset spread between the units of about +/-10 meters, that offset stays the same the entire time, even through the rollers and such (some other units do have variations though).  Again, it's probably easier for you to zoom in on the different tracks in the Analyzer file here.
What about distance?  Well again – very close between them.  Almost all of them are within about 100m, on over 60,000 meters of riding.  And in fact, most are within a small 35-50 meter spread.  Note that aside from the PowerTap G3 unit, none of the others had a speed sensor attached.

Now, what if I recorded the same power meter on three units?  Would that look the same?  Let's look:

You can see the three units recorded the same Assioma power meter data almost identically.  You'll see very slight differences in average power, mostly due to how transmission and recording works at the sub-1 second layer.  But otherwise, things are very solid here.
Now I'll be uploading the rest of my sets later today into a table to check out, though at the moment a bit slammed with slow WiFi at Eurobike.  Still, I can say that the rest of the sets are pretty boring, in that they all show the same thing over and over again: Good GPS accuracy, and consistent barometric altimeter accuracy.
Note that in most of my Paris rides I also had tunnels I'd go through – and there were no issues of weird entry/exit issues on the tunnels.
(Note: All of the charts in these accuracy sections were created using the DCR Analyzer tool.  It allows you to compare power meters/trainers, heart rate, cadence, speed/pace, GPS tracks and plenty more. You can use it as well, more details here.)
Summary: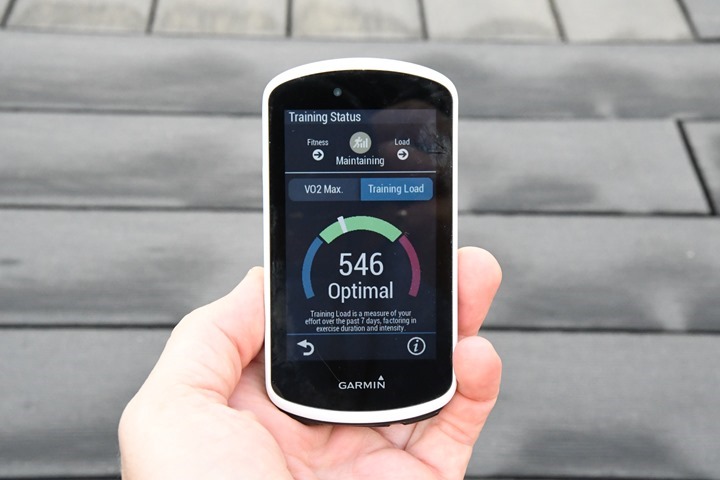 Overall the new Edge 1030 is fairly impressive.  It fills in many of the minor gaps that people looking at this type of unit have complained about.  Be it longer battery life or battery extender options, or better Strava Routing integration.  Not to mention the touch screen definitely improves upon the Edge 820 (though, I don't see much difference compared to the Edge 1000).  Next, the new training load pieces are a nice addition, and on other Garmin devices they've been introduced to – they're generally well received.
Of course, there are still some minor quirks I wish were different.  The first being those very same training load/recovery pieces, those should really be integrated across the Garmin platform seamlessly.  After all – it's in Garmin's interest financially to drive you to buy other devices.  Then there's the buttons on the front instead of the top, which can be tricky in some out-front mounts, especially with gloves.  And finally, a personal annoyance is the white bezel.  I know, it's nit-picking, but seriously, it just looks ugly and reminds me of the Touring units.  But the core of the unit works well – especially in navigation.
Still, ignoring those nitpick items – it's a really solid unit for those that need the extra battery life, or want the larger display.  The display quality is brilliant – both in bright daylight as well as dusk and night – and the new dashboard startup screen is a much cleaner way to start each workout from.
With that – thanks for reading, and feel free to drop any questions down below.

Found This Post Useful? Support The Site!
Hopefully you found this review useful. At the end of the day, I'm an athlete just like you looking for the most detail possible on a new purchase – so my review is written from the standpoint of how I used the device. The reviews generally take a lot of hours to put together, so it's a fair bit of work (and labor of love). As you probably noticed by looking below, I also take time to answer all the questions posted in the comments – and there's quite a bit of detail in there as well.
If you're shopping for the Garmin Edge 1030 or any other accessory items, please consider using the affiliate links below! As an Amazon Associate I earn from qualifying purchases. It doesn't cost you anything extra, but your purchases help support this website a lot. Even more, if you use Backcountry.com or Competitive Cyclist with coupon code DCRAINMAKER, first time users save 15% on applicable products!
Here's a few other variants or sibling products that are worth considering:
And of course – you can always sign-up to be a DCR Supporter! That gets you an ad-free DCR, access to the DCR Quarantine Corner video series packed with behind the scenes tidbits...and it also makes you awesome. And being awesome is what it's all about!
Thanks for reading! And as always, feel free to post comments or questions in the comments section below, I'll be happy to try and answer them as quickly as possible. And lastly, if you felt this review was useful – I always appreciate feedback in the comments below. Thanks!