As the week goes on here at CES, I continue to add to my collection of first-time experiences that I've had recently.  The most unique of the week thus far would go to Lumo Body Technologies, who makes running shorts that can tell me when I'm not running optimally by addressing body position and other running metrics.  Oh, and then the shorts yell at me to fix it in real-time.
But, let's back up a second first and start with the goods.
The Hardware…err…Software:
While most gadgets I review are hard objects, this one is definitely more soft and flexible.  The Lumo Run system has essentially two pieces: The running shorts, and a small pod that is slid into the shorts.  The shorts come in a variety of sizes, so you'd be able to order your specific size.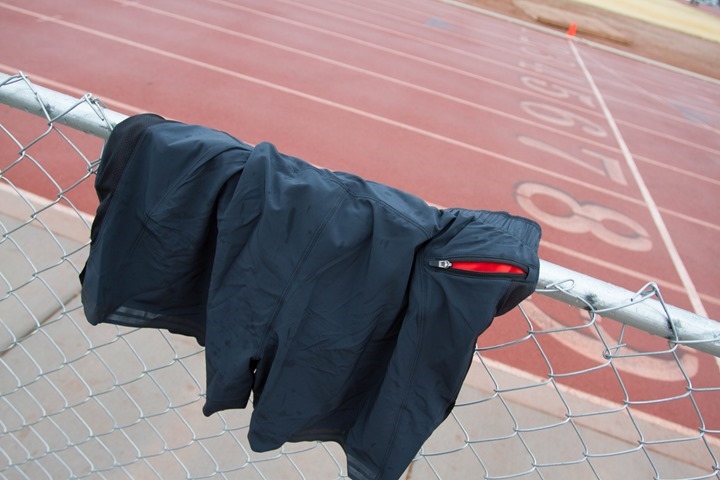 They also have capris available for women (or, I suppose a man that's very comfortable with his body image).
In the back of the shorts is a small pocket; that pocket enables you to slide this tiny pod into them.  The pod contains a 9-axis IMU, accelerometer, gyroscope, magnetometer, barometer, and a vibration motor, as well as Bluetooth Smart connectivity.  It does not include a milkshake or kitchen sink.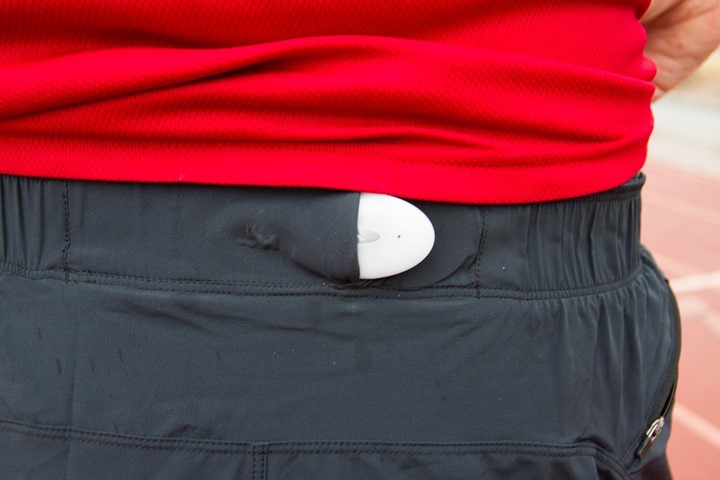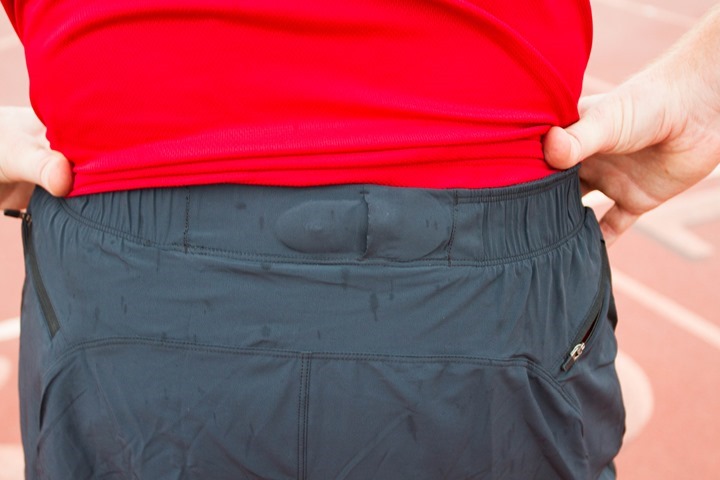 There's no wires to connect, as the pod transfers all data using those little silver patches that act as connection point inside the band of the shorts (which has a similar conductive material):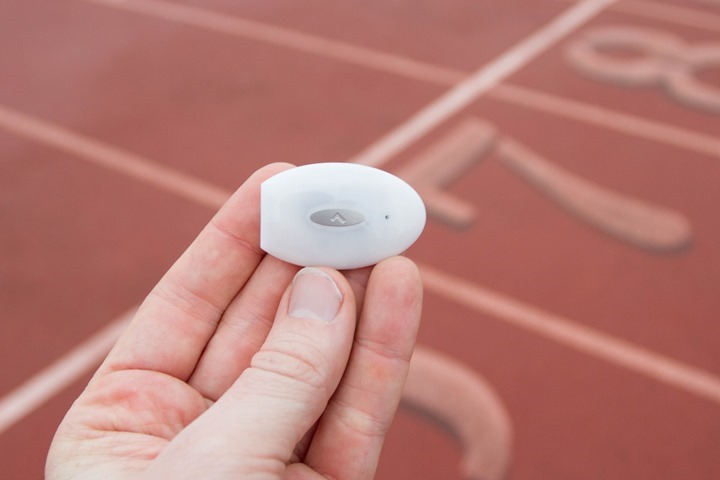 Note that the band of the shorts don't have any sensors itself wired into them, but rather connect through conductive material to a small press-able button at the front of your shorts.
So yes, you can literally tell your crush to press a button near your crotch to see if you get turned on:
The button's purpose in life can be customized, but right now it's mainly to have the shorts announce your current metrics.  But more on that later.
Now before you worry, the pod is/will be fully washing machine safe.  So if you're like me and have killed more than your fair share of devices by washing machine – then you should be safe here.  I suppose it'd be taking my usual waterproofing chamber tests to a new venue, the clothes washer.  And of course, the shorts are also machine washable as well.
Lastly, the pod is slated to get about a month of battery life before you need to re-charge it.  Re-charging is simply done via micro-USB cable, so quick and straightforward.
Running Around the Track: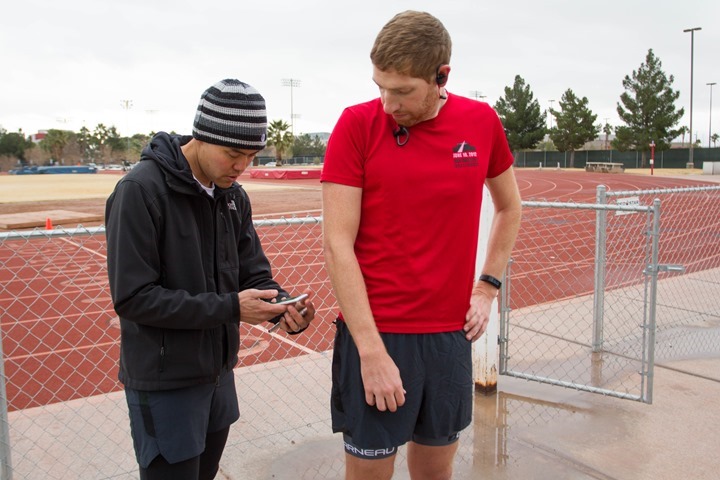 As is often the case for events held in Las Vegas (such as CES this week), I drag my unsuspecting victims to the University of Nevada-Las Vegas track.  It's just a few blocks from the strip, and is sweet for this type of product testing where you're iterating over and over again, usually through specific demos.
What was less sweet was that it was basically crapping all over us.  Monday and Tuesday were not sun or warmth friendly days in Vegas this week.  Thankfully, the large team of Lumo folks that came out weren't afraid of standing in the rain for long periods of time (shivering).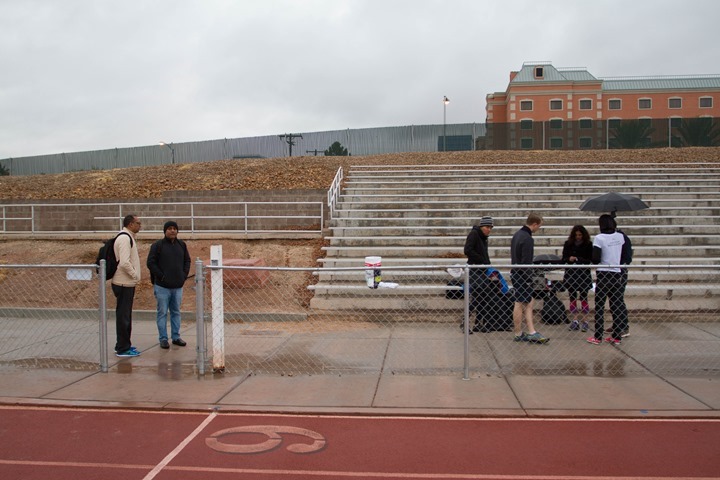 Once I got the shorts on, they walked me through how the unit will work.  Right now, the unit is configured to run with a mobile phone app via Bluetooth Smart.  So the shorts handily have a dedicated phone pocket on the side of them too, ensuring I didn't have to hold anything in my hands.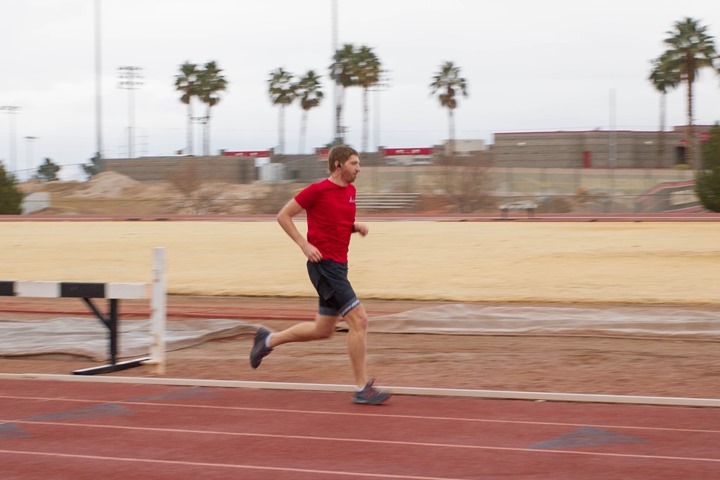 Down the road as they near closer to release, the unit will also start recording data internally, so you can head out for a run without a phone.
When it comes to metrics, the Lumo Run is currently focusing on 6 specific items, as best shown in the nifty graph from their page below:

For each of these metrics, Lumo essentially has a module that captures data and can have you focus on specific parameters.  Like almost any other instructional experience, it'll keep you focused on one thing at a time.
So in my case, we started first with cadence and focused on maintaining a specific turnover (cadence) at a given SPM range.  Within that module, the app would then automatically broadcast my pace and cadence audibly.  In my case, that was via the phone app connected to Bluetooth headphones.  By using the nifty button, I could also immediately trigger a status update, versus waiting for the unit to announce it on a set schedule (which is adjustable).
Before I set out for that module, the unit would audibly tell me what to focus on (as well as show me in the app and explain in text).  In doing so it'd usually use some sort of analogy to explain the concept to work on, just like a coach.  For example, for cadence:
"Imagine you are running through a puddle and making as little splash as possible to promote quick steps.
The ideal range for that metric would be shown on the screen, which is dynamically adjusted based on your past running activity.  In other words, if you usually run at a cadence of 150 SPM (dual leg total), it won't immediately set a goal of 180.  Rather, it'll edge you along trying to get you closer and closer each time.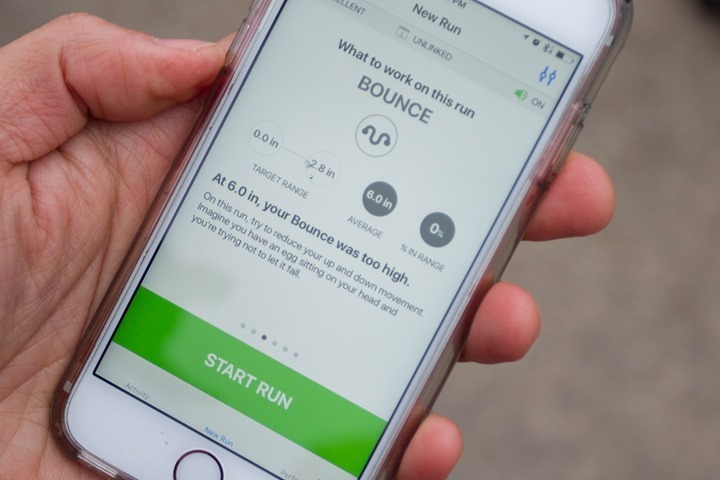 Here's an example of one metric in red (Pelvic Drop) before I did the module focusing on that metric: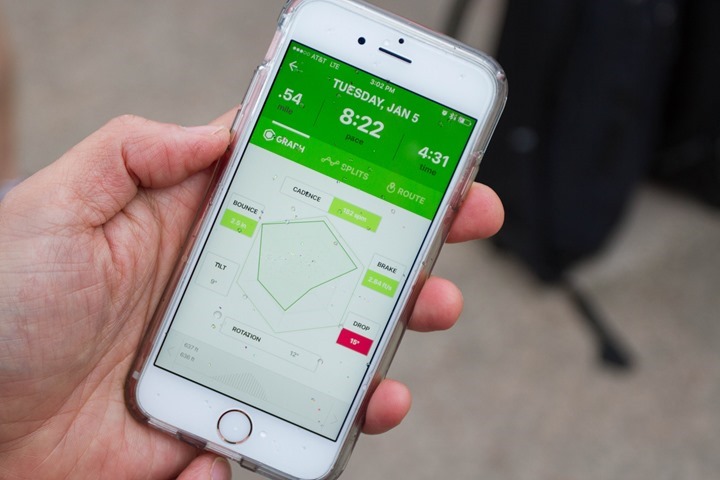 Then, after I completed that module, the result from that 800m run when it was giving me the audio cues to focus on specific items: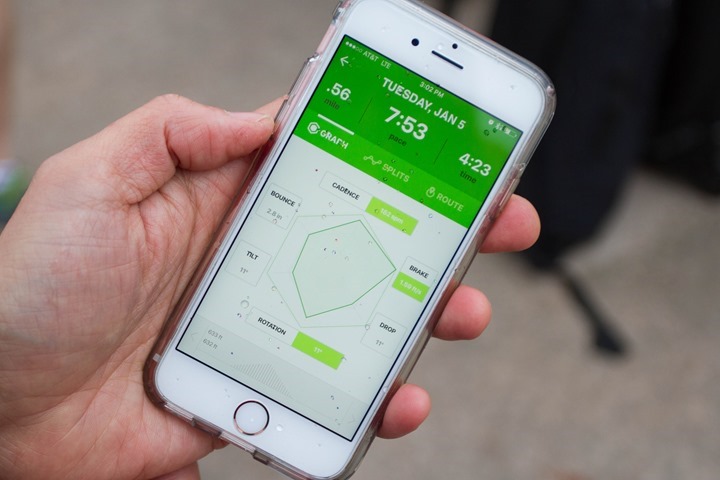 One of the big things I've been harping on with all of the new metrics companies are trying to push as marketing benefits, is to back these metrics up with studies from reputable 3rd parties showing the benefits of a given metric.  So for every single module within Lumo, you'll find links to the actual studies that backs up the focus area.  That's awesome.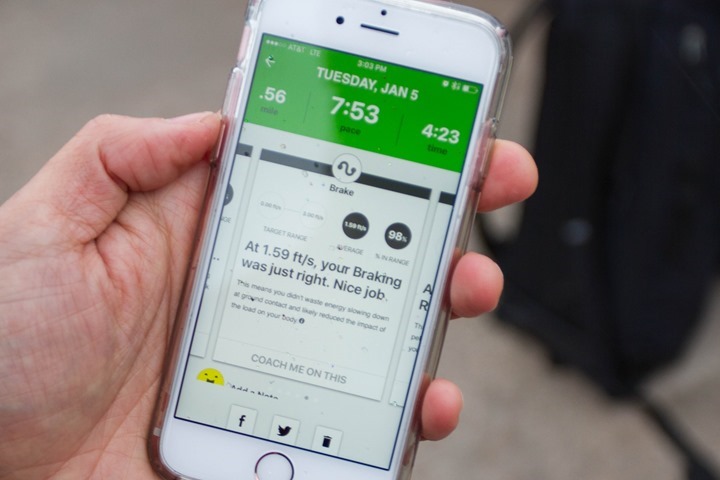 I'd do 800m (2 loops) repeats for each of the available modules (not all are done yet), sometimes repeating them and trying different postures.  As you go through them, this graph would fill out, showing which portions of my running form is more efficient than others.  The more complete that green chunk, the better: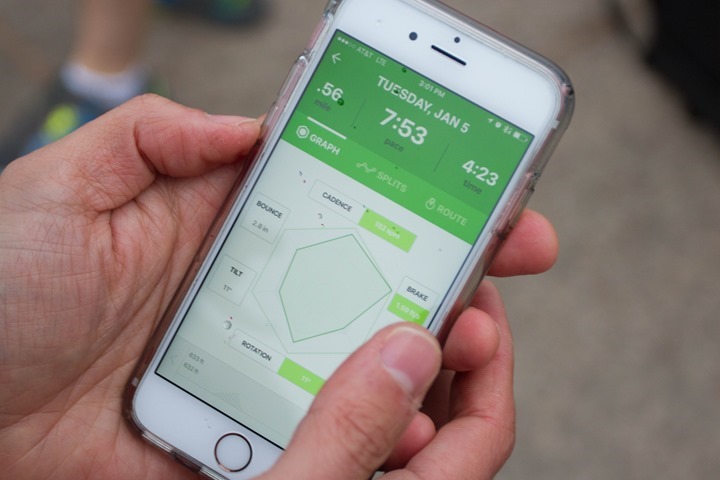 All of the data is saved to their platform, and they're working on making the data available to export as well, for those that want to do more analysis in offline tools.  You can also plot the data over time, seeing how your specific metrics shift as you focus on them.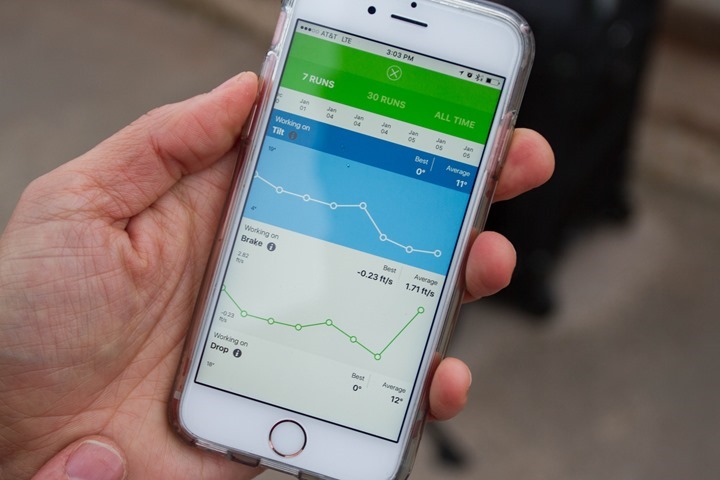 For example, they showed an engineering tool to me using that data that allows you to create a 3D visualization of my pelvis movement while running.  Then they were able to overlay an Olympic runner onto the same plot to show the differences.  Here's a short YouTube of that:
All in all, this is pretty cool technology, and seems to do a much better job illustrating some of the same metrics that other companies have tried to implement. I specifically like that the unit gives clear guidance on what's 'good' and what's 'bad'.  Too often I'm seeing companies in this space try and pretend that everything is just '50 Shades of Good', in an attempt to not tell an athlete they have poor form/etc.  Ultimately, if you want to get better, you need to be told you suck at something.  Otherwise you're just setting false expectations.
Last but not least, the unit will retail for $150, but right now is available for $99 for some sort of holiday promotion.  They're slated to ship on/by March 31st (this year).  Given the company already has products in the marketplace in the posture realm, I'm reasonably confident based on what I saw at the track that they're capable of hitting their timelines.
With that – thanks for reading!
–
Don't forget to check out all of the DCR CES 2016 coverage, as well as a slew of updates that were only seen on Twitter.  It was a crazy busy week!