After much traveling over the holiday period and into CES, it was finally back home for the weekend.  Glad to be enjoying the city and not bouncing around.
1) A quick test ride
This past week was mostly a 'catch-up' week for me following CES.  I was trying to clear out various items from 2015, from some leftover reviews, to just random administrivia junk.  That'll continue a bit into this upcoming week with both reviews and more mindless administrivia.
However, on Friday I did get my road bike all re-configured.  Prior to the holidays I basically took off all the power meters to send back to various companies, leaving it kinda naked.  I ordered a new bottom bracket to be able to stack back on my existing Quarq Riken, as well as my long-dormant Stages Power left-only crank.  From there I complemented that with my PowerTap G3 hub in the back, and PowerTap P1 pedals up front.  Finally, I mounted up the PowerPod production unit (it's been on my tri bike since arrival some weeks back).  Oh, and there's a Suunto Ambit3 Vertical in there. Phew!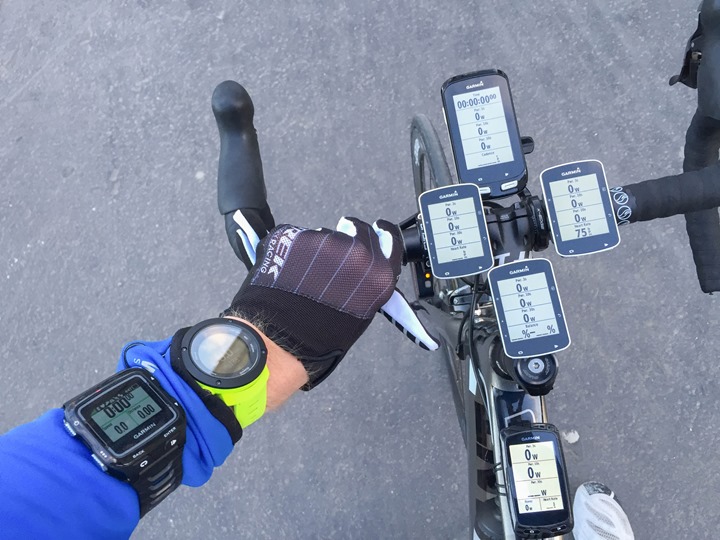 Wait! I also put on a PowerCal, because…I was curious.  I'm curious for a lot of reasons – but mostly I'm just curious to gather some longer term data against how it compares against a host of power meters across various price ranges (from units like the PowerPod to Stages to the P1's).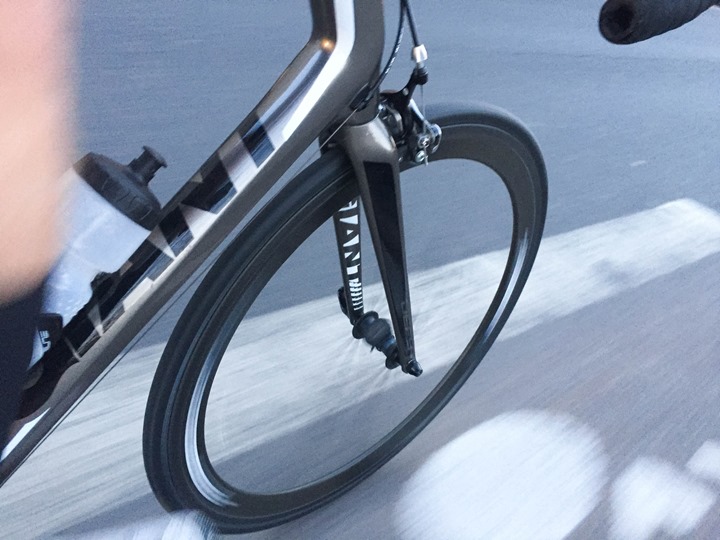 For this ride though, the purpose was simply ensuring all of these units were actually functional and working.  One of the things that makes testing tough is getting so many units working and happy at once.  There's always some kid that's upset about something, be it on the PM side, or the head unit side.  So this was just ensuring everyone was in the minivan, not screaming, and happy for future rides.
And, the ride mostly worked out after a few tweaks here and there.  Thus setting me up to capture good data from the rest of the weekend onwards.
2) Testing out drones in the countryside
Saturday afternoon David and I headed out to the countryside to test out some drones…and generally just toy around with them. We've often gone on trips with him and his wife Lillian, such as our ski trip last winter.
I had received the HEXO+ drone (after a nearly 20 month wait on Kickstarter), two weeks ago, and this would be my first chance to use it.  Initially when it launched the main appeal was that it was highly capable for cinematic shots and also would contain a follow-me mode that could be targeted at sports.  I wanted to get in some test flights ahead of going to the Alps later this month, so I could decide if it'd be of use there from a sports standpoint.
We got everything unpacked from the little Autolib and then started off with some basic flights with the DJI Phantom 3's first (his and mine).  These are trusty units that we figured we'd get warmed up on.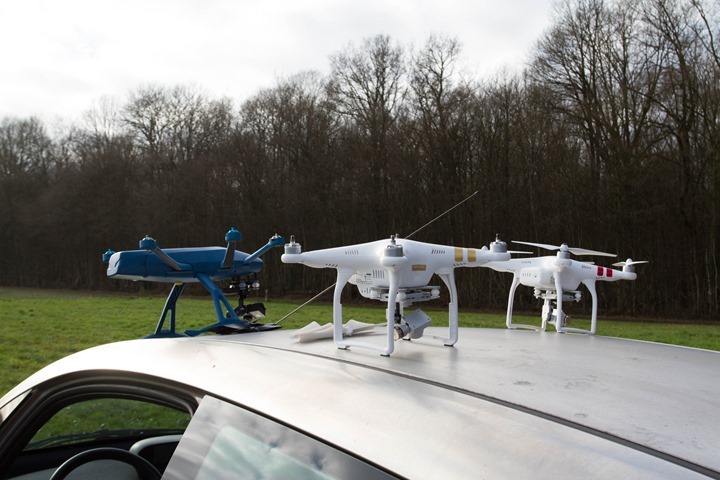 A nearby chateau made for some pretty pics, as the sun occasionally broke through.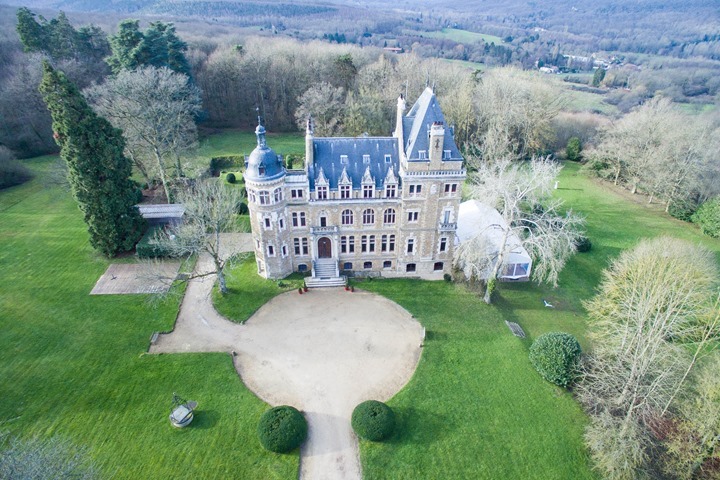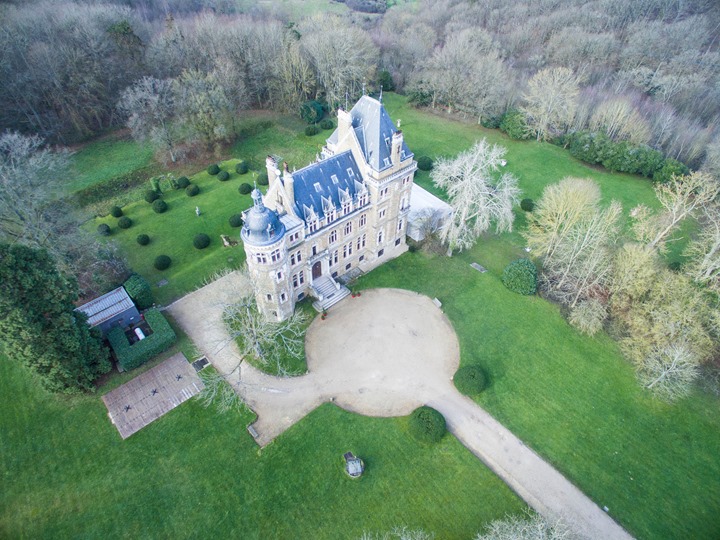 After that, we began on the HEXO+.  Which…turned out to be the biggest waste of $879 I've spent.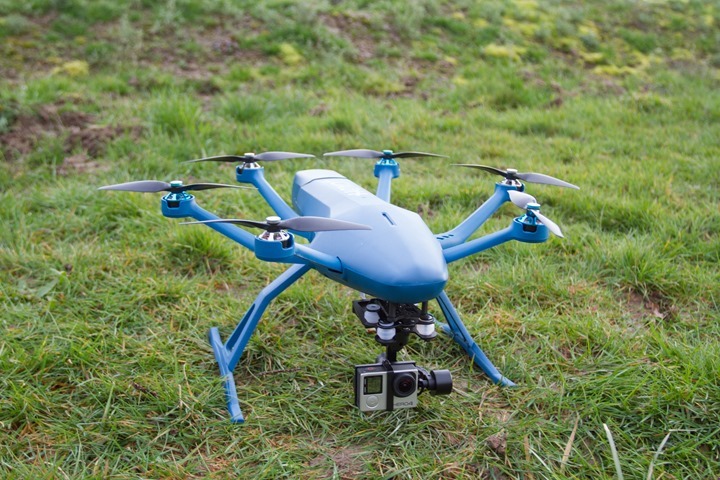 In an era where a DJI Phantom 3 Standard costs $499, this is $850 more (it's $1,349 on retail now).  And more importantly, it does 100 times less.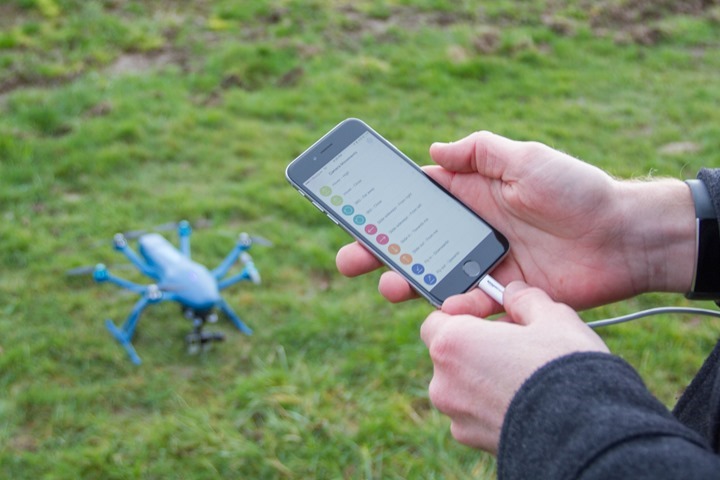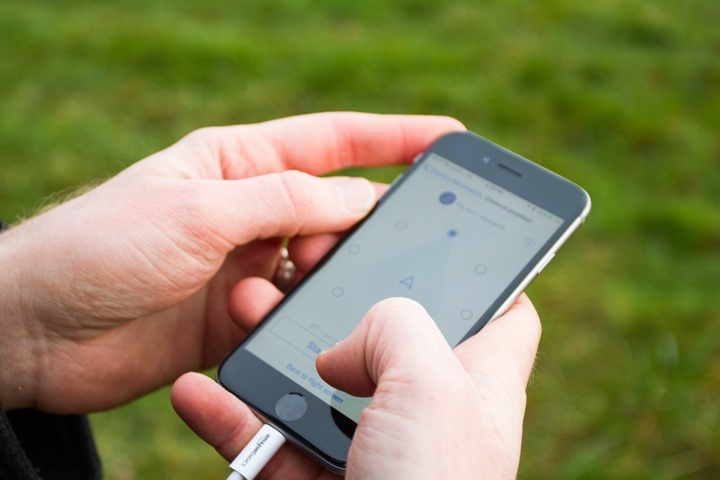 The ONLY thing the Hexo+ can do is these basic cinematic moves as seen on this single page (well, it takes a slight scroll down to see the final two actions):
There are no other options.  There is no preview of the live video (like both 3DR Solo and the DJI Phantom 3 series).  There is no method to otherwise control it, beyond pausing it wherever it is, or telling it to come back to you.  There is no method to control the recording once you press 'Record' on your GoPro on the ground.  It burns through batteries like they're going out of style.  And unlike the SOLO or DJI P3 units, I have to add my own $400 GoPro.  The level of lame-ness is astounding.
I could do everything the HEXO+ does with the DJI Phantom 3 standard and a combination of the default app, and the AutoPilot app ($29). And save more than $800 (+ the GoPro).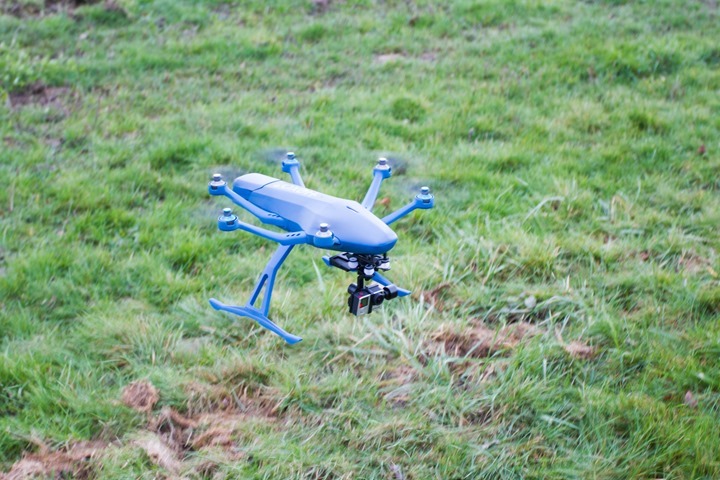 I had been optimistic that what I saw a year ago outside of CES during a demo around linking camera movements together or custom movements would manifest itself in this unit in a more mature manner.  But ultimately, it didn't.
Here's to hoping that my AirDog unit ships out this week, so I can get in some test flights before a ski trip to the Alps for a few weeks.  That unit seems to be far more suited to sports given it has a waterproof watch-like transmitter you wear and the unit just follows along, and the video folks are posting thus far on YouTube is really looking pretty good (though, it does need a bit more stabilization that I'd hoped, but that's fairly easy in post-production).  Plus, and most importantly, it just folds up into your backpack.
3) A Saturday Night Run
After getting back from droning on with David, The Girl, and I headed out for a nice jaunt around the city along the river.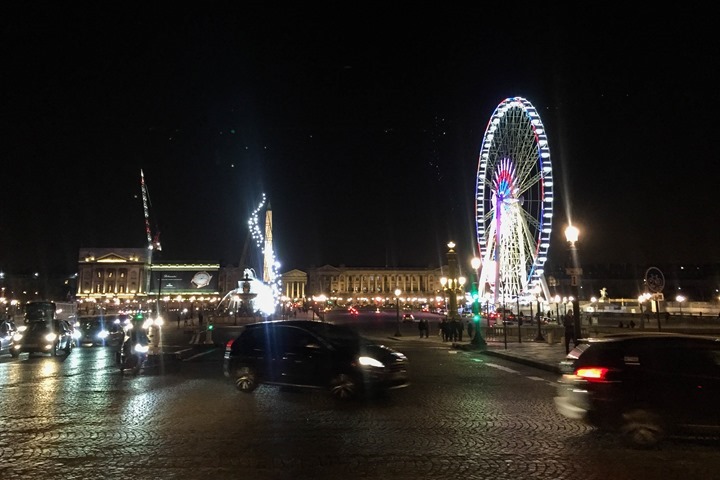 The weather was pleasant for running, not too cold, nor rainy or windy.  Somewhat perfect for a winter run.  We simply ran down to the Eiffel Tower and back, turning around and taking the other side of the river back.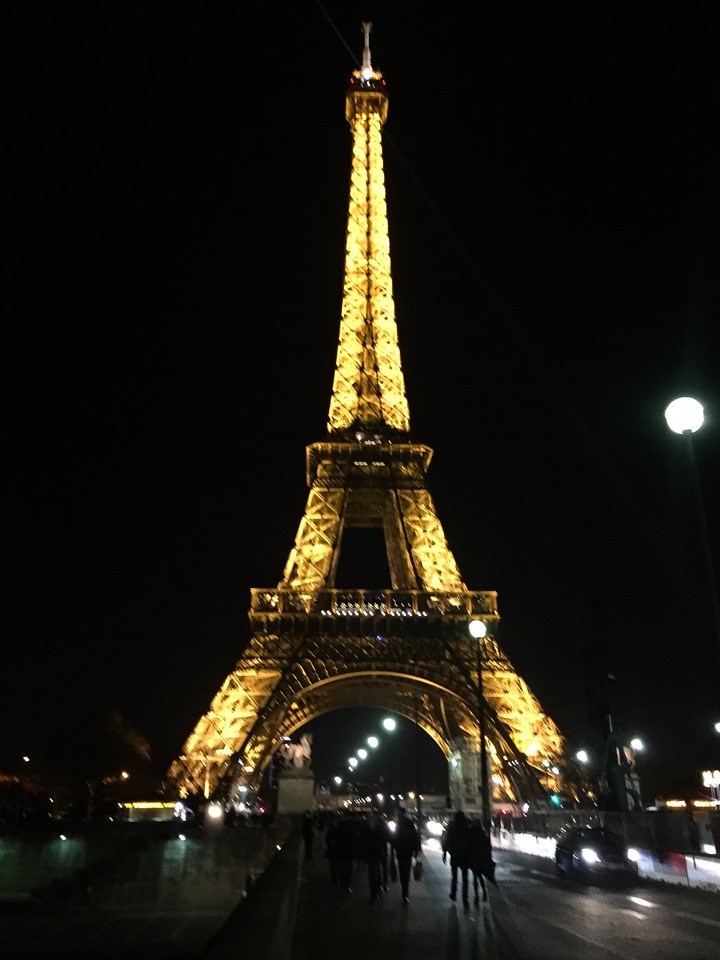 Here's our route – a pretty straightforward one.  Given it was both winter and well after dark, there were virtually no crowds to run around.  Quite nice.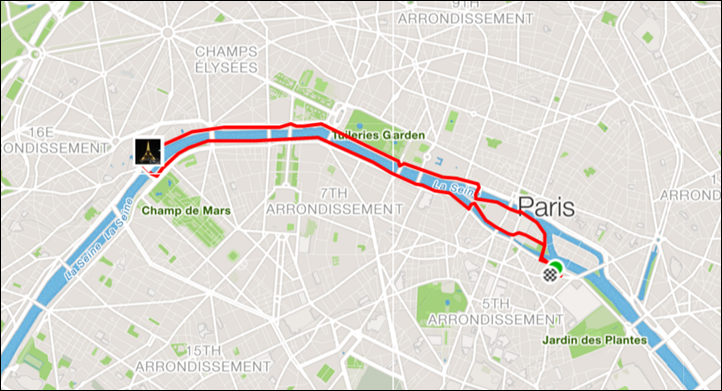 I didn't have too much sports tech on me, just a few watches to compare stats for the Microsoft Band 2 against.
4) A Sunday Stroll by Bike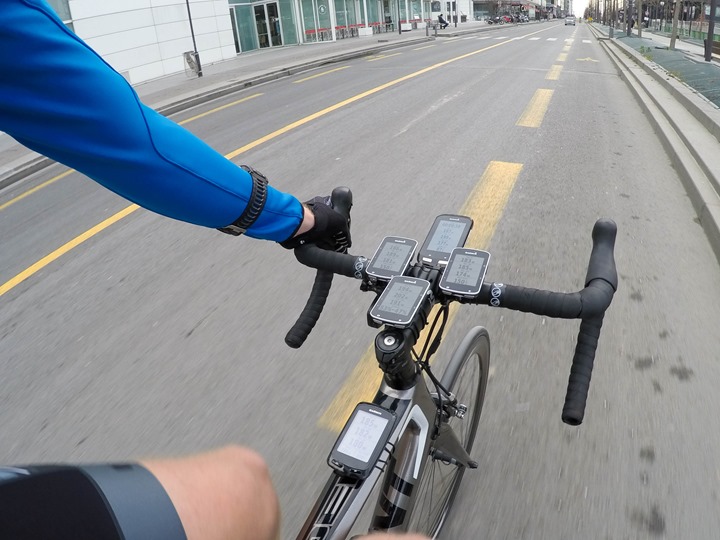 I headed out Sunday morning for a whirl around the Bois de Vincennes by bike.  The main goal simply being to validate that all the bike power meter stuff I did on Friday was suitably happy for future usage.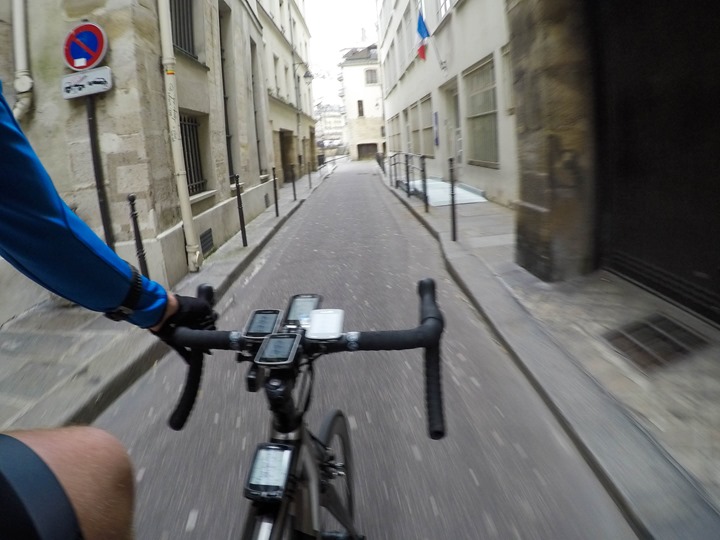 And sure enough, it was.

The units seemed to line up pretty well.  The PowerPod and P1's were reading a bit higher than the others, so I may see if that settles out over the next ride or so.  I'll probably also update my and my bike weights for the PowerPod via their software.  It uses a default number, which is pretty close to mine, but I can get slightly better accuracy and pull it in a tiny bit closer.  So I'll do that, just because that seems logical.
I could technically also update the calibration values based on one of my other power meters, but honestly that would seem to be cheating a bit, given the purpose is to review it as a standalone unit and whether it's worth the lower cost.
5) Weekend foods of note!
We ended up eating out a bit more this weekend than normal, though I'm not entirely sure why.  First up we returned to our favorite little Italian spot, da Zavola.  It's only two blocks away, and we primarily come here for the risotto (they have one risotto offering per night, which changes daily).
As time has gone on since the attacks, the economic impact has become more and more clear.  We were the only patrons this night (a Saturday night), for a time when in past winters this restaurant is often reservation-only full.  This recent article talks to the trend a bit.  Obviously, there are sometimes just random nights where bookings are down for any restaurant – but the complete lack of tourists in Paris is readily apparent, even in a time of year that is less busy than summer.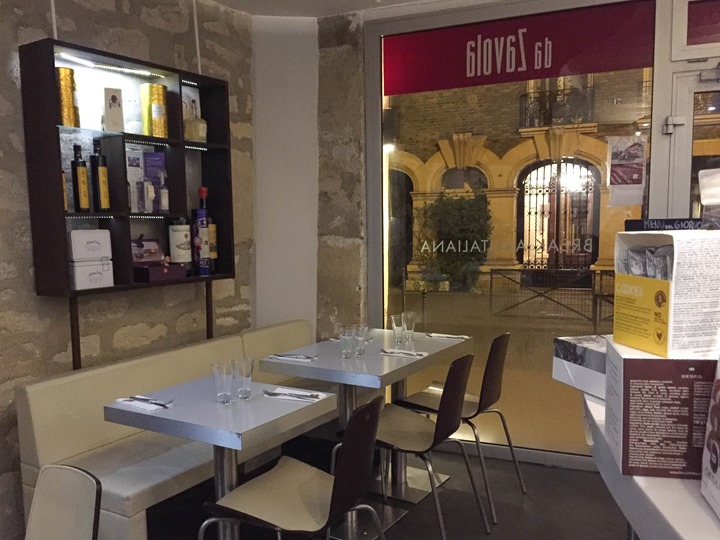 But, as always our risotto was fantastic.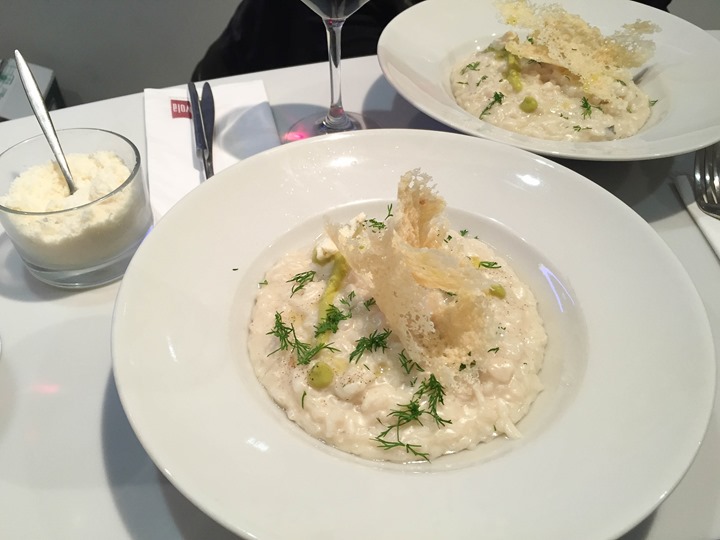 Sunday afternoon we headed down to the Grand Palais for lunch.  It's often used for large exhibits, as well as an ice skating rink in the winter (though, not this year – all of them across the city were apparently cancelled).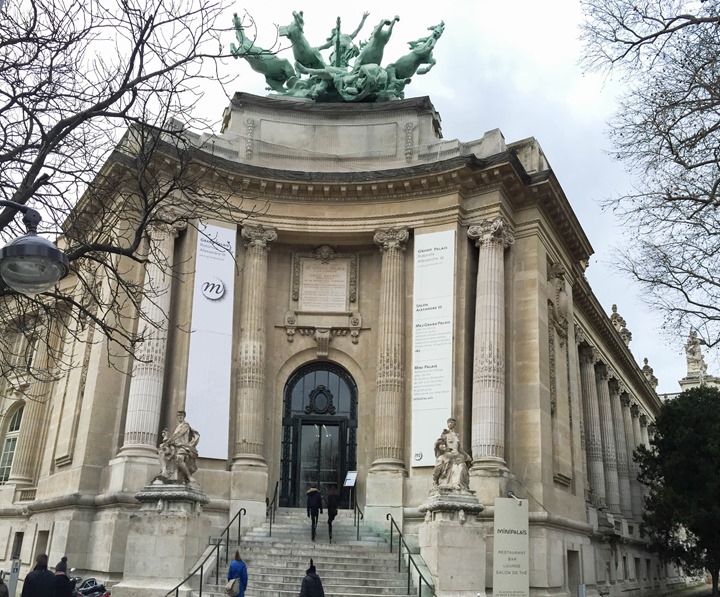 We'd actually be eating in a restaurant just inside called the Mini Palais.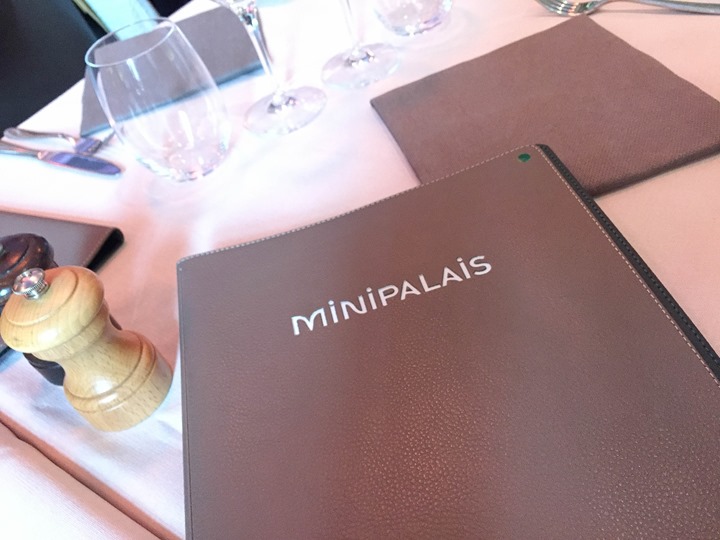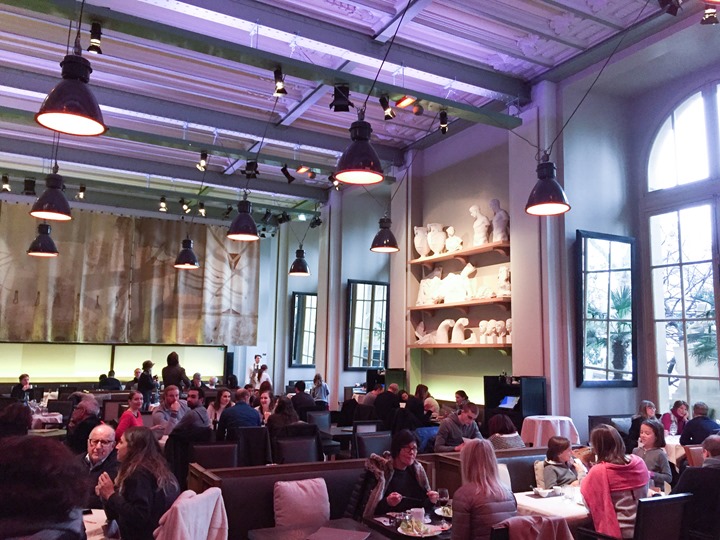 The dishes were modern and quite good, though the restaurant has a pretty large capacity – so it's a bit louder in there.  Being only a block from the Champs-Élysées, it likely does better with tourists since it's close by and listed on many tour guides.  About half of the tables near us seemed French, the others non-French.
The food was quite good – and I'd happily come here again.  Below a pumpkin soup on the left, and then on the right a chocolate ball with ice cream inside and molten chocolate on the outside.  I think there was some caramel in there too.  Because life is better with caramel.
Finally, I should mention that on Sunday, I did get a treat at the CupCakery following my bike ride. But more on that in another post.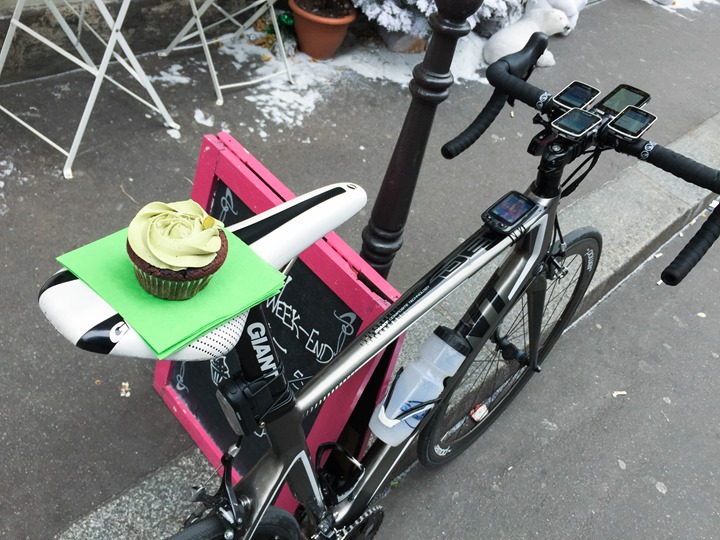 With that – hope everyone had a good weekend (or long weekend for those in the US).
Thanks for reading!