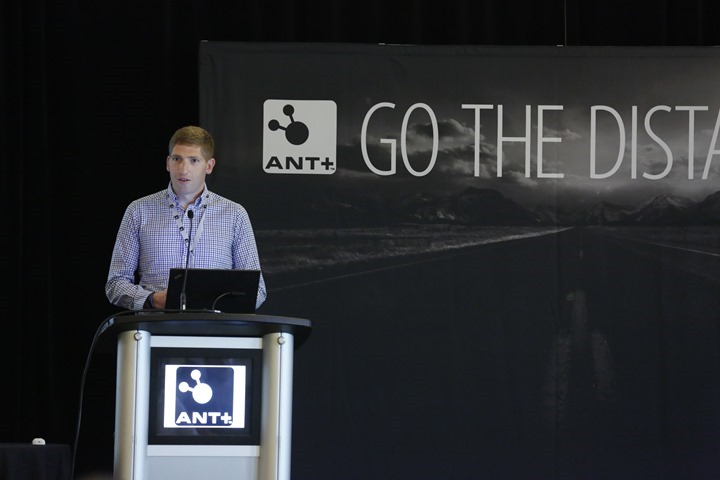 It's been five years now that I've been presenting a keynote session at the ANT+ Symposium.  The annual event each September represents a solid cross section of the sports technology industry, with just about everyone present.  And the crowd isn't limited to just ANT+ device makers, the vast majority of companies present also make Bluetooth  sensors and devices.
Like past years you'll find both watch and phone makers like Garmin and Samsung present, as well as companies like Wahoo, 4iiii's, SRM, Quarq, Mio, Scosche, CycleOps and pretty much anyone making a heart rate sensor or bike/running sensor.  Plus, many medical and wellness focused companies are present as well.
While some had speculated there might be a decline in membership at the Symposium, I've gotta say it felt more packed than years past.  Here's a photo I took on the opening morning: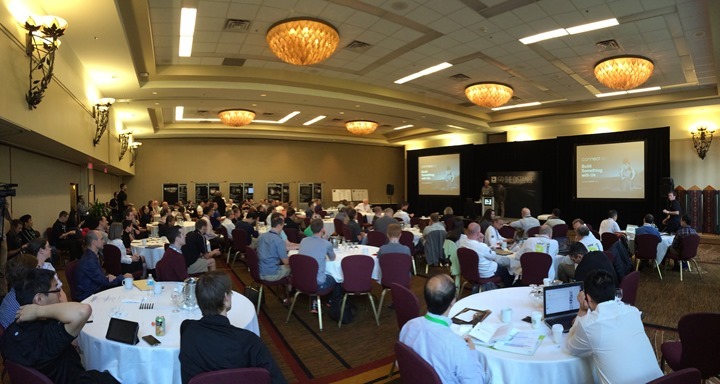 Now as for my presentation, it was mostly focused at the industry, rather than end consumers.  After all, that's the segment I'm presenting to.  But more importantly, I'm really channeling the hundreds of comments and e-mails I get from you every day.  Then I'm consolidating that into what are applicable as themes/trends to present to this group.
Obviously, there may be specific per-company items, many of which I do actually touch on in this presentation.  But others I bring up in separate sessions with those companies directly depending on the item.
Now despite the venue being the ANT+ Symposium, virtually my entire talk is 'cross platform'.  I'm speaking on sports technology as a whole, not a specific protocol.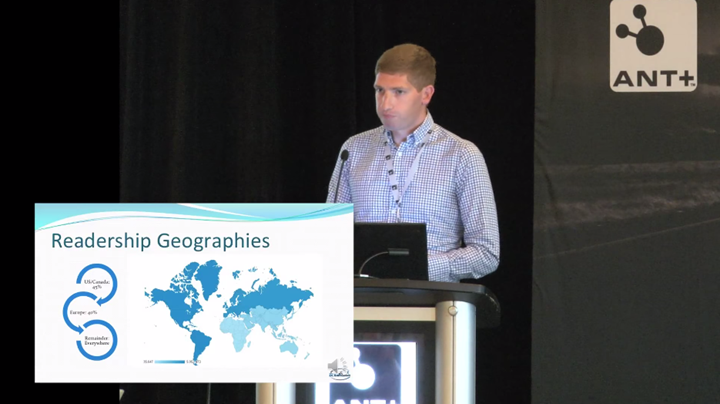 This year I split things up into two different core sections.  The first was a focus on wearables and smart watches.  There's been a lot of hype (and real products) the last 12-18 months in that space, culminating in the Apple Watch announcement last month.  So I talk about what that means for the companies in the room, as well as my views on the Apple Watch.  I spend a fair bit of time talking about standards and the importance of them – with very specific (and probably painful for the room) examples of why consumers are demanding companies follow these standards.
The second half of the presentation is a bit of a whirlwind of thoughts on different sports technology areas such as action cams, power meters, activity trackers, and the products that excite me the most for the next year.
With that, if you've got about an hour to spare, you can watch the whole thing below.  The ANT+ folks were kind enough to mix together the slides and the video portion on one view, so you can easily skim along if there's a specific section that interests you.
Additionally, if you'd like to download this year's presentation (PDF), you can do so below (it's sorta big).  Further, I've also linked to the 2010-2014 presentation files and to the 2011-2014 video clips.
DC Rainmaker 2014 ANT+ Symposium Presentation (Watch here/above)
DC Rainmaker 2013 ANT+ Symposium Presentation (Watch here)
DC Rainmaker 2012 ANT+ Symposium Presentation (Watch here)
DC Rainmaker 2011 ANT+ Symposium Presentation (Watch here)
DC Rainmaker 2010 ANT+ Symposium Presentation
Note that while there were a few minor new announcements at the ANT+ Symposium, the only major one of interest to most here would be the Garmin Connect IQ that I posted on then.  Most companies in this segment tend to make new product announcements at shows like Eurobike/Interbike/CES.
That said, you'll see some minor new product postings from me in the coming days such as Wahoo's new Blue SC that now includes dual ANT+/Bluetooth Smart transmission (previously just Bluetooth Smart).  Also, you'll see in the coming weeks more information here on the InsideRide rollers that actually support the new ANT+ Trainer Profile.  And next week you'll see my test results from the Moxy Muscle Oxygen sensor.  Nothing like doing what is effectively a VO2Max test at 5,000ft and severely jetlagged.
Finally, here's one small 'behind the scenes' photo from the few days I spent there in Kananaskis (it's in Alberta, Canada).  It was shortly before my presentation actually, where I spent some time out in the woods getting final product shots.  You know, just a few thousand dollars in watches sitting on/around a stump.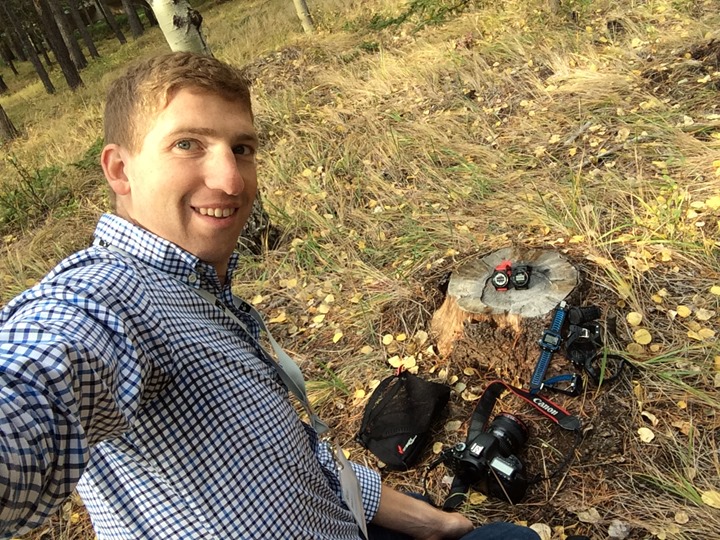 Thankfully despite the semi-nearby warning signs about bears, none of Yogi's friends interrupted me.  Though, Bambi and family did a few times.
Hope everyone has a great weekend ahead!  And thanks for reading (or watching, in this case)!