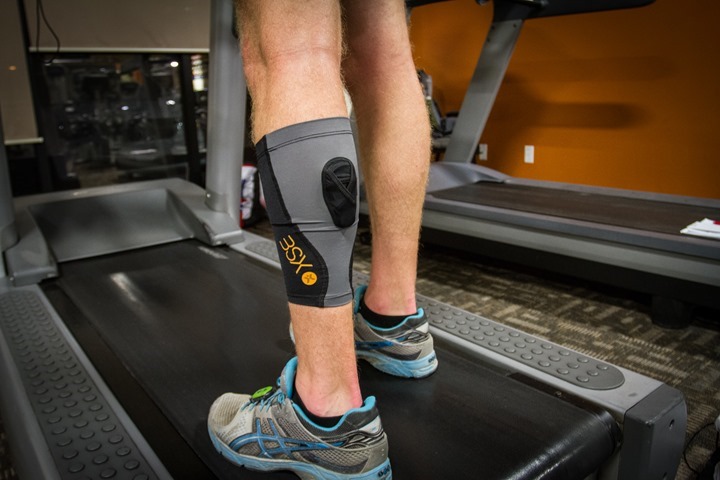 (Update – Jan 22nd, 2016! I've now published my in-depth review of the Gen2 unit.  So you'll want to swing over to that post for all my thoughts after months of real-world usage.  Enjoy!)
Last week while at Interbike I got the opportunity to spend an evening with the crew from BSX.  They're an upstart sports technology company that recently completed a hugely successful Kickstarter campaign for their BSX Insight device which allows you to complete lactate threshold testing on your own, at any time, without the usual fees or typical blood-driven procedure.
They offered to run me through two tests concurrently.  They'd be simultaneously completing a traditional lactate threshold test with all the drawing of blood and bells and whistles, while at the same time attaching a prototype BSX device to my calf to gather data.  They'd then formulate the results at the same time and show me the differences (if any).
Pre-test:
When I sit back and look at the test evening, one could see how if described appropriate it sounded pretty sketchy.  I was told to go to a dark and basically desolate facility on the outskirts of town where no facility staff members would be present.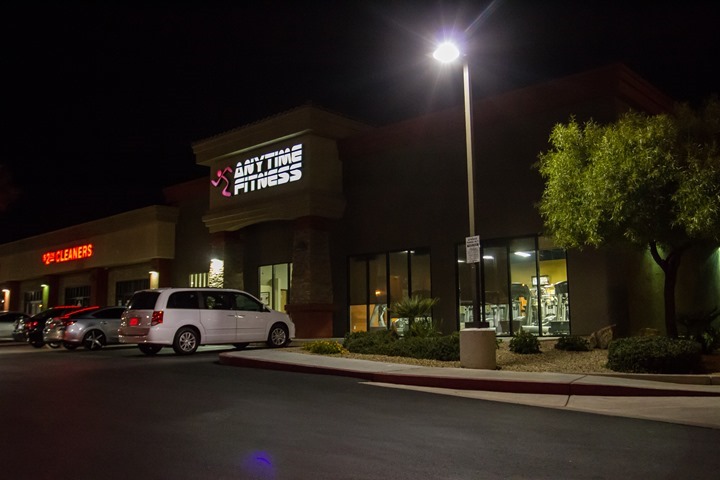 It was then communicated to me that if I died it'd be totally my fault.  Further, injury was also basically my fault.  In short, everything is my fault (I'm used to that, I hear that a lot).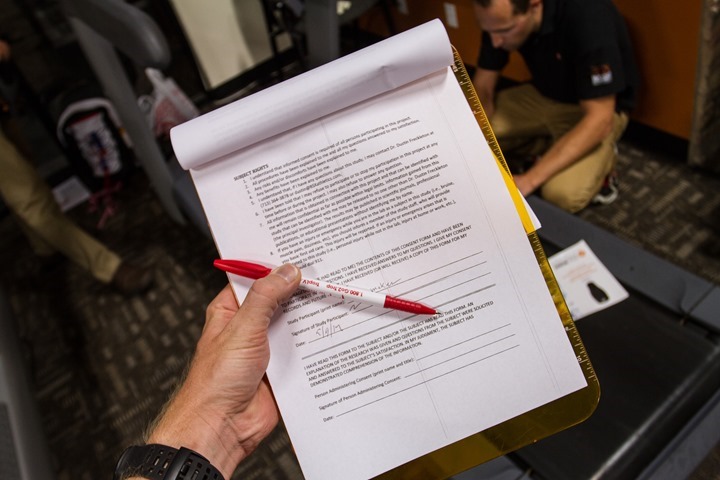 And finally, there would be sharp knife-like objects jabbed into my body causing squirting blood loss every 2-3 minutes.  I also had to run for my life during the whole process. Plenty pleasant, right?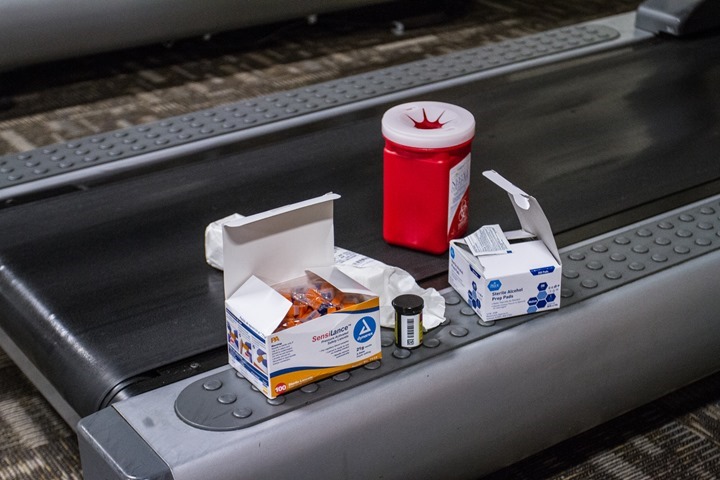 All under the mantra of 'What happens in Vegas stays in Vegas'…or something like that.
Thankfully, for better or worse none of the above will be required for end consumers of the BSX device.  As avoiding such fun is ultimately the goal of the product, to be able to accurately assess your current lactate threshold with merely an optical sensor in a calf compression sleeve.
The Test:
The lactate threshold test is in many ways like a VO2Max test, for those who are familiar with that circus.  Essentially you start off easy and then run (or ride) on a stationary device until the effort is fairly hard.  The small difference from an effort standpoint is that a VO2Max is aimed to get you to the point where you're basically about to fall off the treadmill.  Whereas the lactate threshold test makes it a touch bit easier in that it's at the point where it's quite hard, but not 'I want to die hard'.  Both tests are typically done in a professional setting with administrators that hopefully are versed in them.
(As a side note: Having done a few such tests elsewhere, I find the quality of test administrators varies significantly from 'great' to 'completely sucky'.  In general, I'd avoid most gyms, since they typically don't do them well and thus will give inaccurate results.  Instead, focus on endurance coaches and/or specialty testing centers.  In the case of the BSX guys, they've done about 400 or so tests as part of their product development/research thus far.)
On the flip side, a VO2Max test doesn't require blood loss, whereas a standard lactate threshold test does.  This means that in order to gather the comparison data they must take a drop of blood about 2-3 minutes.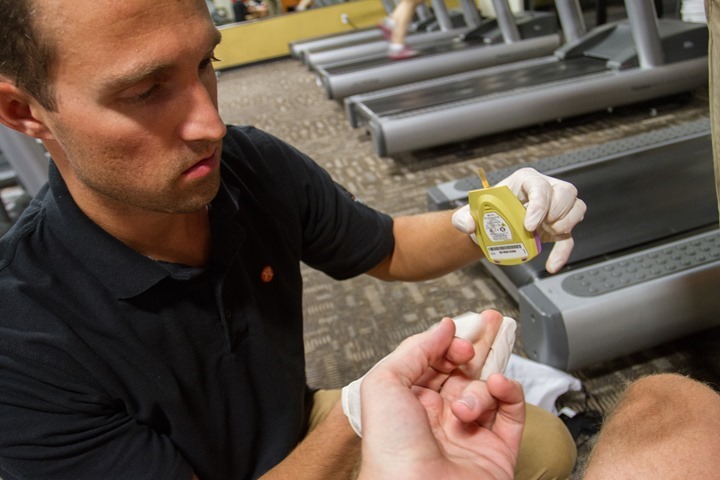 This is done while running on a treadmill without stopping.  Which, brings us to the test protocol.  The test works by starting off from a super-easy pace, and then gradually escalating to a faster and faster pace until a 'very hard' effort.  Each step initially lasts two minutes during the super-easy phases, and then increases to three minutes.  Those three minutes allow the blood to catch-up to your exertion level.
They asked me up front what I thought would be my 10K pace, which I went with about a 6:00-6:05/mile pace (3:47/KM).  From there they populated a table of paces for all of the treadmill pace shifts.
Then it was onto an initial baseline blood sample.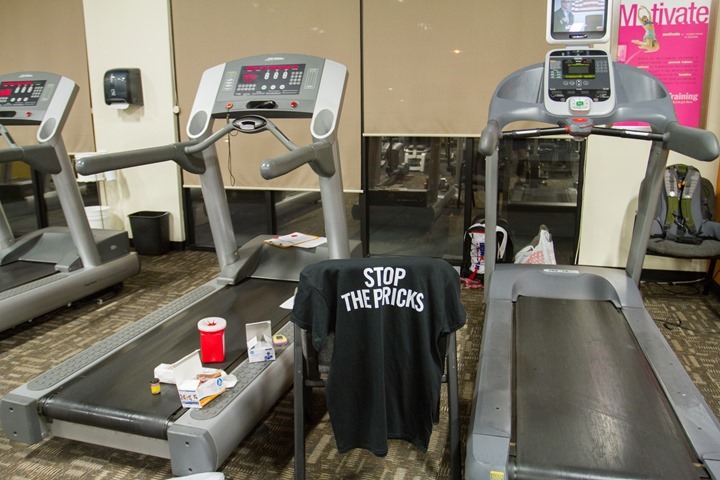 At the same time, they affixed two BSX monitors to me, one for each leg. In reality you only need one unit – but this allowed them to see how things varied and simply collect more data for their validation testing.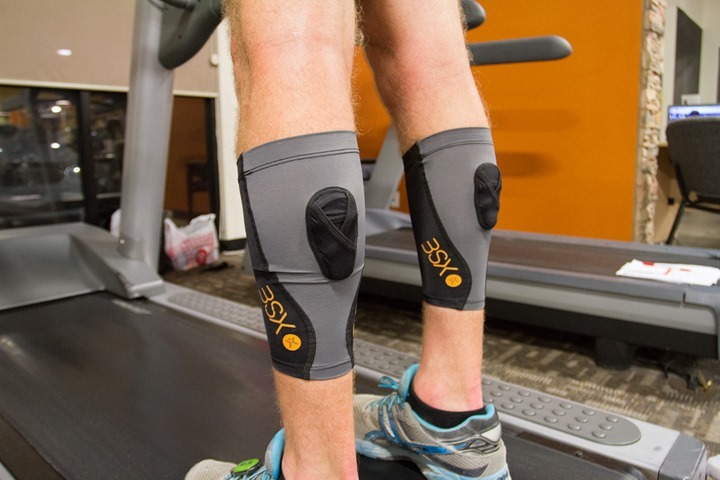 The monitors are small pods about 2/3rds the size of a business card.  Below is one in its charging station.  There are a few different versions of the pods (all the same hardware though) depending on if you're a runner, a cyclist or a multisport athlete.  They are $299US for the single-sport running edition, $369US for the cycling and or $419US for the multisport edition.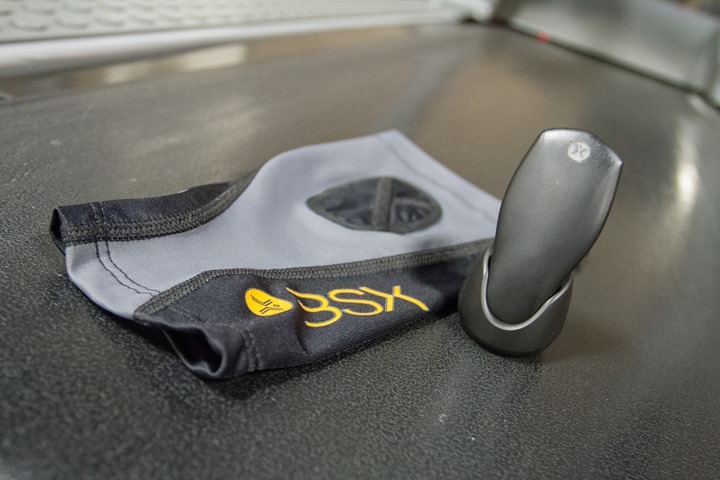 They have an optical sensor on the back of them, just like an optical heart rate sensor you'll find these days.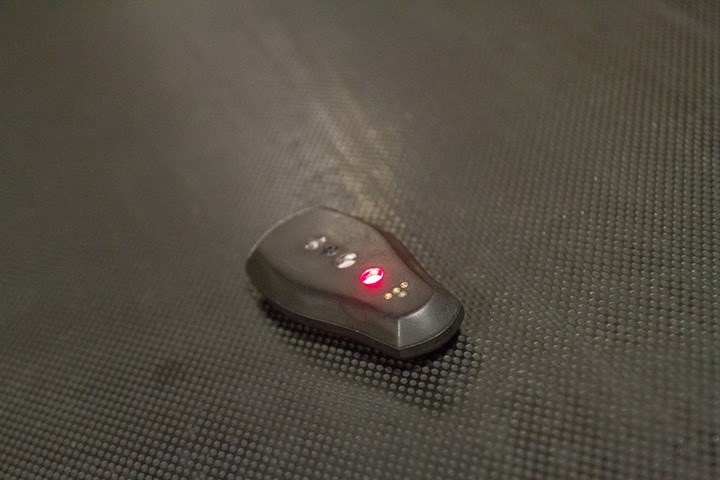 They are placed in custom made compression sleeves that have holes allowing the sensor to measure readings while also keeping the sensor area dark (important for all optical sensors on the market).  Further, it keeps it firmly in place.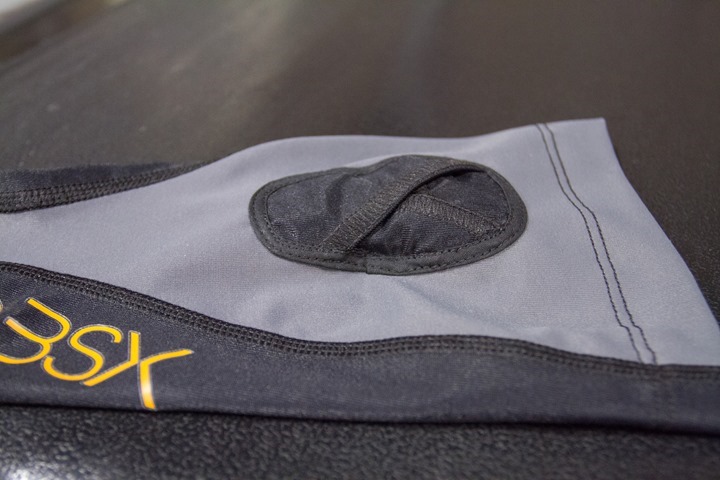 After jumping on the treadmill they started an array of timers spread across laptops, tablets…and clipboards.  Each of these would be recording different data that would then be pulled into BSX's determination of my threshold.  In the final version, all of this will simply happen automatically within a phone app combined with a web service.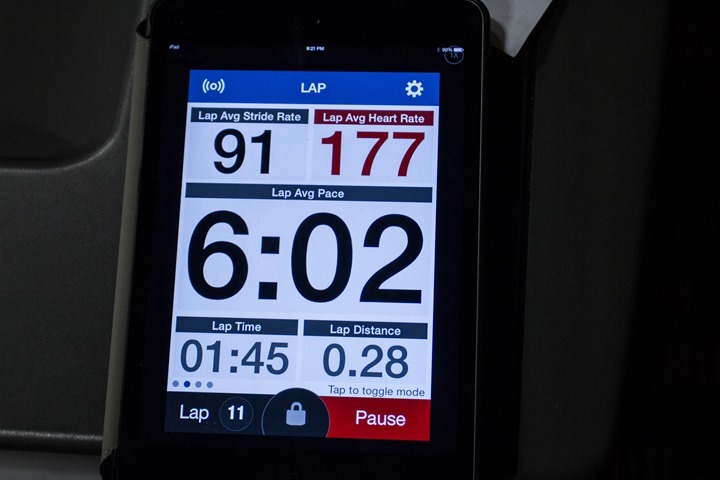 At the first pace shift I was running at a pretty easy pace for me (8:34/mile – 5:19/KM), which was a great opportunity to get used to giving blood while actively running on a treadmill.  The two of them would hold my arm/wrist down on the treadmill arm and then pricking my finger with a needle to get a droplet of blood for the sensor to read.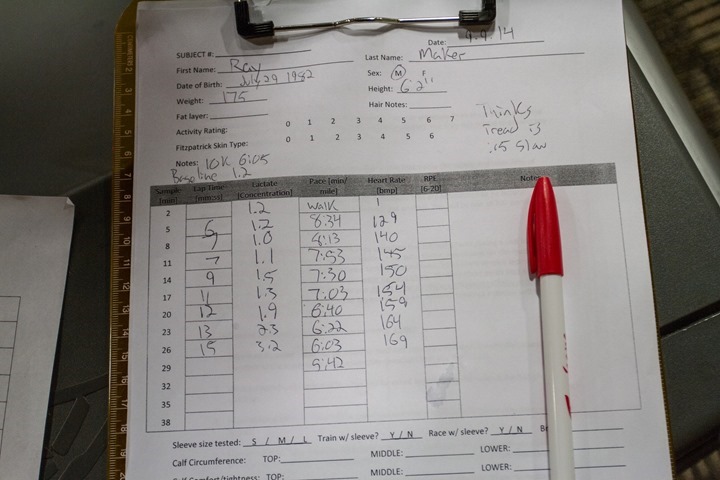 This would be repeated each pace shift change.  Again, I want to point out that the blood portion here is purely for scientific comparison to their actual device they'll be selling.  As a consumer of the BSX Insight device there's no blood involved (unless you fall off your bike or treadmill into a sharp object).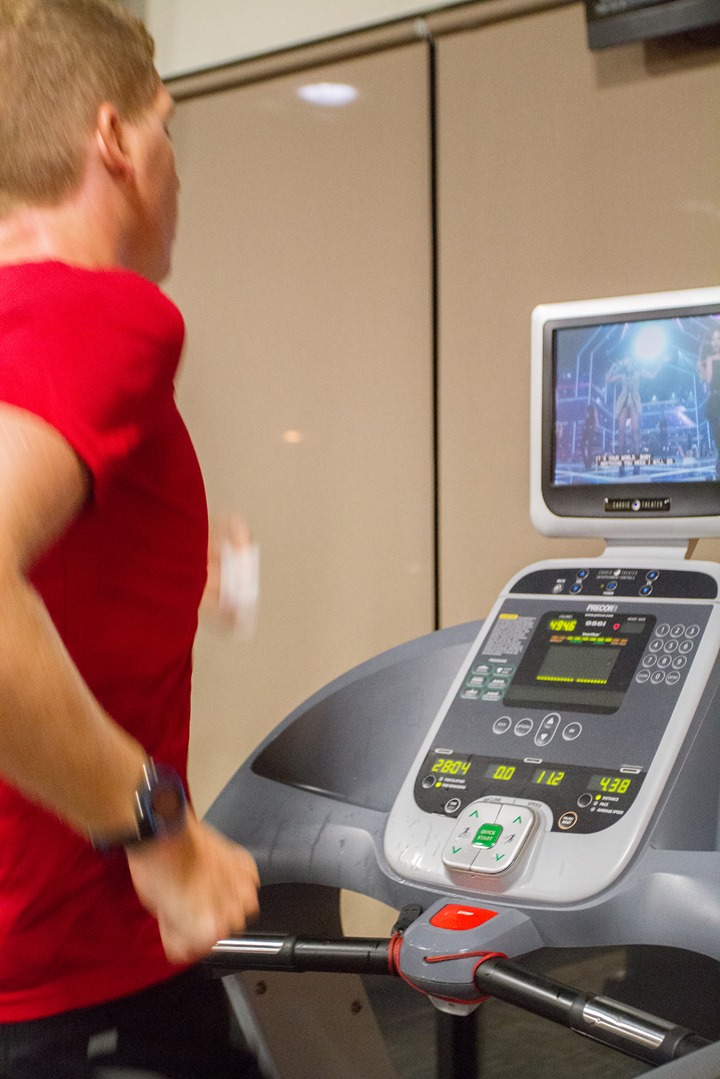 At the same time as the pace shifts they'd ask me what I thought the pace felt like from a perceived effort standpoint, using this little chart: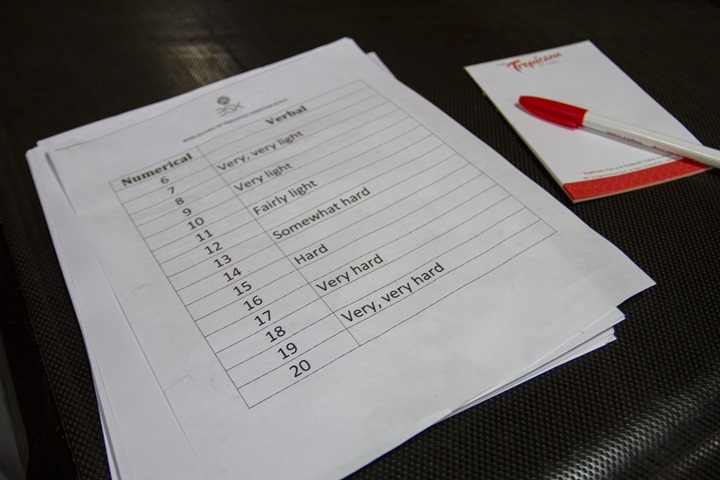 Here's a graph of my heart rate as recorded by a traditional heart rate strap during the test: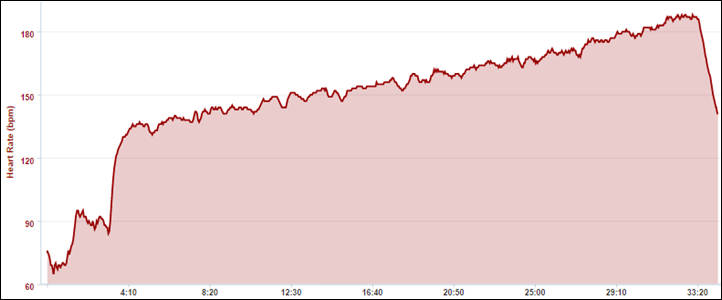 As you can see, it was generally quite steadily increasing over the course of the test – no major bumps.  Note that all of the pace shifts are pre-determined from the outset.  So the exact length of the test might vary, and, the length of the test is a bit longer than a standard VO2Max test, which is typically about half this time.
In addition to heart rate data, their system also records pace.  For this test that was with a standard ANT+ footpod, but they'll be including an accelerometer based footpod variant within the BSX device itself.  The BSX device will also take your heart rate data from an ANT+ heart rate strap, ANT+ power meter, or ANT+ footpod – and 'bridge' it to your phone, sorta like some of the other ANT+ to Bluetooth Smart bridges.
Speaking of the phone app – all of this data collection would normally be done by your own phone.  One that you would control, or perhaps one that a willing friend might control.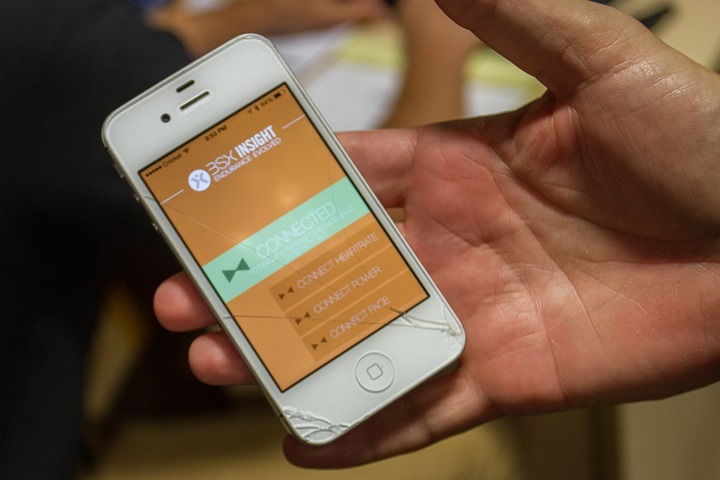 This particular iPhone of theirs apparently lost a battle with the last test participant after getting pricked for blood just one too many times.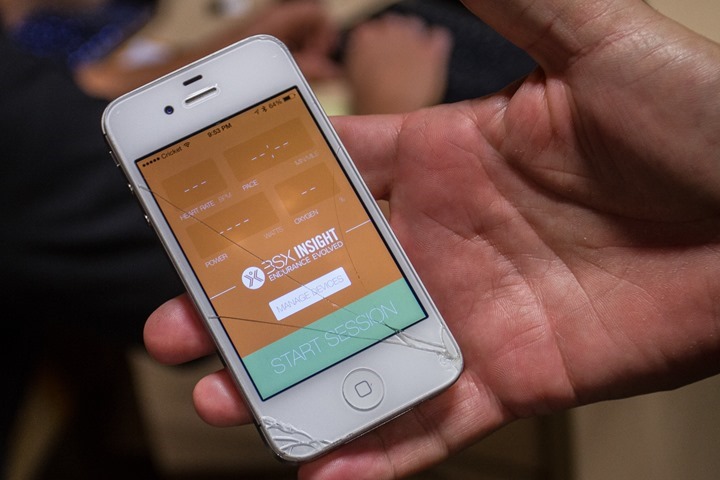 The overall goal here is identifying  a specific bump in your lactate levels.  Basically, the point where you dramatically shift in lactate levels.  In my case that was being gathered by both blood sample as well as the BSX test.  Here's the blood test: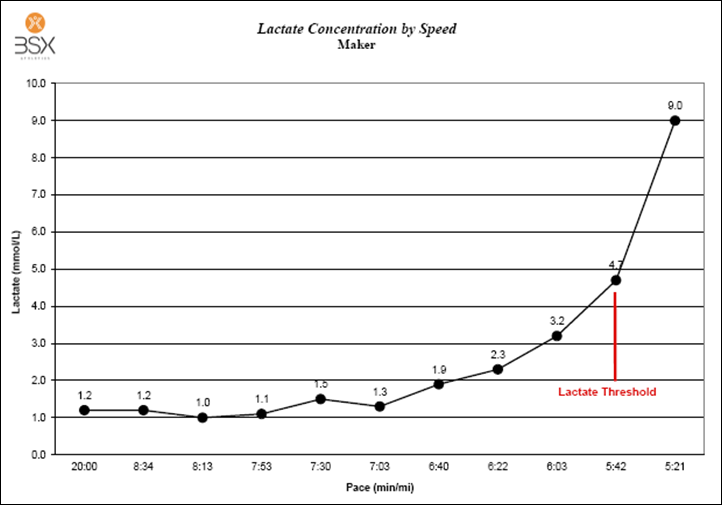 The 'end' of the test was the point in which I felt like I was well into the 'very hard' segment.  For me, on this particular treadmill that was at a 5:21/mile pace (3:20/KM). You can see the massive jump at that point compared to the one previous to it at 5:42/mile (3:32/KM).
Once they saw this spike, the test was effectively over and I was free to begin drinking alcohol and caffeine again and enjoying all Vegas has to offer.
The Post-Test Data: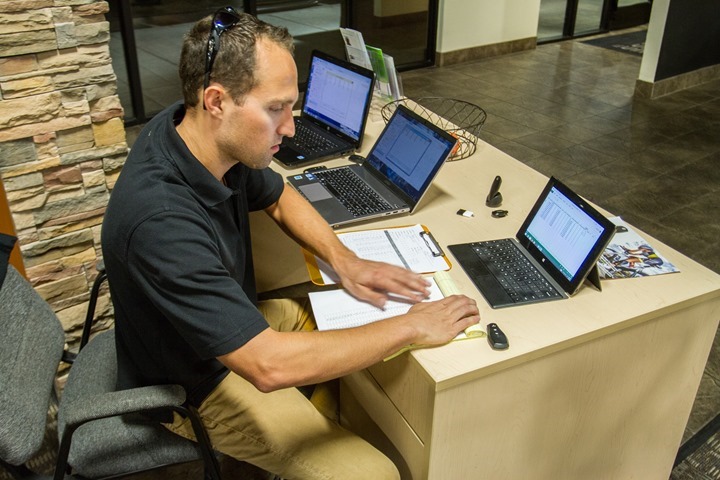 Next comes time to process the results.  Now what happened the other night with the data is slightly different than what will happen when the product hits availability in December.  It differs in that for me the guys sat down with a command center worthy array of computers to calculate the results using algorithms that were already pre-programmed.  Whereas down the road the mobile phone app will simply send the data to an online service that automatically computes the results and spits it back to the end user in a few seconds.
The reason for the difference is simply that that online platform is currently being developed, thus for that evening it was more a human driven in process.  So with that comes the obvious caveat that there isn't a way I can guarantee they didn't tweak the algorithms or results mid-stream for me.  Though, I suspect that'd be a relatively product-limiting move longer term.
First, to begin let's start with the blood side of things.  In this case, they're using the same standard as everyone else for determining your lactate threshold level, which is to look for two 1mmol increases over subsequent stages.  In my case, that happens at the 5:42/mile pace (3:32/KM), where I hit about 4mmol.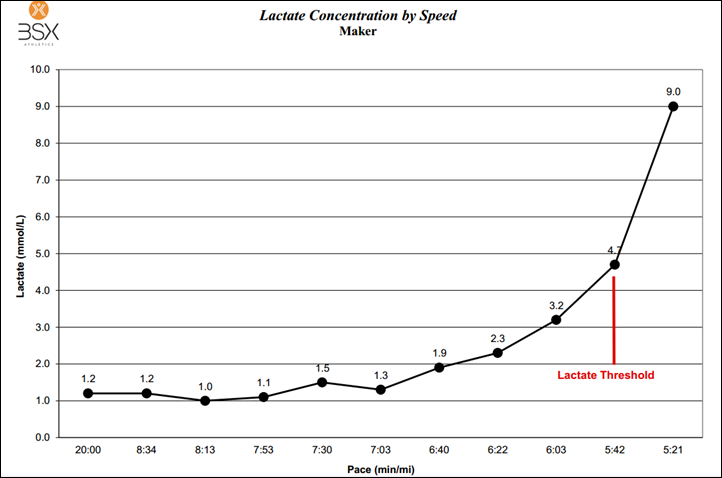 Here's the same graph plotted against heart rate instead: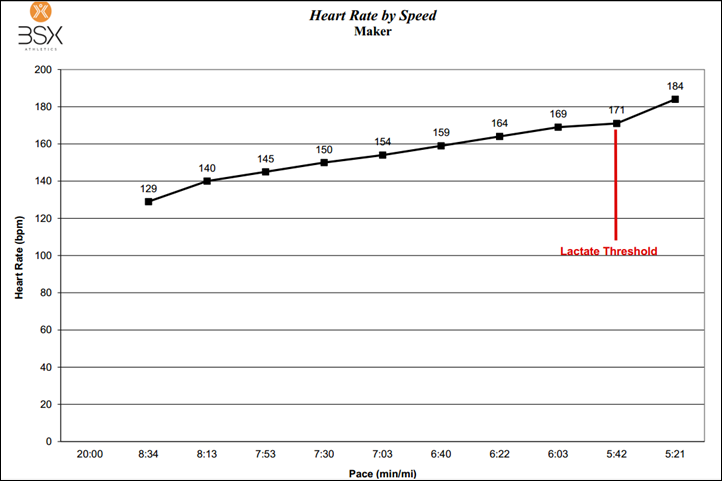 Below is the same plotted against my perceived effort values.  These were the numbers that you saw earlier assigned to reference points like 'Hard' and 'Very Hard'.  Typically, athletes that understand their limits fairly well will find their lactate threshold at about the 'Very Hard' level.   This is different than someone who might not be as well trained and doesn't understand perceived effort quite as well yet.
In my case, those happened to line up exactly perfectly: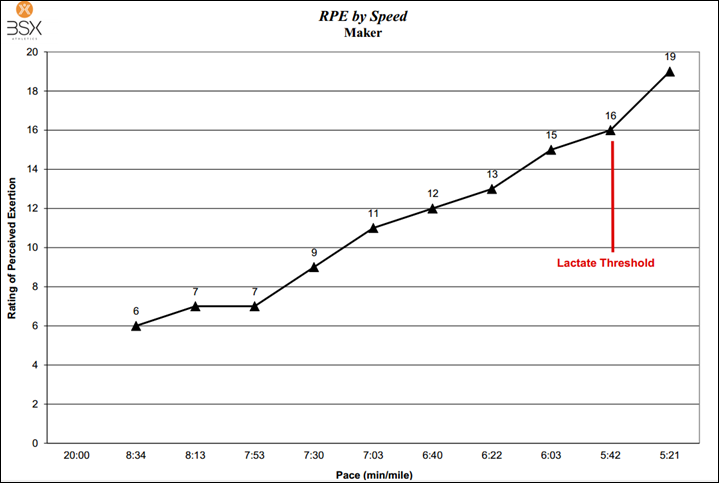 Now, let's move onto the data from the BSX device.  This is the part that matters, since the above pieces were based on the blood lactate threshold test (that's the one you can do today sans-device).
First is the raw data from the BSX sensor.  They've highlighted the inflection point in the graph from the software, which corresponds spot-on with what the blood lactate test shows.  In this case you can see that it's directly after this point that things start to drop very quickly.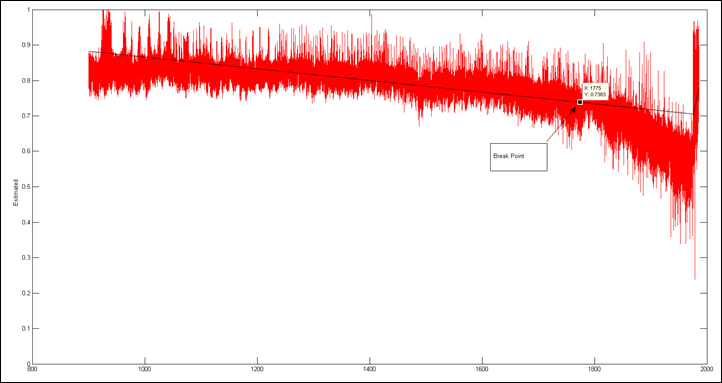 Next, in this three part graph we'll see some of the backend processing of what BSX is doing.  In the final service you won't see any of the three below (or, the one directly above).
This first graph show probability of where the lactate threshold will be based on pace.

The next one is the probability of lactate threshold from the optical determination using the internal sensor within the BSX Insight:

Finally, you see the where the optical sensor calculated lactate threshold (green lines) combined with where the blood test calculated it (black line).  The reason for the delay on the blood side is simply that the blood test does it every three minutes, whereas the optical sensor is doing it a few thousands times per minute.

What's interesting here is the BSX guys noted that because of the real-time nature of the optical sensor they were actually able to pickup the threshold level quicker than at the end of that three-minute stage, since it wouldn't have been until the next time I drew blood that it would be noticeable.
Overall I don't have any major issues with the data collection process or the math behind it.  The one issue I raised during the test was that I felt the treadmill was potentially inaccurate in terms of speed.  Which would in turn give you inaccurate pacing data.  This was based on me running that pace very often during training and knowing my perceived effort for it.
In talking with my coach about the results afterwards, he brought up a good point however.  He noted that because the treadmill was set at 0% incline it would have indeed felt a fair bit easier than outside (on average it's estimated to be 15 seconds/mile faster at that pace).  That's definitely true, and a key reason why most coaches will prescribe treadmill workouts at 1% incline instead.
As a result of that, my results would have been slightly skewed.  If you account for that bias however, the results are near spot on where I would estimate I could maintain those paces for the expected 45-55 minute time period normally defined for a lactate threshold test.
What to do with the data: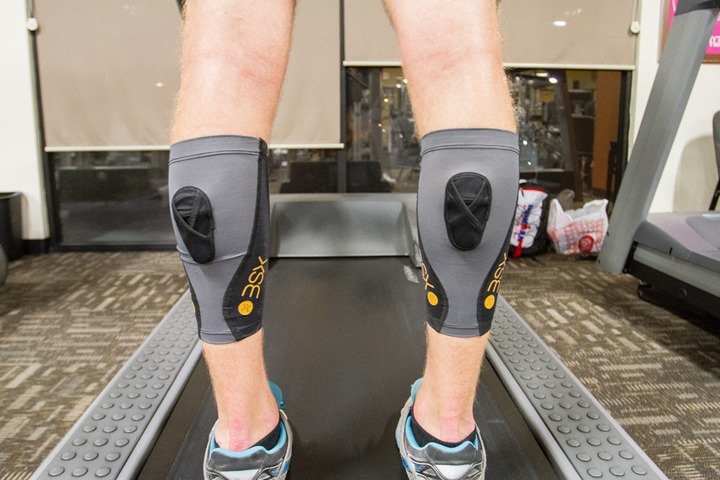 Of course, having a number is somewhat meaningless unless you know what to do with it.  And that's where the BSX story diverges a bit depending on your profile.
The historical idea behind having a lactate threshold identified is that you can give that data to a coach who can better prescribe training and racing strategies for you.  Taking that concept further, the thinking behind BSX as a device is that you can make it easier to test on a repeatable cycle.  Meaning that the basis of their argument is that because most athletes aren't getting blood lactate threshold tests done every 4-6 weeks they aren't accounting for that athletic improvement.  Of course, 'most' doesn't include the lucky ducks at Olympic training centers and such who might get it quite often.
Thus rather than having to shell out $200 each month for a lactate threshold test and dealing with the bloody mess, you'd simply do it in the comfort of your own home/gym on-demand.  They pointed out though that their idea isn't however to train/race with it every day, rather more on a regular scheduled basis.
No mater how often you do the test, the center of that data story will ultimately be BSXInsight.com and TrainBSX.com, which are their web platforms that all of the data is funneled to.
Using that as a starting point the company essentially divides up solutions into three buckets:
Coached Athletes: For these folks (such as me) they provide the output data so coaches can take the data immediately and draw whatever conclusions they'd like from it.  At the same time, they're also offering an API so that 3rd party coaching platforms/sites can automatically pull data in.  For example, should Training Peaks choose to do so they could automatically pull any new test results instantly, sorta like how Garmin files now instantly show up in Training Peaks from your device via Auto Sync.  The difference between BSXInsight.com and TrainBSX.com is that the TrainBSX.com piece is more their coaching platform, whereas the other side is more of a data storage location.
Geeky Non-Coached Athletes:  For this category the data is available on BSXInsight.com as both the lactate threshold as well as the generated training zones.  The lactate threshold data would be based on the sport they tested in (i.e. running for the running test), while the training zones generated would be based on  the approach and goals of the athletes.  The idea here is that these are likely geeky/science-focused athletes that understand the science/theory behind what BSX is doing and just needs the numbers to develop their own training plans.
Athletes that want clear guidance: In this category you're still getting all the data as with the geeky folks, except that the data is formulated into clear plans and guidance from a few well known coaches for different distances.  They'll be starting off plans for 10K, Half Marathon and Full Marathon races.  But they noted the goal here isn't really to have this be a premium training plan platform like some services.  Rather, they want to jumpstart people into a training plan with the hope that as they grow addicted to structure they'll move onwards to a more personalized coach (wherever that may be).
I think this three pronged approach makes sense and I'm optimistic we'll see 3rd party companies (i.e. Training Peaks, Sport Tracks and the like) take advantage of this.  Given the vast majority of existing Kickstarter backers are likely subscribers of one of those platforms – it seems like an easy decision process.  Especially since the Kickstarter sales numbers are just the tip of overall BSX product sales (due to added retailers/distributors/etc since Kickstarter ended).
Final Thoughts
Overall for where they are in their development process things look quite good.  They're at the point of pressing the 'go' button on manufacturing (they were using Interbike to gauge final retail/store demand ahead of production runs).  Based on those numbers coming they'll be able to figure out how big an initial manufacturing allotment to make with (including the Kickstarter folks of course).  From there the plan has things hitting in December for shipping.
I think from a device standpoint they're solid.  The cloud platform/service piece was a little harder for me to understand in terms of where they sit exactly development completion-wise since they processed everything manually in my case.  But three months in a software world is a long ways away (three months in hardware manufacturing is not).  Further, the algorithms are already developed locally and just need to be ported, which means it's not a case of fresh code and scientific development as it is more migration of code platforms.
Thus I'm looking forward to seeing the unit hit shelves and seeing how coaches and athletes utilize it in training and racing.
(Side note: Some/many of you have asked about Moxy and their muscle oxygen sensor, I'll be doing a similar testing session with them next week at the ANT+ Symposium.  For some reason I apparently enjoy causing my body pain….)
—
With that, thanks for reading!  If you're looking to burn a bit of time, here's all my Interbike 2014 posts packed full of sports technology items.
—
Update:
You can now order the BSX Lactate Threshold sensor via Clever Training.  In doing so you help support the site, but also save yourself 10% and get free US shipping using coupon code DCR10BTF (Note: This code is only valid on CleverTraining.com)!  The three version are:
Runner version – $299
Cycling version – $369
Multisport Edition – $419
International shipments of the BSX units are $29US for standard delivery, or $39US for express delivery.  Thanks again for your support via Clever Training!