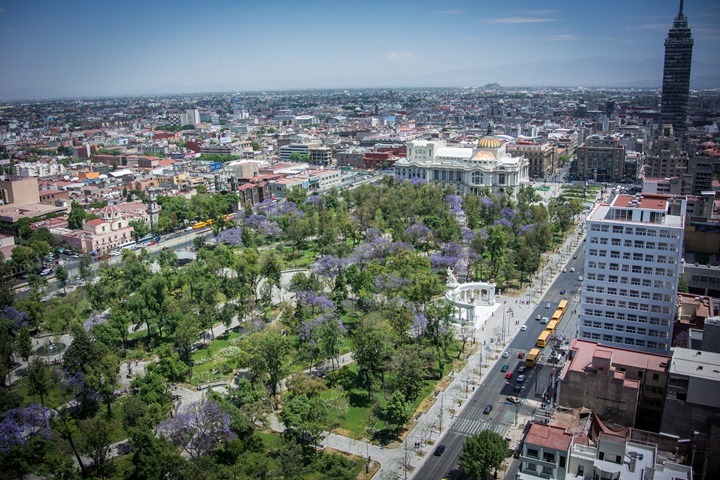 Mexico City, 7:08PM: I sit here now in a cab, stuck in barely crawling traffic in the dark, hoping to make it to the airport in time for my flight.  The check-in cutoff time is 37 minutes from now, and my phone says I'm 35 minutes away.  This doesn't look positive, especially since the driver is very much disagreeing with Google.
But first, let's start back with yesterday.  Think of this as a look at a roughly 24-36 hour period, or effectively, a day in my life.  I caught an afternoon flight via Frankfurt to Mexico City, approximately a 12-hour hop from Europe.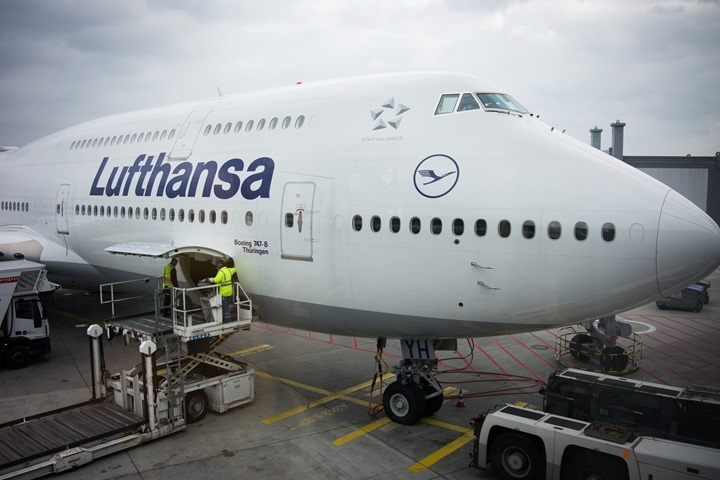 It's actually one of my favorite flight routes, since it's all daytime and lands at a nice 6:45PM.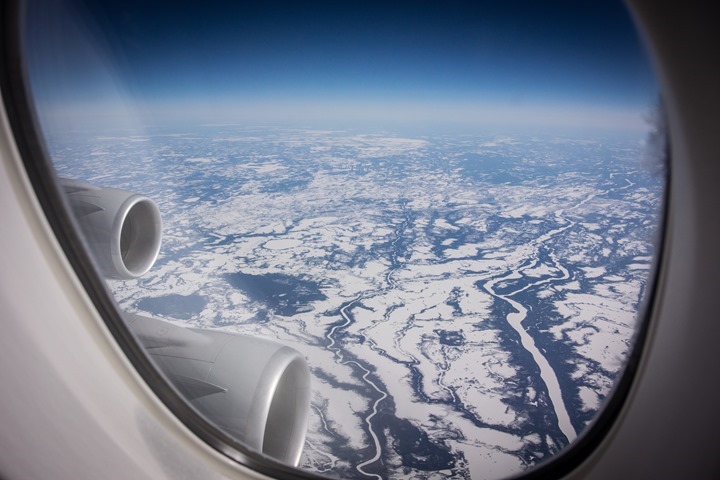 This means I can work virtually the entire flight (even with WiFi!), then get to the hotel, catch up on anything remaining and go to sleep early (around 9-10PM).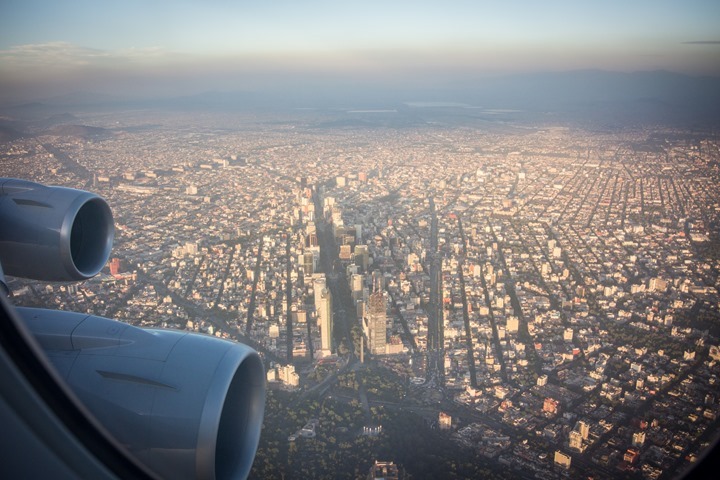 That in turn allows me to naturally wake-up early (5-6AM) and not be too far behind in European based e-mails and conference calls.  So after quickly triaging e-mail I hit up the hotel lounge just at sunrise as they opened.  It's here I picked up some fruit and bread to give me a bit of a nutritional base to do my workout on. I don't bother to bring gels or the like with me on most trips, since usually it's just one more thing to deal with airport security on.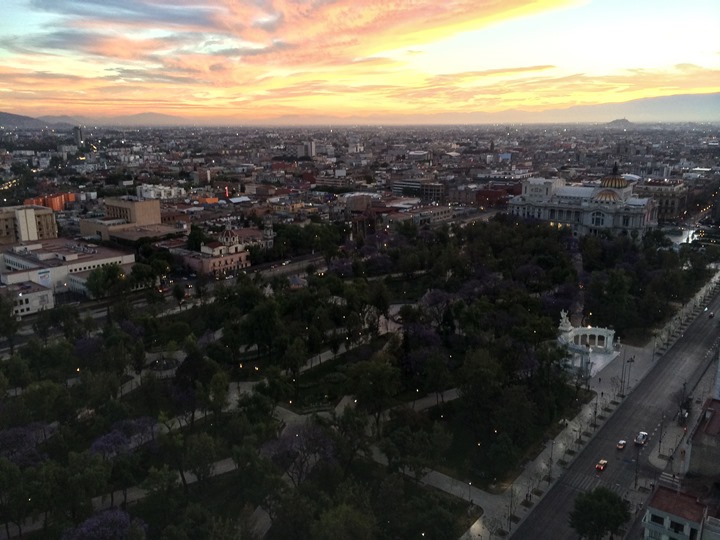 About an hour later I headed on outside.  The hotel sat directly on the Reforma, and a large park.  I've visited this spot before. The park is incredibly well kept, and also makes for a great running loop since it's mostly pancake flat save for a little section at one end around the museum (Palace of Fine Arts).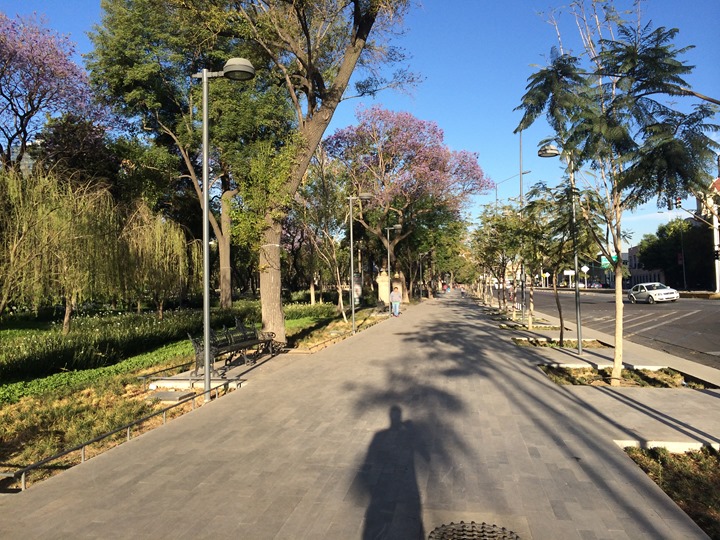 Being just after 7AM, things were still pretty quiet.  A handful of runners and walkers were out, along with some police at each corner and main walkway path into the park.  For today's fun I'd be doing 8x800m as the main set.  First though, I'd warm-up with a 10-minute easy pace, and then I'd build for 5-minutes to the set pace.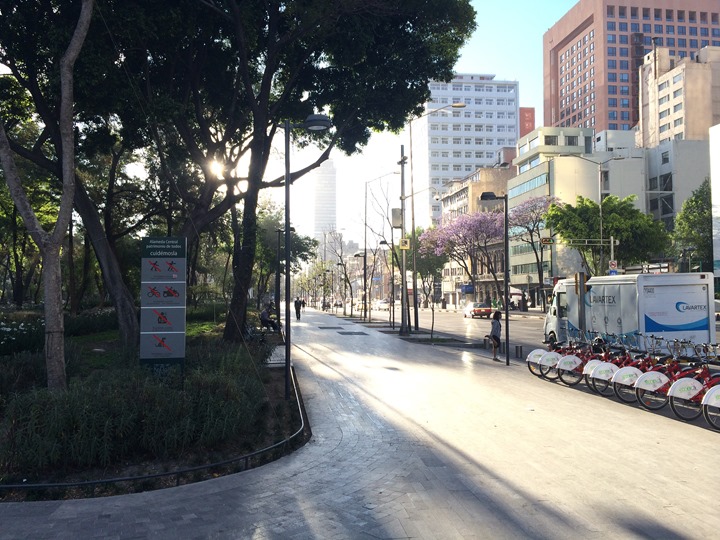 After that 15-minutes of running I'd take 90 seconds of rest (walking mostly) before getting into the main set.  It's during most of these walking breaks that I was able to snap some photos.  Regrettably, I had forgot to charge the action cam, so had to default back to my phone.  Of course, I only discovered this when I went to turn it on in the park, meaning I had to carry a useless camera.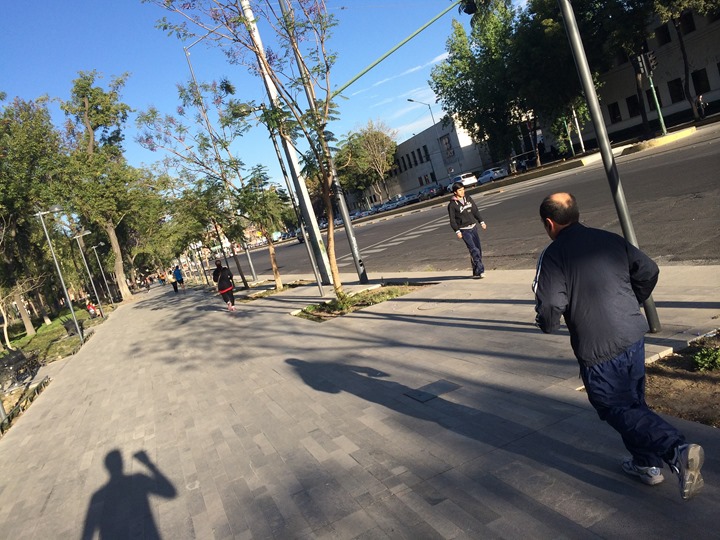 I kicked off the first rep, which was like all other reps – at 800m long.  The pace for these was the usual, which is 5:48/mile (3:35/km), or 2:54 per 800m.
But, I made it approximately 100m before I realized that wasn't going to happen. Not the distance, but the pace.  I was close, but not quite there.  I was coming in at about 3:03-3:05, so about 10-seconds slow.  Generally speaking, I have no problem completing this workout at home, always on pace, or a bit faster.
It wasn't till around that point that I regretfully recalled the elevation of Mexico City, which sits at approximately 8,000ft (~2,421m meters).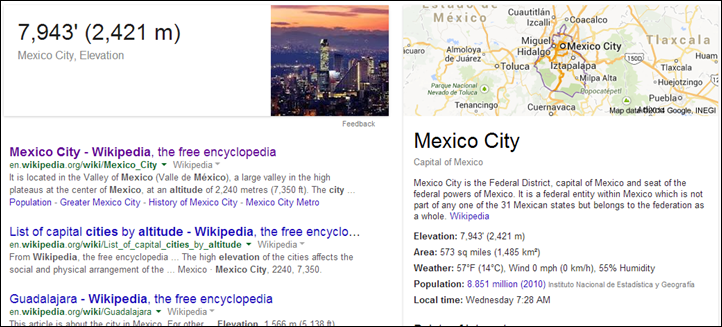 Well then, so much for that plan.  But I figured that since the first one always sucks, perhaps the second one will be less painful.
Then I realized I was just lying to myself.  The second one is never better.  I know better than that.
Perhaps the 3rd?
Ok, no, that hurt too.  It's around now that I was seriously considering calling it after the 4th.  I convinced myself that 4-reps at 8,000 was probably equal to 8-reps at 600ft (home elevation).  Right?
(Flight update: 21 minutes till check-in cutoff, sitting almost still in traffic, Google Maps says 35 minutes).
Then I finished the 4th and figured let's go for 6-reps and see what happens.  So around and around I went.
It was around this point that things were slightly better.  Don't get me wrong, it still hurt…a lot.  But I was still hitting them all within a few seconds of each other, and with only two more, it was roughly only another loop plus a bit extra.
So again, around I went.  Past a handful of pretty structures and monuments: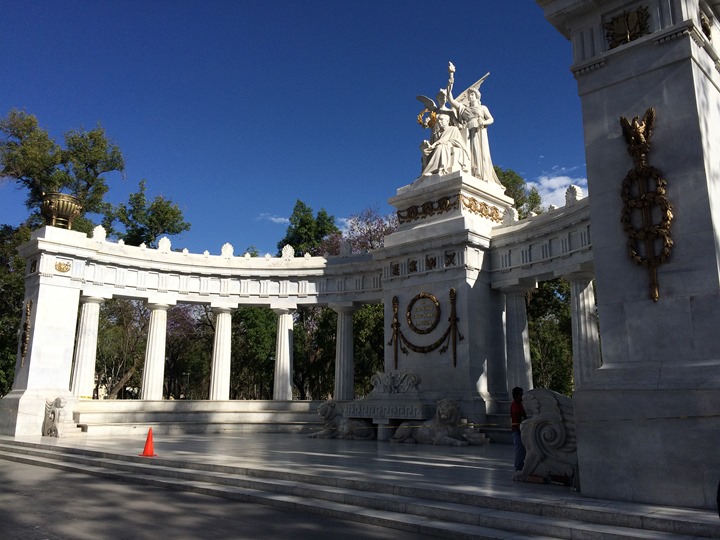 With the final two knocked off, I was donezo.  At least with the main set.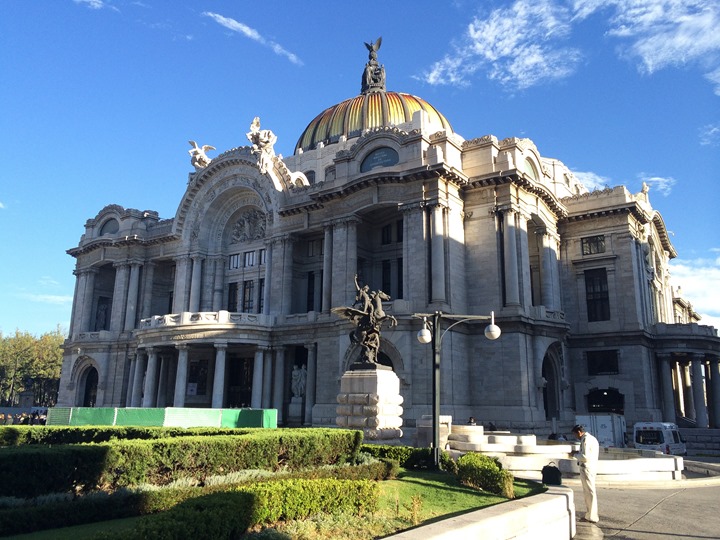 After that I still had 4x150m sprints to do.  Those hurt too, but they aren't really as bad as the 800m.  For the sprints, you just sorta get 'em done.
Finally, done for real.  I finished up an easy cool-down walk through the park checking things out.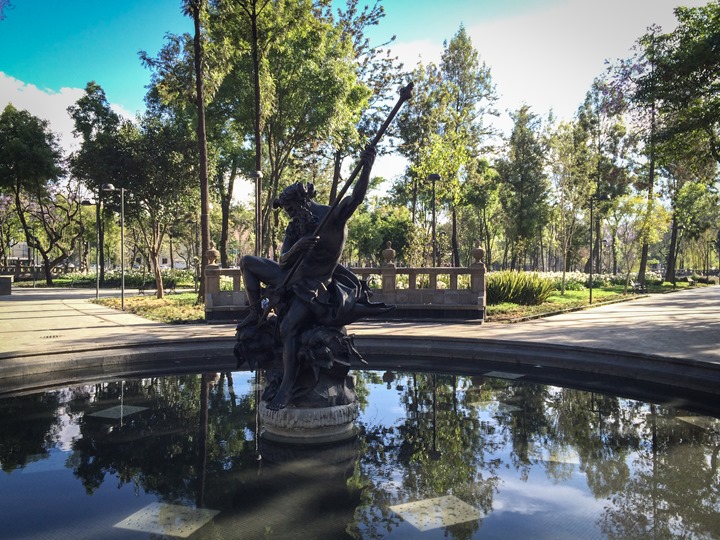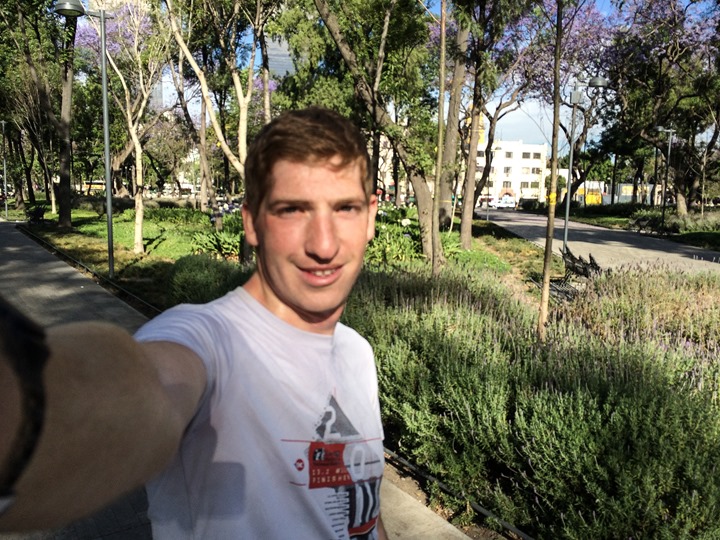 As I was walking back across the street, I saw the water bottle man pushing his cart down the bike lane.  He's sorta like a self-contained aide station: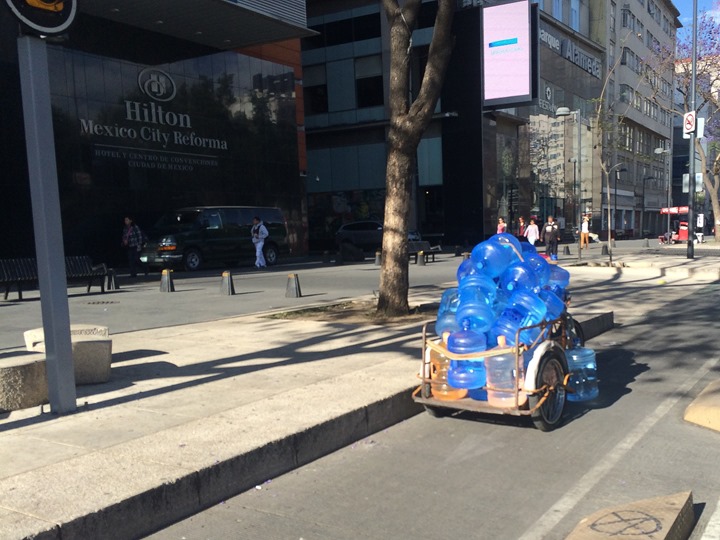 From there it was back into the hotel for breakfast.  They had an awesome spread of cut fresh fruit.  Most fruit salads have a bunch of fruits that nobody really wants to eat in a fruit salad.  Seriously, nobody wants green melon.  And grapes are just a pain in the butt with a fork/spoon.  No, the good fruits are pineapple, mango, papaya, ripe watermelon, kiwi, and strawberries.  In this case, the hotel came through quite nicely.  No un-wanted filler fruit!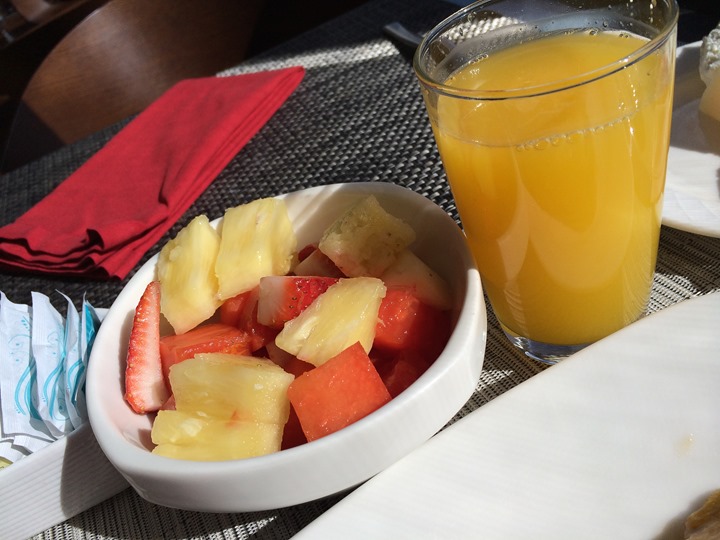 Plus, fresh squeezed orange juice.  Of course, I paired that with bacon (out of the photo).  Getting bacon back home in Paris is tough.  Europeans are the masters of all sorts of pork products, especially sausages.  But bacon remains elusive.
(Flight update: 15 minutes till check-in cutoff, making little progress, Google maps can't connect due to tunnel I'm stuck in)
After my run I spent the remainder of the morning working away from my hotel room.  Conference calls with folks around the world before my in-person meetings later in the afternoon.
(Flight update: 14 minutes till check-in cutoff, out of tunnel and phone connected, says 27 minutes to airport)
My meetings were cross town.  In general, I think I spend more time during my trips to Mexico City sitting in traffic than not.  There seems no way to avoid it.
Just like now, sitting here in the taxi.
To burn some time, here's a fun little map of my running route.
I love that the Google satellite image actually shows the market going on at the moment it was taken.  Here it is zoomed in a bit, it's all the colorful huts on the upper and left sides of the park: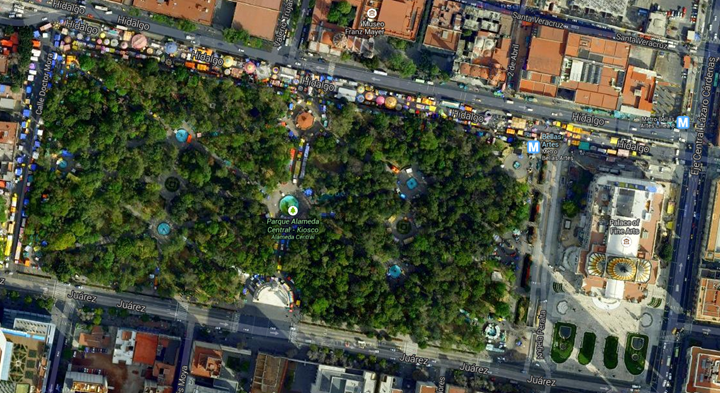 Because I was doing an interval workout, it really worked much better to do loops around a park than a complete wandering around the city.  Far more consistent, and only a handful of people, dogs, and street carts to wander around.
And, here's my heart rate profile for the run, pretty clean patterns  On that 4th one where the recovery didn't drop fully, I think that's just a strap oddity, as I wiped away some sweat and it solved it.

And, then the pace chart overlaid on it:

(Flight update: 9 minutes till check-in cutoff, 25 minutes to airport)
Ok…here's the thing on the flight updates.  I'm out of useful things to say on the post related to the runaround.  Thus, now I'm just hoping I get there before the plane takes off.
Woot, we've just somehow broken out of traffic and the driver is moving reasonably quickly – about 70MPH, so that's good.
I do however have this funny little tidbit I happened to notice on the customs form last night though, which is the allowances for GPS devices.  Apparently you're only allowed one.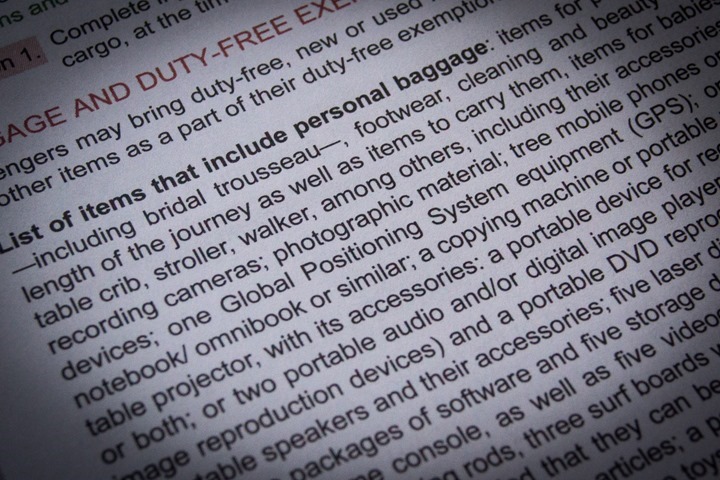 Hmm…noted.
Oh, as for a flight update, 1 minute till closing time.  3.6 miles away, 13 minutes and stuck in traffic again.  I wonder how good my Lufthansa sweet talking skills are?
Which isn't to say I wanted to be in this predicament.  No, it's just how the meeting was scheduled – determined after my flight was booked.  I didn't exactly expect a meeting this late in the day.  But ultimately, there's not really any appreciably later flight option to choose from.  All the major European options leave within 15 minutes of each other.  And to that end, my job is predicated on making tight connections and flights work to fit the most things into a given timeframe.  I've got meetings to attend to tomorrow late afternoon back in Europe.  So missing the flight would throw a monkey wrench into that.  On the bright side, there is that fruit at the buffet…and the bacon.
I'm now sorta near the airport perimeter, but still 7 minutes away, and 4 minutes past closing time.  Consistency on the map app's timing is not a strong point of it.
I suppose technically speaking I'm checked in already, I did that this morning.  But at this airport you still have to pickup a physical boarding pass from the ticketing desks.
With that, I'm about to pull up to the airport, let's see if I can work some magic….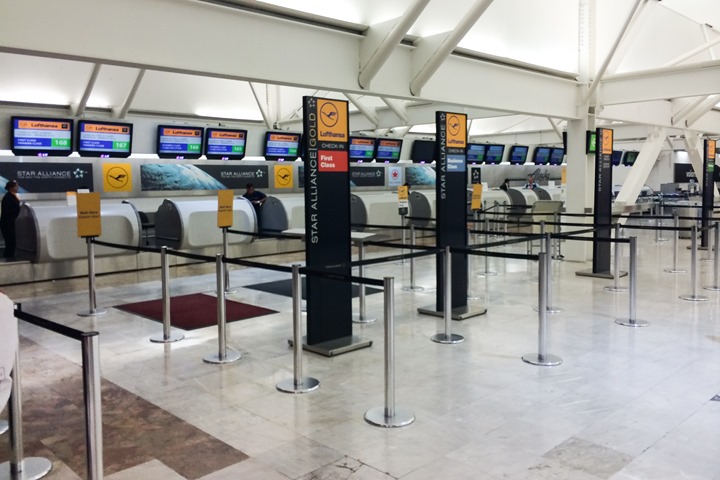 Ok, so all the check-in lanes were closed.  But I made like a salmon (or…something else) and swam upstream the empty exit line to the remaining agent.  She was more than friendly, not batting an eye at my 12-minute past closing time fashionably late arrival.  Good deal.
At this point, I had all the time in the world!  So, a quick stop at Starbucks: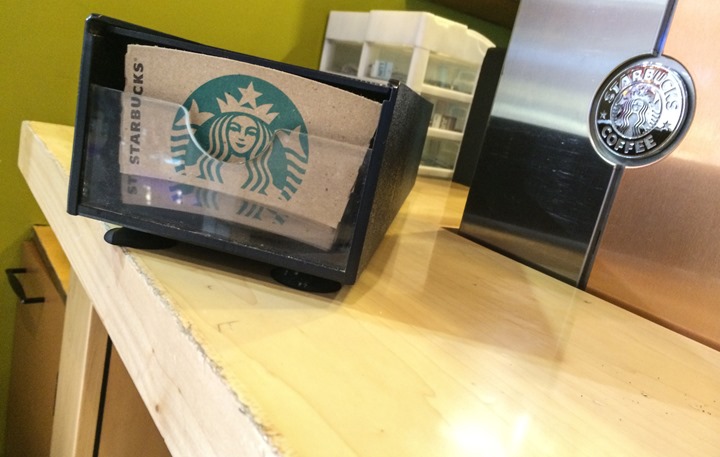 And then onto the flight.  I figured I'd change out of my suit onboard.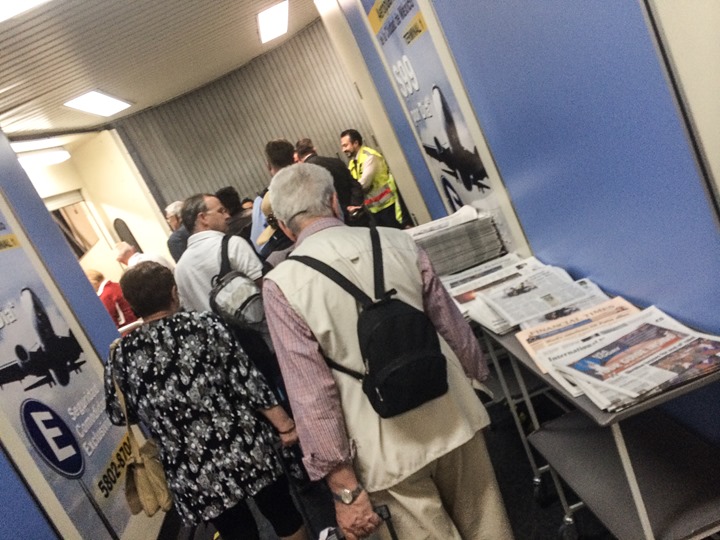 With that, it's off into the night sky I go, some 14,462km still to go.  With each kilometer passing every 4 seconds.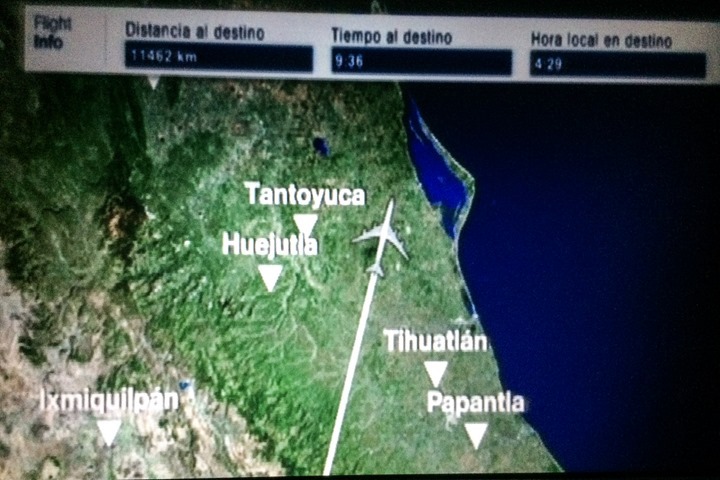 Thus, a typical 24-ish-hour day in my life. Thanks for reading!
—
Interested in how I eat semi-healthy while travelling? Here's a classic post on it.
Or, interested in how I choose my swim/bike/run locations while travelling? And how and what I pack? I've got that too!