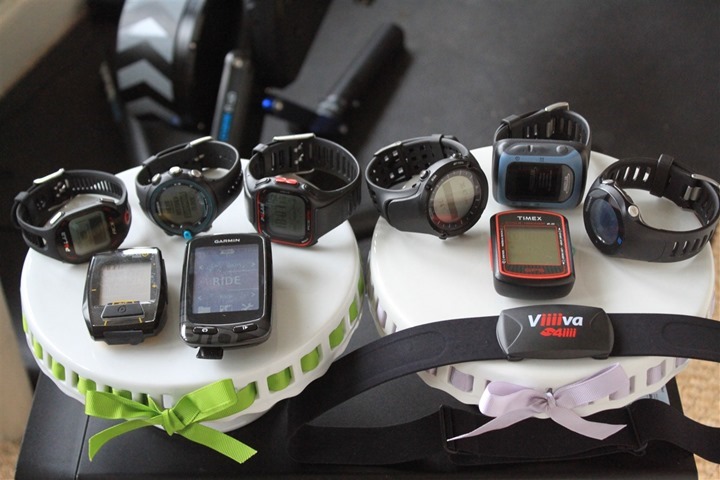 Because it's the end of February (already!), and because this month got shorted 2-3 days.  And because I found two cake stands while The Girl was out today and they made pretty holders.  No, I didn't tie those bows.  Or choose the colors.  It's like a buffet table of devices.
This month, I'm going to mix things up a bit.  In the past I selected a gadget that I thought would be interesting to you.  This time however, I'm letting you choose which gadget you want to win.  Yup, if you want the Suunto Ambit– it's yours!  If you want the Garmin FR910XT – same thing.  Perhaps you'd like the Magellan Switch – again, yours.  Whatever fits your training best (up to $500US), I'm giving it to ya.  Ok, actually, Clever Training is giving it to you.
For example, say you're a swimmer – you'll probably want the Garmin Swim.  Or perhaps you're a cyclist, you may prefer a CycleOps Joule or Joule GPS devices.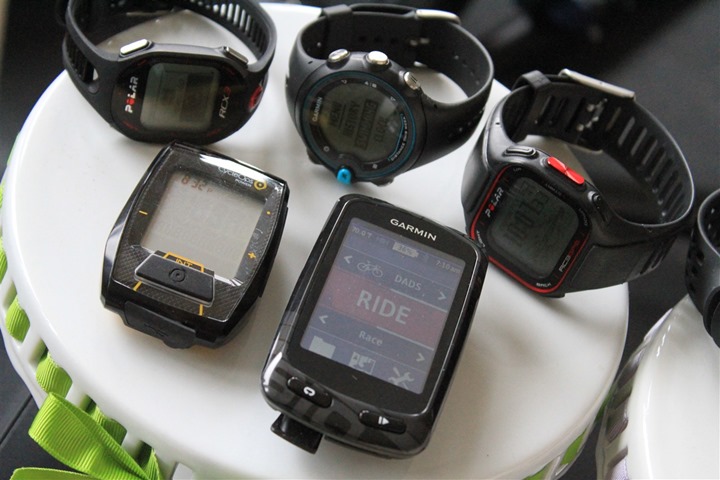 Or maybe you're of the Suunto, Timex or Magellan persuasion – don't worry, those are there too.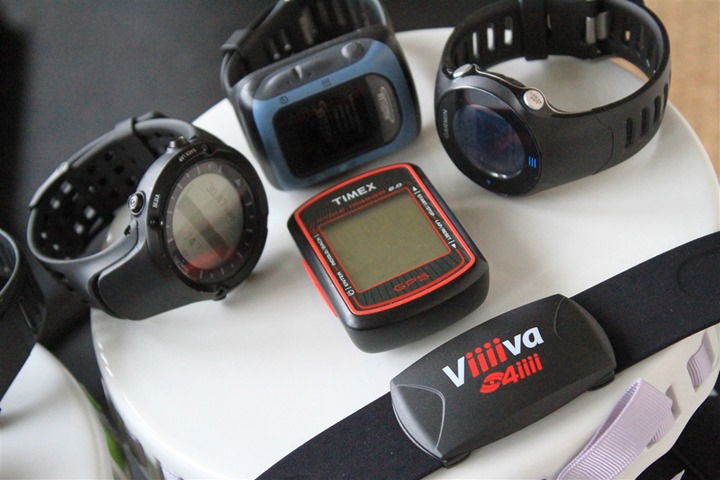 Then again, what if you were eyeing that Wahoo KICKR trainer poking out there in the background?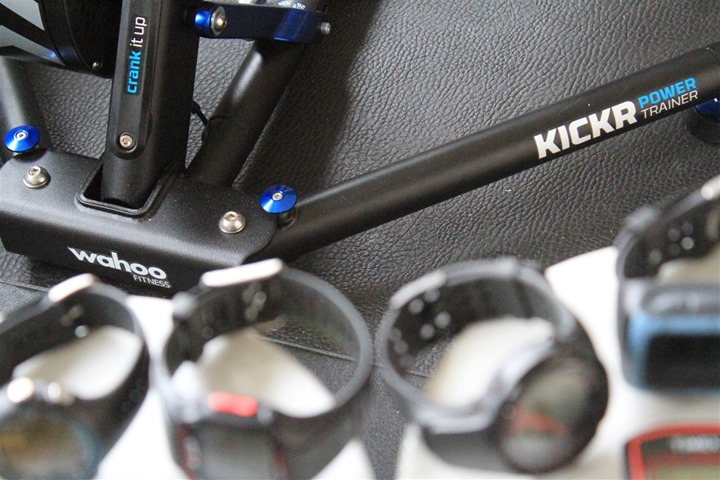 Well, no worries, we'll go splitsies on it (yes, I checked, that's the common spelling).  You'll get a $500US credit to Clever Training and you cover the rest beyond that.  Shipping for items is on me, so fear not.  And, as long as it's under $500 you just tell me which item and like usual magic occurs.  You can wander around their site and pick out your mid-spring present to yourself.
Except, you cannot use the credit for pony's, bunnies, or kittens.  And, the credit's only good for a single packaged item.  Toys R US midnight dash this is not.  So choose wisely!
To enter yourself in, simply:
Detail out one workout that you have planned for sometime in the next seven days. If it's as simple as "Run 2 hours at hard pace and don't die", then go with that.  If it's more complex like a track or pool workout, detail out the steps.  At the end, we'll end up with what should be fairly interesting workout library (or, a lot of confusing advice).
Got it?
—
Entries will be accepted through Sunday night, 11:59PM Eastern time (March 3rd, 2013).  I'll be giving one device worth up to $500US from Clever Training.   Winner will be chosen at random and announced on roughly Tuesday (unless I can't walk after Sunday's half-marathon).  One entry per person.
This giveaway is sponsored by Clever Training, which I I have announced a partnership with.  As you probably remember, by picking up sports technology gadgets from Clever Training you support the site.  And on top of that, all DC Rainmaker readers get an exclusive 10% off all products they sell (basically every sports tech company/gadget/device) using coupon code DCR10BTF (along with the link above).  And most of all, you support the site in a big way – so I appreciate it!
Note, if you're US Active Duty Military – you can submit your entry via e-mail instead.  Note that this is ONLY for Active Duty military.  No panda trainers or ice cream chefs allowed via this method.  Mmmkay?  Thanks all!