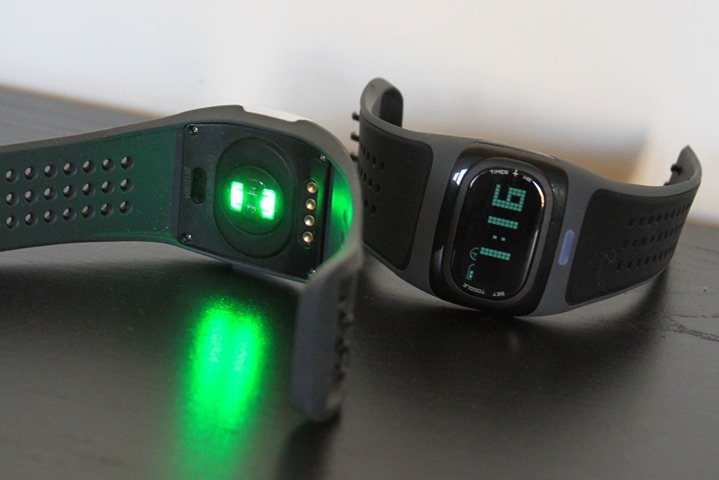 Last week I had a day trip up to Brussels (Belgium), and I thought it might make for an interesting experiment: All day continuous HR monitoring.
Except, unlike such experiments folks have done in the past, I didn't wear a heart rate strap.  Instead, I used the new Alpha wrist HR monitor.  It comes in two flavors: ANT+ and Bluetooth Smart.  For this particular test, Bluetooth Smart worked much better because I could stream it directly to my phone, which recorded the data all day long.  I used the Wahoo Fitness app, simply because it's the most complete app out there when it comes to data integrity and portability.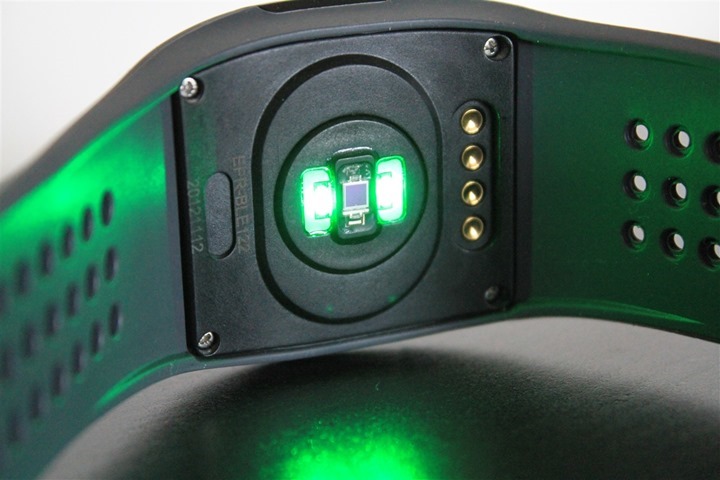 My day started out around 7:30AM with me preparing to head to the train station.  I started the recording at approximately 7:45AM, just before I left the door when I put the freshly charged watch on and phone in my pocket.
Now, in order to piece this together, I've split up my day in chunks explaining what I was doing in each chunk.  I did this through a combination of recording everything I did during the day in a little notepad, and then piecing it all together afterwards.  I then used the sport tracking/log application Neotrack to display the data.  Then everything was overlaid using…MSPAINT.  Yes, advanced operation here.  In general each chunk represents 60 seconds of data, with it showing the heart rate average for that 60 seconds (in beats per minute, BPM).  As a general reference to the day, my resting heart rate if I lie still for about a minute or so is generally about 40bpm.  Sitting around you'll generally see it between 50 and 65.  Ok, with that context – let's get on with it!
7:45AM until 10:00AM: Getting to the station, waiting around, and the train ride:
This first segment is from when I initially left the apartment, walking/rushing to the Metro (subway) station, navigating deep down into the subway station, and then getting on the short train ride to Gare du Nord.  From there, I worked my way back out of the Metro trying to get from the underground portion to the above ground train portion.  After which, I found the high speed train to Brussels delayed.  So I wandered around, found food, generally froze (there's no heat in the station), and just waited.
Eventually there was a people rush for the train as it pulled in and gave us about 4 minutes to run to the correct car, get in, etc…  Once that was complete, it was normalcy again and I was able to get some work done on the train.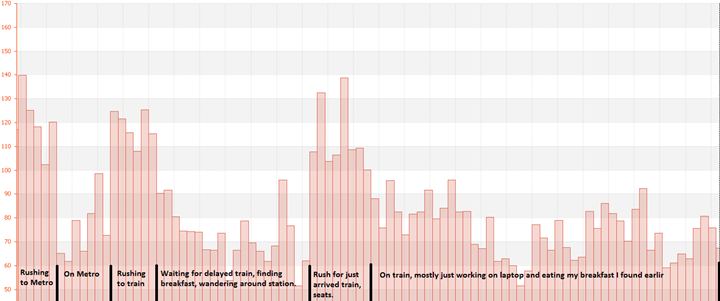 It is interesting to look at the spikes in heart rate while rushing through the stations.  However, I'm not convinced that those 140bpm spikes are real.  And by not convinced, I'm going with 'not a chance in heck'.  A heart rate of 139bpm is my Z2 rate – my long running rate.  Normally, that's about 7:00-7:30/mile.  Thus despite it being a bit of a rush, it wasn't an over the top rush.  Not a nervous sprint.  So I'm a bit hesitant that those spikes are accurate.  I think the 120's are probably realistic (there were plenty of stairs) – but not those 140's.
Here I am, cruising across the countryside at a couple hundred miles an hour, working away.  I know, not terribly exciting: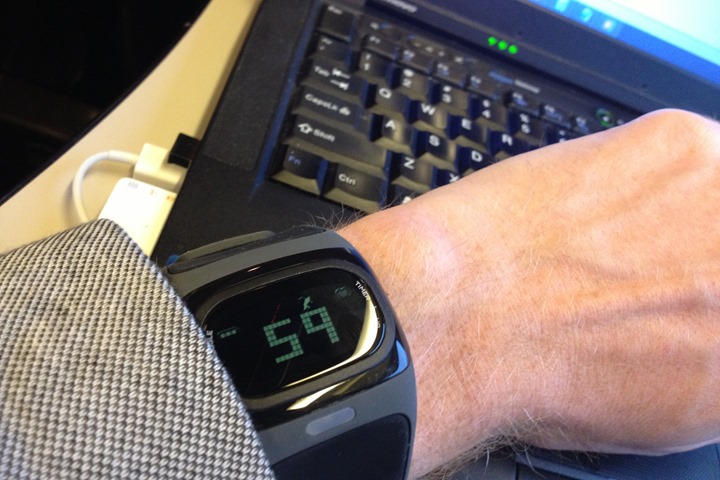 10:45AM until 12:45PM: A fast and furious taxi ride, some quiet work time:
At some point around 10AM, while sitting idly on the train, the app crashed, and thus there's a gap of about 45 minutes in data.  Given I was just sitting there, I'm guessing we didn't miss much and that the data likely looks just like the earlier train portion above for that 45 minute chunk missing.
I noticed as the train pulled up to the station and restarted the app – which was happy for another 15 hours straight.  From there, I exited the train station to find the taxi line.  This time I wasn't at all in a hurry and you can see that displayed with a fairly low HR.  I got into the taxi and all is mostly fine until he hits the highway…at 150KPH – which is approaching 100MPH.  Oh, and it was snowing out.  And this was on the exit ramps and curves.  Dodging (more reasonable) traffic on the roadways.
After that, I arrived at the airport (it's where I was meeting folks who were flying in).  I had a bit of time to kill, so I was taking conference calls and working on my laptop.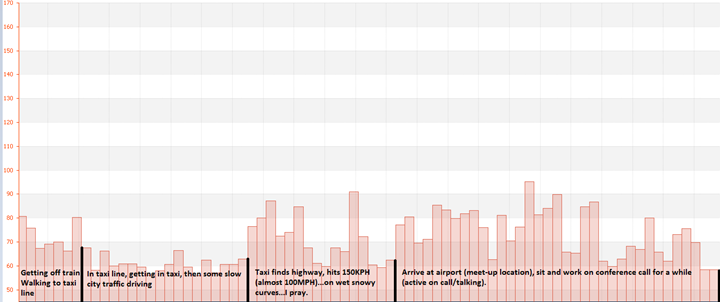 In general, you can clearly see a bit of a lower period where I'm in the cab in the city and not fearing for my life.  Then a spike as I'm fearing for my life on the highway.  That spike carries through a bit as I get to the airport and begin work and on a conference call.
12:45PM until 3:45PM: Lunch, more snowy car rides, and a meeting split with presenting
As we move into the most exciting part of the day thus far (lunch), we see a small spike while I'm eating.  I believe there was also some jostling around in the cafeteria as well and trying to find a place to eat.  So some of that is likely walking/activity induced.
Then there's again a small rise while we were driving.  It appears I'm not a fan of others driving at high speed in snow and ice and braking hard and often.  Then calmness returns while waiting in the lobby for folks running late.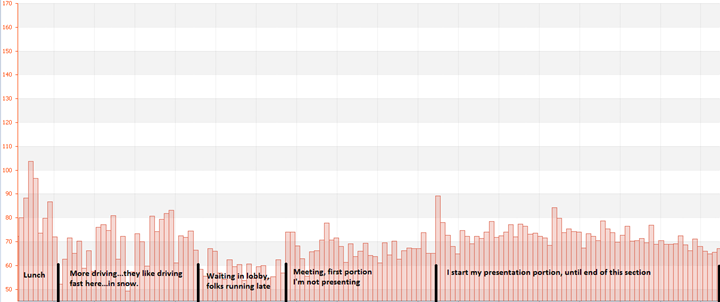 As the meeting starts, you see a slight bump in HR.  While I'm initially partaking and answering questions, I'm not yet presenting.  Then as it's handed over to me, and you see a small rise in HR – about 5-10BPM in average while I'm presenting.  I present on a near daily basis, so presenting doesn't bother me.  In fact, if you look at my HR average while presenting, it's about the same as while on a conference call (70BPM), so it seems it's mostly just the act of talking that increases HR.
3:45PM until 6:45PM: A Belgium Pub, more subway time, and the high speed train home
After the meeting concluded there was a bit of a walk to what was going to be the car park, and then it was decided that a pub was preferred, so a detour to a Belgium pub.  The pub didn't last terribly long, as I eventually had to go.  It was a Christmas brew, in case you were curious.
Following the pub you see my HR climb a bit as I navigate the underground subway system and everything associated with that.  It was a bit of a packed train on the subway.  But once at the main train station things calmed down a bit and I was able to easily grab the nonstop train home with less hecticness.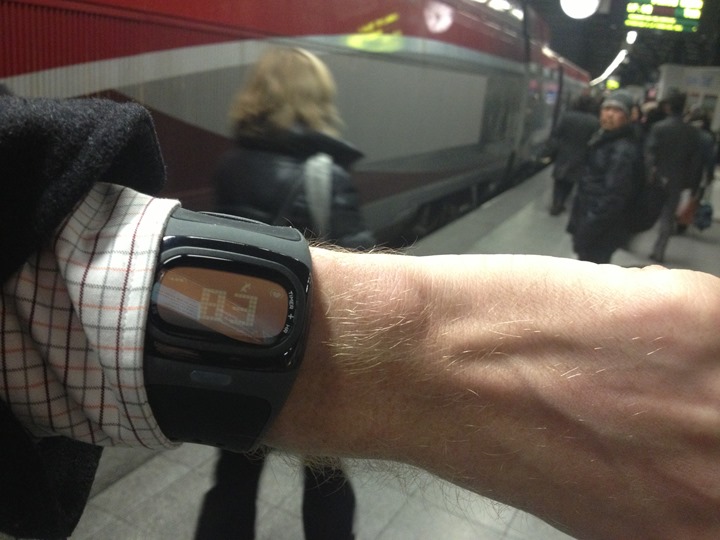 Once onboard the high speed train things largely level out and are pretty calm for the ride home.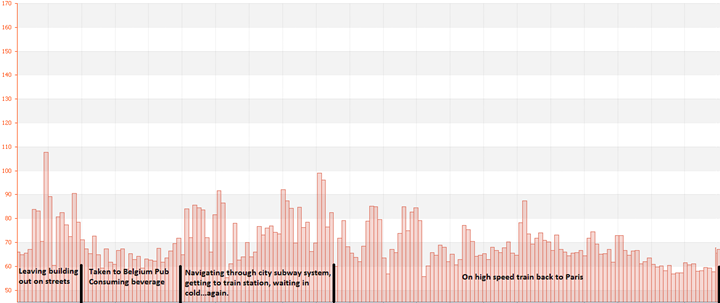 6:45PM until  8:30PM: Driving/walking to the bike store, picking up a bike, driving/walking home:
After the high speed train pulled into the station I did the two-step-tango switching to the Metro subway system.  You can see that initial spike as I worked my way down into the Metro (I was trying to move pretty quick as the train was once again late).  You then see it taper off while riding on the Metro.  Then there's a solid spike as I exit the train and quickly rush back towards the house to meet up with The Girl and the Autolib.
Once in the car (Autolib) it's quiet and calm for a brief moment.  Then we have to park the little car in it's designed Zipcar-like spot, rush across the street, into the bike shop, validate things are good on both her new bike and untangling the power meter crank arm on mine.  Once all that's complete, you see it calm back down again as I get back into the car.  Though, it took way longer to drive home than get to the shop.
After getting near home we park the car and you can see an increase in HR again as we unpack everything and walk home and get everything situated at home (putting back on the wheels, etc…).
You then see a drop again as I clear out some e-mail for a short bit, before the HR's jump as we prepare for a run.  This includes a few quick errands around the house related to laundry and garbage, and then changing into running gear, heading outside, and waiting for satellite reception.  All that activity means a slightly elevated HR profile during that portion.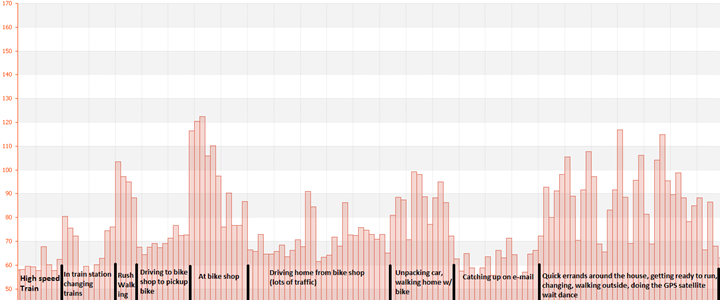 8:30PM until 1:50AM: Going for a run, relaxing for the rest of the night:
Finally – time to run!
This was with The Girl, and it was relatively even, after we got into it.  You see a bit of a climb in the middle as head off the flats and up a climb for a bit.  Then it lowers back down again and lowers further as we descend back down.  It was only a 40 minute run, so not terribly long.
Following the run we've got a quick cool down walk/jog before heading inside.  Once inside I alternate between checking e-mail, showering (warmth!), more e-mail, and making/eating dinner.  It's interesting to see each chunk fluctuates the HR quite clearly.
After dinner finishes, it's time to 'relax' for the night.  Which essentially means a combination of TV, cleaning our work related stuff, clearing out DCRainmaker stuff, writing posts, and anything else administrivia on the computer.  Eventually, at 1:50AM I head to bed…ready to start it all again the next day.  I actually have no idea what that random 130BPM spike is in there.  It's a bit odd.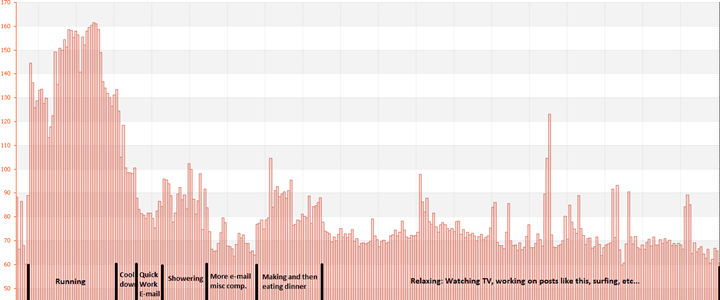 Final Observations and Device Considerations:
For the most part, the patterns are roughly what I'd expect across the day.  In periods of whole body activity, we see a jump (walking for example).  Yet, even in periods where I'm talking we still see a slight increase of HR.  On average, when I'm just working quietly on the computer, the HR goes down a bit – and tends to be fairly calm.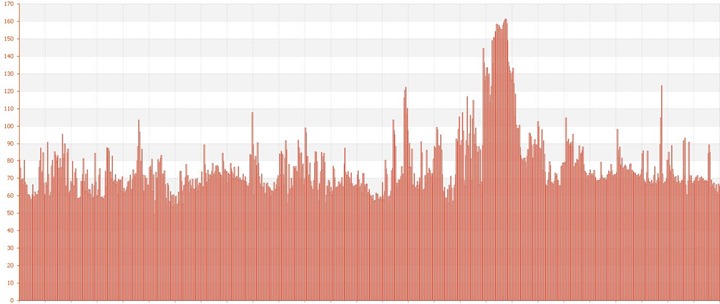 Interestingly however (and you can see this best on the full-day chart directly above), you see a slight overall rise in HR post-run.  So even while I'm sitting there on my computer afterwards, for at least a couple hours there's a clear elevated HR compared to pre-run.  It's only as we near 1:50AM that we start to finally see this slowly taper out slightly.
For those curious about the whole day from an activity standpoint, I happened to also be wearing a Fitbit, which gives a bit more context, though, not quite as much since it's only recording when I happened to move.  And keep in mind it's slightly offset in that unlike above, there's not a 45 minute gap in the day around 10:00AM.  Additionally, I didn't take it running, or post-workout, so it's only during the day while essentially doing normal everyday things.  But you can see it align a bit here and there – specifically to the train rides, and computer time.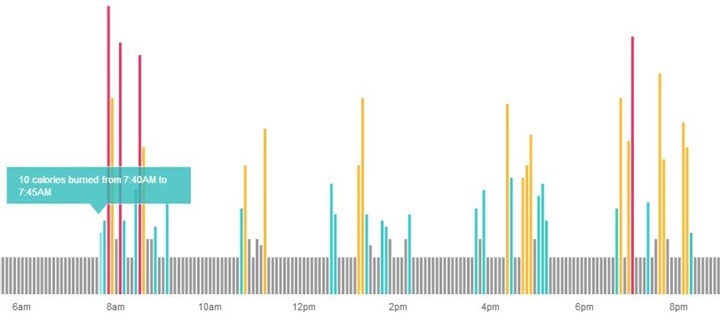 Finally, to talk briefly about devices.
This was of course transmitted via the Alpha device as I noted above, using Bluetooth Smart.  But, it also does ANT+.  In fact, back in September I used the ANT+ variant to record over 30+ hours of heart rate data while flying back from Canada to France.  Except, at the time Fenix didn't correctly record the data (since been fixed), so that was lost.  But, I'm looking forward to doing something similar again in the future with some ultra-long haul flights and see what the data looks like.  Do keep in mind though that the Alpha doesn't record data, rather it only transmits it, so you do need something else to record the data somehow (another watch, phone, etc…).  I used the free Wahoo Fitness App as noted earlier, because it provides the most comprehensive data export and analysis capabilities out there – with everything at 1-second granularity.  Plus, it works with both ANT+ and BLE devices, allowing me flexibility there.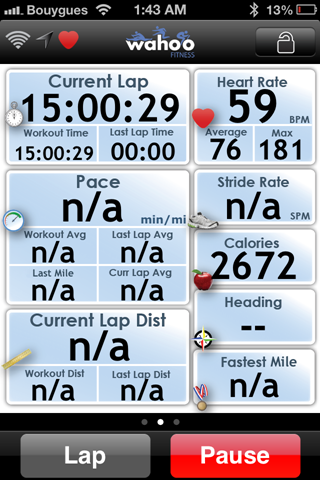 On the phone side, I found that I burned 10% of the iPhone 4s battery per 30 minutes.  So I used a combination of both a charging cable while sitting still and a charging case while on the move to keep it cooking.  During the run I just ran with a simple arm band.
Lastly, some of you may wonder how this will look with a device like the Basis watch from MyBasis.  The answer remains to be seen.  Initially when first envisioned, it would have done both continuous HR monitoring, as well as accelerometer based motion sensing, and a bunch of other metrics around skin temperature, response and more.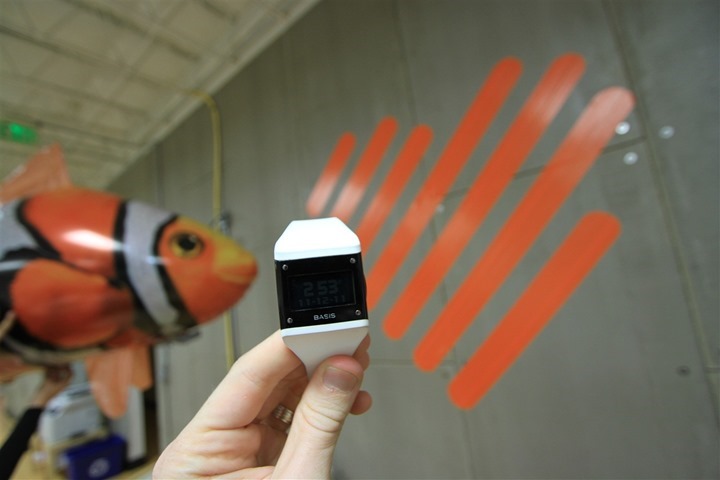 However, since their 'coming out' press last week it seems like some of that initial functionality has been scoped back on the continuous piece (it's not doing that any longer).  And to date, nobody outside the team has actually held a real final production Basis devices.  All of the flurry of media pieces you saw last week were all based on press packets and unique photos per media entity, not actual devices.  In short, nobody has actually touched one yet in real life and reported on it.  So while I'm super excited to test it out in a scenario like this (and am working with them to get a device shortly), I caution that it may not be the Basis device your grandpa knew a year ago.  It may be better, it may be worse, it just may be different.  Nobody really knows.  But, I'm looking forward to finding out.
As always – thanks for reading!