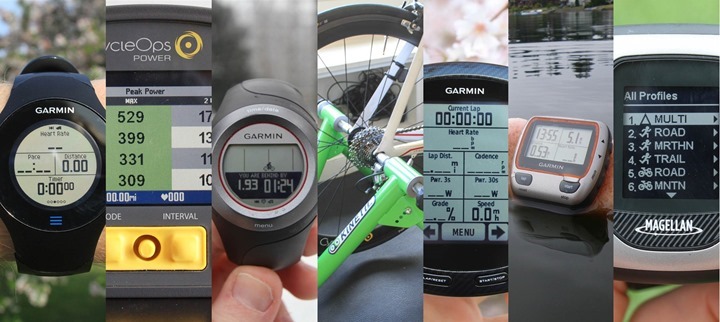 [Updated 11/24/2012 1:19AM EST]
I just wanted to take a brief moment to highlight some of the sweet Black Friday deals that I'm aware of for the next week or so. Some of them help support the site, and some of them are just out there on the interwebs. In both cases, I'm going to largely focus on the gadget side of things – but have provided a good starting point for other non-gadget deals.
The below gadget deals support the site:
Garmin Forerunner 310XT – $211US: This is pretty much a steal. It normally hovers in the $260ish range, but dropped down this week led by Amazon. The core difference between it and the FR910XT is the lack of indoor pool metrics, and TSS/NP/IF power meter metrics (though both support power meters just fine. If you're just getting into the sport – solid deal. [Review here] – Sale Underway.

Garmin Forerunner 610 (with HR strap) – $299US: This is $100 off the norm, so a great deal for my favorite running-specific more advanced watch. [Review here] – Starting Friday, Nov 23rd.

Garmin Forerunner 410 – $175US (w/o strap) & $205US (with HR strap): I'm admittedly not a big fan of either of these two units due to the touch bezel. But the deal is out there. Beyond the touch bezel, they're fine GPS running watches. [Review here] – Sale Underway.

Garmin Edge 800 bundle – $499US: This is $150 off the normal bundle price. In general, I only recommend the Edge 800 if you explore new and unknown routes constantly. If you're a route-regular like me, stick with the smaller Edge 500 and save $250. Don't get me wrong, I LOVE the Edge 800 and use it daily, but I think it's overkill for many. [Review here] – Starting Friday, Nov 23rd.




Magellan Switch Up – $239US: Both of these are pretty low these days price wise. Do see my comments on exactly which situations you should (and shouldn't) pickup this unit. [Review here] – Sale Underway.

Magellan Switch regular – $169US: A VERY good price for this unit. It doesn't have the barometric altimeter or vibrating alerts, but otherwise it has the same functionality as the more expensive Up version. – Sale Underway.

Kinetic Kurt Road Machine – $271US: This is about $70 off the regular price. This unit is compatible with their upcoming inRide power meter accessory (another $200 though). I put up some new images of the inRide in testing up in 'The Queue' section. As a standalone unit it's a great trainer that works with TrainerRoad VirtualPower quite well. – Sale Underway.

CycleOps Trainers – 20% off: These are reduced further, down to about 20% off in total, including the PowerBeam Pro. I've only reviewed the PowerBeam Pro, so I can't comment much on the others. I'll be reviewing the newly released Virtual Trainer software coming up in the next few weeks. – Sale Underway.
Remember that unlike Amazon US, Clever will ship overseas. And, for anything not on clearance/deep sale, you'll still get the 10% off from Clever anytime with DCR10BTF code. You can look at the entire lineup of their Black Friday/Holiday items here.
A few Amazon-specific deals that are worth pointing out:
Amazon Black Friday Sports and Outdoors Section: This will change constantly, so keep checking back. But good stuff will likely pop up there as well related to endurance sports.

35% off all Polar RCX Heart Rate Monitors: This includes stuff like the Polar RCX3 and RCX5 – normally a bit overpriced for the functionality afforded, but at these lower prices they're more in range with competitive offers. Go for the RCX5 if anything (with GPS pod, otherwise it's silly).
Amazon Lightening deals: These deals only last an hour or two. The prices aren't yet announced for some of them, but the items are. Usually expect about 30-50% off:
FINIS Aquapulse – $68: This is probably the best solution I've found for getting heart rate data underwater. [Aquapulse review] – Goes on sale at 6:40PM Eastern. Deal now over.

Garmin ANT+ Footpod – $35: Going into the winter season, this footpod works with ANY ANT+ device out there, so even if you have Timex or Magellan or other unit, it'll work just great. Details on the footpod here. – Goes on sale Friday, at 10:30PM Eastern. Deal now over.




Delorme inReach Satellite Communicator – $149: I've got the Spot Satellite Connect units already, which are a competitor to this. I'm probably going to pick this up myself actually and see how it fares. Hopefully it'll be a good deal. The units purpose in life is to allow you to communicate (text, as well as SOS) in places where cell phones don't reach. – Goes on sale Friday, at 3:30PM Eastern. Deal now over.

Note: If you missed out on the inReach above, you could still go the way of the Spot Satellite Connect instead. It's got a $50 rebate, but only if you don't buy the unit on-sale. Amazon is on-sale for $130, whereas REI isn't at $150, so it'd be $99 after-rebate. Translation: Go with REI if you don't mind dealing with the rebate, else, Amazon for the cheaper price.
Below, are additional sale items out there that don't support the site, but are still pretty kick-butt.
Road ID – 20% off: If you don't have some sort of Road ID (or similar) product somewhere on you, you should pick one up. A perfect stocking stuffer for a family or friend. Though, I do suppose nothing says "Hope you don't crash" like a bracelet for crashes…

Garmin.com site: They are planning to offer up to 50% off on some items. It's unclear if that will just be something like an car charger for a car GPS, or some sort of cool fitness related gear. But, worth keeping an eye on. Starts 5PM Central Time on Wednesday. Update: Fitness deal was a FR610 for $329, which is about $30 higher than other places are offering it. Not impressed.

Timex Global Trainer for $110: This is a sweet price for this unit. With the foot pod firmware update last summer, it's probably the best deal out there for a budget triathlon watch. (Thanks to Steve for sending in). [Review here]

Training Peaks offers free Pro apps: It's small savings compared to many of the other here, but it's certainly worthwhile noting. You can download any of their apps for free till Monday (and they stay on your phone at that point forever). Additionally, you can use their higher end platform free for 14 days a while with code BLKFRI14DAY here.

Wahoo Fitness Discounts: Here's a small armada of discounts on their various products: Thursday: 25% off Run/Gym packs with code "turkeyrun25"; Friday: 25% off bike packs with code "turkeyride25"; Saturday: Free key ring with the purchase of a treadmill pack or treadmill pack pro. No code necessary.; Sunday: 25% off Blue SC with code "BSCTurkey25"; Monday: 25% off Blue HR with code "BHRturkey25"

Withings WiFi Scale 25% off: (US Only): Withings themselves is running a 25% off sale on Friday for their WiFi-enabled scale. On Monday they're doing a 20% off sale. [Review here].
As I see more items that are sports-technology related, I'll update the above. For the non-gadget side of things (but still endurance sports), I'd highly recommend checking out this page from Michael Hutto – he's done it for a few years now and it rocks.
With that, thanks for reading (and of course, supporting the site). And remember, if you can't figure out what on earth you want product wise, check out the new Product Comparison Tool I put together. It has nearly 3,000 pieces of data, combined into a simple and easy to use system that's always up to date.