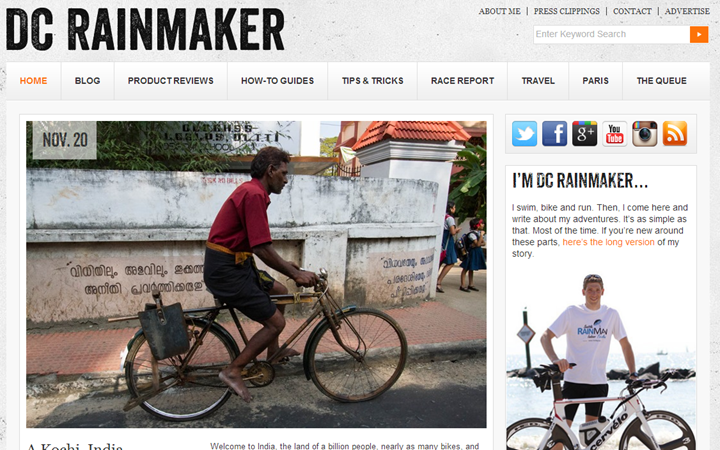 Finally!  It's been a long time coming, with a lot of false starts, but it's finally here!
The new site not only looks fresher, but has some legit useful new functionality in it.  While many of you reading this post are now regulars that read my day to day ramblings, most of you likely started off looking for some information in a review or similar page.
Starting with that area, I've made them a heck of a lot easier to find.  Reviews are now automagically sorted by company and release date of product:
In the past this page would fall hopelessly out of date – but now it's instant and up to date.
Next up is probably the coolest new feature – the Product Comparison Tool (or Calculator).  In the past at the end of every review I had a little product comparison chart.  The challenge with the chart (screenshot image of an Excel table) was that as soon as the next product or firmware version was released, it was out of date.  Further, you were limited to compare based on whatever I thought was a valid comparison at 3AM on the night of the review release.
Now everything is instant, automatic, and configurable.  It's all in a backend database that has nearly 3,000 pieces of data (and growing) in it today from every watch I've reviewed.
First, you'll go to the tool website.  Then, you'll use the dropdowns to select what type of device you want (Swim, Bike, Run, Tri, Hike).  Then, optionally, a price range (Budget, Moderate, High-End):

Once that's done, it'll highlight your units.  From there, you can either add others, or deselect ones  you don't want.  After which, a table will display below: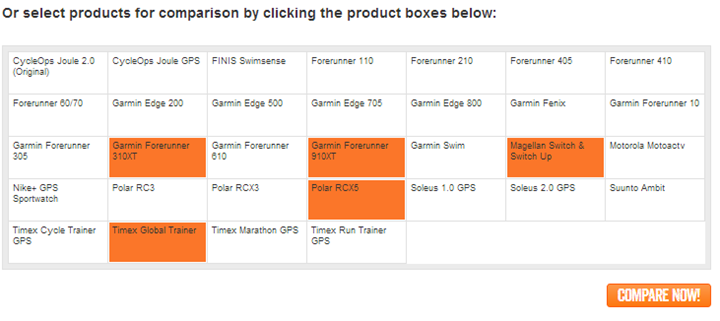 Simply click the expandomatic button to show the full chart length.  If it's over about 5-6 products, it'll ask to pop-open a new window.  If you wanted, you can add all of them in there I suppose.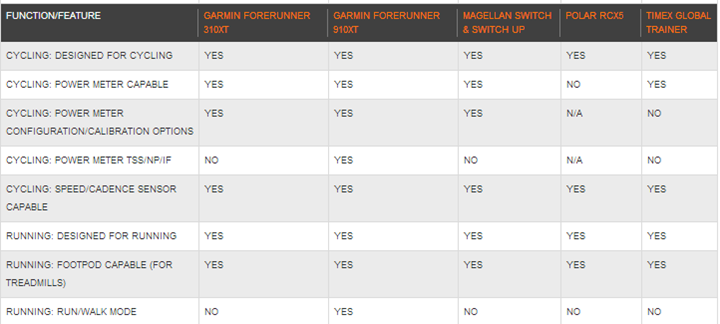 Pretty cool, huh?  Also, you can copy and paste the URL's at the top if you want to send your custom chart to a friend – they always work forever.
And, as GPS unit firmware changes I can instantly keep things up to date.  Awesomeness.  It's here if you want to play around.
Even better, is that these charts are now in the reviews themselves as well, and automatically based on products in that category.  And if a new product gets released in the same category tomorrow, it automatically shows up in all reviews in that category:
As of today, the charts are just focused on watches and bike computers, but over the next few weeks I'll be pulling in other device types (i.e. the FitBit's of the world, power meters, etc…).  As always, if you spot an error or bug somewhere in there (I enter all the data by hand) – just drop me a note and I'll fix it up.  Plus, on the power meter front I'm working with some [really smart power meter] folks to start putting together a published database of units and head units that comply and produce accurate power information based on a series of tests developed.
Next up, I've added a few other sections.  First, a new gigantic and ever growing FAQ: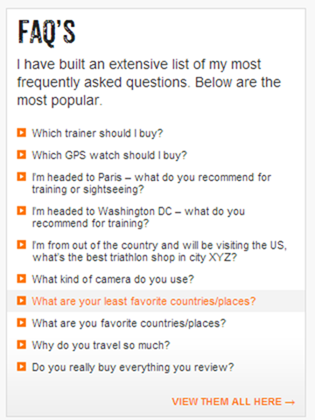 And second, a section with various press clippings.  I'm still consolidating these and adding them in (and their detail):
Plus, stay on the lookout for a sweet new article about me coming in a big magazine this weekend!
Then there's the long-promised Paris Blog dedicated area: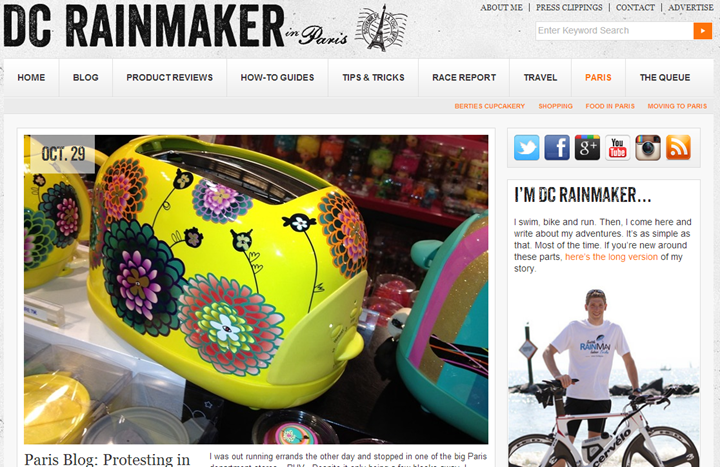 And last up – The Queue.  This new section solves a problem I've had of being able to provide you with a pile of photos, screenshots, etc about a new product I'm testing – before I'm ready to write up a full review.
Essentially, this allows me to make quick spur of the moment galleries and dump a bunch of photos in there.  Normally it's a product I'm reviewing, but it could also be products on the show floor at a show like Interbike, CES or Eurobike.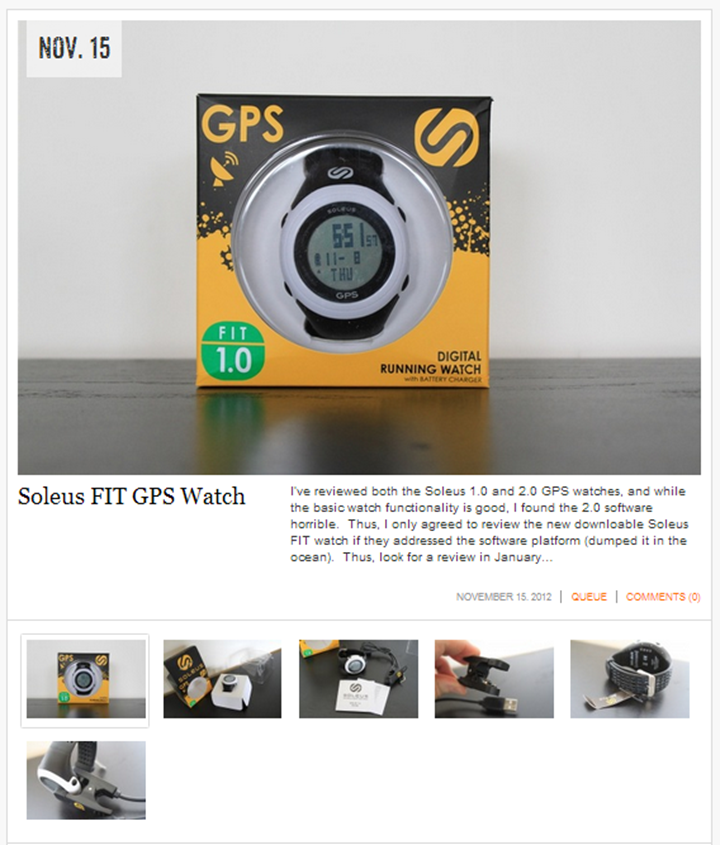 Finally, there's lots more coming in the weeks ahead!  The goal was to get as much done before Thanksgiving as possible.
Of course, I do want to point out that none of this would have been possible without the rock star team of web designers and web developers that put everything together.  I just tell them I want ponies that fart rainbows, and they somehow make it happen.
And, if you spot any confused ponies (site bugs), feel free to drop them below and I'll ensure they start farting rainbows again.  I appreciate it!
Hope you enjoy the new design – and thanks for reading!  And I hope everyone in the US has a great Thanksgiving holiday ahead!