After weeks of preparations (really months), the big opening of our cupcake shop in Paris happened this weekend.  Mostly her shop really, I'm just there to taste cupcakes (no really, that's what I do).
Well actually, I'm also there to drive our little electric Zipcar-like thing to pickup supplies (Autolib).  And while tasting cupcakes is fun, I enjoy the gigantic restaurant supply place just as much, if not more.  We went Friday evening (it's only open to restaurants with a food-licenses business certificate), to pickup our final lot of supplies for opening day.
While she had made many trips before to pickup ingredients, with construction going on in the shop we simply didn't have room until now to pickup large-scale quantities as well as items like napkins and such.
We were there for probably close to 90 minutes getting our cart all loaded up – with the last 10 minutes reserved for cold items.  Below is our cart.  The key item to keep in mind is that this cart rivals the length of our little rental car.  This is no Safeway sized cart, not even a Costco flatbed cart competes with this beast.  I think I'm supposed to have a license to drive it.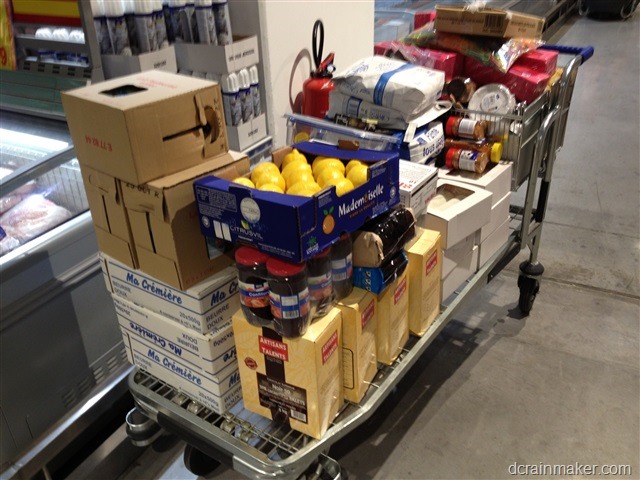 More astoundingly though, was that I managed to fit it all to our little car (pictured below) in with room to spare.  Well, except the drinks.  I had to come back early the next morning and buy all those.  Poor electric car was notably slower both trips on the way home.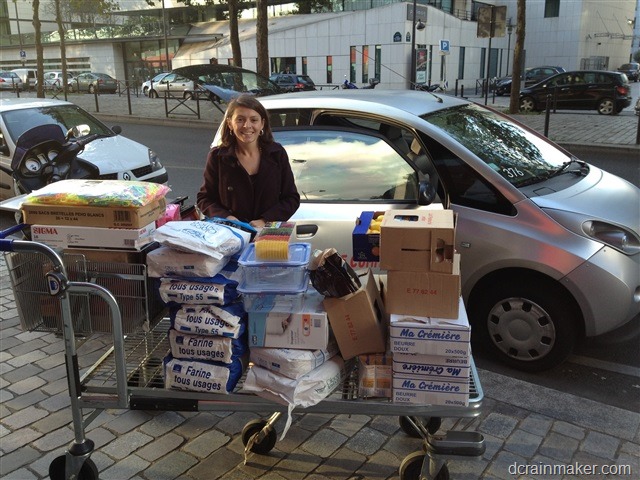 But my late night errands weren't limited to just food products.  Nope, height enhancers were also on the list.  She ended up choosing a white-colored variant of the red one seen below.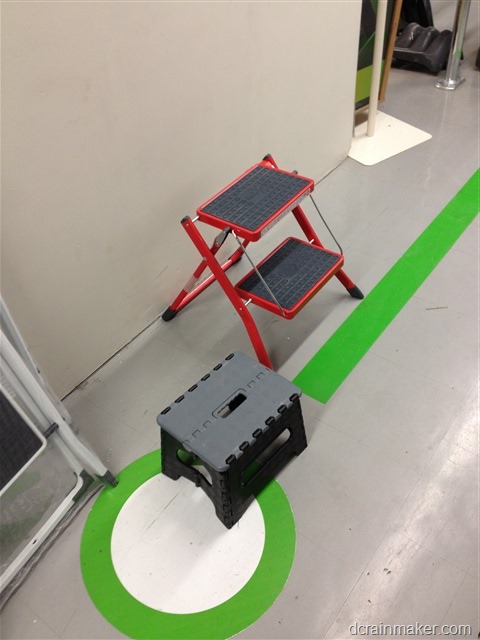 Once we got everything home, it was time to load up the fridge.  The shop also has an underground cold storage area as well (a cave converted into a fridge).  But this is easier at the moment.  In case you're curious – that's 180 eggs.  Also a case of lemons, and a Paula Dean sized amount of butter.  And a lot of milk and cream.  Oh, and one bucket [not pictured] of fresh buffalo mozzarella that I found on my second trip (they also sell it by the crate!).  Yes, it's awesome.  And no, it's not going in a cupcake.  It's going in my belly!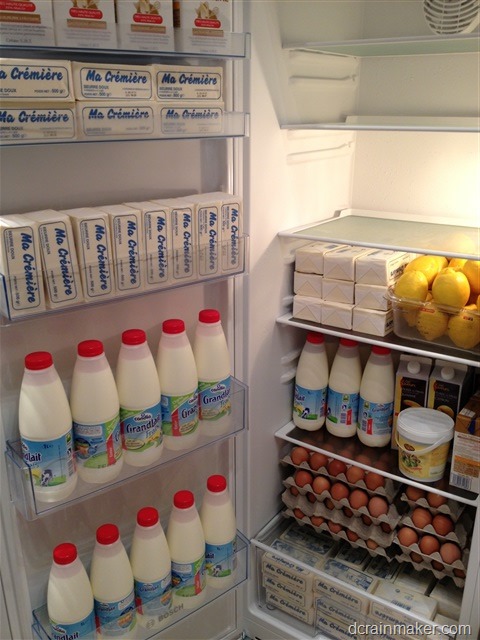 A good friend of ours came over to help us out for the opening week.  He speaks French, and as seen below – also cleans windows.  And tests cupcake batter.  All of us test batter actually, all day long.  It's plausible at some point in my life I'll tire of batter…but hopefully not soon.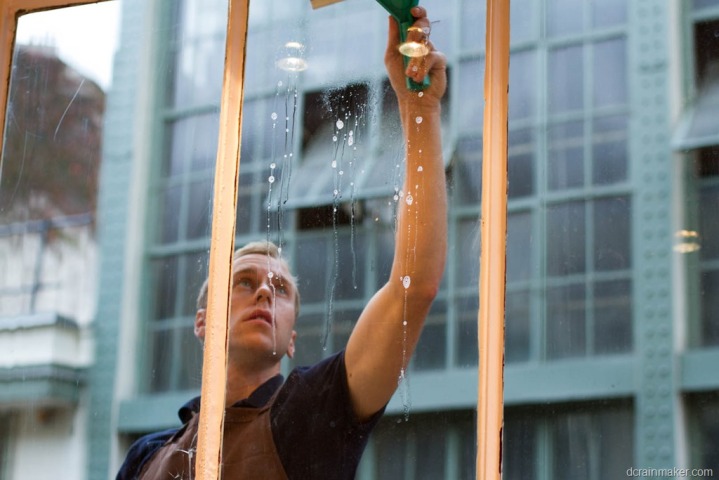 Once baking got up to full speed (an actual setting on the mixer), cake batter was in copious amounts at all times.
Take for example, the below mixer paddle.  This paddle is almost a foot in height.  And probably 8-10" across.  And yes, it was all mine.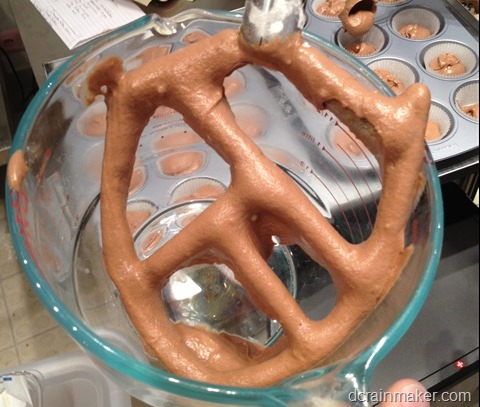 Cupcakes come out by the sheet-load, 24 per sheet.  Up to 100 at a time in the oven.  Below, a few rows of Vanilla, followed by Banana.  The Banana is a take on the Nutella Banana crepe that's popular here in Paris.
Once they come out, it's time to ice them.  Below, the Nutella as part of the aforementioned cupcake.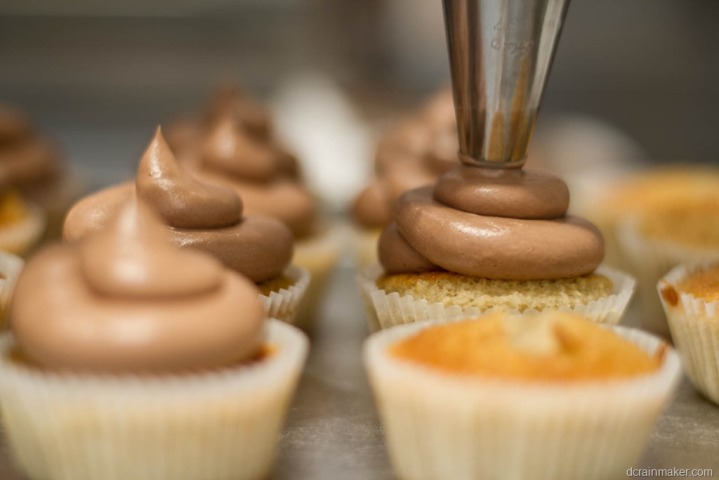 They then get lined up on boards that were specifically designed for the cupcakes, to prevent them from sliding around.  Below, Mexican chocolate.
You can see the boards here in the display case better – in this case, Pistachio, and a Strawberry cupcake.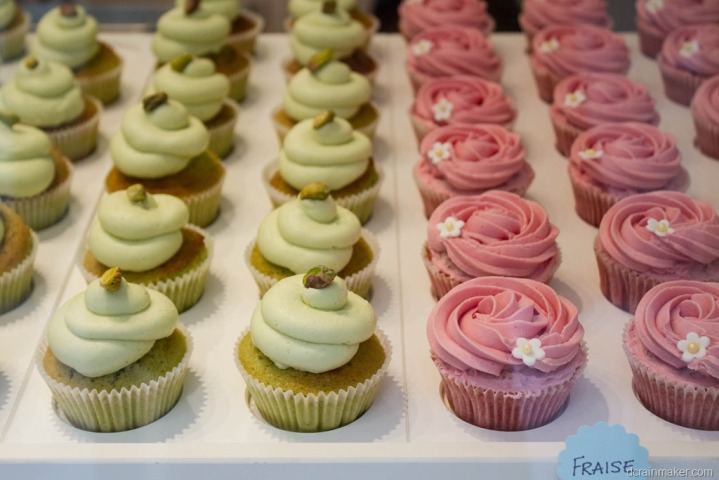 Because it was raining all weekend long, I didn't get any shots from outside looking in.  Hopefully when I return from travelling this week I'll be able to get some nice pretty shots with the entire display case filled out – which is many hundreds of cupcakes at once.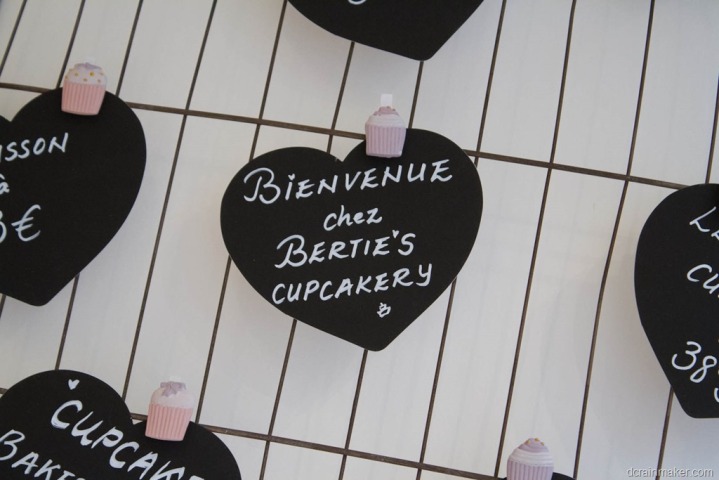 Here's the head chef herself towards the end of a long opening day.  I'm super proud of her.  She's done an immense amount of work getting the shop open over the past few months, not to mention doing it all in a foreign country!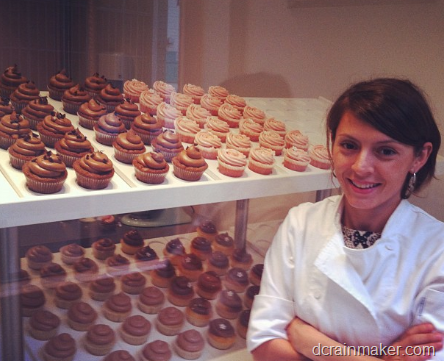 Outside of my CupCakery activities there wasn't a ton of time.  We had some friends in town from Seattle, who also pitched in and helped with running the endless opening weekend errands (thank you!).  In between all that we did get to see a bit of Paris with them – including a stroll to an organic market on Sunday.  Along the way, we muddled through a wet Luxembourg Gardens: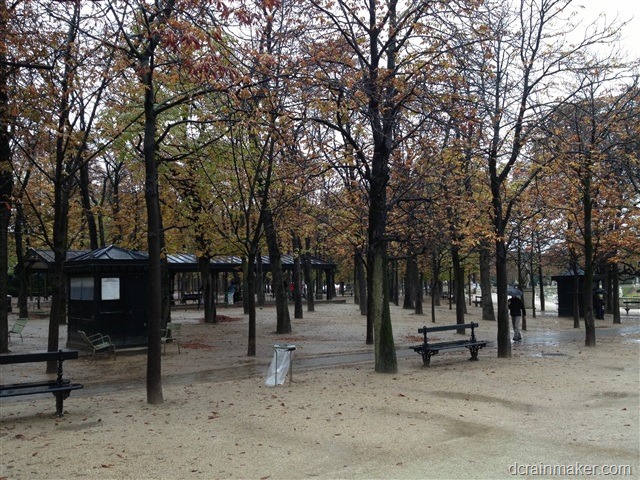 However, in doing so – I noticed a bit of a running race/event finishing up: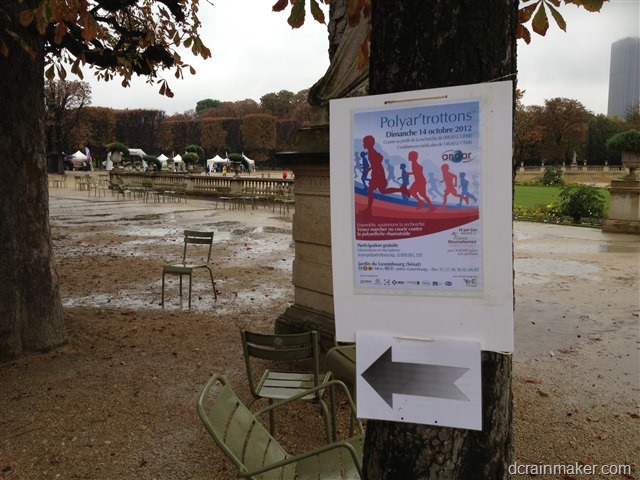 Sure enough, the finish line was and associated tents were there.  The area had an awesome view across the gardens.  A great place to hold an event.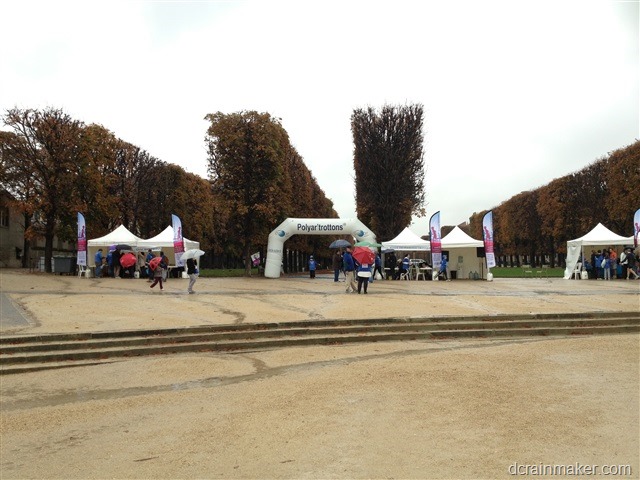 Once we made it to the market, it was packed – despite the nonstop rain:
There were all assortment of things (mostly food based).  For example, the freshly made fruit and vegetable juices and smoothies seen below: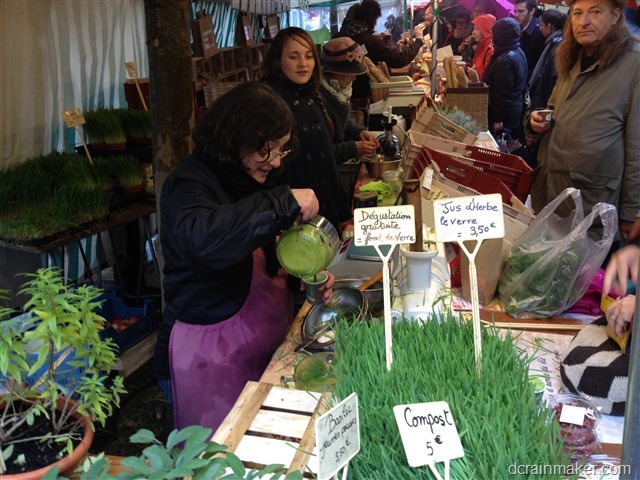 Or this cheese stand, with cheese about as fresh as you could ever ask for it.  I believe this was a variant of goat cheese, but it wasn't labeled.  Either way, it was looking good.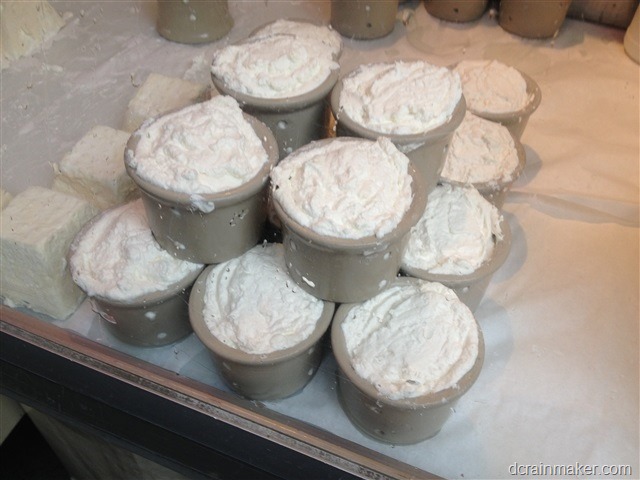 With the market trip complete, I spent a tiny bit of time unpacking the BKOOL trainer.  I'm once again happy to report that another trainer company has gone the way of 'pre-assembled' trainers.  This thing comes out of the box ready to roll!
Based on your comments last week around whether I should put together an early trainer comparison, I'm going offer a first look recommendations across the trainers I'll be recommending.  I'm going to sort them by price categories/ranges.  My goal is to have that to you this week, pending how crazy travel is for the week.  Then follow that up in a bit with more detail around my recommendations as I get more time on a few specific trainers (BKOOL, Wahoo KICKR, Kurt Kinetic with the inRIDE, and Tacx Genius).  I've got initial hands on with all of them, but really want to understand where the tiny gaps are – which only comes from longer time periods.
Speaking of that crazy travel, I'm now at 33,000 feet on the below Boeing 747-400, making my way towards Johannesburg, South Africa – my home for a few days this week.  Something ironically enough, the map shows I'm over Toulouse, France right now (home to competitor to Boeing, Airbus).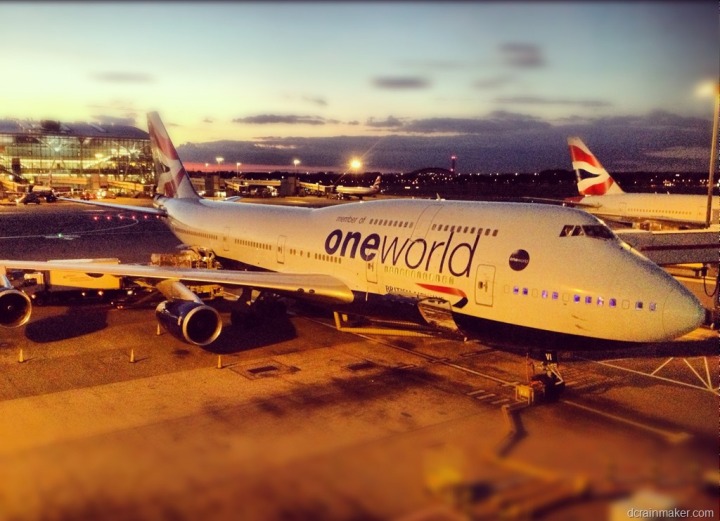 As always – thanks for reading!  And hope everyone has a great week ahead!