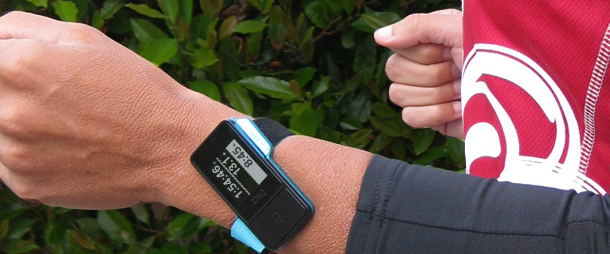 A couple weeks ago a new entrant to the GPS-enabled sports watch bounced onto the scene via Kickstarter, the Bia watch.  This unit is forthcoming in being targeted and designed directly at women.  So I'm first going to go through my thoughts from a technical and competitive product perspective, and then in a rare move, The Girl (aka, my wife) gives her take as well.  After all, it's a women's watch – seemed logical to ask her.
First, some more background.  With the project being on Kickstarter, the watch isn't a sure bet.  They've got until July 14th to raise $400K, and in the week or so it's been up there, they've raised about $71K (well, $71,140).  The timelines for the unit don't have it available until Spring 2013.  So you're effectively buying your watch for next running season, not this season.
The company behind it includes designers from "Apple, Nike, Jawbone, and Zoot", and, its design and UI methodologies show that work experience.  For example, the unit has tap to lap (basically whack the watch to set a lap/interval), something that we first saw mainstream on the Nike+ GPS.
In many ways, the watch has the baseline capabilities of most GPS units out on the market today.  The differences come in form (device look), as well as advanced features.  This is where I'm seeing some of the major differentiation, in some cases for the better and in other cases for the worse.  So I decided to walk through what I like about the unit and the real promise it shows.  And then go into the things that I think they may want to re-think before next spring.
Things I like:
2G Real-time Cell-Connectivity: Last fall at the ANT+ Symposium I talked about the future of GPS watches being directly connected to cell networks.  And the Bia may indeed be the first watch to announce this functionality.  Sure, having with you cell-phones for tracking are handy today – but ultimately, nobody really wants that.  They want it just built into the watch.  No other company to my knowledge has announced their intentions to add cell-based connectivity, but I firmly believe that any watches coming out beyond next spring that don't have this functionality will be behind the curve.  In talking to many in the industry, they get this – and Bia shows they get it as well.  Plus, it'll work internationally too. (Update/Note: This is in the separate GPS pod, which I'll talk about later)
Real-time Tracking: Through their site will allow users to enable real-time tracking of users (if they permit).  This solves the problem of "Where is my Ironman athlete?" over the course of that rather long day.  As noted above, there are tons of out of band solutions, but honestly, most of them suck (be it battery limitations, waterproofing issues, lack of ANT+ data, etc..).  This will be cool – IF – implemented correctly.
Safety Alerts: This feature enables the athlete/user to send an alert via text message to a predefined contact.  This is somewhat like the Spot GPS tracker "Help/SOS" button that will automatically send a text/e-mail to a predefined list.  This isn't the same as calling 911, but it's close enough.  In the case of Bia, it will also send the athletes coordinates as well – enabling you as the receiver to go assist that person.  This could be used in cases such as being hurt, or perhaps as innocent as 'I ran out of nutrition'.
Fully waterproofed to 100m:  Thank god.  One of these days Garmin is going to grasp this too.  If a $15 Walmart watch can be waterproofed to 100m, than a $400 running damn well better be too.  No excuses, period.  Really glad to see they've (Bia) done proper waterproofing here.
Changeable straps: I like the idea, especially if perhaps down the road you could customize them (my idea, not something they're offering…yet).  Teams could make customized straps, or people could give family members/friends meaningful straps ahead of big race (marathons/Ironman's).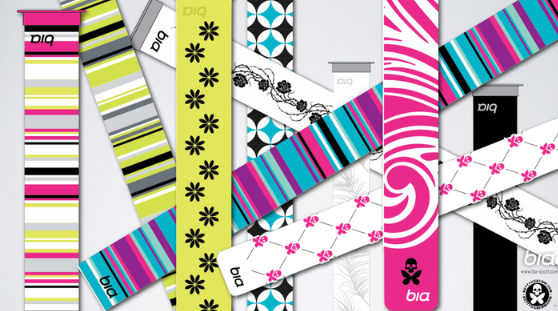 ANT+ Connectivity: I'm glad to see they included ANT+ connectivity and didn't go rogue on some other standard.  At present they plan heart rate monitor support for initial launch, with cadence and power meters coming down the line.  Personally, I think they need to move both of those up if they want to convert more serious cyclists.  Plus, foot pod support for treadmills.  Additionally, in order to future proof, they should add Bluetooth Smart connectivity.  With everyone in the industry I've talked to, all (well, except Garmin since I know the answer there) are looking at how to offer devices that include both ANT+ and BTLE support.  ANT+ isn't going away, but BTLE is coming in, especially by next Spring. (Update: They are looking at BTLE carefully, but are concerned with BTLE pairing – a concern I share and see today)
Things I'm so-so on:
Longer Shape:  I'm not a big fan of the longer shape.  It remind me of the old school first iteration Garmin GPS units of nearly a decade ago.  However, I do see that it's super thin, so that helps – but it is certainly a bit wider than the typical GPS unit.
Fabric Strap: Yes, I like the changeable straps, but I'm not sold on fabric straps.  First, they can stink – really badly.  Just ask my old Garmin FR305 fabric strap.  Sure, you can wash them, but they still seem to eventually stink.  Second – and most importantly, an openwater swim start.  Triathlon mass starts are brutal on watches.  More Garmin's find themselves at the bottom of lakes because of the roughness of a triathlon start.  I think a fabric strap will easily get torn off.  But, I'm ready to be proven wrong.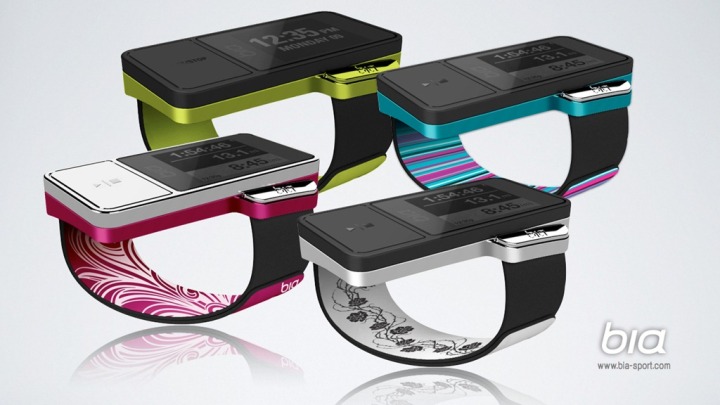 Separate fee for race tracking: They note a small fee, "perhaps $5 per race" for real-time tracking.  I don't have a problem with fee for service, but I have a problem with per-race fees for technology services.  This was tried by GPS Trakkers, a product I'd largely consider a flop due to their pricing model (people want to use it for training too!).  If you want to charge a per-race fee as an option, that's fine.  But give me the option to do unlimited tracking.  Garmin charges $5 a month for their GTU10 tracking service (after the first year), that's fair.  Heck, even $10 a month is fair.  I just hate per-race fees.
Data integration and standard file formats: They note in their FAQ that they'll be offering GPX and TCX files, plus integration with at least 2-4 services, such as TrainingPeaks and others upon launch.  This is good, and shows that despite some of the team members coming from Nike+ (the epicenter of data integration and openness fail), they are going with the open approach.  Open is better, using standards like GPX and TCX is great.  Nicely done.
Things I don't like:
Tap to Lap: I disliked it on the Nike+ GPS watch, found it somewhat of a pain on the Motoactv and I'm likely going to dislike it here.  They're prone to mis-fires, especially while cycling on rougher road, or even jumping from sidewalk curbs to the main pavement.  In my opinion, I just want a button for setting a lap.  Which brings me to…
Only one button: It only has one button for start/stop, and a touch screen for everything else.  I hear ya – one button is sexy, and it looks cool (like an iDevice they say).  But…it's just not as functional as two buttons.  There's a reason the touch-screen Garmin Edge 800 and FR610 include two base buttons: Start/stop, and lap.  It makes life easier.  Those are the two functions that people are constantly pressing, and they want tactile feedback that they are pressed.  If you're finishing up a set of 16x800m on a track, the last thing I want to do as I feel like I'm going to die crossing the line is whack my watch to lap and find that it didn't take (common).  A button just works.  It's worked for decades.  Again, this isn't an iPod or an iPhone for sitting on a couch – it's something that I have to ensure works as expected 10+ hours into a race.
Separate GPS Pod: I know some people like separate GPS pods, but I'm not one of those people.  I understand the battery tradeoffs, I really do (12-18 months for the main watch, and 17 hours for the GPS pod).  But I still hate it.  It's one more thing for me to lose, especially in a triathlon.  I've gotta take it from swim cap, then to bike, then to run.  Again, one more thing to deal with, and charge…and forget at home.  Smaller GPS enabled units like the FR210 have proven that GPS can fit into a very small form factor.  I'd much rather have to re-charge a device than have to deal with a second GPS pod (which I have to charge anyway).  But again, I understand some folks like the separate pod and having the main watch have a battery that lasts much longer (though, the GPS pod is typically restricted to 10-20 hrs).
The Girl's Thoughts:
(I decided to ask The Girl what she thought, since after all, this watch would be targeted at her, here's her thoughts in her own words.  And for those not familiar, she's a pretty dang fast triathlete and runner.)
While The Boss never keeps me in the loop, I often poke over his shoulder at the laptop to see what might be showing up at the house in the near future.  Usually after a quick glance (sorry to the techies out there), I'm bored and moving on.  When he asked my opinion however, it caught my eye.  Ladies know "size matters".  From what I can see, this watch is thin and forms better to your wrist or forearm.  Although The Boss immediately tried to counter me with "but it's wider".  I argued that it is not, instead it's "longer" and because of this along with how thin it is, it doesn't sit on your wrist bones and bounce around.  I'd bet (more importantly) that with this design it won't bruise my knobby wrist bone (Ulnar Styloid) the way every single thick, bulky, and "wide" GPS watch does to me now.
I have no idea what the capabilities of this watch are going to be, like data fields, GPS, user friendliness, breakability, etc… But from the first glance video on Kickstarter I like it. It looks thin, and light, and you can change out the wrist band colors and styles to custom fit your style. Some ladies really like to "pink it up" and other just want a more tailored fitting (and useful) watch. Personally I just want a watch that is a non-issue, fits my wrist, stays in place, and doesn't distract me from my workout.  I'm optimistic Bia will do this, but, we'll see.
-The Girl
Final Thoughts:
I think Bia shows promise in a lot of innovative areas, areas that nobody else is doing well (or at all) today.  But April 2013 is a long time away, and the other $330,000 is a long ways away as well ($400K is an unusually high amount on Kickstarter).  A lot can happen in the industry between now and then.  There's a lot of new players, and a lot of new money coming in – plus the established players like Garmin, Timex, Polar and Motorola are certainly likely to layer in more products before next summer as well.
Personally, I'll be sticking in my order via Kickstarter for "his and hers" (not because I had planned to when I started writing this post, but because The Girl told me she wanted one too).  The way Kickstarter works, if they don't get at least $400,000 (not a dollar less), they'll refund my money (and the project won't happen).
What are your thoughts?  I'd love to hear from the women – as well as the men.  Especially love to hear thoughts on the form factor aspect.
Thanks for reading!