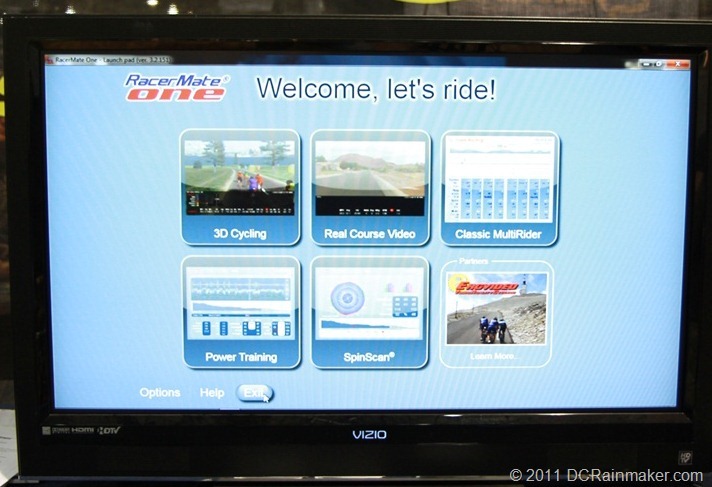 Just a brief post to relay some information that is definitely of interest to some of you out there.  This afternoon an e-mail went out from the company notifying folks that they have resolved the contractual issues that have kept the major software release from reaching your hands.  RacerMate One (the name of the suite) aimed to centralize many of the previously separated products they had, and consolidate that into one updated software suite.  You can see some of my past previews of it here.
As you may have been aware, while the company made final preparations to release the software last fall, they ran into a snag with the development company (3rd party) that did the bulk of the software development for them.  The exact details are a bit fuzzy, but essentially what they have said is that somehow along the way the distribution rights were not secured – and thus RacerMate didn't actually have the rights to distribute the software.
Since then they've been in a bit of a mess trying to get it all sorted out between them and the 3rd party company that did the development – with no date being published.
Today's e-mail however announced that those issues have been resolved, and that they will now resume the final prep for release, and then aim to have it available by "June/July".
The e-mail was sent to all those who bought a CompuTrainer directly from them since June of 2010, which qualified for the free upgrade (that was when the new software suite was first announced).  All others will have to purchase the software for the previously stated price of $199US.  Here's the full text of said e-mail (thanks to those who sent it in):
"Hello CompuTrainer Owners–

We would like to bring you up to date on the status of the long awaited "RacerMate One" software suite. Customers who purchased their CompuTrainers after June 1, 2010, are entitled to receive this new software suite when it is released. Though most of the work was completed, we were forced to halt release due to a contractual issue. Now that the contractual logjam has been resolved, the final development has resumed and final testing is excpected to begin in March. Final release is expected in June/July. While we believe these delivery dates can be met, they cannot be guaranteed because of the inherent complexity of software development. If anything unforeseen happens to change this schedule you will be notified. Needless to say we are working very hard to meet this goal.

The RacerMate One software DVD will be mailed free of charge to every eligible customer who wants it, but we need to hear from you. Our purchasing records indicate that you are eligible to receive the software. To insure we have your current shipping address on record, and to confirm you have received this message, please click the button below and provide us with the requested information so we can fulfill our commitment to you.

We greatly appreciate your patience and believe you will be pleased with the end result.
Updates will be posted on our main page at: www.racermateinc.com

If you have any questions that are not addressed on the main page, please send e-mail to: RMOne@computrainer.com"
Of course, the bigger question remains around how much damage this has done to the CompuTrainer brand.  With the distraction of the software delay, many would say that it puts CompuTrainer's software offering a bit behind the competition.  On the hardware side the unit is unmatched from a durability standpoint, but the hardware technology advances of competitors like the PowerBeam Pro and the Tacx Bushido aren't going unnoticed.
Add to that the impending PowerBeam Pro software release (CycleOps VirtualTraining) for the Fall of 2012, and you've got a serious list of competitors with hardware and software offerings that seem to undercut the long lasting CompuTrainer in all three important categories: Hardware, Software…and price.  Speaking of which, I promised some screenshots weeks ago for ya, so I'm definitely not one to disappoint on Valentines Day.  Thus, my present to you:
Note that the above two are just tiny little snippets of the overall suite – a suite with tons of potential (though, it's still 6+ months away from release).  Since I'm quite literally knee-deep in trainers right now, I've been mostly focusing on getting reviews done with currently available products – then talking about the future products.
I'd be curious though – for those that own a CompuTrainer and bought it prior to June 2010 (like myself) and thus aren't eligible for the free upgrade, are you planning on buying the upgrade?  At the moment, if it weren't for the sole purpose of eventually writing up a post on it and answering your questions, I'd have a hard time justifying the purchase given the differences in features.  But again, I'd be curious about your thoughts.
As always, thanks for reading.