This weekend was (and still is, three-day weekend after all!) packed!  Been busy doing lots of stuff.  First up on Saturday morning was a 10K race, one that was actually held on my very own street.  Crazy!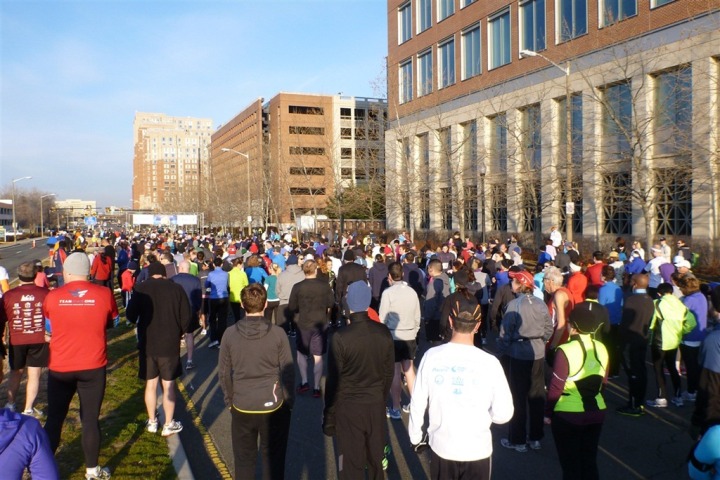 But I'm gonna have you wait until tomorrow to get the full race report.  It would just be too long of a post to combine a race report with a weekend update.  Too much stuff!
So, onto other weekend items.
Post-race (and post-nap) we decided we were going to do something Washington DC-esque.  Ideally something that neither of us had done before, or things that The Girl hadn't done but that I'd be up for again (or vice versa).  We narrowed it down to the Newseum, the Zoo, and the Smithsonian Air and Space Museum at Dulles.  Ultimately, with the great looking weather we figured the Zoo would be a good choice.
I should clarify that when I say 'great looking weather', I really mean 'holy cow it's February and closing in on 70*F'.  Yes, no coat required this day.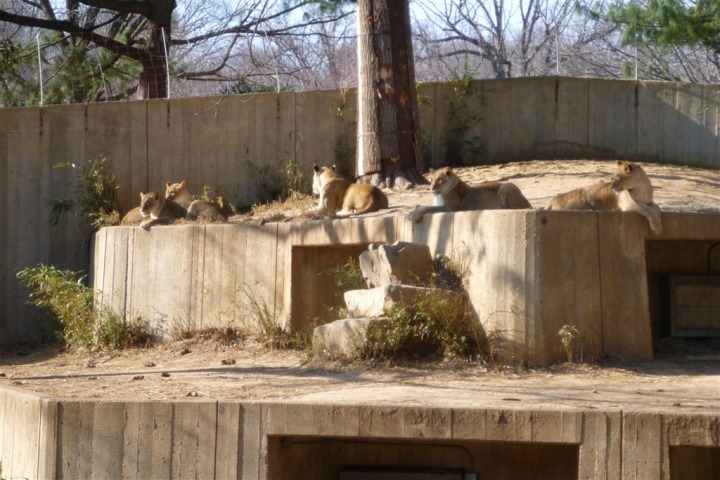 What was cool was that the animals were actually pretty active.  The tigers and lion's were bounding about a bit and visible, even roaring a fair some.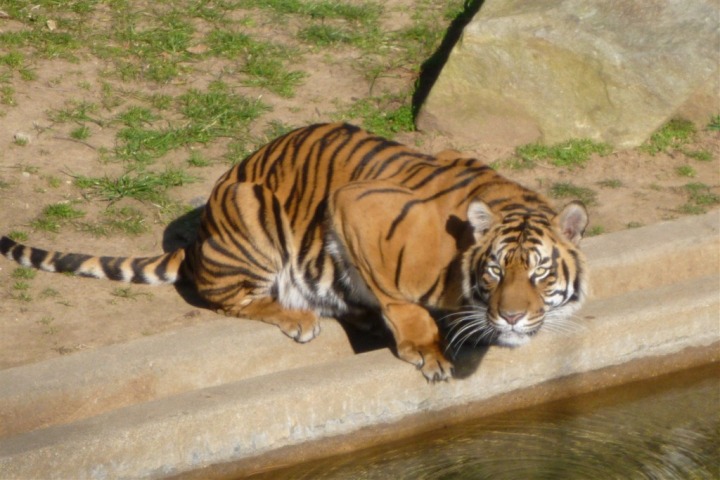 It is quite different though to see tigers in a zoo compared to in person.  Part of the thrill of seeing them in person is just finding the tricky buggers.  But in a zoo, that piece is taken away.  On the flip side, it was neat to listen to the little kids comments (tons of kids there) and thoughts.
Additionally, at the zoo I get nifty displays about lion poop – something I don't exactly get out in the wilds of Africa where you normally see lions.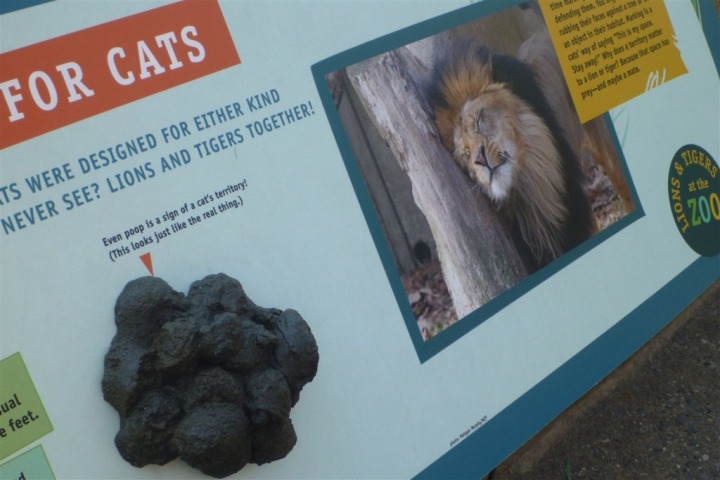 We spent about 2-3 hours in total just wandering around.  As you may know, since the zoo is a Smithsonian property the entrance is free (no gates even, you can just wander around as you see fit) – though the parking at $16 was most definitely not free.
Post-zoo we hit up Georgetown to a small gelato shop there – Dolcezza.  It was recommended to The Girl from DC Chocoholic.  It was simply awesome.
They also had churros…churros filled with warm caramel.  Yes, brilliant.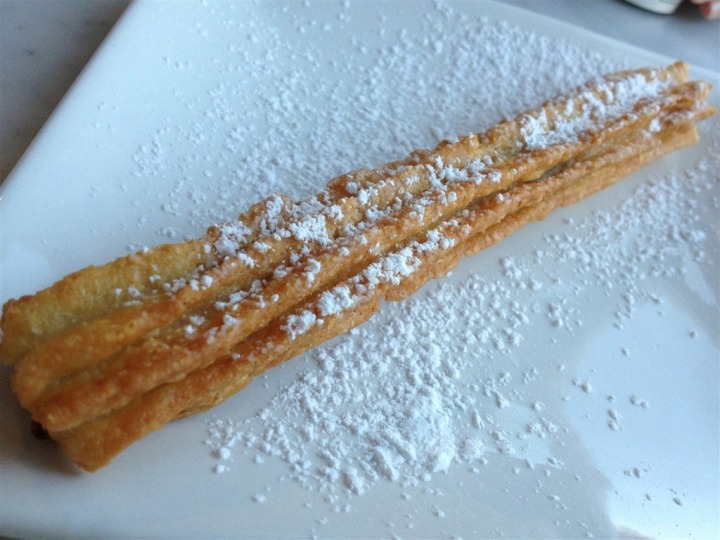 Sunday brought a mixed weather forecast.  Despite it being near 70*F the day before, Sunday evening it was supposed to snow/rain/slushie, thus, we figured we'd get out and enjoy the day a bit.  I had a few cycling related items that I wanted to test, so we drove down to Prince William Forest National Park and rode there.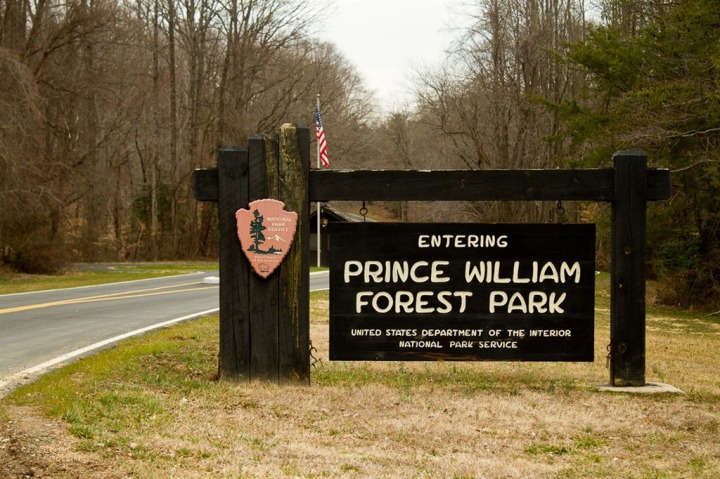 As expected, the place was essentially empty – it almost always is in the winter.  Heck, even in the summer on a busy day it's still relatively empty.  Even better though was that apparently late last year they repaved everything.  The asphalt was incredible looking.  Sharp, smooth, and not a scratch on it.  Amazing.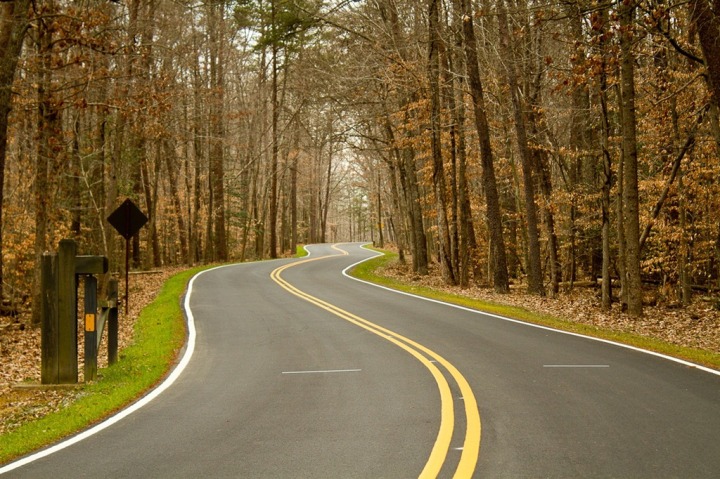 For those not familiar with the National Park, it features a 7-mile closed loop, with a 3-ish mile lollipop road out to the main road.  This means there's no traffic on it unless they are actually visiting the park.  Further, half of the loop is one-way traffic, with the other lane dedicated for bike/run.
I had a bunch of things I wanted to test, but the one I wanted to really focus on was actually the ContourGPS camera.  And not because I actually have too much interest in writing a review of that – but because I really want to write up a review of the Kinomap Trainer product, as well as use the same footage for the CycleOps PowerBeam Pro trainer software suite.
The goal being to capture HD footage with a GPS track associated with it.  And the ContourGPS does exactly that – tying in GPS track information upwards of twice a second, to your video.  From there, I can then ride that footage back again on a trainer.  In the case of Kinomap, they allow you to leverage everything from an iPhone to an iPad.  And in the case of the PowerBeam software, it's a PC with their trainer.
So, I got the ContourGPS all hooked up.  Though, not exactly in the recommended way. Since they didn't include very many mounts, I had to improvise a bit with an old iPhone bike mount and the sticky mount.  I even used the nifty safety cord system to safety the camera to the mount in case the camera fell off.  It mostly worked.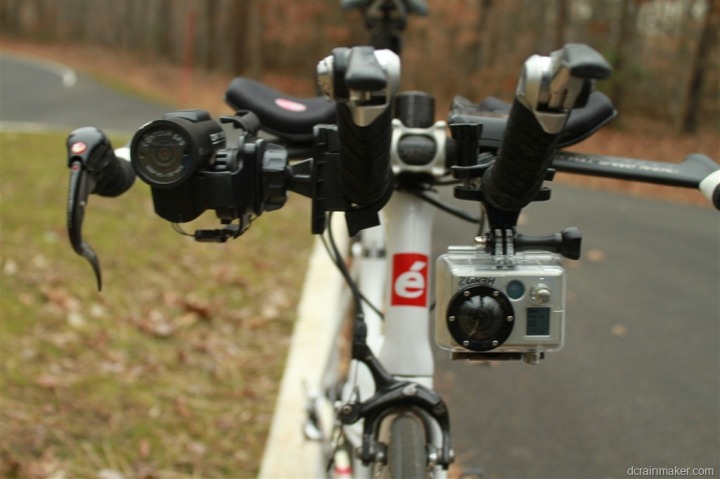 (I also had a GoProHD2 on there as well, to compare quality/etc…)
And when I say 'mostly worked', it means that it worked great until I hit the absolute fastest point of a descent on the largest hill in the loop – at about 40MPH – whereby the ContourGPS decided to go for a 3rd person point of view shot…and left my bike.
So while I had tethered the camera to the mount, I did not consider the fact that the mount itself would separate.  Nonetheless, the camera survived its first fall without much more than a few solid scratches.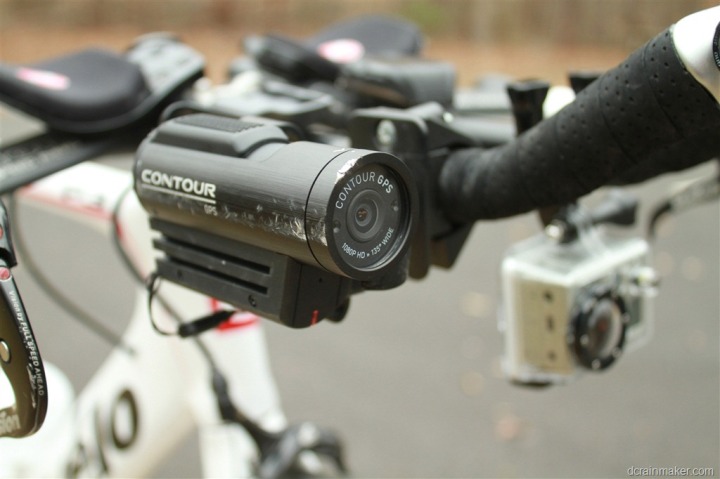 Regrettably, for reasons I'm not clear on yet – despite having the recording light on the entire time, nothing more than the first 60 seconds of the ride was recorded.  Trying to figure out what's going on there.
Additionally, I actually can't get the mount off the darn thing.  So my first impressions are that technologically they are doing some things that the GoPro's aren't yet (such as the ability to calibrate the view on my iPhone using Bluetooth), I find the system a bit more clunky than the GoPro system.  No doubt I'll get used to both – but I find things like 'hidden buttons' on the Contour kinda silly.  Either it's a button, or it's not – this isn't kindergarten hide and seek.
So, no video for Kinomap review this week…but I'm trying.
I did however have much more success helping The Girl record some of her running form (with the GoProHD).   I used the new GoProHD2's ability to record at 120 frames per second (fps), which means that I was able to capture her running stride in crazy-slow Baywatch detail.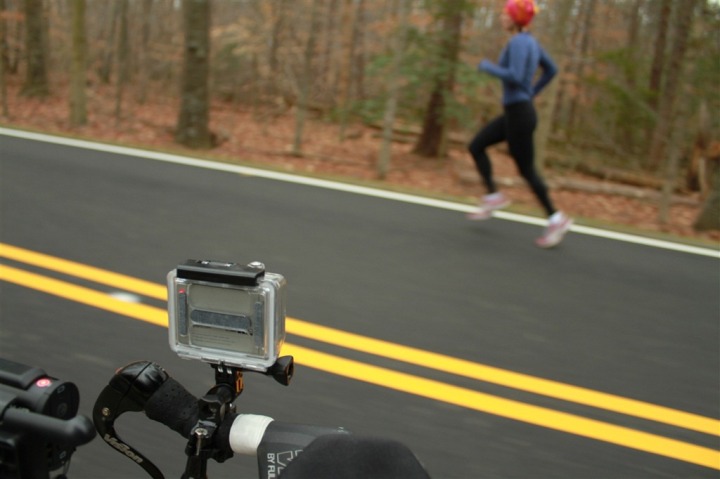 After we completed a few miles of stride analysis (and watching it change over the course of the run), we packed things up and headed home.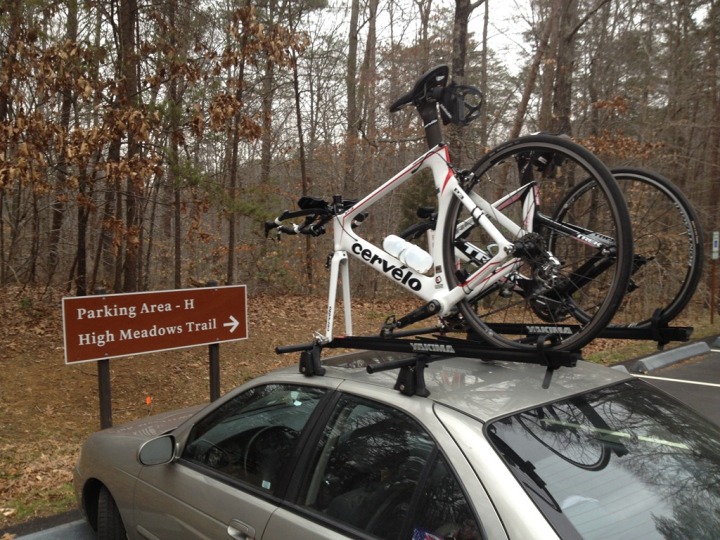 Last but not least – I leave you with the below.  Merely because we're just as confused.  As we made the final turn off the highway exit ramp area from cycling we saw Pooh Bear hanging out on the sidewalk.  We're not sure why, or why he had a label on him that said "Prisoner of love".  But there he was.
Which…is sorta like a Sad Panda.
With that – hope you have a great week ahead (better than Pooh Bear).  And look for the 10K race report tomorrow!