On Sunday evening I realized that Monday was going to be a bit of a whirlwind day – starting on one coast, and ending on the other, so I figured it might be a bit fun to simply put together a journal of my day.  Just a bit of an inside look into how I attempt to fit everything into a given day, sometimes successfully, sometimes not as much.  On days when I'm flying, everything is all aimed towards successfully being on the airplane before it departs the gate, which in this day's case was 5:11PM.
Sunday night before heading to bed I checked the weather.  My phone at the time showed a strange icon for Sunday evening that I'd never seen before.  I'm not clear what exactly the bouncing ping pong balls meant, but I decided that it probably wasn't going to magically get another 10-20*F warmer by 6-7AM, so I had little desire to run in the cold rain with whatever that little icon meant was leftover.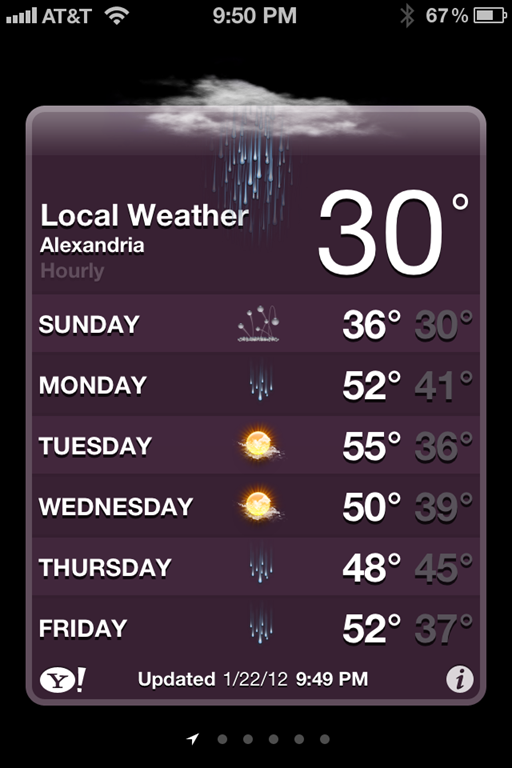 So instead of running I started the day off with a few conference calls, before eventually ending up commuting to some meetings.  It's during this commute that I found out on the radio that the little icon meant "freezing rain", as the night before had coated everything in some ice – resulting in most schools being delayed about two hours.  Thankfully, by time my conference calls were over it was 9AM and the roads were fine.  Packed, slow as usual, but fine.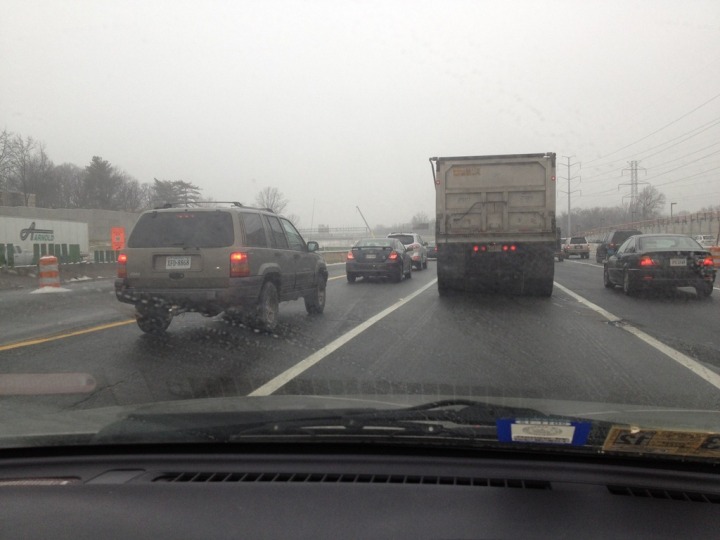 From 10AM onwards things were a whirlwind of meetings, one after another, with only about 8 minutes to grab and engulf a quick sandwich, all while finalizing a presentation.  So basically, just another day.
At 3PM though, my clock started ticketing towards flight time.  From one work building I rushed over to another office which happens to have a shared gym in it that I can access.  Apparently nobody uses said gym, as it's always been empty when I've been there.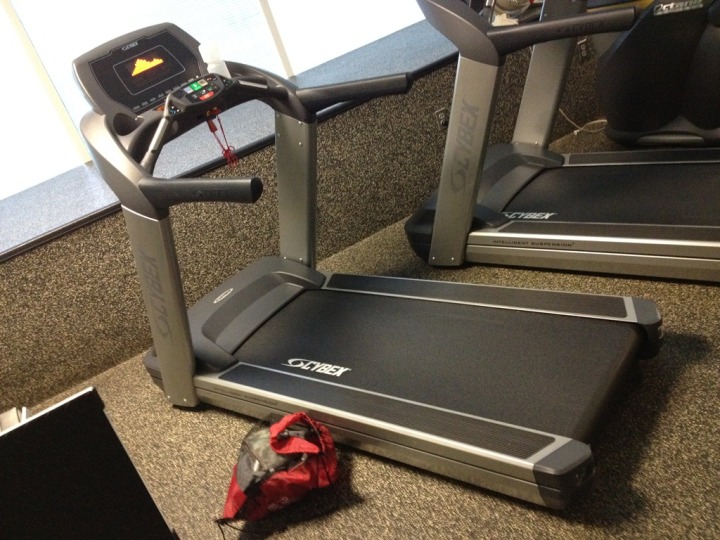 By time I got there, figured out why my keycard wasn't working, got that fixed, got changed, and re-calibrated my footpod on a new pair of shoes, it was closing in on 3:20PM.  Doing quick math that meant if I wanted my 40 minute run it would put me at 4PM, with 5 minutes for shower, then still a 5-7 minute drive to the airport, and a 5 minute walk to security.  That was a few minutes beyond where I wanted to be, so I ended up going with a 32 minute run instead.
The goal of the run was just an easy 40 minutes, so I didn't fret about being 8 minutes shorter – it was certainly better than no run at all.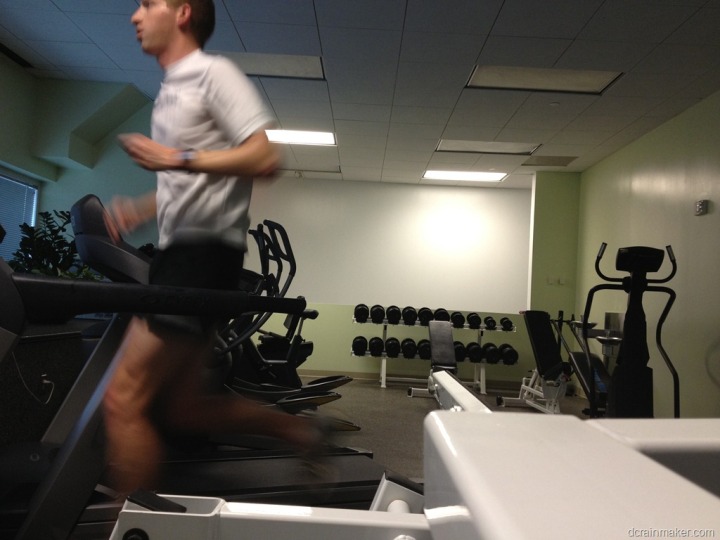 After a blistering shower, I zipped out on the highway for the short 5-7 minute drive from Reston Town Center to the Washington Dulles parking garages.  Thankfully, there wasn't any traffic to contend with, and I quickly found myself (aimlessly) circling the parking garage trying to find a spot.
From there it's all about the Dulles Sprint – or the act of getting across the massive airport that is Washington Dulles International using the quickest method possible.  Using the quickest method rarely means using the published routes.
Now the trick to Dulles is to use the secret security entrance, which allows you to essentially avoid any and all security lines.  It's amazing.
Years ago this used to be the paid Clear program security lines, but once that went belly-up they converted it into the TSA Diamond security lines (which just means designed for frequent travellers).  Nowadays though, anyone can use it – you've just gotta know where it is.  And being that it's hidden downstairs in between the baggage claims, very few people know about it.
Thankfully it was empty as usual and I was able to clear security in about 2 minutes, including the fancy machines that just about measure my body composition like a body fat scale.
From there it's out to one of a few transportation methods to get to the United gates (C & D), which are a few concourses away.  If you follow the published signs you'll likely end up on the underground subway thing.  Which while nice for some gates, it's fairly long for most gates – easily 5-7 minutes at best (very fast) walk time once the subway stops at the other end, especially the higher numbered C gates.
So instead I jump on the moon-buses (I don't make up the names) to the 'wrong' concourse, but it's just walk 1-2 minute versus the longer walk, saving me critical time.
Along the way I validate that my flight is still for C23, and indeed, my usual UA917 is where it should be.  I've taken this flight countless times over the past decade – probably between 100 and 200 times, maybe more.  I suppose I could look through that massive paper ream of history I got from United…maybe on a rainy day.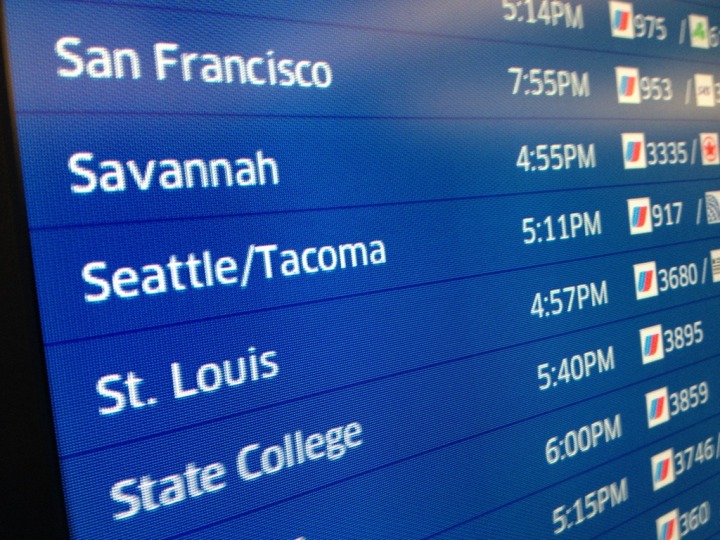 By 4:37PM I've arrived at my gate – C23, ready to board.  And amazingly, I actually managed to get there before they started boarding.  Four whole minutes to spare!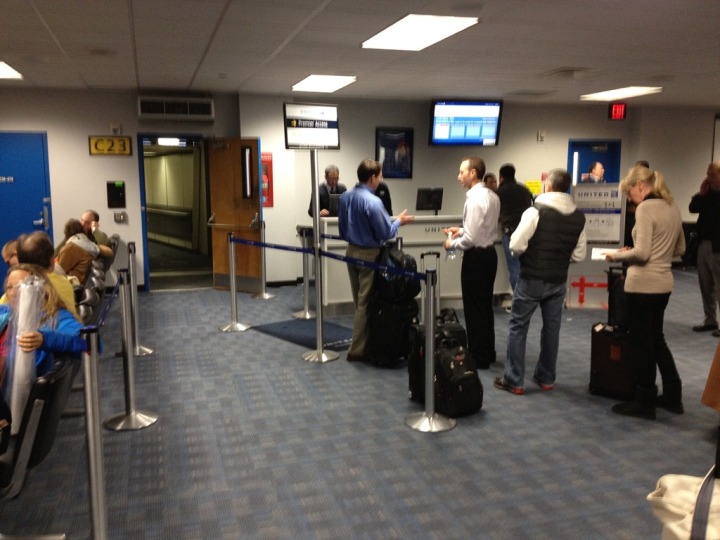 Four minutes later, I went ahead and boarded the Boeing 757-200 for the 4hr and 58 minute jaunt across the United States to Seattle.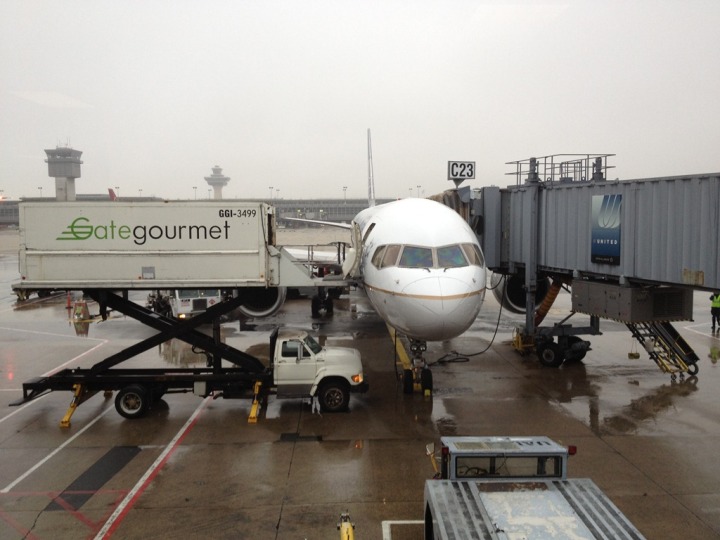 During this 4hrs and 58 minutes I knocked out a handful of posts (though, this post wasn't one of them).  Many of you wonder where I fit in the time to write posts, and these flights are definitely one of those places.  First was the Sunday night post on my weekend's wanderings (60m), then I wrote Tuesday's National Harbor post (took about 1hr 20m), and then the majority of the SportyPal post (another 75 minutes).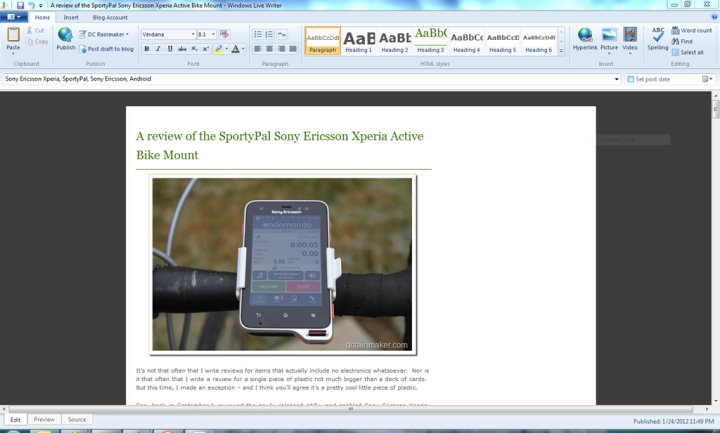 Spent some time answering about 35 of your e-mails (you don't want to know how many are still left…sorry!).  And then finally, I sifted through unsorted photos from the past month, trying to ensure that my stock pile had everything in the right place.  These are mostly all things I'm working on, or recently posted.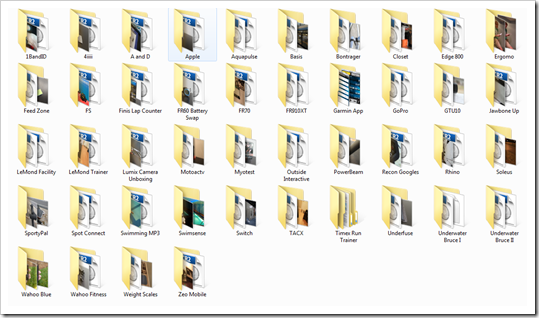 Along the way, the sun set outside my little window…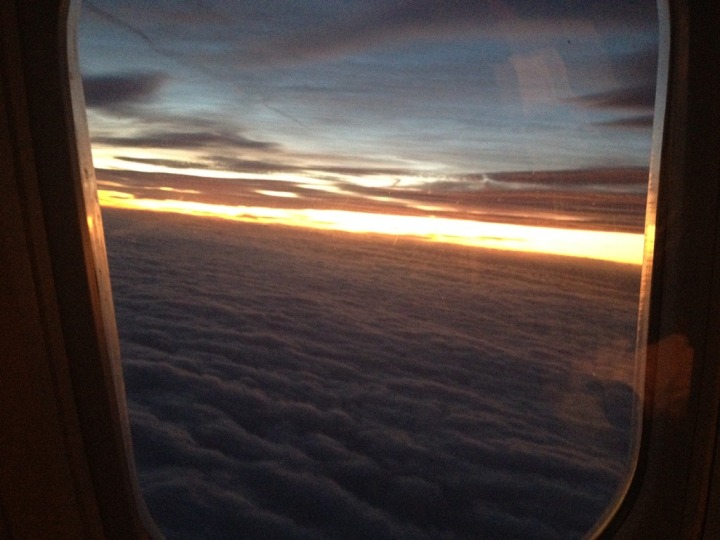 And, just prior to 8PM Pacific Time, or 11PM Eastern Time, I landed in Seattle – ready to tackle…well…another conference call.  First though, a ride on the little tram from the North Terminal to the main terminal, and then a sprint over to the rental car place.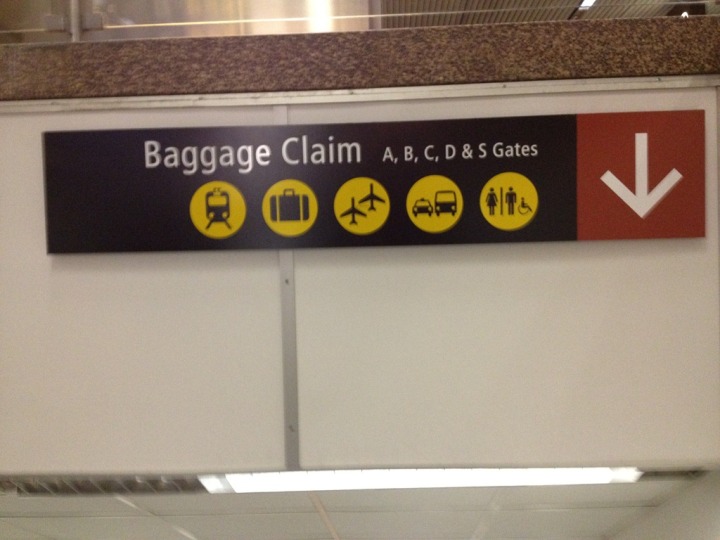 By 8:10PM I'm on a 35 minute long conference call with a major national publication talking about sport watches for an upcoming piece they're doing.  I do this sitting in my rental car, in the rental car garage in the same space I found it in, with Avis workers occasionally staring at me.
I keep trying to mentally say to them "I promise, I'll eventually leave."
And, eventually I do.
From there, I drive 45 minutes north to my hometown of little Mukilteo, where my parents live.  And while I'm out in Seattle for work this week, I simply stay with my family up north, as I get to enjoy spending the time with them.
And with that…the whole process (minus the jet plane) repeats itself again the next day…but, I'd take being busy over bored any day of the week!
Thanks for reading!