Just a few interesting tidbits that haven't grown up yet to get their own posts yet, but since I get tons of questions on them – I figured I'd share some of my Thursday arrivals and tests.
First up is my first swim workout with the Garmin FR910XT.  Previously the unit wasn't quite ready for its time in the pool, but everything's been worked out and I'm able to go full steam ahead with swimming.  So this evening I took it to the rec center and strapped it on my left wrist.  On my right wrist I put on my trusty FINIS Swimsense swimming watch.
And then I swam an easy swim workout.  Just a touch over 2,000 yards.  Broken down into a few chunks, but no drill work – so it's simple for both units to track without issue.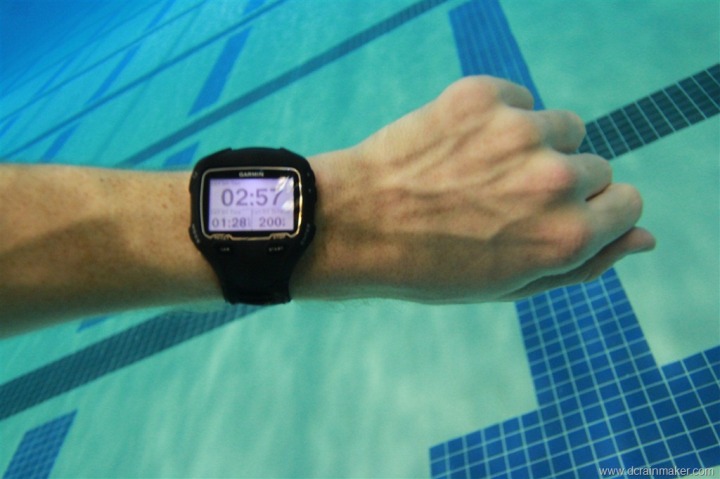 When all was said and done both units were exactly the same on distance. Exactly.
I found that the FR910XT's display is incredibly easy to see underwater, especially with the backlight on at either half or full strength.  Like a beacon of brightness.
Also of interest is just how darn customizable the FR910XT's display fields are in the pool.  So many options, made it really easy to arrange a few pages showing previous set as well as current set and then totals.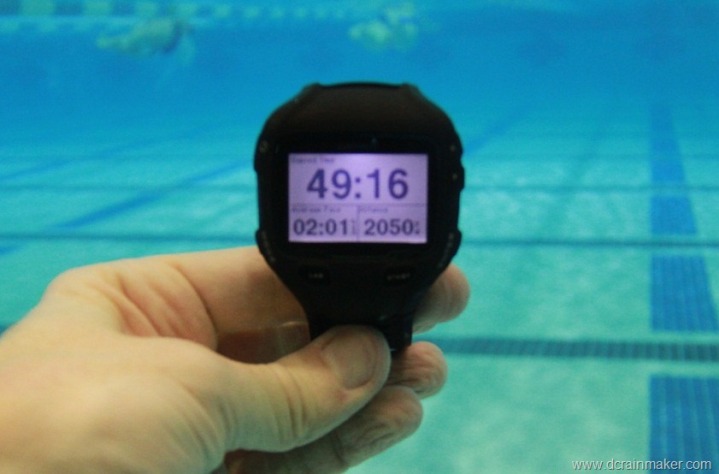 (OK, these shots aren't of my normal underwater photographic prowess level.  I had lent out my 10-22m lens to a friend, which I normally use for underwater photos – not thinking that I'd be taking photos tonight using the DLSR underwater.  Instead I was stuck with the 17-40m lens…which quite frankly I'm beginning hate…it's slow and doesn't do well in low light.  But I figured you'd cut me some slack in exchange for seeing some pics.)
It's still too early to draw any appreciable comparisons to the Swimsense watch – primarily because at this stage the web portion that I upload the FR910XT swim workouts to isn't ready yet.  So I can't actually see the results afterwards (aside from the history pages on the watch).  Completely reasonable though being the watch won't be available for another month.  Though, the history pages are pretty good.  I can see by total swim workout, intervals (basically sets), and even by lengths within an interval. Impressive.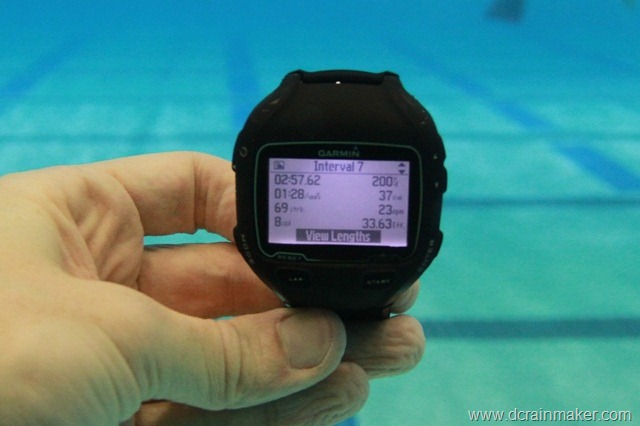 The key areas of difference I'm seeing already is that the FR910XT doesn't do paused time – or understand the concept of it.  Meaning, time that you're spending at the wall shouldn't be part of lapped time, but it shouldn't be excluded altogether either as if you had stopped the watch.   The Swimsense watch understands the difference between active swimming and paused time and categorizes appropriately.  On the flip side, the display is definitely easier to read on the FR910XT with the backlight.  Again, as I've mentioned previously once I get both side by side from a data perspective you can expect a full shootout.  It's gonna be a close race!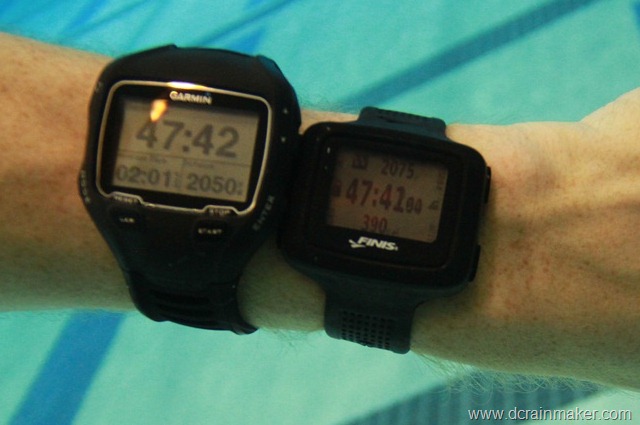 (Note, in case your wondering why one says 2050 and the other 2075…it was a casualty of taking photos.  Because the paused screen on the Swimsense is darker by design, it wasn't showing up in photos well – so I un-paused it.  After a bunch of moving my arms about taking various photos it ended up triggering a length.  Perfectly logical, just wanted to explain why.  I do have some less good shots with both the same time and distance, but they look like bad Paris Hilton cell phone pics.)
Onto other things!
Also arriving Thursday was the Timex Run Trainer.  You may remember back in August when I highlighted this new watch and how it shakes out compares to the FR210.  I had an opportunity back at the ANT+ Symposium a few weeks back to sit down with the Timex guys and get an exhaustive run-through of every single page.  And by exhaustive, I mean exactly the kinda thing that I love!  Every setting, every page, every option.  Everything.
So I was no stranger when it arrived today:
I'll be doing my first run Friday in Chicago with it (I'm headed out to the Men's Health Urbanathlon, remember?).  Thus far though, I'm blown away by how fast it picks up satellite. 
8 seconds.
Yes, 8 seconds for GPS reception to be complete, this after turning it on for the first time hundreds of miles away from where it was shipped from.  Amazing.  We talked a lot about satellite reception during our chat, and this was one area they were really proud about in terms of where they've been able to go with the Run Trainer – especially compared to some of the issues they saw in the past.  They really wanted me to throw down the gauntlet when it comes to accuracy tests, because they feel they can absolutely stand up here and be different.
I'm also really liking the fact that the charging clip is incredibly secure.  I commented on Facebook that I'm reasonably certain I could actually tie the charging clip to a ceiling fan, clip it onto the watch – and then turn on the fan – and it'd stay put.  If I find a ceiling fan…you might just see a video out of it.
It's got these two little hard plastic prongs in addition to the four metal charging clips.  The two prongs bite into the watch. Combine that with the spring of a mouse trap – and you've got the makings of…well…a watch trap.
Here's a handful of roller comparison shots.  From left to right: Garmin FR210, Garmin FR610, Timex Run Trainer, Garmin FR910XT, Timex Global Trainer.
And yup, it's aquatic too.  Waterproofed to 50m.  Though of course as a running watch, it doesn't know what to do once it's in the pool aside from keep track of time and splits/intervals.
Since this is a Friday post, and it's already far longer than it should be – I'm going to simply say that at this point for sub-$200 including a heart rate strap, it's probably the best deal in GPS running watches out there.  Availability should be here in roughly a few weeks.  And look for my review likely October 24-25th timeframe.  Sound good?  Good.
Last but not least, on the list of things arriving – I've finally (almost) got the TACX trainer (it's just like a CompuTrainer…but with fancier software and full ANT+ compatibility).  According to the UPS tracking numbers/site it's actually just down the street already at the UPS facility and should be delivered tomorrow morning.  In the meantime, I've got the software all loaded up and I'm ready to rumble!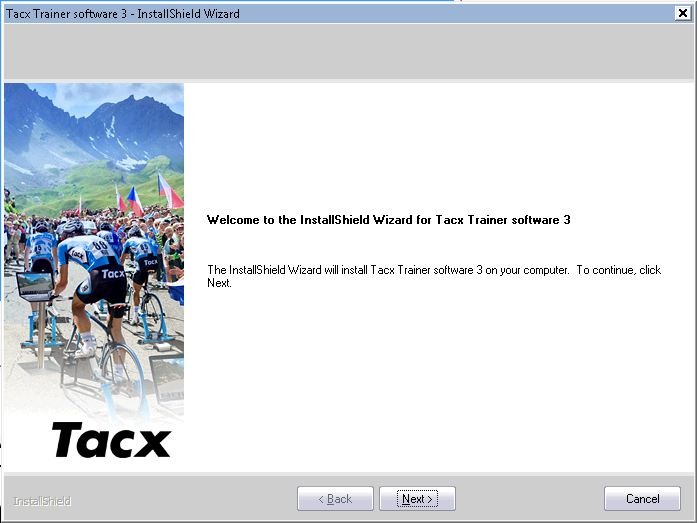 So hang tight, it's about to get busy in DCRainmaker review land over the next month.  Plus, I've got even more stuff coming on the trainer front (LeMond Trainer and a CycleOps Powerbeam Pro) – as well as all the swimming MP3 players.  And other unannounced stuff. Just in time for the winter training season!
Thanks for reading!  And if you're out this Saturday at the Chicago Urbanathlon and see me – say hi!