This past weekend I was up in Connecticut for my cousins wedding, but of course, the training for Boise 70.3 would not halt merely because we were a few hundred miles away.  Instead, we loaded up our little bikes into our soft-shell bike cases and boarded our blue plane northbound, arriving some 40 minutes later to a sunny Connecticut: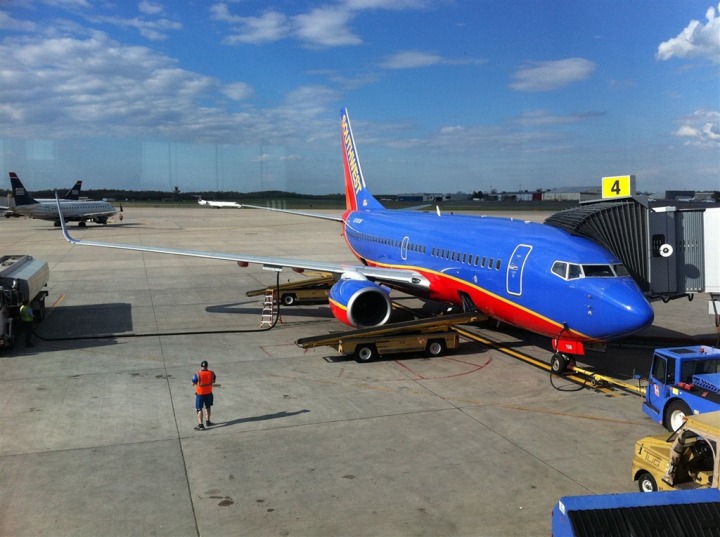 Connecticut is pretty good for cycling routes and roads in general, but we decided to go with a semi-known – the Rev3 Quassy Half-Iron distance course.  We needed about that length of a bike ride for our workout, so it ended up being perfect.
While I have a gazillion gadgets that do actually help with directions (such as the Edge 800), I actually ended up using the iPhone with the MapMyRide iPhone (free) app on it.  This allowed both of us to quickly download the course to our phone, and then reference it whenever we wanted.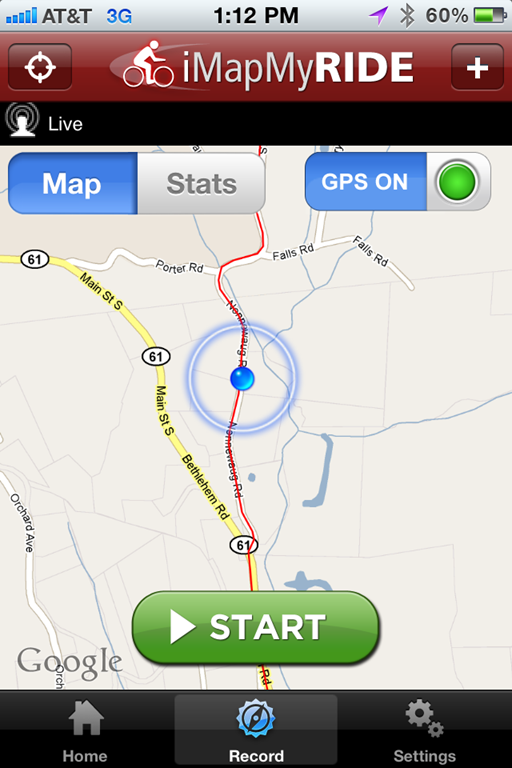 Had we been a bit more clever in our planning, we could have configured the audio tones to also give us routing information (or I could have put it in the Wahoo Bike iPhone Case, but I forgot that in my rush).  Instead we just went with the tried and true "ride for a while, remember when to turn, then stop, look at the phone and remember when the next turn is", and rinse/repeat.  I know, not the most eloquent way for a GPS gadget training guru to go with…but it's what I could come up with that would work for BOTH of us at midnight the night before the ride (we only have one Edge 800 around these parts).
The next morning we drove a couple minutes from my Papa's house over to the start of the course.  The little parking lot we used was a hot-spot for local triathletes – including more than a couple folks who actually read the blog.  Crazy!  Hi guys, thanks for saying hello – great to meet ya!
We got everything unpacked and put together fairly quickly: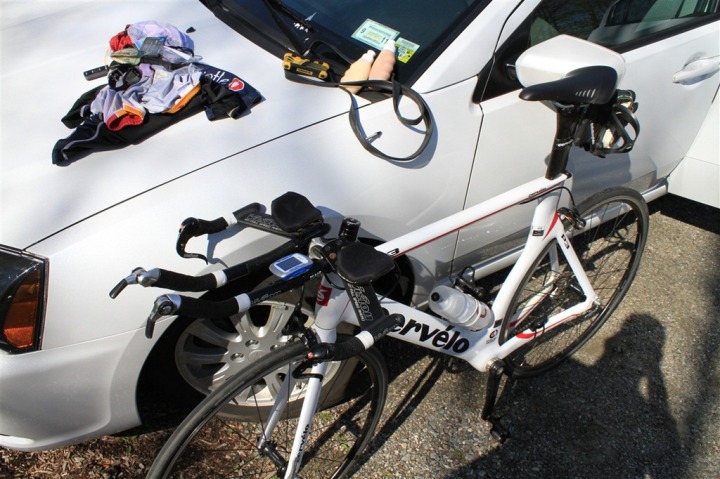 Now that we had both the bikes built and our route planned – there was the aspect of how I'd keep track of her during the ride. 
You're probably thinking: Why would I want to keep tabs on my fiancée?  Well, she's a great cyclist – but not such a fan of unchartered (for her) roads.  She enjoys riding them, just not what would happen if she got lost.  So in order to solve that problem I stashed one of two Garmin GTU 10's on her before she went out.  She simply tossed the small unit in her back jersey pocket and that was that.  These are the same units that were used in the Boston Marathon last week in that guest post.
From there, I also had one in my back jersey pocket, and both of us had the iPhone Tracker App from Garmin that ties everything together.  One might be asking if I could have done this all with some magical iPhone app…and the answer is: probably.  But the challenge is that iPhone's on a 3 hour ride have a very limited 'always-on' battery experience (without a bulky battery pack), and doing everything and streaming it means that it might die an untimely death…which would leave me or her completely hosed in unfamiliar territory.  Whereas the GTU 10 updates every 30 seconds and lasts 24 hours in that heavy usage mode (you can update less frequently and last forever), so I didn't have to worry if her phone's battery died – I could still find her.  Or if something happened to her, I could easily pinpoint exactly where she was.
So with all that setup…we went out and rode.  Here's what we rode: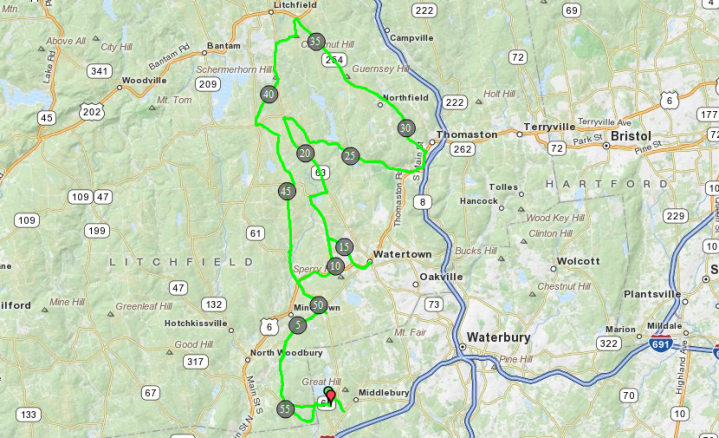 Now, normally I'd have lots of photos from the ride.  And I do.  Or rather, someone does.  At the moment I can't quite find my little Optio point and shoot camera.  This makes me sad.  Hopefully Avis has it, I just can't get a human to actually answer the phone. The only thing really on it was pictures from my ride, but that included:
– Pictures of the cows I drove by
– Pictures of the cow crap I rode through
– Pictures of the two water bottle cages I somehow managed to snap mid-ride.  Yes, seriously…two…one ride.
– Pictures of pretty rolling fields
– Pictures of farmhouses
– And lots of pictures of the new unreleased Polar RCX5 in action while riding.
This all makes me very very sad.
On the bright side, I didn't lose the RCX5 (either the watch itself, or the GPS pod in my back jersey), so I was able to take a few shots using my DSLR camera pre and post-ride.
The RCX5 is incredibly thin and lightweight – more so than most of the other Garmin units (though, it uses a separate GPS pod, hence ditching some of the weight). I was fairly impressed that GPS-wise it was pretty much spot on with my Garmin that I had with me.  Here's the GPS pod that hooks up to the RCX5, which also supports a speed and cadence sensors as well: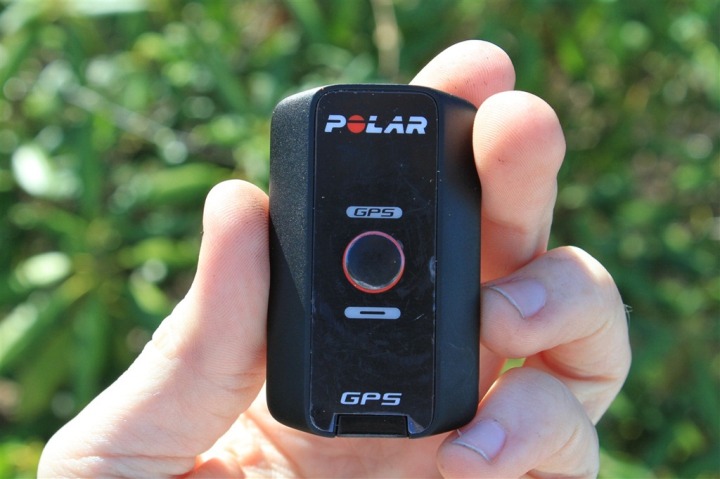 (Don't worry, I'll do comparison shots soon).
Thus far, wearing it all weekend I'm pretty happy with it.  I keep being amazed at how thin it is – really impressive actually. I've gotta spend a bit more focused time with the unit this week,  especially getting used to the Polar menu's, since so much of my experience is on other products. That said, you can expect a full review early next week.
And hopefully by then I'll have found my little camera too – filled with great action shots!
As for the wedding, it was great too (perfect for gathering good ideas)! Exactly two months left to our own now!  Yikes!
And best of all, I managed to get one blurry cell-phone picture of my 93-year old Papa dancing the night away.  Pure awesome.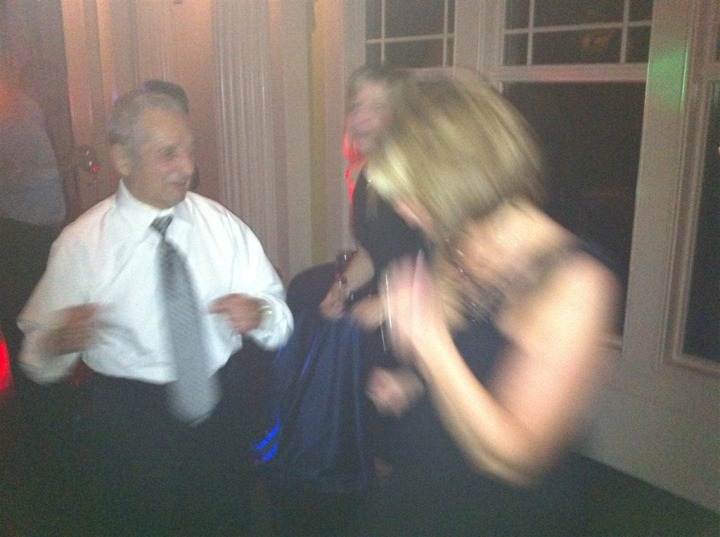 Hope you had a great weekend all!  Thanks for reading!