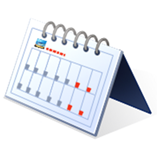 I've long since wondered what to do with all the random tidbits of things I collect each week – or the little thoughts that don't quite make for a full post.  But I finally came up with a solution: The Week in Review Post.  This takes the place of my Weekly Mailbag – which is over on Slowtwitch.  These are just quick snippets of things that I've found interesting.  Nice and easy Saturday reading.  Plus, a recap of my Weekly Mailbag post a well.
So with that, let's get into the action!
Weekly Mailbag Over at Slowtwitch.com:    
Wander on over to Slowtwitch this week for my latest thoughts on a wide assortment of sports technology items.  Here's this week's new topics, which you can check out here.
1) Understanding Elapsed Time and Time in sport files
2) Deciding between an iPhone in ANT+ case, and the Edge 800
3) Garmin Futures: Vector Pedals and new version of the FR310XT
You can read all my past weekly mailbags at Slowtwitch here.  Or the pre-Slowtwitch days here.
Posts this past week:  
A wide variety of posts this week covering quite a range of stuff.  My personal favorite is probably the giveaway post – since I'm doing it differently this time and having y'all tell a funny training story.  Tons of hilarious ones in there – definitely check it out!  Here's all the stuff that landed on the page:
Sunday: Week in Review: March 20th, 2011
Monday:  Flight, Run, Soccer, Bike…oh, and tailgate.
Tuesday:  One Week: So many cool new things
Wednesday:  The Swim Watch Battle: FINIS Swimsense vs. Swimovate Pool-Mate Pro
Thursday: Garmin FR310XT Giveaway
Friday: This weekend: Race Pacing and Cake Competitions
Stuff that I found interesting around the interwebs:  
Here's a small smattering of links I found interesting this week:
1) Detroit to Dover – Openwater Swim Blog: What if your normal swim workout consisted of more than 15,000 yards in the pool…plus a cool down? Welcome to the world of Jenny Birmelin and her training for the English Channel swim.  Every once in a while I stumble upon blogs of folks training for the channel swim and find myself lost for hours reading their posts.  This was no different…
2) Are you a DC runner and cyclist and want to be part of a TV show?  A TV producer (and friend of mine) is looking for runners and cyclists to act the part (do your thing) on Monday evening at the Roosevelt Island parking lot (just down the hill from Rosslyn Metro).  Hit up the link for details.
3) Garmin files litigation against Bryton Cycling Computers: I thought this little nugget was interesting.  Bryton makes ANT+ cycling computers that provide mapping capabilities on the devices, similar to the Edge 705 and Edge 800.  Apparently similar enough that Garmin's decided to sue.  Will be interesting to see how this plays out.  I do find it ironic that Garmin LTD (officially a Swiss company) is filing in US district court (USA) against sale in Germany.
4) Working out and having sex increases health risk…unless you workout or have sex often: Parts of this headline made its way across the internet in various forms.  But the article actually says that if you do these activities often – then you're health risk with these activities is reduced to 'practically nothing'.  Score!
5) Chase the Chics triathlon!:  If there ever were a more brilliant event idea…I don't know what it would be.  In this triathlon just a bit south of DC, the women get a slight head start on the men.  Then the men start.  First person to the finish (male or female) wins the cash.  And yes, it's really called "Chasing Chics Triathlon".  I want that t-shirt.
6) Top Fitness Apps from the Wall Street Journal: If you have an iPhone, Android or Blackberry phone (or even an iPad), then definitely check out this list of top fitness related apps from the WSJ.  Pretty much all the cool apps I've used are on the list, so I'd have to assume the rest are equally as cool.
Random thoughts section:
As I mentioned yesterday, this will be a crazy busy weekend – between running the half-marathon on Saturday morning to cake competitions on Saturday daytime, and cupcake competitions Saturday night.  Busy busy!  And that's before Sunday!
I might head up to the DC Multisport Expo on Sunday – so if anyone's around and happens to see me scurry in and out…say Hi!  Or, follow along on 'the Twitter' for all the action.
Have a great weekend all!