Anytime you have 2-3 hours of workouts to do on a weeknight, you have to plan a bit.  Most of that planning for me falls into two buckets – scheduling of the actual workout itself, and scheduling my caloric intake during the day.
That calorie scheduling is key to having both a strong workout, but more importantly (in my mind) avoiding any sort of unnecessary diversions to the woods due to untimely urges.  Making the situation slightly worse is that my Tuesday night workout is hill repeats…3 miles away from my house.  Which means that I'm nowhere near a bathroom (but near a forest), and since hills are involved – there'd a lot of pounding and jiggling, something less than ideal.
Of course, the best laid plans always go awry…starting with that scheduling piece.  My hope was to be starting the workout around 5PM.  With a 32 minute bike and then a 90+ minute run, that'd have us done in the 7-8PM range.  Not bad.
Except…a conference call that I started in the morning, went into the afternoon, and then into the evening – almost some 12 hours in total.  Which, meant it was 8:01PM before I got on the bike.  This was gonna make for a fun night…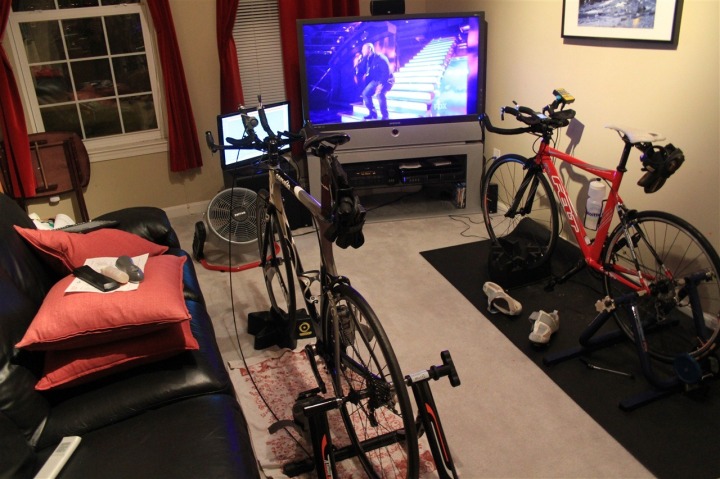 The bike/trainer itself is simply a 10 minute warm-up, followed by a series of building sets, increasing wattage and thus eventually working your way into upper Z4 zones.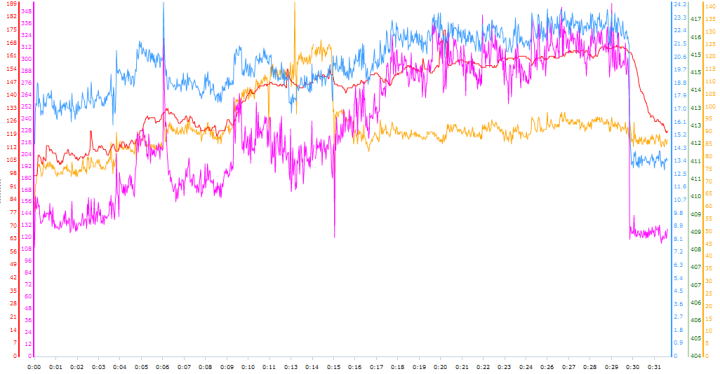 With that out of the way it was time to hit the road.  Now's when we get to the caloric schedule.  By this time of the day all bets were off as to when certain activities may want to occur, so I did the only thing I could think of: I created a little 'disaster recovery kit'.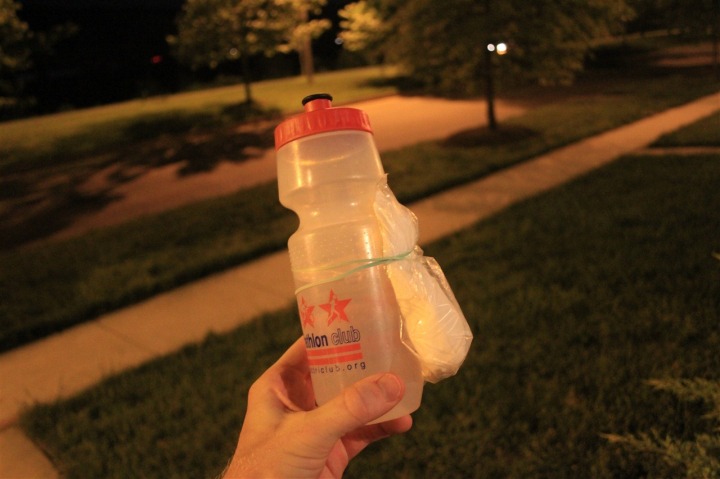 (No, that's not simply a stash of drugs waiting for a drop – despite what it may look like.   Actually at one point on one of the repeats I saw a car stop next to it (it was near a stop sign) for an extended period of time, I was worried they were checking it out.)
Nope – it's glorious TP – but even better is that I have it in a little Ziploc baggie, keeping it nice and dry.  And I've combined it with a rubber band so it won't go anywhere.  My hope was that by actually carrying TP for once, I wouldn't need it. Whereas if you don't carry it, you absolutely need it.  Cause that's just the way things work.  I'd end up leaving this near the base of the hill while I do my repeats…close to a nice bit of forest.
So with that, onto the road I went.  Like the bike preceding it, I started off with 10 minutes of Z2 before 3 x 5 minutes each building into the next zones – eventually working the pace down to just about 6/flat on rolling terrain.  I was pretty happy with that.  It was a 'pushed' pace, but still nowhere near all-out pace.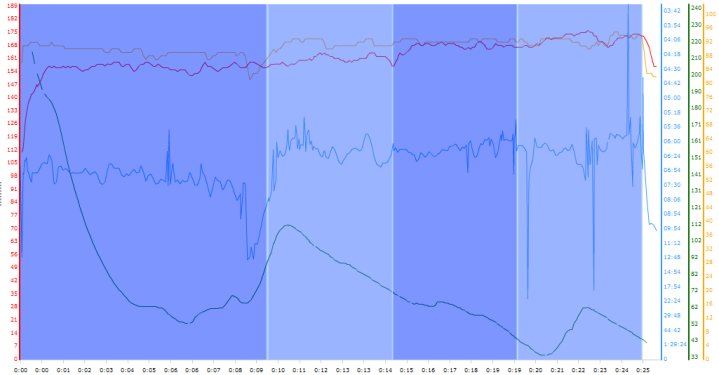 From there, it was time to start the hills.  Five of them.  Each one being just shy of a mile long.   You may remember the cool elevation profile I did of the hill back in this post a few months ago while having to run them covered in snow and ice.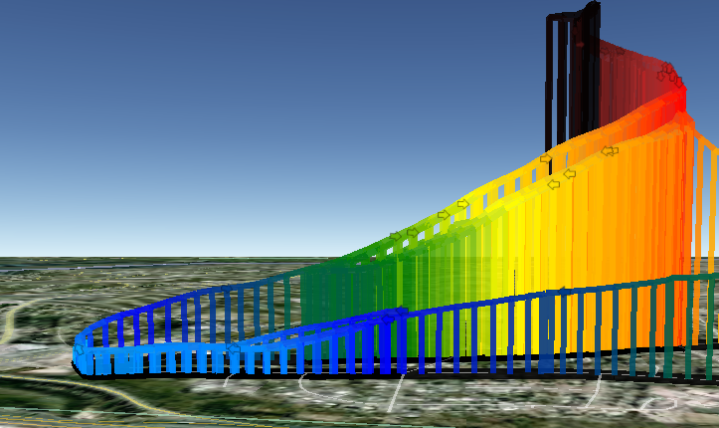 (I talk about how I create the above image in that post as well)
The steepness varies from shallow at the beginning to very steep towards the end.  I then have to crest the hill and keep on pushing on the flats for about 60 seconds to maintain HR, which, btw – is actually really difficult.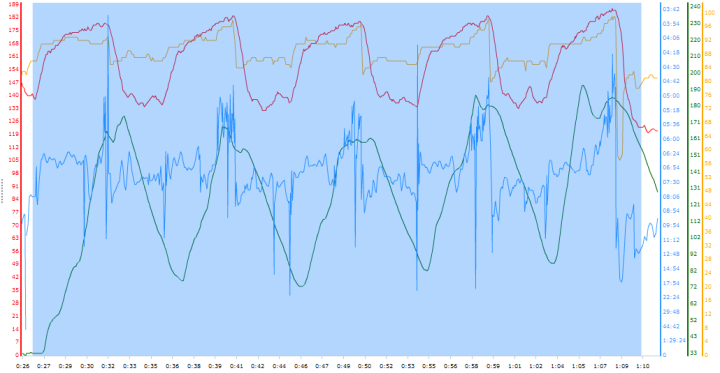 In order to maintain that HR when I crest that hill I was in some cases having to drop the pace down sub-5.  Obviously, if I had to run a long-long way, this would quickly slow down (or I'd probably just keel over and die).

Now…each time I have to go down the hill, it induces pounding…and not just on the legs.  Lots of things are shaking..that I don't want shaking.  And after the hills I still have to run almost three miles back home, including a set of 4xInterval Sprints – which again are not at all ideal in the Me vs Potential Output scenario.
But luckily…the TP trick seems to have worked, and in the end – the mere act of carrying it along seems to have staved off the 'actual act'.  Woot!  Plus, it totally beats having to do the workout on a hotel treadmill.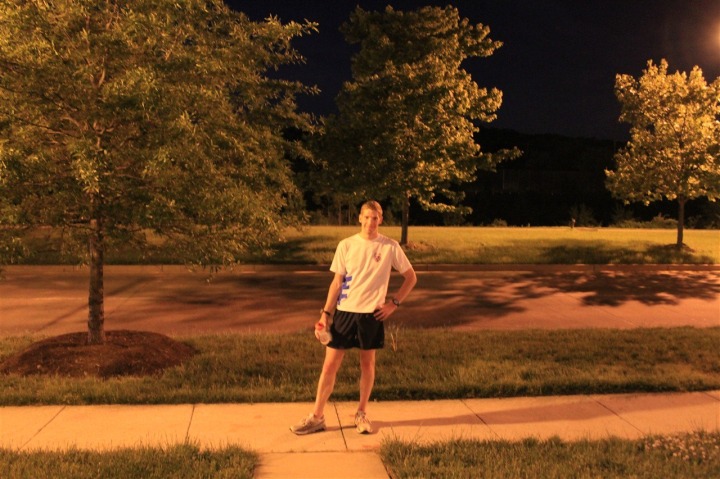 And sometime a bit after 10PM, we were done…and exhausted.  These late night workouts are tough!