Upon landing at Dulles International Airport on Sunday afternoon my very first message that showed up on my phone was from my coach, it read: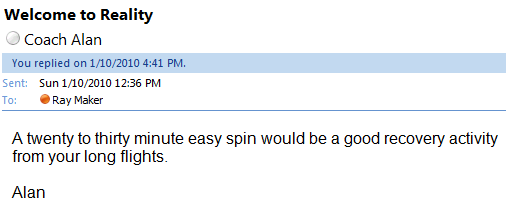 Gee…thanks.
And reality soon set in.  I knocked out a rather enjoyable trainer ride on Monday, the first time me and my bike have had quality time since Dec 22nd, when I left DC.  After the trainer ride – around 6PM – I fell asleep…and basically woke up some 12 hours later at 6AM. 
Being that my body is on god-knows-what-timezone, I'm waking up way early.  For me, 6AM is way early.  Normally, I wake up between 8:55AM and 8:57AM – just enough time to commute to my home office in time for a regularly scheduled 9AM conference call.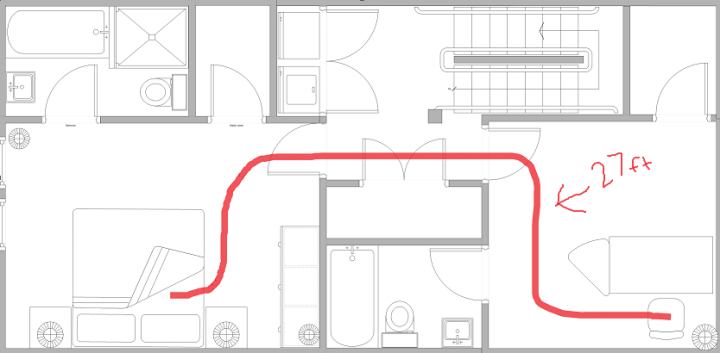 Oh, in case you're curious…I actually measured it.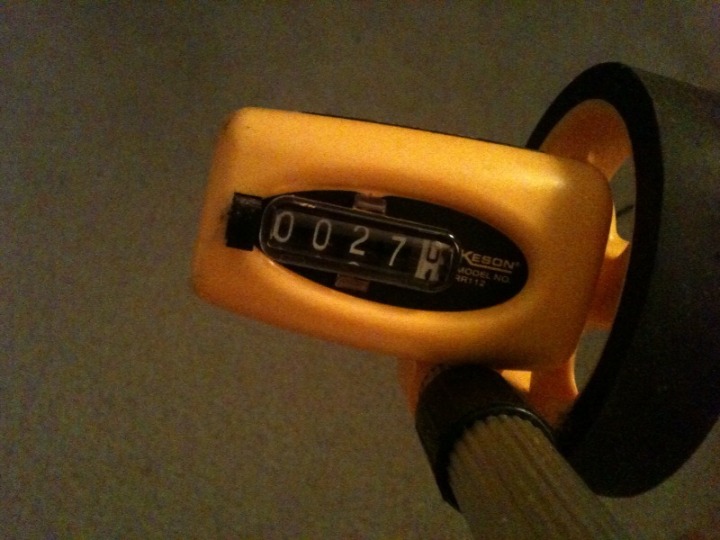 What?  You think I'd use a ruler or something?  And how would a tape measure get around the curves anyways…
Anyway, given I was all bright eye and bushy tailed or something, I decided to simply knock out my first workout of the day, a swim.  Only about 50 minutes of pool time, but not too bad.
The workout included a crapton of 50's, and then at the very end a handful of 25's thrown in for fun.  I was pretty happy with my 25y times, at 15 seconds a pop.  Looking forward to seeing if I can get those a bit faster with training now fully resumed.
After a normal day of work, it was time to get in a treadmill workout.  I went off to the semi-new Rec Center in Old Town, as it's usually completely empty no matter what time of day.  So getting a treadmill for a longer workout isn't typically an issue.
Upon arrival, I found out where all the New Years resolution people are hanging out…walking (casually)…on the treadmills…with an actual waiting line…and a 30 minute 'strictly enforced' time limit.
A 30 minute limit was not going to work for this 75 minute long workout.  So I phone 'Back to reality' Coach and we devised a road workout instead with hill repeats in place of the incline repeats on the treadmill.
My warm-up along the flats was surprisingly nice, mid-6's in and around Z2.  Compare this to my runs in the Maldives, which were like mid-15's or something in the heat, humidity, dehydration and occasional sunburn.
Eventually I got into the hills themselves, which worked out pretty nicely actually:

(This was created using Sports Tracks, and the elevation correction plug-in) 
I thought it was interesting comparing the two HR profiles for yesterday's run to today's bike.  The workouts while very different in terms of sports, are nearly identical in terms of HR profiles and intensity:

Above: The run, Below: The bike

Well..ok…mostly similar.  See that weird looking slanted section in the run one?  Well, that's where me and the (thankfully very dark) woods had to have an emergency board meeting.  Also slightly affecting the perfection on the top HR graph one is simple terrain.  Whereas on the bottom one you'll note its near perfect.  Actually, even more perfect when you overlay cadence/wattage/MPH, etc..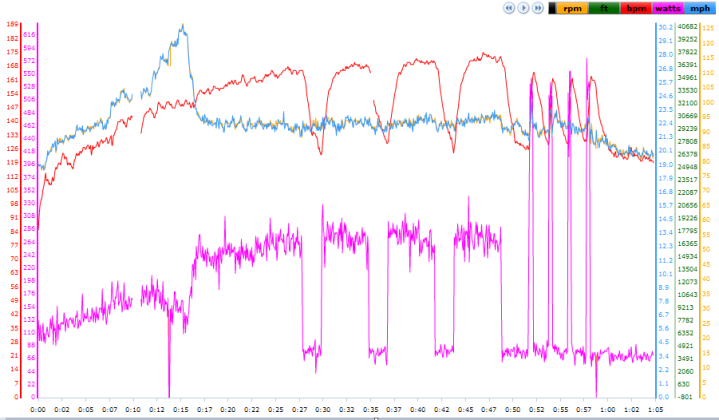 Why's it so pretty?  Well, because it's on a trainer.  This goes to show that when it comes to getting very specific quality time in certain zones or wattages, you can't beat the consistency a trainer (or treadmill) can deliver.
Anyway…moving on…
In the Miscellaneous Category, I got all signed up for a race earlier today – the Rumpass in Bumpass Oly Distance.  This race may be a perfect fit to my otherwise hectic spring schedule…but let's be honest – it's the name that rocks.  Especially when said it echoing monster truck madness voice: The RumpAss in BumpAss!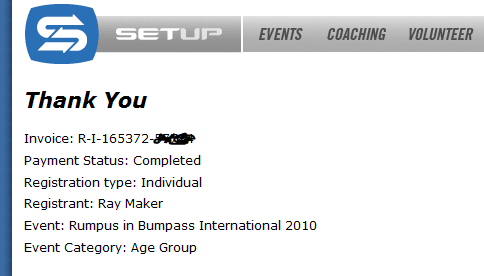 Also of random note in this category is that I got an e-mail or something from Garmin nothing that the Edge 705 currently has a $50 rebate on it.  Here's my Edge 705 review, fwiw.  Just an FYI.