Wednesday brought a bit of improvement in the throat situation, which was good – as I had two workouts scheduled. But due to the conference speaking and other work schedule, I wasn't able to tackle these until until around 5PM (after a full…very long day…with lots of talking). Even as I drove to the pool I wasn't quite sure which workout I wanted to do first. Swim…or run. Run…or swim. I flip-flopped back and forth up until the moment I parked the car in front of my first puddle of water. But I decided since I like swimming the least, I'd get it over with.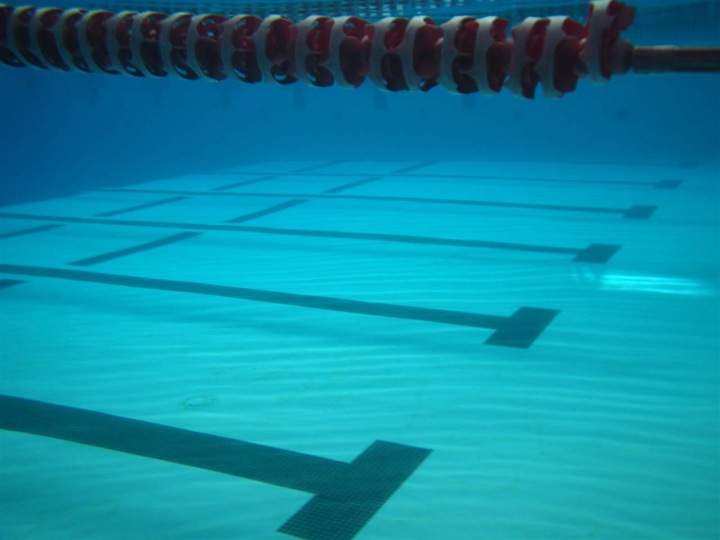 I had a 3,600 yard workout to do, but since it was a meter pool, I ended up doing about 4,000 yards instead (as I just did my normal workout and considered the extra a 'deposit in the bank'.
After the swim I simply jetted right outside to my car and began my run. Thus it turned into a bit of a brick of sorts with only about 10 minutes of transition time. I started from the Rec Center and then decided to go towards/through 'Downtown Las Vegas' (which, btw, is keyword for the less fashionable portion of Vegas). Nonetheless, it worked better for my purposes as the streets were empty of crowded tourists.
Strangely, as I was slipping into my shoes, I noticed one of the shoelaces had somehow ripped in half. Very odd.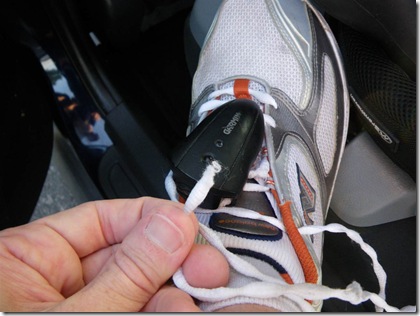 Anyway, I ran towards the Stratosphere Hotel/Tower thing off in the distance, about 2.8 or so miles away.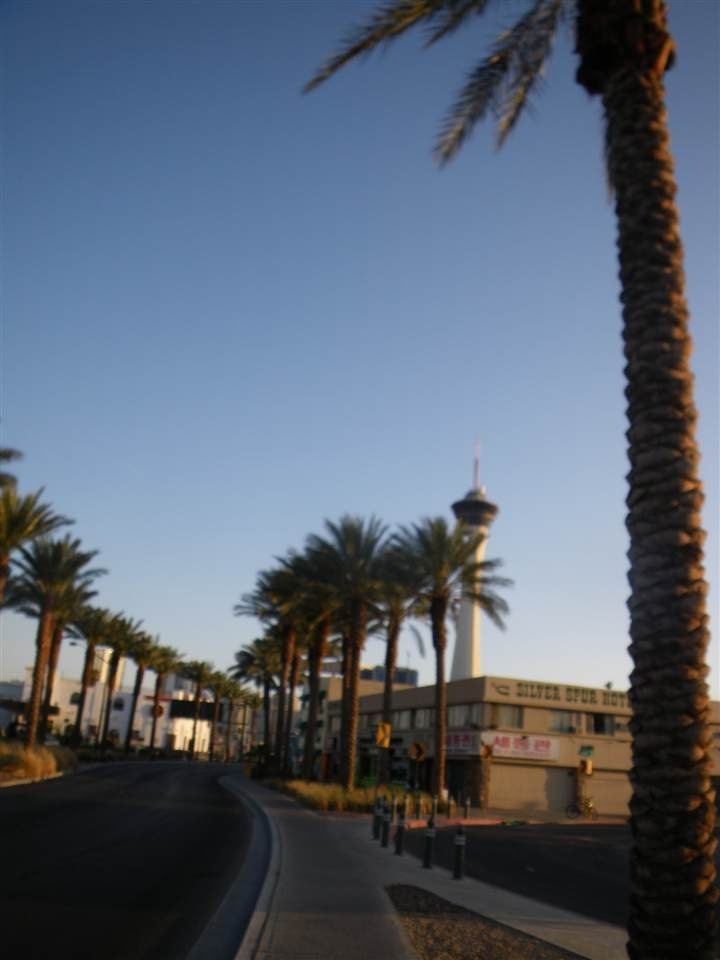 After arriving at that, I looped back through Downtown Las Vegas again towards the start.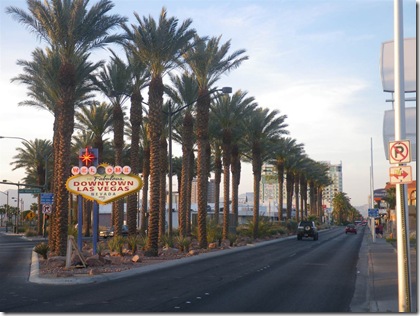 My run was only 40 minutes, so pretty easy. However I was pleasantly surprised that my low Z2 pace was in the low 7's given the heat, brick, and long days. Woot! From there I ran through the 'Freemont Experience', which is a older-Casino filled street with lots of lights. It's also got this massive canopy over the street that is lit up at night.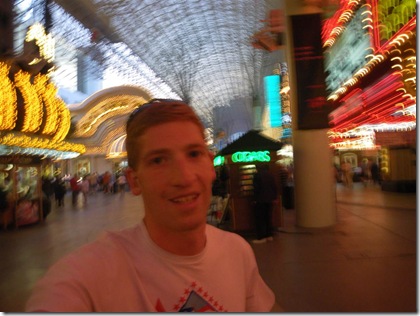 You can see the canopy from the air, as the below photo is my route (as viewed via Sport Tracks and Live Local).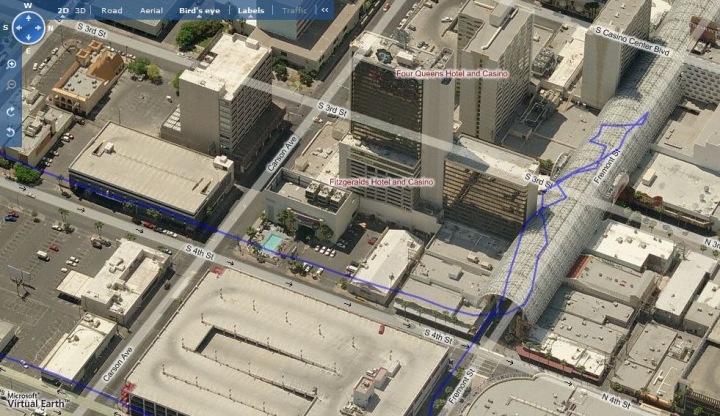 Along the way I saw someone getting arrested. So…that was officially the highlight of my run!
After that…I was done for the night. Of course, it was less than 9 hours until I'd be waking up to start my long ride. So I spent a bit of time getting the bike all ready for the next morning. Bags packed, nutrition (I went the lazy route…Gatorade), and breakfast all figured out. There's not much motivation to get anything done in the morning…especially when you're talking 4:45AM.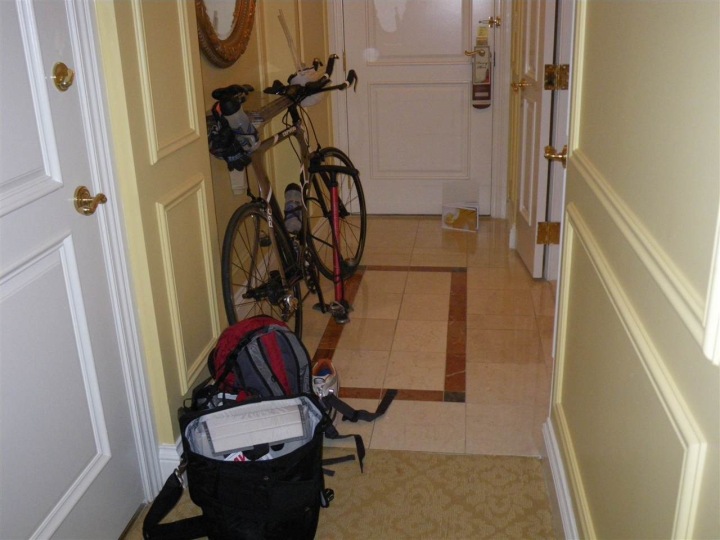 I also spent some time creating the course that reader Maria sent me, into my Garmin Edge 705. While the course was pretty much dead simple – I didn't really have any room (time-wise) for errors, so by putting it in there, it would yell at me when I needed to turn. Pretty cool. After that, I was pretty much done for the night.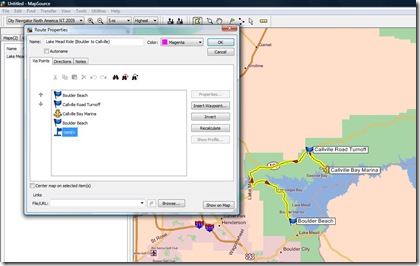 I did however have one last item to complete… Securing the chocolates. As you may remember from the day before, the hotel people are leaving chocolates on my pillows. Well, tonight since I was planning on going to be early I had to take matters into my own hands. So I tracked down a housekeeping person in the hallway and explained my plight. She happily handed over a pile of !FOUR! chocolate bars. Woohoo! In total I now have seven! Hopefully they are at least edible, as I haven't even tried them yet.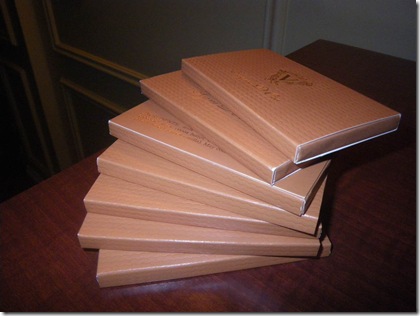 Anyway…back to reality…which…happens to be 4:45AM.
I get up and out the door and into my rental and head down the strip towards the mountains. All sorts of interesting creatures out and about on the strip at this hour. Though I suppose in hindsight my reasoning for being out there was no less whacky than their reasoning. In fact, the more I think it through – there reasons are much more logical than mine.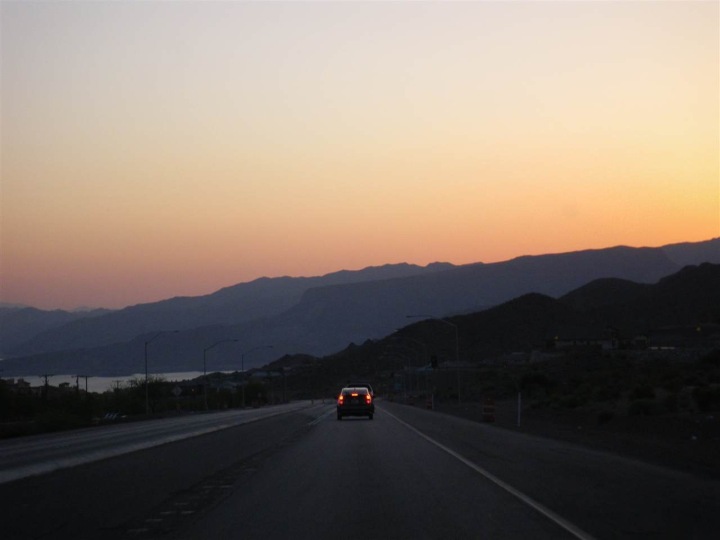 I arrived about 45 or so minutes later at the side of Lake Mead, a significantly larger puddle than the one I swam in the day before. It takes a few minutes to get the bike all loaded up and get the sunscreen on.
In total for my 3hr and 20 minute ride I'd be carrying five 24-28oz bottles worth of liquid. Two bottles on the rear rack, one on the frame cage, and two bottles worth up front in the aero bottle. When all was said and done, my bike felt about as heavy as an international airliner preparing for a long oceanic flight – every tank full. This was also pretty much the limits of how far I could go nonstop without refueling, had it been hotter I probably would have had to pickup water/nutrition somewhere else along the way.
With the bike ready, off into the desert I went. The low morning sun created some fun shadows across the road.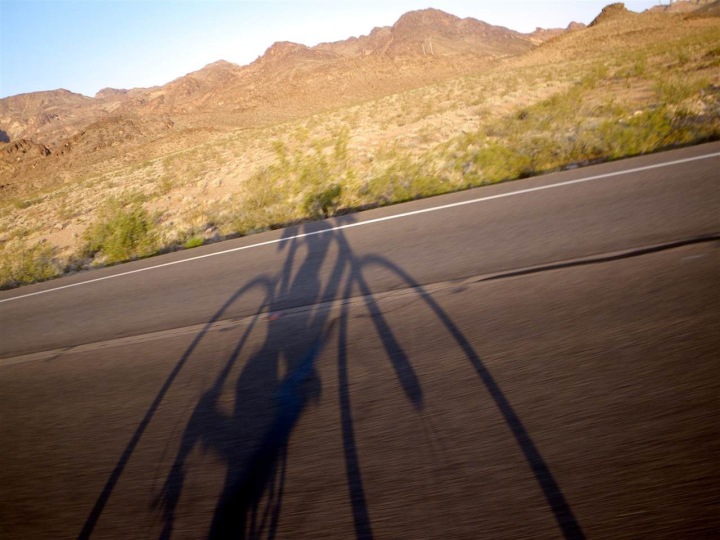 The route itself was very quiet. For the first 10 or so miles I'd see cars every 3-5 minutes, but after that, I'd go 10-20 minute stretches without seeing a car. And despite the below sign warning me about animals, the only thing I ever saw was a dead snake. Oh…and one crow.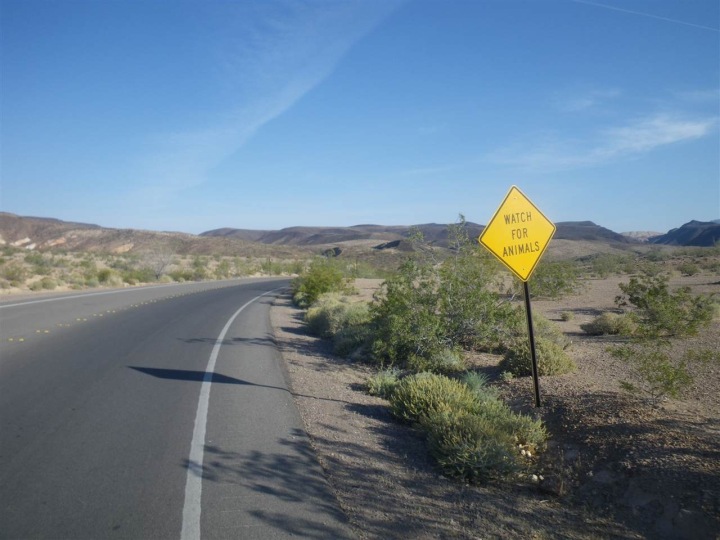 The scenery was also pretty impressive, lots of neat things to watch go by and keep me occupied with.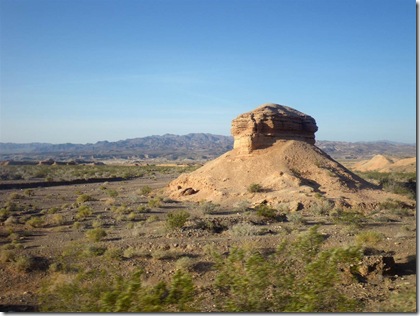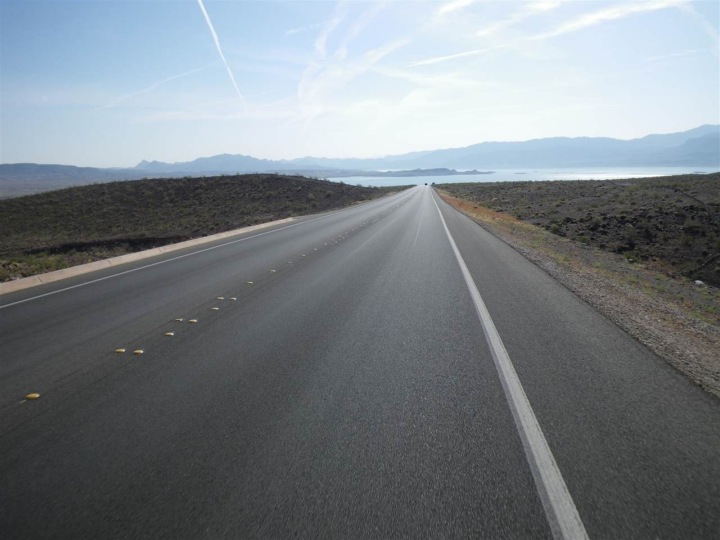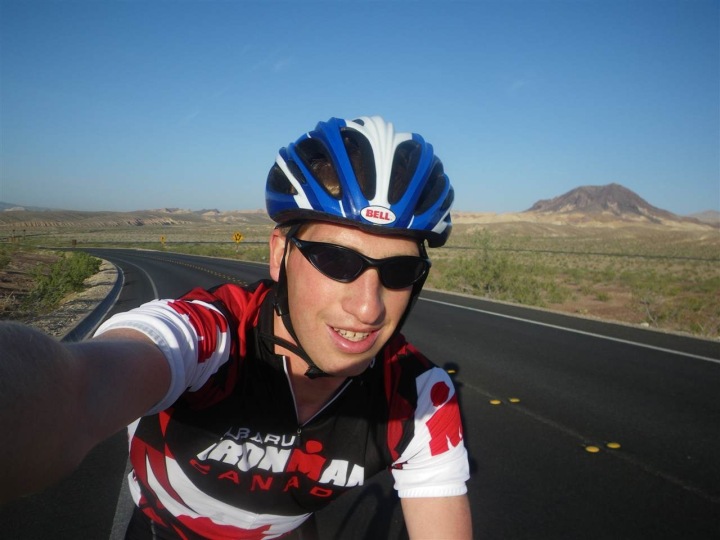 Of course, perhaps the most interesting part of the ride was all the climbing (and descending). I love climbing, I'm kinda twisted like that. I'd rather climb for 20 miles straight than descend or do the flats. So there were lots of awesome climbs (and some rather fast 40+ MPH descents).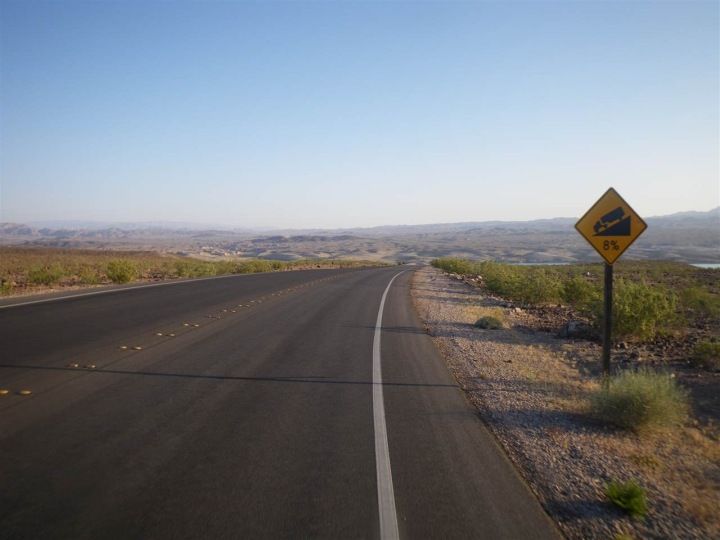 Here's the elevation profile. On the entire ride I only saw one portion for half a mile where the Garmin showed a grade of 0%. Sweet!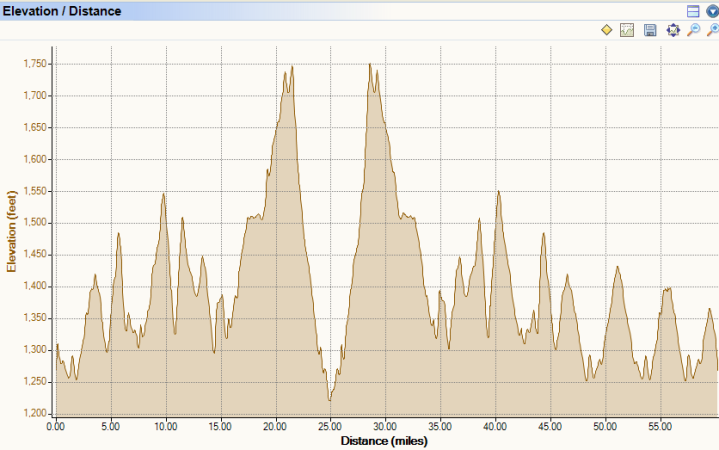 Aside from the earlier animals sign, there wasn't much. Except…this interesting statement. Hmmm…
Clean, drain and dry my 'equipment', ehh?
And then there was this little mess. All I gotta say is… I didn't do it!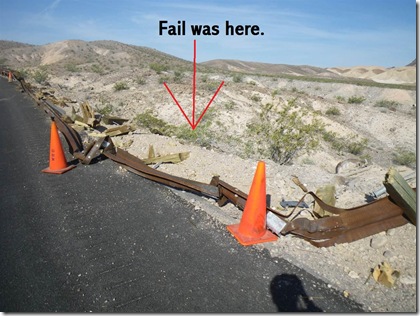 After 2 hrs and 45 minute I had returned back to the start on the route prescribed (exactly 50.00 miles and 4,000 feet of climbing later). But…I still had another 35 minutes to do, so I ended up doing steady laps on a hill I found for fun (you can see that above on those last three hills). Yup…I'm weird, I know.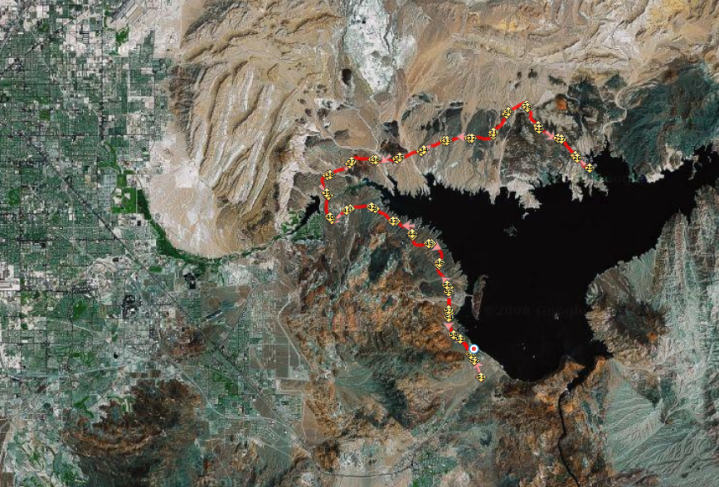 So after 3 hours, 20 minutes and 54 seconds of nonstop flight it was time to land my now nutrition/hydration depleted bike back at the car. The ride overall went quite well, I managed to only ride into Zone 3 for a whopping 18 seconds on the entire ride (the ride was scheduled as all Z2). So I was pretty excited about that. Plus, the area itself was just awesome to bike in – thanks again to Maria who sent me the route plan!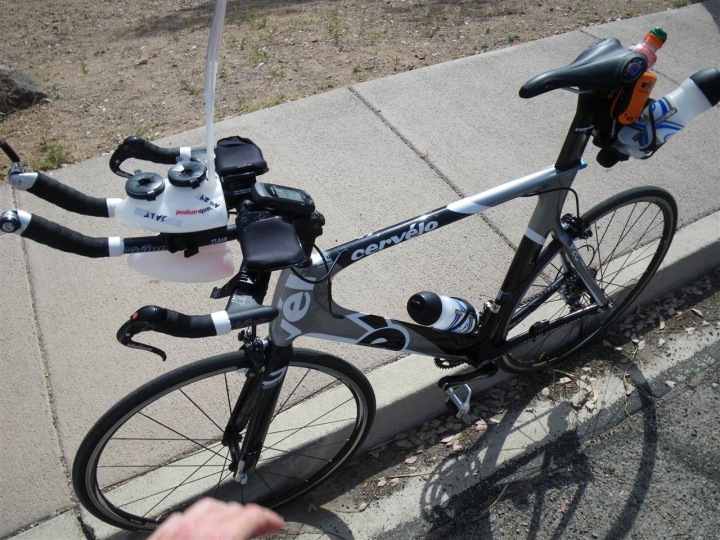 Then I quickly zipped back to the city for a full day's worth of work stuffs. Now the sun is setting over the clouds and I'm sitting on a plane headed north for the next leg of this week's journey…