So far…so good.  Well, as long as you don't ask my throat.  I came into this trip with a slight head cold and a sore throat.  Speaking for 75 minutes at a shot multiple times a day…did not help the sore throat.  But what did help a bit is a crapload of water, a constant stream of Halls and some hot tea – all up on the podium for my sessions.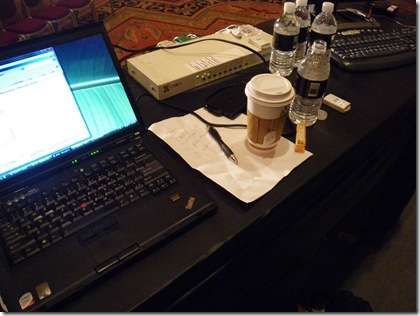 Nonetheless, since it wasn't a fever…the training marches on.  (The general rule of thumb is no fever = no stoppage).
Yesterday I took my little rental car and checked out the city's pool.  Located a bit of a distance from the Strip, but still on the 'main drag', it's only a 10-15 minute drive.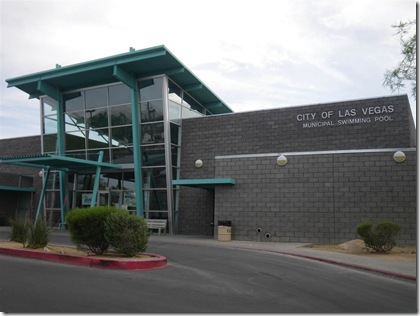 Inside are two 25M pools that are sorta connected to make a 50M meter pool.  I use 'sorta', because it's not a perfect square, but rather kinda like an "I" shape.  Either way, it works well enough for the 14 billion competitive swim teams there.  There were two lanes set aside through for open swim when I happened to show up, which actually worked out fine.  Plus, I had a bunch of very swift high schoolers in the lanes next to me to keep me moving.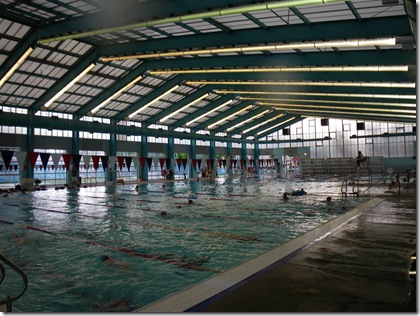 The only problem was with the sore throat, the first few hundred yards hurt like hell.  I was relatively sure I was going to drown…in front of all the kids.  But after a while it numbed up and I was good to go.  So some 3,500 or so yards later I was all set.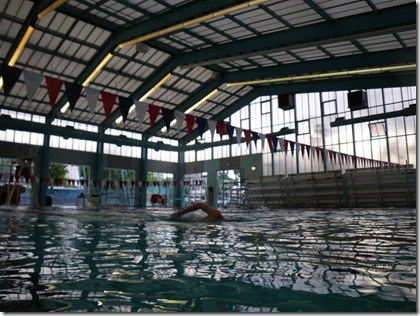 The rest of my Monday was fairly non-descript.  While many of folks may partake in the Vegas nightlife, I was busy catching up on the day's worth of e-mail, work and all sorts of other random e-items.  I haven't even stuck a single quarter in the slot machines (though, the front desk did give me $25 in slot coupons to use…so I may use that before I bail).
Which brings me to today…
I've been looking forward to today's ride for a while.  I had flown over the area the last time I was in Vegas back in the fall, and it looked spectacular.  So I did some research and found out it was Red Rock Canyon park, which has a nice 13 mile scenic loop (one way) along with some very solid elevation gain.  Given I had brought my bike out this time, and a rental car as well – I was all set to make the 20-30 minute trek out to the park.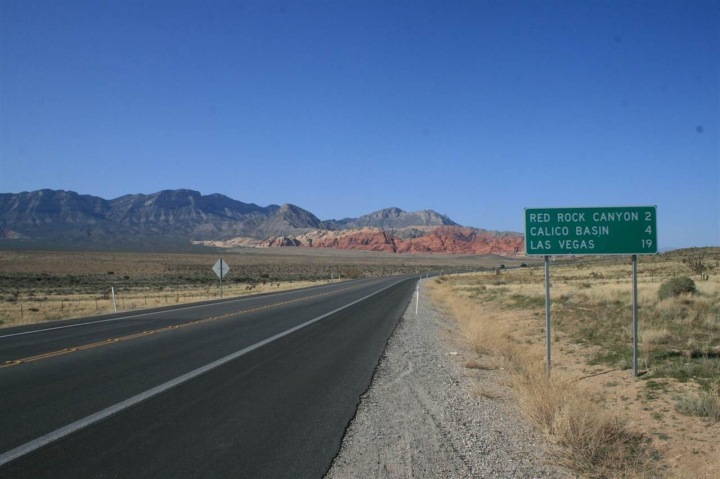 Fitting in the category of 'little things that make me happy' – I was fairly excited at the fact that my bike fit into the back of my rental without even taking the front wheel off.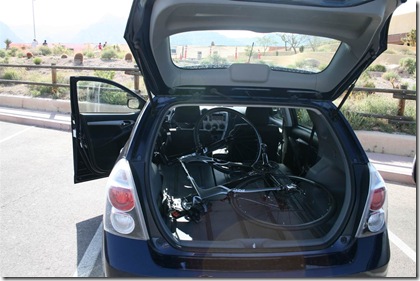 After a few short minutes of getting everything I was all set and ready to depart the parking lot.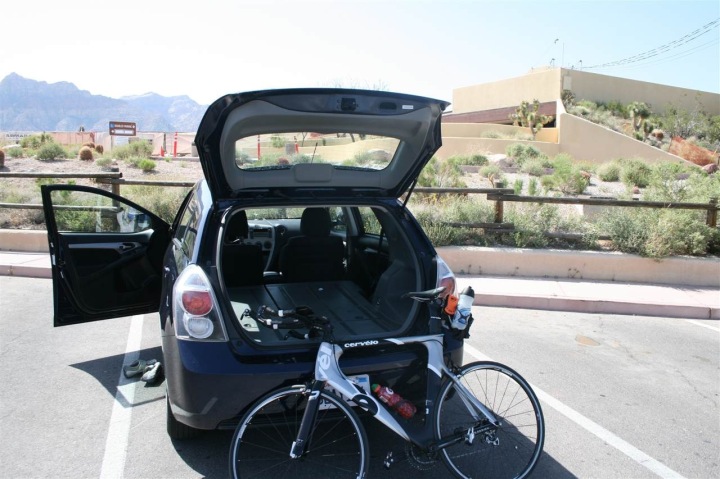 It's a fairly straightforward loop, where the first half is uphill, and the second half primarily downhill.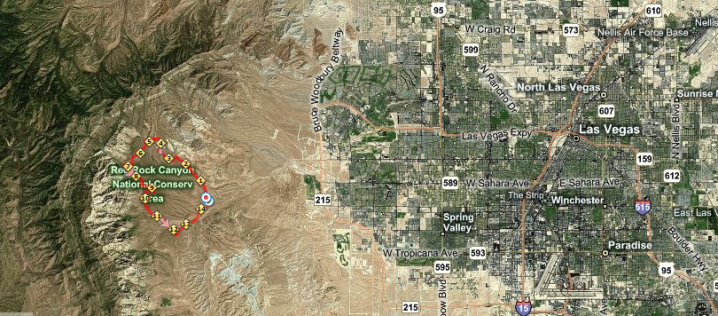 Here's the elevation profile post-ride..so about a 1,000 foot climb in the first five miles.  Sweet!

There's also some very solid 11% grade sections mixed in there for fun.

 
In many ways, I found this ride much like Skyline Drive back home – just a slow climb for a long time.  Here's the initial road section leading out of the parking lot.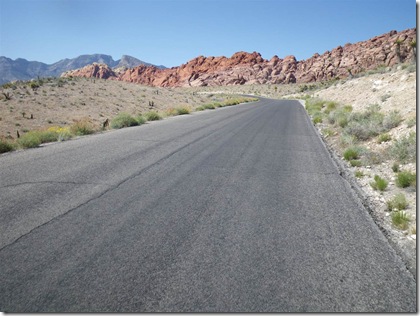 Soon enough the "Red Rocks" would be by my side, so I snapped a quick picture.  Although, this picture took many takes, as I found I wasn't actually smiling…but rather grimacing.  Because the intake of very dry air at 4,000 feet in a highly aerobic ride…hurt with a sore throat.  A lot.  Sorta like swallowing needles.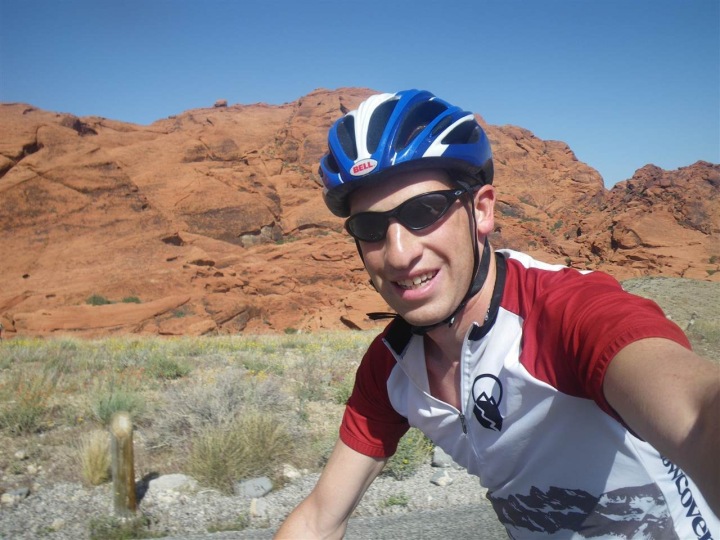 Eventually I made it to the highest elevation point.  Took a little under 30 minutes at a constant Z2 effort.  My HR profile was about as perfect as it could be.  That's the one thing that Skyline Drive has taught me – is how to maintain a very steady climb – without ever leaving my seat.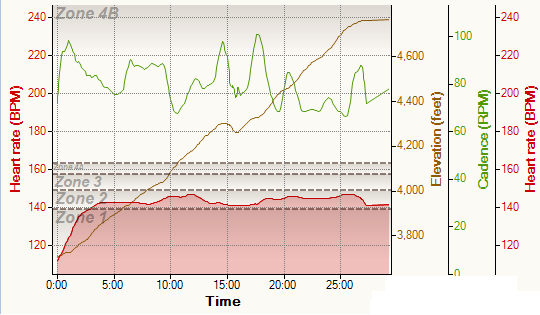 As I started to descend though, things got a little messy.  At this point I came out of the wind-shield of the mountains and out onto the flat desert.  And the wind was howling.  Hands down the highest winds I've every cycled in.  I'm normally really good at taking pics while cycling without too many bad shots.  Virtually every shot you've ever seen on this blog has been without stopping – just point and shoot.
But on even just a short little (albeit steep) climb (read: slow), I was being blown so hard sideways that I couldn't even make a straight photo.  Here's the 'best' of the bunch of shots that i took trying to get this one.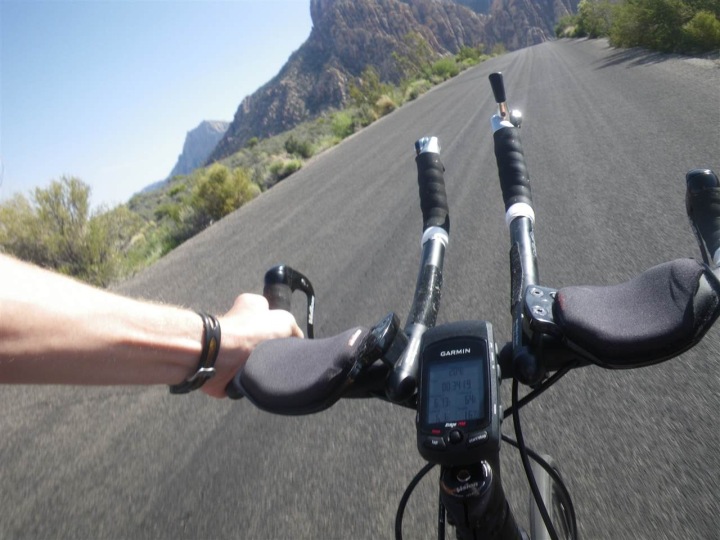 The good news though is that I didn't crash.  But the bad news is that my ride was soon over, as my elapsed time had hit what I needed for this short workout.  My longer ride is on Thursday – and thanks to a reader, I was given an awesome route that I'm really looking forward to.  Hopefully I'll be able to avoid some of the rough winds by getting out at the crack of dawn and out cruising.
A couple of random notes…
There's nothing more fun than walking a nice tri-bike through a hotel/casino like the Venetian.  Good times.  Here I am hanging out with it in one of the elevator lobbies.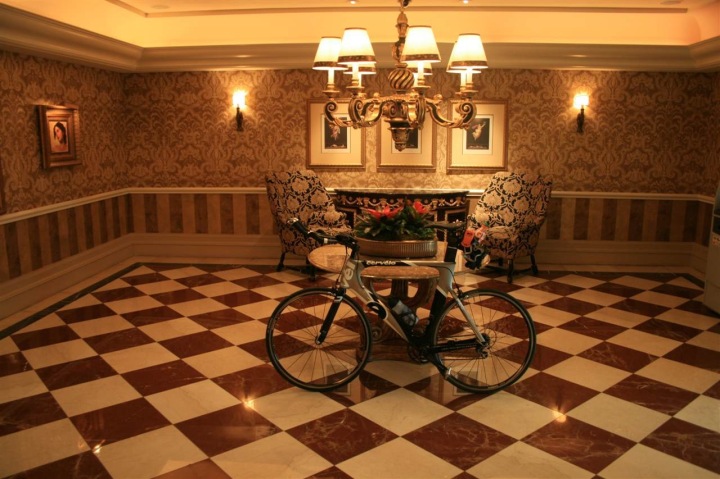 Which brings me to the thought of how big these hotels are.  Each lap around the inside of a single hotel floor is easily a quarter mile.  It would be a blast to do laps in the hallways (on the bike)…though I'm not sure how kindly the security folks would look upon that idea.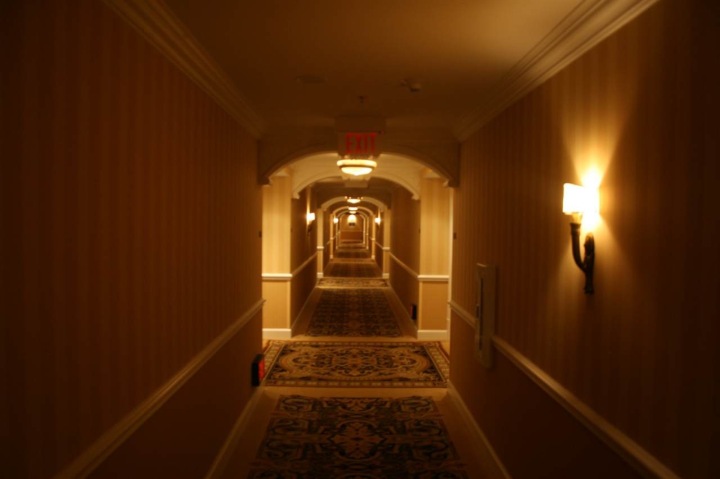 Secondary random note… Last night I got two chocolate bars on my pillow.  But tonight I only got one.  Now, I hid last nights so they would think I ate them.  But only one showed up tonight. 🙁  I wonder if they checked my trash looking for the wrappers and if they know I'm stockpiling them.  I'm going to have a big chocolate bar party by the week's end.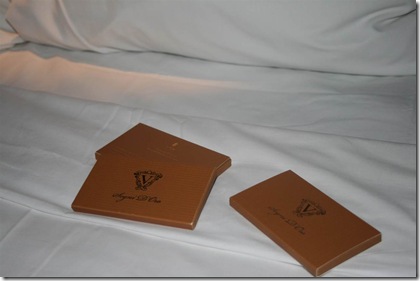 Speaking of chocolates on pillows… G'night!