Note, my list only has 5 'true' items on it.  It has three others that are inked in on every piece of paper (it was a free shopping list magnetic notepad at some grocery store years back).  My total items should have been about $10-15.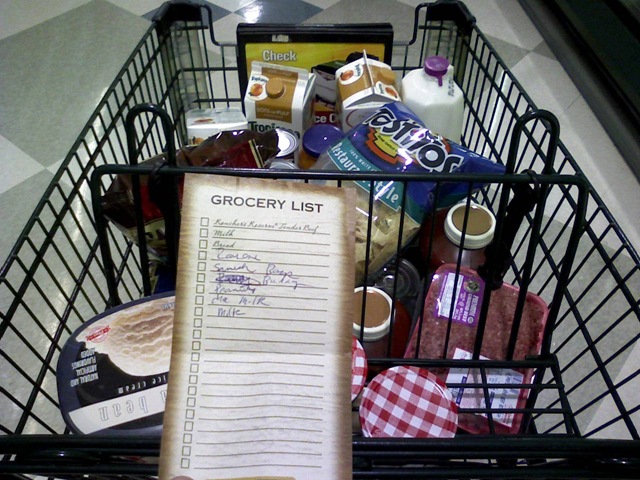 My total: $100.63
Some of the stuff was on sale I tell you!
In other news…
Tuesday's are becoming a bit of a mini-Saturday from a workout perspective.  The recap:
6:00AM Swim Technique Session with coach:
This went really well actually – first one.  And the good news is I don't swim nearly as bad as I thought I did.  The top four things I need to work on are:
1) Focus on bringing my arms during the stroke in tighter to my body while above the water (I can't explain it well)
2) Focus on reach coming into water earlier and slightly deeper into the water.  As opposed to my hand entering the water nearly flat against the water (I want a steeper angle of attack essentially)
3) Focus on rotating body with stroke
4) Focus on keeping head straight (not moving laterally), with #3
*Note: I probably explained this horribly above, but in my little head I know what I'm supposed to work on.
After 90 minutes of pool work and then regular work, it was off to…
5:00PM: 80 minute trainer ride with three sets of Z4 built in (plus 10 minutes one legged drills)
6:50PM: Z2 run for 1:20.  Ended up at 11 miles, some hills along the way.  And mixed in 5.5 miles with the Pacers group in the middle, like a running group sandwich.  I run from home and time it to arrive just as they start.
8:10PM: All done with run, do some running drills
In total this Tuesday ended up with over 4 hours of training.  Oh…and we have yet to begin the fun stuff.  IM Canada is still over 4.5 months away.  But I'm feeling my run, swim and bike getting stronger.  Especially my run and my ability to simply just knock out a a crapload of miles in fatigue conditions.  So I'm really excited by that.
…In more other news…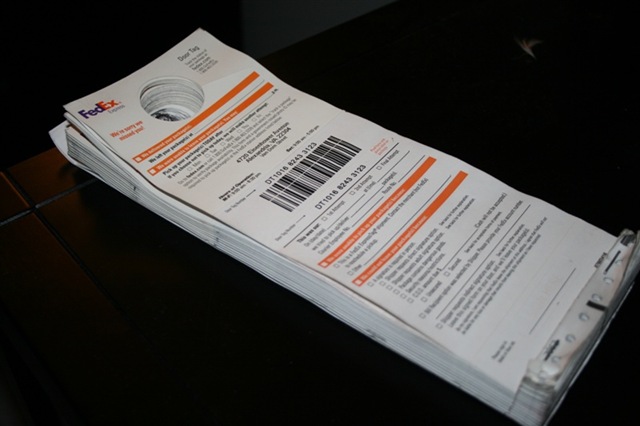 In line with the quote of "A village is missing its idiot", I found this FedEx door tag stack on my door step this evening.  So by the look of things, I'm thinking someone wants to deliver an entire FedEx truck to me.  Woohoo!