While my pool time has been severely restricted lately with all the international travel, I did get a short opportunity to jump into the pool with the Swimsense while up in Newfoundland.  For those not familiar, Swimsense is like having a Garmin fitness watch…but in the pool.  It counts laps, sets, strokes and splits while you ping back and forth between the walls.  But, the real meat of the watch is your ability to then download all that data to the online site and training log.
Unboxing/Components:
But before we get into the data pieces, let's take a look at the key parts that make up the system.  First, we have the unit itself, along with the charger:
The charger uses a simple and standard USB cable to download your data from the watch via the cradle to your computer – identical to a cable used for a digital camera or USB hard drive.
The watch itself is actually fairly slim, albeit a bit wider than I would have expected.  But it's roughly in line with other fitness watches out there, albeit not quite as small as some of the other lap counters out there.  Below compared to the Garmin FR210.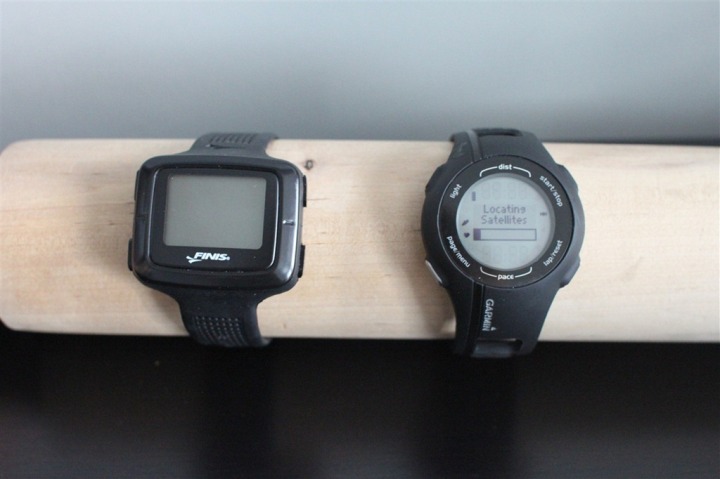 You may be asking yourself what makes this lap counter different than some of the others that have been around for a while.  Well, the biggest and more critical differentiator is Swimsense's ability to download workouts.  Without this, it would in many ways be just another lap counter.  You're also able to update firmware on the watch as they make improvements (they've already released one update in just the past few weeks).  And in the future, they plan to offer an AppStore like concept which would allow downloadable apps onto the watch (no, not Angry Birds, but swim specific stuff like workouts and the like).
Basic Use:
As for swimming with it (yes, you know, the activity you're supposed to do during the winter), I found it pretty dead simple.  The user interface is in line with any easy to use watch (something that's actually somewhat rare in the swim counter world).  I normally swim with a small wrist-watch, so the concept of having a watch on my wrist doesn't bother me (despite being sacrilege to true swimmers).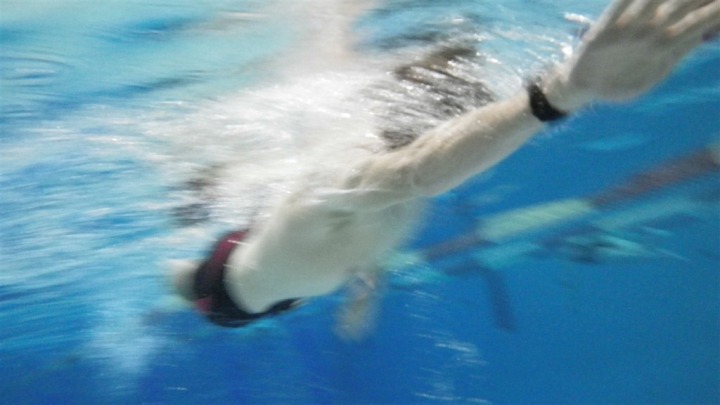 While the watch is generally easy to read underwater – it's not super-easy to read the distance during the wall push-off.  Some watches I have I can read the time during the push off with a slight twist of my wrist, but this one required more wrist twisting. Not a huge deal, but worth mentioning.
Also worth mentioning is that the watch easily adapts to smaller wrists as well, such as The Girl's: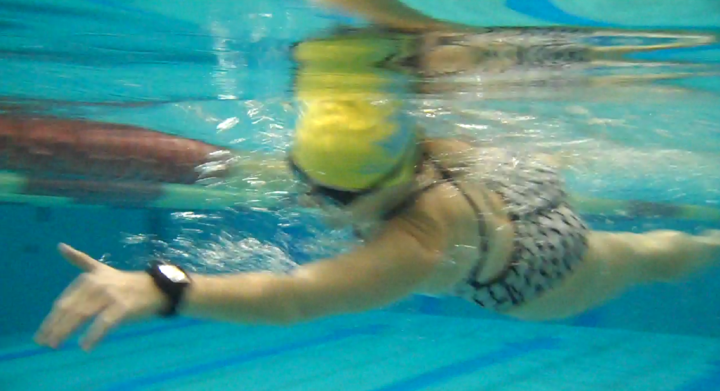 Swimsense can track everything from length swam to the strokes you've taken per length.  And, best of all you can create sets or laps, allowing you to easily analyze it all later on – just like you would with any other downloadable fitness device.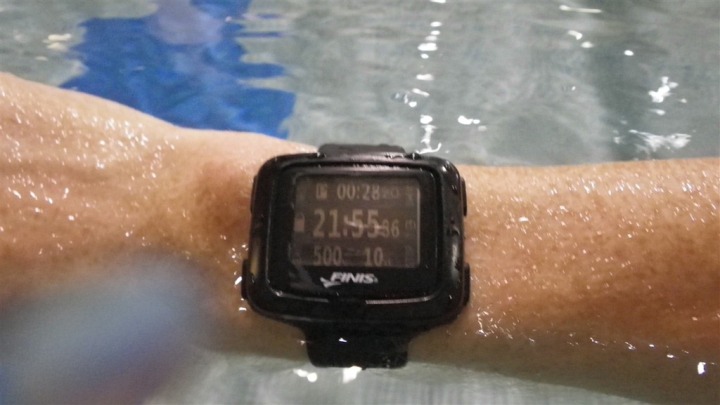 Perhaps one of my favorite features is that when you've got the unit 'paused' (such as during a rest at the wall), it reverses the screen colors (black/white).  Whereas when you're supposed to be swimming, the background goes back to being not-black.  Sounds simple, but it helps you to ensure that the watch is recording.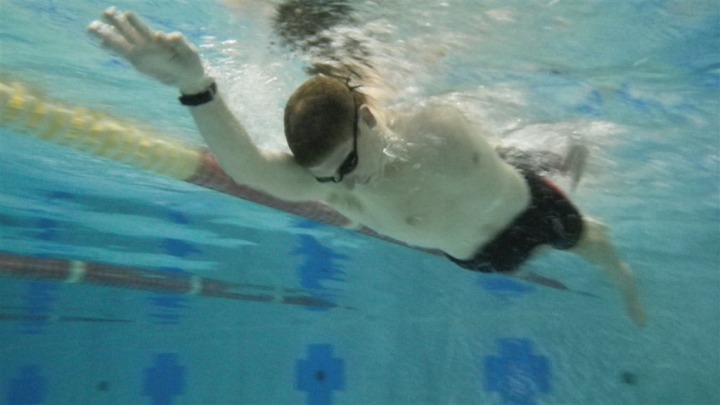 Once you've finished up the swim, it'll show overall totals on the unit.  But you can also drill down within a history menu on the watch and see per-set information as well.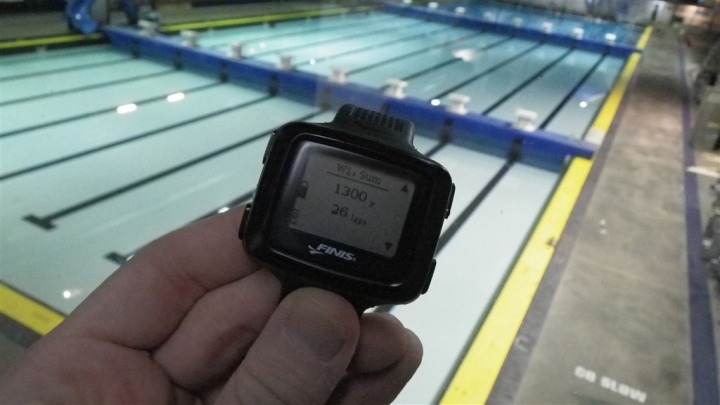 (Hey, no laughing at the low total – I had exactly 35 minutes before the pool closed…and that included taking all these photos and videos…plus, I forgot to press start once, so I lost some yardage there).
Software and Downloading:
After you get back to your computer, you get the Swimsense watch all snuggled up next to the cradle and get the software downloaded to your computer.  It only takes a moment to install the Adobe AIR based software suite, which is compatible on multiple platforms including Windows and Mac.  This is called the Swimsense Bridge and is the main conduit between your watch and the Internet.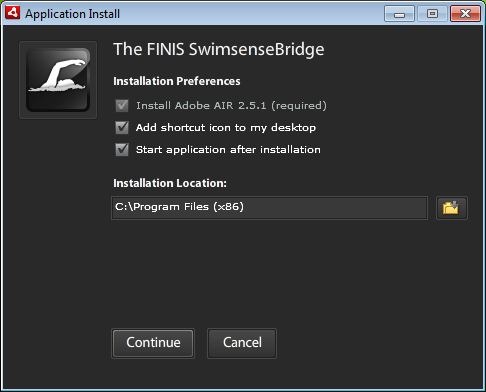 Once installed, you're able to go ahead and download completed workout with just the click of a button: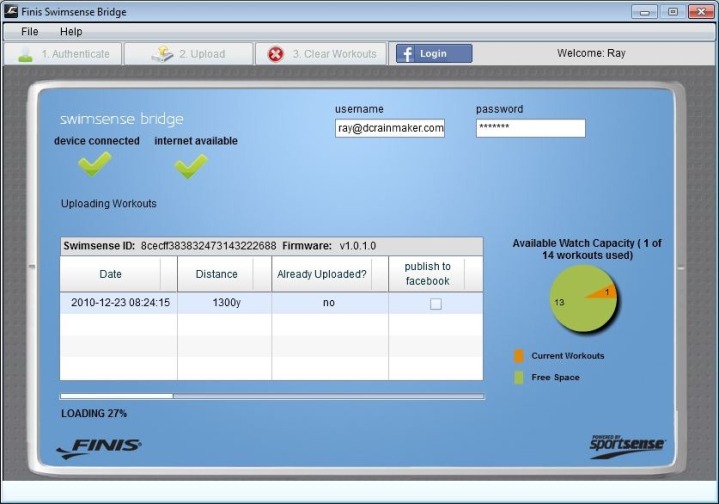 The watch itself holds 14 workouts, and once you download the workout to your computer and upload it to the site, it'll clear it from the watch.  Note that with the 14 workouts, you can easily accommodate 2-3 hours per workout and still be fine.  Essentially, it would allow a competitive swimmer with two 2-3 hour workouts per day to go a week without downloading.
Additionally, if a firmware update is pending, it'll go ahead and make a note of that – though you aren't forced to download it immediately.  I did though after I uploaded my workout, and the process was quick and easy – took mere seconds.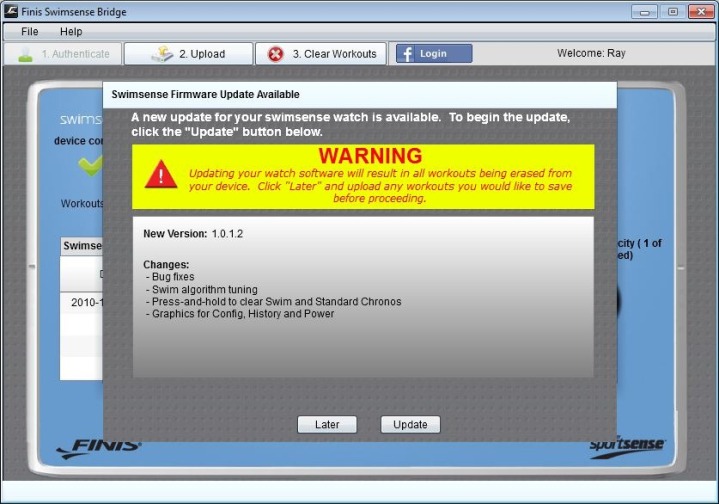 Once you've got the workout uploaded to the free Swimsense site, it allows you to break down the sets and workout into a million little chunks.
For example, I can drill down into a specific set (think of them like intervals) and look at my stroke rate or times per lap.  Not just per set – but actually each individual lap within that set.  Pretty sweet!
Below is an example of showing one full interval of 200 yards, comprised of eight lengths, which you can see are labeled along the bottom of each graph, showing you detail per length.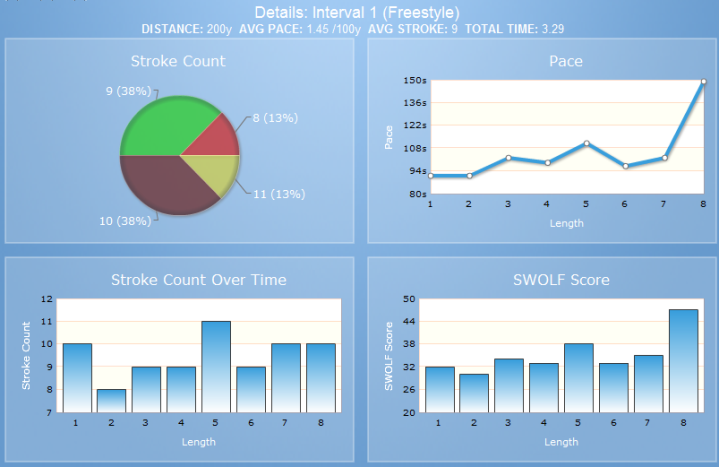 Going into more depth you can see below where I'm now showing just one specific lap (25y) within a set/interval.  On the timeline view (upper of the two images below), you can see how I've select a given lap, and that corresponds to the set below (marked int-2).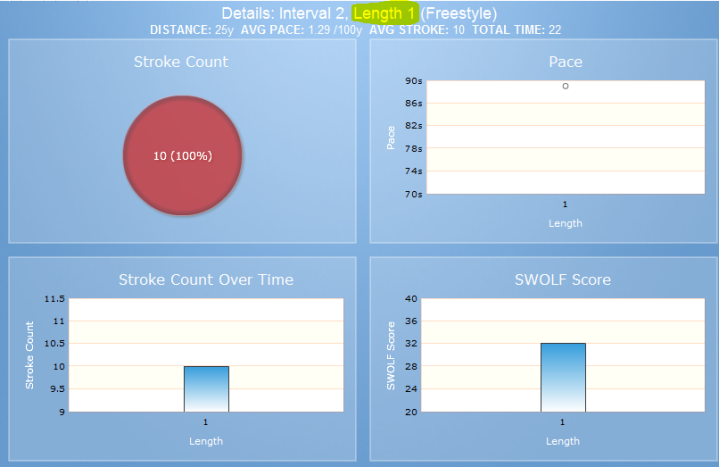 While the site is great as a standalone application, I'm really looking forward to the Training Peaks integration coming in January.  At that point, it'll ensure that all my data from all three activities is being stored in a single location, making for pure data goodness.
Comparison Chart:
Function/Feature

FINIS Swimsense
Garmin Vivoactive
Garmin Swim
Copyright DC Rainmaker - Updated June 18th, 2016 @ 5:57 amNew Window
Price
$130.00
$169 (on sale)
$150.00
Product Announcement Date
SEP 1, 2010
January 5th, 2015
Jun 25, 2012
Actual Availability/Shipping Date
Dec 2010
March 2015
Jul 5, 2012
GPS Recording Functionality
No
Yes
No
Data Transfer
USB
USB, BLUETOOTH SMART
ANT Agent
Waterproofing
Yes
50 meters
Yes
Battery Life (GPS)
12 hours
10 hours GPS on
1 Year
Recording Interval
1-second
Smart Recording (Variable)
1-Second
Satellite Pre-Loading via Computer
No
Yes
N/A
Quick Satellite Reception
N/A
Yes
N/A
Alerts
N/A
Vibrate/Visual
No
Backlight Greatness
Bad
Good
OK
Ability to download custom apps to unit/device
No
Yes
No
Acts as daily activity monitor (steps, etc...)
No
Yes
No
Can control phone music
Yes
Has music storage and playback
No

Connectivity

FINIS Swimsense
Garmin Vivoactive
Garmin Swim
Bluetooth Legacy (pre-4.0) to Phone
No
No
No
Bluetooth Smart (4.0+) to Phone Uploading
No
Yes
No
Phone Notifications to unit (i.e. texts/calls/etc...)
No
Yes
No
Live Tracking (streaming location to website)
No
Yes
No
Emergency/SOS Message Notification (from watch to contacts)
No
No
No
Built-in cellular chip (no phone required)
No
No
No

Cycling

FINIS Swimsense
Garmin Vivoactive
Garmin Swim
Designed for cycling
No
Yes
No
Power Meter Capable
N/A
With some Connect IQ apps (but cannot record data)
N/A
Speed/Cadence Sensor Capable
N/A
Yes
N/A
Strava segments live on device
No

Running

FINIS Swimsense
Garmin Vivoactive
Garmin Swim
Designed for running
N/A
Yes
No
Footpod Capable (For treadmills)
N/A
YES (Also has INTERNAL ACCELEROMETER)
N/A
Running Dynamics (vertical oscillation, ground contact time, etc...)
N/A
No
N/A
VO2Max Estimation
N/A
No
N/A
Race Predictor
N/A
No
N/A
Recovery Advisor
N/A
No
N/A
Run/Walk Mode
N/A
Yes
N/A

Swimming

FINIS Swimsense
Garmin Vivoactive
Garmin Swim
Designed for swimming
Yes
Yes
Yes
Openwater swimming mode
No
No
No
Lap/Indoor Distance Tracking
Yes
Yes
Yes
Record HR underwater
No
No
No
Openwater Metrics (Stroke/etc.)
No
No
No
Indoor Metrics (Stroke/etc.)
Yes
Yes
Yes
Indoor Drill Mode
No
No
Yes
Indoor auto-pause feature
Yes
No
No
Change pool size
Yes
Yes
Yes
Indoor Min/Max Pool Lengths
15y/m to 50y/m
17M/18Y TO 150Y/M
18y/17m to 150y/m
Ability to customize data fields
Yes
Yes
Yes
Can change yards to meters
Yes
Yes
Yes
Captures per length data - indoors
Yes
Yes
Yes
Indoor Alerts
No
Yes
Yes

Triathlon

FINIS Swimsense
Garmin Vivoactive
Garmin Swim
Designed for triathlon
No
No
No
Multisport mode
N/A
No
N/A

Workouts

FINIS Swimsense
Garmin Vivoactive
Garmin Swim
Create/Follow custom workouts
No
No
No
On-unit interval Feature
No
No
No
Training Calendar Functionality
No
No
No

Functions

FINIS Swimsense
Garmin Vivoactive
Garmin Swim
Auto Start/Stop
N/A
Yes
N/A
Virtual Partner Feature
No
No
No
Virtual Racer Feature
No
No
No
Records PR's - Personal Records (diff than history)
No
Only on Garmin Connect
No
Day to day watch ability
Yes
Yes
Yes
Hunting/Fishing/Ocean Data
No
No
No
Tidal Tables (Tide Information)
No
No
No
Jumpmaster mode (Parachuting)
No
No
No
Geocaching
No
No
No
Weather Display (live data)
No
Via Connect IQ app
No

Navigate

FINIS Swimsense
Garmin Vivoactive
Garmin Swim
Follow GPS Track (Courses/Waypoints)
N/A
No
N/A
Markers/Waypoint Direction
N/A
No
N/A
Routable/Visual Maps (like car GPS)
N/A
No
N/A
Back to start
N/A
Yes
N/A
Impromptu Round Trip Route Creation
No
No
N/A
Download courses/routes from phone to unit
No
No
N/A

Sensors

FINIS Swimsense
Garmin Vivoactive
Garmin Swim
Altimeter Type
N/A
GPS
N/A
Compass Type
N/A
GPS
N/A
Optical Heart Rate Sensor internally
No
Heart Rate Strap Compatible
No
Yes
No
ANT+ Heart Rate Strap Capable
No
Yes
No
ANT+ Speed/Cadence Capable
N/A
Yes
N/A
ANT+ Footpod Capable
N/A
Yes
N/A
ANT+ Power Meter Capable
N/A
No
N/A
ANT+ Weight Scale Capable
No
No
No
ANT+ Fitness Equipment (Gym)
No
No
No
ANT+ Lighting Control
No
ANT+ Bike Radar Integration
No
ANT+ Trainer Control (FE-C)
No
ANT+ Remote Control
No
Yes for Garmin VIRB
No
ANT+ eBike Compatibility
No
No
No
ANT+ Muscle Oxygen (i.e. Moxy/BSX)
No
ANT+ Gear Shifting (i.e. SRAM ETAP)
No
Shimano Di2 Shifting
No
Bluetooth Smart HR Strap Capable
No
No
No
Bluetooth Smart Speed/Cadence Capable
No
no
No
Bluetooth Smart Footpod Capable
No
No
No
Bluetooth Smart Power Meter Capable
No
No
No
Temp Recording (internal sensor)
No
No
No
Temp Recording (external sensor)
No
Yes (Tempe)
No
Compatible with Firstbeat HR tools
N/A
No
N/A

Software

FINIS Swimsense
Garmin Vivoactive
Garmin Swim
PC Application
Swimsense Agent
Garmin Express
GTC
Web Application
Swimsense.com
Garmin Connect
Garmin Connect
Phone App
None
iOS/Android/Windows Phone
Garmin Fit
Ability to Export Settings
Yes
No
No

Purchase

FINIS Swimsense
Garmin Vivoactive
Garmin Swim
Amazon Link
Link
Link
Link
Clever Training - Save a bunch with Clever Training VIP program
N/A
Link
Link
Clever Training - Save a bunch with Clever Training VIP program
Link

DCRainmaker

FINIS Swimsense
Garmin Vivoactive
Garmin Swim
Review Link
Link
Link
Link
Summary:
Based on my brief time with the Swimsense thus far – I'm really looking forward to it becoming a mainstay in my swim bag, especially if I can get the data seamlessly flowing from me to my coach via Training Peaks – as that's the my goal.  I'm also interested in seeing how looking at cumulative data over time in areas like stroke count per lap compared to lap splits pans out for me, hopefully with the goal of improving my swim times (after all, that's why we swim…right?).
Over the next month I'll get more hands on experience with the trial unit sent to me, and be able to put together a full in depth review.  In the meantime, feel free to use this post to ask any questions about the unit, and I'll be happy to answer them here.
The Swimsense can be picked up either directly from their site, or via Amazon.
Updated Note: I've since completed a full Showcase Showdown between the FINIS Swimsense and the Pool-Mate Pro – check out that post here.