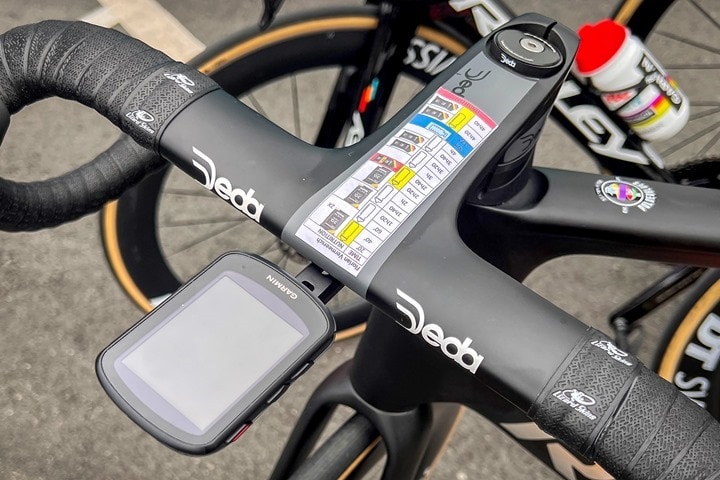 I spend most of my time at the Tour de France looking at riders' handlebars. It's sorta my thing. Back many years ago we started seeing teams add stickers on rider handlebars with details of the upcoming stage, notably the elevation profile, sprints, etc…. These days, that's commonplace, and almost every team uses them, so much so that I think the Tour de France actually provides the stickers now. Every once in a while we'll see some creative variants, but they're virtually all identical, as seen below.
Certainly, most popular GPS bike computers are capable of displaying the upcoming elevation profile, and some can also display waypoints. None can emulate the look of that 'entire view with waypoints' look though, at least to my knowledge. Perhaps there's a random Connect IQ app out there, or something else that can do it. But for the most part, it's all about the elevation profile, not the extra bits of useful data. Here's a custom-colored Wahoo BOLT V2 on Team EF, and a custom-sticker Garmin Edge 840 on Movistar – both with the elevation profile stickers on the handlebars.
And the thing is, the elevation profile sticker is simply super practical. It's always there, and never on a 'different page'. When you're out there for 4-5 hours, it provides a quick at-a-glance look at the stage, and virtually all riders would have current distance on their bike computers (if not simply know it from recent markers or terrains/towns). Even if bike computer brands emulate it exactly, it'd have to still be in an always-on config to mirror that same level of 'functionality'. That could be done along the top/bottom, but of course at the expense of screen real estate.
But again, that's mostly all old news. You can even find companies that make your own stickers for your upcoming events/racers/etc.
However, at this year's Tour de France, I saw something I'd never seen before: A team with an additional nutrition sticker. While looking at Team Lotto Dstny, I noticed from afar that the stickers didn't look like the regular elevation profile ones, but rather, were listing times and nutrition intake. The team is sponsored by Precision Hydration for nutrition products, and the stickers all naturally listed Precision Hydration products (disappointingly, the stickers did not list Haribo, M&M's, or ice cream). Here is a look at Caleb Ewan's on the 182km Stage 1: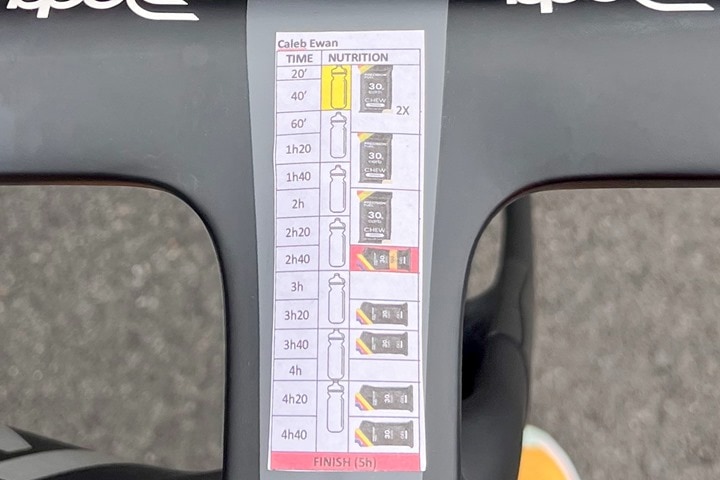 You can see not just chews vs gels, but caffeine ones vs not, and even the water bottles are labeled differently (yellow vs not).
As I look at different bikes set up next to the team bus, each rider (named at the top), had a different nutrition plan. Here are all the nutrition plans for the 209km Stage 2, which was a warm and mostly overcast day, but not crazy-hot.
Once I saw the stickers, I had so many questions. The first of which was "Did some poor person manually create these using the world's most complicated Excel sheet?". Especially when you realize there are different products in there, and each one has the correct image/icon for it. For example, the gels with caffeine show the correct image which always has a golden stripe across it (in the case of Precision Hydration's lineup anyway). And I think that's actually what stood out to me the most, and differentiates this from how most bike computers work.
See, you can add hydration and nutrition alerts on Garmin devices, which the team is sponsored by (details on which devices the 2023 Tour de France riders are using here). And the same is true of Wahoo too. And while Wahoo's is more customizable than Garmin's, neither can show the actual gel packets for which ones to take (e.g., caffeine vs not, or gel A vs gel B). And sometimes, when you're 4-5 hours into a ride on a hot day, or a hard day, you just need simplicity. It's very clever. And in the case of both Garmin and Wahoo, it's generally about repeating nutrition/hydration alerts (e.g., every 20 mins), not about specific ones at specific times (just once). Sure, you can kinda hack around those limitations with other custom alerts/options, but it's very messy. But Wahoo at least allows you to add emoji: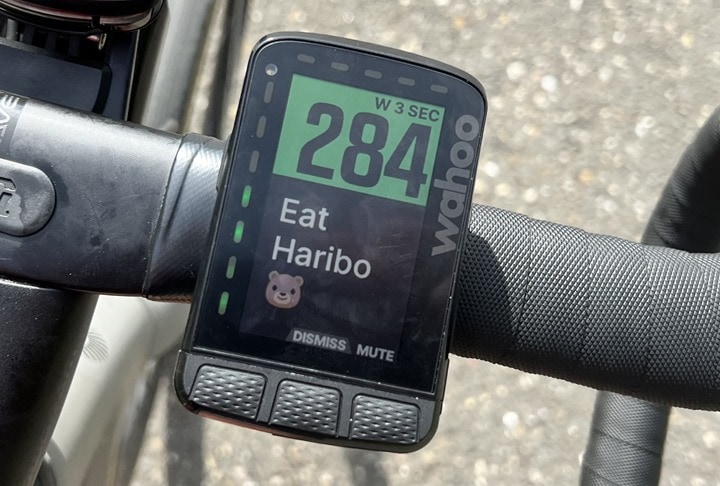 I don't know why I found this particular sticker so cool, but I did. Perhaps it's because both myself and my wife have been using the Precision Hydration stuffs this past year for our races (including mine a bit over a month ago), and thus I was familiar with the whole "Wait, which type/color of gel and when, and how does that shift over the race?" There are plenty of good reasons why a nutrition plan (from any vendor) might vary the products throughout a longer endurance race. Or vary mediums (gel vs chews vs drinks). I'm not going to get into that here, mostly because that's out of the scope of things I write about or have detailed knowledge on. Suffice it to say, coaches/athletes/nutritionists have many different ways to get the athlete to the finish line.
Instead, I wanted answers on how these silly stickers were actually created. Was this some special app? Was this Excel? Did she hire people on Fiverr? I needed to know. After asking around a bunch at the team bus one morning earlier this week pre-stage, I was pointed in the direction of the "sticker lady", who is the team's nutritionist Britt Lambrecht. At the time, she was finishing putting bottles on bikes heading out for the stage shortly.
So, my quick questions (since everyone is busy on race morning):
How are you creating the stickers? "Just Word", yes, Microsoft Word. She manually creates each one for each rider each morning, depending on the rider and the stage length/needs/conditions. And this includes the pictures of the package, which she said the riders liked. Had it been anywhere else with more time, I'd probably been like "Ok, I've gotta still see your Word document! Also, which sticker paper and printer?"

Why don't all riders have them? "It's more for the riders that sometimes forget to eat". She noted that for herself, it doesn't matter whether or not the riders use the stickers – as long as they're getting in the nutrition they need.

Is this the first team you've done the stickers for? "No, this is the first team I'm working in. But I saw at another team, [Team Intermarché] Wanty, they sometimes have it there". I looked later at Team Intermarché again, but for this stage they weren't using it. And she wasn't sure if they were using it at the TdF this year, as she had seen it previously pre-TdF.
Again, I didn't want to take up too much time as she had bottles to place on bikes.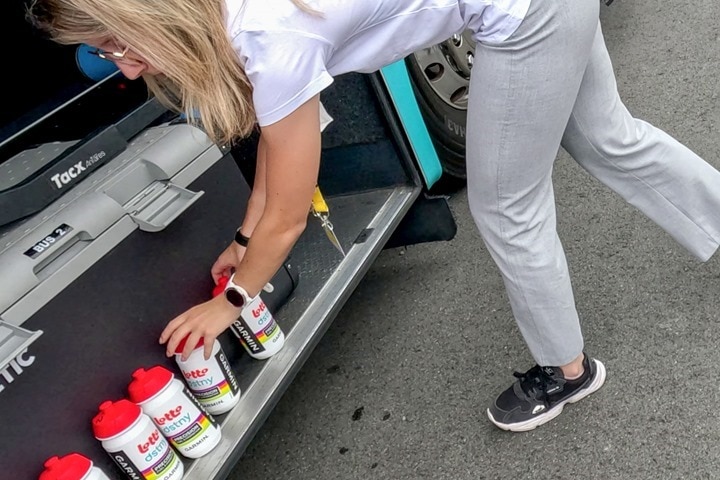 Now, it should be noted there are apps out there that get into the realm of this. For example, a few years back I previewed EatMyRide, a Garmin Connect IQ app (for Garmin devices) that lets you get very customized with nutrition intake, and also is customized per route/etc.  The app does waaaay more than just reminding you what to eat and when, as it also tracks what you consumed in real-time and a slate of planning/analysis tools. It's really cool stuff, but again, far more than just the sticker concept above.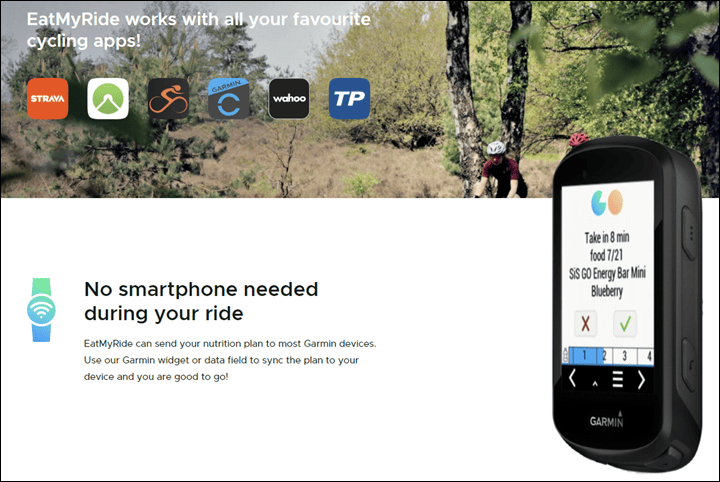 Likewise, some 7 years ago, GU released a Connect IQ app that reminds you to take nutrition. Based on the limited description, it's actually even more basic than the sticker above, as it apparently just reminds you to take nutrition every 45 minutes.
And in fact, while trying to find something else, I stumbled upon another Connect IQ app called 'Stem Sticker', which kinda does something like…well…a stem sticker. I haven't tried it yet though.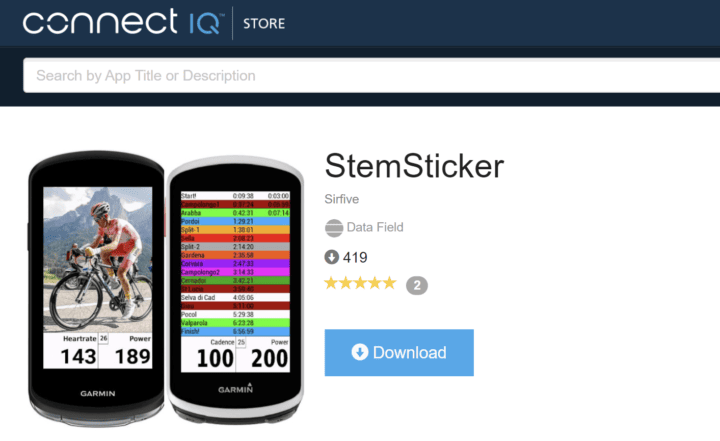 Perhaps there are other apps out there for bike computers or watches. And undoubtedly there are other phone-based apps out there, but that's not usually the screen type that people doing 4hr+ long activities are looking at.
The long and the short of it is that I suspect there probably is some demand for a better way to do not just nutrition alerts on-course, but full course previews/positions, on bike computers. Ideally in a way that would allow 3rd party platforms (the TrainingPeaks/INSYCD/Final Surge/Strava/Komoot's/etc of the world) to also expose that so that coaches could easily pick products from a database, and then send a nutrition plan alongside a training or racing plan. Or, have a template-style nutrition plan that can be overlaid with specific products you personally use, and the quantities/labels/etc…
While there are tons of endurance sports nutrition products in the world, in the grand scheme of things, there aren't actually all that many. And from my interactions with companies that create these platforms/databases, it sounds like most sports nutrition companies are more than happy to provide all the carb/sugar/packaging/etc details for their own products, as that expands reach.
Until then, based on the massive quantity of responses when I posted a picture of that sticker to my Instagram Stories last weekend, perhaps that Team Lotto Dstny nutritionist can open up a sticker company side hustle. Might have a solid opportunity there.
With that – thanks for reading!