The past 7 days have seen a nice strong sweep of updates for cycling tech, and even some new cycling units, like the Bryton Rider S500 (more on my recent ride with that, tomorrow). So, let's just do a quick and tidy recap of all the newness as companies start to get back into gear after the holidays.
Wahoo ELEMNT Series Adds Custom Alerts:
First up, we've got an update to the Wahoo bike computers (ELEMNT/ROAM/BOLT/BOLTV2) that allows you to set both one-time and repeating custom alerts. The idea being you can create nutrition alerts, or tire pressure alerts, or alerts to check that your house still isn't on-fire. Whatever floats your boat. These alerts can be created by time or distance.
After ensuring both your wahoo ELEMNT app and device are up to date, crack open the smartphone app, and go to the first tab (Workout), then tap in the middle of the screen for 'Select Custom Alerts'. From there, you can add a slate of custom alerts. You'll see that you can customize the text, type (based on minutes, miles/kilometers, or calories), and the interval (if repeating).
Obviously, I created the most appropriate alert I could think of: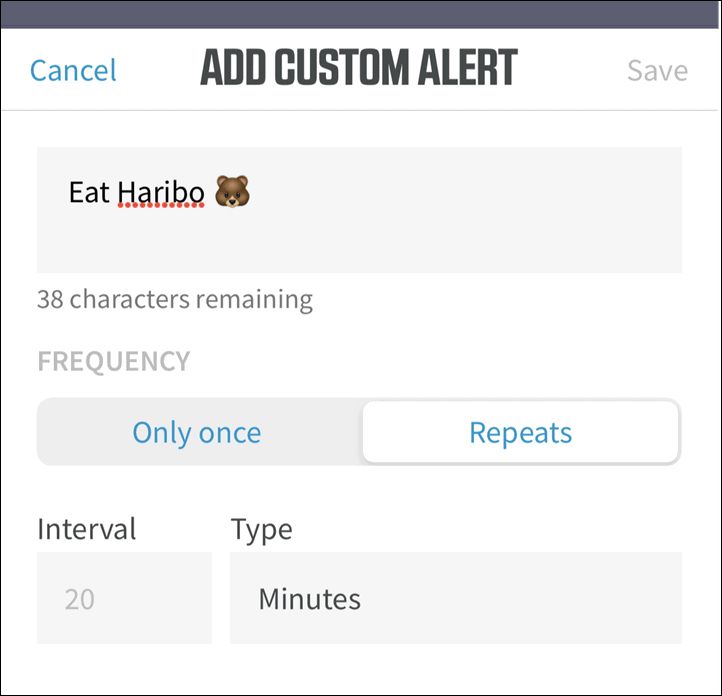 Then, I jumped on my bike (in the shed), and got to work. You'll see the alert pop-up, as well as two options. The first is to dismiss the alert, which is simply dismissing that single alert. Whereas the 'Mute' option mutes further alerts. Notably, if you don't do anything, then it'll stay there.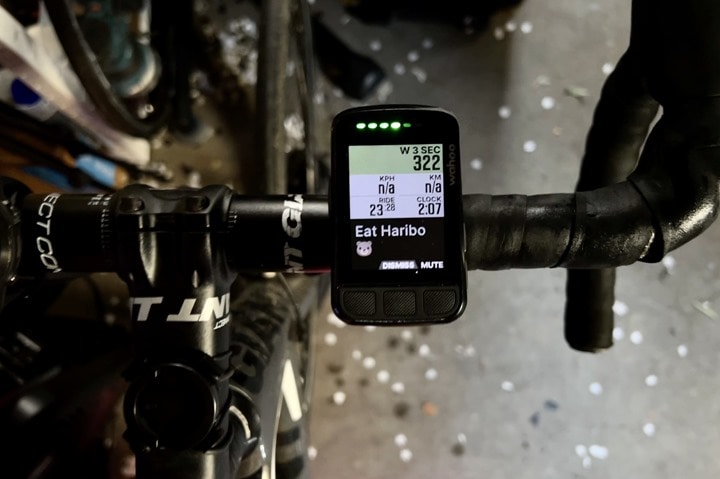 I actually like that, because many times in a race alerts may pop up at a non-ideal time (for example, descending on a TT/triathlon bike), or perhaps in a surge. Thus, by the time you get to the point where you can viably unpack that nutrition, you've probably forgotten about said alert. Whereas here, it just stays there. You can see it doesn't block the entire page or anything, thus, it's still easy enough to see your core data.
It's interesting to note that, unlike their competitors, Wahoo didn't try and create just nutrition or hydration alerts. They basically just created a generic alerting engine, that allows you to customize it however you want. That has its own pros and cons, but I thought it was a notably different approach to what Garmin and Polar specifically, have done around smart alerts for nutrition/hydration based on real-time weather/calorie/fat burn using your heart rate.
This is simpler – plus, it supports emoji. Regrettably, however, there's no gummy bear emoji supported.
Hammerhead's New Features:
Another two weeks, and another set of Hammerhead updates. I know, I know…I keep hammering on about this, but seriously, I don't think I can overstate how many new things Hammerhead adds in their bi-weekly firmware updates. Some are minor, some are big. Some are just nice touches. But nobody – nobody – is approaching this level of update frequency anymore. And this is all well before we start to see the impacts of the recently announced SRAM acquisition. The money and other resources from that will take many months to come to start fruiting.
In any case, there's a long list of changes, including new radar mute options, as well as a number of user interface changes, including notably a new sensors quick-access menu. Plus the ability to import structured workouts from .FIT files too.
For those that haven't seen the Karoo 2 in a while, they semi-recently revamped some of the swipe-down user interface bits, such as these menus here. This made it feel less like stock-Android, and more customized. You can see how you can quickly access routes, workouts, and other features.
However, the newest menu is this quick-access panel for sensors, including for zero-offsetting a power meter: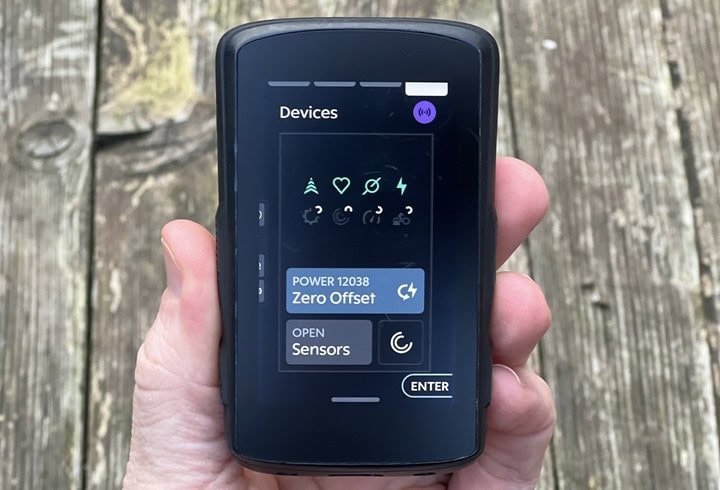 There's also a similar panel for smart bike light and radar devices that's been added this week, though I didn't have any at home this weekend to demonstrate that. This also includes various mute options, as well as changed mute options for radar audio alerts.
Additionally – and probably of more technical importance, is that Hammerhead now allows you to import .FIT and .ZWO workout files. Up till now, they've only been compatible with TrainingPeaks for structured workouts. Leaving a gap for other platforms, or just folks that create workouts elsewhere. Now you can simply import those straight in using the dashboard online.

But seriously, just go look at this list of changes they've done for *just this bi-weekly update*, it's insane. That said, it is worth pointing out that some of these are only coming to the Karoo 2, and not the Karoo 1. I find it reasonably hard to believe that most, if not all, of these changes couldn't have also been ported to the Karoo 1. After all, that was the promise Karoo had made around software updates as long as the hardware was capable.
Still, many of them are coming to/now on the Karoo 1, including the workout pieces – so that's better than nothing.
Xert adds 'Bike the World' videos:
Lastly, Xert has added integration with 'Bike the World' videos. These are videos from the Bike the World YouTube channel that has some of the more epic climbs and rides from around the world. You can watch these videos here on their YouTube channel, but with the Xert integration, it pulls them into the Xert Player as well. There are no YouTube ads played for Xert users either.
You'll see these sessions within the Sessions Library, and the library user interface will slide back and forth between showing the thumbnail for the outdoor ride, and showing the structured workout that accompanies it.
You can see here, if I wait about two seconds, it then shows me the structured workout that's tied to each session: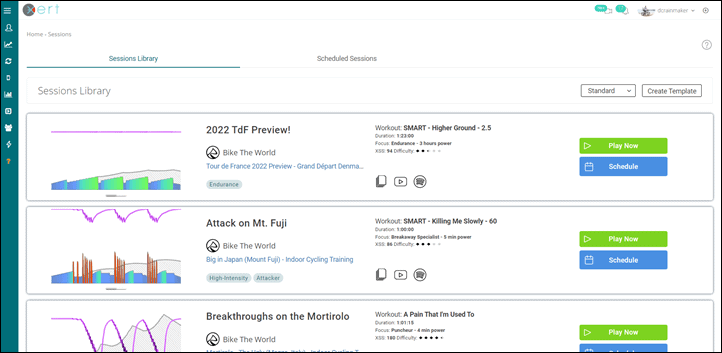 And then once I dig into one, I can play the actual video (and skip around to see if it's my cup of tea), as well as see the full details of the structured workout. There's also even a Spotify playlist linked to this one as well.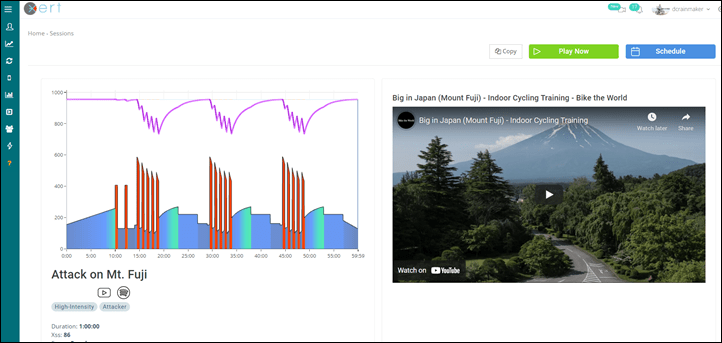 Now technically speaking, Bike the World is part of the Open Road Training app, which is effectively the wrapper software/app around these YouTube videos, allowing you to connect smart trainers and other sensors. Though, in this context, all of this occurs entirely through Xert as part of the partnership.
So Xert users don't need to do anything else, you'll just simply choose one of these sessions just like any other. Except now the catalog is bigger. Enjoy!
TrainerRoad's new Strava Images:
Meanwhile, this is a quickie. TrainerRoad has updated their Strava imagery for when you complete a workout. Keeping in mind that there are really only so many ways you can make an ERG workout look exciting in a computer-generated ride upload picture, this new update now shows your training adaptations.
Here's what a ride looked like before on Strava: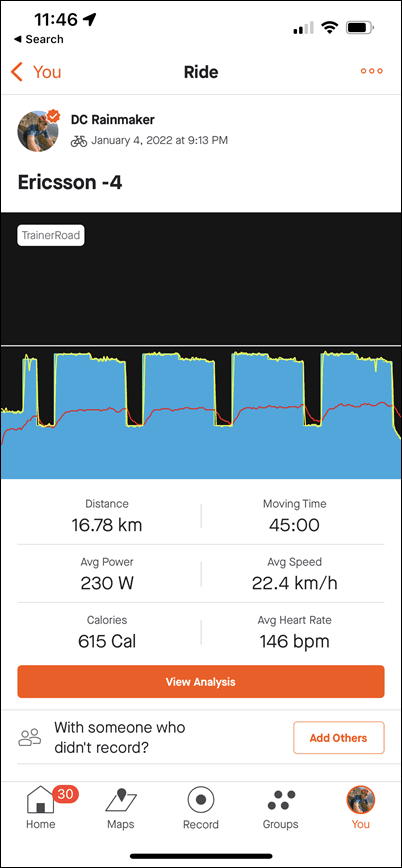 And here's what it looks like now, from my ride yesterday afternoon: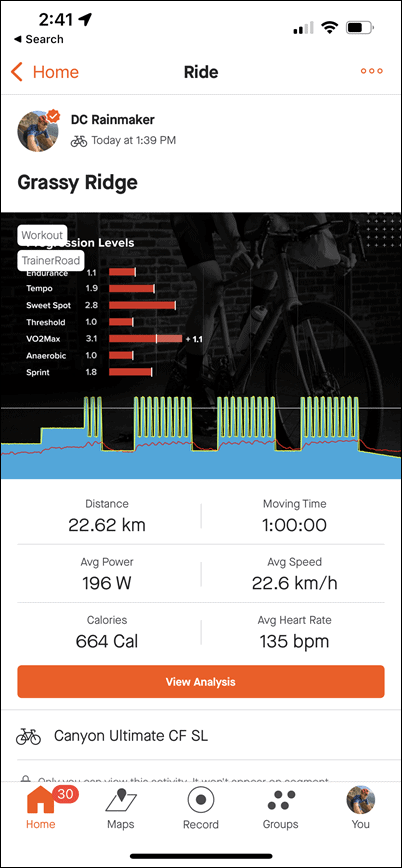 Now, it shows your progression level changes, inclusive of any gains in a given category.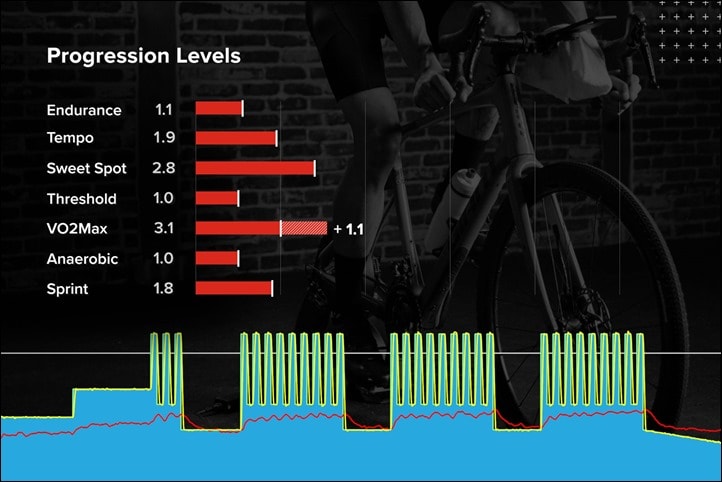 Of course, some people aren't a big fan of this. And I get that – some may consider it oversharing, either for general or competitive purposes. And that's fine. While at the moment there isn't an "off" switch for this particular set of stats, that's coming (even if it did seem to take TR by surprise). TrainerRoad CEO Nate Pearson posted over the weekend:
"Here's what we're thinking:

Have an option to show an image or not
If you have an image, have an option to show progression levels or not

I've told the company to make this a high priority on Monday."
Thus, everyone can instead go back to getting worked up about an impending TrainerRoad/Zwift dance instead.
—
With that – thanks for reading!