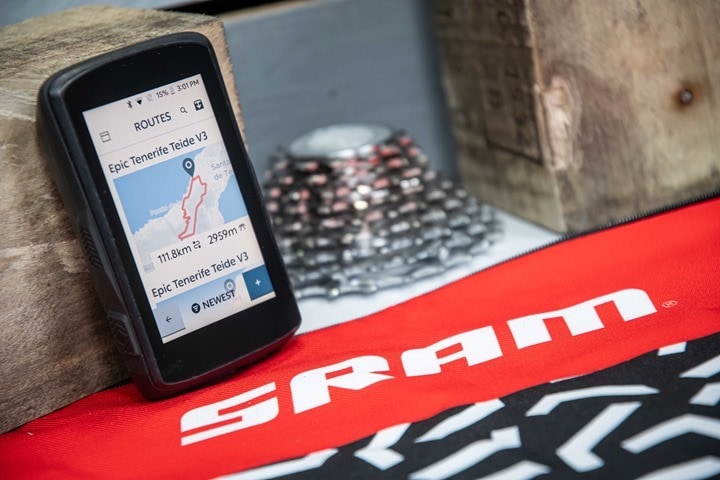 It's been announced today that Hammerhead (maker of the Karoo 2) has been acquired by SRAM for an undisclosed amount. The sale was officially completed back on December 30th, 2021, though it is only being announced today. Both companies say that effectively nothing will change, at least for the short term anyway. Down the road, Hammerhead simply says that they'll "work with SRAM to identify future opportunities". Hammerhead will be operated as a standalone brand in SRAM's portfolio, roughly akin to what we see with Zipp, Quarq, etc…
Still, this is gonna have big ramifications for the bike computer industry – both consumers and other competitors. For their competitors, the news will undoubtedly give them heartache, likely more so Wahoo and Stages than Garmin. Inversely, consumers should be celebrating this. Hammerhead's been doing some incredible stuff over the last year especially, and unquestionably this will help further that goal. There's only so much you can do with limited resources to compete with the resources of a company like Garmin's size, and this will certainly help those efforts.
Now, before we get to some of that analysis, here's a slew of things I've confirmed with Hammerhead & SRAM:
No changes for consumers for things like support, etc… all of that stays with Hammerhead
No changes for dealers/distributors, that will remain with Hammerhead (though honestly, I don't believe that longer-term – the core point of a consolidated brand is ease of distributor access, and that's something that SRAM does really well today across their brands)
I asked whether Hammerhead would leverage SRAM's software divisions, and they said not – specifically "Hammerhead staffing and development teams will not change. The acquisition structure means Hammerhead will be able to focus 100% on innovation and product to best serve customers."
They confirmed all employees are being retained (nobody is losing their jobs)
They confirmed their current company locations will not change
They confirmed all existing production facilities/partnerships will remain the same (this is surprising to me, so we'll have to see about this down the road – though SRAM doesn't make Android phones, so they probably don't have better partners today in that area)
They confirmed all existing investors were fully bought out as part of this. You'll remember that Lance Armstrong's investment group was one of those investors (of many)
Finally, they confirmed that Chris Froome will continue to be involved with the company "as a friend of the brand and as a member of Israel – Premier Tech team."
In other words, virtually nothing changes today. In fact, SRAM even went so far as to use the name of their primary competitor, Shimano, in their press release:
"Together, SRAM and Hammerhead will continue to develop an innovative cycling technology platform ensuring riders can seamlessly integrate with a wide variety of existing hardware and software products and services including both Shimano and SRAM electronic shifting."
In other words, they wanted to reassure people that the Karoo will continue to work with Shimano Di2 shifting, even if it can't record the actual data (yet?).
Most of this seems to be well summed further in the release, with them saying:
"Hammerhead is an amazing brand with award-winning products, and we do not plan on changing anything about how they innovate," SRAM's VP of Growth, Clint Weber"
Now like most corporate acquisitions, the press release tends to be fairly bland. Usually, you'll only pick up one or two useful tidbits in there, with the remainder being circular corporate speak. And honestly, that was pretty much the same here. It included phrases like "Moving forward, Hammerhead will connect the cycling experience" – what does that mean? Connect with what?
However, there was this line item that caught my eye:
"SRAM saw tremendous potential in Hammerhead after the award-winning cycling GPS computer (the Karoo 2) hit the market in late 2020 and landed on the handlebars of many of the world's top athletes. In just the last year, Hammerhead achieved 7x revenue growth and their community of riders have clocked over a million hours of gravel, concrete, and trails covered."
This is interesting because they basically didn't start shipping units till December 2020, though, most of those were from pre-orders in summer 2020. For regular sales, it was all from Q1 2021 that you could actually buy one. And between January and Summer 2020 – you couldn't buy any units at all (they had sold all their previous Karoo's). So for them to basically 7X their pre-order period is strong, since pre-orders periods tend to be huge spikes.
Inversely, a 'million' (singular) hours actually isn't that much in the grand scheme of things. So I'm not sure what to make of that. Still, I like random quirky stats, and this was one of them.
Going Forward: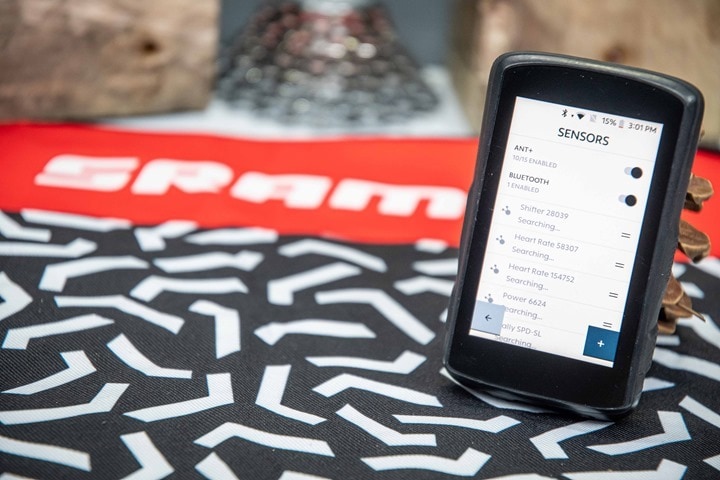 In any case, the interesting bits are what comes next. Obviously, this gives Hammerhead huge amounts of money to work with, but also deeper engineering talent, as well as more athlete sponsorship opportunities. All those individual and team athletes that SRAM has? You can bet by next year they'll largely be on Hammerhead bike computers (most stuff for this season will already have been finalized months ago).
And while Hammerhead talks about their development team staying, SRAM has a deep bench of both software and hardware engineers that'll undoubtedly get leveraged. Even if it's for trivial stuff, like ensuring better compliance with ANT+ & Bluetooth Standards, areas in which SRAM is heavily involved.
But the real question is how this will accelerate Hammerhead's software and hardware plans. The company has already become the clear leader in software update frequency, releasing updates roughly every 2 weeks, usually with at least a few new features. Many are small features, but over the course of a year, it adds up. For example, I've now filmed my 'Wahoo vs Garmin vs Hammerhead' Climbing Bakeoff video four times, because somehow, inexplicably, the next day after I film it, Hammerhead comes out with new climbing features. Given I re-filmed it last week, I presume in a few minutes I'll get a notification about new climbing functionality that voids my video again.
From a competition standpoint, they'll continue to take mostly minor bites out of Garmin's sales. Instead, I think they're largely drawing sales away from Wahoo, who largely hasn't released much in the way of new software features for their ELEMNT series bike computers. But Wahoo's strength is consumers' brand recognition and community aspects, something which is far harder to compete against than pure technical wizardry.
Finally, my personal hope here is to see Hammerhead develop a Karoo 2 Mini, or whatever you want to call it. Something akin to an Edge 530 series device in size, but with the same features and display as the Karoo 2. Plus of course, better smartphone connectivity. I mean, just saying if this is a wish list – those are my two.
In the meantime, I'm excited about this – and think this is great news for consumers. More choice is always good, and in this case, this empowers Hammerhead to give us all more choices (and more features).
With that – thanks for reading!
Found This Post Useful? Support The Site!
At the end of the day, I'm an athlete just like you looking for the most detail possible on a new purchase. These posts generally take a lot of time to put together, so if you're shopping for the Hammerhead Karoo 2 or any other accessory items, please consider using the affiliate links below! As an Amazon Associate I earn from qualifying purchases. It doesn't cost you anything extra, but your purchases help support this website a lot. Even more, if you use Backcountry.com or Competitive Cyclist with coupon code DCRAINMAKER, first time users save 15% on applicable products! Or, with TPC (The Pro's Closet), you'll save $40 on purchases over $200 with coupon code DCRAIN40!
And of course – you can always sign-up to be a DCR Supporter! That gets you an ad-free DCR, access to the DCR Quarantine Corner video series packed with behind the scenes tidbits...and it also makes you awesome. And being awesome is what it's all about!