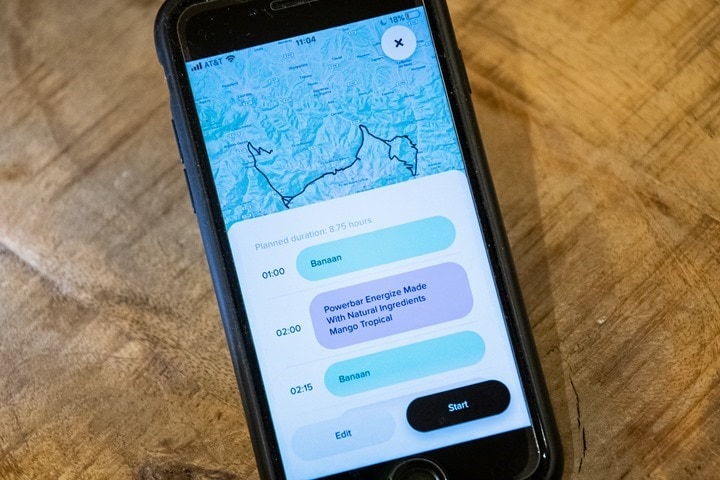 While at CES last week I had the chance to get a bit of a demo from one of the companies within startup pavilion. This pavilion is a bit like speed dating for companies. They've got a very small stand (as in, about the size of a cafeteria tray) within a larger grouping of companies, in this case, the Dutch tech pavilion. Ironic that I'd fly 6,200 miles to stumble into a sport tech company only a mere 45km from me.
In any event, despite the curious name, EatMyRide actually has a pretty darn cool concept once you walk through the details of it. In a nutshell it uses your historical data on Strava to figure out your VO2Max, and then from there it'll work out your exact nutrition needs for a given ride/route. This is beyond just simple calories, but instead actually breaking down the contents of XYZ gel packet or specific foods to figure out the exact order you should take them in, as well as the timing. All of which then enumerates via detailed instructions on your Garmin device (and soon other companies too).
How it works: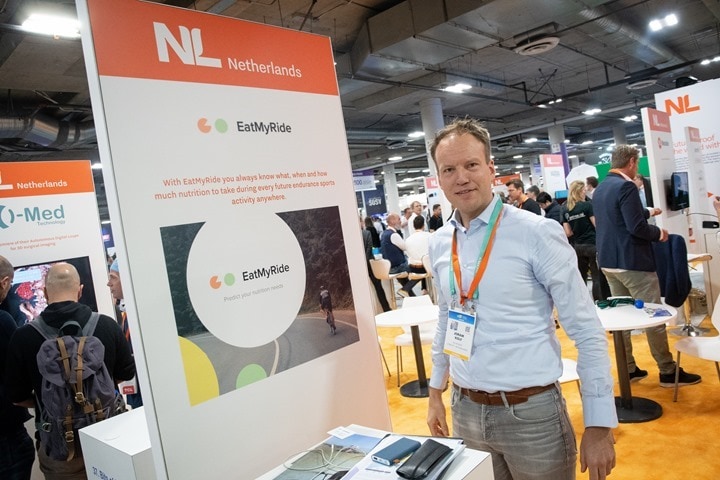 For the foreseeable future, EatMyRide will be a free app – with them eventually planning to introduce a paid tier with more advanced features. Perhaps features driven from some of their work with pro cycling Team Sunweb (which they have partnered with this season – more on that in a bit). First though, you'll go ahead and create an account on their site. After that's done you'll connect your account to Strava.
They use Strava right now as a way to pull your historical rides to determine your VO2Max, or at least an estimate of it (combined with standard age/gender/etc data you give the app). The VO2Max helps them back into some calculations around energy depletion rates. If one had actual VO2Max tests done, that'd give them even more details around burn rates. But hey, getting in the ballpark works for now.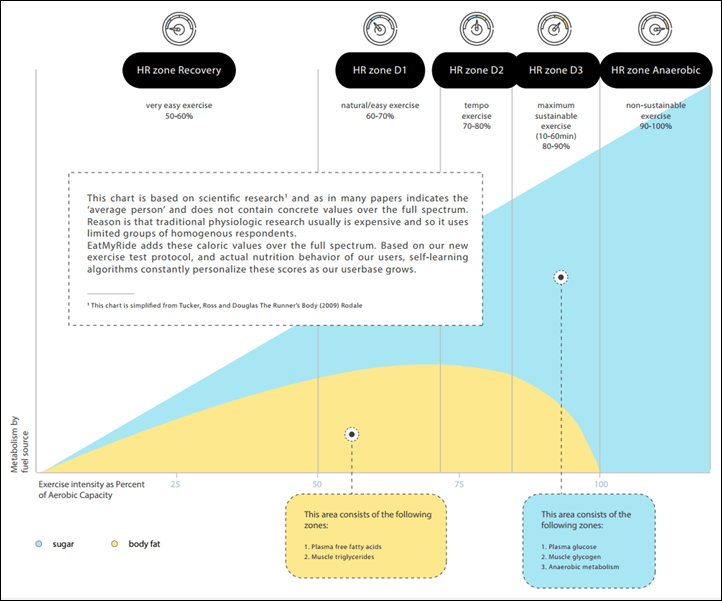 [Above chart from this slightly longer PDF on how their platform works.]
Oh, there's also HR zone configuration options too. These would again line up to depletion rates for different energy stores.
Once all that's done (which is one-time setup bits), then you're onto normal usage. From here you can choose specific event routes, which right now are somewhat heavily slanted towards the Netherlands (where most of their testers are), and other major events in Europe. But more important is that as long as you've got a Strava Route created for it, it can use that.
Personally, I create all my routes in Strava Routes these days since it acts as a Switzerland of routing for me that virtually every device supports. They're also looking at supporting Komoot soon too (they had .GPX support, but removed it for now since the workflow was confusing users). Note they do take into account elevation gains as well. After you've selected a route, you'll choose your starting time. While the app doesn't account for what you ate pre/post-ride yet, it's something they're working with Team Sunweb on.
Next, you'll choose which foods you want. This is where you can pick from thousands of foods in the database, but ones that are primarily more portable in nature. For example, they've got all the gels and endurance nutrition products you'd expect, but also simplistic things like a banana. At this stage it's not picking those gels for you, but rather you add enough to reach the total quantity needed. The idea being you might not want 5 hours of the same product.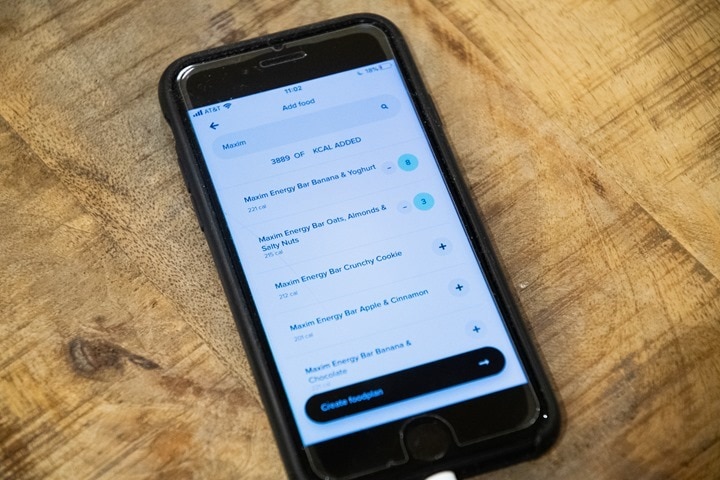 Next, it'll automatically figure out the timing and order of the nutrition intake for you. For example, it knows that you'll probably want to offload that banana sooner rather than later – as it's likely to be a pile of smoosh 4 hours in, versus after just 45 minutes.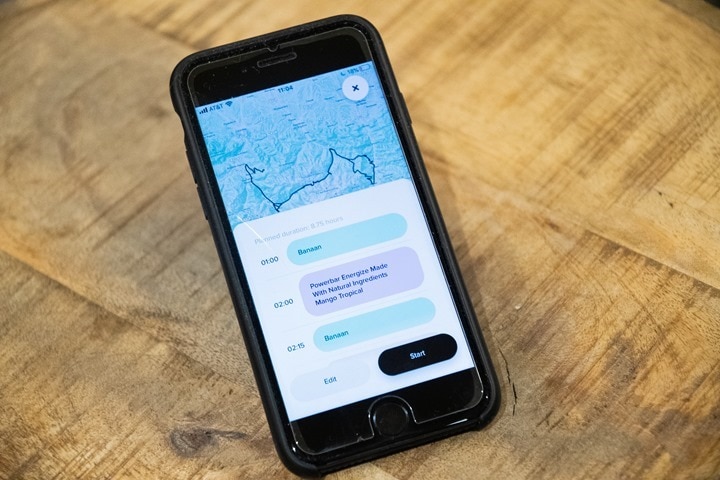 But more importantly, it's trying to balance the components of each nutrition item, to take into account things like sugars and fats and figure how those mesh with your route demands.
They depict this comparison here (generalization) showing how they time things around depletion:
Ok – so your route is selected, and your nutrition line up. But how do you actually see this all mid-ride? Well, today that's primarily via their Garmin Connect IQ app. You can see that here on the app store: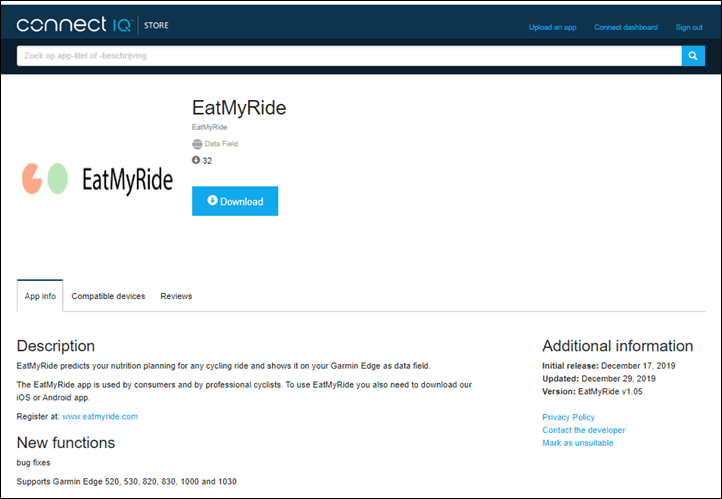 On the Connect IQ app (shown in Dutch below, but that doesn't much matter), you'll see the specific item you should be eating, and when that item should be eaten next. It's the data field showing 'EatMyRide' towards the lower left.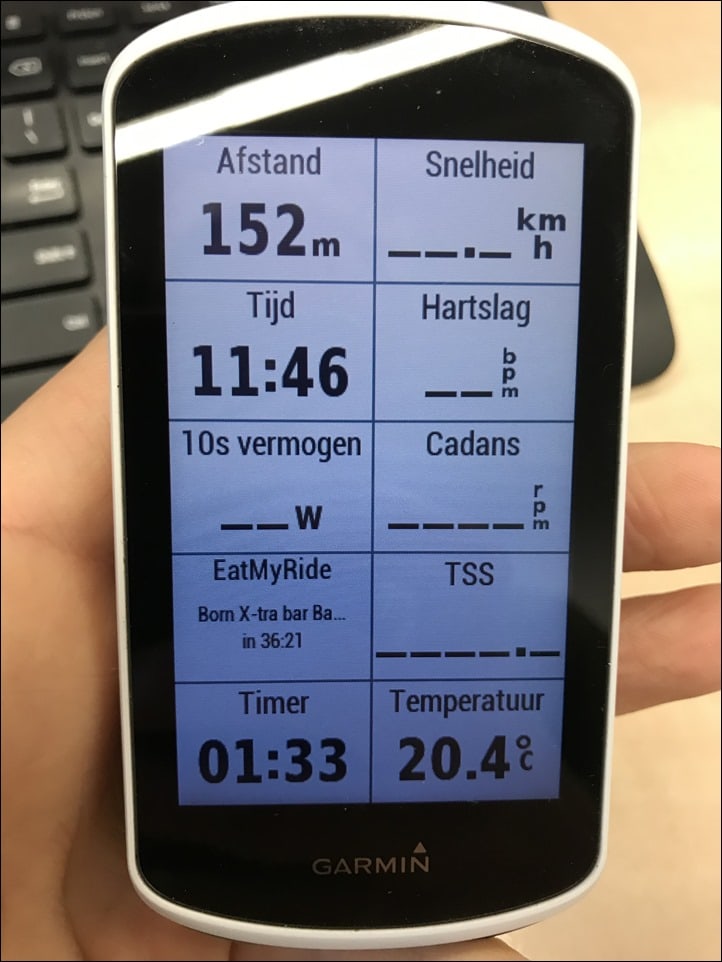 Right now the Connect IQ data field is supported on basically all Garmin Edge devices, though I don't see any reason why they wouldn't be able to make it compatible with most newer Forerunner & Fenix devices if they wanted to.
Behind the scenes, the way the integration works is that the Connect IQ Data Field pulls from the EatMyRide internet service, so it knows which specific ride you've loaded after you press the 'Start' button on the phone app (see photos up above). One could see though how with a bit more creativity, they could actually have the app also pull in the route file too to the Garmin, but honestly, this works just fine for now.
As for other devices, the company at CES said they had two other companies already lined up to support it, and were also talking with Wahoo as well about ways they could have the platform supported there too.
I think this does show to some degree just how powerful Connect IQ is for smaller companies that want to integrate on larger device platforms, since it takes no approval or such from Garmin. They just act like any of thousands of other Connect IQ apps. On the flip-side, a more native integration with a company like Wahoo could lend itself to a more streamlined experience for the user. Pros and cons of both approaches as always.
Wrap-Up: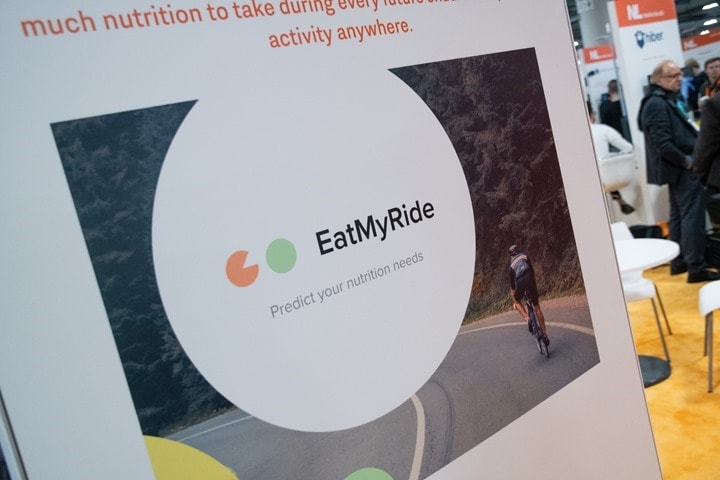 This is one of those apps that when you try and explain it to someone in a 15-20 second pitch, doesn't seem to resonate as well. But, when you actually walk through step by step the app – it's like 'Whoa – that's super cool', and fills a gap that definitely doesn't appear to exist today. At least with this level of integration and depth of process. It's way more than simply a nutrition timer every 15 minutes.
It's a bit in the wrong time of the year/training schedule for me to be going out on 3hr+ long rides where nutrition is more of a factor, but I think that's OK. They're just at the point of expanding their beta group into real production users, and I figure by time spring hits it'll be a more mature service with potentially more partners (maybe Wahoo or others will join in too). All of which would be perfect timing.
The company says they'll be opening up the app beyond their existing 500 beta users over the next couple weeks, on both iOS and Android. You can hit up their site to sign yourself up for that or watch their quick overview video with pretty drone shots of the routes I often ride…albeit, on much warmer looking days than today here.
With that – thanks for reading, and I'm looking forward to giving this a whirl myself once the weather gets a bit nicer.