Garmin's new Instinct 2X aims to complete the threesome size lineup of the Instinct 2 series, offering now a small, medium, and large edition. However, most notably, it becomes the next series of watches to include the flashlight, which Garmin launched on the Fenix 7X last year. This flashlight has multiple modes, including strobe and red-light mode. But beyond that, and most critically for those wanting higher accuracy, the Instinct 2X also includes multiband/dual frequency GNSS/GPS. Oh, and it gets Training Readiness!
In effect, the Instinct 2X follows in the footsteps of Garmin's Fenix X variants. From the first Fenix X variant back on the Fenix 5X, Garmin used the larger size unit to 'introduce' new features to the market. A blend of market interest validation tests (do people find this new feature useful?), with charging a premium for said fancier features. The company is now applying that same concept here with the Instinct 2X, albeit by taking already existing features from higher-end units.
In any case, I've been testing the Instinct 2X for quite some time now. Putting it through more paces than I can shake a stick at. Swims, rides, runs, hikes, trail runs, gym, and whatever else floated my boat (except, I don't have a boat). As usual, I'll dive into what works well, and what needs more work – there's a helping of both in this unit.
Garmin sent over media loaners to test out. As usual, this review is not sponsored (nor does any company get to preview anything I review), and I don't take any advertiser money from any companies I review. Once this unit goes back, I'll go out and buy my own for any future testing needs. If you found this review useful, you can use the links at the bottom, or consider becoming a DCR Supporter which makes the site ad-free, while also getting access to a mostly weekly video series behind the scenes of the DCR Cave. And, of course, it makes you awesome.
What's Changed:
At first glance, you might assume this is just a slightly bigger Instinct 2. But in reality, that'd be woefully wrong. In fact, it's probably best described as an Instinct 2.5X – meaning, it's not quite hitting the bar for a someday Instinct 3, but it's a far better unit than the Instinct 2 series. This is common in Garmin land, and in fact when Garmin first introduced the Instinct 1 units they didn't have solar. That was followed up nearly 2 years later with an Instinct 1 Solar series that had significantly revamped internals – just like this.
In any case, here's how it differs from the Instinct 2 series – and, how similar it's become to the Fenix 7 series:
– Increased watch size to a 50mm case (previous Instinct 2S is 40mm and Instinct 2 is 45mm)
– Increased display size from 0.9" to 1.1"
– Increased solar panels by 50% compared to Instinct 2 Solar
– Massively increased battery claims/specifications (see battery chart)
– Added screws to front case
– Added multiband/dual-frequency GPS/GNSS
– Added flashlight/torch, both white and red light, plus strobe options (like Fenix 7X or Enduro 2 series)
– Added Training Readiness suite of metrics (like Fenix 7 series)
– Added solar lux hour tracking metric (like Fenix 7 series)
– Added Morning Report (like other Garmin watches)
– Adding obstacle course racing activity profile in near-term update (like Fenix 7 series, also now in Instinct 2 public beta)
– Adding Boxing and MMA Activity Profiles in the next quarterly update
– Price actually stays the same at $449 (compared to existing Instinct 2 Solar units)
There is no non-solar variant of the Instinct 2X, all Instinct 2X variants are solar-enabled. There is however a Tactical Instinct 2X edition, costing $50 more at $499, which also includes a green flashlight (instead of red).
Ultimately, that leaves Garmin with three core Instinct sizes, as shown below side by side – the Instinct 2S (40mm), the Instinct 2 (45mm), and the Instinct 2X (50mm)– identical in concept to Garmin's Fenix naming for those three sizes. Here's a shot next to the smaller Instinct 2 (I can't find my 2S at the moment):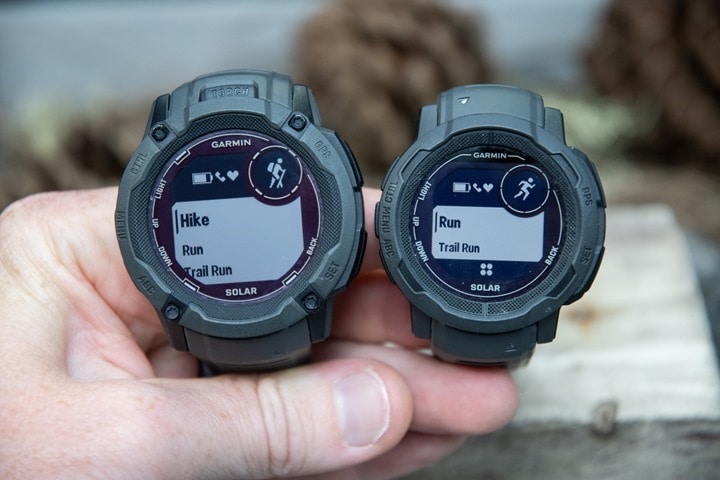 Got all that? Good, let's get started.
The Basics: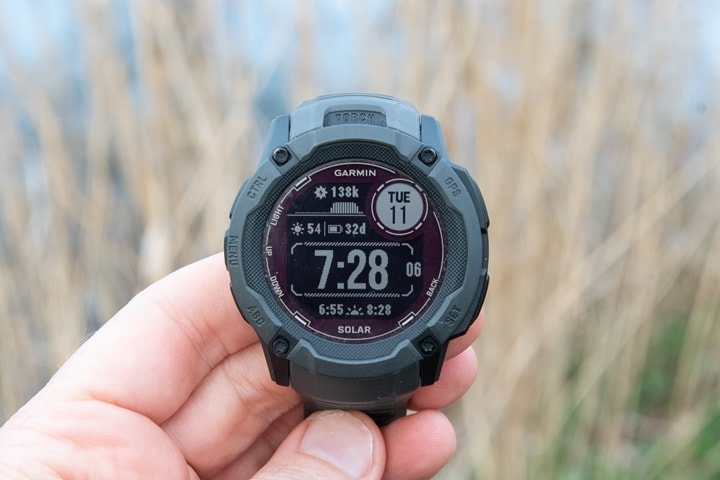 This section will be a quick overview of the basics of the watch, none of which has changed since the previous Instinct iterations.
The first thing to know is that it's all-button navigation, no touchscreen here. You've got three buttons on the left side, and two on the right side:
Meanwhile, on the back, you've got the optical heart rate sensor, which contributes not just heart rate information, but also data on things like breathing rate, PulseOx, and plenty more: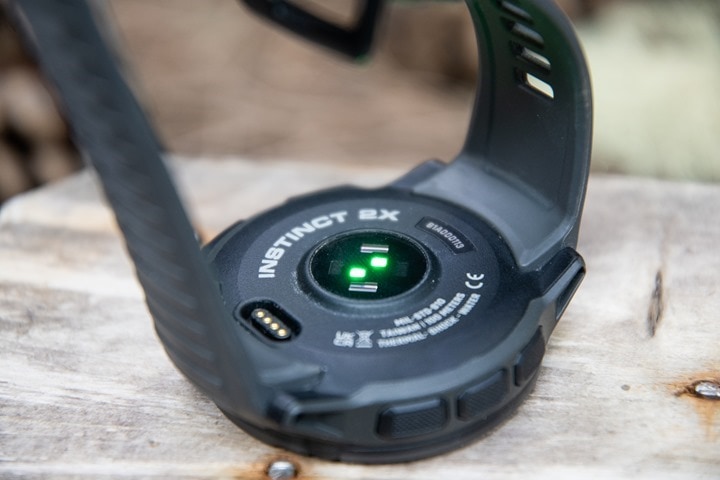 The straps are removable, in the event you need/want to replace it. Simply grab a paperclip and then insert it into the side, and it'll pop out. Outside of that, it's pretty darn secure, if a bit overly built. But that's sorta the Instinct 2 series design goal.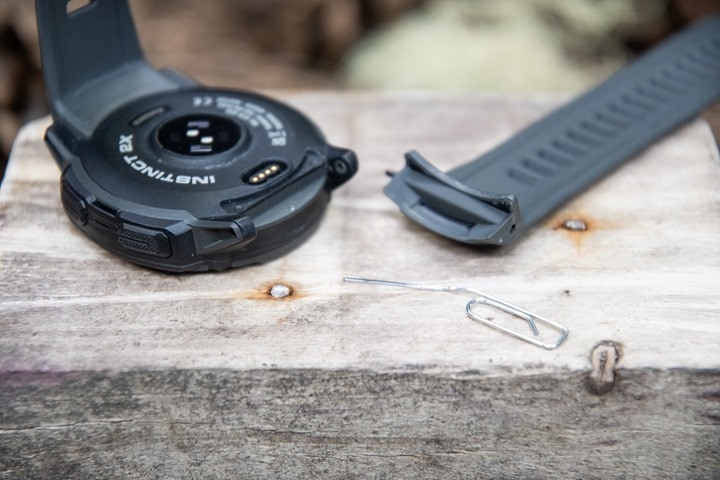 Next, you've got the watch face. This is fully customizable, both on the watch itself, as well as via downloading from Garmin Connect IQ, Garmin's app store. Each of the complications (data bits) are tweakable as well.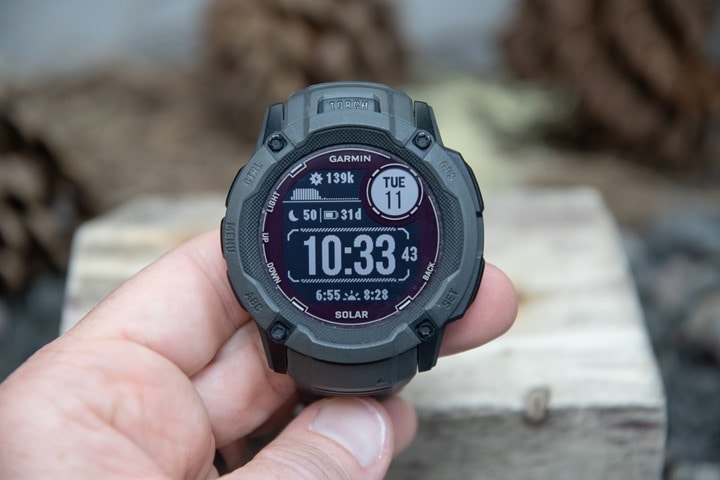 From there, you'll scroll down to the widget glances. Each piece here is a different and customizable tidbit of information. These can be steps, the barometer, training status, and anything else you want.
You can open up any of these data tidbits to see full stats, usually in 2-3 different pages, such as steps here, and steps over the past week (it's been a bike-heavy week):
The watch will track sleep as well, automatically, including when you don't sleep very much at all. All of this contributes to data metrics like Training Readiness, as well as the sleep score. It'll track sleep phases, but I don't put too much trust in that.
Of course, all of this information is also accessible via Garmin Connect Mobile, and Garmin Connect as a platform as well:
And like most smartwatches, you can also see notifications here – including emojis. You can't respond/answer from the Instinct series from iOS (but can via canned responses on Android), but you can clear/open/dismiss them on iOS.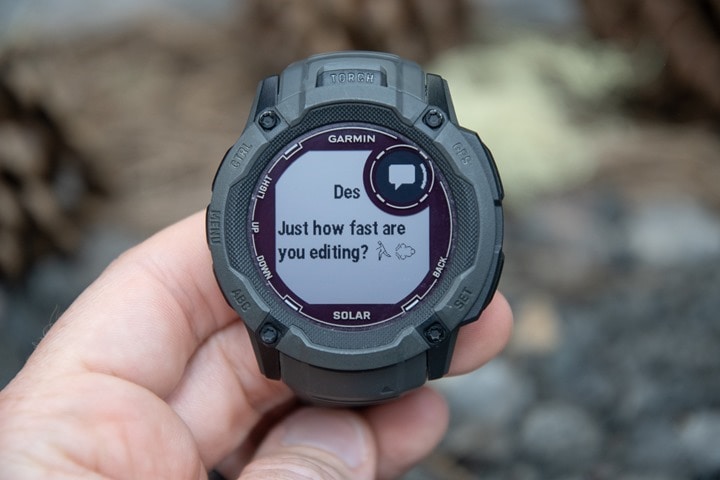 As I said earlier though, all of this stuff is the same as before with past Instinct devices. Instead, the new goodness on the Instinct 2X is actually in other areas, so let's jump into those.
Sports Usage:
Arguably, the main reason you'd get the Instinct 2X is for outdoor and sports usage. The sport modes are where you track activities, be it a hike, run, ride, ocean swim, or any number of the umpteen other sports that the Instinct 2 series tracks. This can be sports using GPS (generally outdoors), as well as non-GPS sports such as a pool swim or gym workout. Those sports instead leverage internal accelerometers and other sensors.
When the Instinct 2 series initially launched a year ago, it dramatically expanded the sport profiles, including sports like triathlon/multisport, as well as a slate of cycling-related ones. Since then, we've seen additional sports modes added (like Running Track mode), and with the Instinct 2X, it also will soon gain an Obstacle Racing sports profile, Boxing, and MMA profiles. Here's a complete list of all the sports modes on the Instinct 2X at this time:
Bike Indoor, Run, Bike, Treadmill, Navigate, Expedition, Track Me, Project Waypoint, Area Calculation, Pulse Ox, Multisport, Trail Run, Virtual Run, Track Run Indoor Track, Walk, Hike, Climb, MTB, eBike, eMTB, Cyclocross, Gravel Bike, Bike Commute, Bike Tour, Road Bike, Pool Swim, Open Water, Triathlon, Swimrun, Ski, Snowboard, Climb Indoor, Bouldering, XC Classic Ski, XC Skate Ski, Backcountry Ski, Backcountry Snowboard, Kayak, SUP, Surf, Kiteboard, Windsurf, Row, Row Indoors, Strength, Cardio, HIIT, Yoga, Elliptical, Stair Stepper, Floor Climb, Tactical, Boat, Tides, Fish, Hunt, Golf, Tennis, Pickleball, Padel, Horseback, Pilates, Health Snapshot, Other
Once you're ready to suffer, you'll tap the upper right button, which will show your preferred/favorite sports first, and then from there you can add other sports or customize the list.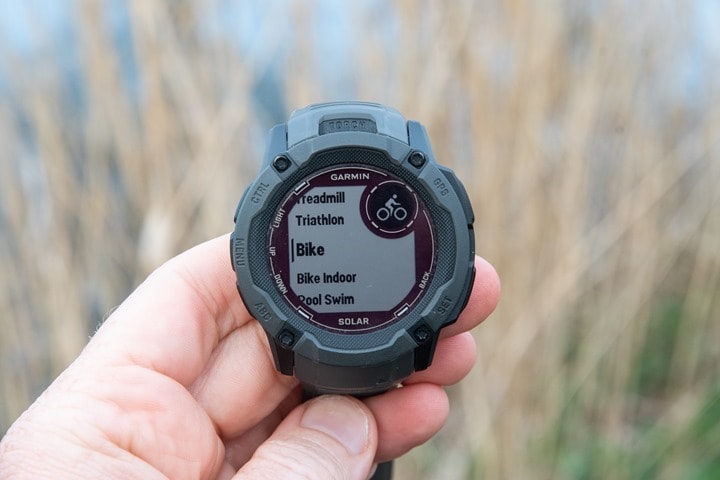 Speaking of customization, all of this is customizable on the watch itself, or via Garmin Connect Mobile (smartphone app). That was added when the Instinct 2 series launched, and allows you to tweak basically everything from your phone. You can customize and configure everything from the exact sport profiles you use, to which metrics are shown on the data pages. Further, you can even configure almost all watch-wide settings like GPS satellite modes (including multiband/dual-frequency), alerts, and more.
About the only thing you can't really tweak from the smartphone app are 3rd party paired sensors like a power meter, cadence sensor, or such. But you can modify internal sensors such as the compass/barometer/etc…
Speaking of sensors, the Instinct 2 series significantly expanded the slate of supported connected sensor types. These can be accessed within the Sensors & Accessories menu, and include the following types (both ANT+ & Bluetooth Smart supported, depending on the exact sensor type):
External Heart Rate, Speed/Cadence, Power, Foot Pod, VIRB, Tempe, RD Pod, Cycling Lights, Cycling Radar, Extended Display, XERO Laser Locations, inReach, DogTrack, Smart Trainer, Club Sensors
This is all in addition to the internal compass, barometer, altimeter, and optical HR/PulseOx sensor. Note that there is no ECG support within the Instinct 2 series. While Garmin recently launched that on the Garmin Venu 2 Plus watches, it hasn't made its way to any Outdoor product division units yet (and requires different hardware not in the Instinct 2 series).
For 3rd party sensors though, you can pair and configure sensors, such as tweaking the crank length on power meters. Further, you can save multiple sensors of any given type, as well as enable/disable as you see fit.
While I've had generally good luck here, I have been having issues specifically with the new Stages LR dual-sided power meter and the Instinct 2X. Simply put, it constantly drops out and won't calibrate much of the time. No other Garmin watch/device has this issue with the Stages LR, and to Garmin's credit, their engineering team has been trying to nail it down for weeks now with tons of logging and debugging to find the root cause. That might be easier once the Instinct 2X announces today, as they can also involve Stages as well in that troubleshooting. I'll update this section accordingly if/when it's fixed.
For cycling power meters that support Cycling Dynamics, it'll record that data for later viewing, such as seated/standing time or pedal center offset. Currently, that'd be Garmin Vector/Rally pedals, and then Favero Assioma supports a subset of cycling dynamics. It also supports Running Dynamics with a compatible sensor. However, at this point, it does not do native wrist-based running dynamics like the just released Garmin Forerunner 265 does. Hopefully that changes. It does however do wrist-based running power.
In any case, having picked a workout, if running/cycling, it'll offer a Suggested Daily Workout. This will either be part of a specific automated training plan towards a race/goal you've set, or just something that it thinks will keep you fit. You can disable this if you want. Also, if you had poor/bad sleep the night before, it'll simply suggest a rest day: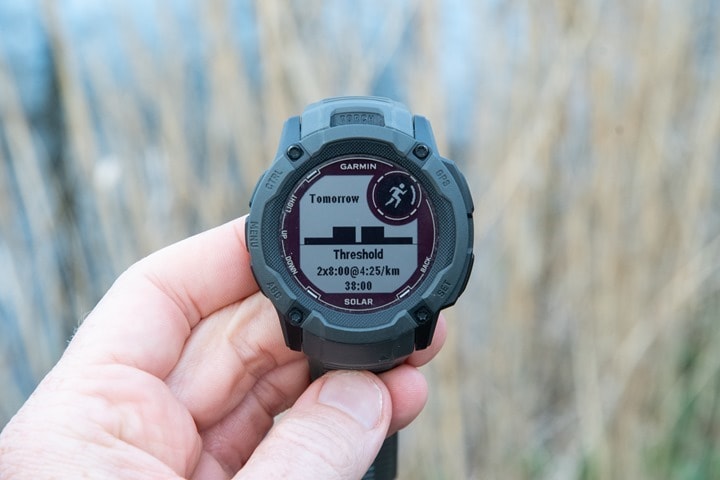 Further, you can download 3rd party workouts from platforms like TrainingPeaks, TrainerRoad, or even Garmin Connect itself. All of that is like any other Garmin device.
At this point you can also add a course/route, but I cover that in the 'Navigation & Routing' section down below.
Instead, let's hit the start button and start recording. You'll see your data pages and data fields as configured:
Speaking of which, the Instinct 2X supports up to 5 data fields per page, and more data pages than I could possibly need/create/configure.
Further, you can also configure things like auto lap, auto pause, auto climb, and even 3D distance and speed for super-steep climbs/descents. There is no ClimbPro on the Instinct 2 series unfortunately, that's reserved for Garmin's higher-end/higher-priced units. Though, these days with the Garmin Forerunner 955 being $499, it's a bit hard to reconcile that having it, yet the Garmin Instinct 2X Tactical Edition not having it (also $499). Such is the splatter approach to features within the Garmin lineup.
In terms of things like GPS pace stability, while running, I didn't have any issues with that during any of my workouts. Nor did I have issues doing structured workouts with it, of which I've done many over the last few months (usually created in Garmin Connect, but sometimes sent from TrainerRoad). And you can also see native wrist-based running power here too: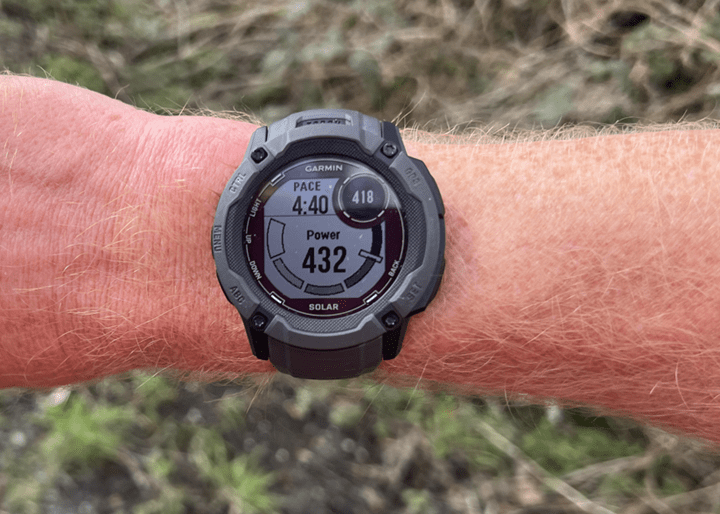 And for aquatic adventures in the pool, I had no problems with lap accuracy, being spot-on every single time (for freestyle, I'd look like a drowning polar bear for any other swim stroke).
Once you've completed your workout, you'll get a complete summary of all the stats – more than you can shake a stick at. And the same is viewable on Garmin Connect Mobile too:
All of these are then sent to Garmin Connect (the platform) via Bluetooth on your phone, or via USB on your computer. There is no WiFi here. From there, they'll be sent onwards to 3rd party platforms like Strava, TrainingPeaks, Today's Plan, and countless others.
Now, a big new feature on the Instinct 2X units is Training Readiness. This first rolled out on the Forerunner 955 last summer, and has since become common on Garmin's $350+ devices (including the Forerunner 265)…except the Garmin Venu 2 and Instinct 2 series units. However, the Instinct 2X solves that, gaining Training Readiness.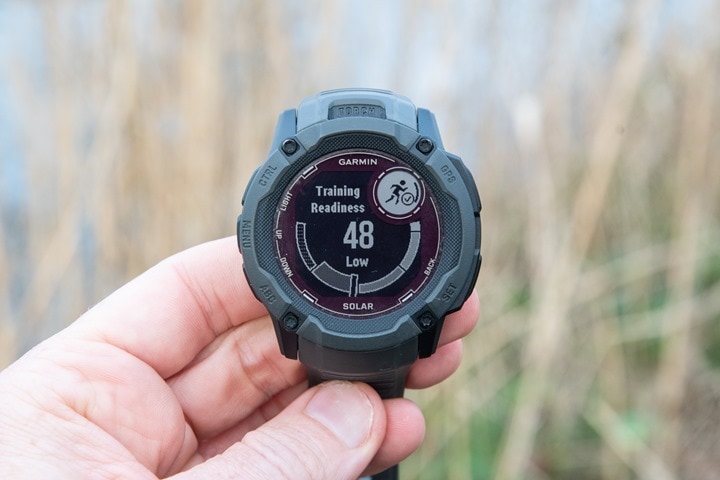 Essentially, Training Readiness is part of a suite of training metrics, of which there are a number of components – but the big ticket one here is Training Readiness itself:
Training Readiness: This metric aims to be your one-stop shop to decide whether or not to train that day. It blends Sleep (vs both short and long-term history), Recovery Time, HRV Status, Acute Load, and Stress. In short, you can spike one category (badly) without necessarily killing your next training day. But all categories aren't created equal.
Training Status: This is looking at your acute load, HRV status, load focus, and VO2Max trends. This one is less about should you train, and more about how you're training. Meaning, are you doing too much high intensity, or too much low intensity? That's what'll give you an unproductive status. In other words, how would a coach look at your training log, ignoring most other life/feeling type metrics.
HRV Status: This is measuring your HRV values constantly while you sleep, and then comparing it against your 3-week baseline, up to a 90-day rolling window baseline. A single night of drinking doesn't tank this score, but three nights of partying won't keep you in the green.
Acute Load: This is looking at your last 7 days of load, except the load now burns off dynamically. Meaning, a hard training day 7 days ago is far less impactful to the score than a hard training day yesterday. Previously this was called 7-Day Load, now it's Acute Load.
Recovery Time: This calculates how much time you need till your next hard-intensity workout. As is often misconstrued, this isn't till your next workout, just your next hard one. This is largely the same as before. Exceptionally good sleep can speed this up, and inversely, a high-stress day can slow this down.
The idea with Training Readiness is to take a bunch of components under one umbrella, and figure out how 'ready' you are to 'train' at that very second in the day. The value will shift throughout the day (higher if you do nothing, lower if you do a workout). The score is comprised of all the fellows you've seen before: Sleep, Recovery Time, HRV Status, Acute Load, Sleep History, and Stress History: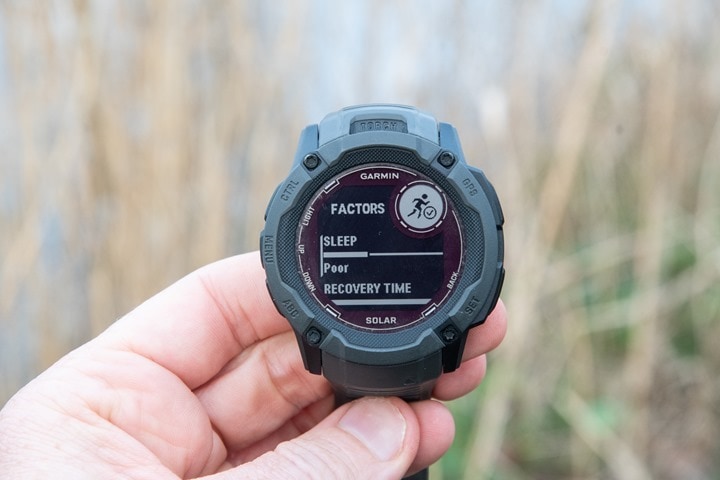 Each of the components are weighted in varying ways, and against varying timeframes. Here's the run-down:
– Sleep: This one is specifically looking at last night's sleep
– Recovery time: This looks at your Recovery time in hours (based on workouts, but can be sped-up with good recovery)
– HRV Status: This is comparing your 7-day trend versus historical trend
– Acute Load: This is looking at your 7-day trend, weighted towards newness
– Sleep History: This is looking at last night versus your prior 2 nights of sleep history
– Stress History: This is looking at the recent daytime data (excluding overnight readings)
Again, the premise here is that you can figure out what's impacting your training readiness, and whether it's expected. If you're at a training camp, you'll expect high Acute Load and likely high recovery time too. But hopefully, the other stats are normal/good. Thus, you can try and figure out whether to proceed or not. Whereas if everything is looking like a red dumpster fire, then you should probably train on the couch.
Now outside of sleep, the one I tend to look at the most is Acute Load. At first glance, you might think this is just 7-day Load renamed, but that doesn't really cover what it actually does. Yes, it shows your 7-day load, but load burns off dynamically. In years past, if you had a big ride 6 days ago, that load would be factored into your total 7-day load duration as if it just happened yesterday. Versus with Acute Load, it's weighted to burn-off within a few days, as logical. That's because a week later it's unlikely that big ride is still impacting you. The point of this is to reduce the massive swings that used to occur in the Training Status panel when a big workout from a week ago disappears, making you go instantly from Productive to Unproductive in a matter of seconds.
Here's my acute load, and you can see how last week was very high, and now the last few days have been a bit of recovery (and churning out product reviews):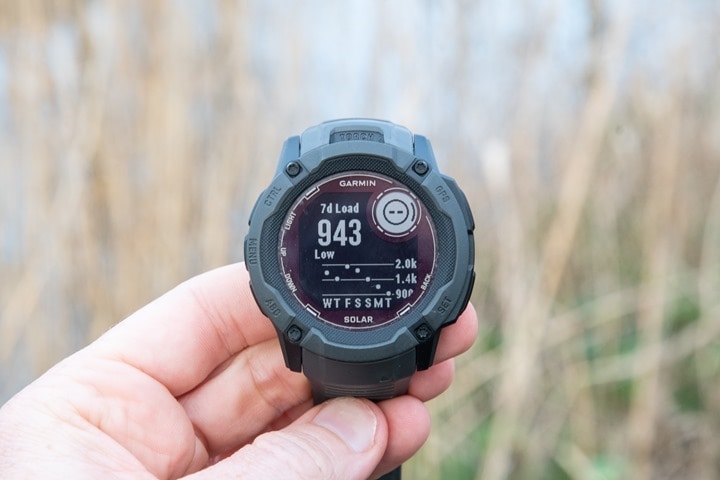 Next, there's Training Status 2.0. This has three core components of VO2Max, HRV, and Acute Load. In my case, my VO2Max value has been 'stuck' since last November, despite massive increases in training volume, speed, FTP, predicated race paces, and any other metrics you want to use. Literally every component of the Garmin training ecosystem says I've gotten dramatically faster in the last 4 months of heavy training. Yet, because my VO2Max is stuck oddly low, Training Status basically just stays stuck on 'Maintaining'. At this point, something seems to be wrong – either with it detecting updates to that value, or the concept that Vo2Max should always be 'climbing' (because obviously, it can't climb forever).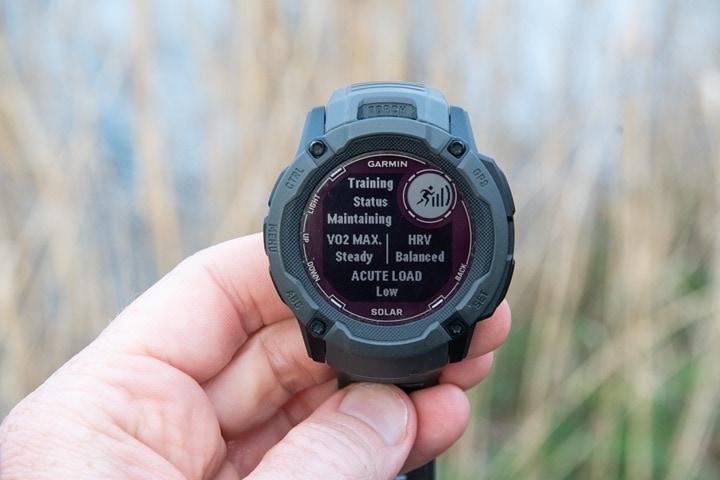 Here you can see the HRV status component, also viewable on Garmin Connect: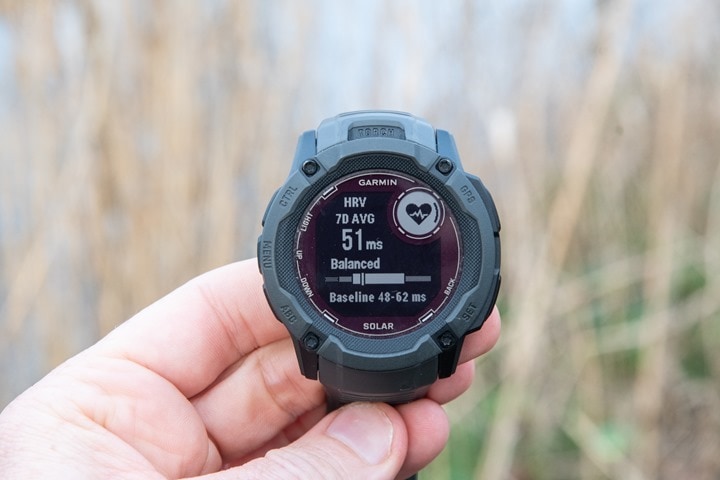 Now, one last area to mention is Recovery Time. This largely hasn't changed from before, but I need to briefly highlight it, because it's now far more important in the Training Readiness score. Recovery time is showing your recovery time based on workouts. This is basically showing your recovery time till your next hard workout, in hours. This can speed up with a good night's sleep, or slow down with crappy sleep or a very stressful day: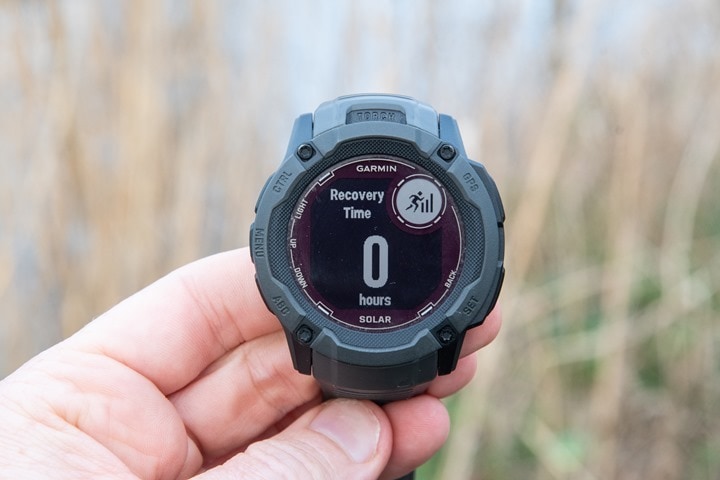 Ultimately, I still find Training Readiness to be one of the most useful metrics Garmin has created, and it does a pretty good job of taking all the components together and making sense of them – as well as being reactive to sudden events like lack of sleep. I'm glad to see they included it here, but bummed to hear it won't be coming to the rest of the Instinct 2 series (given it's the same price).
Navigation & Routing: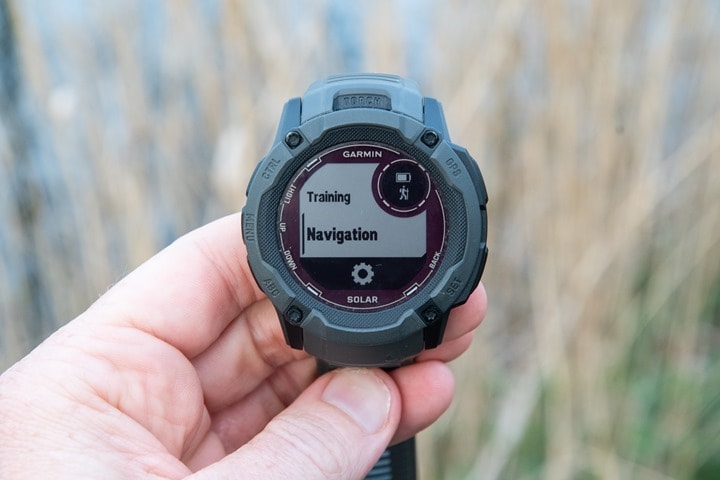 The Instinct series has long been regarded as the mini-me of its more expensive Fenix sibling. In some ways that's true, and in others it falls far short. Still, for short treks, it can get you to the location and back out in a pinch. However, this is actually the one area that I think the Instinct series desperately needs attention to be competitive or usable for people doing anything other than a morning day hike.
To begin, the Instinct series doesn't have onboard maps, and that's totally fine as it lets them save battery life. Instead, it has so-called breadcrumb trail routing. This has been around for 15-20 years, and means you simply follow a small course outline for your activity. The good news is that, unlike decades ago, you don't have to use a bunch of cumbersome tools to plan your routes.
Instead, you can use all the normal platforms you'd expect today from Strava Routes to Komoot, or Garmin Connect itself. There's no need for 3rd party apps here. I've been using the unit in planned route workouts/treks since earlier this winter, for hiking/running/cycling – but to simplify things and explanations, I'm going to focus on one specific recent hike. This hike was planned as an approximately 25KM/15mi hike on the Spanish island of Mallorca. It'd go up a mountain, back down to the sea, then back up again over the top of a different peak before heading out to the end of the peninsula and back along another other bay. Here's the route created in Strava: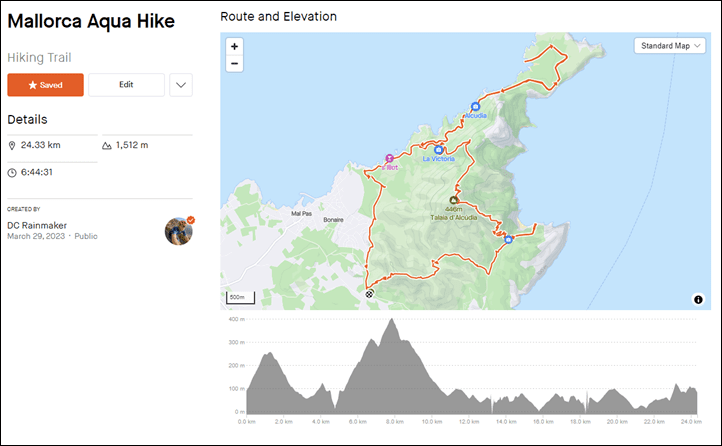 This then pushes to Garmin Connect automatically, and from there instantly synced to the Instinct 2X. All of which works well and efficiently. Had I wanted to tweak things in Garmin Connect I could do so, but in this case I just left it as is, and loaded it up on the Instinct 2X, by going into the courses menu: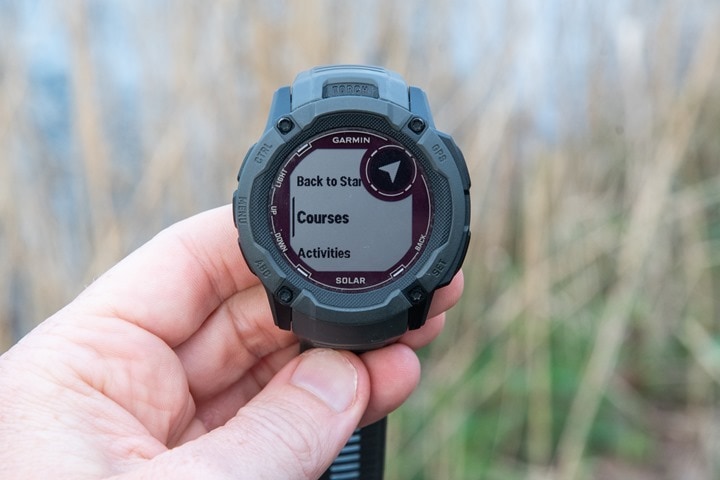 From here I selected my specific course: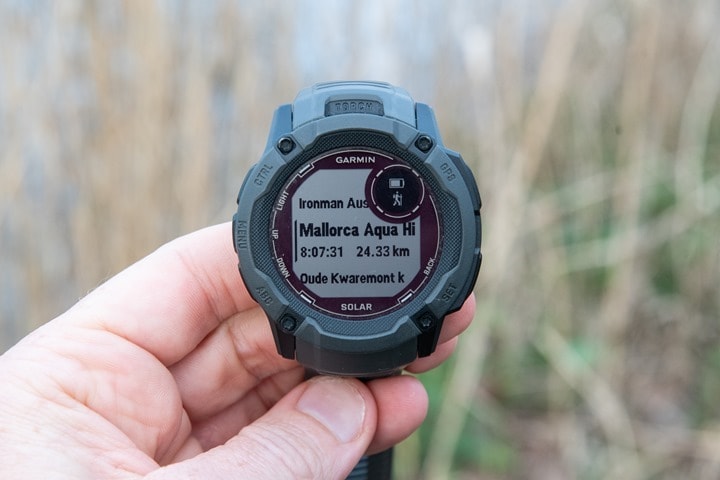 You can open up an elevation profile, as well as a map of the track:
Then you can tap to 'Do Course', at which point it thinks for a while and produces an error:
And here's the rub: The Instinct 2 series has a maximum track limit of 50 "points". What defines a point you ask? Well, that's a very fuzzy answer. It's a combination of lots of things, none of which enable you to mitigate it. For example, it's not actually a 'turn' in the course, nor is it points you selected on the map. Nor is it distance-based, or surface-based (e.g., road vs. trail). In fact, it'll differ depending on the very platform the course was built on.
So, in this case, you can see that 66 of my points were discarded. This means that while it'll continue showing me the trail the entire route, it'll stop notifying me of turns after about less than half of it (a mere 25KM/15mi hike, so only about 6 miles worth!).
Garmin's higher-end units have substantially higher limits here, and most other companies have no limits at all. What this means is that basically, any route over roughly 10 miles/15KM will tend to fail. I've tried mind-numbingly straight paved-road routes here in the Netherlands that fail well below 20 miles, as well as more complex 200KM routes that fail on basically the first few hours of the hike. This fundamentally shouldn't be an issue in 2023. Period. This is purely a software design issue that should have been addressed years ago.
In any event, my anger at this aside, as you're out on the trail, you'll see the breadcrumb trail of where you're going on a 'map'.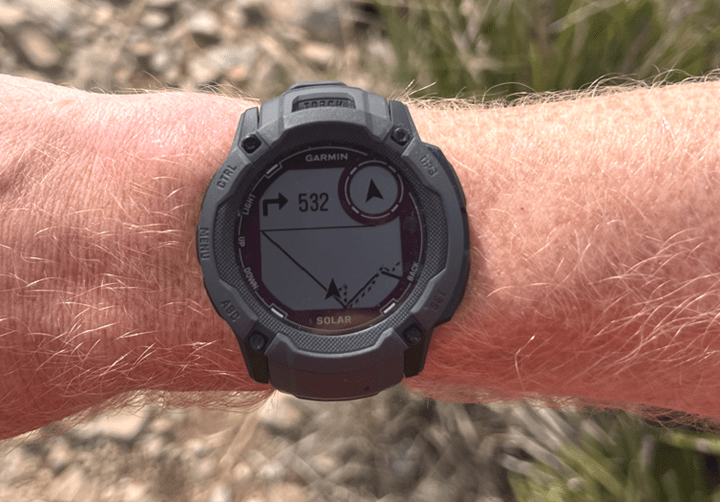 If on other data pages, as you approach any turns/deviations in the course, it'll pop-up a small overlay counting down to the turn, and the direction. It won't list anything like "Turn left on Maple Trail", like Garmin's Fenix/Forerunner series would, as it just doesn't have that level of data/context.
In my case on my hike, it did this just fine, chirping at intersections and letting me sort out which direction to go by looking at the breadcrumb trail. Obviously, this is where the maps of the Fenix/Epix/Forerunner series are useful, as on-map features like lakes/rivers/etc make it quicker to identify which direction to go, but overall, the breadcrumb is fine. If you go the wrong way, you'll get an off-course warning within about 50 meters anyway.
And this is sorta Garmin's "out" on this whole max-point mess: Even if it doesn't continue telling you when to turn, you'll still get alerted if you meander off-course. Likewise, you'll always still see the course, and even see the upcoming elevation profile – as well as distance remaining: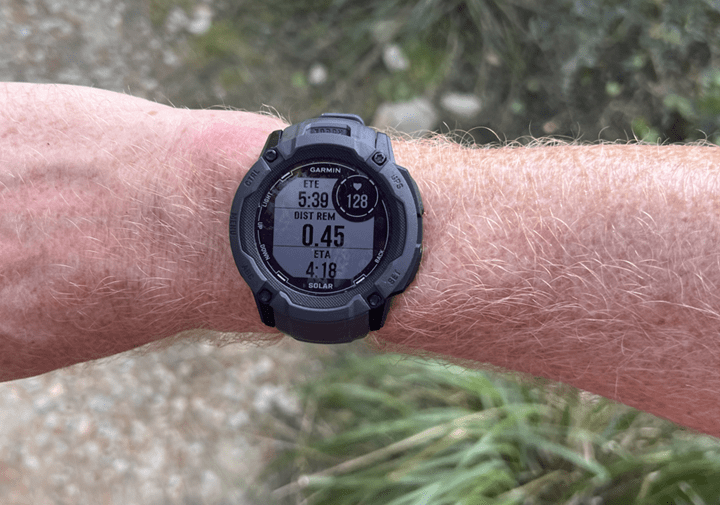 By the half-way point on my course, I'd lost turn notifications and the noise associated with it. But that's fine, I just talked to a mountain goat instead: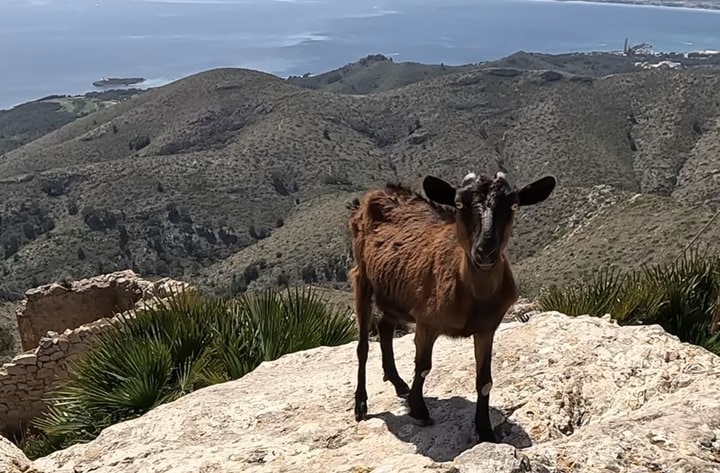 Now, later in the course I ran into an unexpected military checkpoint that prevented further navigation. At this point, I could end the course (without stopping my tracking), or hope it'd latch onto the return route. I could also route directly to my starting point (as the crow flies), if I needed to. In fact, you can also navigate directly to a specific GPS coordinate (in a variety of GPS coordinate types/formats), as well as use the compass to navigate.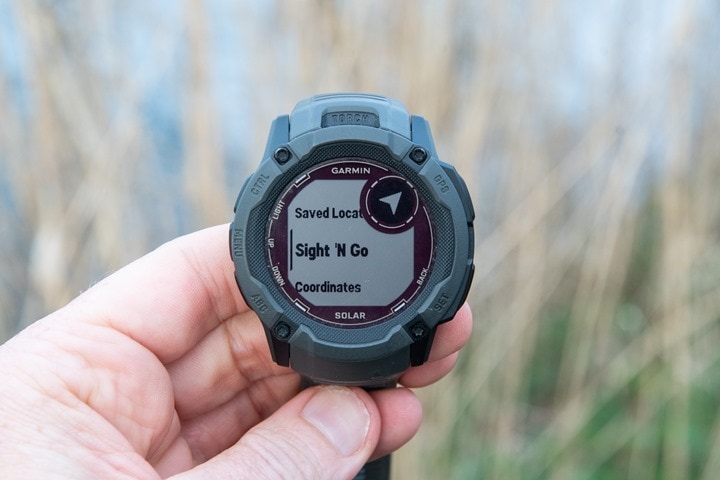 Further, you can 'TracBack' if you need to, which simply follows the path you took, back to the starting point. And, if you had saved specific locations on the watch, you can navigate to those too. Again, all of this is 'as the crow flies'. However, if you were out in the wilderness and did have your phone with the Garmin Explore app installed, you can create routes on the fly that aren't crow-like. The Garmin Explore app is different than the Garmin Connect app, and designed specifically for totally offline usage. You'll need to download maps ahead of time to it, but, it's handy to stash it on your phone in case you need it some day.
Finally, for lack of anywhere else to stick it, you've always got access to ABC functions via the ABC widget (altimeter, barometer, compass), by just tapping down a bunch (you may have to add it to the widget roll if you haven't yet):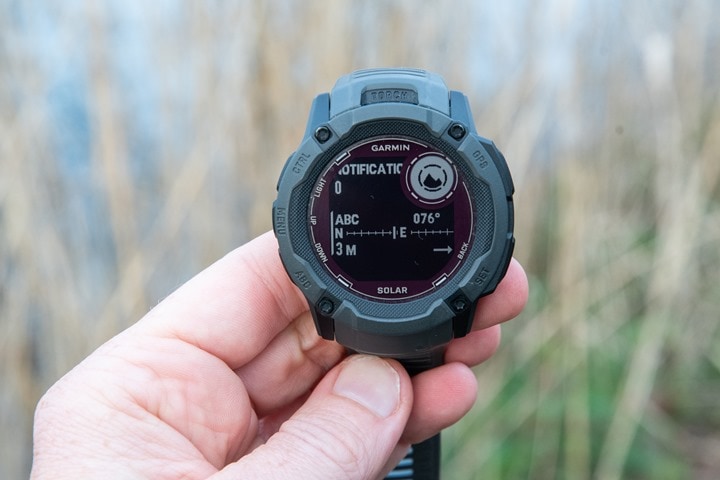 Note that you can also have just a dedicated widget for each of those three functions too. This will use the unit's magnetic compass and barometric altimeter. And when you open up this widget, you get four data pages. The first is all three data points in one: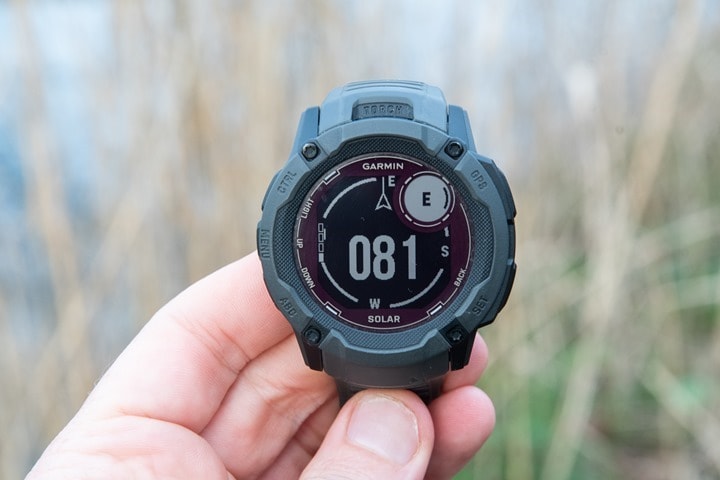 Then you've got a chart of the altimeter information. You can calibrate the altimeter here, choose whether to auto-calibrate, as well as whether to display the data in meters or feet.
Followed by the barometric pressure details. You can calibrate this, as well as change the plot type to 6hr/12hr/24hr/48hr. You can also change the sensor modes, storm alert options, and how it displays pressure.
Followed then by the compass. The compass also has calibration options, as well as the ability to change the mode, for example, from the display (degrees or mils), to how it displays North (true, magnetic, grid, user);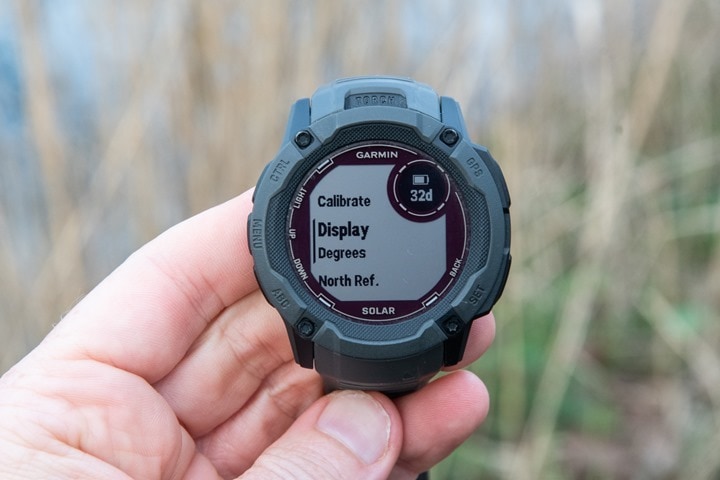 With all that set, let's take a look at the Solar and Flashlight features, and then GPS, Heart Rate, and Elevation Accuracy.
Solar Features:
Out of the big hardware upgrades to the Instinct 2X, the significantly increased solar panel is definitely notable. Solar has been around on the Instinct series nearly since the beginning of Garmin's solar days. While solar on devices like the just-released Edge 540 & 840 are 'interesting', the reality is solar on those devices contributes very little to the battery of the device. The same is mostly true on the Fenix lineup too. However, with the Instinct series, due to the significantly lower battery drain profile, solar actually makes a massive difference. Taking the battery chart from 'days' to 'unlimited' in certain categories.
The Instinct 2 series solar subsystem saw an increase in efficiency of the panels themselves, as well as the efficiency of the power draw of the watch (compared to the Instinct 1). In terms of how Garmin solar works, there's two different solar panels at play on most devices:
A) The 'empty' space around the edges of the display. This semi-blocky area is used for solar panels, and is easily seen
B) The entire area atop the display but below the plastic layer, this is essentially invisible to you
Looking at the edge area first, if you look directly at the watch (not on angle), this mostly disappears. However, when viewing at an angle you'll see the solar panels easily. This area can collect 100% of the sun's rays. Well, technically it's of course less than that, but in terms of simple relativity here, we'll go with that being 100% from a Garmin spec standpoint.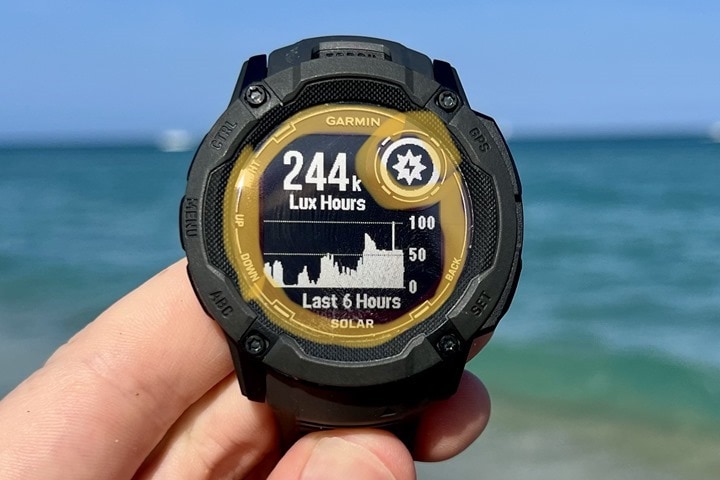 Then, there's the whole chunk atop the display – basically atop the words/text/numbers, and such. This area doesn't gather as much solar goodness, only 10% of the sun's rays. This is because if it were 100% you wouldn't be able to see the screen. Whereas at 10%, it's basically invisible to you and doesn't impact clarity.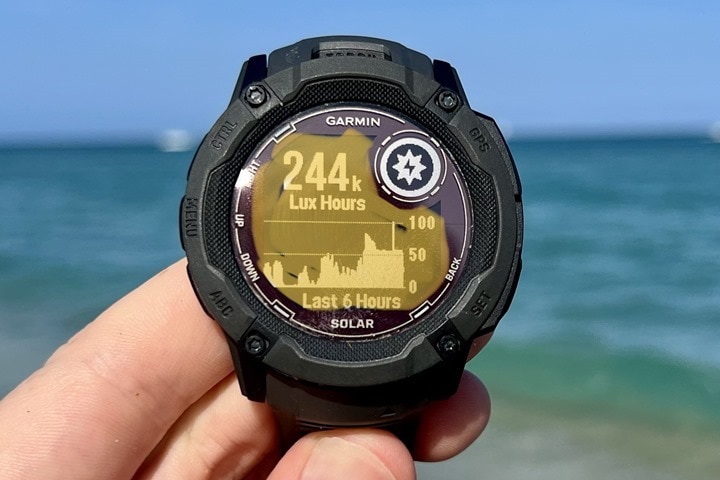 With the Instinct 2X Solar, you'll see that solar contribution in a number of places, but now with additional specifics not seen on the Instinct 2 series. First, on the watch face you'll see a small widget in the upper left/top edge. You can customize whether or not to show this of course, but by default it's there showing the solar intensity over the past few hours. Also, you'll see the total lux hours now displayed above that (244k above), whereas Garmin says the Instinct 2 series didn't have the right hardware to display that (you'll see this on the Fenix 7 too).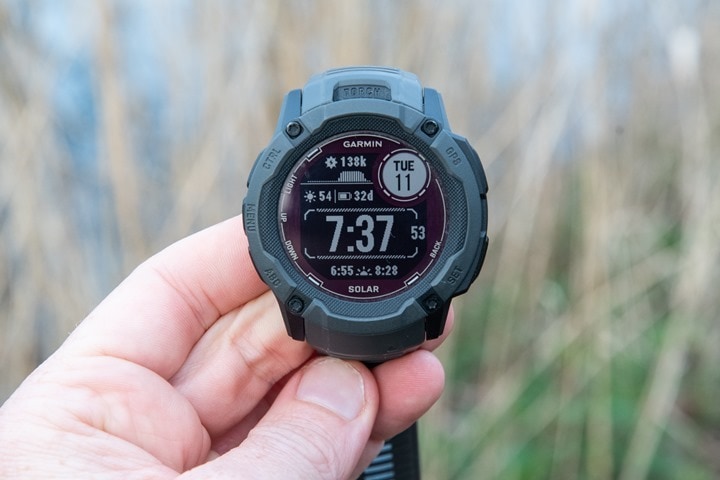 From there, if you scroll down once, by default you'll see the Solar Intensity widget glance, showing the last 6 hours of Solar activity. If you stop on that widget without opening it, you'll see a sun icon divided up into 10 blocks. Each block represents 10% intensity. So basically more is better, meaning the sun is brighter. On a cloudy day you might only get one or two blocks (if that). Whereas full sun at the beach in summer will light up not just the 10 blocks but the center sun as well: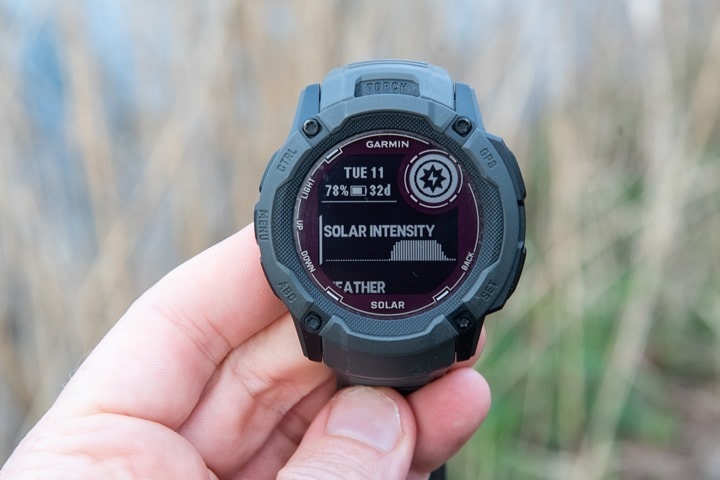 And if you crack open the widget, you'll see a larger version of that same intensity levels graph – now with the added Lux Hours up top: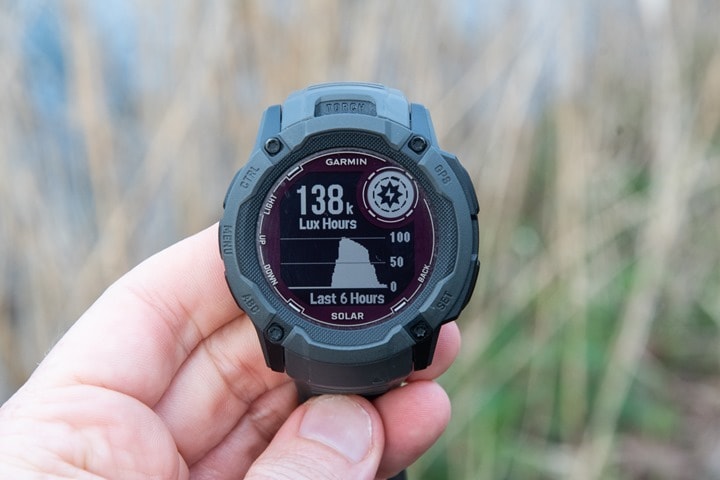 And pressing down once shows the Solar intensity levels seen on your watch over the past 7 days: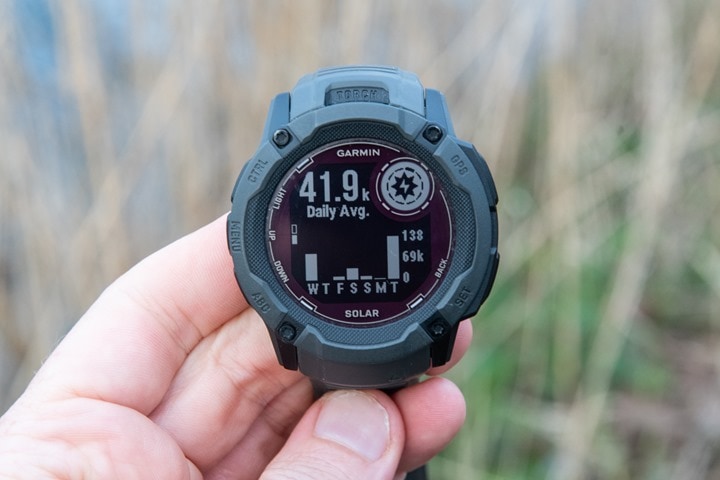 You can also see this data within Garmin Connect Mobile, historically, via the 'Devices' menu', for historical reference.
Now, just to put things in perspective, here's the battery chart for the Instinct 2X (and other units). Certainly, the unit has a bigger battery to begin with, but it also fills out the 'unlimited' checkbox in more categories.

Garmin says the easiest way to think about it is that if you get 3-hours in 50K lux conditions, it'll get you 1 hour of GPS time or 1 day of smartwatch/standby time. For context, 50K is semi-sunny weather, but not crazy summer sun at the beach time sun. You can find 50K sun in the winter without issue. Of course, that does mean you're finding sun – if you live in a place that doesn't see the sun, this won't help you.
Ok, so specs aside, what does battery burn look like? Well, let's take a look at a hike as an example. This hike was in mostly full sun conditions in Mallorca, without much (if any) tree cover. Here's the battery burn profile of the Instinct 2X, where navigation was enabled, multi-band was enabled, phone connectivity/LiveTrack was enabled, as well as the optical HR sensor:

And then for fun, here's another battery burn chart, this time while cycling with a power meter enabled, optical HR enabled, multi-band, phone/Livetrack, and…well…I guess that's everything. Actually, in this case this one also even had a bunch of debug/power meter diagnostic logging enabled, which would have burned more battery quite a bit.

As you can see, this puts it just above the claimed 27 hours for no-sun, but that claim doesn't account for the other components (LiveTrack/power meter/etc…). In other words, it's, at a minimum, meeting their claims, depending on how you account for solar that day – and the battery drain of the other items.
The Flashlight: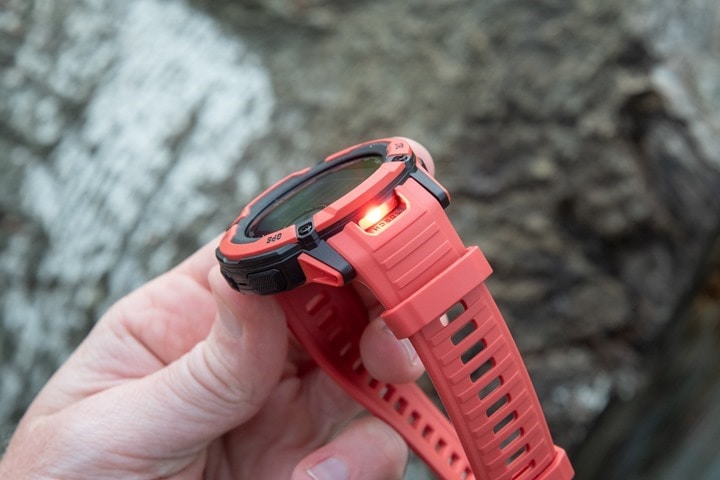 The Instinct 2X is the first non-Fenix series (excluding the Fenix variant Enduro 2) unit to add the flashlight, and by far the lowest price-point unit to have it as well. The flashlight has three core modes: White light (steady-on), red light (steady-on), and a host of flashing options. Within those flashing options you've got beacon, strobe, pulse, and a custom mode. Atop that, you can have it match your running cadence.
While the flashlight might sound gimmicky, there's literally nobody that's used the Fenix 7X series flashlight that's found it gimmicky. Just like nobody finds their phone flashlight gimmicky. The Instinct 2X flashlight is more than bright enough to illuminate a room, or a trail ahead of you. And inversely, with the lowest setting, or the red light, it's subtle enough to not wake up others in a home in the middle of the night. Plus, it's always on your wrist.
Starting with the base feature, the flashlight. You can either double-tap the upper left button to turn it on instantly from any place in the watch. It will use whatever your last setting was. So if it was full brightness last time, it'll use that. Or, if it was red, it'll use that.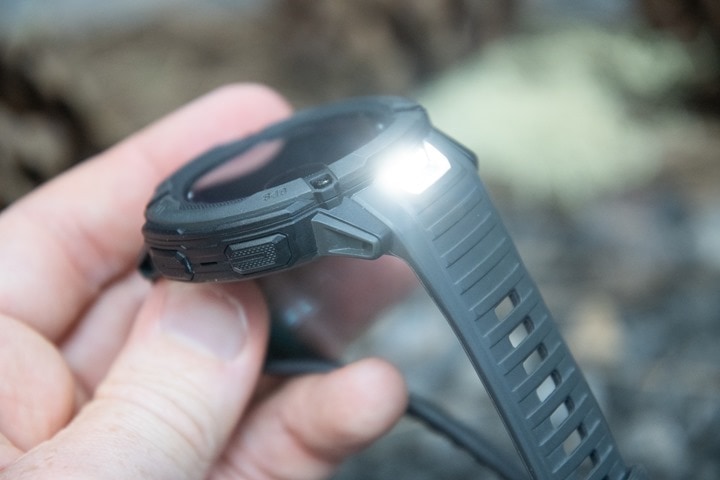 You can also change this via the controls menu. Simply long-hold the upper left button, then select the flashlight option: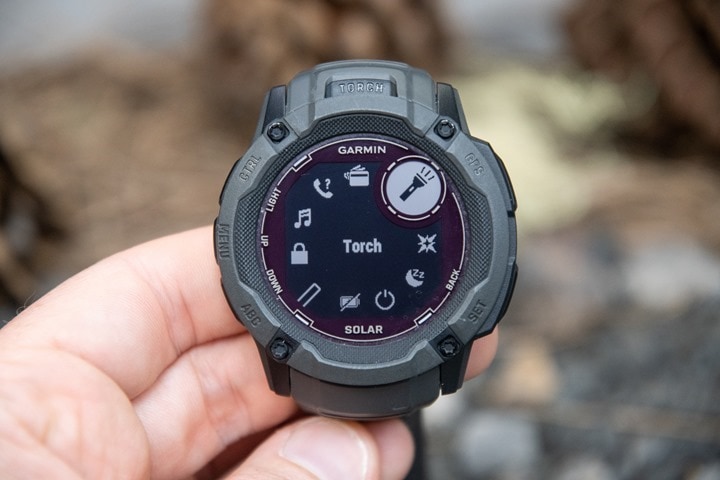 From there you've got a control panel showing four levels of white brightness, and one red level: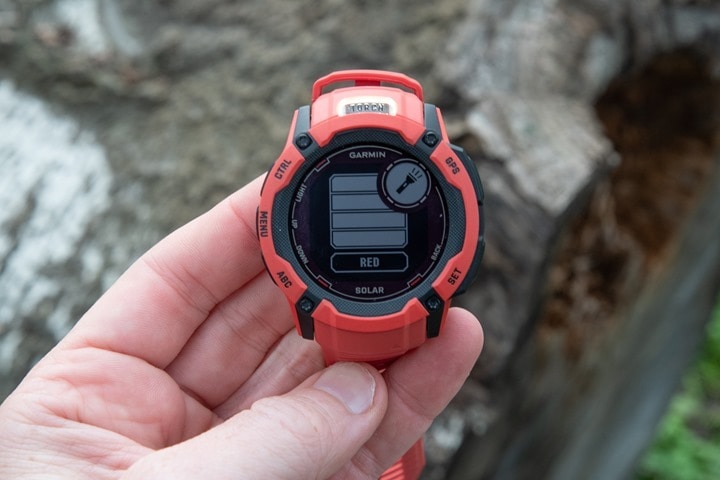 Garmin doesn't publish lumens for it (seriously, I don't understand why not – that's silly). However, they say it's the same brightness level as the Enduro 2 flashlight, but the beam is a bit more focused. That's because the flashlight area is smaller and has the strap funneling it a bit. You can see it next to the Enduro 2 flashlight here: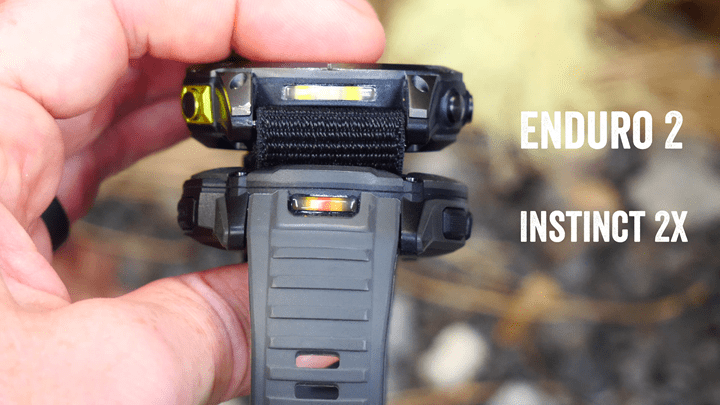 Here's a comparison to the Enduro 2 and my iPhone 13 Pro flashlight out on a trail at 4:30AM. Note that taking photos of flashlights properly is incredibly messy, because modern cameras will automatically compensate for light. It's even messier when it's raining out…and 4:30AM. Nothing is good at 4:30AM. However, I'd say this photo represents what my eyes saw well enough: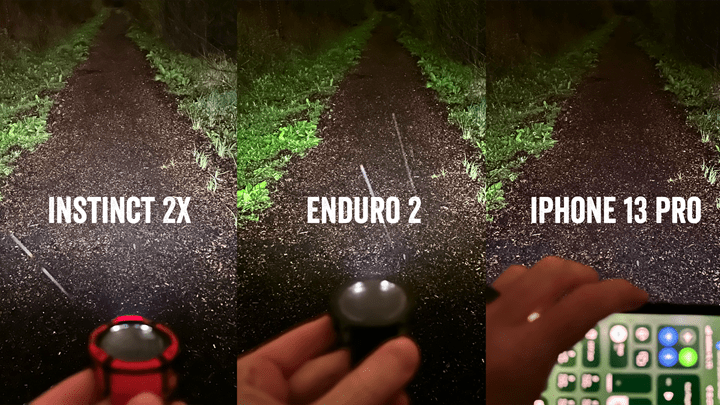 In addition, there are strobe modes, which can be accessed via the controls menu as well. These would primarily be used in a safety type scenario: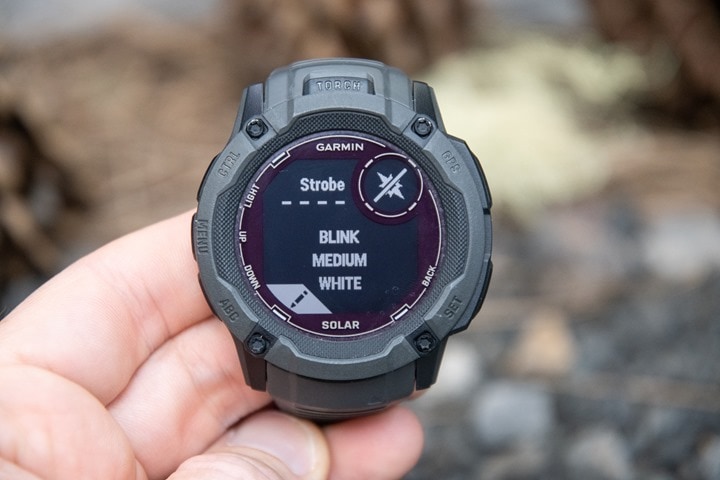 This includes Blitz, Strobe, Pulse, and Custom.
Finally, you can also set it up in running mode to match your running cadence, acting as a bit of a safety light for others to be able to see you.
Again, from a hardware standpoint, I'd love to see the flashlight on all Garmin watches. It's just a super practical day-to-day feature, even aside from any backcountry-type scenarios. It's one of those things that once you have it, it is so much better at night than reaching for your phone flashlight – plus, it leaves you hands-free.
Accuracy: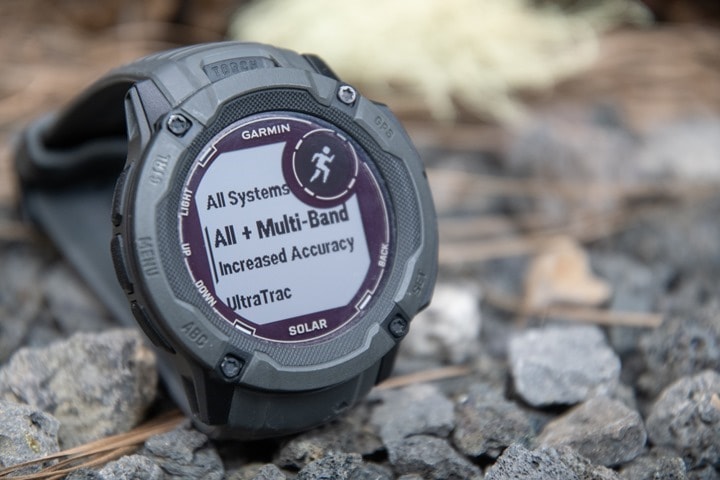 There's likely no topic that stirs as much discussion and passion as GPS or heart rate accuracy.  A watch could fall apart and give you dire electrical shocks while doing so, but if it shows you on the wrong side of the road?  Oh hell no, bring on the fury of the internet!
GPS accuracy can be looked at in a number of different ways, but I prefer to look at it using a number of devices in real-world scenarios across a vast number of activities.  I use 2-6 other devices at once, trying to get a clear picture of how a given set of devices handles conditions on a certain day.  Conditions include everything from tree/building cover to weather.
Over the years, I've continued to tweak my GPS testing methodology.  For example, I don't place two units next to each other on my wrists, as that can impact signal. Instead, I'll often carry other units by the straps, or attach them to the shoulder straps of my hydration pack or backpack.  Plus, wearing multiple watches on the same wrist is well known to impact optical HR accuracy. Note that I sometimes will carry extra reference units over my hands/fingers, so as to keep them separated (but not use the HR for these reference units).
Note that all my tests are using the new multi-band GPS/GNSS option. There is no SatIQ present on the Instinct 2X due to lack of hardware to support that. With that, let's start off with a hike. This is a 5-hour hike in a mix of open mountain-top conditions, combined with valleys in the woods, and along cliffs, and then eventually pine forests. This is compared to the AmazFit T-Rex Ultra, and Garmin Forerunner 965: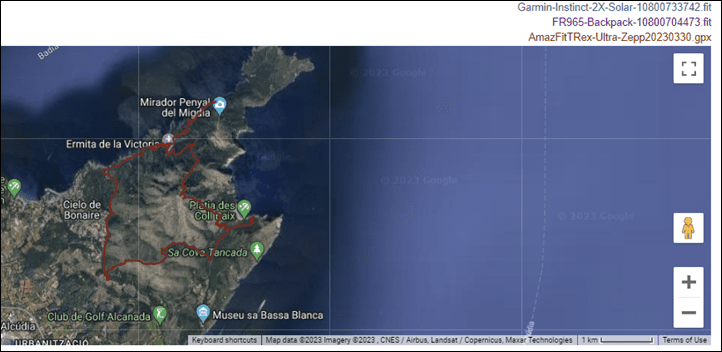 You can see, in general, things are very close between the units. The FR965 was on the back of my backpack facing the sky, which generally would be advantageous, but every once in a while it may have bounced into a non-ideal spot next to the baguette. I'm not really focused on GPS performance of that here, I've got an entire in-depth review showing how good that is.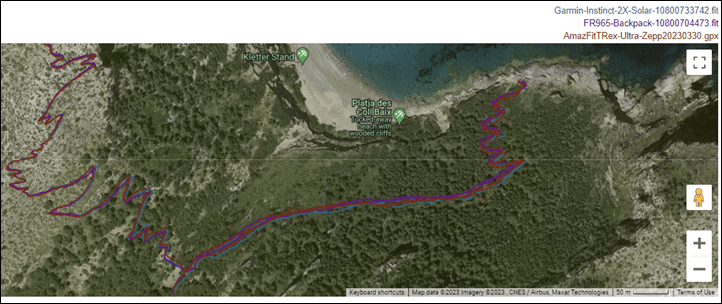 You can see all the units are very close here, with the T-Rex Ultra being a little bit further off-alignment to the path – and the Instinct 2X seemingly being the closest: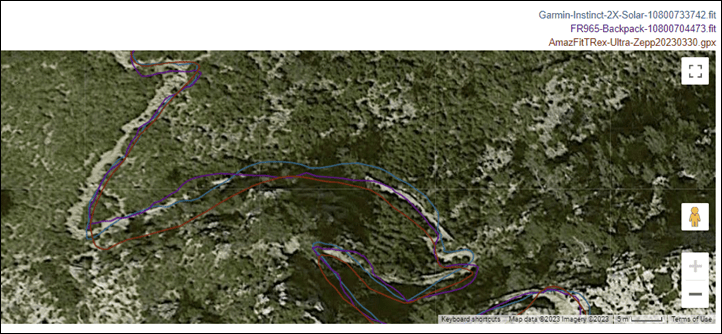 The rest of the hike showed no meaningful differences in GPS tracks: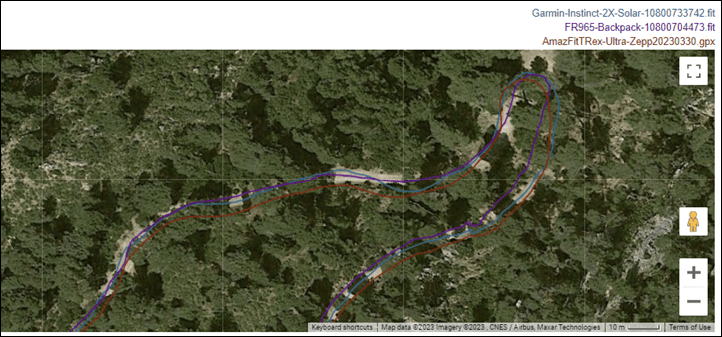 Oh, and the elevation profile is nearly identical between the units as well. Note that little point towards the end where all of them consolidate, as I stopped for 45 minutes or so for lunch:

Next, we've got a 4 hour road cycling ride, this time on twisty mountain pass roads at fast pace. This is compared to a host of cycling GPS units, along with the AmazFit T-Rex Ultra:
Zero issues on this ride. Here's some switch backs done at both high (descent) and low speed (ascent):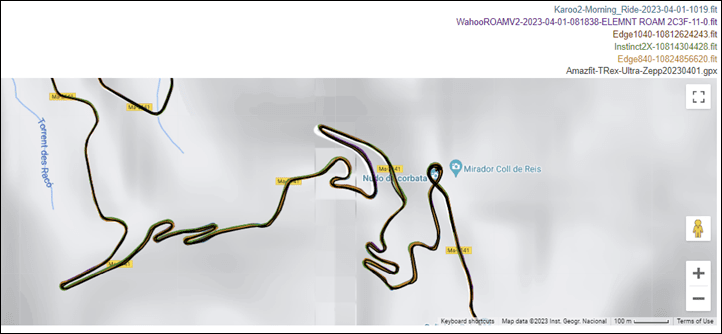 And again, another section here both high speed and slow-speed passes, identical: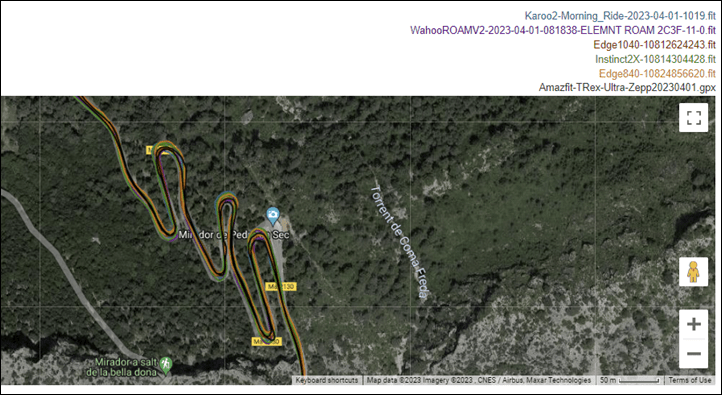 Here's how the heart rate faired for that ride. Note that optical heart rate while cycling is one of the more challenging things to capture for any wearable (due to the road vibrations along with your grip usually being firm on the handlebars), but it's pretty clear here that the AmazFit T-Rex Ultra really struggled. In this case, I zoomed in on a nice steady-state section climbing back up. You can see that the Instinct 2X did have some alignment issues at the very beginning, but then matched the chest strap the remainder of the time.

And on the elevation/altimeter side, it's literally identical:

Looking at a more mundane GPS track, here's an interval run I did with the Instinct 2X on one wrist, the FR965 on the other, and a FR955 with it: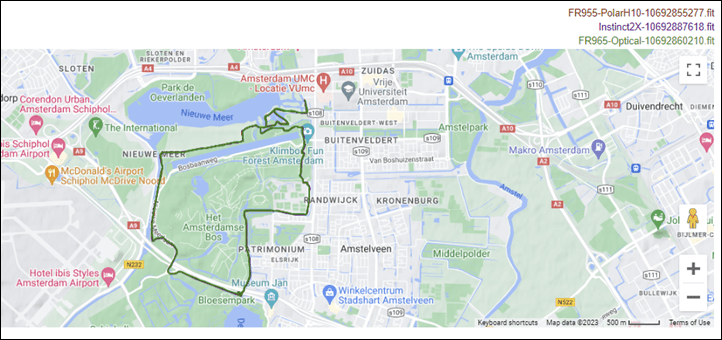 There's really no meaningful differences across the run. Here's a random section for fun: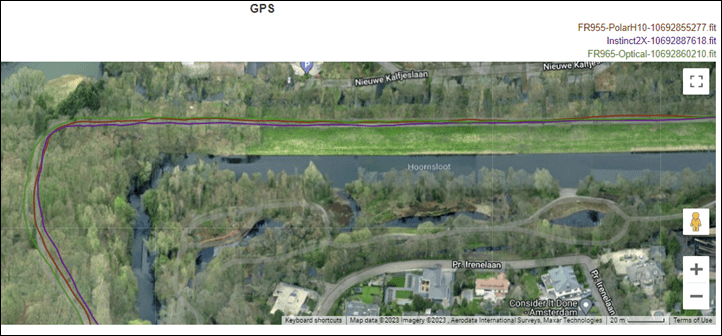 What's more impressive is actually the heart rate performance. This was a tough workout of 10×1-minute virtually all-out intervals. And it really nailed it compared to the Polar H10 chest strap, with only one very minor blip as I recovered from the final interval:

And then here's an openwater swim, with the Instinct 2X on one wrist, and the AmazFit T-Rex Ultra on another. You can also see the reference track (a GPS attached to a swim buoy behind me), for the 'known truth' of where I actually swam: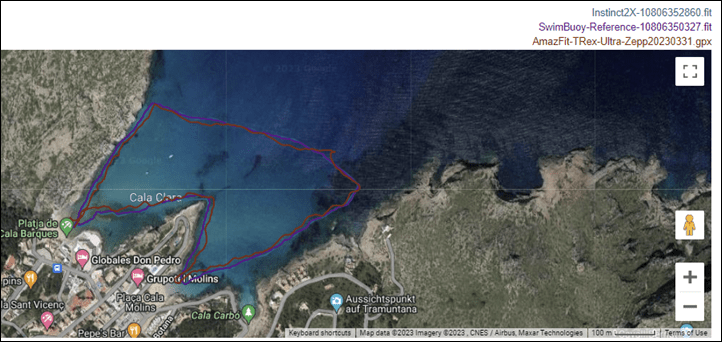 In the above case, all three seem close, but once you zoom in you notice the Instinct 2X is virtually identical to that of the swim buoy, whereas the T-Rex Ultra wanders a bit. In fact, the T-Rex Ultra wanders enough that it adds nearly 500m of distance over the course of 2,000m swim.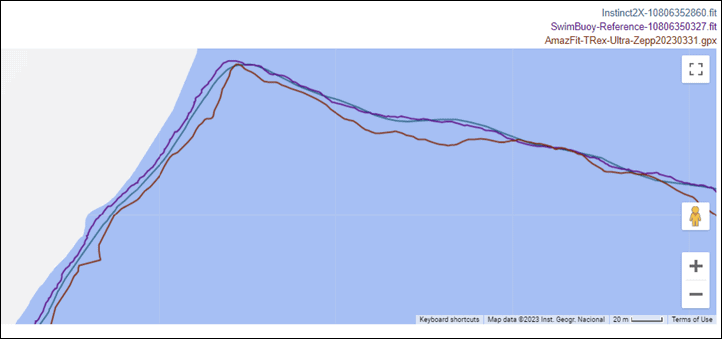 Ultimately, looking at GPS performance, the Instinct 2X has finally joined the 'solid' club of other Garmin multiband/dual-frequency GPS watches. When the Instinct 2 came out last year, it wasn't bad performance, but in tricky spots it showed it lagged compared to those units.
However, with the new unit and new GPS chipset, I've got nearly 2 months of data showing that day in and day out it's spot-on, aligning to the best GPS offerings on the market. The only minor downside is the lack of SatIQ means that you'll "pay the price" for that in battery burn rates, compared to other Garmin watches that have SatIQ on them. But even with that accounted for, the battery performance is very solid.
(Note: All of the charts in these accuracy portions were created using the DCR Analyzer tool.  It allows you to compare power meters/trainers, heart rate, cadence, speed/pace, running power, GPS tracks and plenty more. You can use it as well for your own gadget comparisons, more details here.)
Wrap-Up: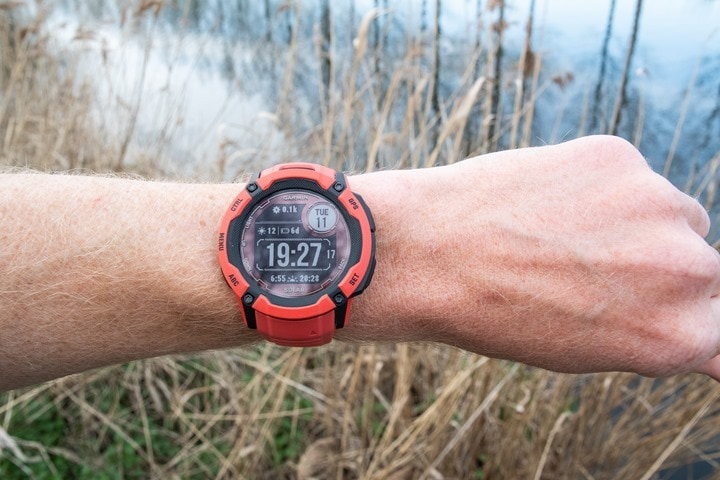 Overall, the Instinct 2X is more than just a larger Instinct 2 device. It's essentially a step-up in not just Instinct 2 series hardware, but also Instinct 2 series software. On the hardware side, the added flashlight is great, and a nice addition coming from the Fenix 7 series. The same goes for the multiband GPS, finally putting the Instinct series on par with other Garmin watches when it comes to GPS performance. Albeit, I wish it did include SatIQ, given the laser-focus on battery life savings on the Instinct series as a whole. As with the existing Instinct 2 series units, I continue to see good altimeter performance (something that was iffy on the Instinct 1 series device). And of course, from an endurance sports standpoint, it's great to see the addition of Training Readiness. Having Garmin establish the price-point bar with the Forerunner 255/265, meant that the Instinct 2X launching without it would have been peculiar at best. However, I don't really understand why the existing Instinct 2 units aren't getting it – after all, they're the same price?
Now for many, this unit will fit the bill well. However, I can't help but be (extremely) disappointed at the continued max course point issue. Last year in my Instinct 2 review, I outlined the problems with this, and here we are 14 months later and somehow – in 2023 – this is still a thing. Most other Garmin devices don't have this issue, or at least this low of a threshold. The fact is that we have a watch designed to last literally forever in terms of battery life, yet can't navigate a mere 10 miles before it stops properly navigating. Again, this shouldn't be an issue this decade, and certainly not from Garmin, of all companies.
Of course, for many people, that's not an issue at all. Either you won't use that functionality, you'll use another device, or perhaps some sort of paper/compass combo. Ya know, old-school style. Maybe even celestial navigation with your spare sextant. And if that's the case, the Instinct 2X is a great step-up and honestly, kinda a no-brainer when looking at the Instinct 2 lineup.
Because the Instinct series (2S/2/2X) is smaller than the equivalent Fenix series (7S/7/7X) in terms of case sizes, most people will find the Instinct 2X more in line in size/weight to a regular Fenix 7 series device (non-7S/7X). Meaning that if you're looking at an Instinct 2 series, I'd strongly recommend going with the Instinct 2X over the Instinct 2. You've got a heck of a lot better battery life, a flashlight, Training Readiness, and a lot better GPS performance. There's no obvious (or even non-obvious) downsides that I can see at this point.
With that – thanks for reading!
Found This Post Useful? Support The Site!
Hopefully you found this review useful. At the end of the day, I'm an athlete just like you looking for the most detail possible on a new purchase – so my review is written from the standpoint of how I used the device. The reviews generally take a lot of hours to put together, so it's a fair bit of work (and labor of love). As you probably noticed by looking below, I also take time to answer all the questions posted in the comments – and there's quite a bit of detail in there as well.
If you're shopping for the Garmin Instinct 2X Solar or any other accessory items, please consider using the affiliate links below! As an Amazon Associate I earn from qualifying purchases. It doesn't cost you anything extra, but your purchases help support this website a lot. Even more, if you use Backcountry.com or Competitive Cyclist with coupon code DCRAINMAKER, first time users save 15% on applicable products! Or, with TPC (The Pro's Closet), you'll save $40 on purchases over $200 with coupon code DCRAIN40!
And finally, here's a handy list of accessories that work well with this unit (and some that I showed in the review). Given the unit pairs with ANT+ & Bluetooth Smart sensors, you can use just about anything though.
And of course – you can always sign-up to be a DCR Supporter! That gets you an ad-free DCR, access to the DCR Quarantine Corner video series packed with behind the scenes tidbits...and it also makes you awesome. And being awesome is what it's all about!
Thanks for reading! And as always, feel free to post comments or questions in the comments section below, I'll be happy to try and answer them as quickly as possible. And lastly, if you felt this review was useful – I always appreciate feedback in the comments below. Thanks!