As we sail into the weekend, there's some tech tidbits that are worth mentioning – covering the gamut of companies, as the sports tech world starts to heat up going into spring.
Stages New GPS Bike Computers: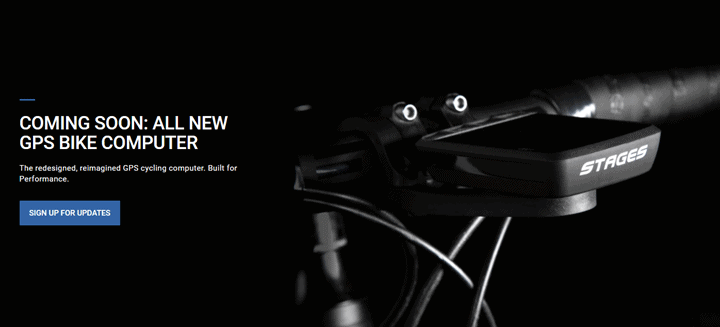 Stages began teasing new GPS bike computers over the last day, both on e-mail, and on the site itself. You can see the imagery they've included, up above, which seemingly shows a new Stages bike computer. In this particular image, the buttons appear to be more inverted/indented than previous units, but it's hard to say entirely. You might remember one of my biggest usability complaints on the previous Dash was the difficulty in pressing the buttons.
The previous Stages Dash M50 and L50 units were launched about 4 years ago at Eurobike 2018, but started shipping a year later around summer 2019.
What is clear is that it's a bike computer, and according to the wording, a GPS bike computer. Also, the underlying filename of the image on the webpage is "stages-dash-coming-soon-800px-by-800px.jpg" – thus, implying they're keeping the name. The tag-line in the image itself says:
"The redesigned, reimagined GPS cycling computer. Built for Performance."
I noted that the "P" in performance is capitalized. Which in marketing speak means it's important. Or, a typo. After Wahoo's skip-a-vowel naming scheme, ya never really know anymore.
Stages doesn't specify any dates or times for this new Dash, but does say you can sign-up to hear more about it. I'd also presume at the appropriate time, you could probably find out more about it on various Amsterdam-based sports technology sites as well. Probably. Plus, Sea Otter is only about 1.5 weeks away, which is common grounds for launching new bike things.
Garmin HRM-PRO Firmware Update: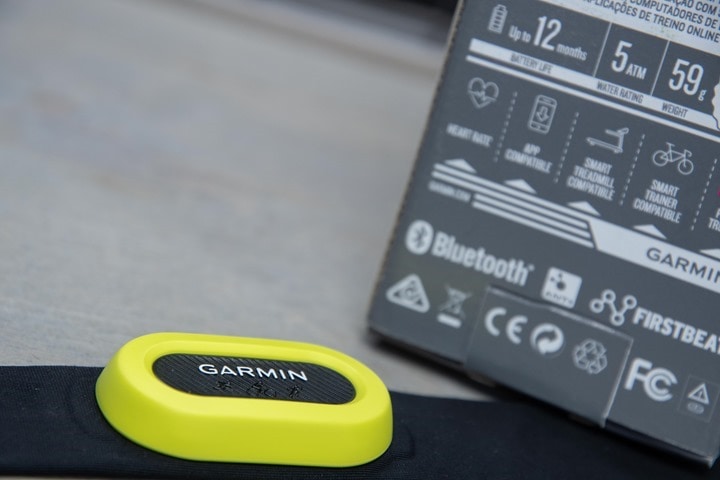 Next up, Garmin has released a firmware update for the HRM-RPO which expands the number of concurrent Bluetooth connections to three, from the current two. The HRM-PRO was announced about 1.5 years ago, and is Garmin's top-end chest strap. It mainly includes added 24×7 metrics features around offline data syncing for cases where you aren't wearing a watch, as well as offline heart rate gathering when a watch can't wirelessly communicate with a strap (mainly for swimming).
While I suspect most people don't use three concurrent connections, it essentially opens up use cases for folks that may have the HRM-PRO connected to their phone for 24×7 metric sync (e.g. intensity minutes), while pairing to an app like Zwift (over Bluetooth). And then perhaps, having it paired also to their Garmin watch via Bluetooth instead of ANT+.
(In general, you should always pair a Garmin chest strap like the HRM-PRO via ANT+ and not Bluetooth Smart, otherwise you won't get data like Running Dynamics on your watch, or offloaded swim data. But, there could inversely be some environment-specific case where you may have trouble with ANT+, and Bluetooth Smart happens to sidestep that.)
Anyways, you can use the Garmin Connect Mobile app to update the strap, where it'll offer version 8.10, which states it has ANT & BLE connectivity improvements, as well as increasing the maximum BLE connections to three concurrent (there continues to be unlimited ANT+):
Alternatively, if you've got a Garmin watch or bike computer, it'll automatically download the update on your strap's behalf, and offer to upgrade it the next time you connect to it.
(Thanks to DCR reader Karl P. for sending this along!)
Zwift Hardware Store Clearancing:
Lastly, I've been meaning to mention this for a couple weeks now, but I keep getting distracted. For the past few weeks, the company has put up all of the Zwift Store cycling products for sale. That's the store where you can buy things like a Wahoo KICKR Trainer or Elite Sterzo Smart steering device. But it's also the same place you can buy the Wahoo KICKR Bike (normally $3,500), or the Stages SB20 smartbike (normally $2,500) for substantially less. In a nutshell, for the past few years Zwift has sold virtually all of the Wahoo/Saris/Tacx/Elite/Stages indoor trainers and indoor smart bikes. They haven't always sold some of the non-smart stuff, but basically if it was something you'd want to buy, they sold it.
However, as of a few weeks ago, everything – without exception – has been 20% off, which Zwift is billing as "Clearance Event". Now, setting aside those rug and furniture stores that somehow always have everything on clearance, the normal English language usage of that word in a retail setting is to get rid of the products.
(Here's what begins a very long, somewhat industry-geeky backstory to the specifics of this price reduction and why it matters.)
We know this isn't a "sale" because, none of those manufacturers would have approved this sale. In the US, companies have to follow what's called MAP (Minimum Advertised Price). While the rest of the world considers this price fixing and illegal (with huge real-world penalties for doing so in the EU), the US allows companies like GoPro/Garmin/Wahoo/etc to set a minimum advertised price. Advertised being the key word there. Thus why you always see a Garmin watch for *precisely* the same price. When there are sales, those sales are authorized by Garmin (or Wahoo or GoPro or whomever). This is true across the vast majority of products in the US, though there are some exceptions (for example, Apple allows retailers to do whatever they want to do).
The standard penalty for unauthorized advertising of a product below MAP, even a penny, is a 6-month turn-off of access to that product (meaning, the retailer can't replenish that product again for 6 months). Some retailers, like Amazon, will actually account for that. They'll go and buy 15,000 Garmin watch XYZ, and then sell below MAP, knowing they've got 6 months of inventory of that specific model.
There are specific carve-outs for what is known as the REI-exemption, which allows usually a set number of 20% "member only" sales per year, like the one REI is running right now (which, btw, does include the Garmin Rally power meter pedals at 20% off when you add coupon code MEMBER20). But even those often have a slew of restrictions. For example, up until a year or so ago, there was no exclusion for smart bikes, but then either Garmin or Wahoo requested that, and quietly that got added. Companies often also have wording on these 20% off member sales that prohibit displaying the lower price until added to a cart. Instead, it just must say "20% off". Again, there are a slew of tiny restrictions that industry insiders can utilize to figure out whether or not a company is breaking MAP, or on an authorized sale.
While at present, both Saris and Elite have some ~20% off sales for some products, Garmin and Wahoo do not. Both Garmin and Wahoo did have some a month or so ago, but they were tied to specific SKUs, and did not include the smart bikes (to date, Wahoo has not included that ever). In the context of this argument, Zwift is treated no different than REI or Best Buy or anyone else. In fact, from a legal standpoint they have to be, else their MAP policies can be defeated in court.
The point of this long-winded item, is to illustrate that not only is Zwift clearancing this hardware out, but they have zero plans to replenish it anytime soon. While Saris, Stages, and Elite tend to be a bit more lax with MAP, Wahoo and Garmin are very much not.
Of course, all of this makes sense. With Zwift poised to likely launch their previously confirmed Zwift Ride smartbike and Zwift Wheel smart trainer, seemingly planned for this summer, it makes sense to get rid of competing hardware. Of course, it's far too soon to know whether Zwift's offerings will compete technically or price-wise in the market. We just don't know yet.
(Also, fun tidbit: If you go to the Zwift store, Zwift cleverly asks a couple of questions around your cassette and wheel design, clearly in an attempt to gather a few more data points to assist them with the Zwift Wheel compatibility aspects.)
Further, we also don't know what Zwift's competitors will launch this year/summer. With Eurobike in mid-July this year, as the historical launching point for most trainers and smart bikes, I think we'll see one of the strongest showings of near gear we've seen in 3 years this summer. I don't think everything will necessarily be launched precisely at Eurobike, but within the general timeframe (as it often is).
That said – if you're looking for a deal, 20% is usually as good as it gets for trainers. And it's usually better than it gets for smart bikes. While the KICKR Bike deal and Stages Bike deals are now gone, the Tacx NEO Bike is still there, as are a number of smart trainer deals.
With that, thanks for reading!