This might sound like an oddly quirky comparison, but if the comments section the last week is any indication – there are far more folks than I would have thought who want to know the difference. Thus, when you ask, I…umm…record a video.
So today's video/post is my best effort at comparing two vastly different watches. One designed for a more mainstream fitness focus, and the other designed for an endurance sports focus. And ironically enough, during large chunks of both December and this past week, I actually wore these watches on opposite wrists. So I've got surprisingly direct comparisons between the two in my head, as well as with real-world data.
Of course, the easiest thing to do is to simply hit the play button above. But, if pretty pictures of pretty AMOLED displays aren't your jam, no worries, I've got a boatload of alphabet words below.
No matter the case, keep in mind that I'm trying to distill down two watches that likely have hundreds, if not probably thousands, of nuanced feature differences. Some differences are big and obvious (like mapping or microphones), some less obvious but useful (like number of data fields per page), and some downright obscure (how finitely you can configure the exact days of the week in the do-not-disturb mode). I've tried to thread that needle as best as possible without creating an hour-long video that's still missing hundreds of features.
Oh, and the two in-depth reviews are available here:
– Garmin Venu 2 Plus In-Depth Review
– Garmin EPIX In-Depth Review
Got it? Good…hold on for the ride!
(Oh, and as a general rule of thumb, virtually any time you see the word 'Epix' you can replace it with Fenix 7, except when talking about the display. And frankly, you can also replace it with Fenix 6 or FR945 in almost every situation here too….but more on that later in the post.)
The Differences: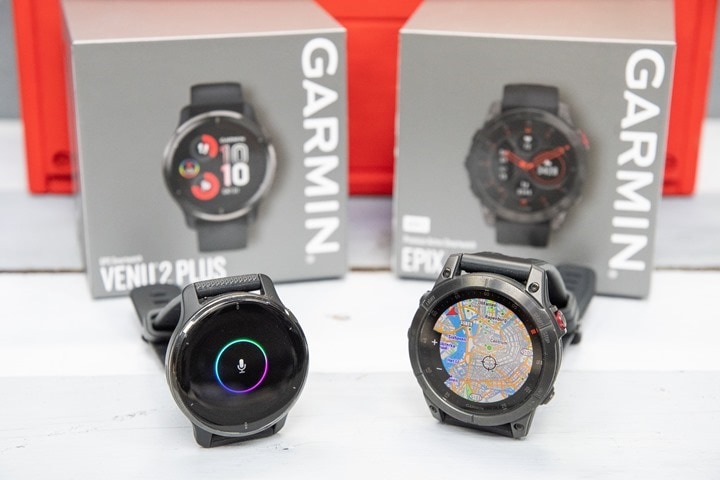 This whole section loosely follows the video, but I've got more detail written here, while more photos/video examples are within the video. See, the best of both worlds!
1) Price, Size, Hardware: We'll start with an easy one, the Venu 2 Plus is basically half the price of the Epix, $449 vs $899. The Epix also has a Sapphire edition at $999 that has multi-band GPS, pre-loaded maps, more storage at 32GB vs 16GB, and sapphire glass with a titanium bezel. Both units have touchscreens that work equally the same in my testing, including with both water and gloves. With the Epix, you have five buttons, whereas the Venu 2 Plus has three. That means that you can use the Epix entirely without touch if you want, but with the Venu 2 Plus you'll depend on the touchscreen for certain functions (such as picking a sport profile, or any of the settings). Size-wise at the case level, you can see they're considerably different – even though the viewable display size is identical. The waterproofing spec is 50m on the Venu 2 Plus, and 100m on the Epix. Of course, you can swim with both just fine – and both units have a pool mode (more on sport profiles a bit later).
2) Mapping & Navigation: This category is so vastly different it's almost hard to comprehend. To begin, the Epix has full maps, whereas the Venu series has none. Within those maps there's everything from trail and road heatmap data to cafes and monuments, allowing you to both route to those, or simply see that they exist nearby. That then gets into routing, there's none on the Venu 2 series, you can't load a course or a route. Whereas on Epix you can load routes/courses from a variety of sources (Komoot, Strava, Garmin Connect, GPX file, etc…), and then once a course is loaded you can not only route atop it, but also get further details like ClimbPro to see how much altitude/distance is left till the top of a climb. Epix also has things like route generation, where it'll spit out three nearby routes based on the distance and direction of your choosing, leveraging heatmap data. This is useful for impromptu runs and rides in places you may not be familiar with.
Meanwhile, the Venu 2 series does have some rudimentary navigation. You can save a location that you're currently at (such as your house), and then later choose to 'navigate' to it, which is as-the-crow-flies navigation. The same goes for the 'Back to Start' option. Both simply are an arrow that points you to that location. If there's a lake/highway/etc in the way, that's on you to figure out.
However, the Venu 2 Plus does support Connect IQ, and in turn, you could utilize the DWMap app, which gives you some basic course following capabilities. So that's a good stopgap for folks that don't need the full power of a higher-end watch, but still want basic breadcrumb trail following.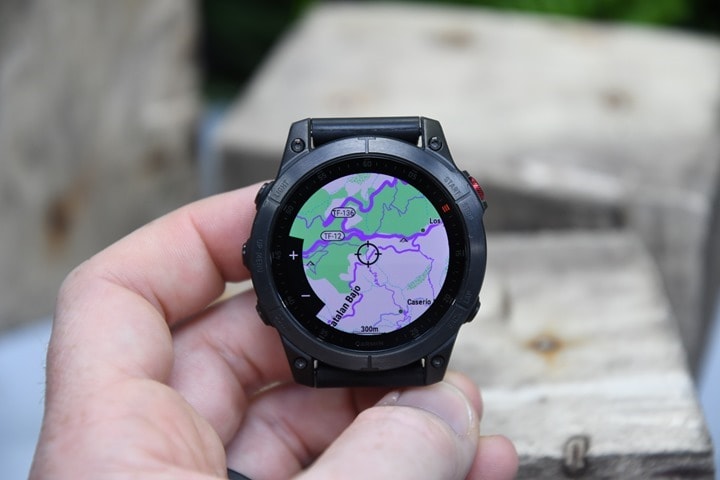 3) Speakers & Microphone: Next, we've got something that swings entirely the other direction – which is that the Venu 2 Plus has both a speaker and a mic. It's important to note that while the Epix has a 'speaker', it's really a beeper. Meaning, the Epix has all assortment of chirps, but can't sing a song or say words. Whereas the Venu 2 Plus can play music directly, allow you to take calls if your phone is nearby, and has a slew of other more nuanced sounds when it receives text messages or such (it literally sounds more polished). Of course, in addition to the speaker is the microphone, which only the Venu 2 Plus has. This means you can make and receive calls on the Venu 2 Plus, assuming your phone is nearby. Remember that neither watch has LTE built into it, so any function that depends on calling or texting requires your phone to be within range, as it uses Bluetooth to your phone, to in turn connect to cellular networks.
As for the speaker/mic quality, as I showed in my Venu 2 Plus video review, the speaker and mic quality is just fine for a wearable. Sure, it's not as good as some fancy headphones or even the Apple Watch, but for occasional use in a pinch, it's totally fine.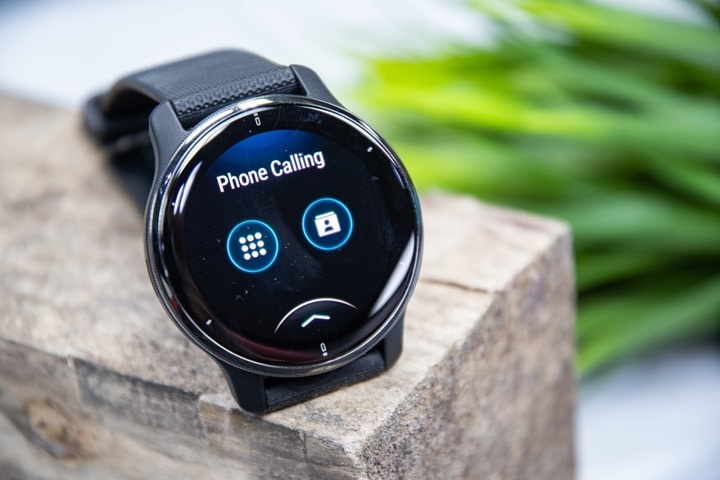 4) Voice Assistants: Next, the Venu 2 Plus has a voice assistant feature, whereas the Epix doesn't. This again leverages that speaker/microphone combo, allowing you to long-hold the middle-right button on the Venu 2 Plus, which in turn connects to the voice assistant on your phone. This means if you've got iOS, then you'll get Apple's Siri, and if you've got a Samsung phone then you can choose between Bixby or Google Assistant. The Garmin Epix (as well as every other watch they make as of this writing) doesn't have any speaker or microphone in it, so that's not just a firmware update to address – but would require new/additional hardware.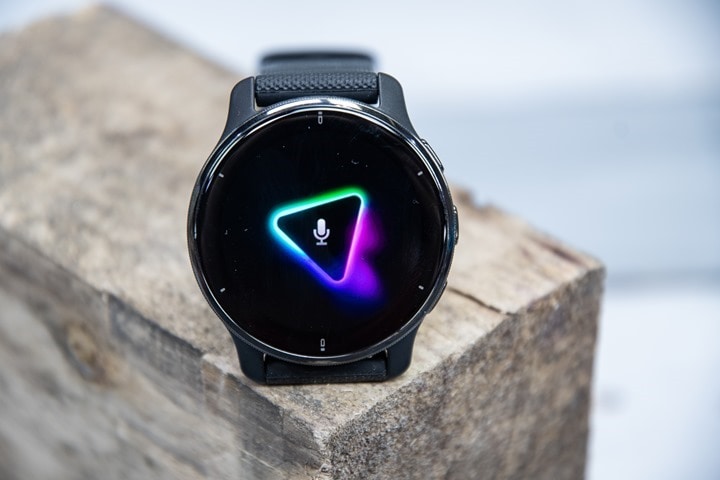 5) Battery Life: When looking at battery life, there are basically three categories: Always-on smartwatch usage, gesture-mode smartwatch usage, and GPS modes. Starting with the easy ones, here's how those compare:
Always-on Mode:
Garmin Venu 2 Plus: 2-3 days
Garmin Epix: 6 days
Gesture-based mode:
Garmin Venu 2 Plus: 9 days
Garmin Epix: 16 days
In my testing, those numbers hold up. Most of my focus has been on always-on testing with Epix, and that 6-day number is incredibly consistent, even inclusive of roughly 1-hour workouts one-time per day (some outside with GPS, some indoors).
Then we get to the GPS side of the house. This will vary based on what mode you're in, and in the case of Epix, the claims also vary based on always-on or gesture mode. Here's a little chart I made comparing those: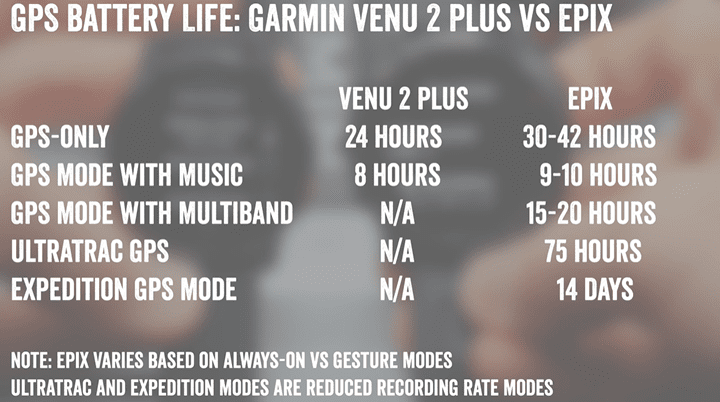 Based on my testing, I actually think the Epix numbers are too conservative, and underestimate the real battery levels of the hardware by a fair chunk (see my Epix vs Fenix 7 comparison post for my battery testing). Garmin does have a history of updating battery claims if need be (they did it for the Edge series a few years ago). So it would not surprise me to see them increase these data points (and, rightly so).
6) The AMOLED Display: Both of these units use the exact same 1.3" AMOLED display. That display has 65K colors, with a 416x416px resolution. The Venu 2 Plus looks smaller because the watch body and bezels are smaller – but ultimately, it's the same. What's of course interesting is how the different products utilize that display. Far and away, the Epix utilizes that display better. Not just for the obvious – mapping – but also things like post-workout summaries and charts/graphs in workouts. But a lot of that is driven by the advanced training/course features.
However, there is an area that's more nuanced that has nothing to do with advanced features, and that's Sleep Mode.
On the Epix series, there's a new sleep mode (literally called "Sleep Mode") that dramatically dims the display at night with a different sleep-mode watch face. While the Venu 2 Plus will go into a sleep mode at night so the display doesn't turn on automatically, it doesn't have this dedicated night-time sleep watch face, instead, it's just whatever you set as your normal (overly bright) watch face. In fact, it didn't finally click in my head till just two nights ago as to why the Epix felt so much more natural to me than the Venu 2 Plus at night: It wasn't blinding me when I pressed a button.
I asked Garmin whether they would be adding the sleep mode to the Venu 2 Plus, especially given that Apple does have a dimmed sleep watch face at the same price point. They said they are considering it, but there are no guarantees at this point, or even timelines.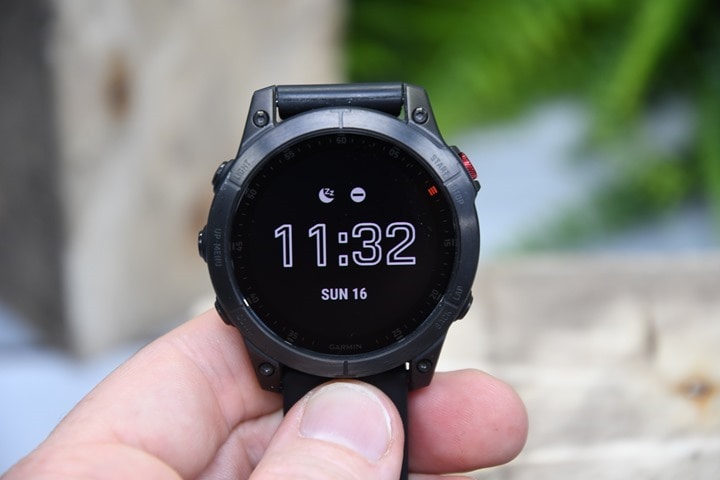 Beyond that, there's more customization of the display brightness levels on Epix than Venu 2 Plus. In fact, if you double-tap the upper left button on Epix, it has a dedicated and configurable flashlight mode, which uses the display to its full brightness potential.
Speaking of bright things, both are AMOLED displays, which means there's some concern about burn-in. While we did see burn-in on the first-generation Venu displays, we haven't seen concerns with the Venu 2 series, which is about 9-months old now. Of course, Garmin has changed quite a bit in how those displays work to mitigate burn-in scenarios. While I'm personally not concerned about normal use cases here triggering burn-in, realistically, only time will tell.
7) Sports Profiles Differences: They both have core sport profiles like running and cycling, strength, yoga, etc… even downhill skiing. But the Venu doesn't do openwater swimming, nor does it have a multisport mode, so you can't do a triathlon with it. And then within sport profiles on Epix, you've got essentially unlimited data pages and customization, with virtually limitless data fields, including up to eight data fields per page, as well as numerous different data field types elevation, graphical charts, and the compass. The Epix also supports phone-based configuration of data pages and system settings, which the Venu 2 Plus lacks. And the Epix can do voice/audio prompts for things like pace splits (with headphones or your phone nearby), which the Venu 2 Plus can't.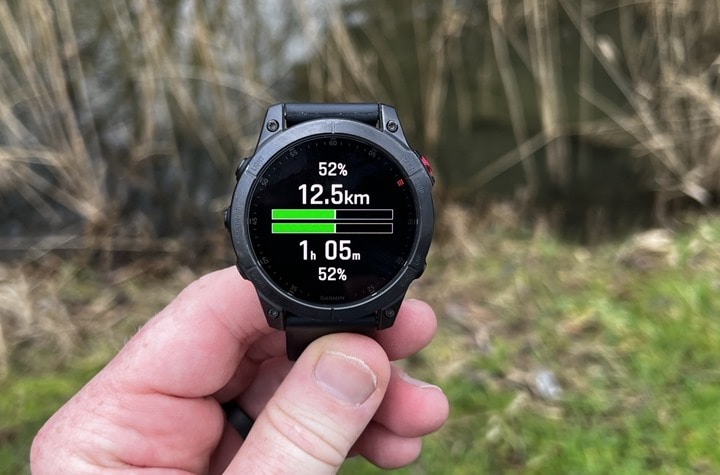 Meanwhile, on the Venu 2 Plus you get three pages you can customize and a heart rate chart. Each page can have up to 4 data fields on it.
In general, there's just far more data fields to add on Epix than there is on the Venu 2 Plus. For example, you can add temperature on Epix, but not the Venu 2 Plus. Still, for most of the core data fields you'd expect for running or general cycling, you'll find them on the Venu 2 Plus.
Here's the complete list of sport profiles on each unit. Some of these like hydration/challenges/CIQ store/etc just sorta end up in the list because that's the way the unit shows them, so for completeness I've left them here:
Venu 2 Plus: Run, Bike, Hike, Bike Indoor, Treadmill, Indoor Track, Strength, HIIT, Navigate, Breathwork, Health Snapshot, Walk, Walk Indoor, Floor Climb, Pool Swim, Cardio, Yoga, Pilates, Elliptical, Stair Stepper, Climb Indoor, Bouldering, Row Indoor, Ro, SUP, Golf, Ski, Snowboard, XC Ski, Hydration, Challenges

Epix: Run, Hike, Bike, Bike Indoor, Treadmill, Open Water, Navigate, Expedition, Track Me, Map, Map Manager, Connect IQ Store, HRV Stress, Health Snapshot, Multisport, Trail Run, Ultra Run, Virtual Run, Track Run, Indoor Track, Climb, MTB, eBike, eMTB, CycloCross, Gravel Bike, Bike Commute, Bike Tour, Road Bike, Pool Swim, Triathlon, Swimrun, Adventure Race, Strength, Climb Indoor, Bouldering, Ski, Snowboard, Backcountry Ski, XC Classic Ski, XC Skate Ski, Snowshoe, SUP, Surf, Kiteboard, Windsurf, Row, Row Indoor, Kayak, Golf, Tempo Training (Golf), Tennis, Pickleball, Padel, Project Waypoint, Walk, Cardio, HIIT, Yoga, Breathwork, Pilates, Floor Climb, Elliptical, Stair Stepper, Jumpmaster, Tactical, Boat, Clocks, Other
When it comes to structured workouts, they both support downloadable structured workouts from Garmin Connect or 3rd party services. However, the Epix also supports on-device interval workouts (that you can tweak on the watch), as well as PacePro plans for racing, Strava Live Segments, and Lactate Threshold testing.
8) Sensors & Data Metrics: And as you transition into sensors and advanced data metrics, the divide gets deeper. For example, both units support ANT+ & Bluetooth Smart cycling speed and cadence sensors, as well as heart rate straps. And both even support cycling radar and cycling lights. And they can both broadcast your heart rate to apps as both ANT+ & Bluetooth Smart, so you can pair to Zwift or a Peloton bike/app.
However, the Epix also supports sensor types like smart trainers, cycling power meters, shifting (e.g. Shimano Di2/SRAM eTAP), as well as Garmin's Running Dynamics metrics using their sensors (i.e. HRM-TRI/PRO/RUN/RD-POD) – including bits like ground contact type, vertical oscillation, and plenty of other metrics you probably won't have a use for. Further, it also supports cross-country skiing power using the HRM-PRO. And in the case of mountain biking, it also supports metrics like flow and grit.
Here's the full sensor types supported on each unit:
Venu 2 Plus: Club Sensors, Headphones, Heart Rate, Speed/Cadence, Foot Pod, Tempe, Lights, Radar

Epix: Club Sensors, Headphones, Heart Rate, Speed/Cadence, Foot Pod, Tempe, Lights, Radar, Power, VIRB, Shimano Di2, Shifting (e.g. eTAP), Extended Display, RD Pod, Muscle O2, Xero Laser Locations, inReach, DogTrack, Smart Trainer
Keep in mind also that for sensors like the smart trainer, it can control that from a structured workout standpoint. And in the case of power meters, it can also record advanced Cycling Dynamics metrics (from multiple companies).
9) Training Load & Recovery: The differences continue to get even deeper in this area. For example, when you finish a run on the Venu 2 Plus, it gives you a tidy single page of a few pieces of summary information, plus the ability to see your laps/zones. Whereas on Epix you'll get four main pages of detailed metrics on the watch itself, then another half a dozen pages of secondary metrics, all of which are including aspects like training Load and recovery times, what type of workout this was and what it benefited.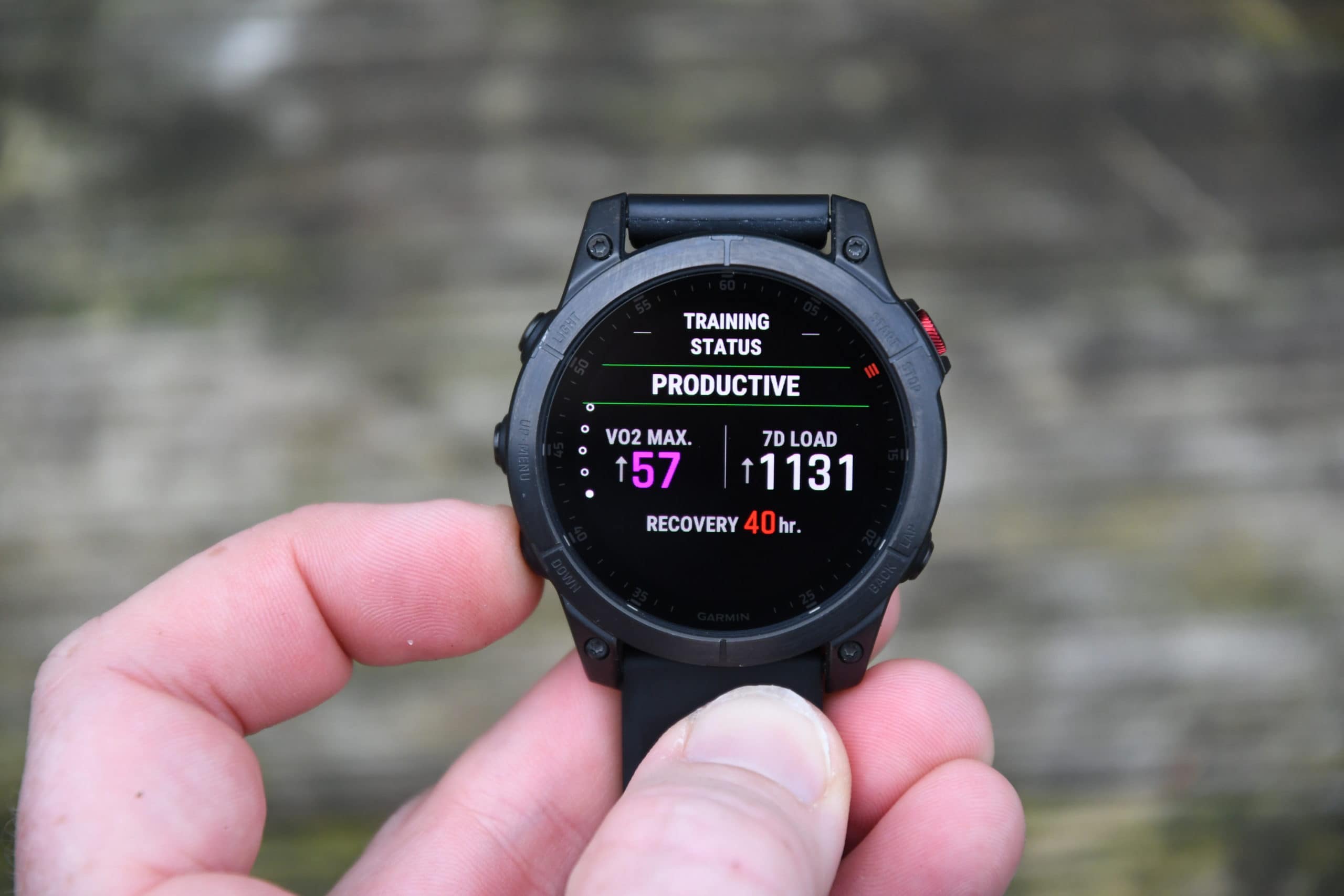 Mid-workout, the Epix (as well as the Fenix 7) has the new Stamina feature, which is essentially like the 24×7 Body Battery, but for just a workout. That feature determines how much gas you have in your tank, given that current intensity level. So you could figure out whether that pace in the first mile of a marathon, is viable for another 3-4 hours or not. It'll straight-up tell you exactly how far/long you can go on this day at that pace.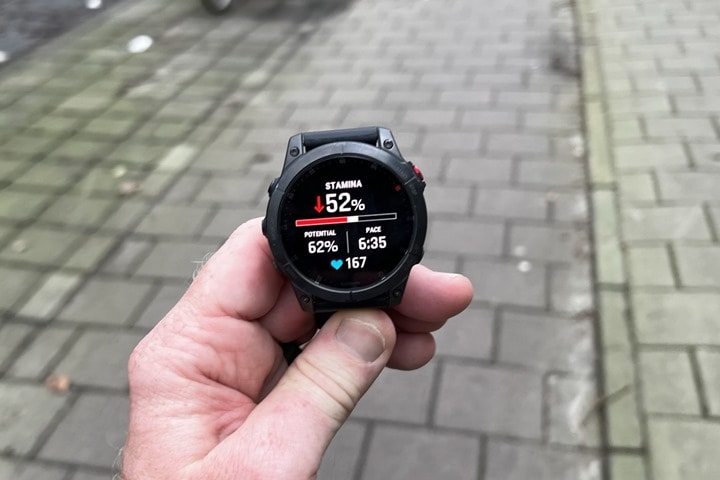 Further, the Epix will give you more detailed information on what type of workouts you should be doing next – and even give you that exact workout, as part of the daily suggested workouts, which the Venu lacks. It's always been strange to me that it lacks this, especially given Garmin has numerous less expensive watches and bike computers that do daily suggested workouts. As does their competition, including Polar and Suunto at the $200 price points.
10) GPS Hardware Differences:  The Venu 2 Plus and Epix units use different GPS chipsets. Though, even within the Epix there's some differences. On the Epix Sapphire edition there's the new multi-band GPS, which is generally seen as the holy grail of GPS accuracy. Or at least, the potential to be. While it's been getting better as a whole in the industry (COROS added it last summer with the Vertix 2), I don't think it's quite at holy-grail level. Still, it is slightly better than the Venu 2 Plus.
A simple example of this was a run two nights ago I did around some semi-tall buildings, the two watches on opposite wrists, the Epix clearly produced crispier tracks around these buildings whereas the Venu 2 meandered a bit. Once away from the buildings, the two tracks were basically identical.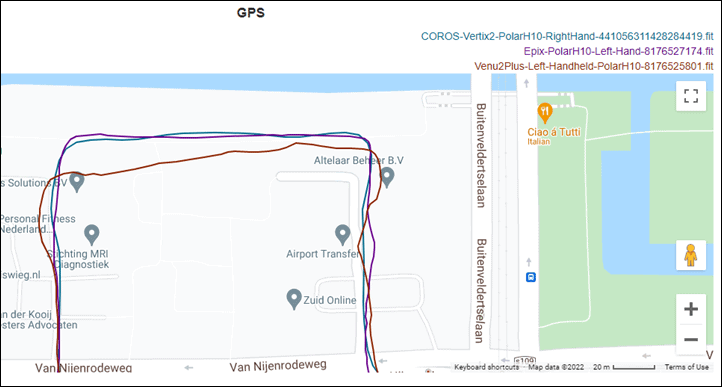 This is just a simple example from months of testing, but is probably the easiest and most direct way to show it.
11) Music Playback: Both watches can download and play music, including from Spotify, Amazon Music, and Deezer. This portion is functionally identical on both units. However, the Epix has more storage, spec'd with 16-32GB depending on the version, whereas the Venu 2 Plus only has 4GB of storage. Still, keep in mind that's a heck of a lot of songs on your wrist for workouts – like 500+ songs.
Inversely, while the Epix has more storage, the Venu 2 Plus's speaker can play that music without headphones, whereas the Epix requires Bluetooth headphones.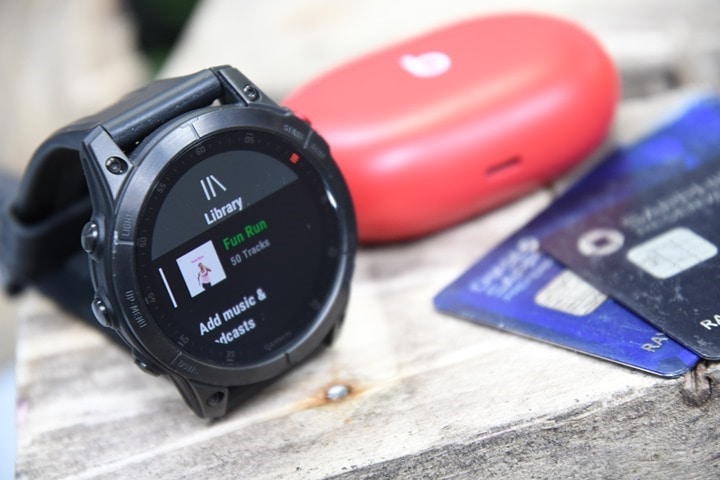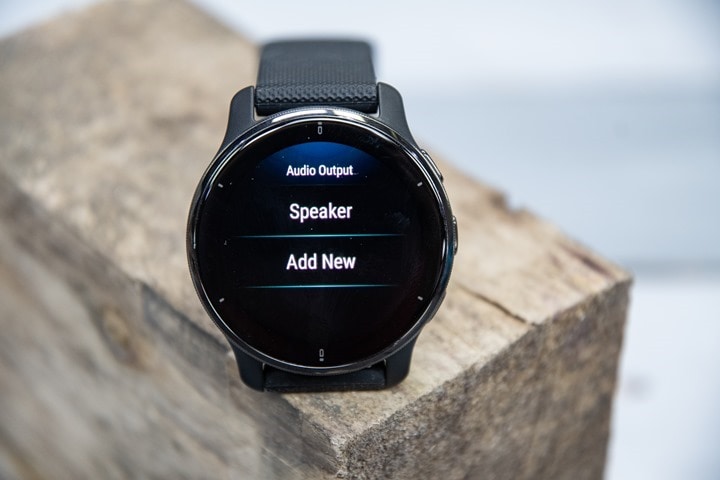 12) The Heart Rate Sensor: This is another quick and easy one: Both have the same Garmin Elevate V4 optical HR sensor. This sensor gets all the same core metrics including 24×7 heart rate, workout heart rate, respiration rate, and other features like stress. And in fact, both have PulseOx to get blood oxygen levels on-demand, 24×7, or just during sleep. And both have the new Health Snapshot feature to collect all this data into a tidy report. The main nuanced difference with the Epix, is that it can also plot those Blood Oxygen levels over altitude over time, for high altitude climbing.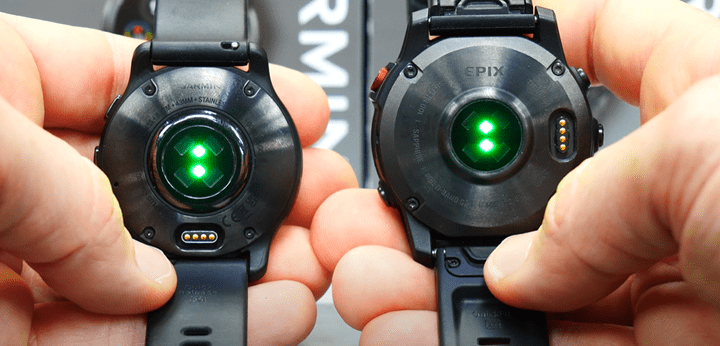 13) Emergency Features: Both units have many of the same safety features like fall/crash detection, which notifies friends and family automatically, as well as both have LiveTrack to share your position automatically, and both have silent safety assistance alerts (such as if you're feeling uncomfortable in a dark parking lot). However, they differ in that the Venu 2 Plus can actually call someone, including 911 with that microphone/speaker. Whereas Epix just texts someone.
Keep in mind though that neither has LTE, so both do require your phone be within range.
Inversely, while the Epix doesn't have calling, it does have Garmin inReach accessory support, which is this satellite communicator for when you're out of cellular range, it'll integrate with that as an accessory.
Wrap-Up: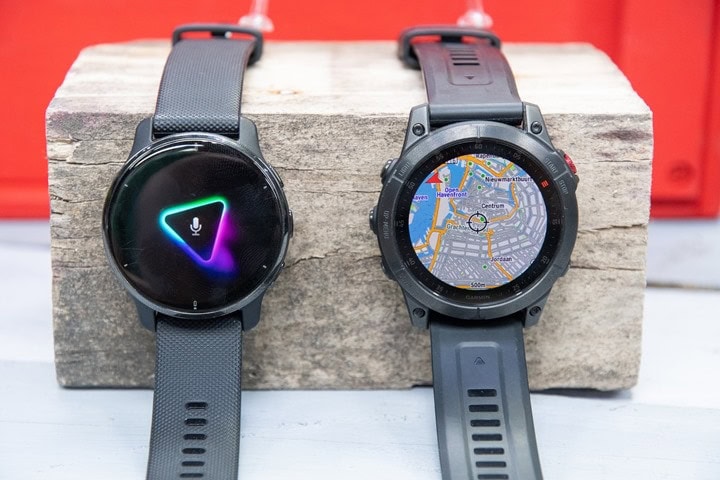 Phew! That was a boatload of differences – and the thing is, that's really only skimming the surface. For almost every feature difference noted above, there's more features tied to that. For example, you get added data from each one of the added sensor types. Or get a plethora of different navigational features with not just the map, but also even core utilities – stuff like measuring an area, or all of the altimeter/baro/compass (ABC) features. And even then, if you look at the altimeter, you get added configuration options like how and when and what to calibrate to.
It's literally never-ending.
But, the thing is – like most Garmin features, you probably won't use them. Or even a fraction of them. However, that's Garmin's secret sauce. They know that while *you* might not use them, your neighbor might. And they might not use the features you do. But together, you demand a larger set of features.
In the case of the Venu 2 Plus, it's an entirely capable GPS running watch. You can easily not just run a marathon with it, but also track hikes, rides, and plenty more other activities. If someone told me today that I needed to do all my runs with the Venu 2 Plus instead of a Forerunner or Fenix series unit – it'd have little to no material difference on my run training – the core features I use day in and day out, are on the Venu 2 Plus. But inversely, if someone said the same for cycling or hiking, for what I use, it wouldn't fit the bill. On cycling I need power meter support, and for hiking I want course/route support.
However, those added features are found in plenty of other watches that don't cost $900-$1,000. Almost everything the Epix has, so does the Forerunner 945, and even with that, almost everything the Forerunner 945 has, so does the Forerunner 745 just without maps. And on the endurance athlete side, virtually all the core features can also be found in the COROS Pace 2 for $200 (minus routing), or the Suunto 5 Peak, or Polar Vantage M2 for $329. All of which are solid watches that cost less than the Venu 2 Plus, and still deliver on multisport/training load/etc needs.
So ultimately, it just comes down to what features you use and/or plan to use.
With that – thanks for reading!
Found This Post Useful? Support The Site!
At the end of the day, I'm an athlete just like you looking for the most detail possible on a new purchase. These posts generally take a lot of time to put together, so if you're shopping for the Garmin Venu 2 Plus or Garmin Epix Sapphire Black Titanium (Gen 2) or any other accessory items, please consider using the affiliate links below! As an Amazon Associate I earn from qualifying purchases. It doesn't cost you anything extra, but your purchases help support this website a lot. Even more, if you use Backcountry.com or Competitive Cyclist with coupon code DCRAINMAKER, first time users save 15% on applicable products!
And of course – you can always sign-up to be a DCR Supporter! That gets you an ad-free DCR, access to the DCR Quarantine Corner video series packed with behind the scenes tidbits...and it also makes you awesome. And being awesome is what it's all about!