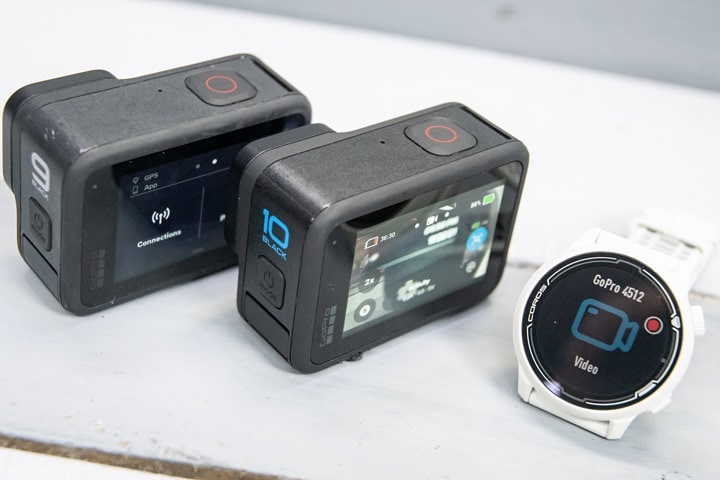 Another month, another substantial COROS watch firmware update. And as usual, most watches get all these updates, no matter the age. This makes COROS the second watch company, after Amazfit (and GoPro's own now-deprecated Apple Watch app) to add support for it using the new SDK, enabling you to switch modes on your GoPro Hero 9 or Hero 10, while also shooting photos and videos. It's simple and easy to use.
Meanwhile, they've added Komoot Route Sync support, joining the Strava Route Sync support added last month. To go with that, units get a new 'Walk' sport mode, and also Galileo support (if they didn't have it already). And for cyclists, the Pace 2/Vertix 1/APEX PRO gets ANT+ power meter calibration.
Now, these updates will roll out on different days over the next week for the different watch models. Here's the current plan:
COROS Vertix & APEX Pro (Today, Nov 22nd): Topo/map features, Walk Mode, Galileo Support, ANT+ power meter control, action cam control, new light key shortcut, Italian language support

COROS Pace 2 (Wednesday, Nov 24th): Walk Mode, Galileo Support, ANT+ power meter control, action cam control, new light key shortcut, Italian language support, increased multisport mode to support five sports (from three), added Distance option in Workouts rest lap (No Komoot Route Sync, as the Pace 2 doesn't do routes)

COROS Vertix 2 (Monday, Nov 29th): Walk mode, Komoot Route sync, action camera control, added Distance option in Workouts rest lap

COROS APEX (December): Galileo Support, Komoot Route Sync
Finally, it's worthwhile noting that in the details provided to the media, COROS states that this will be the last 'feature' update for the base APEX units anymore, as they don't have any more space – specifically quotable: "APEX storage has reached its limit and we won't be able to add more new features to the watch, except performance optimization in the future."
But as noted, they are promising "performance optimization" in the future, which would assumedly also include any bug fixes along the way, though COROS doesn't tend to list bug fixes on their release notes as well as some other companies do.
With that, let's dive into it.
GoPro Control:
The camera control supports the GoPro Hero 9 & 10 action cams. The reason it only supports those cameras is that as part of the SDK/API bits GoPro released this summer, that only support the Hero 9 and Hero 10 at this point. Thus it's not a COROS limitation, but a GoPro one.
So, grab your GoPro, turn it on, and swipe down from the top, then over so you see the 'Connections' menu: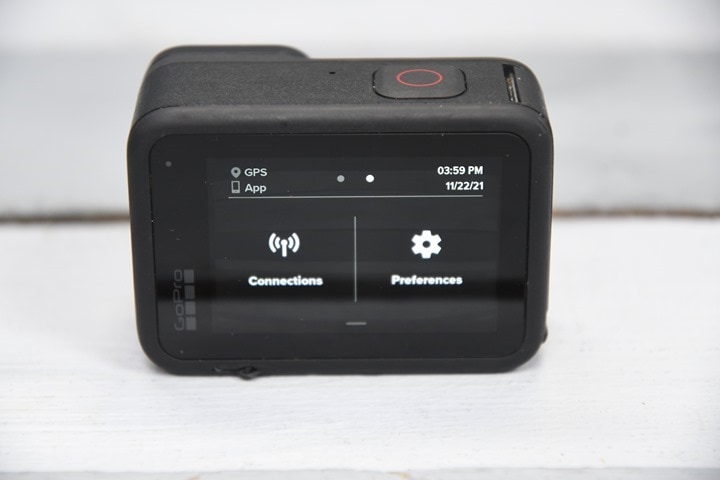 Then tap 'Connect Device' on the GoPro and choose GoPro Quik, while meanwhile, on the COROS watch hold the lower right button to access the system menu, and go to 'Camera Control'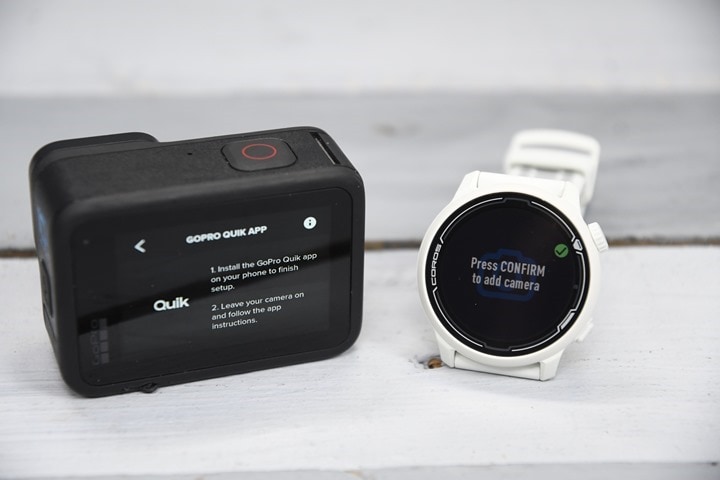 A couple of seconds later, they'll find each other and magically pair. It's super simple.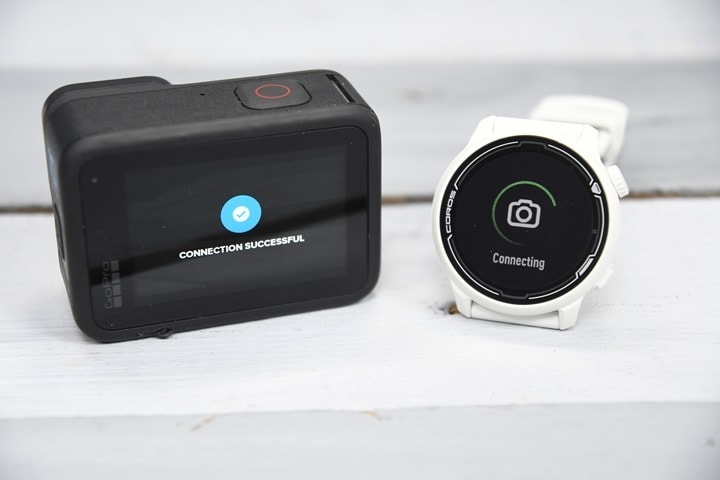 And with that, you've got GoPro camera control, which is dead simple. Use the digital crown (scroll wheel) to simply scroll between photo and video mode (just those two modes). And then tap the digital crown to either start recording or take a photo:
The timer will update if in video recording mode, and properly stop the timer whether stopped from the watch or from the GoPro.
That's it. Easy-peasy. This menu is accessible anytime in sport or non-sport modes, just by holding the button and going to camera control. Now the only downside here (which is moderate) is that the pairing doesn't save after you power off the camera. You have to re-pair each time. COROS says this is a limitation of the GoPro developer interface at this time (but my reading of the GoPro SDK specs says pretty clearly that in theory, the BLE connection is saved for future connections). However, they did note they've got some workaround ideas. I suppose if there's a bright side, it'd be that the pairing process literally takes 3-5 seconds, so it's pretty quick. Still, I imagine this will limit my use of this feature since deleting and recreating the pairing is just one more thing to do.
While some might argue that it'd be nice to have the ability to change GoPro photo/video modes (e.g. toggle between the video modes), I'd say the simplicity here arguably makes it easier to use. With just two options, it's kinda hard to get yourself in a pickle. I also actually appreciate that the TimeLapse/TimeWarp screen isn't shown in the loop (despite being one of the three GoPro modes), as realistically nobody is setting those up from a watch.
Whereas if you were doing an implementation of this on a bike computer, having perhaps the list of video modes enumerate for quick tapping might make more sense, as the screen is bigger to interact with. Anyways, super cool stuff.
Note: COROS also added Insta360 support for the Insta360 ONE X2 & ONE R action cameras as part of this firmware update. I previously outlined that within my COROS Vertix 2 In-Depth Review. Note that, unfortunately, that does not include support for the newer GO 2 however (also, I presume an Insta360 SDK limitation).
Komoot Route Integration: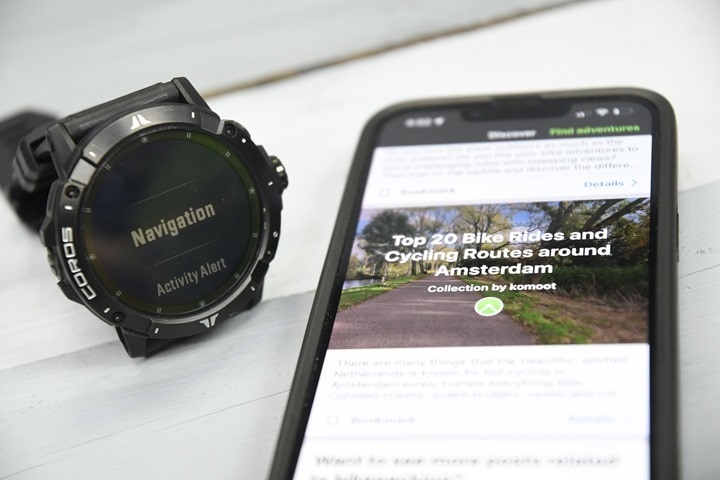 Next up is Komoot Route integration. You'll remember last month COROS added Strava Routes integration, making it far easier to get routes onto the watch. This same concept now applies to Komoot too. This update is basically just an app/platform update, with likely a few tiny tweaks on the backend on the watch to ensure it flows smoothly.
To get this cooking, go into the profile options in the COROS App, and then into 3rd party integrations and select Komoot. Then just follow the usual OAuth permissions prompts:
And with that, you've got it validated: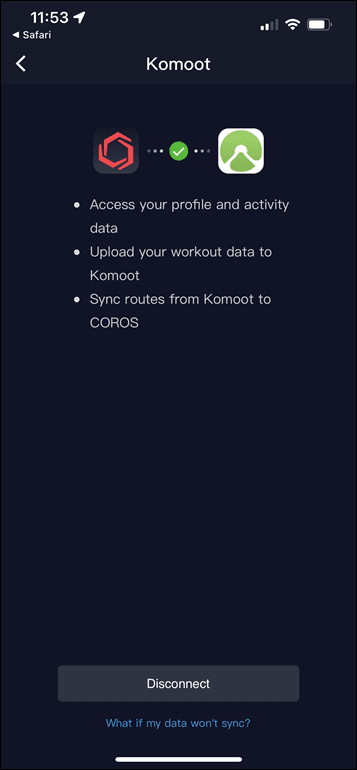 Now, go to Komoot and make some stuff. Specifically, route stuff.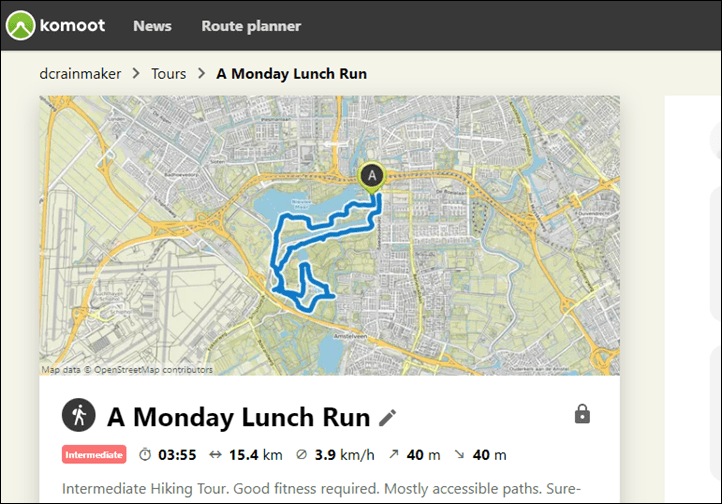 Next, swing back to the COROS App, and go to the Routes Library, and then refresh it. You should now see that new route.
Tap that route and choose to 'Sync with your watch', and then choose the watch in question. In my case, the Vertix 2: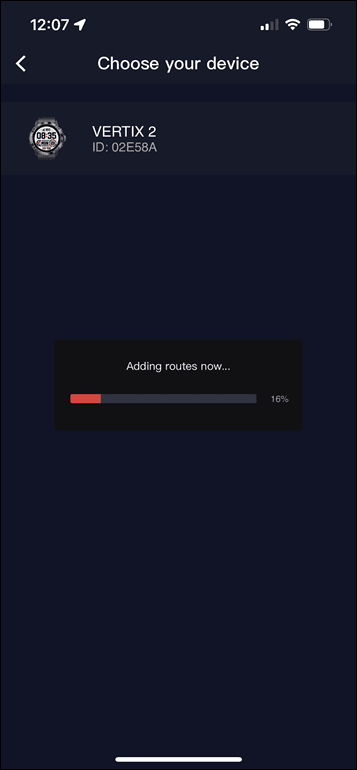 Now, you're done – it's synced to the Vertix 2: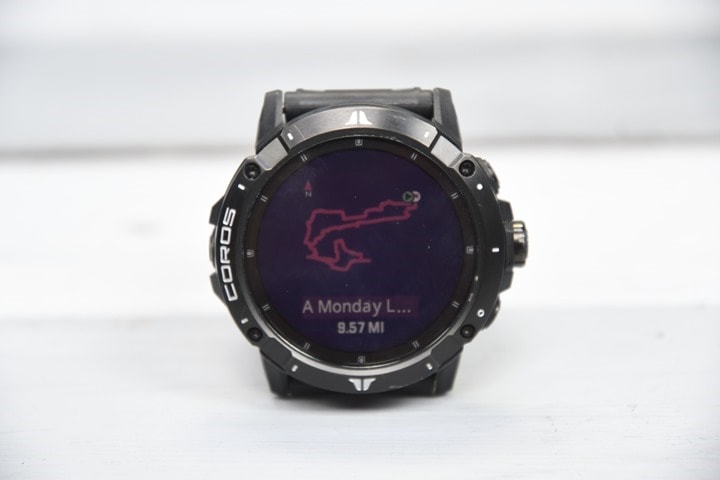 Donezo. From here you'll navigate like normal.
As with the Strava Routes update, the main limitations I'd like to see addressed here is the maximum number of routes in a watch being increased (right now it's just 10), and the entire sync process in turn should just be automatic (as it is on every other competing device). When someone tags a route on a platform to be synced/favorited, it should just automatically end up on my watch upon the next sync. I shouldn't need to manually flag things, then manually sync/push it, etc…
I'm sure that's somewhere on COROS's to-do list, but I figured I'd mention it.
Also, now that COROS has both Komoot and Strava piping data into the platform, it'd be super handy if the COROS App (and watch) could put a tiny little icon next to each route so I know where they came from. Wahoo does this on their devices, and it makes it handy, especially when you have lots of routes. Right now, it's sorta become a wall of routes. Same goes for some organization (e.g. sorting by date added, length, distance from location, etc…).
But as I said before, those are all relatively easy things to do for COROS in the grand scheme of things, and more of what I'd refer to as catch-up items. Little things that by themselves aren't deal-breakers (usually) when someone is looking to jump ship from a different watch, but in total, they can be blockers.
Walk, Galileo, ANT+ Power Meter Support:
Ok, now we've got the leftovers list. Which doesn't mean they aren't important. It just means they're…umm…ok, yes, they're less important. Most of these I'd classify as catch-up items, as they're items commonly seen on their competitors.
First, there's the ANT+ power meter calibration option, for those COROS watches that have ANT+ (notably, the Vertix 2 does not). Assuming an ANT+ power meter is paired, then you'll go into the accessories menu, where you'll find the 'Calibrate now' option: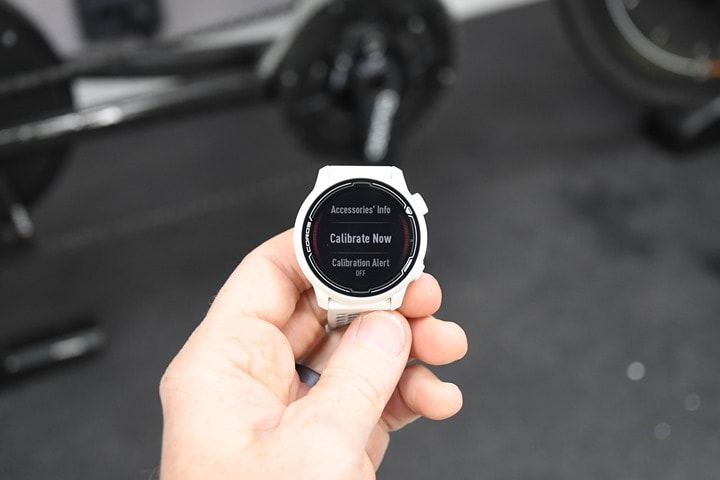 As usual, ensure your power meter is in the correct orientation (if applicable), and that there's no load on it (not clipped in, no weight on it, etc…).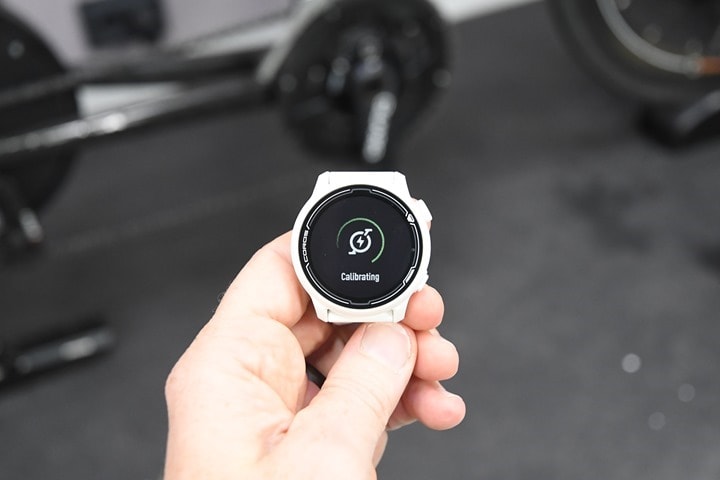 After completion it'll show a calibration confirmation: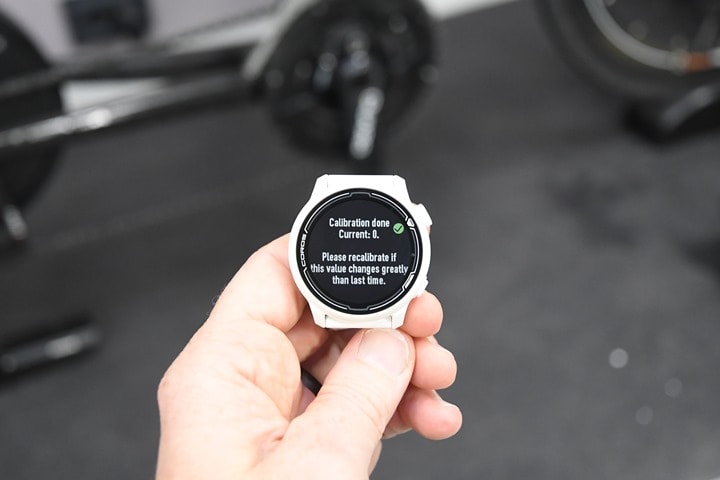 Next, there's the new 'Walk' sport mode. This is essentially just another sport mode, except that COROS creates a lap target based on steps by default, instead of distance. By default, that target is 1,000 steps per lap. The reason they do this is that they note in some city environments you might not get good GPS, so steps is probably a better metric for walks. Fair enough. This sport mode can be used for both indoor and outdoor walks (i.e. with or without GPS):
Next, there's Galileo satellite support mode. This allows the watch to connect to and see Galileo satellites, which might improve GPS performance (especially in Europe). Or, it might not. Which isn't a slight on COROS, just a reality of my real-world test across devices that have enabled Galileo support. Sometimes it's great, sometimes it's shrug. Such is life.
Anyways, with the Vertix, APEX Pro, and PACE 2 (the Vertix 2 already has it), you'll now get Galileo included in the GNSS foursome by default. This includes GPS+GLONASS+GALILEO+QZSS GNSS systems or alternatively, GPS+BEIDOU+GALILEO+QZSS. There's also the option for just GPS only. COROS says Galileo satellites will have a slight impact on battery life (most companies see about a 10% decrease in battery life, but COROS tends to do better on battery life than most companies).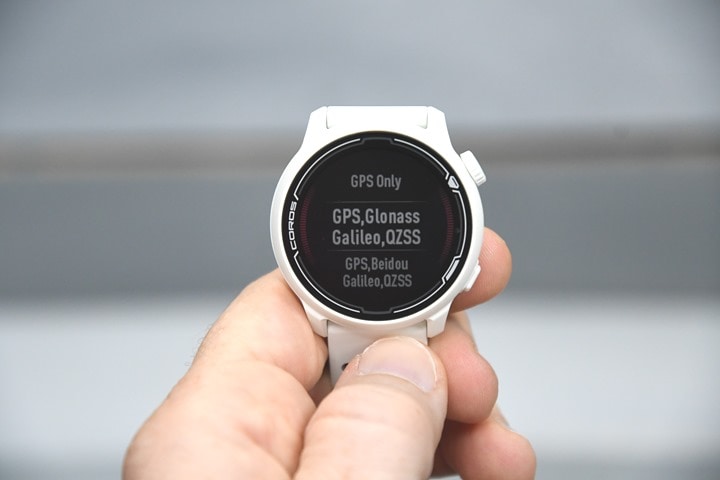 And last and most certainly least (look, something had to be least, and this is it), you can now add the 'Distance' option within a structured workout for a rest chunk/interval. Meaning previously you would do rest based on time, but now you can do it with distance too. Super useful if you're doing any structured workout where you might be on a track and do something like 400m hard, 200m recovery. This is accessible from within the COROS app, and then of course displayed on the watch during the workout itself.
Wrap-Up: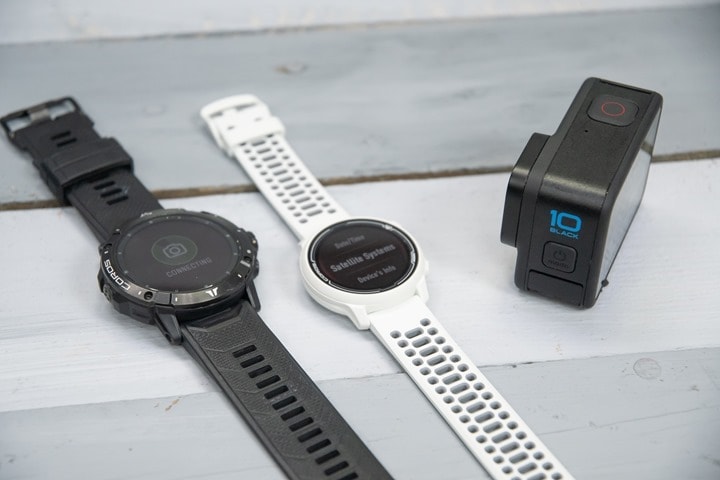 It's pretty cool to see that COROS is adding features across the entire lineup like this, both in terms of firmware updates for devices, but also software-driven updates (like the Komoot integration, which is largely on the app/platform side).
If we look at this update and the watches it's updating, it goes to watches about three years old at its oldest (the original APEX, announced in Nov 2018), while the original Vertix is about 2.5 years old (May 2019). COROS has stated that this will be the last feature update the base APEX (not Pro) gets, which roughly mirrors what they said for the original Pace earlier this year – in both cases citing storage limitations  Thus, we can start to see roughly where in the sand the line is for older watch feature updates, as notably even the base APEX only got Galileo firmware support this time around (since the Komoot update is basically all app/platform side).
I point that out because while it's easy for me to say that COROS is leading the way here, in reality, they're actually about on-par at this point when we look at their main competitor, Garmin. For example, the Forerunner 945 was released roughly the same time as the Vertix, and continues to get major feature updates (including a big one last week). The Fenix 6 also gets big feature updates (including also last week), but is slightly younger than those at about 2.3 years old. There isn't a great direct competitor timeline-wise to exactly the three-year-old Vertix from Garmin, as the Fenix 5 Plus series is about 3.5 years old (and receiving mostly just performance updates these days, including last week). Suunto was slightly ahead of COROS when this past summer it added features from its then just announced new Suunto 9 Peak, to the ~3.2 year old Suunto 9 Baro/etc series.
A far bigger 'test' for Garmin would be to see if the Fenix 6 and Forerunner 945 continue receiving updates into the spring, as they approach their three-year birthdays. Obviously, we've seen that level of support from Apple and their watches, and Wahoo on their bike computers (as well as Garmin on their bike computers). Heck, we're even seeing companies like GoPro add features to older cameras, something they *NEVER* did. Ever.
Anyways, I point that out because it's interesting to me. I think all of us want to see devices continue to receive feature firmware updates beyond their marketing launch, especially as companies these days are including far more forward-capable hardware than used to be there historically. One only need to look at COROS's addition of maps to the original Vertix and APEX Pro. That wasn't "just" a minor update for a 2.5yo device, that was a massive update that most companies would have just kept on their newest units.
Hopefully, this is a trend that continues. Not just for COROS, but the industry at large.
With that, thanks for reading!
Found This Post Useful? Support The Site!
At the end of the day, I'm an athlete just like you looking for the most detail possible on a new purchase. These posts generally take a lot of time to put together, so if you're shopping for the COROS Pace 2, COROS Vertix 2 or GoPro Hero 10 Black or any other accessory items, please consider using the affiliate links below! As an Amazon Associate I earn from qualifying purchases. It doesn't cost you anything extra, but your purchases help support this website a lot. Even more, if you use Backcountry.com or Competitive Cyclist with coupon code DCRAINMAKER, first time users save 15% on applicable products!
And of course – you can always sign-up to be a DCR Supporter! That gets you an ad-free DCR, access to the DCR Quarantine Corner video series packed with behind the scenes tidbits...and it also makes you awesome. And being awesome is what it's all about!