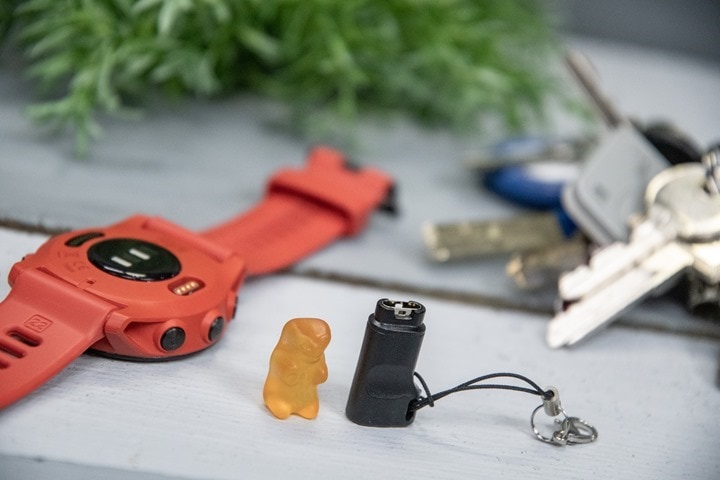 As a purveyor of quirky charging cables, I'm back with another installment – this one for not one, but two different Garmin USB-C watch chargers. We last left off two years ago with the $9 two-pack of Garmin charging pucks that generally work far better than the stock ones (literally, that was exactly two years ago to the day from this post). Since that time, according to Amazon alone, roughly 20,000 of you have picked up those cables (seriously). Granted, I've got one on basically every surface here in the DCR Cave and at home, so perhaps most of those are mine.
In any case, with more and more computers (and ports) becoming USB-C only these days, I figured it was time to revisit things with two additional solutions. Actually, three solutions. Two of which are USB-C, and one of which has been sitting on my desk a few years and I figured it was time to share that too.
With that quick and efficient intro out of the way, let's dig into it. Much to the chagrin of my wife, I bought all these cables myself. Though she sometimes steals them too. Point being, none of these no-name companies know who I am, nor is this sponsored. This is just me doing my cable fetish thing.
In case you're too excited to read through this, here's what I've been using and liking (these links should localize properly to your local Amazon store):
– $8.99 for a two-pack of USB-C Garmin watch keyring chargers (7.99EUR for a two-pack  UK here)
– $6.90 for a one-pack of a USB-C Garmin watch charging cable  (8.90EUR for a single cable)
– $13.99 for a Garmin watch charging stand/cable (regular USB) (12.99EUR for a single unit)
As long as you've got a Garmin watch that uses the standard Garmin charging port of the past few years (shown above with four small dots, but NOT a clip-on charger), you're good to go.
As with the past two-pack of regular Garmin charging cables, the exact name will often vary slightly between Amazon countries, though it's all the exact same product (and always the exact same stock-photo imagery). So, let's dive into it!
USB-C Keyring Charger: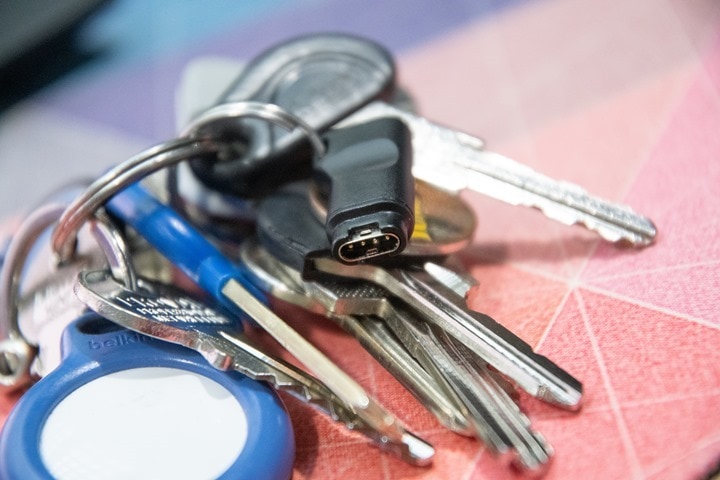 Back this spring COROS announced a little keyring charger for their watch. It was super cool, since you could stick it on your keyring, and always know that when you travelled if you forgot your main charger, this was there as a backup. Albeit, there wasn't a lot of travelling going on last May.
Now, this is basically the same concept as that, but a bit more tidy, and a bit smaller – and only $8.99 for a two-pack. With the COROS charger, it had a USB port built into it, whereas this one assumes that you've got a USB-C cable handy. Which, is a fair assumption.
With the Garmin charger, you can see that one side of the tiny pod is the Garmin charger/port: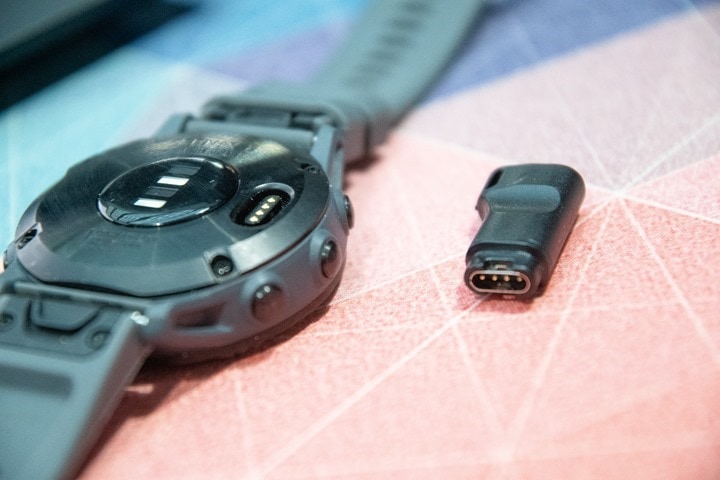 While the other side is a USB-C port, that you plug any USB-C cable into.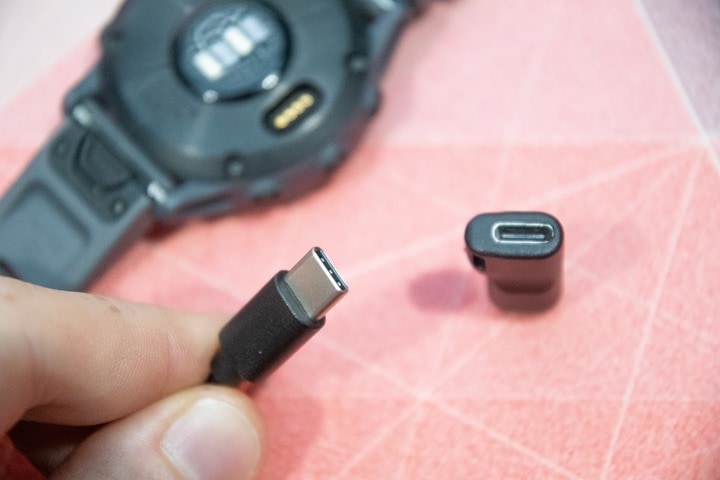 Meanwhile, on the edge is the small hole for the string that came with it to connect to your keychain charger:
Else, you can just put the keyring through that, a bit more secure that way (and less floppy).
In any case, the idea here being that you've got it attached to your keys or such, and then you can just plug a cable in and charge your watch. I treat this as a backup charger, more than a daily use charger. For example, if I'm travelling or something and realize I forgot a charger.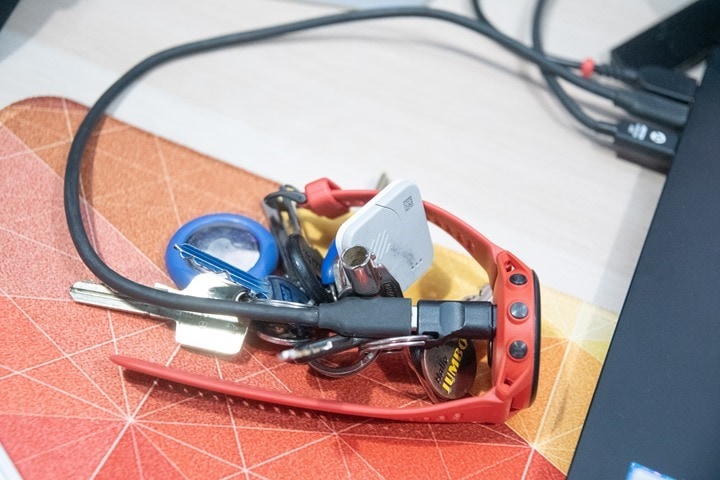 (And don't be worrying about putting my keys on the interwebs. First, because frankly I don't even know what half those keys are for. Second, the half that I do know either aren't shown, or don't matter. For example, that red key? It's for the old bakery doors in Paris. Never got around to taking it off.)
In terms of usage, I've tried it with half a dozen USB-C cables around here, all with no issue – including my MacBook charger: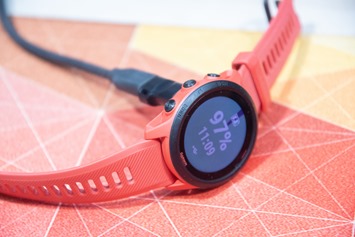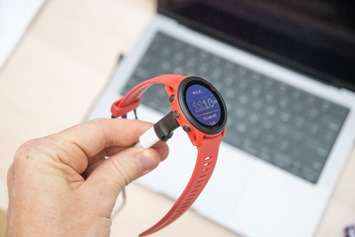 It'll correctly pass through data too (seen below), however since USB-C is a bit of the wild-west of cable specs, your mileage might vary there. But in all the random cables I have on my desk and in my bag, it easily passed through data with no problem. I didn't dare go open the large plastic container of random USB-C cables in the storage room, as I'd still be sitting here testing them.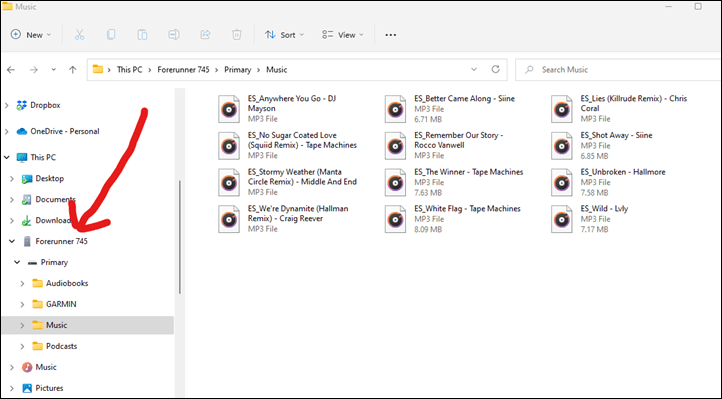 Fit-wise, mine feels crispy, and better than the stock Garmin charger. Albeit I'll give a slightly higher crispy rating to the red USB-C cable listed below, it's super sharp sounding.
Given it's a two-pack, you can keep one on your keychain, and then stick another on…I don't know, another keychain. Maybe inside your wallet, or deep in your backpack. Look, more backup charger locations is better. How you manage proper redundancy is your problem, not mine.
Compatibility for this charger is any watch that has the standard Garmin charging port. Flip over your watch, and as long as it looks like this, you're golden: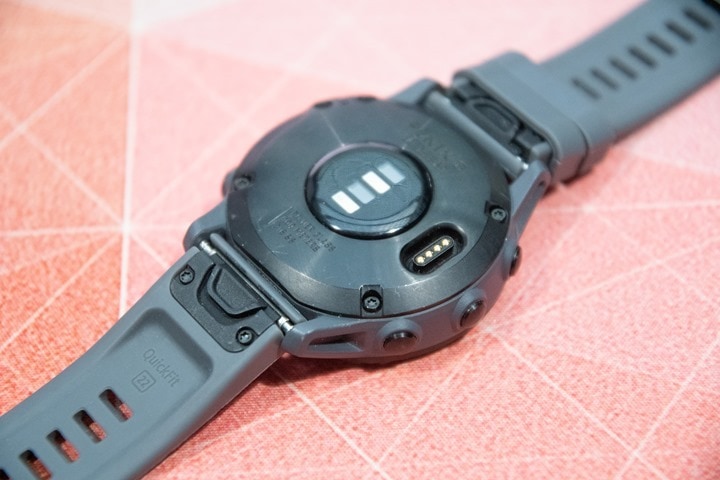 This does not include things like the clip-style watch chargers (e.g. Garmin FR645 or Garmin MARQ). So if your watch came with a clip-on charger, it won't work.
And with that, that's all there is to know about this charger. Again, I'm a fan of 'just works', and this fits the bill. Here's the link for it – $8.99 for a two-pack of them (or 7.99EUR for a two-pack).
USB-C Cable Charger: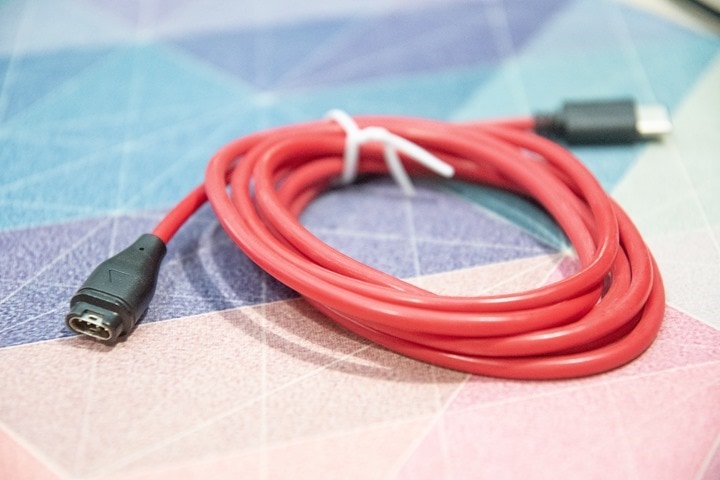 Next up, let's say you just want a single USB-C cable with a Garmin charging port on the end. In that case, the above is your cable. I bought the red one, because, that's obviously cooler. Also, it was the only option.
I'm not going to beat this to death, other than to note that it charges just like your previous cable. I've tested it both with wall plug USB-C ports as well as USB-C ports on my computer. For example, this morning I charged my FR745 from 11% to 96% in 60 minutes.
The cable feels well built, perhaps actually slightly over-built. It's just a bit more rigid than the existing/stock Garmin charging cable. The cable measures 1.5m long. More notably, it's got a super crispy snap when you put it in place. Like, it actually made an echo. Watch the video!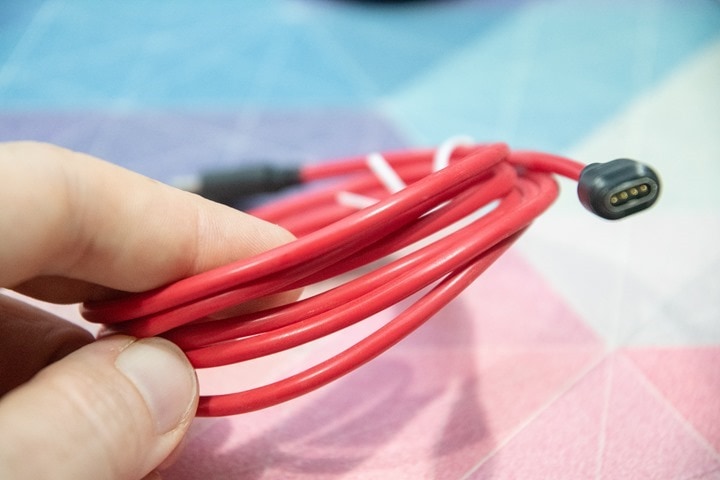 The cable works for both data and charging, here's it connected to my computer, showing the contents of the FR745: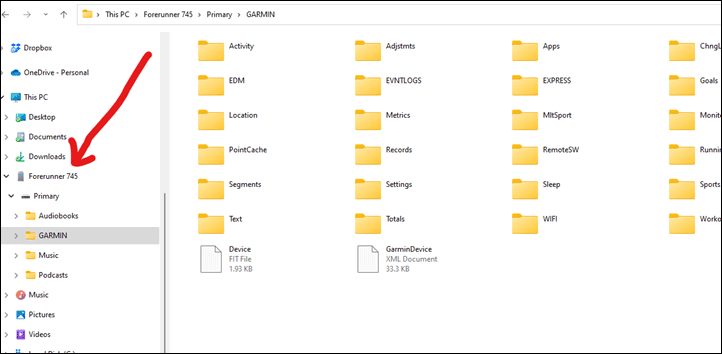 I also copied a bunch of music over to it using the cable, and the speeds were normal. I'll give props to the company's marketing materials, they went the extra distance on creating fancy graphics showing that it has all sorts of voltage protection stuff. It also says they bend-tested it 6,000 times. Next time I'll employ my children to bend test instead. Should keep them busy a while.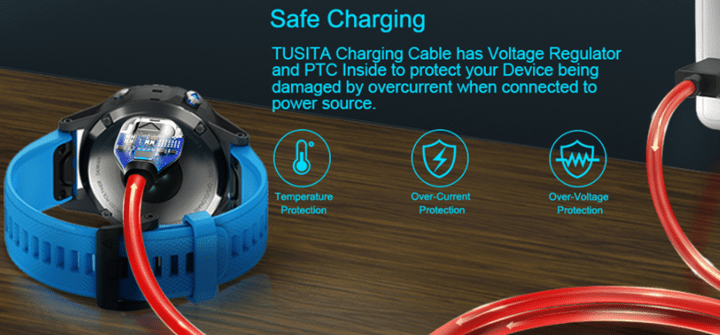 Oh, and this cable has 10,477 reviews at 4.5/5 stars on the Amazon Germany store, which honestly seems like they're blending together multiple SKU's shown in the ratings. But on the Amazon US store it's a single SKU and shows 115 reviews at 4.5/5 stars.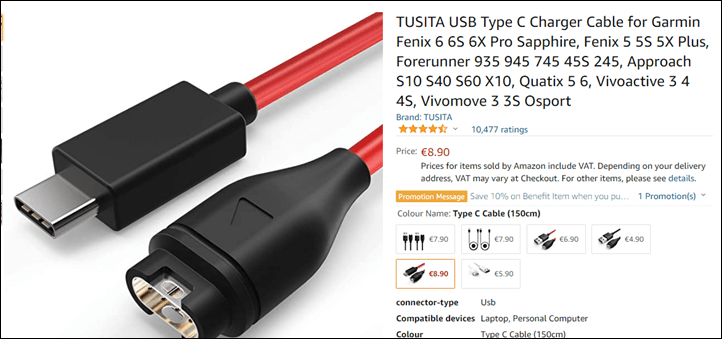 Compatibility for this charger is any watch that has the standard Garmin charging port. Just like the first unit  – Garmin has only ever made one port that looks like this (with four pins). This does not include things like the clip-style watches. So if your watch came with a clip-on charger, it won't work.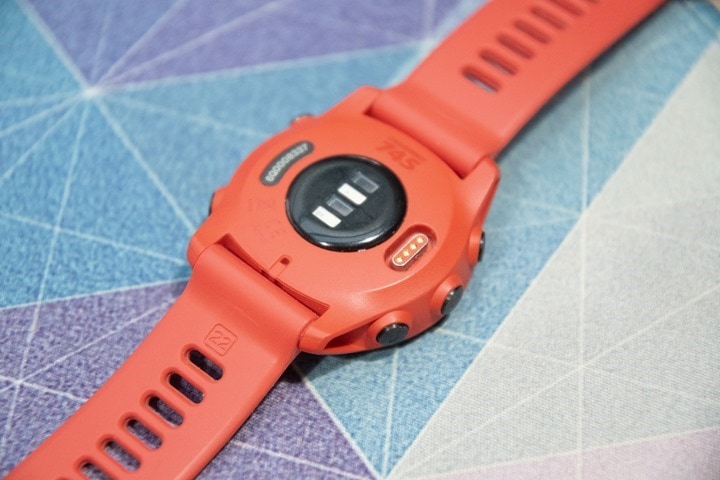 Now, as is often the case when buying cables on Amazon, some models/brands are good, and some are bad. For example, I didn't just buy the red one, I also bought another one from another brand – because, why not? In that case, it didn't work at all. It wouldn't charge anything. Maybe it's just a one-off, but I just wanted to throw that out there in case someone was trying to save a dollar or two by finding some other random cable. In that case, that cable is no longer offered (I bought it a year ago), and the reviews are horrible. So I guess the system worked.
Anyways, back on the cable that works, – $6.90 for one cable (or 8.90EUR for a single cable).
One More Thing:
Also, because I never wrote a review on it, there's one more not-USB-C Garmin charger that I use almost daily as well, which is this little stand charger. It just sits at my desk and receives a never-ending flow of Garmin devices that need topping off before various photographic adventures. Or, because I just need to charge my watch. I bought this two years ago (actually, two years ago to the day in fact):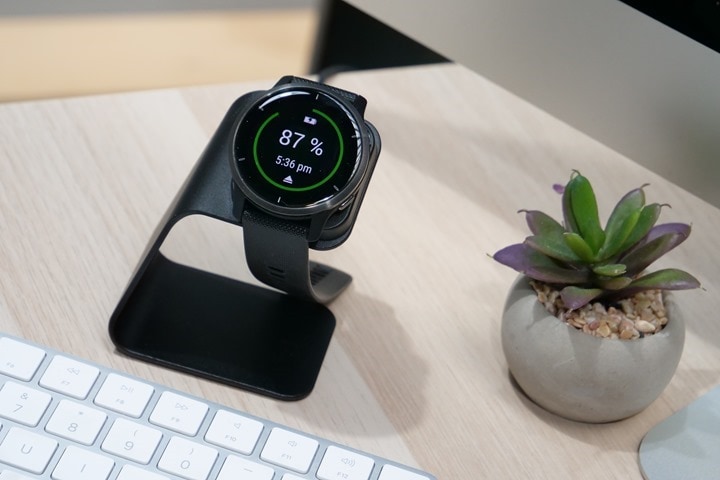 The little charging port can orient one of two directions, depending on which Garmin watch you have. This supports four orientations (top/bottom/left/right). It takes two seconds to pop-out the back and swap it:
Compatibility on this is the same as the previous two ones, basically any watch that supports the standard Garmin charging port. This does not include things like the clip-style watches. So if your watch came with a clip-on charger, it won't work.
This one has gotten frequent use for a very long time, and is perfectly happy. I use it for both data and charging, with no issues on Mac or PC. Of course, it doesn't care, it just acts like any other Garmin charger, except all proud of itself on its stand. The stand costs $13.99 (or 12.99EUR).
Wrap-Up: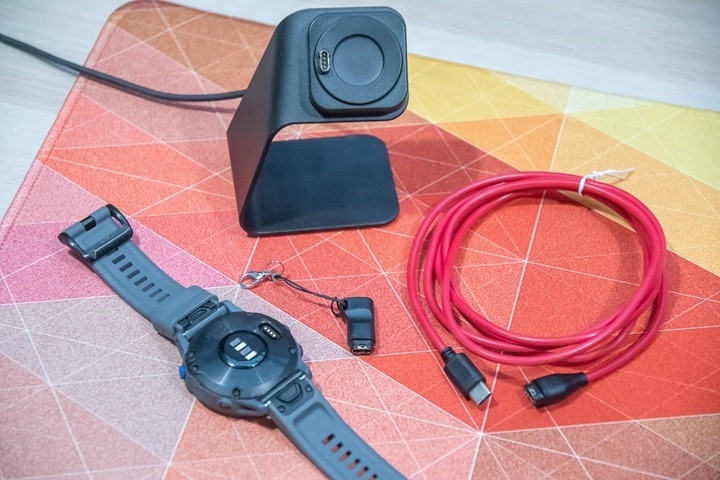 This is one of the neat things that happens when a company manages to stick to their charging cable for more than a year or two: 3rd party companies start to develop for it. Now arguably, Garmin should be offering these sorts of things themselves (as COROS has done) – perhaps with premium quality, but hey, it's cool that 3rd parties can develop for this easily.
As for risk here, it's pretty low risk. Starting with the fact that countless Garmin employees have told me the 3rd party charging puck I posted about two years ago is used by many Garmin employees. But secondly, the way USB works is that the device in question (your watch in this case) actually specifies how much power to pull. So the watch requests how much power it needs, and the USB charging port simply delivers it.
In terms of why have a special port at all, well, it's all about waterproofing. While it would make a crapton of sense to have Garmin switch over their Edge cycling devices (and other non-watch devices) to USB-C for charging, it actually doesn't make sense to have USB-C in a wearable. Waterproofing such as port is challenging and usually fails in a sport device. For phones and such it's easier to have waterproofed USB-C/etc ports, because they don't get daily pouring sweat/grime/mud/etc in them. But once you start having dripping sweat piling up and drying out, over and over again, it'll kill things. There's a good reason why Polar never did another USB port in their watches after the M400.
As far as wireless charging goes – honestly, I'm kinda mixed there. I appreciate the ability to quickly offload and online large files to a watch using USB if I need to. WiFi has started to do that in some watches of course, but that doesn't tend to help with troubleshooting when you need to. Historically wireless charging for watches has also been slower, though we've seen improvements there too in the last year or so.
Until then though, if I have to have a non-standard cable, I appreciate that I can get them cheaply and in a variety of form factors from various vendors.
With that – thanks for reading!
Found This Post Useful? Support The Site!
Hopefully you found this review useful. At the end of the day, I'm an athlete just like you looking for the most detail possible on a new purchase – so my review is written from the standpoint of how I used the device. The reviews generally take a lot of hours to put together, so it's a fair bit of work (and labor of love). As you probably noticed by looking below, I also take time to answer all the questions posted in the comments – and there's quite a bit of detail in there as well.
If you're shopping for the Garmin Watch Keyring Charger, Garmin Watch USB-C Charger or Garmin Watch Stand Charger or any other accessory items, please consider using the affiliate links below! As an Amazon Associate I earn from qualifying purchases. It doesn't cost you anything extra, but your purchases help support this website a lot. Even more, if you shop with TPC (The Pro's Closet), you'll save $40 on purchases over $200 with coupon code DCRAIN40! The Pro's Closet has been a long-time partner of the site here - including sponsoring videos like my cargo bike race, as well as just being an awesome Colorado-based company full of good humans. Check them out with the links below and the DCRAIN40 coupon!
And of course – you can always sign-up to be a DCR Supporter! That gets you an ad-free DCR, access to the DCR Quarantine Corner video series packed with behind the scenes tidbits...and it also makes you awesome. And being awesome is what it's all about!
Thanks for reading! And as always, feel free to post comments or questions in the comments section below, I'll be happy to try and answer them as quickly as possible. And lastly, if you felt this review was useful – I always appreciate feedback in the comments below. Thanks!