Today Strava announced two sets of privacy-focused changes, arguably the biggest shift the platform has done in years with respect to user privacy. These new features allow you to significantly change what others can see about your activities, including everything from hiding which data metrics people see, to whether people see a location map at all, and new customization of how privacy zones work. The new features can be applied on a per-activity basis, or across all new activities.
Note that while these features are being announced today, the dates vary on when they'll be rolled out. The privacy zone options will start August 18th, 2021 and take up to a week. Some users will have access to them now, but expect a full roll-out by then. I've been using both sets of features for a bit now, and ironically, traveling right now is probably the greatest example of how much better the new tools are than the old tools.
I've divided things up into two buckets: Privacy-zone type features (basically hiding where you live/stay), and then activity privacy-related features (such as hiding heart rate, power, pace). Let's dive into it!
Finally – almost every one of these features is available to *ALL USERS*. The only feature that's limited to Strava Subscribers is a new map line coloring feature (which I'll talk about towards the end).
Expanded Privacy Zone Options: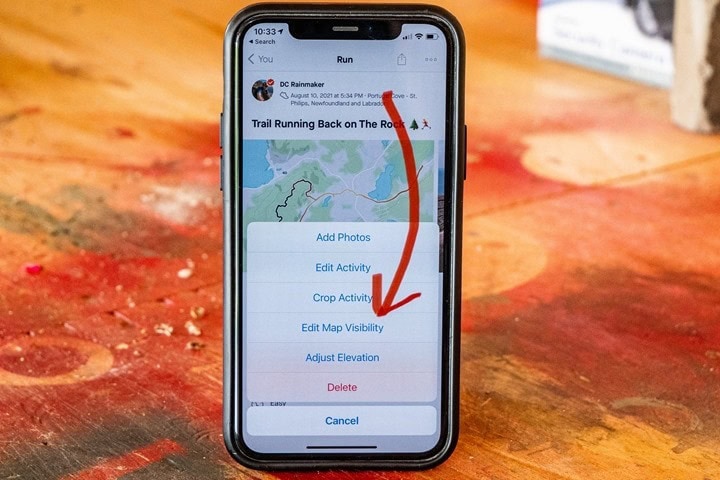 Up till now, Privacy Zones have centered around addresses you've entered into Strava, along with a specified radius around that address. The idea being that you enter your home/work/etc address, and then it hides your GPS track once it goes into a set radius (such as 400m or 800m) away from that point. The algorithm slightly tweaks that distance each time as well, to make it less predictable.
(Note: While this system is good, it's still got some minor caveats. This is why I still *NEVER* start at my actual home/work address, but always a couple minute walk away. I'll still do the same no matter the changes.)
The problem with the old system though is that it wasn't great for when you traveled, or when perhaps you started at a friend's house. You'd have to either create privacy zones for all these places or start somewhere else. Strava's thus added two new features to address this:
Users can now hide up to 1 mile from the start/end points (only applies to new uploads)
Users can completely hide the map for all activities (only applies to new uploads)

Also hidden from Strava Global Heatmap
Not visible anywhere on Strava (including Segments)
This is in addition to the existing address-based functionality. Atop that, there's one more nifty feature:
You can now preview/see which portion of the track on the map is hidden. While you'll see the entire route, you can easily see which portion isn't visible to others with a grey line.
All of these features are available to all users, on both web and app.
The past few weeks I've been away from home – and thus this is the best place to exemplify this. Up till now, I'd have had to add in privacy zones for my in-laws' house, but with this, I could simply set a static distance to hide it from. Now in my case, I've long been going to a nearish park to start my runs and rides from, but the concept applies well here.
So let's take a look at it. To adjust the map visibility on an across-the-board basis, you'll tap the 'You' button at the bottom right, then Settings, then down to 'Privacy Controls', then 'Map Visibility'. You'll see three options there, and you can choose the 'Hide the Start and End…" option.
You'll see the slider allowing me to go from 0m up to 1600m. Note that as has always been the case with Privacy Zones, you're not eligible for Segments within those. Simply hit save, and you're done. This applies to *ALL FUTURE* uploads, not existing ones.
Next, to do this on a per activity basis, crack open one of your activities, but not all the way to the edit details page. Instead, from the "…" option, choose 'Edit Map Visibility'. Personally, I'm not sure why this needed to be separate from the rest of the map privacy options on the activity upload, but whatever.
You can see that you can:
A) Hide the start point
B) Hide the end point
C) Hide the entire map
D) A quick shortcut to global map privacy options
As I add to hide the start button up to 436 meters, you can see it greying out the first chunk of the run. The same goes then as I add to hide the end point at 662 meters. This is useful if you start/end at different points. Perhaps you started your run properly away from your home, but then you really had to go to the bathroom and forgot to stop it at the end. This allows differing points. Notice the grey sections, this is showing what others can't see. Or I can tap 'Hide Entire Map', and grey it all out.
Once I save it (with just the start/end hidden), you'll see that it shows up as hidden/grey on the main page as well. This is what other people see (except they don't see the grey part at all, just nothing).
This is super handy. Once I'm done showing this off, I'll decide on a random starting point and end point distance to apply to all my uploads. I suppose the only thing I wish Strava had a feature for is hiding your friend's activity start/end points when they do a full workout with you. For example, if we both start/end at the same places, it'd be great that our privacy zones apply to each other's activities automatically (if we follow each other). While most of my friends know my 'rules' on starting/ending points, sometimes they don't – so this would cover it.
But of course, I realize I can't solve for every scenario. Thus, I simply don't have any friends.
New Activity Privacy Options:
Next, there's a handful of new per-activity privacy-related features that are more about your biometric data, and private notes. Plus, a new Subscriber-only feature to allow personalized stat maps (previously this required clunky hashtags you'd never use a second time). These features available to everyone are:
Stat visibility privacy: Can enable/disable people seeing calories + heart rate, pace, and power
Can add private notes: Notes only seen by you
Map choices: All users can choose from featured maps, which includes a Black Lives Matters map, plus a base map.
And then for subscribers only, there's:
Map choices: Ability to add colorized map stats, in addition to the features/base map options
Let's quickly look at these. Also, as you'll note, the user interface is updated on this menu here. Let's take a look at this trail run here. To access these features we'll edit it like normal. Towards the bottom, you'll see the option to hide stats. Previously this was largely limited to professional athletes or verified accounts, such as those that wanted to hide their power meter stats. Now, all users can access this. Here's a run, but on rides, you can also hide the 'Power' field too:
Right above that there are new privacy notes. This field allows you to put in notes that only you see. For example about the effort of the workout or such:
And finally, there's the map types. There are two categories of map types. 'Featured Maps' which are available to all users, and then 'Personalized Stat Maps' which are only available to Subscribers. As I click on one, you can see an example of it below, such as choosing the elevation or gradient one for this very steep climb.
This is then the map that all others see back on the main Strava activity page for that particular activity, along with a small label indicating what it's showing.
The only downside is there's no scale here. So in this case, the gradient was super nasty towards the top. But there's really no way of knowing that aside from assuming darker red is harder than light yellow.
Note that Strava says some of these features are live already for some users (a large number of users), but they apparently don't have a date for when this will go live for everyone. Simply ensure that your Strava app is updated in the meantime so that once your account gets toggled live, you're good to go.
Wrap-Up: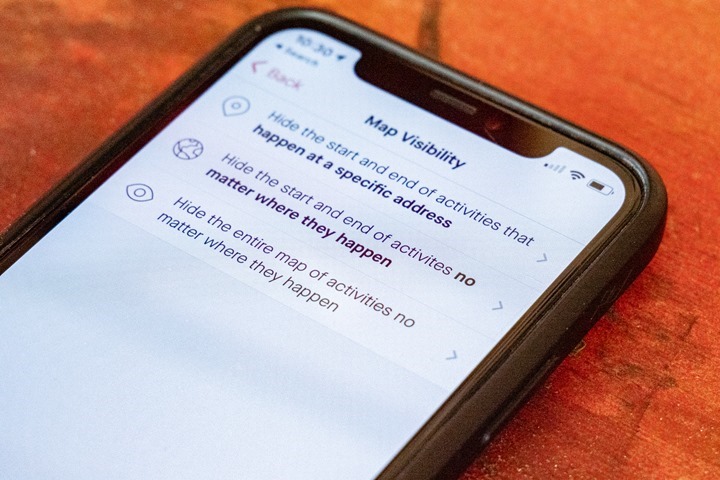 I'm pretty excited about these changes. While I haven't done much traveling over the past 18 months or so, that'll inevitably change. And I personally find value in hiding the start/end locations of my friend's and family's homes – especially when I'm staying there long term. But the same is true for hotels or other locations that I might stay in, and certainly, this applies to more than just me. I can imagine many people, especially females, don't want to have to put in a privacy zone for their hotel when traveling somewhere.
What's somewhat ironic is this sort of per-activity start/end privacy zone is literally what I envisioned last October when I wrote about the idea:
"Alternatively, Strava could always just obscure the first/last 200-400m of any ride/run, no matter the location using an always changing value. That'd help for cases where you might start at a friend's house, etc… Of course, if you live in the middle of nowhere with nobody around for miles, then privacy zones are less useful. But as always, don't post on a social platform if you don't want social data shared on said social platform."
And, since we're talking about past privacy related things I wrote, I'm going to copy/paste my personal general rules for Strava again here from that post, since they all still apply – even with this new feature:
A) All my activities are private by default, then I manually enable them to public: The reason for this is more DCR-specific than normal, in that I'm often testing devices and don't want people's feeds flooded with half a dozen test files in an hour…all day long. But more practically, this allows me to decide when and where I share my location. If I'm on vacation at a cabin near the beach, I don't necessarily want people knowing that exact cabin. In my case, I virtually always start my rides/runs a block or three away. I *NEVER* start/end them at my door (anywhere I go, even at hotels in cities).

B) I simply don't make public things I don't want public: For example, you won't find on my Strava feed my bike route each day from home to dropping off kids at their schools, to then going to the office. Nor the reverse on the way back home. I rarely ever even record that, but I'm certainly not going to show my kids' school locations on Strava.

C) I create privacy zones around my home, office, and friends/families' houses: I also create privacy zones around any vacation spots where I'm there more than a few days (such as for a week or two). I suspect again, creating vacation privacy zones is more of a me problem. I'll sometimes delete these older vacation zones down the road after I've left, if it's a spot I'm not going back to.

D) I leave Group Activities enabled: I'm good with this, and it's fun to see who I'm riding/running with when looking back.

E) My close friends that I might ride/run with, we don't start at my front doors either. They all know this, and some of them even have privacy zones setup around my home/office. The reason I do this is that if they don't have a privacy zone setup, then people could look at their run (since the 'Group Activity' feature is enabled), and find our start/end locations.

F) I've re-enabled Flyby's: All of the other privacy controls more than cover my privacy concerns, and I enjoy seeing the Flyby bits out there. So I'm OK with this.
With that – go forth and set up your privacy zones accordingly. Of course, I'd suggest balancing that with keeping in mind that the point of Strava is a social platform for athletes. And thus, if you always choose 'Hide Entire Map Always', it starts to lose some of the value for others to see your activities if they can't…you know…actually see your activities. But to each their own.
With that – thanks for reading!