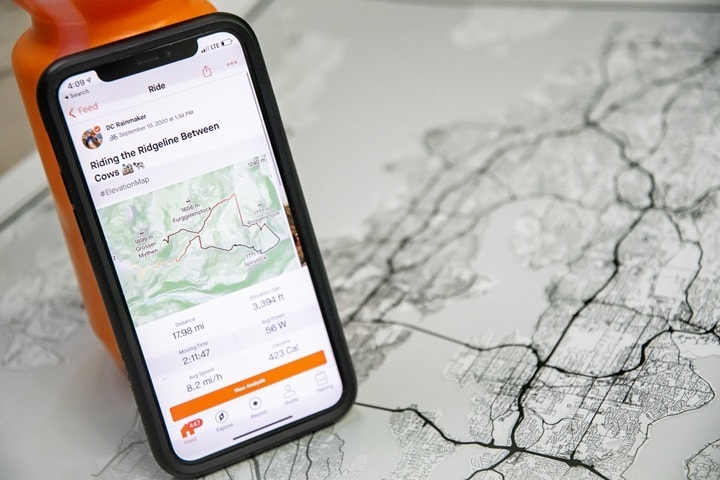 Yes, you have to have the hashtag. Else, it's just StatMaps, and as you'll soon find out, that'll get you a big nothing burger.
For this Friday post we'll keep things nice and quick. So, you can either press the Play Button below to get this whole situation in under a couple of minutes with my Quick Tips, or, you can read through some text. Your choice.
Essentially, Strava has joined the likes of everyone else in doing color overlays of your GPS tracks with different data. Years ago there were plugins for SportsTracks, then more recently we've had Apple, Fitbit, and even Garmin a few weeks back. All essentially offering variations of coloring a line across your maps. Some are more customizable than others, but ultimately allowing you to color different metrics based on intensity.
Strava has just rolled out the same to Strava Subscribers (paying members). Specifically, only Strava Subscribers can create the maps that show up in the feed, but everyone can actually see the results. Another carrot I suppose to try and get you to convert over.
The concept is super simple, albeit a wee bit clunky. You've got to put a hashtagged phrase in either the activity description or title, and it'll then change the default Strava feed map for that activity to show the overlay. Here's the valid phrases, according to Strava:
· Pace #PaceMap – Darker colors are faster paces
· Speed #SpeedMap – Darker colors are faster speeds
· Heart Rate #HeartrateMap – Darker colors are higher heart rates
· Elevation (Absolute) #ElevationMap – Darker colors are higher elevation/altitudes
· Elevation (Gradient) #GradientMap – Red is climbing, Green is descending
· Power #PowerMap – Darker colors are higher power outputs
· Time #TimeMap – Darker colors appear later in the activity
· Temperature #TemperatureMap – Red is hotter
Whether or not there are some Easter egg phrases, I don't know (I sure hope so). But, those be them.
Once you've awkwardly tried to remember the phrase and put it in (with the hashtag), it'll color your activity like some of my examples below:
It's really as simple as that. A couple of quick observational notes:
– This works on both mobile and web
– However, in both cases, it's *ONLY* for the map in the feed, not the expanded activity map or detailed map
– It won't show if you zoom in on the map, again, only the map in the feed
– You can retroactively update activities and it shows instantly
– This is only for paid subscribers, but everyone will see the results (paid or not)
– It even works on Zwift routes, using the correct elevation too (and probably works on other virtual rides too)
– It's less useful for loops (like a track run), or out and backs, because the coloring overlaps
Strava says this is now available as of 6AM US Pacific time today, and that the concept was originally developed as part of one of the company's 'Strava Jams". Also, of note, they now say they have 68 million athletes on the platform, though, we don't know how many of those are paid (likely still in the single-digit %, but perhaps all the recent subscriber focused changes have shifted that).
In any case – as I said, this was gonna be a quickie of a post. Go forth and hashtag or something, but more importantly…
…thanks for reading and have a good weekend!