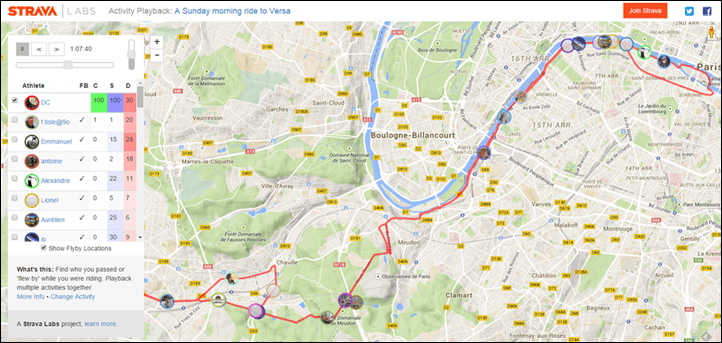 Strava has somewhat quietly turned off, for all users, the Flyby feature, after a tweet went viral during the last few days, based on privacy concerns. Users can re-enable it, but only if they knew it was disabled in the first place. With some 70 million users being disabled with the flick of a switch, the feature essentially becomes useless overnight. However, as always, there's a bit more to this story.
Strava Flyby Changes:
First though, a quick explainer on what Strava Flyby is. It's a feature that's been around for at least 5 years now, allowing you to see other people that 'flew by' you on your activities, overlaid atop a map after the fact. There were many cool uses for it, such as seeing how a race was won as the little icons moved about, or see if that pro that blew past you on your training ride was really a pro.
I wrote a little bit about it five years ago, showing how it worked on a random Sunday morning ride. And here's a quick video snippet (without audio), showing the feature working live on a ride from last summer:
You could then zoom-in to areas as well, and see the larger routes of the people that went nearby you. On the left side of the feature it showed which people were legit close, and which people were further away.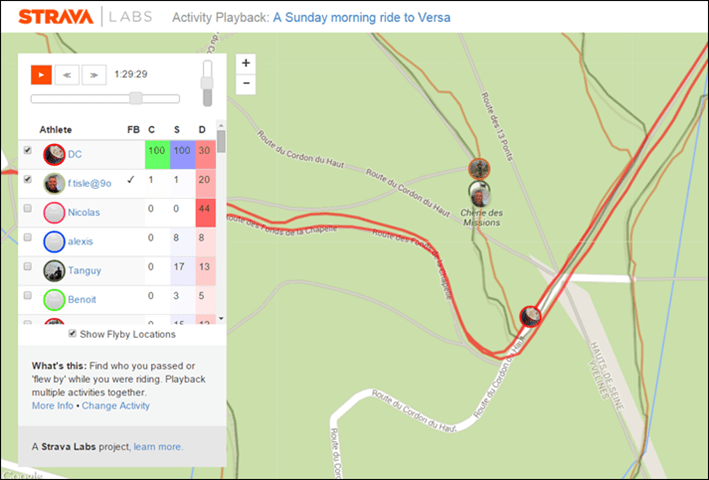 And to be clear, you can still do all this. The only catch? Nobody else is there now.
A month ago (yes, back in September), a Twitter user had a case where the 'Ran With' feature showed a person that they ran past or with for some time period. However, that case actually has nothing to do with Strava Flyby. That's the Strava Group Activities privacy feature, seen below on the left side.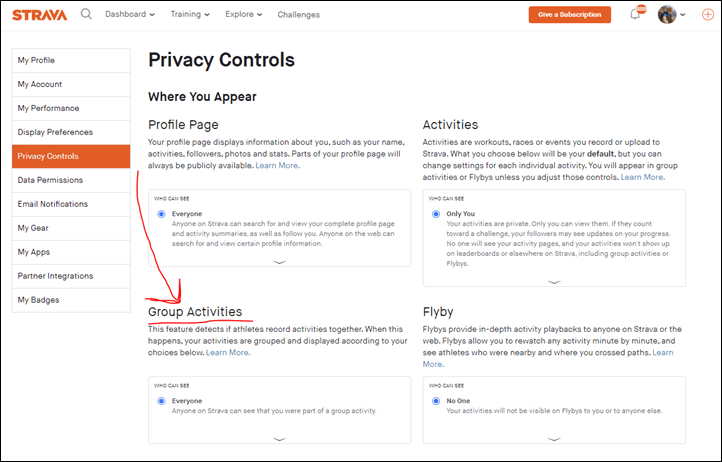 That feature basically will auto-tag your friends (usually) when you go on group rides/runs/etc, and shows them with you on the activity. While the Flyby and Group activities features are shown directly on top of each other, they are actually entirely different features, with entirely different privacy settings. But, thou shall not let factual accuracy get in the way of viral internet furor over something that's been around half a decade.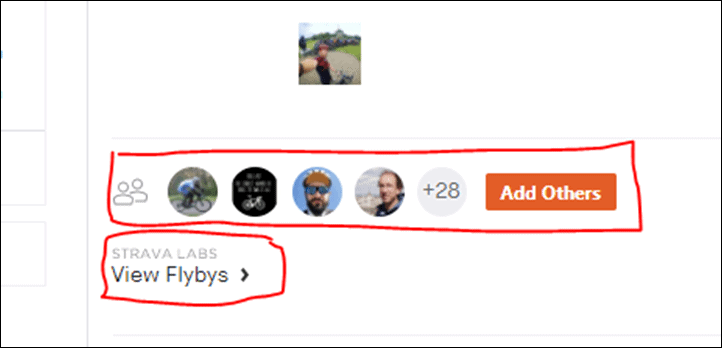 Over the last few days, that original tweet from a month ago went viral, and as a result, Strava took immediate action to toggle this feature to 'No One' for the entire Strava platform.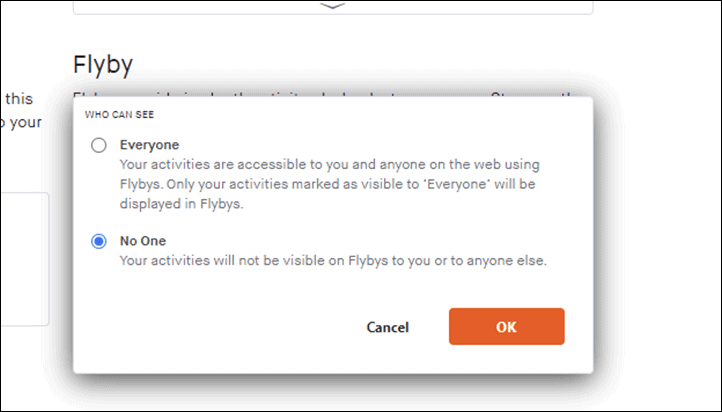 In doing so, they basically killed Flyby in one go. To re-enable it, you go into your privacy controls and re-toggle that option back to 'Everyone' if you want people to see it. Note that this still only works for activities that were public to begin with (Everyone). So activities marked private were/are never visible (despite the Twitter user's statement to the contrary).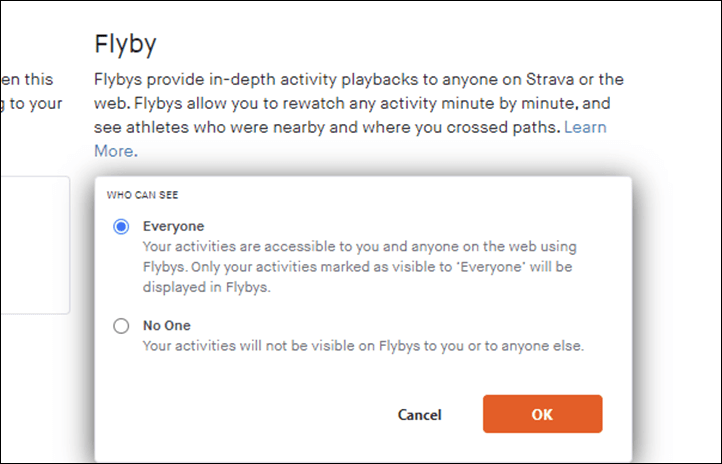 So here's the thing: I don't actually disagree with Strava's disabling it per se. Sure, I do think it's knee-jerk without much thought, merely to put out a fire before it became another 'Soldiers publish secret location data on social network and are surprised it's public' incident of a few years ago.
It's really Strava's handling here, like then, that leaves much to be desired. Strava quickly disabled the 5+ year old feature, but hasn't really communicated that well in any way. The only communication they've done to date is putting a notification at the top of your desktop/website feed. That notification doesn't explain what Flyby is, or why people might want it on or off. Sure, there's a learn-more button, but most people will ignore it.

More importantly, the notification isn't even shown on the Strava app at all. Like most people, I don't use the Strava desktop site daily. I use it when I need it. And until I went to grab these screenshots, I hadn't used the Strava desktop app this entire week. Strava's response here seems bumbling and half-baked at best.
I asked Strava yesterday what the deal was, and here's their official statement:
"As part of our ongoing commitment to privacy and safety, Flyby sharing will be default off unless athletes choose to change it. As always, private activities stay private and we offer multiple privacy controls to ensure that athletes can have their intended experience." -Strava spokesperson
Yet, there's still no e-mail to users, still no explanation of the different privacy settings as it relates to Flyby, still no mobile app notification, and the 'Learn More' link doesn't allow you to learn more about why they made the change (or, why almost the entire Tweet that started it was incorrect), but just puts you on the general privacy controls settings page.
Of course, this is hardly the first time concerns around Strava Flyby and privacy were brought up. In fact, five years ago an article on Forbes brought up some of the same concerns. Certainly, aspects of Strava privacy controls have changed since then. And the core of some of these concerns around privacy are valid. For example, seeing another individual on your ride and then wondering later who they were and finding their information relatively easily using Flyby could be a concern.
However, that does/did require that users have both their activity set to 'Public'. Private activities were/are not shown in Flyby.
Thoughts Going Forward:
I think if Strava wanted to make a true stand on privacy, they'd start by automatically creating privacy zones for your billing address (address on file). Or, they'd prompt you in the app each year as a reminder to create/update those zones. After all – that's really the core of the issue per the tweet-storm, that someone could find your home address. But that initial tweet assertion isn't even true either – as that other user may have had a privacy zone set, so the end-point of that workout as seen by a potential stalker isn't actually the end point – it just picks a semi-random point on the route near the privacy zone edge and calls it done.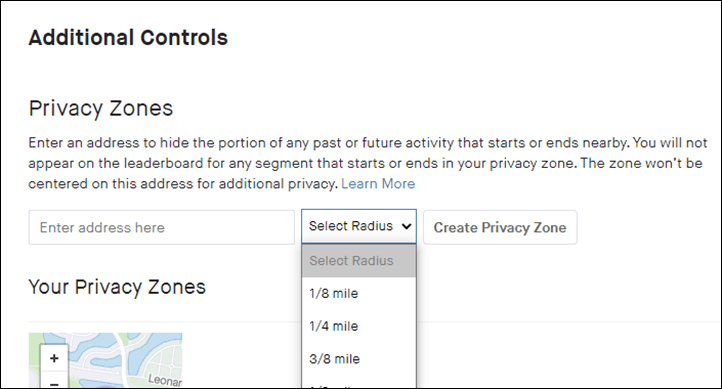 Alternatively, Strava could always just obscure the first/last 200-400m of any ride/run, no matter the location using an always changing value. That'd help for cases where you might start at a friend's house, etc… Of course, if you live in the middle of nowhere with nobody around for miles, then privacy zones are less useful. But as always, don't post on a social platform if you don't want social data shared on said social platform.
So, here's some quick insight on what I do in terms of privacy and Strava:
A) All my activities are private by default, then I manually enable them to public: The reason for this is more DCR-specific than normal, in that I'm often testing devices and don't want people's feeds flooded with half a dozen test files in an hour…all day long. But more practically, this allows me to decide when and where I share my location. If I'm on vacation at a cabin near the beach, I don't necessarily want people knowing that exact cabin. In my case, I virtually always start my rides/runs a block or three away. I *NEVER* start/end them at my door (anywhere I go, even at hotels in cities).

B) I simply don't make public things I don't want public: For example, you won't find on my Strava feed my bike route each day from home to dropping off kids at their schools, to then going to the office. Nor the reverse on the way back home. I rarely ever even record that, but I'm certainly not going to show my kids' school locations on Strava.

C) I create privacy zones around my home, office, and friends/families' houses: I also create privacy zones around any vacation spots where I'm there more than a few days (such as for a week or two). I suspect again, creating vacation privacy zones is more of a me problem. I'll sometimes delete these older vacation zones down the road after I've left, if it's a spot I'm not going back to.

D) I leave Group Activities enabled: I'm good with this, and it's fun to see who I'm riding/running with when looking back.

E) My close friends that I might ride/run with, we don't start at my front doors either. They all know this, and some of them even have privacy zones setup around my home/office. The reason I do this is that if they don't have a privacy zone setup, then people could look at their run (since the 'Group Activity' feature is enabled), and find our start/end locations.

F) I've re-enabled Flyby's: All of the other privacy controls more than cover my privacy concerns, and I enjoy seeing the Flyby bits out there.
So, there ya go – a complete look at the rise…and now fall, of Flyby.
It was a cool feature, even if perpetually in Strava Labs Beta, and I'm hoping Strava can find a way to communicate about it more, to get more people re-enabled. After yesterday's ghost-town of users in Flyby, I am seeing some people re-enabling it now – so those older activities are coming back again.
With that, thanks for reading!