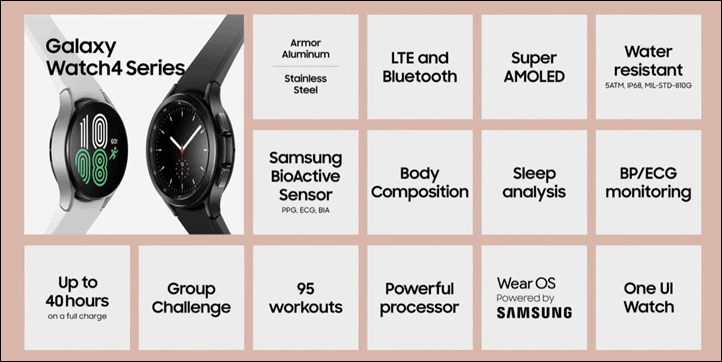 Today, Samsung announced their Galaxy Watch 4, which is the first watch to utilize the new Google + Samsung variant of Wear OS. This new operating system (or, slightly rebranded one) allows access to the Google Play store, while Samsung says it also brings the "best of" Tizen to the table as well (Samsung's existing smartwatch platform).
Today, Samsung kicked off their 'Unpacked' event straight with the watch itself. This is notable, as the watch is typically slotted later into most major presentations, whereas this time the event literally opened straight into the announcing of the watch and functionality. And virtually 98% of this presentation focused on health and fitness.
Samsung's added a slate of new health/fitness features, including body composition monitoring using just two fingers touching the watch. In fact, they went to extraordinary lengths to try and explain this and their claimed accuracy during the presentation. Seriously, nobody has ever spent so much money on advanced computer graphics for a detailed watch sensor accuracy video, than Samsung just did. Atop that, the company has added both snoring tracking with blood oxygen tracking together, from a data visualization standpoint.
So, let's dive into all those features a bit more.
Galaxy Watch4 Fitness Specs: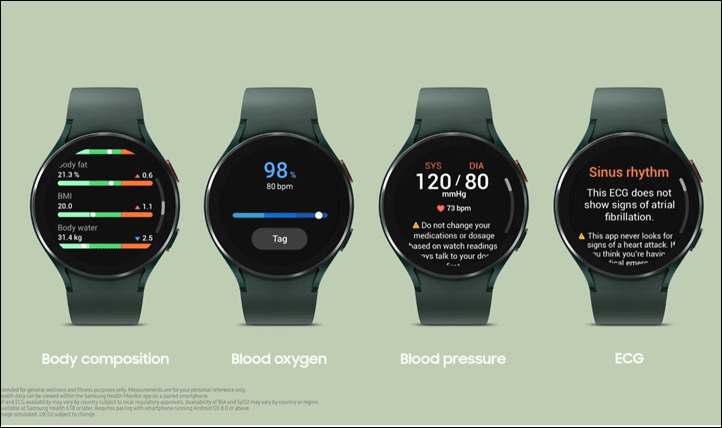 Since you're reading this site, you probably know it's sport and fitness focused. Thus, those are the things we're gonna focus on here. Not that it matters too much, since Samsung literally didn't mention a single non-sports feature, aside from Spotify access and new buttons, during their presentation. And don't worry, I'll cover the two button thing in a second.
To begin, the watch is called "Galaxy Watch4" (no space between Watch and 4, officially), and will be available for pre-order today, with delivery Aug 27th. Prices are $249 for the base unit, and $349 for the 'Classic' styled unit. Effectively, the Samsung Galaxy Watch Active line becomes the 'base' unit, while the 'Classic' unit is like the regular Galaxy Watch, complete with the rotating bezel.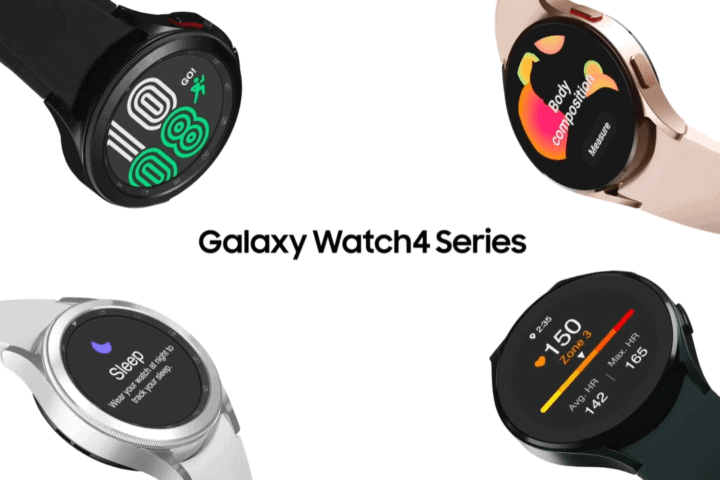 Speaking of branding, officially Samsung says that the operating system is "Wear OS powered by Samsung". It'll be interesting to see how that's branded on other non-Samsung watches. Note that Samsung says that a Galaxy phone is not required for usage of the Galaxy Watch4.
Focusing on all the health and fitness things, here's the quick bulletized version of what's changed:
– Brought optical heart rate sensor close to wrist, to increase heart rate sensor accuracy
– Changed optical heart rate sensor system
– Snoring tracking + sleep blood oxygen levels combined together (requires phone on bedside table though)
– Added body composition measurement for things like body fat and muscle mass
– Expanded ECG regions/support
– Access to Google Wear OS sports apps like Strava, Adidas, Swim.com
– Newly "enhanced" compass for use in Google Maps
First up is a new optical heart rate sensor and underlying system, which they specifically noted they moved closer to the wrist for better accuracy. Samsung has historically lagged behind others on optical HR accuracy, and one of the best ways to increase accuracy is to get rid of potential light leakage between the wrist and the sensor.
From an apps standpoint, Samsung highlighted a few sports ones specifically, including Strava, Swim.com, and Adidas. And then noted that apps could be accessed from the Google Play store. Google Maps was also highlighted as well as the various core Samsung apps like Samsung Pay.
Samsung highlighted that they'll be doing sleep blood oxygen tracking combined with snoring tracking, and specifically, overlaying that data together. The snoring tracking requires though that your phone be on your bedside table, and then the two pieces are combined together.
Interestingly, Samsung mentioned that users checked their sleep stats a total of 800 million times over the past year. That's actually not that impressive of a number in context for it, given that'd be an opportunity of 365 times per year, that means if we're talking 10-20 million watches, people actually aren't using this functionality much (on 2 million watches, that'd mean everyone checks daily, on 20 million watches, that'd mean only 1 in 10 people check daily). You can mix and match those stats a million ways, but I thought that was curious.
The headliner feature for the Galaxy Watch4 was clearly body composition measurement. Samsung spent a ton of time in the presentation explaining how it worked, including an exceptional amount of technical details and jargon (which, I loved).
The new feature simply requires users to place two fingers on the two buttons on their watch for 15 seconds, and then will use electrical impedance (BIA) to measure your body composition (such as body fat and muscle mass). This is similar in technological concept to most body composition scales that we've seen for decades, except, that Samsung says it's actually accurate (I've shown many times that body composition scales are mostly a crapshoot).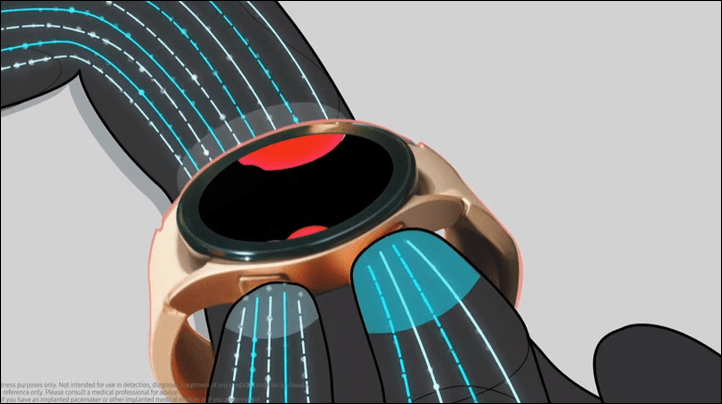 Interestingly, Samsung talked a while about how they've been trying various technology concepts related to body composition for a decade, including everything from wristband sensors to TV remotes.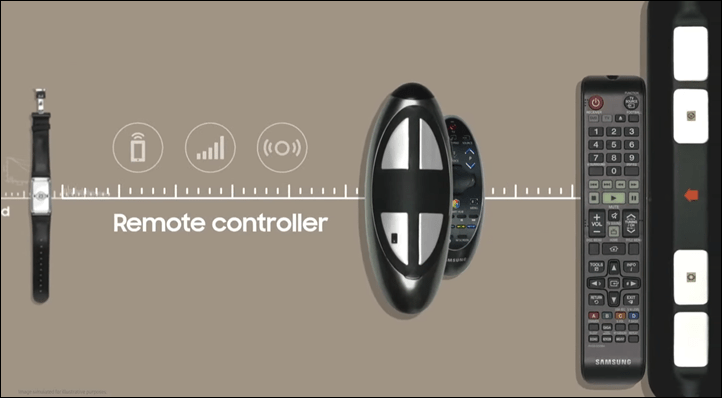 Samsung talked about how, typically speaking, the smaller the sensor pads (electrodes) for electrical impedance, the less accurate they were – thus why they never really found the accuracy they were looking for. So when scaled down to small watch buttons, they said that things went down the toilet.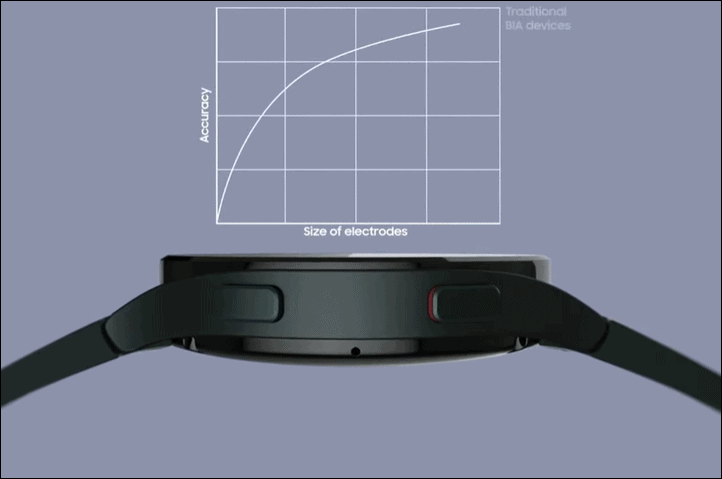 Instead, the company says their new system is far more complex, using a series of switches that checks and re-checks measurements 160 times a second, for a total of 2,400 times over the course of the 15 second measurement period. Calculating and recalculating. Seriously, I can't overstate how somewhat impressively Samsung spent on trying to explain this feature or the graphics.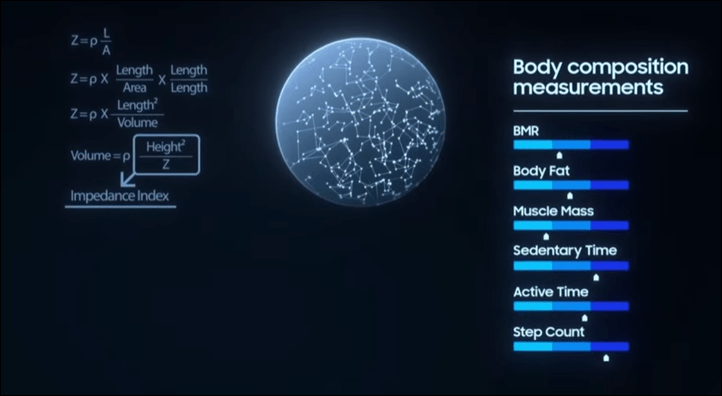 The end resultant are body composition measurements that Samsung says are 98% correlated with traditional DXA scans. That'd be a very impressive feat, if indeed accurate. But they seemed to back this claim up with not only fancy stock footage of people in laboratories, but also notably an image of the Pennington Biomedical Research Center, which focuses on areas like this.
As always, I'll be interested to do some independent testing of this, perhaps getting a few volunteers in the Amsterdam area. That of course depends on world conditions allowing, but I'm more optimistic than usual on this one.
Next, Samsung is expanding their ECG accessibility to more countries (this is mostly just a certification related thing), the full list of now supported countries are listed here: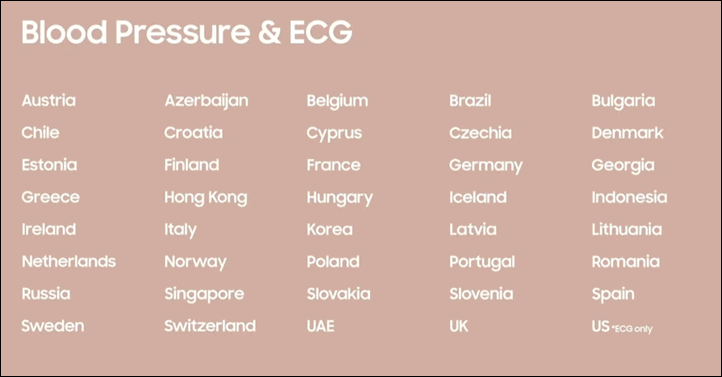 Lastly on fitness related things, they've added team based challenges to the wrist itself, which started back in June on the phone app: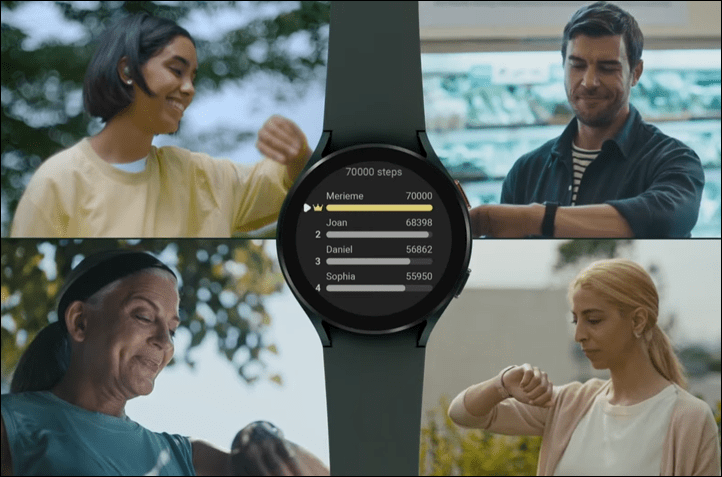 Finally, shifting to a few quick non-fitness things:
– There is an LTE version of the watch, using eSIM
– The Watch4 uses a 5nm processor for the first time in a Galaxy Watch
– The processor is 20% faster, and watch has 50% more RAM with a GPU that's 10x faster than previous Samsung watches (as usual, with watch specs, we typically have to rely on manufacturers for this)
– The display is 450x450px
– There's 16GB of storage space for music/apps/etc…
– Claimed battery life is 40 hours, which essentially means it's daily charging like an Apple Watch
– 30 minutes of charging provides 10 hours of battery life (that's actually surprisingly slow by watch charging standards)
– Spotify streaming can occur via LTE
– New Gesture controls, including simply shaking your wrist to dismiss a call
– Offering far more color strap options than previously
Finally, there's an entirely new 'One UI watch", which is designed to use just the two buttons and touch screen. However, Samsung has retained aspects of the bezel controls on the base Galaxy Watch, which are familiar with Samsung users. While the Galaxy Watch4 Classic includes a full rotating bezel.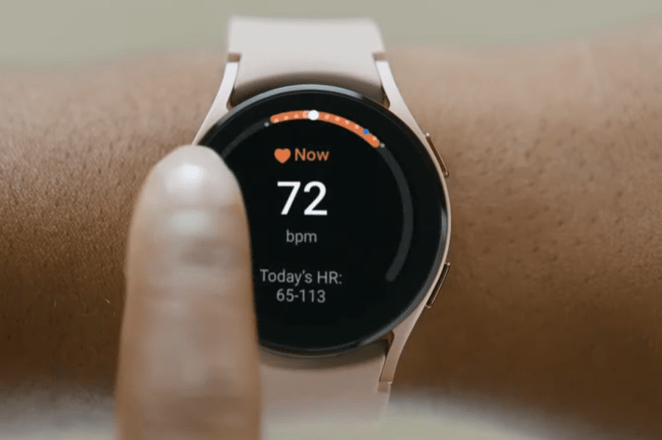 Again, it'll be interesting to see how this all works in real life once we get hands-on.
Wrap-Up: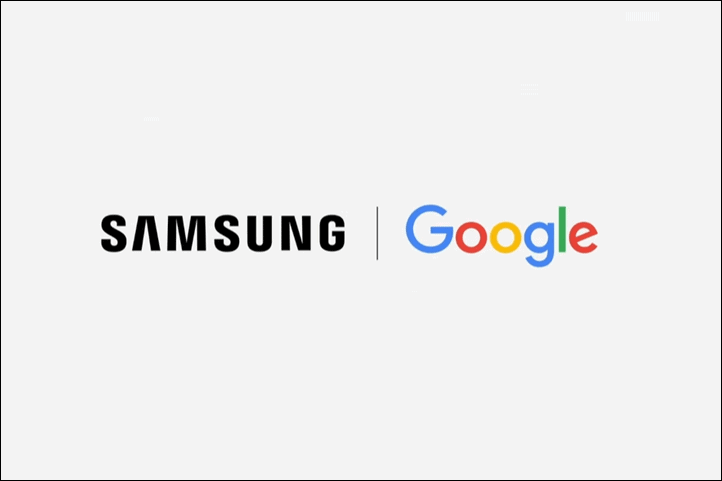 It's widely considered that this is the last Hail Mary for Wear OS. Though, there's arguably no better option than Samsung to try and pull this off. But one has to also wonder why Google didn't go with Fitbit (which they acquired) for launching their first new Wear OS watch. Then again, perhaps Samsung simply said 'Look, if you want us, we go first' – and that was that.
Either way, I'm super interested to see what accuracy looks like on the Watch4, and to see if it pulls off what Samsung claims. If so – that'd be pretty significant, not just for watches, but electrical impedance body metrics in general, which have often left many wanting better results (both figuratively and literally).
The remainder of the watch seems similar to what we see across the board from watchmakers now – more incremental updates than massive shifts. As the wearables world continues to stabilize, there's less reason for huge philosophical or technological changes.
With that – thanks for reading!