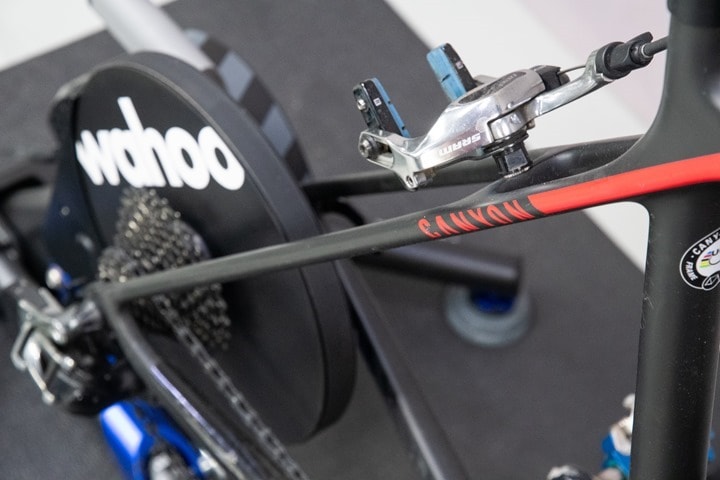 If there's anything the internet is good at, it's sleuthing through imagery to find inconsistent details. Last month when Wahoo and Canyon casually dropped a support update out saying that the Canyon Ultimate CF frames (specifically the rim brake variants) weren't compatible with Wahoo KICKR17, KICKR18, KICKR CORE, or KICKR V5/2020. This also applied to a number of Giant and Trek trainers. They said it would rub the frame, and then the frame would catch fire and give your riding buddies Syphilis. Or something like that.
For realz though, they said it'd rub your frame and break it– and indeed, some Canyon Ultimate users had started noticing this back this past summer. However, that didn't seem to be the case for me and my Canyon Ultimate CF SL. It was absolutely nowhere near touching anything. Even in my most laborious sprint, nothing flexed enough to do anything. Albeit, I do suck at sprinting.
So this is the long story of vindication for my bike. And also Wahoo's new adapters.
(Or, you can just skip over the juicy internet mob parts, and go straight to the update parts at the end…but that's not what you want to do on this mid-January Wednesday. You probably need some excitement in your life about now.)
My Canyon Ultimate: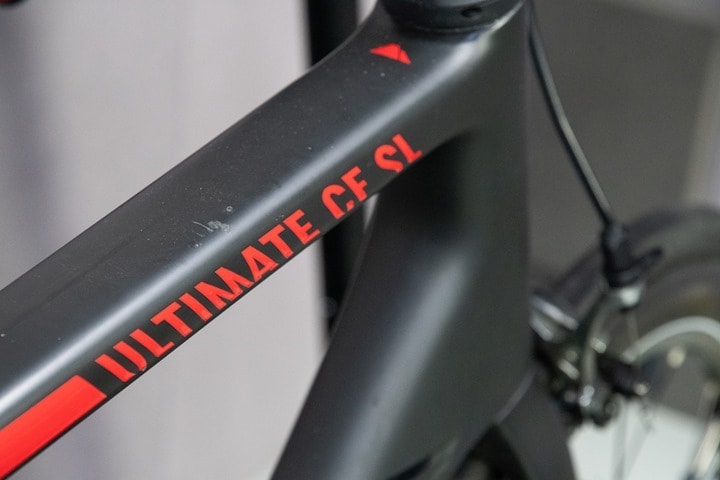 As always, the internet does not suck at sleuthing. And it didn't take long after Wahoo & Canyon's announcement before the comments started flooding in on my older posts and YouTube videos, telling me I was going to soon die of a shattered bike.



Now mind you, I'd been riding an assortment of Wahoo KICKR trainers for the better part of 3.5 years at this point. I'd had the KICKR 17 in the summer of 2017, then the KICKR18 and KICKR CORE from the summer of 2018, and then the KICKR2020 from mid-summer of 2020. At no point has my bike touched or been touched in an inappropriate way, and my bike still hasn't started smoldering or shattered. I mean, sure, my drivetrain is always a dumpster fire that needs cleaning – but the frame itself hadn't combusted yet.
So, I went back to Wahoo with an exceptionally lengthy e-mail asking for clarification. I'm pretty sure by now anytime a company receives a long e-mail from me, they know it's unlikely to be good news.
(The e-mail included half a dozen links to both Wahoo and Canyon pages showing numerous inconsistencies in the wording and naming, including a reference on a single page that pointed to a mostly internal reference model number for the Canyon Ultimate CF SL)
A boatload of e-mails back and forth and I finally had my answer.
Turns out, only the 2019-2021 variants of the Canyon CF SL rim-brake versions are actually impacted. Prior variants, like my lovely 2016/2017 variant aren't impacted at all. And in fact, unofficially the 2019-2021 variants can be 'solved' by simply turning the adapter around and using the 135mm side, which eliminates any unwanted rubbing. After all, this is not a Tinder date – rubbing was not appreciated.
Important note though that as of today – January 20th, 2021, Canyon hasn't however finished the approval of this axle adapter flip-around, nor, the upcoming new axle adapter.
So while both Canyon and Wahoo's site just blanket list Canyon Ultimate with rim brakes being incompatible, in actuality it's only certain newer model years. I don't know if Wahoo or Canyon will update their 28 different pages that list these models all over their sites, but, at least I got some clarity that mine is perfectly fine – and maybe yours too.
New Wahoo Axle Adapters: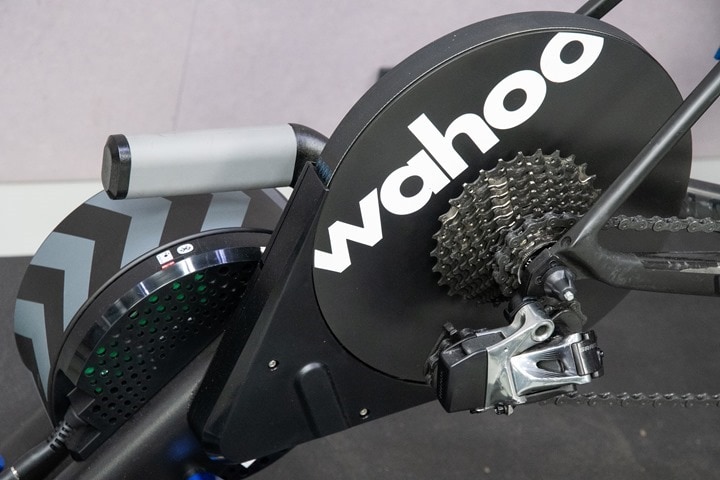 As it stands today, the following bikes are considered incompatible with the Wahoo KICKR 17/18/20 and KICKR CORE trainers:
2021 Trek Emonda
2020-2021 Trek Domane & Madone
2021 Giant TCR Advanced Pro
2020 Cervelo S5
2019-2021 Canyon Ultimate CF SL/SLX/CFR rim brake models*
*Fix pending final approval from Canyon
Each of these however can be fixed via a new adapter that Wahoo has started production on, and will be made available shortly (for free). These new parts essentially add slightly extra clearance for the frame to avoid undesirable contact with the KICKR trainer.

The three parts at left will replace the two existing parts at right (above) and give greater frame compatibility and clearance. They are as follows:
1.    New 12×142 Non-Drive Adapter
2.    New 12×142 Drive Side Insert
3.    New 12×142 Drive Side Cap (allows the frame to pivot)
4.    Original Drive Side 142/148 Adapter provided with the KICKR/CORE
5.    Original Non-Drive Side 142/148 adapter provided with the KICKR/CORE
More specifically, the following:
– Part 1 replaces the old/stock non-drive side KICKR 142/148 adapter (#5)
– Part 2 and 3 replace the old/stock drive side KICKR 142/148 adapter (#4)
Finally, there will also be a new 148-only adapter that will replace the existing combined 142/148 adapter, but I don't have a photo of that yet.
These new adapters will be made available to any customer upon request, via customer support, for free. That'll happen in the next few weeks. Additionally, a rolling production change will occur for new KICKR's coming off the assembly line to include these new adapters instead of the older ones.
Wrap-Up: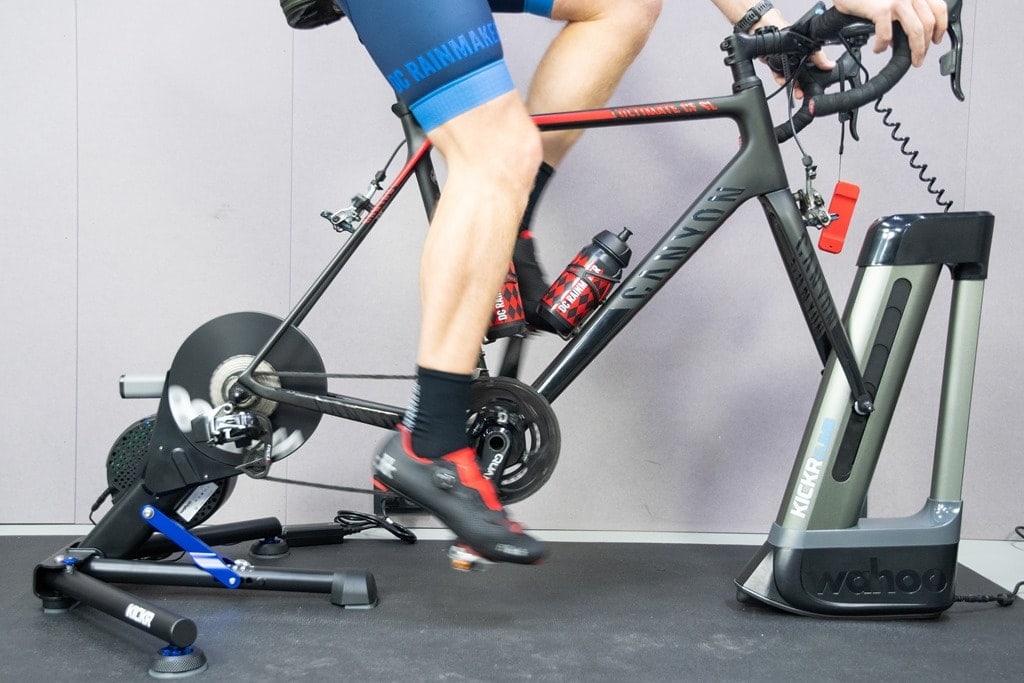 Ultimately, it's virtually impossible for bike trainer companies to test every single bike and bike configuration on the market. It's just never gonna happen, and also physically impossible to have every bike ever made on hand to test/validate. Still, I think there are ways that bike trainer companies can work with the major manufacturers to ensure these sorts of incompatibilities are quickly discovered and listed before they get too far down the road.
Which isn't to say that Wahoo or Tacx or Elite needs to send out pre-production unannounced trainers to all the major bike companies to validate, because honestly, that'll just result in leaks. However, having new trainer units ready to roll to the major frame makers as soon as a product is announced would be helpful so that incompatibilities can be found quickly and documented. And on the bike manufacturer's part, there probably has to be a realization that the vast majority of customers of high-end bikes are using them on trainers. After all, when these 2020 bikes came out, the KICKR 17/18/CORE were already on the market for quite some time.
But the best news here is that I've now got a post I can point to the next time someone watches one of my Wahoo trainer videos telling me my Canyon is gonna shatter. An answer for them, and a page view for me. See…win-win!
With thanks for reading!
(Speaking of views, if you're looking for which trainer to buy – hit up my full Winter 2020-2021 Trainer Recommendation Guide Listing here.)