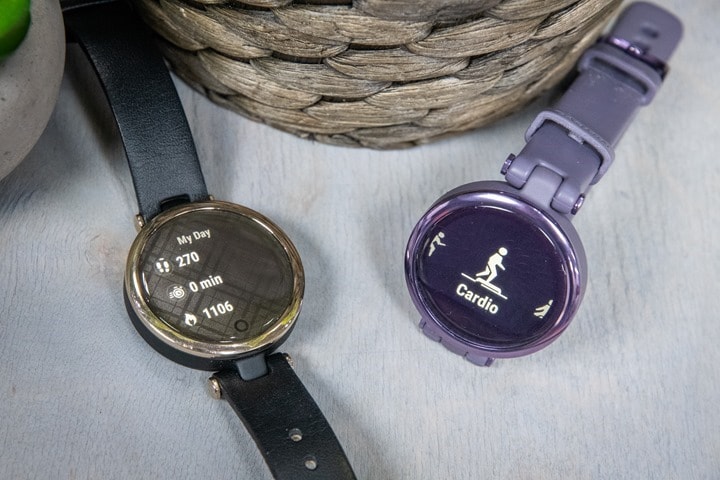 Garmin has launched a new fitness tracker that extends the brand's offerings further into the stylish realm. On the surface, Lily might seem similar to the existing Vívomove series (including the Vívomove Style). However, there are numerous differences compared to that series – including aspects such as having a full smart screen, as well as safety/tracking features. Inversely, there are also elements Lily doesn't have, like contactless payments via Garmin Pay, or a barometric altimeter for stair-tracking.
Both my wife and I have been using the Lily for a number of weeks now, both in daily use and workout use. She has been testing the Lily Classic, while I've been testing the Lily Sport. Both are the same underlying watch, just with different band/bezel materials. But otherwise the same features/functionality.
The watches include daily activity tracking (including sleep tracking), an optical heart rate sensor, as well as smartphone notifications. From a workout standpoint it includes numerous sport profiles for both indoor and outdoor workouts. However, it does not include GPS built-in. It can though leverage your phone's GPS to track outdoor workouts where you want a GPS track. Fear not – I test all these aspects.
As usual, this review was completed on a media loaner device, which will go back to Garmin shortly (both mine, and my wife's). I don't take sponsorships from companies that I review, and that includes Garmin. If you found this review useful, consider hitting up the links at the bottom – or becoming a DCR Supporter, which gets you access to exclusive goodness – including, fittingly enough, a mostly weekly video series shot with my wife, including all the behind the scenes details from the DC Rainmaker Cave.
Quick Overview: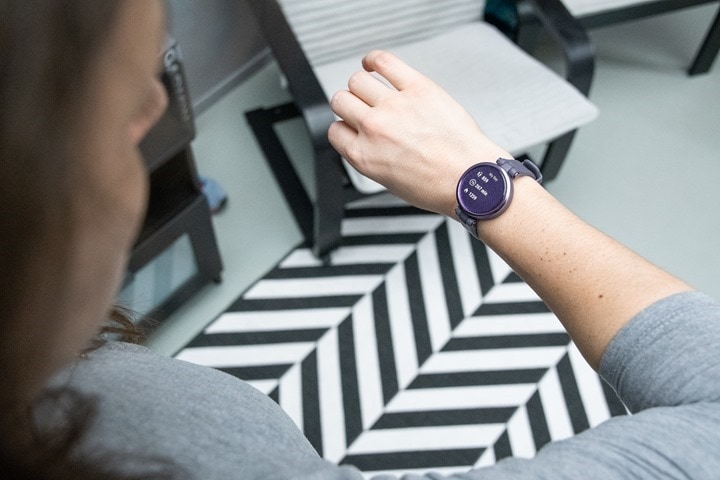 The best way to think of something like the Lily smartwatch is either an activity tracker band on steroids, or Garmin's Vivoactive series without all the more complex features. Ultimately, the Lily is about style first, and then fitting in features that most likely appeal to buyers of this watch. Which is to say that if you're after more functionality, there are other Garmin watches at this exact same price point that do far more. Yet none are as small and lightweight as Lily.
Seriously, it's hard to overstate just how small this watch is. It's like two peanut M&M's wide, and not quite a peanut M&M high:
From a features & specs standpoint, here are the basics in my favorite bulleted format:
– Priced at $199 for the sport band and $249 for the leather band
– Smartwatch with 24×7 activity tracking for steps/distance/calories
– Optical HR sensor for 24×7 heart rate tracking
– PulseOx sensor for sleeping SpO2 tracking
– Tracks respiration/breathing rate 24×7
– Tracks stress and sleep automatically
– Sports tracking including using Connected GPS (doesn't have GPS internally)
– Sport tracking modes include running (outside & treadmill), cycling, yoga, walk, cardio, breathwork, strength training, stair stepper, elliptical, and pool swimming
– Displays smartphone notifications, as well as details like calendar appointments and the weather
– Has live tracking, including safety and incident alerts
– Includes female health tracking for both menstrual cycles and pregnancy tracking
– Claimed battery life of up to five days (inclusive of smartphone notifications being enabled)
– Tracks your VO2Max based on workout data
– Does not include stair tracking (no barometric altimeter)
– Does not include connecting to ANT+ or Bluetooth Smart HR straps
– Does not include broadcasting of your HR via ANT+ or Bluetooth Smart to other apps/devices (such as a Peloton Bike)
– Does not include Garmin Pay contactless payments
– Does not include music storage/playback, but can control music on your phone
Phew, got all that? Good. We'll talk through virtually all of it in this post at some point or another. Or, you can just tap the play button below, and I talk through the entire watch from start to finish in one tidy video – showing you how all the menus work.
Your choice, though, I recommend both the video and the post. A double-dipping if you will.
The Basics: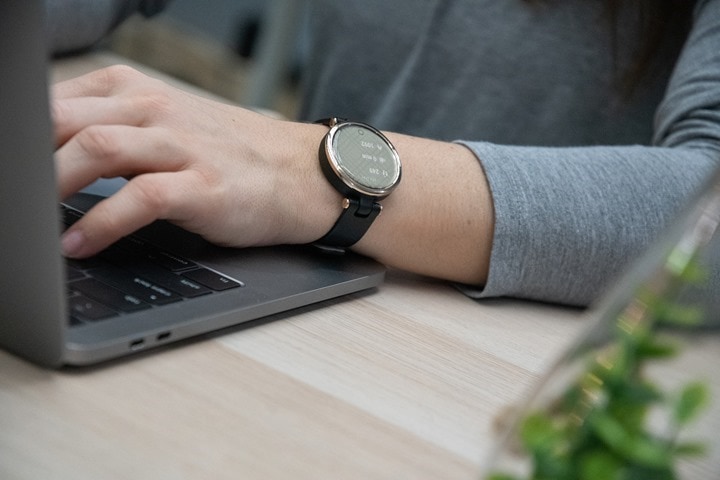 The Lily is a fully touchscreen driven device – there are no dedicated tactile buttons (such as on the side), however, there is one sorta-virtual button on the lower portion of the display. It's how you access certain menu options, as well as how you 'escape back'. And in particular, pressing that little circular button area will trigger a quick vibration too. Overall navigation of the user interface is ok. I usually get to where I'm going, though given my fingers are larger than the average female, and this is a tiny display – there's occasionally some mis-pokes by me. My wife, who is significantly more right-sized for this device, doesn't tend to have many incorrect taps/touches.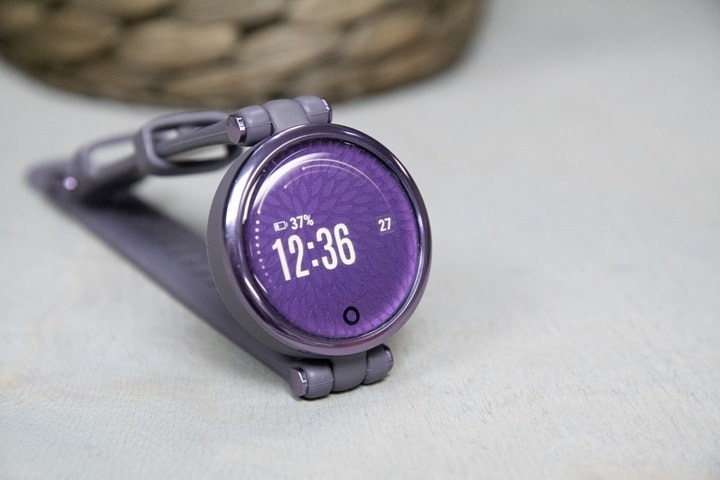 Like many smaller smartwatches these days, the Lily doesn't have an always-on display. This means that as I type this, the screen is off, but once I either tap the display or raise my wrist, the watch will instantly turn on and show the data you want (such as the time or steps, or if in a workout – your workout details). The ability for Lily to recognize that you've raised your wrist has settings like 'gesture sensitivity' to adjust, but in practice…it's not great.
The single biggest complaint that both my wife and I would have is that it simply doesn't turn on the screen a fair bit of the time when I raise my wrist – especially in non-significant ways. For example – if you're on the couch, or seated, it doesn't tend to trigger unless you heavily exaggerate the wrist raise. Whereas if you were walking down the street, then it would in most cases. Garmin devices have never been spectacular at wrist raising detection, probably because most devices they make don't need it. Inversely, the king of wrist-raising detection is Apple. Fitbit's latest devices sit on the better end of that, as do Samsung watches
Now while the wrist raising detection isn't great – one surprising aspect to me was the display itself is incredibly visible. Seriously, it's astoundingly bright, and adjusts brightness levels automatically – even outside in direct sun – it's silly easy to see. This is a significant improvement over some of the Vivomove watches I've tried in the past from Garmin, which were entirely useless (if not invisible) in full sun.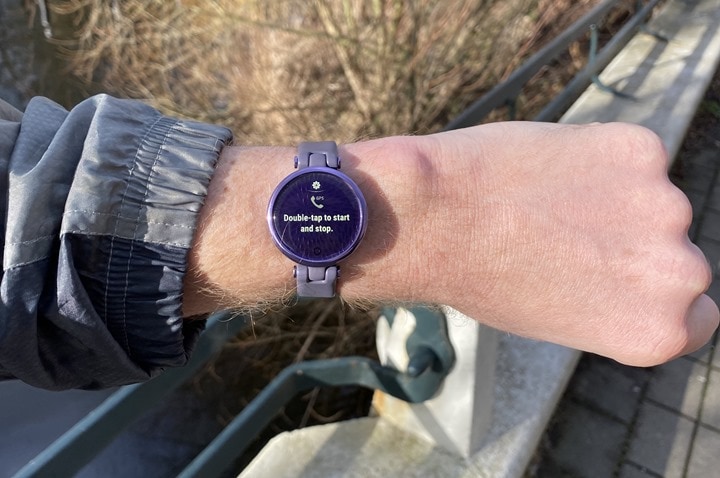 Probably the most unique aspect of the Lily is the fact that the display literally disappears entirely to just a static non-electronic watch pattern. Meaning, that's actually the 'screen' – the patterns you see below. It's pretty cool.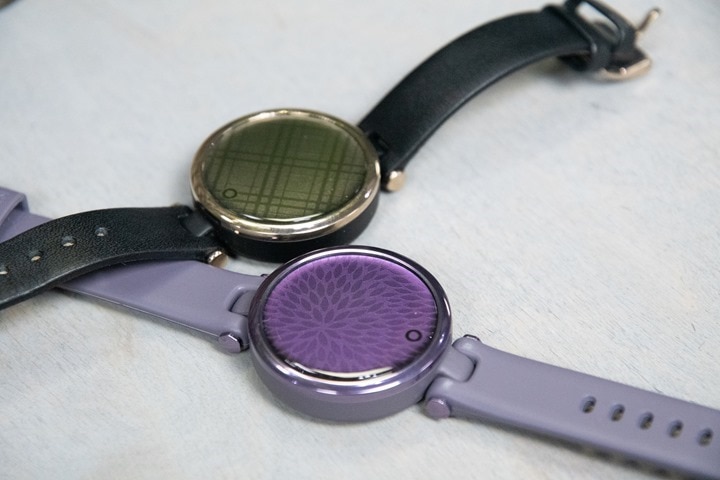 Each variant of the Lily watch has a different pattern, here's an official image from Garmin with all the variants:

Once illuminated, the screen will show your watch face. You can select from a small pile of different watch faces in the menus:
Most of the watch faces allow you to then tap through them to get different metrics from one of the smaller data fields. For example, by tapping, it'll cycle through showing steps, intensity minutes, calories, the weather, the battery state, etc…
Lily also supports Garmin widgets (though, not Connect IQ ones). Widgets include more detailed information than the watch face. There's dedicated widgets for an overview of your day (called My Day), heart rate driven stats like stress and intensity minutes (under a 'Health Stats' banner), your calendar, weather, hydration, female health tracking, body battery, heart rate, and steps (plus others too). Here's a quick gallery of a bunch of them:
Each of these supports additional detail when you tap on it. For example, the heart rate one shows your heart rate for the last 4 hours: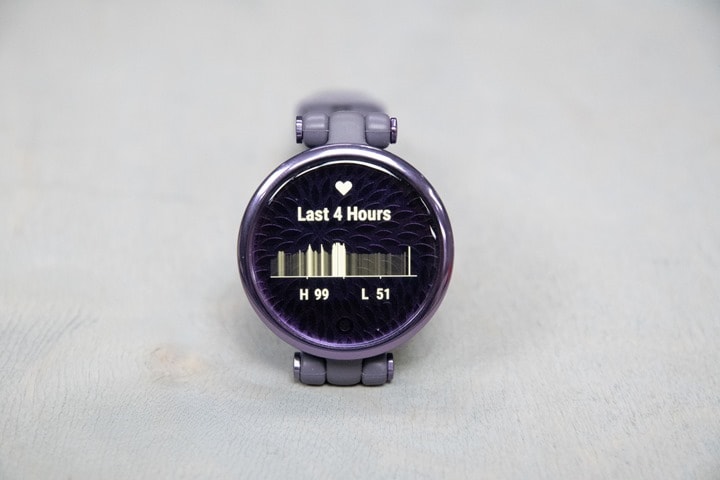 I'll use significant resting HR spikes as a good indicator of either fatigue or getting sick. All of these stats are logged to the Garmin Connect platform, which is both the smartphone app and the website. For example, you can see my heart rate trends for both a given day (including two workouts yesterday with Lily), as well as longer-term stats:
The same is true of steps, or calories – all allow numerous plotting of details.
Sleep is also tracked within Lily, though disappointingly there's no sleep stats shown on the watch when you wake up. You'll have to look at your smartphone app in order to see that data. Compare that with Fitbit which shows those stats directly on the watch.
Probably one of the more unique metrics Garmin has for devices at this price point is Body Battery & Stress tracking, which is done via an algorithm from Firstbeat (a company they acquired last year). Stress tracking looks at heart rate data and other factors to figure out how much energy you have – the idea being to give you semi-concrete data on whether today was more stressful (or more tiring) than yesterday. Ideally, with that, you make changes to improve the stats, such as selling your three toddlers on eBay.
While these stats aren't perfect, I've used them for many years and have found them surprisingly good at being representative of my day. They track for example the bit of 'recovery' you get from sitting on the couch after a long day before beginning your workout (as well as a stressful presentation), and of course things like sleep and how it contributes to the overall picture.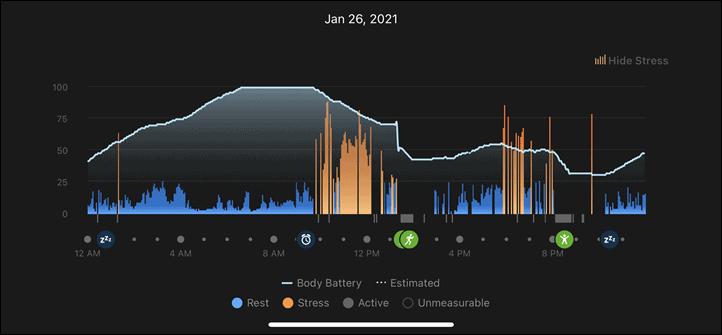 One last software area to cover is female health tracking, this allows you to track when your period starts and ends, as well as both physical (like discharge or bloating) and emotional symptoms (for example moods). Some of these data points are trackable/loggable from the watch, while others require entry via the phone app. Related, there's also pregnancy tracking too. All the data is consolidated there however. As the data logged gets more detailed, you'll get period and fertility reminders and predictions. Given I'm a male, I didn't use this feature (in fact, it's not even an option with my account). My wife's account does have this feature enabled, however she didn't use it this go around.
Switching topics slightly back to hardware aspects, the band that you get with your unit depends on which series you buy. For the fancier ones you'll get an Italian leather band. The only challenge with that of course is that if you use it in a workout it'll eventually get non-awesome from the sweat/water. Whereas the less expensive units use a silicone band that's sweat-friendly. You can however buy accessory bands, including the silicone ones, so that you can swap back and forth. The accessory bands include the special tool required to remove the band from the watch, however it's not really practical to use every day for workouts: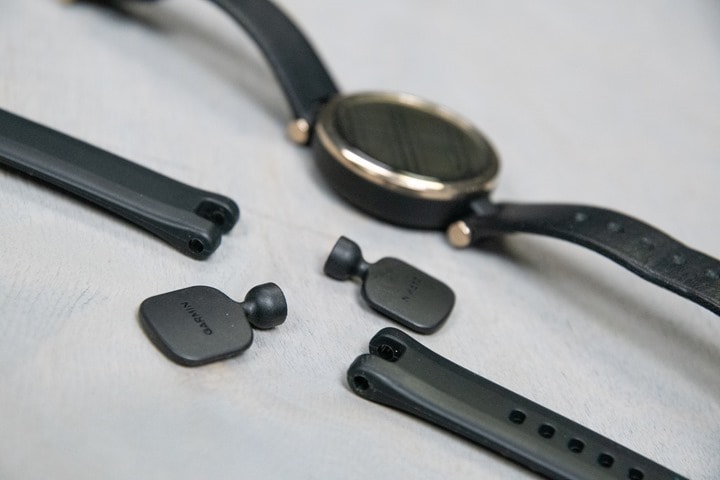 The band isn't the fastest thing to remove, but once you get it out, it's done. The core attachment bar is pretty darn beefy actually, certainly far thicker than the bar on any Garmin Forerunner or Fenix watch.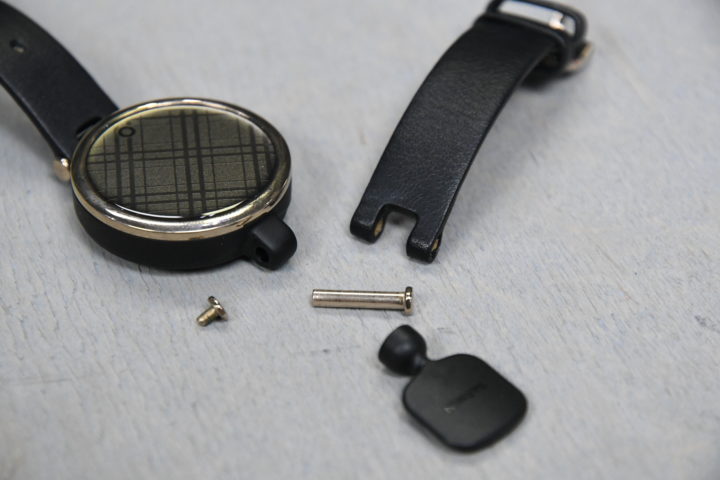 (Also, the above black silicon extra strap isn't a final variant, whereas the tool is. The straps available match that of the actual watches available.)
Finally, last but not least on charging. The device uses a clip-style charger that can also transfer data to your computer via Garmin Express. This is the same older charger used on various other Garmin watches over the years (usually the smaller ones where depth is a consideration).
Battery-wise, Garmin claims 5 days, but that's dependent on the exact settings you use. I use a higher gesture sensitivity setting with a longer display-on timeout, thus, my battery life is only a few days (along with having workouts too, which drain the battery life more than regular usage).
Sports Tracking: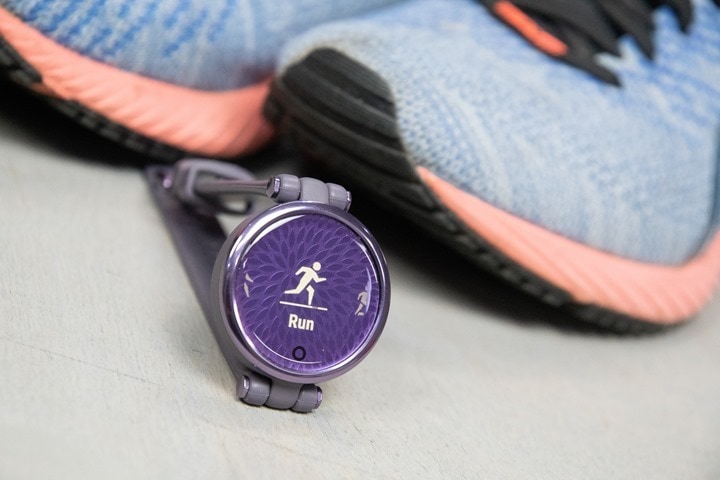 The Lily attempts to thread the needle between being a regular daily activity tracker, but with a sporty twist. As such, it's not anywhere near as powerful as something like their Garmin Vivoactive or Venu lineups. However, it's still got a fair bit of sport that frankly rivals many basic smartwatches in this category anyway, mostly because the ceiling for sports capabilities on the Garmin lineup is so high, that even their low-bar is above most other watches from a sports standpoint. At the same time, understand that you're paying a premium for the fancy/small aspects of this watch. As this same $199 price point buys you infinitely more sports-focused (and non-sports-focused) features on the Forerunner 45, but without all the swank.
The TLDR version of this section though is that if you're looking to track workouts where you just want to know basics on how far/fast/calories, and don't mind taking a phone with you to get GPS tracks/maps, then this does that reasonably well.
The Lily has two basic ways it'll track workouts:
A) Automatic tracking: This is called Move IQ, and basically will automatically log activities like walking or running after they exceed a time threshold you've set in the app. So for example a 10-minute walk will trigger an entry in your Garmin Connect activity calendar. These activities though don't have much detail, you won't get pace charts or HR charts for example (or GPS maps). They also won't upload to sites like Strava or MapMyFitness.
B) Manually started workouts: These are workouts where you've manually hit the start button after selecting a sport. For these, you'll get full activity data including heart rate, GPS tracking with a phone, and a complete workout file that uploads to 3rd party sites.
For the first one, automatic tracking, you can configure the thresholds for the two activities it supports – walk and run – using Garmin Connect Mobile. Interestingly, it doesn't support detection for activities like cycling, as higher-end Garmin watches do.
These activities will then appear on your calendar in a grey coloring, indicating Move IQ. If you tap on a day and then that activity, you'll get basic information about it:
For more detailed tracking though, you'll want to use the regular sport modes. By default, Garmin has configured a number of sports profiles on the watch, as seen below. However, you can change those around – supporting a maximum of 7 concurrent sport profiles (however Run/Walk aren't optional and take up two slots). You can then open up a given profile to tweak the settings for it.
These settings do include changing the data fields. Or rather, data field. You get one custom data field which has three metrics on it (two of which are configurable). You also can toggle on/off a HR gauge, music control screen, and watch face screen.
Depending on the sport, you can configure alerts for heart rate, time, calories, and distance (this metric is available on distance sports such as running, but not on something like cardio or Pilates).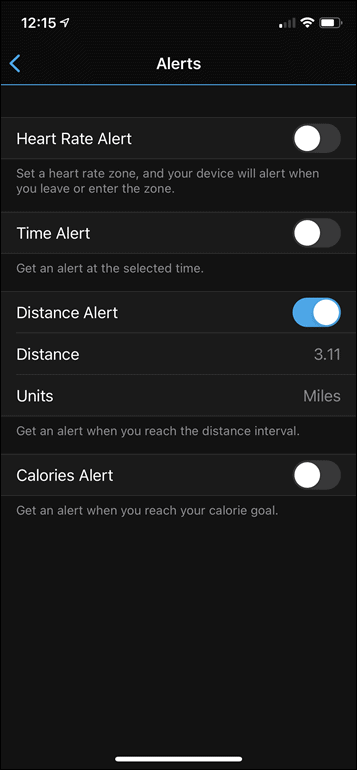 To get started on the sports modes you'll tap the virtual bottom button, which brings up the menu, including the 'Activities' menu: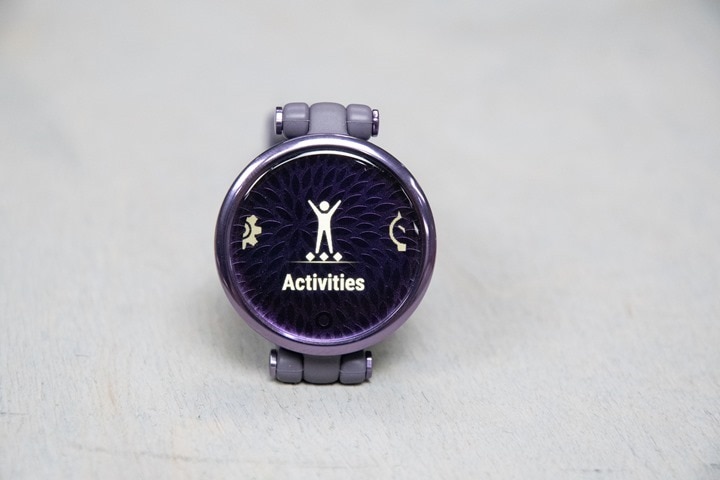 This is where you choose which sport mode you'll utilize.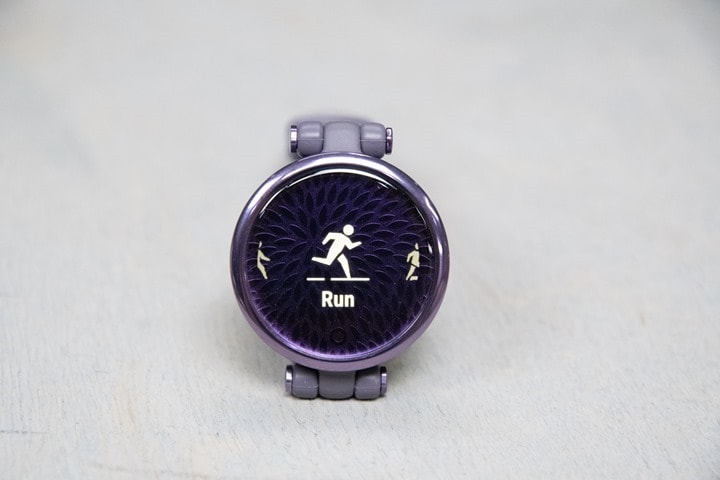 For example, if we select running, then it'll automatically connect to the phone to try and get GPS from your phone. Because the Lily doesn't have GPS internally, it'll depend on your phone for that. It uses the Bluetooth connection between the watch and the phone. Both myself and my wife have found that the Lily is fairly finicky when it comes to whether or not Lily will see Garmin Connect Mobile for the GPS tracking. It's not so much that it doesn't connect to the app, but rather that a fair chunk of the time it thinks it doesn't have permissions from iOS. No matter how many times I give it permissions, it seems like every day is a new day when it comes to its memory of this fact. So I'll usually have to toggle permissions on and off a few times till it takes.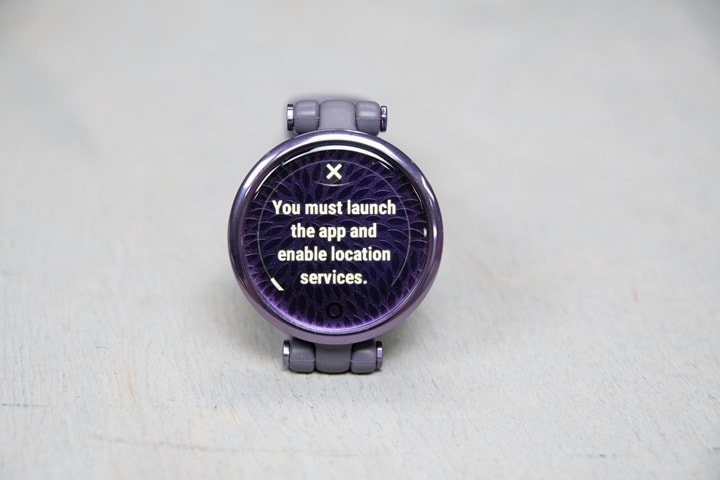 Once it does take you're good to go (you can also just run without GPS, in which case it'll leverage the accelerometers). Before you do that though, you can tweak a few minor settings from the sport settings page on the watch itself. These include whether or not AutoLap is enabled, any alerts you might want (HR/Distance/Calories), and your data page fields.
On some workout modes, you can also set up a basic interval counter. This is time-based, and simply oscillates between work and recovery intervals. Oddly though, you can't seem to configure this on the running profile.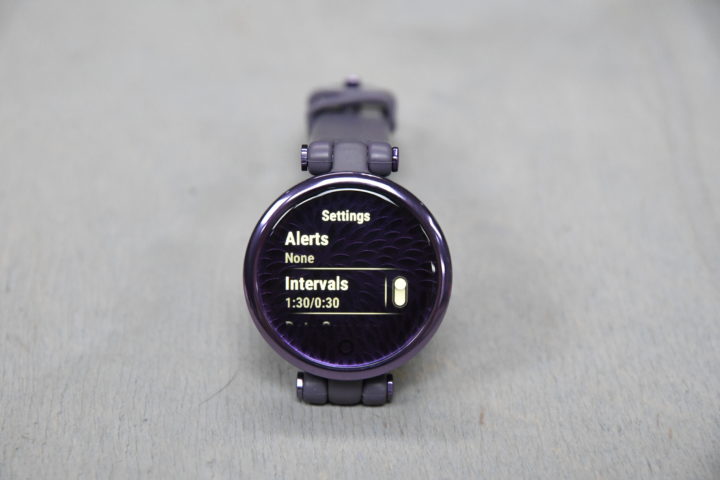 With all that set, we'll double-tap to start the workout. Once started it'll show you each of your data pages as configured, with data updating in real-time. You can swipe left or right to change data pages. Here's a few photos during a run from yesterday:
One issue I had though was that my lightweight coat shell kept double-tapping screen, and thus pausing the workout (and thus one more tap away from ending it). I asked Garmin whether there was any sort of screen lock option, and unfortunately there's not. While you can turn off gestures altogether, you can't turn-off gestures for a workout specifically (only the opposite – leaving them on for workouts). Plus, without the double-tap you'd be unable to stop the workout anyway. Ultimately, I just pulled my jacket up a bit more, so it wouldn't rub over the top of the watch.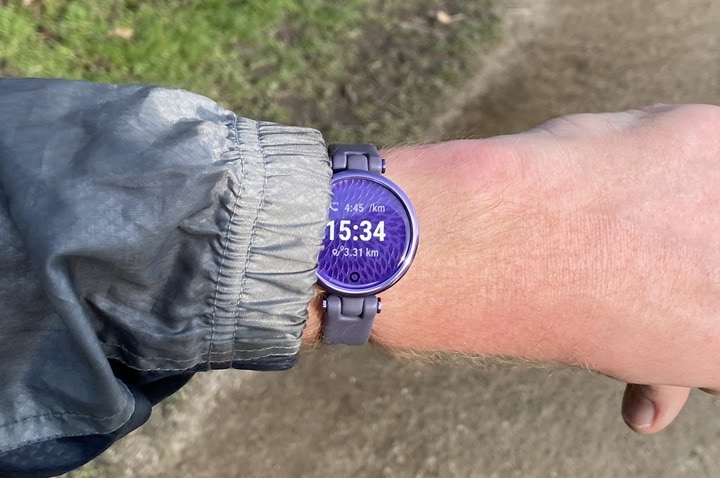 Because the watch integrates with Garmin Connect Mobile for GPS, you'll also get LiveTracking during a workout. This allows you to have the watch/phone automatically send your friends/family a tracking link showing exactly where you are.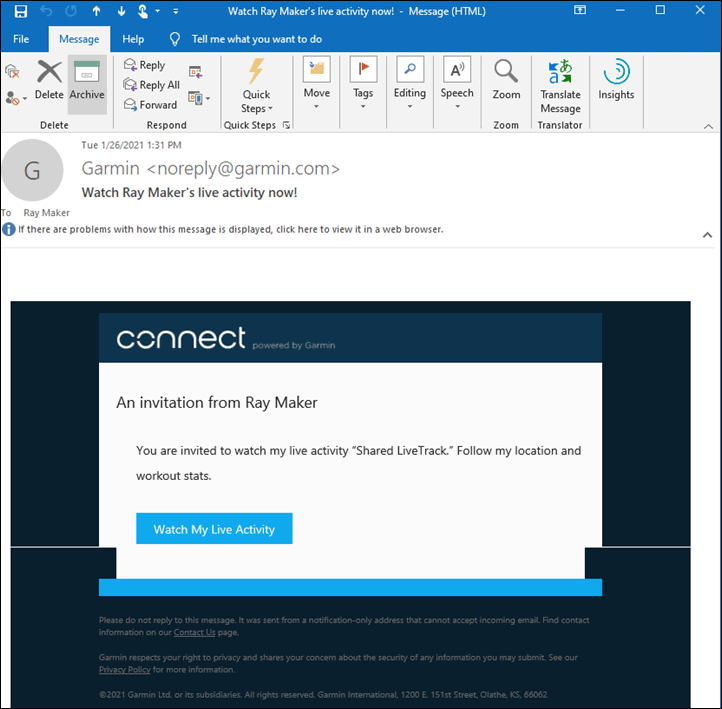 In a similar vein, the watch also will automatically trigger incident detection notices to friends/family if you fall while in a workout. Once you do fall, you'll have about 10 seconds to cancel the notification if there's no reason to notify your roommate or partner that you just face-planted into a puddle. Ironically however, it was jumping puddles yesterday that actually falsely triggered an alert, which is incredibly rare for me on runs. I can count the number of times and exact places Garmin watches have triggered a false safety alert for me over the last few years (3 times). Shortly after the run the watch received a significant firmware update, so perhaps it's been fixed. I don't know.
After the run is complete I'll get a very minimal confirmation page showing me top-line stats of the workout. It's pretty basic, showing just time, distance, average heart rate, and calories.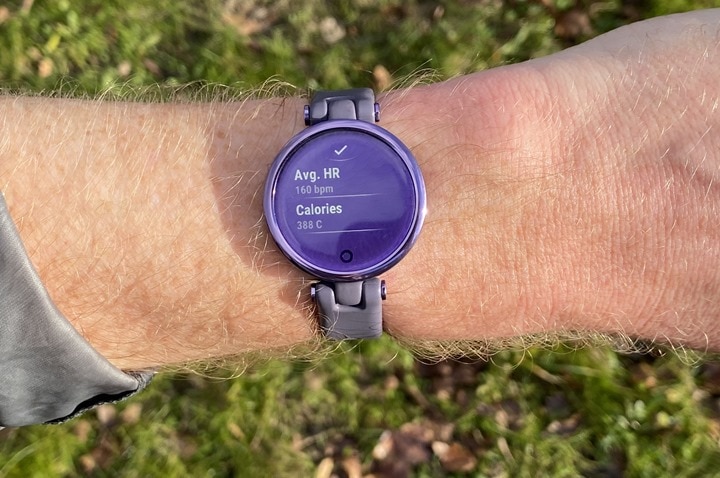 The more detailed information though is available on Garmin Connect (smartphone app or website). It's here I can see all the details of the run, including splits, pace, heart rate, cadence, and the map as well:
This workout will also transmit to any 3rd party platforms you've connected, such as Strava. Here's that same workout over on Strava: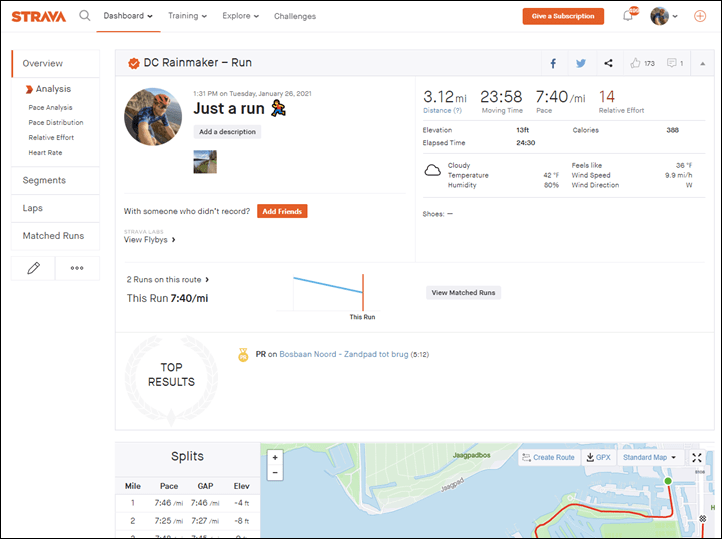 Further, behind the scenes, the watch will also track your VO2Max based on your workouts. Keep in mind though that this value tends to get more accurate with more intense workouts (primarily runs), and also more accurate with more workouts over time (ideally 3-4 weeks). As such the data shown here is probably a bit lower since the last few weeks has been more indoor-cycle heavy than outdoor-interval-run heavy (since this watch doesn't track cycling VO2Max separately).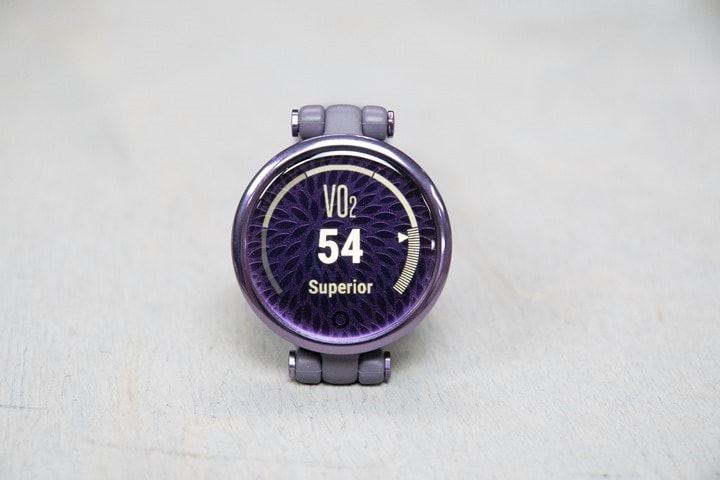 Finally, the Lily does include guided breathwork as a workout option. If you add the Breathwork sport profile it'll guide you through a series of breathing exercises.
The only downside here is that this takes up one of your valuable 7 sports (of which only 5 are configurable). I would have been more ideal to have this be standalone. Also, while it does track Yoga and Pilates, the Lily watch won't guide you through a series of exercises like the Vivoactive/Venu/Forerunner/Fenix watches will. Which is totally fine if you're following other guidance, but just something to be aware of difference-wise compared to Garmin's higher end (or other series) watches.
GPS & HR Accuracy: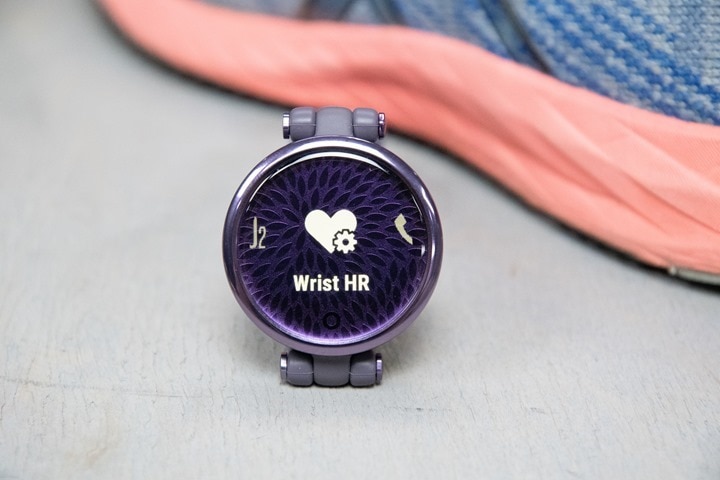 While the Lily does not have GPS within it, it can utilize GPS of your phone. So this brief look at the GPS accuracy is less about Lily (or even your phone), but how well the Lily handles that. Over the years I've seen numerous examples of devices like this that still somehow manage to hose up GPS accuracy via phone. But most of this section will be on heart rate accuracy.
For all these charts I'm comparing multiple devices worn on the same workout, specifically looking at more than just averages, but the ups and downs of heart rate accuracy throughout a workout. All devices are worn fully separated, so no two devices are on the same wrist at the same time (which can cause accuracy issues). Some devices are chest straps or upper arm bands.
First up, let's take a quick peek at GPS accuracy using the Connected GPS. In this case, it's leveraging GPS from my iPhone 11 Pro, which was in my running shorts pocket. As always, the exact phone you use will impact GPS accuracy, as will the placement. This is a simple 5K run that includes some light tree cover in the forest (it's winter, no leaves), as well as some open sections. There's some 4-6 story buildings towards the end of the run too. Here's the high-level overview, compared against an Apple Watch SE and a Garmin Forerunner 745 (data set here):

Now what's kinda interesting about this data set is that Apple will automatically leverage the phone for GPS on the Apple Watch when it's in range. And since I needed it in range for Lily, it means those two tracks *should* be identical. And in most cases, they are – for better or worse. Overall, as you can see above, the GPS tracks are fairly similar. And in looking at it, there's frankly no major or even medium outliers here.
However, there are some cut corners by the phone GPS, such as this here, where you see it skips through a swampy area, while the FR745 properly steers clear of it, staying on the path (where I actually ran):

The same was true again later in the run as I made a lazy turnaround, where the FR745 stayed properly on the path, and the phone-based GPS had me swimming: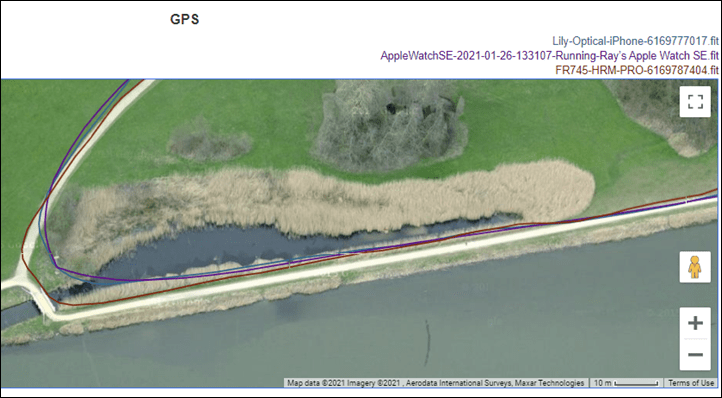 It's entirely possible that placement of the phone to an armband or such might have produced different results (or…not). However, one thing to keep in mind with GPS apps on the phone, is that each app decides how to process the data differently. You can see that above, where the GPS data points are slightly different between the Apple Watch SE & Lily, despite being the same GPS source.
This in turn means different end-state distance, like you see here:

Switching over to look at the heart rate data for that run, is a great example of the challenges of chest straps early in a run on a cool/dry day. While I had wet the strap before the start of the run, by the time I finished taking some photos, the strap had dried out again, and I had forgotten to wet it. I realized it a few mins later, and around the 4-minute marker of the run I stopped to give it a solid lick. Once that was done it snapped back on-target.

I did some hard sprints at a few points in the run, where you see the heart rate spike, and the Lily tracked those just fine. In fact, you can see it matches the chest strap spot-on for the rest of the run after I gave the chest strap some moisture. There's a few odd/unexpected wobbles of the Apple Watch SE around the 18-minute marker.
Switching workouts, we'll look at an indoor Peloton Bike ride. On this ride I had an exceptional number of sensors on me. The Lily was on one wrist, the Apple Watch SE on the other. But then on my upper arms I had the Polar OH1+ optical HR sensor (one of the best sensors out there), the Whoop band (one of the worst out there), the new Scosche Rhythm+ 2.0 (one of the newest out there), and then a chest strap with the Garmin HRM-PRO. This was basically like 50 Shades of Grey with HR straps instead. Here's the data set:

That's most obvious here with the two data sets that look most unlike the others – Lily and Whoop. The Whoop set is harder to see because of the black coloring, but it's the one lazily following below the others, usually significantly lower than the rest. Whereas the Lily, in appropriate purple to match my watch, spikes a number of times, especially in the 6-10 minute marker and again a few other times. It's unclear to me why it was upset here.

This section did not have anything unique about it, nor any arm movements. It was just pedaling.
Here's another workout I did, this time an interval workout, and you can see that the Lily did perfectly fine, ignoring the first 90 seconds or so that it took to figure out life. It's notable that this was on the most recent final production firmware, whereas the Peloton Bike one from a week or so ago was an older firmware.

This was compared against an Apple Watch SE, Garmin HRM-PRO strap, and a Whoop band. Here's that data set.
Ultimately, these data points look fairly similar to what I see from other Garmin watches, likely because it's using the same Garmin Elevate optical HR sensor that's fairly well proven on other watches. Or at least, fairly well understood. Like most optical sensors in the market, each has their own little quirks, though on the whole, Garmin's latest generation optical sensors are pretty good – especially for running and indoor cycling (whereas less so for outdoor cycling). Strength training tends to be a mixed bag.
The one downside to Lily though is that you're unable to do any pairing to any chest strap or other HR sensor. Given the price of this device, that's a bit of a surprise. Though I suspect for most purchasers of this watch, you're probably less concerned about absolute accuracy of the sensor and namely want it to just be 'good enough'. In that case, Lily seems to do just fine there.
Wrap-Up: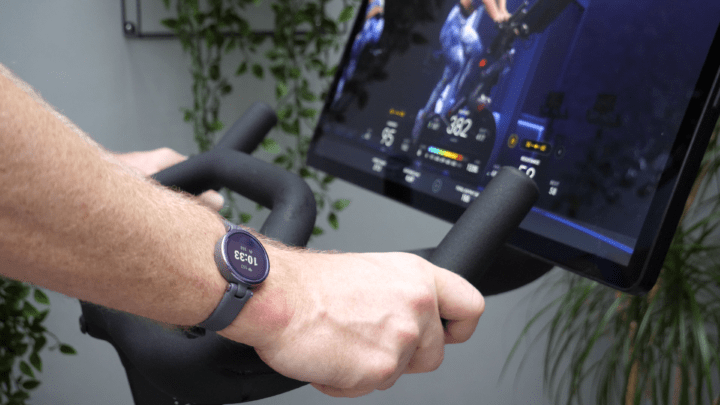 For regular long-term readers here that skew more towards endurance sports, Lily probably won't excite you too much. It's just not your cup of tea. However, for the significant number of people that swing by these reviews without any focus on endurance sports, then the Lily might fit your bill, depending on what you want out of a watch. That's especially true if you want a really small watch. Again, it's crazy how small and light this thing is.
If your goal is a stylish watch that's super small with reasonable battery life but that still gets the vast majority of daily activity tracking with basic workout tracking, then Lily is a very solid option. Obviously, with something this tiny they have to make compromises on battery life, but overall, those compromises don't seem to hinder the device, nor stand out. No, it worked just fine for the core feature – just like any other Garmin watch. It's got all the metrics that you'd expect, including ones less common at this price point like the breathing rate and SpO2 details while sleeping. Two key metrics that much data has shown can be used to identify early symptoms of COVID19 (as well as other illnesses). Of course, neither Garmin nor any other company is marketing it that way directly, but they are doing so indirectly and as part of larger studies.
Which isn't to say Lily is perfect. For both myself and my wife, the one exception to that battery life statement, and the singular disappointment area was the gesture recognition for turning on the screen when you raised your wrist/arm. It's an area that historically Garmin hasn't really had to spend significant effort on, as it was really only leveraged in a handful of their devices. Most all other devices stayed on 24×7. But as Garmin experiments with different screen tech (and thus the need for this sort of battery saving tech), I think they need to invest more to make this at least equal to a Fitbit, if not aim for Apple Watch level gesture recognition. Having worn the Lily on one wrist and Apple Watch SE on the other, it quickly becomes apparent how far the two are apart in this specific area.
In any event, hopefully this review gives you enough information to figure out whether or not this watch is for you. My general recommendation would be that if you got to this point and felt like you wanted a bit more sports depth out of a watch (or music/contactless payments), then to look at the Garmin Vivoactive 4/4S, Venu, or Venu SQ watches, as well as the Forerunner 45 in particular. All of which carry a deeper set of the same core features as the Lily, but with more focus on sports/fitness.
With that – thanks for reading!

Found This Post Useful? Support The Site!
Hopefully you found this review useful. At the end of the day, I'm an athlete just like you looking for the most detail possible on a new purchase – so my review is written from the standpoint of how I used the device. The reviews generally take a lot of hours to put together, so it's a fair bit of work (and labor of love). As you probably noticed by looking below, I also take time to answer all the questions posted in the comments – and there's quite a bit of detail in there as well.
If you're shopping for the Garmin Lily Sport or any other accessory items, please consider using the affiliate links below! As an Amazon Associate I earn from qualifying purchases. It doesn't cost you anything extra, but your purchases help support this website a lot. Even more, if you shop with TPC (The Pro's Closet), you'll save $40 on purchases over $200 with coupon code DCRAIN40! The Pro's Closet has been a long-time partner of the site here - including sponsoring videos like my cargo bike race, as well as just being an awesome Colorado-based company full of good humans. Check them out with the links below and the DCRAIN40 coupon!
Here's a few other variants or sibling products that are worth considering:
And of course – you can always sign-up to be a DCR Supporter! That gets you an ad-free DCR, access to the DCR Quarantine Corner video series packed with behind the scenes tidbits...and it also makes you awesome. And being awesome is what it's all about!
Thanks for reading! And as always, feel free to post comments or questions in the comments section below, I'll be happy to try and answer them as quickly as possible. And lastly, if you felt this review was useful – I always appreciate feedback in the comments below. Thanks!