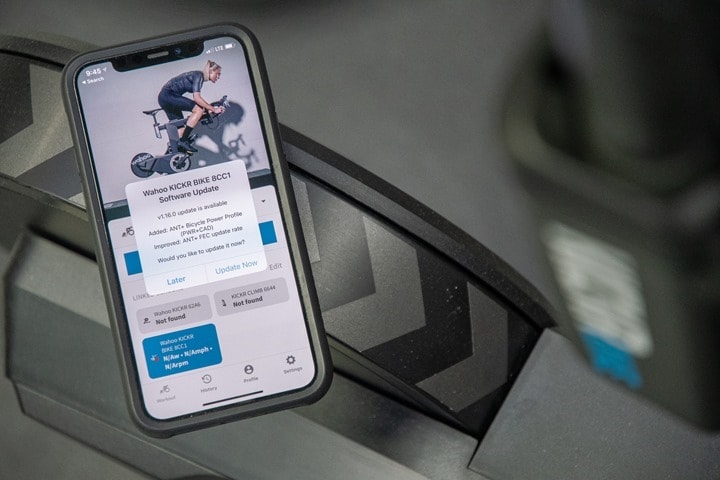 This post is gonna be a quickie, mostly cause in the grand scheme of things it's probably not going to be of relevance to that many people since there's not that many people with KICKR Bike's out there. But, for those that do have such a bike, you've now got a new feature: Power broadcasting from the KICKR Bike.
Now – about now some of you are probably like: Wait, the KICKR Bike didn't broadcast ANT+ power?
To which the answer is…umm…nope. Not exactly. While Wahoo trainers did, the KICKR Bike didn't.
The Details:
See, the KICKR Bike at launch about a year ago and until today, only connected with ANT+ FE-C (ANT+ trainer control) and Bluetooth Smart trainer control (Wahoo's own variant, not quite FTMS). For apps like Zwift, TrainerRoad, The Sufferfest, or just about anything else – that was really all you needed. Life was grand!
Except, if you had a watch you wanted to connect. Or, really any other non-trainer app that you just wanted to record power so you can have it be tracked within your ecosystem. For example, for Garmin or Polar users that'd include things like training load and recovery metrics. Since the files from Zwift and TrainerRoad synced to Garmin Connect still don't inexplicably update/impact training load, that means you had to dual record if you wanted these metrics…which…is kinda a reason you'd buy a higher-end Garmin watch. The Wahoo KICKR Bike was the only bike that didn't broadcast power from all of the indoor smart bikes in this segment (Stages/Elite/Tacx/Wattbike/Wahoo, Peloton does not broadcast power however).
Now, while Garmin started rolling out in beta this summer the ability to connect to ANT+ FE-C trainers, that's really only for the latest and most special watches. Not the 142 generations of watches before that. Nor for people's Edge units that might record it either sans-FE-C. And the earlier added Bluetooth Smart power broadcasting to the KICKR Bike in a different firmware update didn't solve the issue for people with slightly older Garmin units that didn't support Bluetooth Smart power meters.
Anyway, point is – now you can. First, you'll need to connect to the KICKR Bike and grab the update via the Wahoo Fitness app – either by the prompt on the home page, or via the sensors page:
A few minutes it'll complete the update to 1.16:
By the way, it's around this point that I renewed my stance that smart bikes should have WiFi built in for this sorta thing. They should just update quietly in the background at night. Just like your watch does, your phone does, the Peloton bikes do, your car might, and countless other devices. If you want to manually disable that, fine, but really, c'mon – just update the darn thing behind the scenes and keep it current. This isn't directed to Wahoo specifically, but the entire group of mainstream indoor smart bikes for this segment that are without WiFi (the TrueKinetix bike does have WiFi, as does the aforementioned Peloton bikes, and a few others).
In any event, once that's done, grab your Garmin watch of choice (or any other device that supports an ANT+ power meter). Anything that supports a power meter now works to find the KICKR Bike: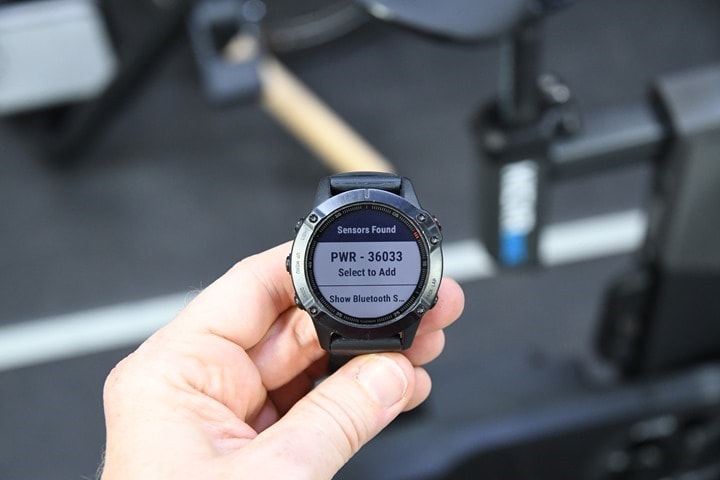 Also, there is the Bluetooth Smart channel as well, though that was added previously.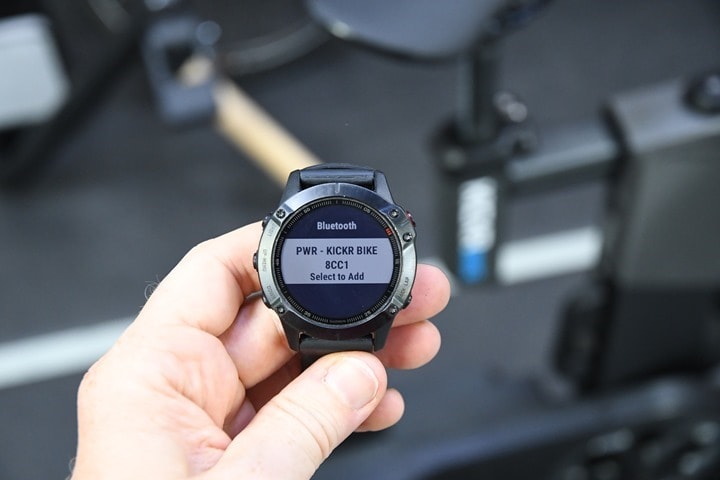 You just simply pair it up as a power meter and you're good to go. Remember, in regular power meter paired mode it won't "control" the bike. It's just listening to the power signal and recording the data. This includes the cadence as well.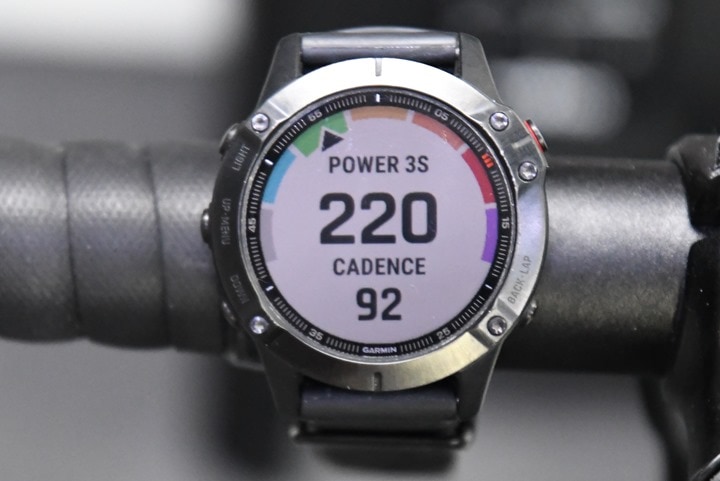 Here's a very short test snippet shown on Garmin Connect from it:

And afterwards you'll get your usual training load status bits too, now properly filled in: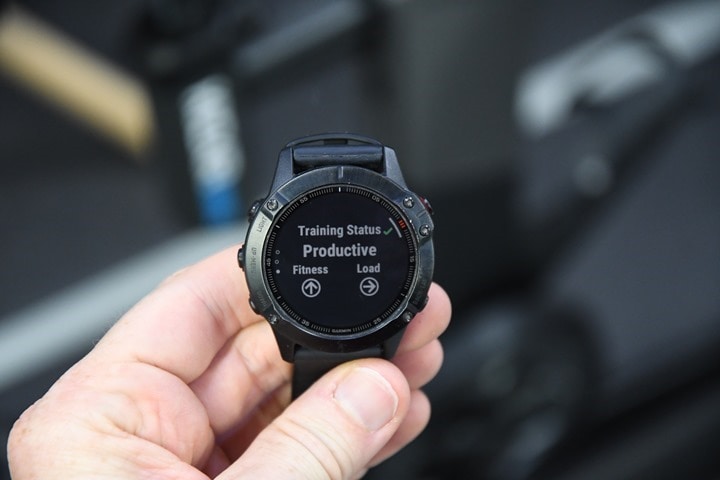 So with that, go forth and connect your things.
Wrap-Up: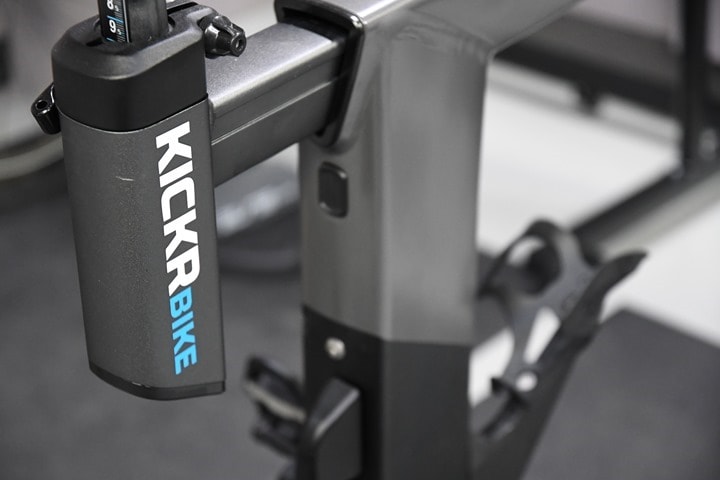 Ironically, this was basically the last item I was waiting on with the KICKR Bike from a 'completion' standpoint. The bike has been largely sitting off to the side in my hallway waiting for this firmware update, which sounded like it was coming last fall, then last winter, then last spring, and now finally…now. As such, the KICKR Bike gets its boxes in the coming days to go back home to Wahoo as usual.
The question some of you might be asking is: Will I go out and buy one myself?
And that's trickier, mostly for two reasons.
First, is the simple reality that while I spend a lot of time on a trainer (or bike), every year, I spend a fair chunk of it on various other devices testing. For example, the last few months have been on the Wattbike ATOM 2020 – and before that the Wahoo KICKR V5, or the Direto XR, etc. Starting today that's the Elite Tuo, and so on. So in some ways, me spending $3,500 for a bike that frankly won't get the usage it deserves is kinda silly. That said, I'm not opposed to silly.
The second, more relevant question is whether I'd recommend others buy one. And frankly, that depends on how much cash you've got. Is the KICKR Bike the best indoor smart bike for a Zwift/TrainerRoad/etc type person? Yes, I think so at this point. It's got the best feel, the best shifting, and I think the best overall experience. It's not perfect. My early production unit here squeaks (which, has been addressed I'm told), while other more recent units still have the audible resonance sounds at certain cadence ranges. It also doesn't have TT bar shifters yet, or other features like steering that Zwift has started to roll out to regular trainers with the Elite Sterzo Smart. A case where a $109 accessory has something the $2,000-$3,500 all-inclusive bikes don't (which isn't Wahoo's fault, btw, that's 100% on Zwift).
Thus, I don't know if it's "worth" $3,500 in terms of the evolutionary progress of technology. That again depends on your bank account. I wouldn't buy a KICKR Bike as a "I'm still gonna love it in 5 years" type purchase. Whereas, if you're more of the mindset of "I want the best smart bike money can buy in 2020, future be damned", then definitely – go forth.
So as I go forward into the fall and shift out of testing new trainers/bikes (simply due to seasonal release cycles), I don't know what I'll want to settle on for the winter. I'm generally pretty content on a smart trainer, though, perhaps I'll get antsy. But I think at this juncture, if I'm spending $2,500+ on a smart bike – I don't see any scenario where it's not the KICKR Bike. It's just whether I want to spend that on a bike or not. I truly don't know.
Hopefully that makes sense to someone.
With that – thanks for reading!